Last updated on September 28th, 2021 at 01:27 pm
Not sure where to begin when it comes to chores and your preschoolers? Take a look at our list of chores for 4-year-olds to guide you.
Before we dive into a specific chore chart for your four to five-year-olds, we should discuss why it is important to engage your preschoolers in chores around the house. Creating a list of chores for 4-year-olds in your home teaches your children important life skills and responsibility. It also helps them to develop a good work ethic and gives them the opportunity to become an important contributor to the family. Maybe most importantly, it lets them experience the satisfaction of completing a job and allows them to be rewarded for the work they complete.
Figure out payment for chores for 4-year-olds ahead of time
Our family uses a commission system instead of an allowance system to reward our children for the work they complete. On the one hand, an allowance system works by having a specified amount of money that children receive at the end of the week for completing their chores. However, this allowance is the same each week regardless of the amount of work completed. In contrast, a commission system works by paying your children for each specific job they complete (and not paying them for the ones they don't complete).
Are you looking for an alternative to a standard allowance system for your kids? Check out The 5 Dollar Plan for Kids Chores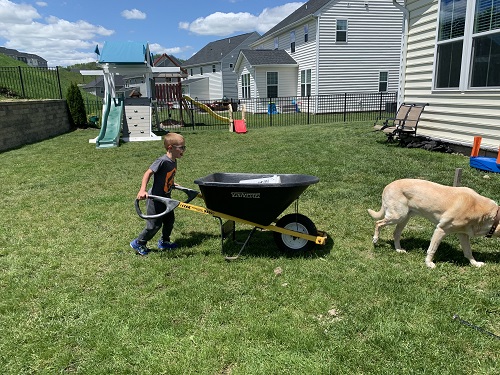 Let your preschoolers learn about money from an early age
Our children's earnings are always paid out on a specified "payday". For example, if a child completes 20 chores during the week and each chore is worth 10 cents, they will be paid $2.00 on "payday". But the following week they may only complete 15 chores and then would be paid $1.50. Doing a "payday" also gives children the opportunity to see all the work they completed throughout the entire week. What a sense of accomplishment!
We use this opportunity to teach our kids about money – dollar and coin values, counting/adding to total their earnings, and dividing their earnings into "giving", "saving", and "spending" money. So, that makes chores a dual learning opportunity in our house!
Need more Twiniversity? Check out our NEW Twiniversity memberships today!
Define what tasks are not chores for 4-year-olds to avoid surprises
When you sit down to develop your chore list, remember to keep the jobs and pay age-appropriate. You may choose to make each chore worth the same amount or raise the pay for more complicated chores.
Also, at this age, there are certain "everyday tasks" that don't need to be paid chores (i.e. getting dressed and brushing teeth). These tasks are expected to be completed before starting the day. Instead, think of chores more as ongoing "household tasks" that benefit the family (i.e. picking up toys or setting the table).
Do you have older kids at home? Learn about how they can help out with chores, too!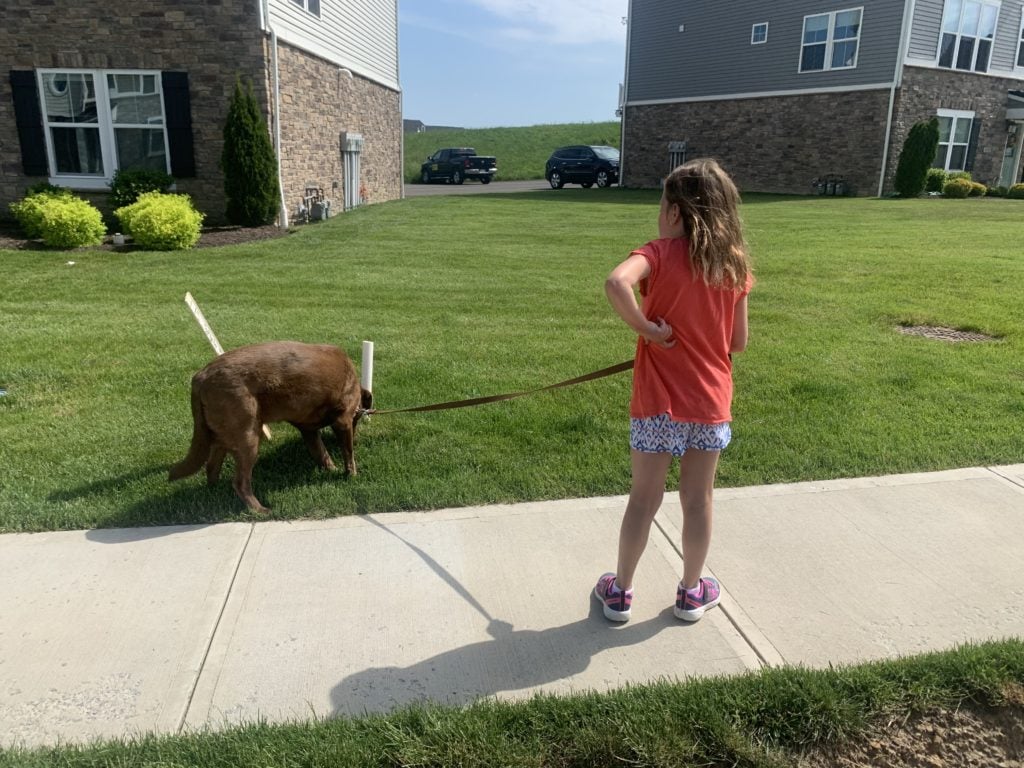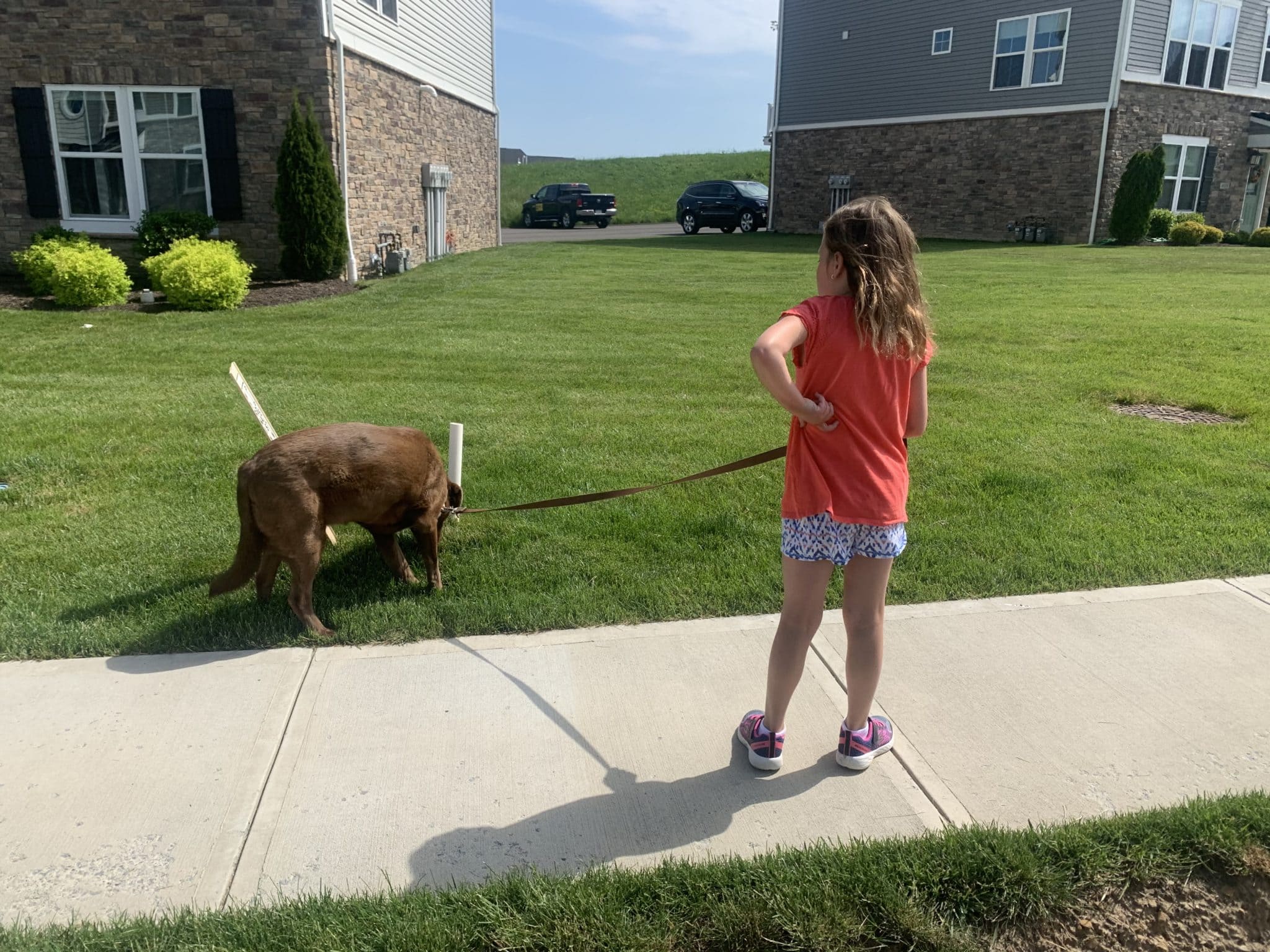 Be realistic when handing out chores for 4-year-olds
Be patient and give grace as you start this journey with your preschoolers. The chores aren't going to look perfect and that's okay. Of course a 4-year-old making a bed is going to look a little an adult making a bed. Don't expect your child to understand how to complete a chore correctly without being taught.
Keep in mind that most children are visual versus auditory learners. Meaning they will need to be shown how to complete a specific chore not just be told how to do it. Be sure to put your chore chart in a high traffic area (i.e. on the refrigerator) so your children can see their progress/jobs completed. This means "payday" doesn't come as a surprise, serves as a daily accountability reminder of what chores need to be completed, and allows some competitive motivation between your children.
Lastly, remember that all children mature differently. The chores outlined here are not a comprehensive list nor are they always going to be appropriate chores for 4-year-olds. This list is meant as a guideline, or starting point, to give you ideas of ways your preschoolers can contribute to household duties.
Are you pregnant with twins, or do you know someone who is? Check out our Twiniversity expecting twins classes live and on-demand today!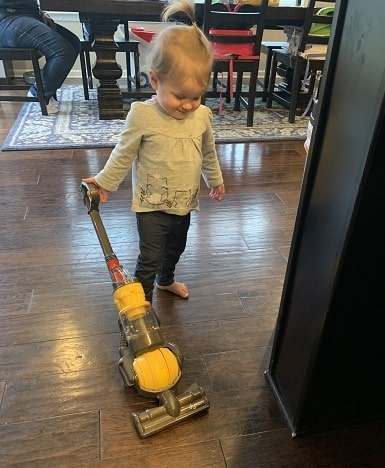 Appropriate chores for 4-year-olds
Make their bed (Remember that they will need help at first)
Bring snacks and toys from the car into the house
Pick up their toys
Set the table

You may want to start with plastic or paper plates

Clear the table
Wipe down doorknobs and light switches
Dust furniture/tables

A handheld duster works best for this!

Vacuum

We have a cordless vacuum which makes this easier. Mom still does the "whole house" vacuum but our kids help vacuum up any unexpected messes or crumbs.

Wipe down bathroom counters and toilets
Fold underwear and socks
Put folded laundry away in drawers
Water plants
Feed pets
Scoop the poop
Help with younger siblings

Running to get diapers/wipes
Finding a binky or sippy cup
Sharing a snack
In need of some relatable and humorous twin parenting content on the go? Check out one of our 2 FREE podcasts available today!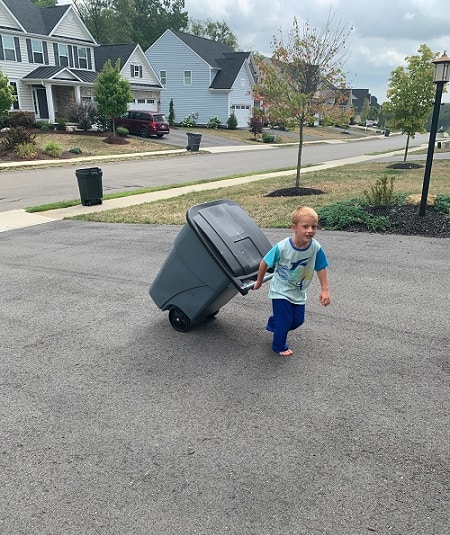 Chores for 4-year-olds that might require a little help
Empty the dishwasher

We have a rule for any "odd" items or items that belong in high cabinets. These can just be placed on the counter for mom or dad to put away

Carry in the groceries and help put away the groceries
Empty the trash

We expect our kids to empty all of the smaller trash cans throughout the house (mom or dad still does the bulky kitchen trash) and help get the large cans out to the end of the driveway. They are also expected to return the large cans (on wheels) to the garage after trash collection.
Don't miss out on our twin parenting content! Sign up to subscribe to our email now!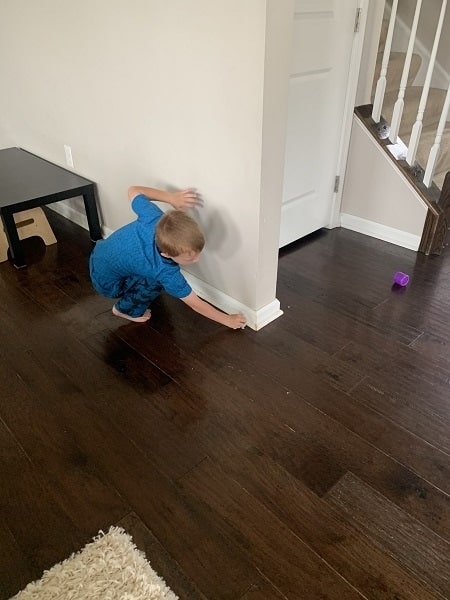 Have faith in your littles when it comes to chores for 4-year-olds
Your preschoolers will usually give any household chores a try if you ask them. Just be patient and realistic with them and your expectations while putting together your list of chores for 4 year-olds. You might be pleasantly surprised by what they are truly capable of!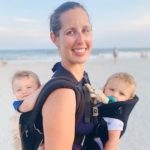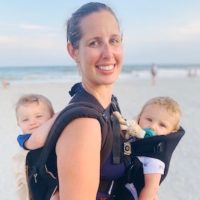 Stacey Haught is a mom to 7-year-old Madison, 5-year-old twin boys – Mason and Mitchell, and 10-month-old twin girls – Sadie and Sophia. She is a pediatric physical therapist but has put her career on hold to stay at home with her rambunctious 5 kids. She resides with her husband and kids just outside of Pittsburgh, PA. Her family enjoys everything outdoors regardless of the season – gardening, finding new sledding hills, exploring area parks, and hiking and camping at their family cabin.