Last updated on October 9th, 2023 at 03:29 pm
Welcome to the world of multiplies! I don't know about you, but when I found out I was pregnant with twins, I was sure I was in for a rough pregnancy! Turns out not all twin pregnancies are full of morning sickness, rib pain, and heartburn! Check out these happy twin pregnancy stories.
We recently asked our Twiniversity community to share their happy twin pregnancy stories with us. From the initial surprise to older children's predictions, these stories are sheer delight. So, whether you're a soon-to-be parent of twins or currently elbows deep in soiled diapers and spit up or even launching your twins into the world, these happy twin pregnancy stories might give you hope and reassurance, or a chance to look back and smile.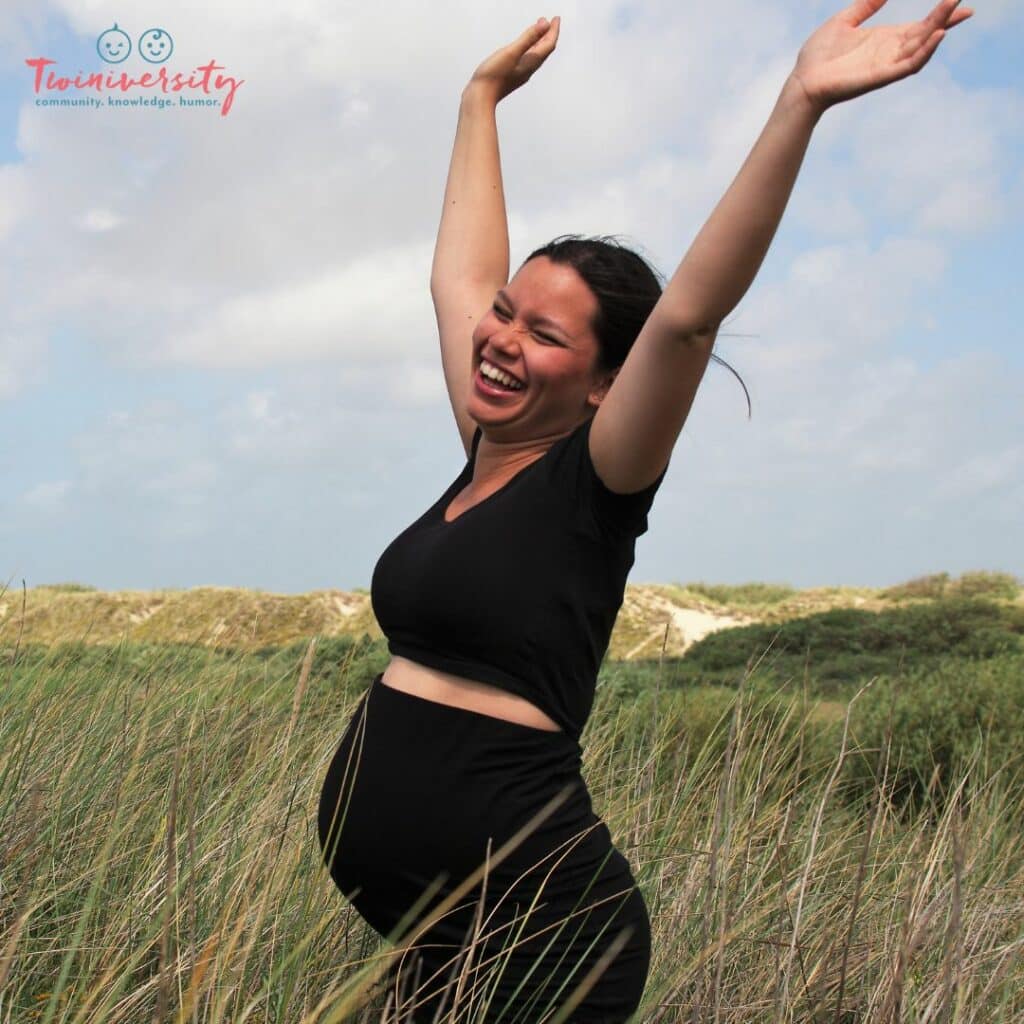 Happy Twin Pregnancy Stories:
My oldest singleton predicted we were having twins before our ultrasound -lexieluwho
I have PCOS and conceived via IVF. I felt the best I've ever felt during my (twin) pregnancy. -nic720
Our twins were a double rainbow 🌈🌈. I got pregnant with them after our pregnancy loss a few months prior. Symptoms like morning sickness and heartburn were more intense than with my older singleton, but the pregnancy was without major issues. By 30 weeks, both were head down. We made it to our 38-week induction date, and when the nurse set up the monitors, we discovered I was in labor! I pushed them both out without major complications (Baby B was a little purple, but a couple of minutes of oxygen got him nice and pink). Our breastfeeding journey was successful, and even though the hospital pediatrician said it was rare, their weight loss was within normal range, and I did not need to supplement. -Kimi Mei
No complications, delivered at 38 weeks after a 3 hr vaginal delivery. Everyone was healthy! -sarahmach24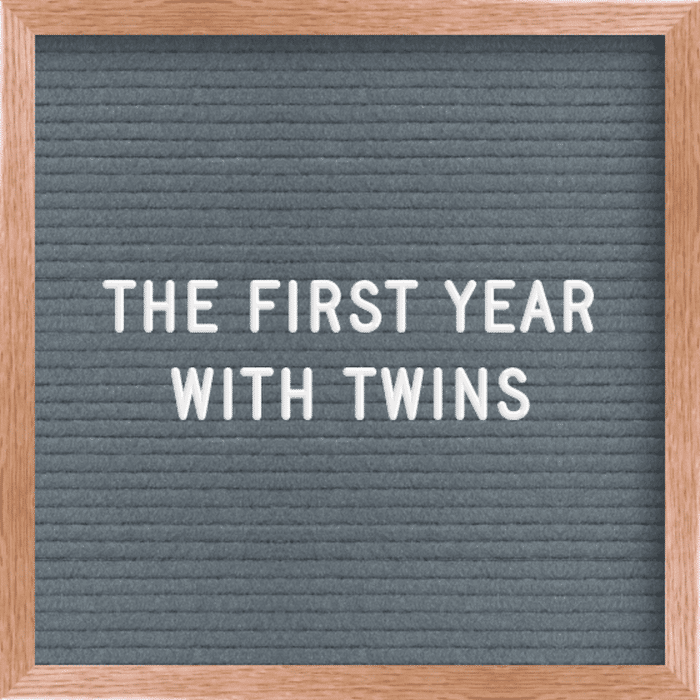 Stressing out with your infant twins? Let us help! Learn what to expect in the first year with twins, including tips, tricks, and advice from real twin parents who have been there. Click here to learn more… and while you're at it, check out our twin parent coaching services and Twiniversity shop!
---
We got pregnant in the first month when we decided to try for a baby. Found out it was twins at my first sonogram at 7 weeks. I had the easiest pregnancy with no symptoms at all. Baby B did dislocate a rib when I was about 26 weeks old, but that was the worst part. Delivered at 36+4 weeks because I developed severe pre-eclampsia. My girls were absolutely perfect at 5lb 13oz and 6lb 2oz. They'll be 10 in December. -Joan T.
After 9 years of trying, I got pregnant with b/g twins via IVF!! -valerina87
Was able to vaginally birth modi twins! No pregnancy complications. -the_tams
I was able to carry long enough (37) weeks that they didn't need the NICU! -sarah_2_tall__jones
Being an only child, I dreamt of having a sibling. God heard my prayers and went all out for them. They came at 33 weeks, breathing on their own, and have kept me on my toes for two years plus. -Nothando Nomusa Mbatha
2018: miscarriage, 2020: a single embryo transfer thought miscarried, twins. -defranco_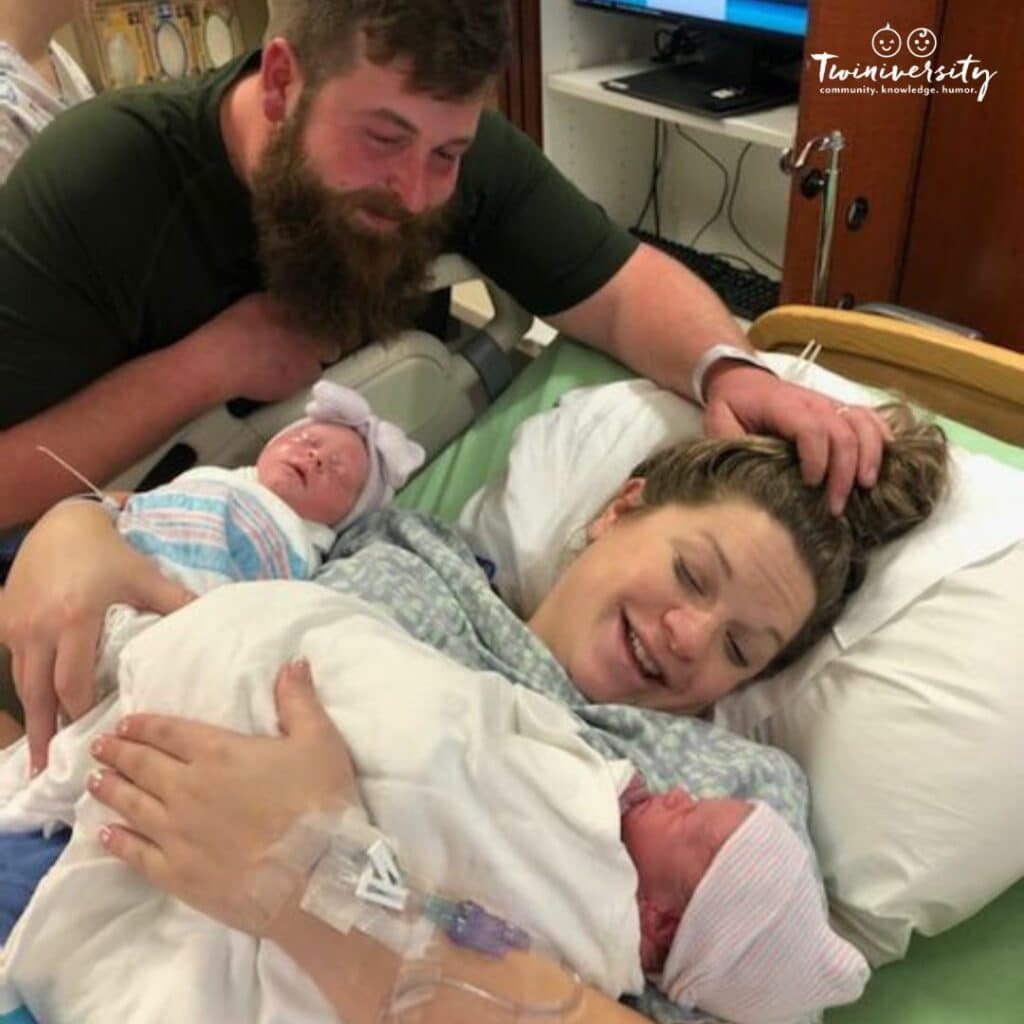 Got pregnant with twins after 2 years of infertility, it was our 5th IUl. Made it full term, no NICU time! -twin.mom7
From the minute we found out we were expecting, our oldest (5) started referring to the baby as "them," her two sisters. I would tell her, hunny, there's only one baby in there. But she'd just ignore me and tell me all about "boots and sissy," which she said would be their names!(Naturally) We found out we were having twins around 13 weeks. The tech looked at the screen, and you could tell there was something up. We were so nervous. When the doctor came in and told us… it looks like we have two in there!! We were shocked! But not as shocked as we would have been if their big sister didn't constantly refer to them as " the babies" and "my sisters." (I had started reminding myself there was only one in there!) Our daughter just looked at both of us and said, " I told you!!!" A few weeks later, we found out they were indeed two girls! And to this day, years later, she calls them boots and sissy! -jewelz1800
Baby A loved laying on Baby B, and that's still true two years later. -melaniecswan
Went through my entire 1st trimester w/o any side effects and w/o knowing I was pregnant. -alexecunningham
FTM, surprisingly smooth pregnancy, induced at 38+1, my hands and heart are so full! -samanthalee516
Our twins were a huge surprise after trying for baby #4. I went to my first appointment by myself because of Covid and found out it was twins. The pregnancy went pretty smoothly, with a C-section at 37 weeks. Neither baby had to have NICU time and were with us immediately. They are now 1.5 and perfect beautiful girls. -Kayla Raster
Had my twins at 38 weeks…. 7-pound and 8-pound babies. -palwendi
My first twin pregnancy was a breeze. It was a B/G pregnancy. We conceived naturally. I didn't feel like I was pregnant at all. No sickness, no nothing. They were delivered at 34w5d. He was in the NICU for 11 days, and she was there for 13 days. They just turned 4 years old. They were the first twins on my side of the family in 84 years! I'm 26 weeks pregnant with my second twin pregnancy, natural yet again. This one is B/B. They have given me a run for my money… the second and third months were horrible with sickness, low blood sugar, swelling ankles early on, and extreme fatigue (as usual with a twin pregnancy). I couldn't cook or smell the food cooking, especially fresh garlic. Pancakes, waffles, and cereal were my go-to meals, lol. The second trimester was a blessing, and everything went back to normal. These boys are more active than my first two, sometimes waking me up in the middle of the night. Both are healthy and doing well. I hope to make it to 36 weeks with this set.🤞🏻Between my and my husband's sides, this set will make a total of 19 twins between the two families! Wow! -Melissa Smith Hochstetler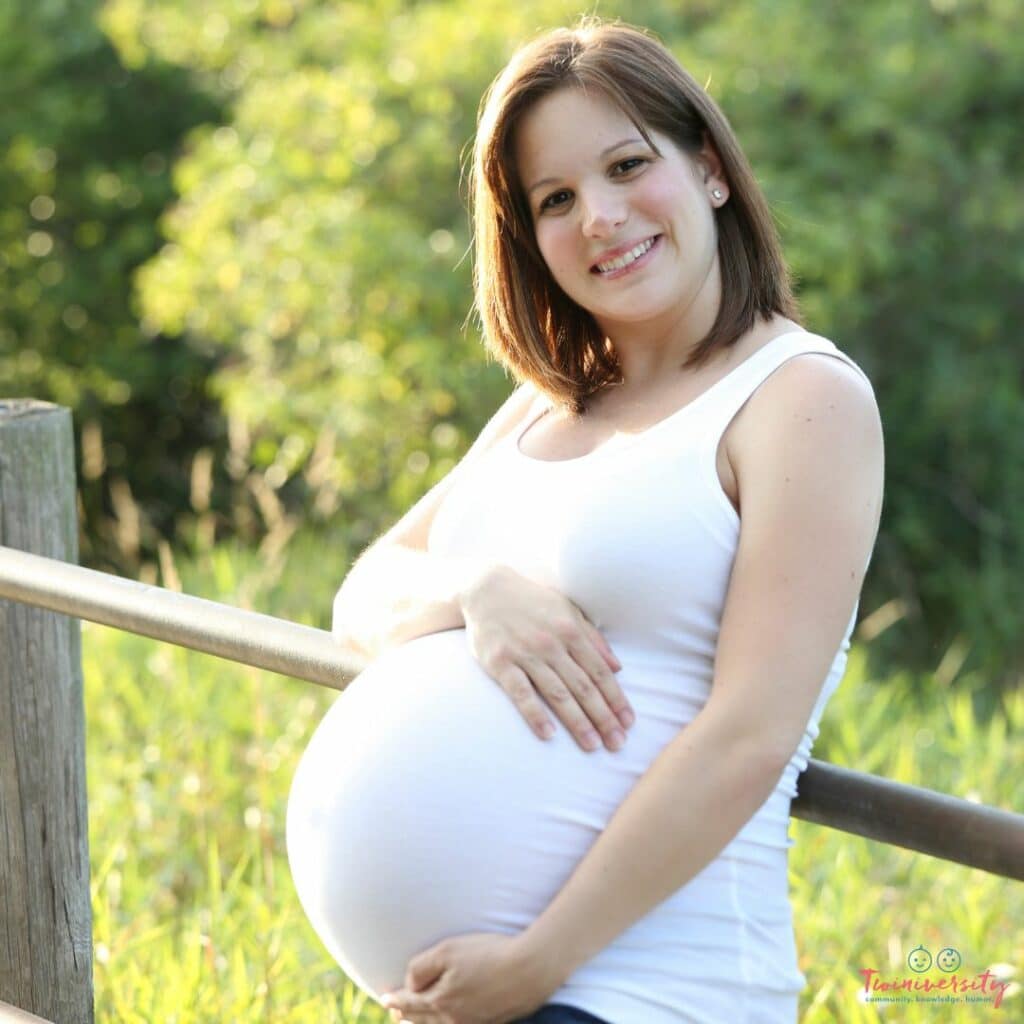 I made it to 4 lbs a piece! -kcithompson
The safe birth of my baby boys during the first day of lockdown in our country during COVID-19. -sushi_k89
We were married for 5 years before deciding on having a baby. Keyword: A BABY. I was 34 at the time, and I had no family history of twins, you could set a clock to my cycles. Had my first positive test at 4 weeks, 3 days. I felt tired, but not bad at all. Had my first OB appt, and an ultrasound was scheduled at 8 weeks. My husband and I argued over something dumb the morning of my ultrasound…he asked if he even needed to come to the appt, and I said I didn't care, I'd be there at the scheduled time (I know that sounds awful, but if you're married, you get it, lol). He worked construction that day and showed up to the appt covered in drywall dust. I told him I was nervous for some reason. The tech put the probe on my belly, and I knew INSTANTLY that something looked weird. 2 sacs. And she said, "Yep, there's 2 in there!" I was shocked, to say the very least. It took me a while to accept it all, especially since I only planned for one. As far as twins go, I was so lucky to have had an easy pregnancy. I did deliver early at 34+4 due to preeclampsia, but now I have two healthy, squishy, happy babies who are thriving. I could never imagine not having them both. Twins are hard, but they are double the laughs and the love. -Jessica R.V.
Husband told me every day, "You look so beautiful you're having at least one boy!" -bbelferman
Carried my mono/di twins 38 weeks and 4 days. No problems or complications. -kchill40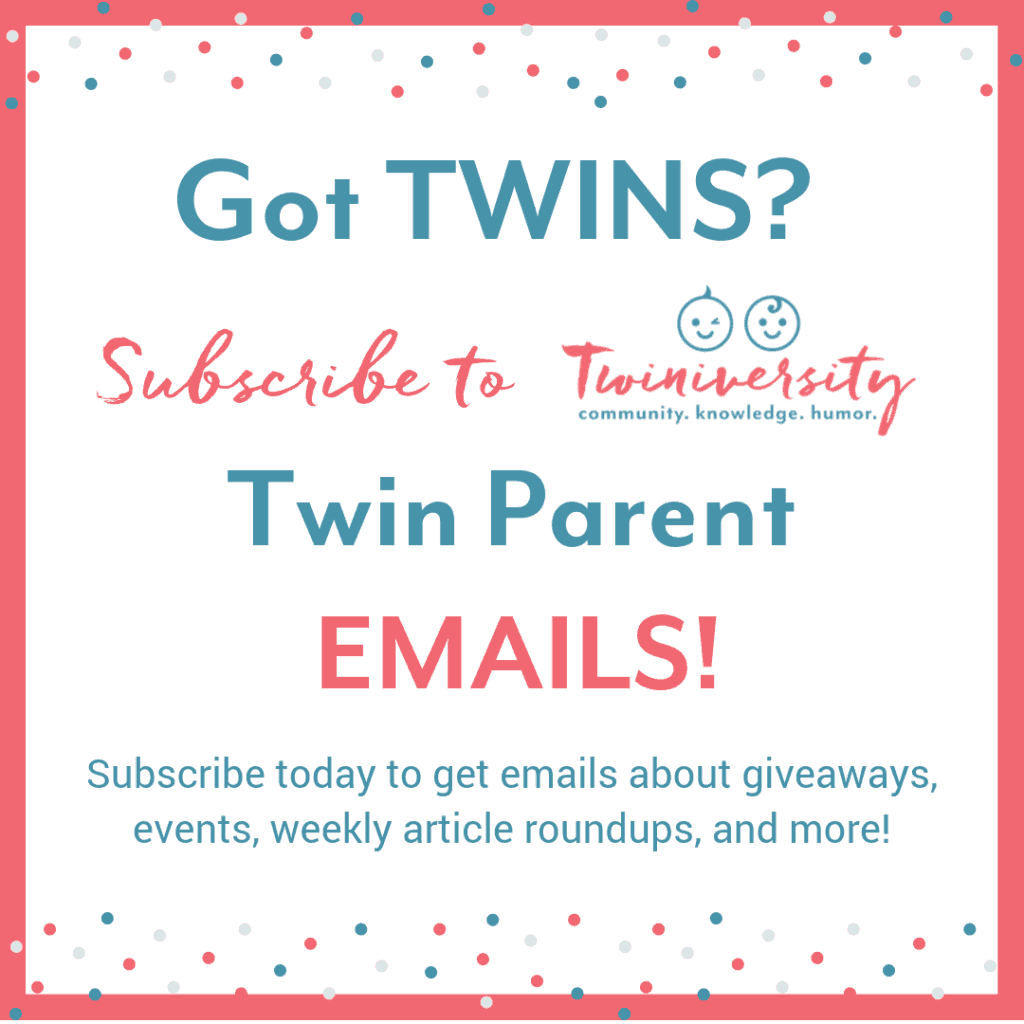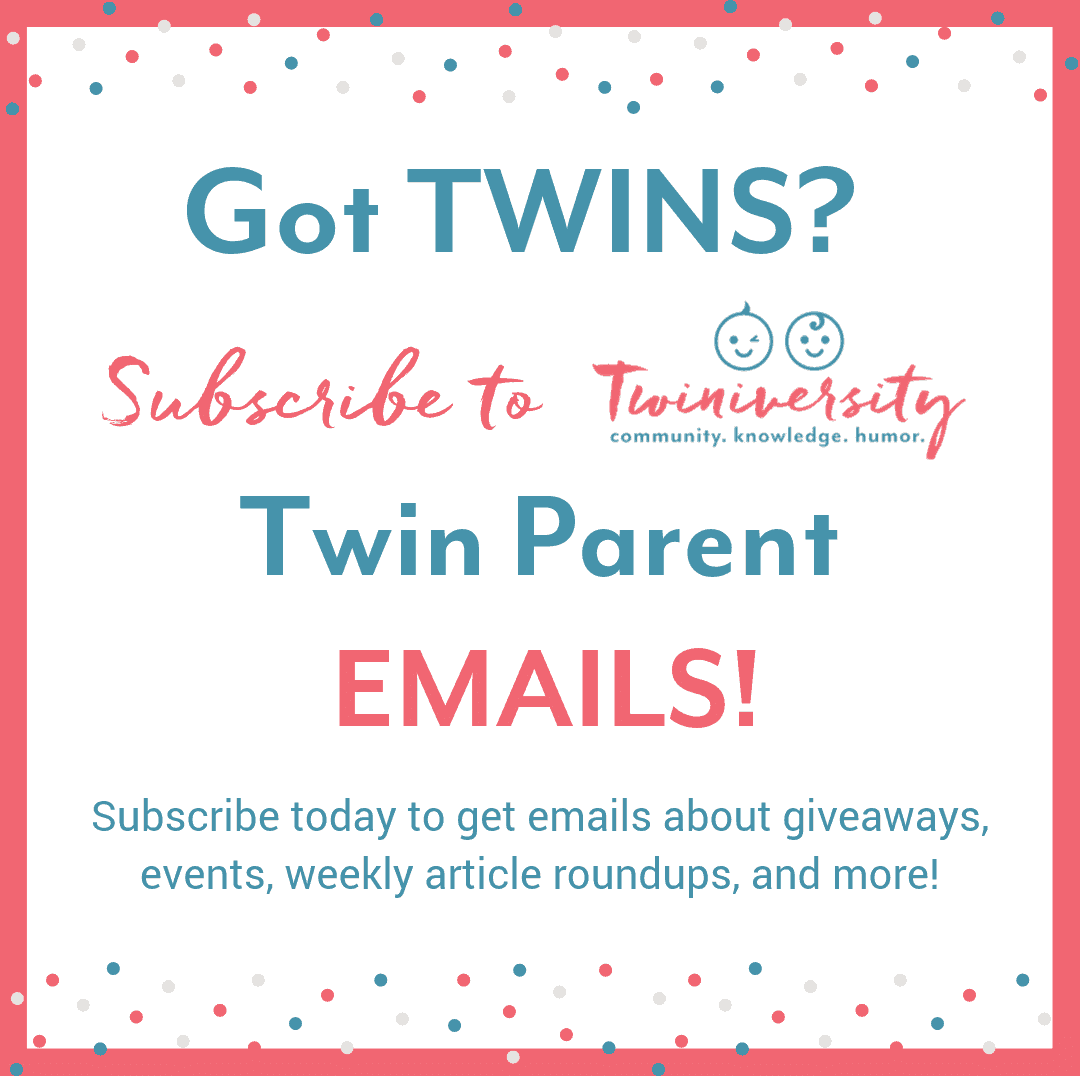 Want to be the first to know about giveaways, deals, and more just for twin parents? Sign up for the Twiniversity email list! Subscribe today to get emails about giveaways, events, weekly article roundups, and more! Pregnant with twins? We'll be sending you a weekly twin pregnancy email to keep you on track with your pregnancy to-do list! Click here to learn more… and while you're at it, check out our Complete Baby Safety Course and Twin Parent Memberships.
---
We didn't find out we were pregnant with twins until my first ultrasound at 20 weeks. I had hoped to do a midwife-assisted home birth, but that plan went completely out the window when I found out we were having identical twin girls! My pregnancy went smoothly, aside from a diagnosis of gestational diabetes at 28 weeks (which I was able to monitor with diet and blood sugar testing). There were definitely uncomfortable moments in the last few weeks of pregnancy, but I swam (lifesaver!), walked a lot, and did yoga until 37 weeks. My girls were delivered at 39 weeks via planned C-section, healthy and happy! -anonymous
When I got pregnant, I felt like I'd won the lottery at age 39, having struggled for 5 years to become pregnant. Before confirming at 9 weeks that I had twins, I was convinced and asked my doctor if he suspected twins. His answer was no. Aside from being thrilled to be pregnant, I was fortunate to avoid morning sickness, I just had the unavoidable feet swelling and heaviness of carrying twins. I worked 8.5 hours a day on my feet till I went into labor and delivered at 36 weeks, 4 days. My girls were born perfectly healthy, and I couldn't have asked for a better pregnancy experience! -Karen B.
Completely shocked. We did IVF and transferred ONE embryo, which split… giving us our miracle identical boys. -Lacy M.
2 girls, perfect pregnancy, natural labor/birth @ 37 weeks, both out in 3hrs! -annalav
In a VERY small nutshell, my identical boys were diagnosed with TTTS at 18 weeks. We underwent fetoscopic laser surgery. It was successful, but Baby A was still left with too much fluid. Two weeks later, at 20 weeks, my water broke and we experienced PPROM. It was baby A's sac. After a very scary couple of days in the hospital waiting for labor, eventually, it became evident that the rupture had sealed itself. The craziest part? After it was resealed, Baby A was left with the perfect amount of fluid! We are at 26 +5 today, and they've had perfect weekly appointments since! -Emily K.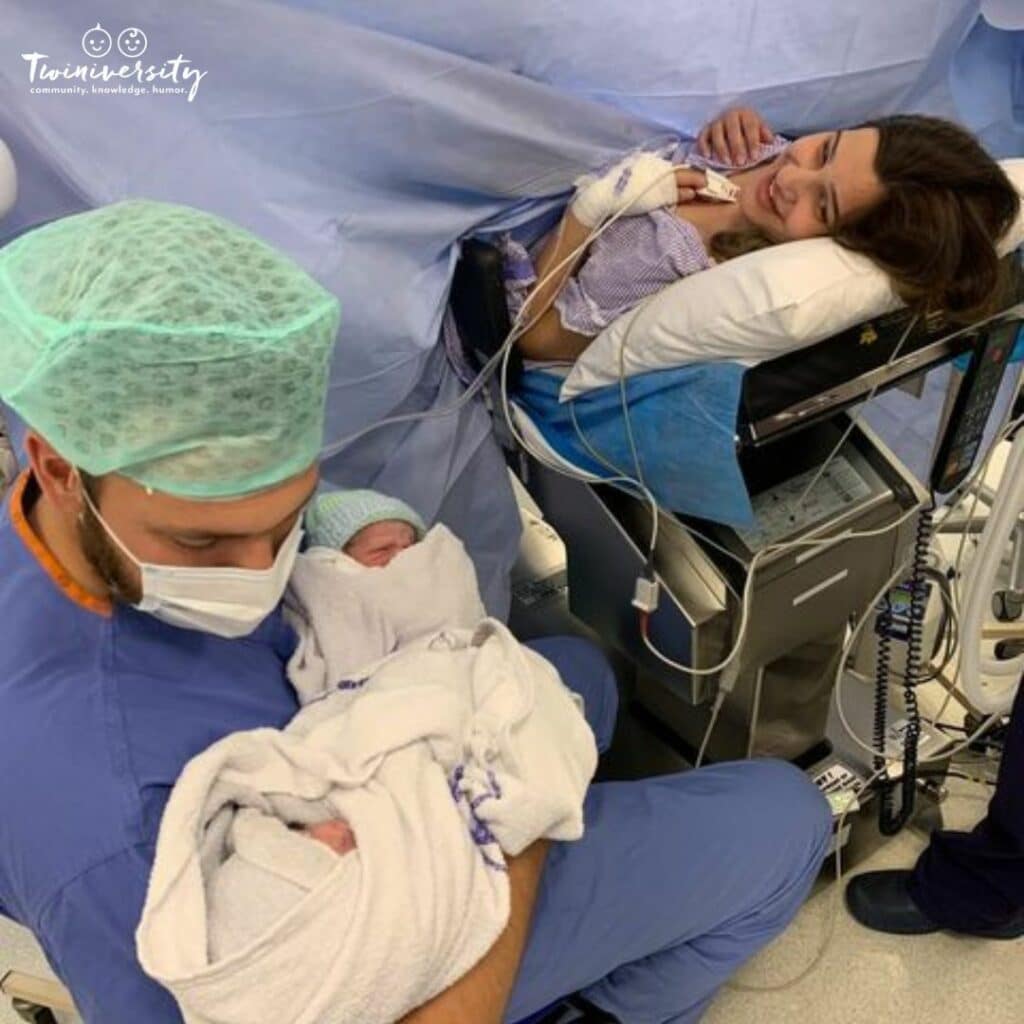 My twins went full term and were 6.10 pounds and 7.4 pounds, born 25 minutes apart, healthy & happy. -stacie229
We found out about our twins at 12 weeks with a handheld ultrasound at my OB's office. My partner and I cried the whole way home. I always tell people they weren't happy tears but tears of fear. But after the initial shock, we were so excited! I had some morning sickness during the first 16 weeks, but the rest of my pregnancy was a piece of cake! I worked until 36 weeks and then had a scheduled c-sections at 38 weeks. Our boy weighed 6 lbs 14 oz, and our girl weighed 6 lbs 5 oz. Both babies were healthy, and recovery went great! -Madi Ann
Do you have a happy twin pregnancy story to share? We'd love to hear it. Tell us at www.twiniversity.com/tellyourstory
Latest Twiniversity Articles