Learn how to choose toys to support your child's development from the baby stage through starting school from a pediatric physical therapist.
When shopping for appropriate developmental toys for your twins, make sure to visit Step2. Their selection of indoor and outdoor toys is fantastic and there's something to suit every child's interests. The Step2 Modern Farmhouse Kitchen and Modern Mart Shopping Carts are a great combo for open-ended play that your twins can use together, plus it won't take up a ton of space in your home.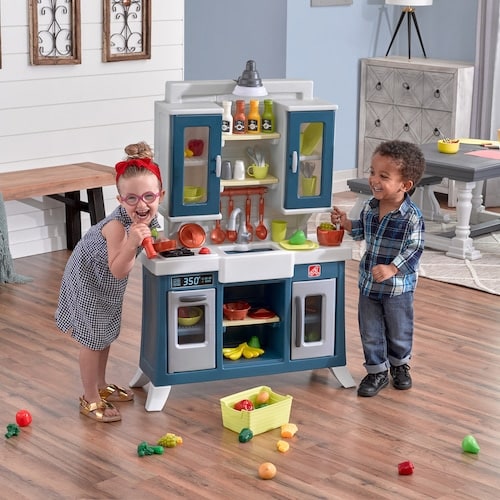 The Step2 Modern Farmhouse Kitchen™ is an adorable and on-trend rustic farmhouse pretend play kitchen full of modern function! Pops of bright color on the storage bin and place settings contrast beautifully with the neutral farmhouse-chic color palette, from the shiplap backsplash to the white "granite" countertop and realistic "copper" accessories.
Other realistic accents include:
real wooden shelves
molded-in farmhouse sink with faucet
windowed cabinets
real working pendant light
stovetop knob to activate authentic lights and sizzling sounds
Includes 5 pretend spice jars, 1 pot and 1 pan with lids, pendant light, 2 place settings (cups, bowls, plates, utensils), cooking utensils, and storage bin.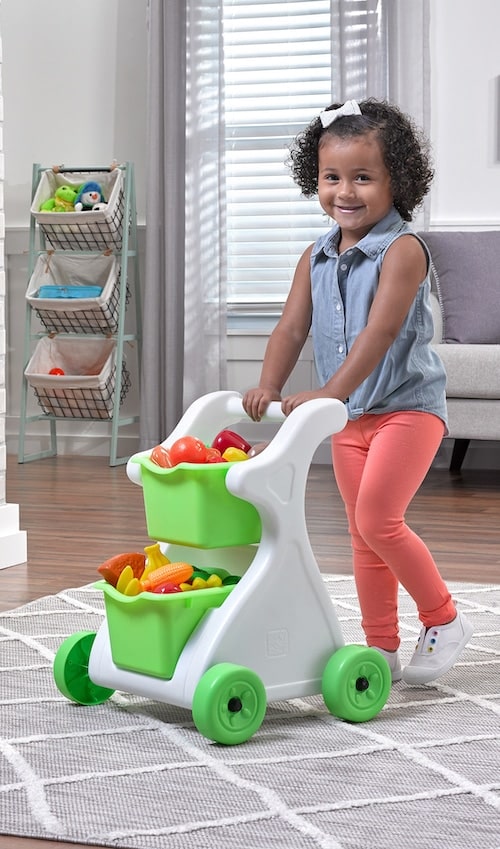 Motor skill development and imaginative social play just got more fun with this kids shopping cart! Kids can take the Modern Mart Shopping Cart™ to the pretend grocery store to stock up on food and other goodies necessary for a day full of imaginative play. Great for added put-and-take play, the two large removable baskets keep treasures safe and easily stored when playtime is done.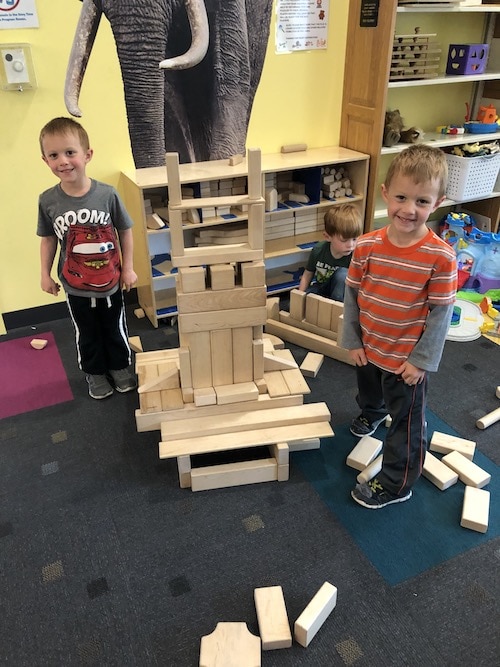 How to Choose Toys to Support Your Child's Development
When the holidays approach, we as parents can easily be overwhelmed by trendy and expensive toys. Toy catalogs fill our mailboxes and the "top toys of the year" consume commercials on television; but will those toys support your child's development?
When we think about a child's development, we look at the following areas:
cognitive development
social-emotional development
I have put together lists of recommended toys that support these areas of development. And guess what? They are neither expensive nor electronic. Before we dive into the recommended toys, let's talk about why the toys we provide to our children matter.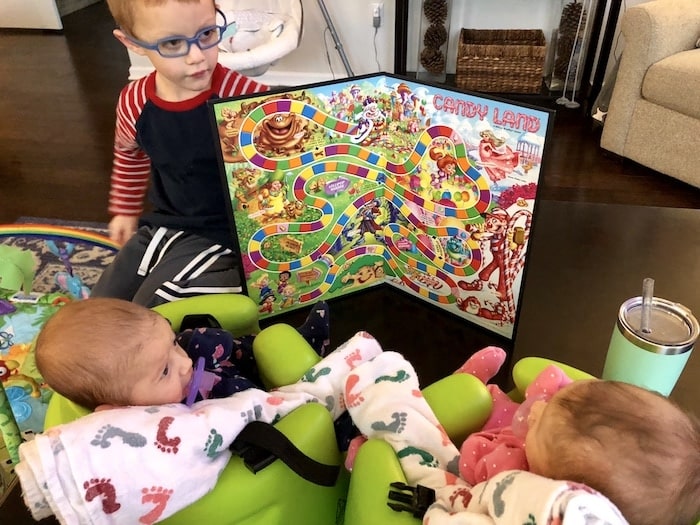 Why the types of toys matter
The American Academy of Pediatrics states, "A toy's most important attribute is its capacity to bring the parent or caregiver and the child together in playful interactions that are warm and full of rich language, supporting the parent-child relationship and the child's play."
Play is a crucial part of a child's development and toys are tools that children use to learn how the world around them works. When selecting toys, we need to make sure they are age-appropriate, promote development in one or more areas, and foster creativity and imagination. Avoid toys that do not actively engage your child in movement (i.e. tablets, video games).
(Click the links below to see Twiniversity favorites!)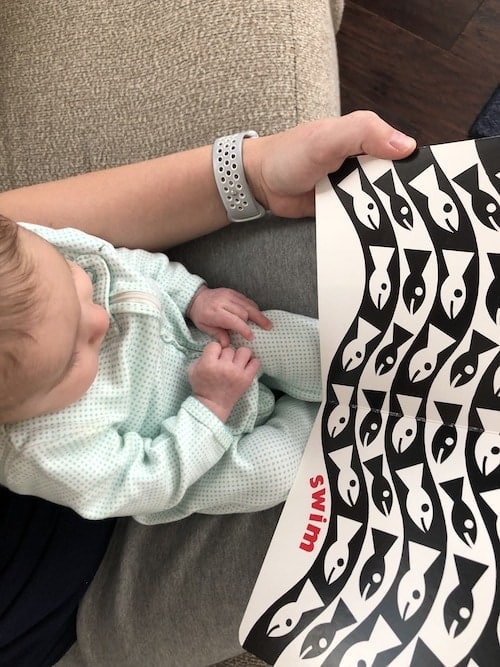 Recommended Toys for Babies (Newborn – 12 months old)
Mirrors
Non-breakable mirrors are wonderful tools for babies that provide visual stimulation and foster early language. Floor mirrors are excellent tools to promote head lifting/neck strengthening during tummy time.
Activity mats
Floortime is one of the best developmental activities for babies, as it allows freedom of movement and exploration. Activity mats with toys to reach for and bright colors for visual stimulation during tummy time are wonderful.
Rattles, rings, O-balls, and textured toys
Rattles, rings, grasping, o-balls and textured toys are small toys that help to develop grasping and early fine motor skills, as well as promote hand-eye coordination.
Musical toys
Musical toys, such as small keyboards, xylophones, jingle bells, drums, and music cubes help to teach cause and effect and develop hearing skills.
Board books & fabric books
For younger infants look for board books containing black and white images; this high contrast helps to develop vision. For older infants, look for board books and fabric books with simple, familiar pictures and bright colors.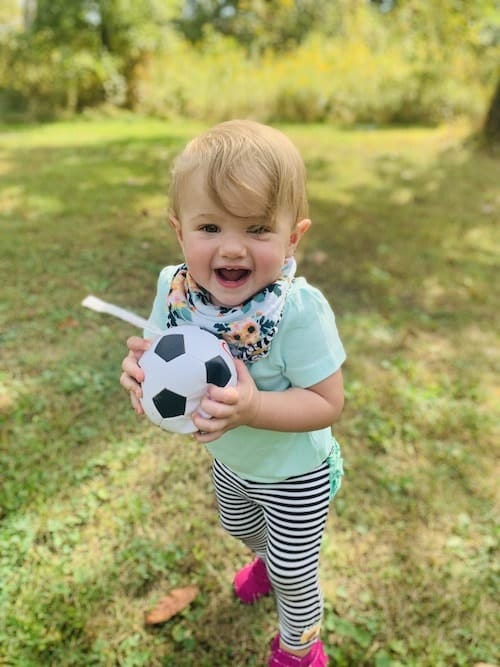 Recommended Toys for Toddlers (1-2 years old)
Stacking toys
Blocks, nesting cups, and ring stackers help develop hand-eye coordination, fine motor control, and sorting skills.
Simple puzzles
For younger toddlers, look for puzzles with large knobs for easier grasping. For older toddlers, look for puzzles with smaller pegs to help develop a pincer grasp. Puzzles help to develop problem-solving skills, as well as visual perceptual skills.
Roleplay toys and dress up toys
Toddlers are actively taking in information about their world and do a lot of learning by imitation. Roleplay and dress up toys promote this learning, as well as foster imagination and abstract thinking. Examples include baby dolls, play phones, vacuums, doctor kits, and aprons.
Blocks and building sets
Mega bloks, LEGO Duplos, and magnetic block sets can be used in a variety of ways for learning. Toddlers are able to learn to put together and take apart all while strengthening the muscles in their hands to promote fine motor development. Open-ended building promotes creativity and imagination.
Art supplies
Fingerpaints, sidewalk chalk, large crayons, and markers are wonderful ways to allow toddlers to be creative while preparing them for pre-writing and writing skills. Exposure to a variety of writing utensils will help them develop a proper grasp.
Balls
Simple playground balls help to develop gross motor skills and promote movement. Large and small balls can be used to develop throwing, catching, and kicking skills.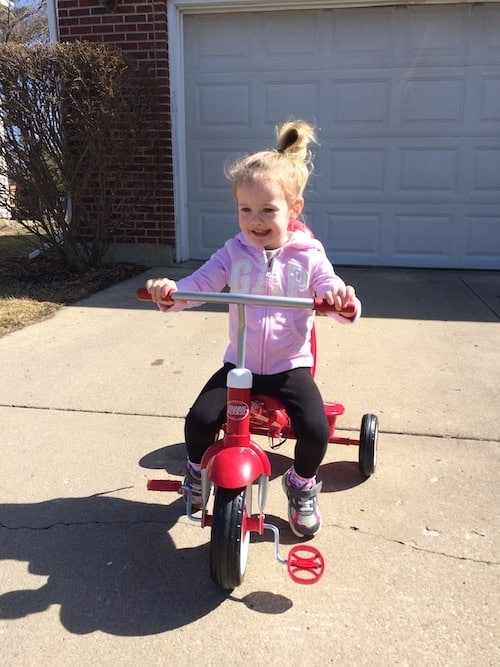 Recommended Toys for Preschool Age (3-4 years old)
Pretend play toys
Kitchen sets, tool benches, and dress-up costumes all foster imitation/role play, stimulate language, and encourage imagination.
Toys that promote movement
Tricycles, balance bikes, scooters, and mini trampolines all encourage gross motor development, specifically balance and coordination skills.
Puzzles and simple games
These toys help to teach problem solving and strategy skills. Floor puzzles with big interlocking pieces are great for this age. Simple classic games such as Candy Land, Chutes and Ladders, and Trouble provide opportunities for parent-child interactions.
Building and creating toys
Classic wooden blocks, Duplos, magnetic blocks, Play-Doh, and art supplies stimulate creativity and imagination skills which is vital for cognitive development and abstract thinking.
Picture books
Books are essential for speech-language development. Look for books that have simple storylines that preschoolers can understand. Books with vibrant pictures give children an opportunity to make up their own storylines based on the illustrations.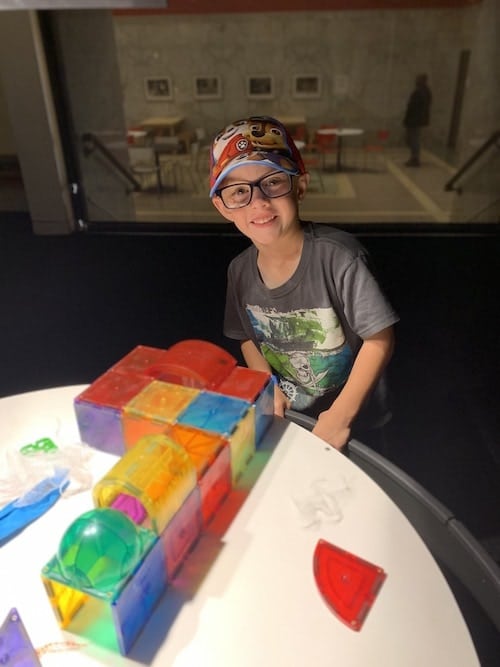 Recommended Toys for School Age (5-7 years old)
Books
Leveled reader books help to develop reading skills and contain simple storylines.
Building toys
Legos, Lincoln Logs, and K'nex promote problem-solving, critical thinking, and imagination skills.
Board games
Board games help children to learn strategy and promote interaction, as well as exposing them to winning and losing. Choose classic board games such as Sorry, Jenga, Twister, and Uno.
Bicycles and scooters
Outdoor toys such as bicycles and scooters promote physical activity, develop balance and coordination skills, and give children opportunities to explore outside.
Lastly, a favorite gift option in our family for children of all ages is an "experience gift." It is easy to collect an overwhelming amount of toys (most of which rarely get played with). To help counteract this problem, we often request "experience gifts" from family members.
Examples of experience gifts are trips to the museum or science center, passes to a trampoline park or play place, swim lessons, or a cooking class. Experiences are so meaningful to a child and foster development across all domains!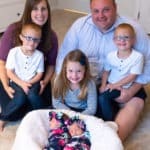 Stacey Haught is a mom to 7-year-old Madison, 5-year-old twin boys – Mason and Mitchell, and 13-month-old twin girls – Sadie and Sophia. She is a pediatric physical therapist but has put her career on hold to stay at home with her rambunctious 5 kids. She resides with her husband and kids just outside of Pittsburgh, PA. Her family enjoys everything outdoors regardless of the season – finding new sledding hills, exploring area parks, and hiking and camping at their family cabin.
Related Articles – How to Choose Toys to Support Your Child's Development