Last updated on October 9th, 2023 at 01:19 pm
September is baby safety month, founded in 1983 by the Juvenile Products Manufacturers Association (JPMA). To honor baby safety, here are some key newborn twin safety tips to keep your twinnies safe.
Having a singleton baby as a new parent can be overwhelming, but when you find out you're having twins, it's a whole other ball game. With an extra player you didn't expect. One of the first things you'll start to worry about is how you'll keep both newborn twins safe. At the same time! Luckily, you have the Twiniversity community at your disposal, and we have a ton of newborn twin safety tips.
Here are a few baby safety tips below to help you keep your infant twins safe (and your sanity intact).
Baby-Proof Your Home for Your Newborn Twins
It is never too early to start baby-proofing your home. The best time to practice newborn twin safety is when you're pregnant. Do this before you even set up your twin pregnancy registry, that way you can add newborn twin safety items to your registry list.
Also, make sure you're thinking like a newborn when you're looking for newborn twin safety products. In fact don't be afraid to get on the floor and crawl around, so you can see what your little ones will see.
You'll want to cover up corners on tables, get outlet covers or baby-safe outlet boxes, and make sure you are baby-proofing electrical cords for your newborn twin safety practices.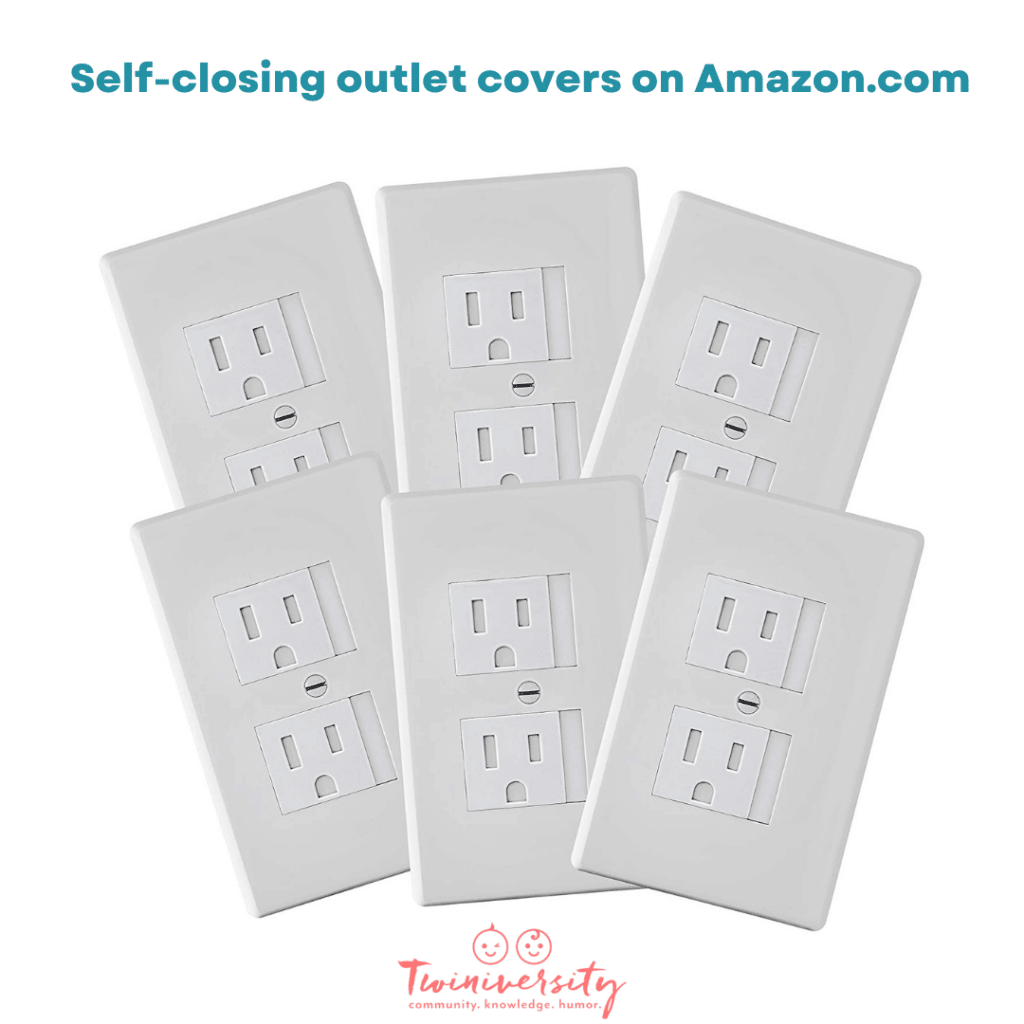 Invest in Safety Latches and Locks
When you're adding newborn safety products to your registry, don't forget the safety latches and locks. Little fingers have a tendency to get caught in doors or drawers. And when you have double trouble, it's even more chaos when they get into things they shouldn't.
There are several different kinds of latches and locks, each with their own benefits.
Magnetic locks shut automatically until you unlock them with a "key."
Spring-action latches are usually installed inside of cabinets and double doors, and are released easily by pressing down on the latch at the same time.
Adhesive strips are good for a more simplified approach to newborn twin safety. They're heavy duty but easier to remove (great if you're renting!). These are good for doors, cabinets, and drawers to keep your newborn twins safe.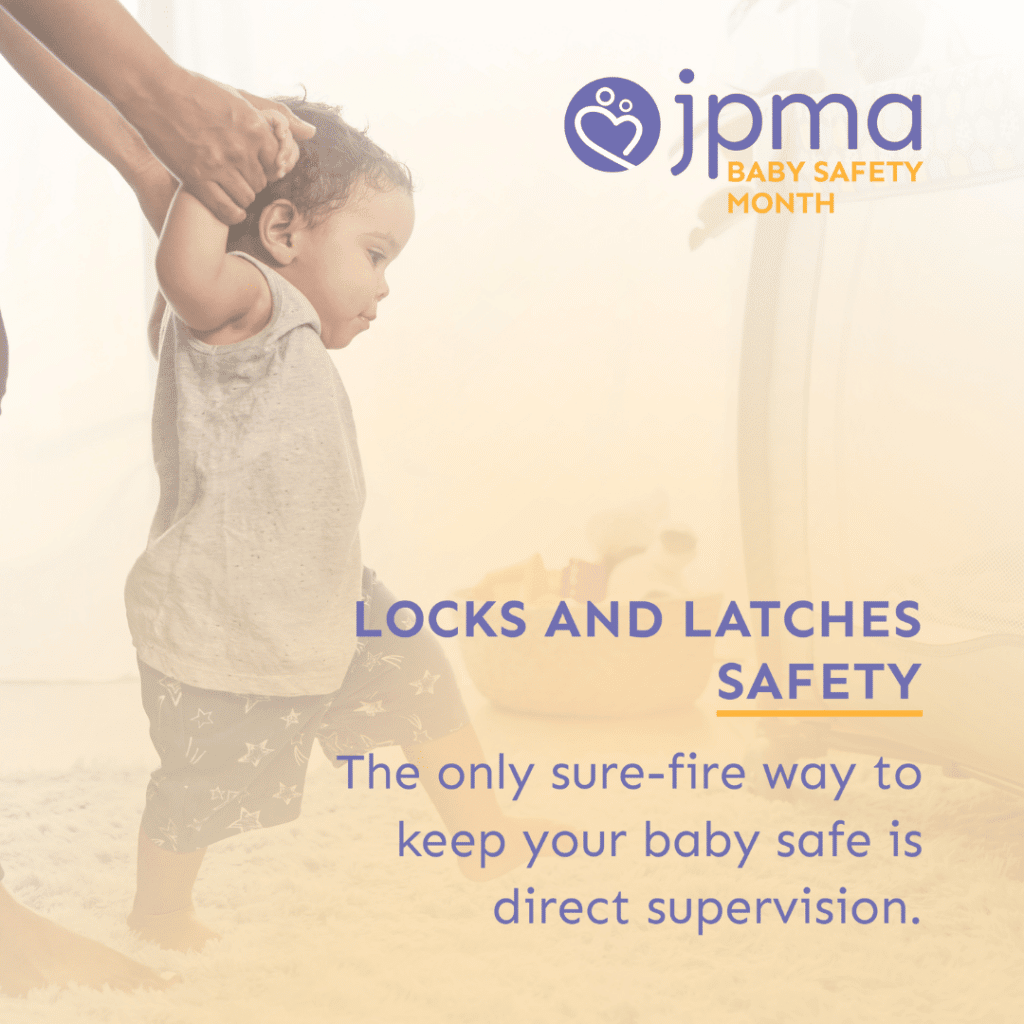 According to JPMA, make sure you place locks and latches on all cabinets in the bathrooms, kitchen, garage, laundry room, and any other room where there may be things babies shouldn't get into. Also, make sure you remove chemicals under sinks, in the laundry room, and in medicine cabinets and put them up high where your twinnies can't reach.
Practice Car Seat Safety for Your Newborn Twins
One of the most important purchases when considering newborn twin safety is the car seat. Before you even purchase your newborn twins' car seats, measure your vehicle's back seat and make sure everything works back there. Because the hospital will not let you leave with your newborns unless you have properly installed your car seats.
Once you're ready to buy, here are some things to know:
Newborns to 12 Months
If your twins are less than 20 pounds and under 1 year, they should always be in a rear-facing infant seat (do not start off with a convertible seat for your newborn twins).
Purchasing a Car Seat
Rear-facing infant seats should be able to recline between 30 and 45 degrees and should never be installed in front of an active airbag.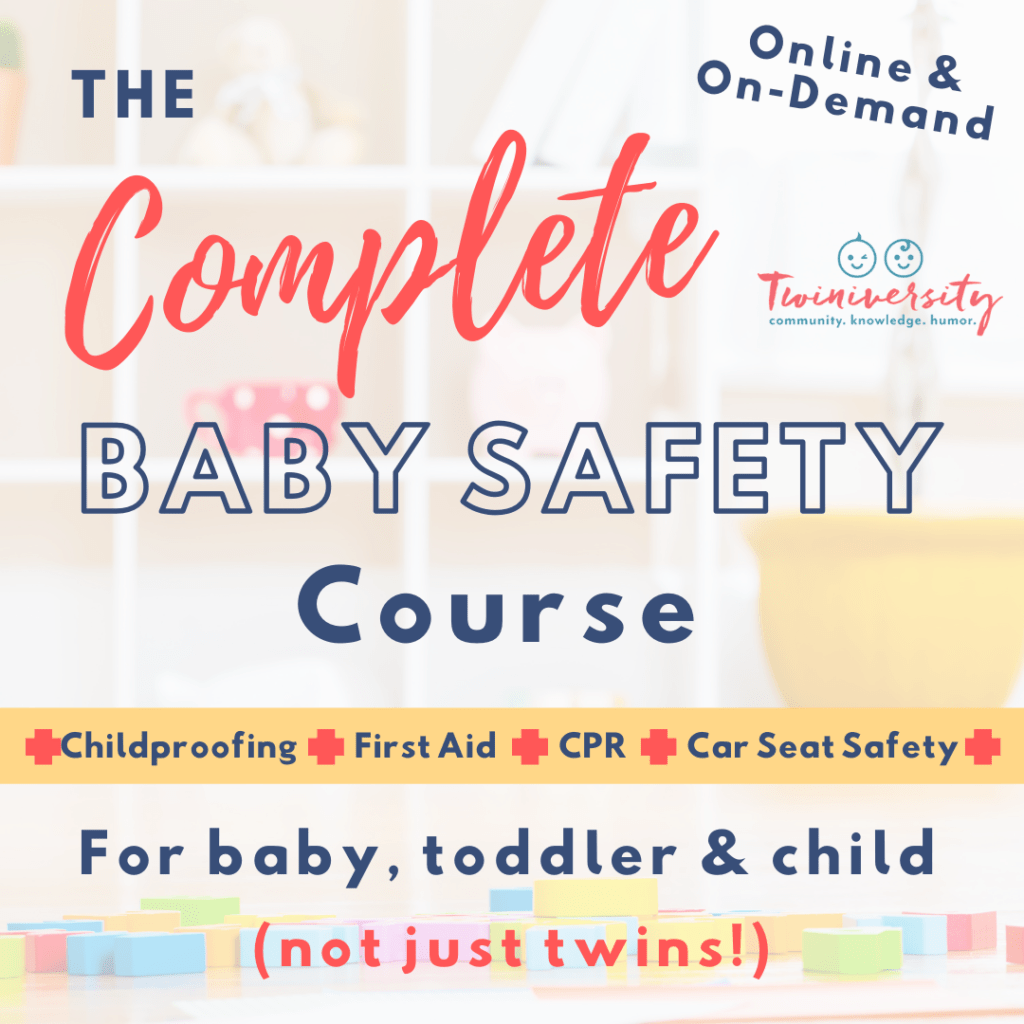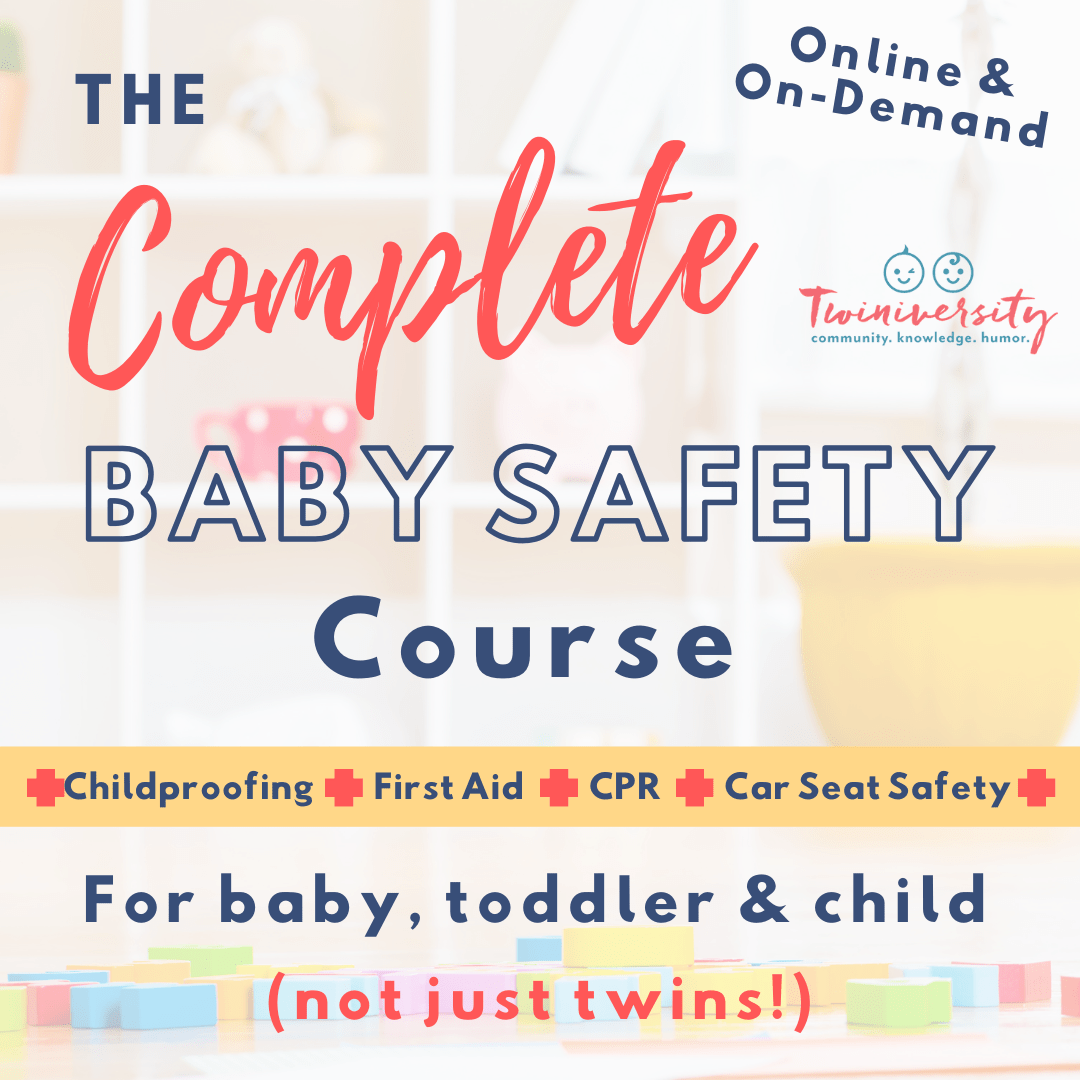 Need some baby safety training? Take the Twiniversity Complete Baby Safety course, offered on-demand. Includes video modules on infant, toddler, and child CPR, first aid, and common medical ailments, plus car seat installation and safety and childproofing your home. Click here to learn more!
DO NOT purchase a used car seat. You can't ever fully trust its lifespan and the problems it may have had. Even the smallest crack could ruin the car seat's safety capabilities, putting your newborn twins in danger.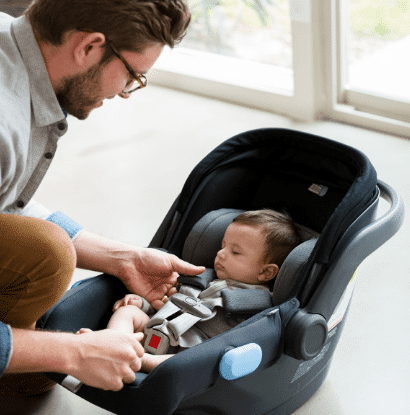 Never use a safety seat that is older than 6 years or is beyond its expiration date. You can find the expiration date stamped on the car seat itself. And make sure you always register your safety seat with the manufacturer so you can be notified of recalls.
Check the LATCH system
Check your LATCH system's weight limit and anchors in your car's manual. The weight limit of the seat plus the weight of the child might end up surpassing the LATCH system limit, which would require you to use a regular seat belt to install your newborn twins' safety seats.
Follow Guidelines and Get Your Car Seat Inspected
Make sure you read and follow all the child safety seat guidelines. Also be sure to check your vehicle manufacturer's instructions for height and weight requirements and installation. You can get your twins' car seats inspected for free online through our trusted partners at Britax. Click here to visit Britax's virtual car seat inspection page. Or visit Safekids.org to find a car seat inspection station near you.
Follow Safe Sleep Guidelines for Newborn Twin Safety
Following safe sleep guidelines will lower the risk of sleep-related hazards and also promote better sleep for your babies (giving you much needed rest in the long run!).
Are You a New Twin Parent?
Check out Natalie Diaz's book:
"What To Do When You're Having Two
The Twin Survival Guide From Pregnancy Through the First Year"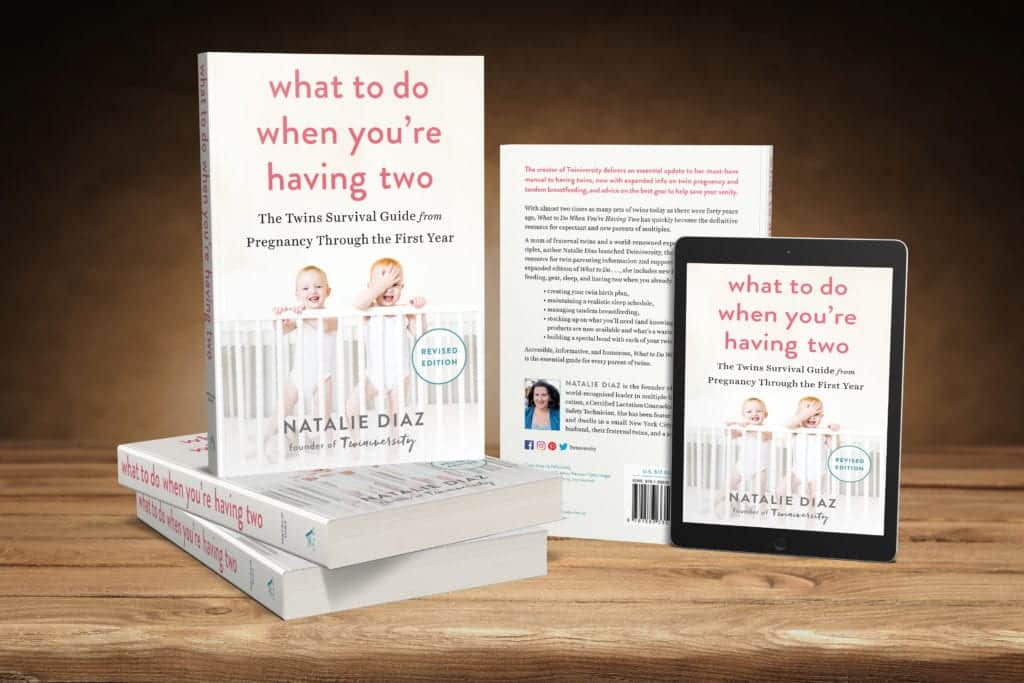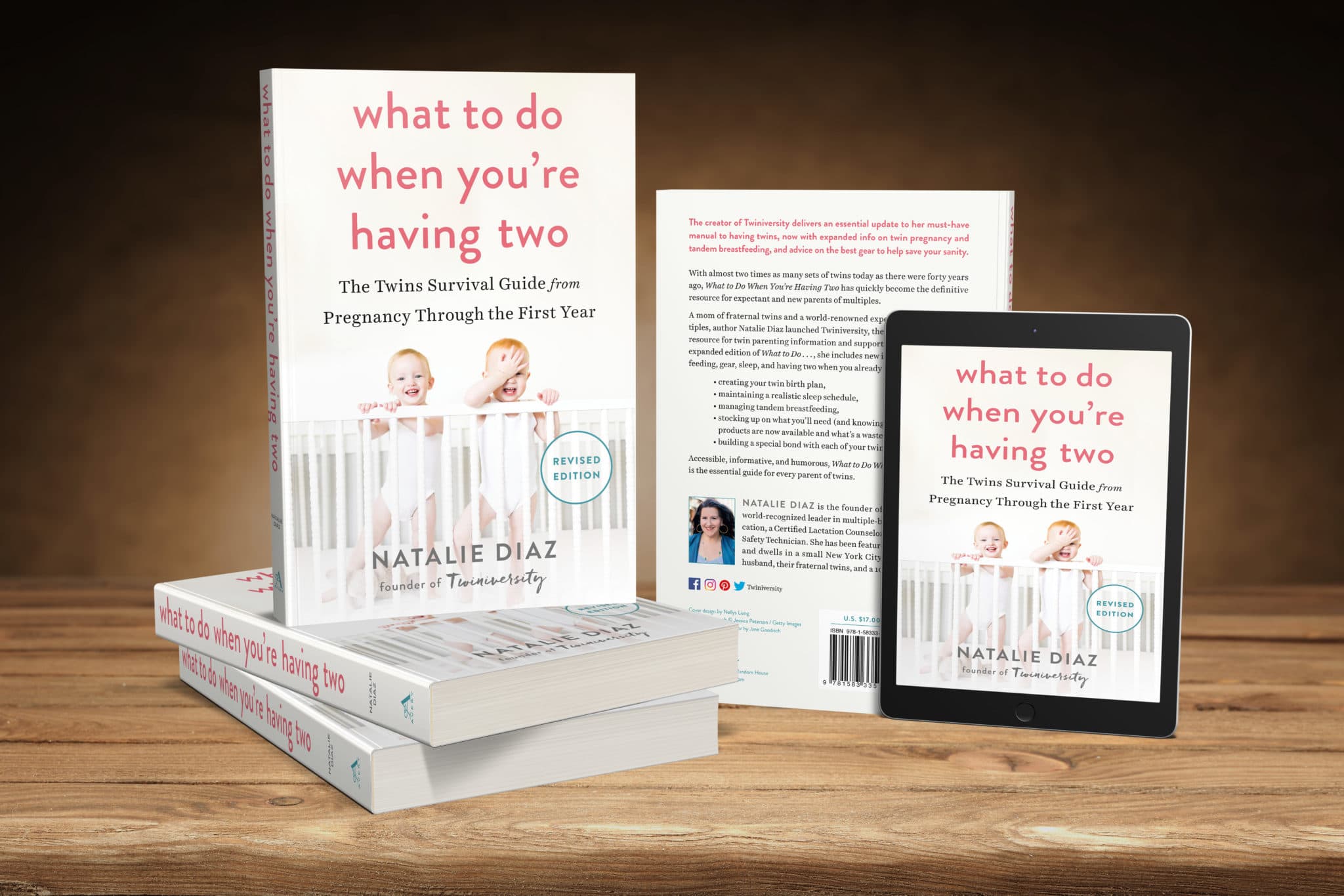 In What to Do When You're Having Two: The Twins Survival Guide from Pregnancy Through the First Year, national twins guru and founder of Twiniversity (and twin mom herself!) Natalie Diaz provides a no-holds-barred resource about life with twins, from pregnancy and birth all the way through your duo's first year of life.
Accessible and informative, What to Do When You're Having Two
is the must-have manual for all parents of twins.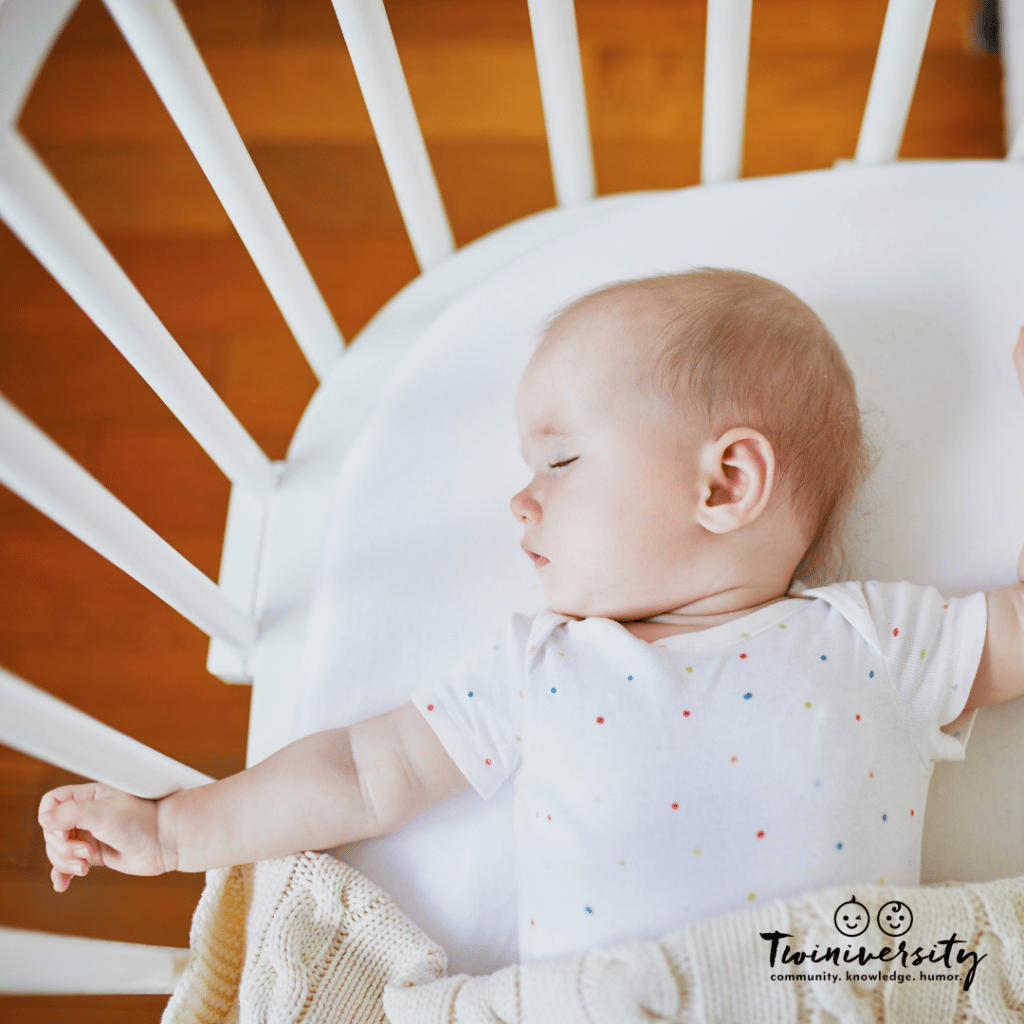 Here some key things to do to make sure you're following safe sleep guidelines for your newborn twins:
The AAP recommends placing newborns on their backs when sleeping or napping, unless otherwise advised by your pediatrician. This reduces the risk of SIDS and other dangers. Also make sure to keep soft objects, loose bedding, and other things (including dividers) out of the babies' sleep area.
Mind the temperature in the room and do not put any hats, extra clothes, etc., on your newborns. This can cause overheating, which is dangerous. Consider swaddling, as well, to promote a more natural sleep position while keeping your newborn twins safe.
Ensure your cribs are up to safety standards. Purchase only new cribs that have had no recalls. The safest cribs for your newborn twins to sleep in are bare JPMA-certified cribs or other approved cribs.
Make sure you have assembled your newborns' cribs per the instructions, using manufacturer's hardware. And always use a crib mattress that fits your babies' cribs properly. At Twiniversity, we recommend Colgate mattresses.
You can also check out JPMA's info graphic below for even more sleep safety tips for your babies.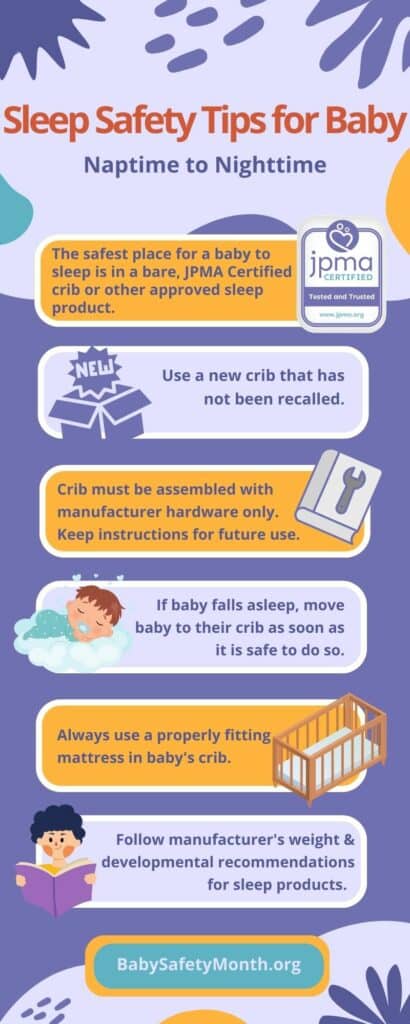 Educate Yourself on Newborn Twin Safety
Whatever you do, remember that newborn twin safety is an ongoing practice. You are never truly done keeping your babies safe. The best thing you can do is to continue to educate yourself on newborn safety practices, like those on JPMA's website.
Click here to download a baby safety checklist from JPMA
Latest Twiniversity Articles