Last updated on September 19th, 2023 at 02:47 am
Choosing car seats for twins is way more different than choosing a car seat for one baby. I wouldn't have thought so, but it is.
With my first born (one and only singleton), once I narrowed down the infant seat I wanted based on safety ratings and stroller compatibility, the hardest decision I had was what color to get.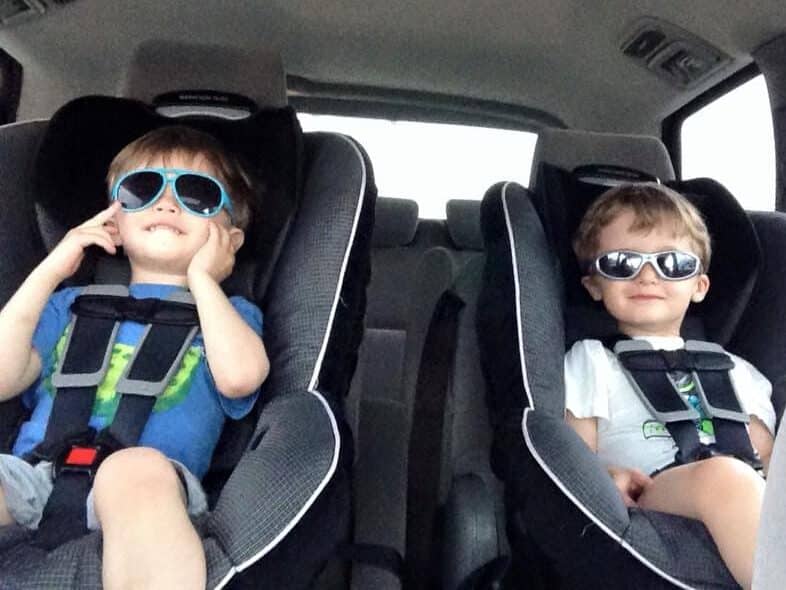 When I found out I was having twins in my second pregnancy, car seats for the twins were the first purchase I wanted to make. But I felt overwhelmed instantly. Which is the safest? Do I get infant seats or start with convertible car seats? What if they come early and are underweight? Does a car seat company make a car seat for a preemie? Will I be able to fit two infant car seats AND a booster in my back seat? I had a ton of questions.
Of course, I didn't have a resource like Twiniversity back then to help me choose the right car seats for my babies. Thankfully, I can help you on your quest for car seats for your twins, so you aren't overwhelmed and full of questions like I was.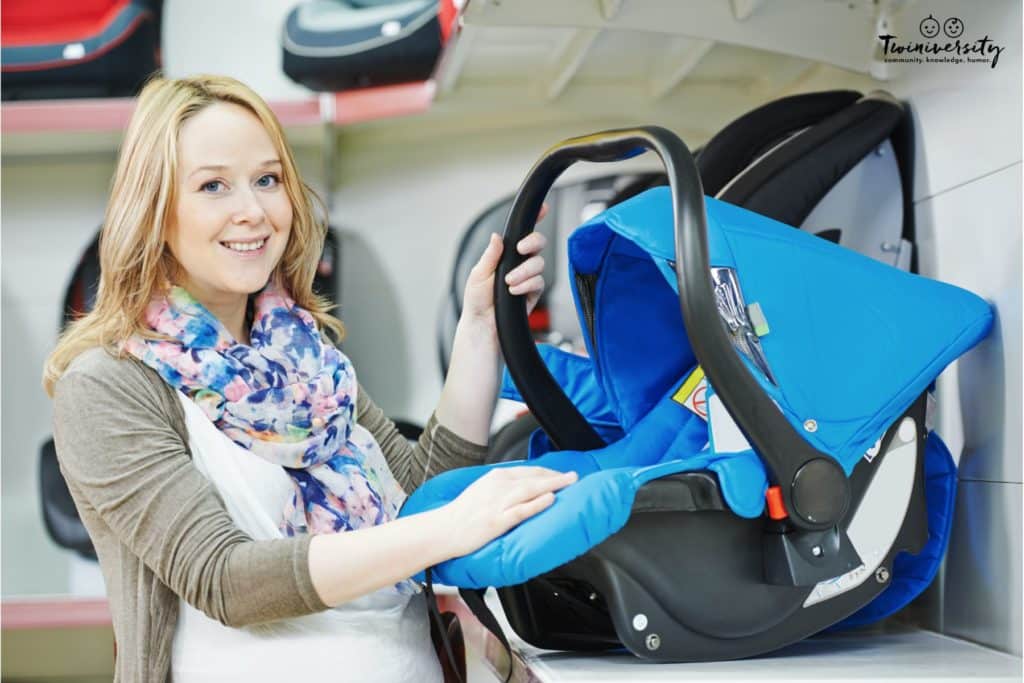 First and foremost, safety is #1. Anytime you are choosing car seats for twins (or any kids) safety should be your first concern! The American Academy of Pediatrics (AAP) recommends that all infants ride rear-facing, starting with their first ride home from the hospital. All infants and toddlers should ride in a rear-facing seat until they are at least 2 years of age, or preferably until they reach the highest weight or height allowed by their car seat manufacturer.
The do's and don'ts when choosing car seats for twins
DO's
Pay attention to the minimum weight rating of the car seat. Car seats usually have a minimum weight of 4 or 5 lbs. Multiples usually have lower birth weight than singletons. And when you add in the chance of preemies, the weight drops even further. If you don't have a car seat that meets the weights of your babies, the hospital staff will not let you leave the hospital with them.
Weight ratings and harnesses go hand in hand. When fitting your babies for a car seat, you want the harness at their shoulder level (or slightly above). So, if you have small babies you will need low slots to meet their tiny bodies.
Always check the expiration date on car seats, even though it is brand new!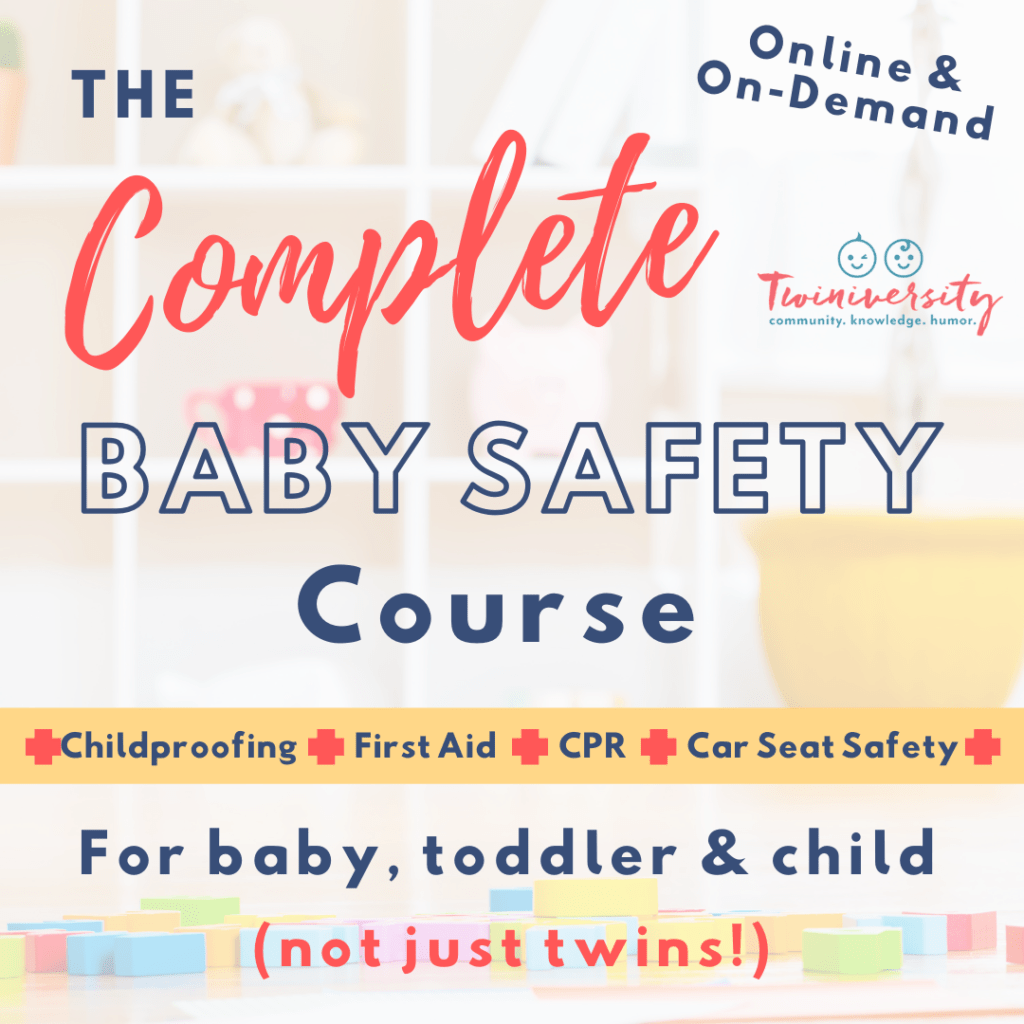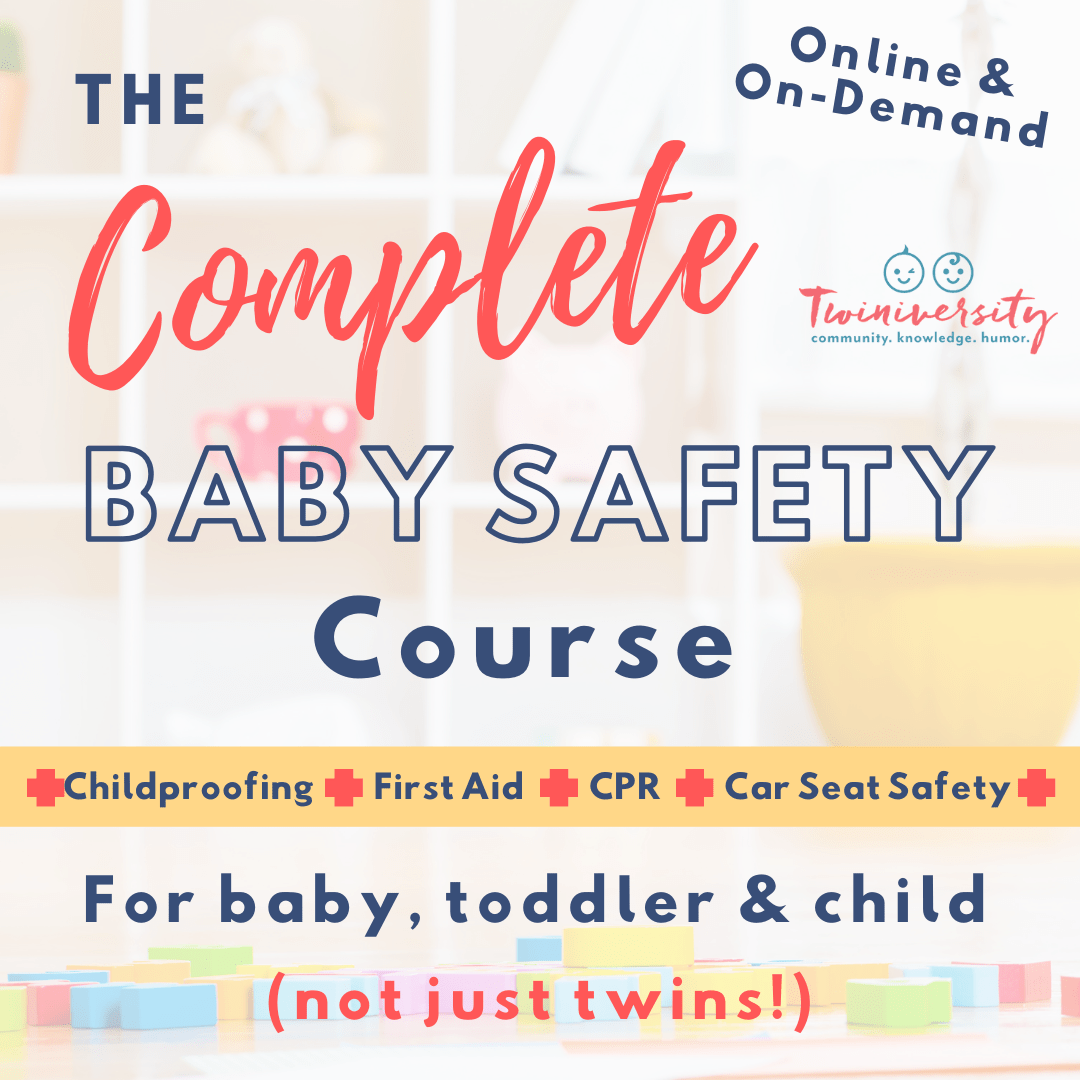 Need some baby safety training? Take the Twiniversity Complete Baby Safety course, offered on-demand. Includes video modules on infant, toddler, and child CPR, first aid, and common medical ailments, plus car seat installation and safety and childproofing your home. Click here to learn more!
DON'Ts
Do not start with a convertible car seat. If you are having one baby, maybe the convertible car seat is best for you. I promise, if you are having multiples, you want the infant carrier car seat. Is carrying two car seats challenging? Yes. But carrying two small babies in your arms alone and supporting their heads while on the go is harder! The convertible car seat will come into play as soon as your babies grow out of the infant carriers.
Do not use the harness strap covers if your seat came with them. They will get in the way of checking the harness height and of tightening the harness itself. As your babies grow, feel free to add these back in.
Don't purchase a secondhand car seat. You will never completely know what kind of life that car seat had before you. The smallest hairline crack could ruin the integrity of the seat. Safety first!
You want to choose the best car seats for your babies, but also want to be able to juggle two babies without too much struggle. Let's talk about how to achieve this.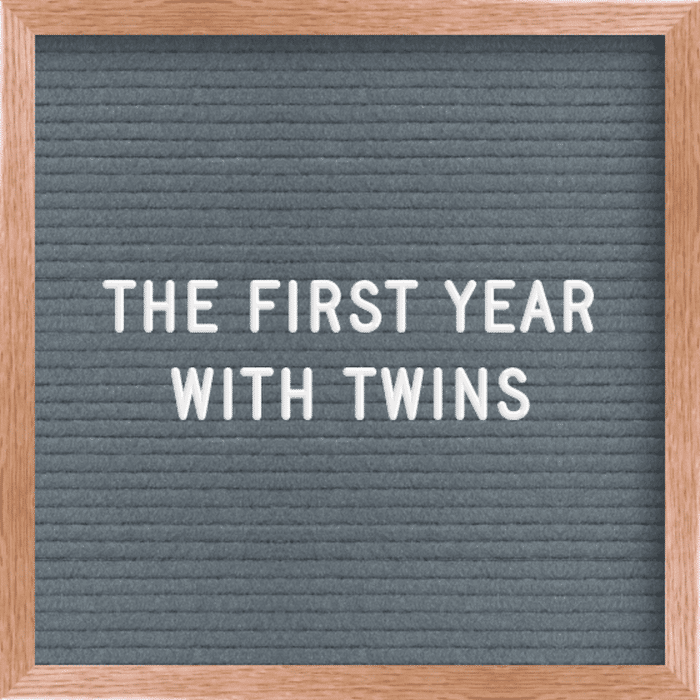 Stressing out with your infant twins? Let us help! Learn what to expect in the first year with twins, including tips, tricks, and advice from real twin parents who have been there. Click here to learn more… and while you're at it, check out our twin parent coaching services and Twiniversity shop!
Will the car seats fit in the car?
When choosing car seats for twins, you have to consider the size of the car seat. After all, you will be stuffing two car seats into your car. You may have found the perfect car seats with the most adorable fabric, but will they fit in your car? It won't matter if you got a good deal or if the car seats are compatible with your dream stroller if they don't fit in the car.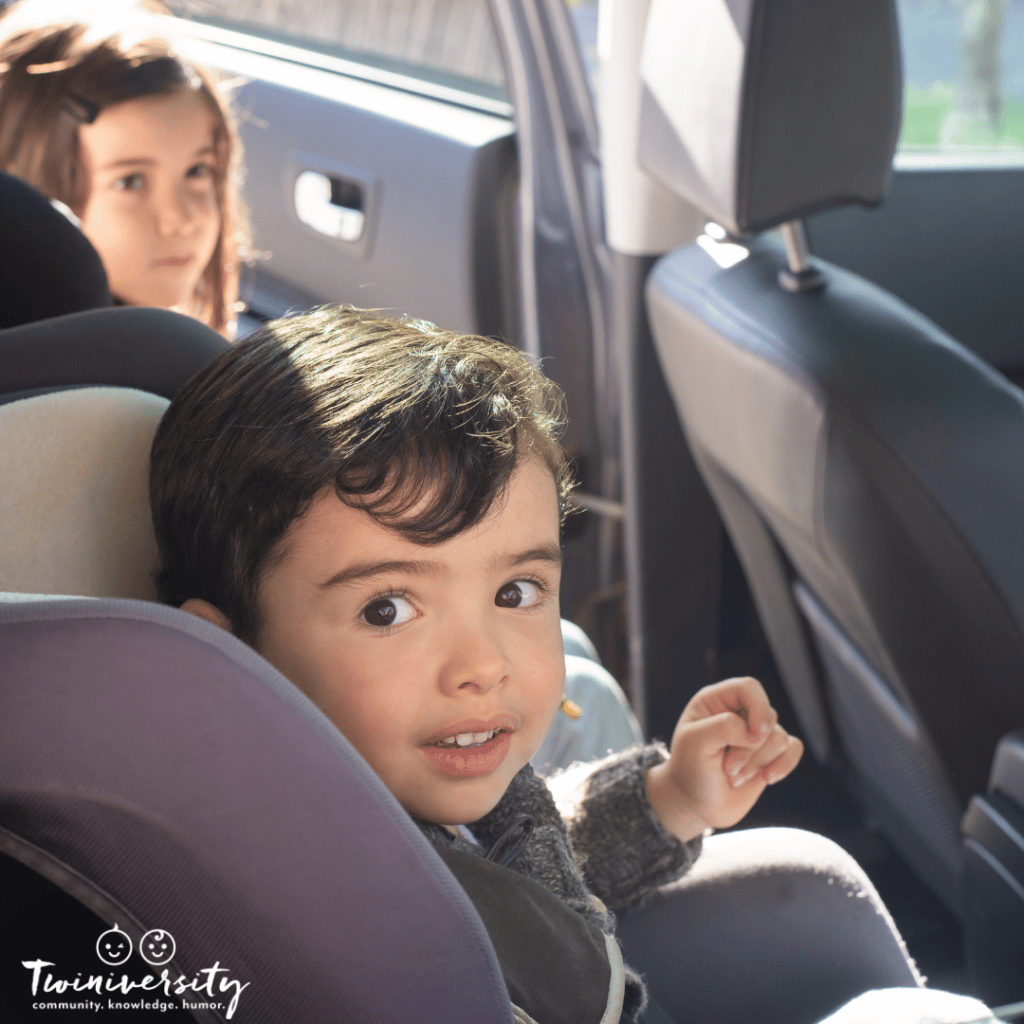 Measure the back seat width when choosing car seats for twins
If you don't have individual captain chairs for each car seat, measure your bench middle row or back seat, from door to door. If you end up having a preschooler in a high-back booster in the middle and two infant car seats on either side, you'll need a pretty wide vehicle unless you want to be putting a child alone in the 3rd row!
Pro Tip: do this sooner rather than later. There is always the chance that you will not be able to accommodate what your children need, forcing you to have to find a new vehicle. It will be a lot less stressful if you deal with this before your babies come home from the hospital and you find out the car seats won't fit.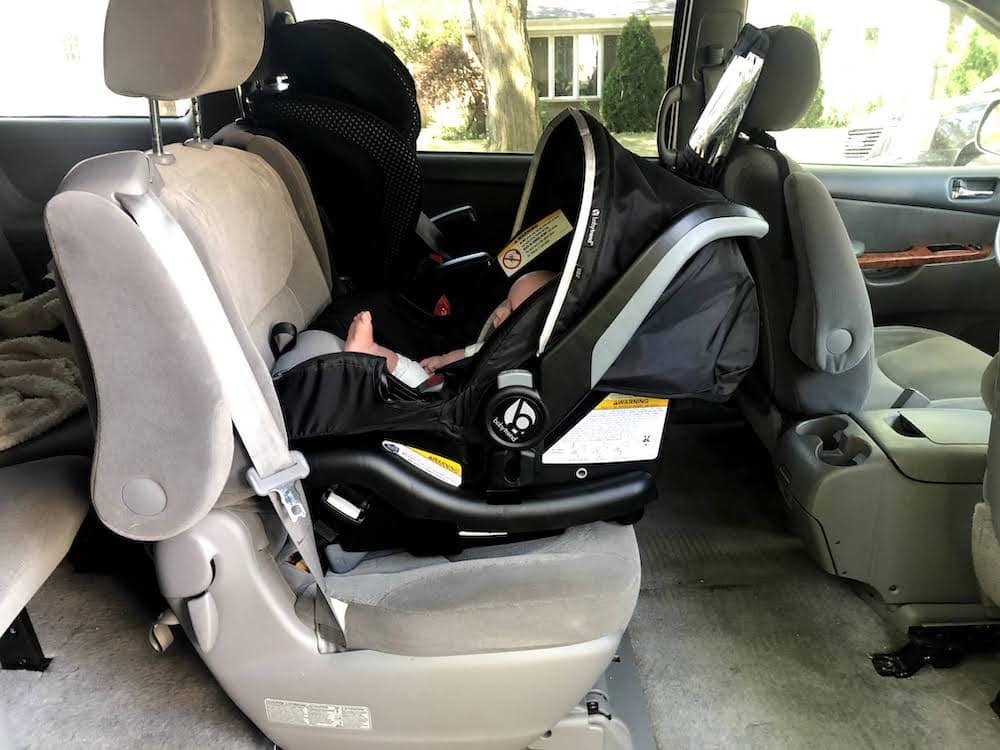 Measure the depth of the back seat
The depth is measured from the back of the rear seat to the back of the front seat. Now, move the driver's seat up until your knees are in your chest and measure again! Comfortable yet? What do you mean you actually wanted to DRIVE the car? Seriously though, we just assume that car seats are made to fit in the back of cars without any adjustments, but this just isn't the case with every vehicle. Even in some larger vehicles, the length of the car seat becomes an issue, especially for the driver. The car seat shouldn't touch the back of the front seats. Plus, it isn't safe to position yourself so close to the steering wheel that it hinders your driving.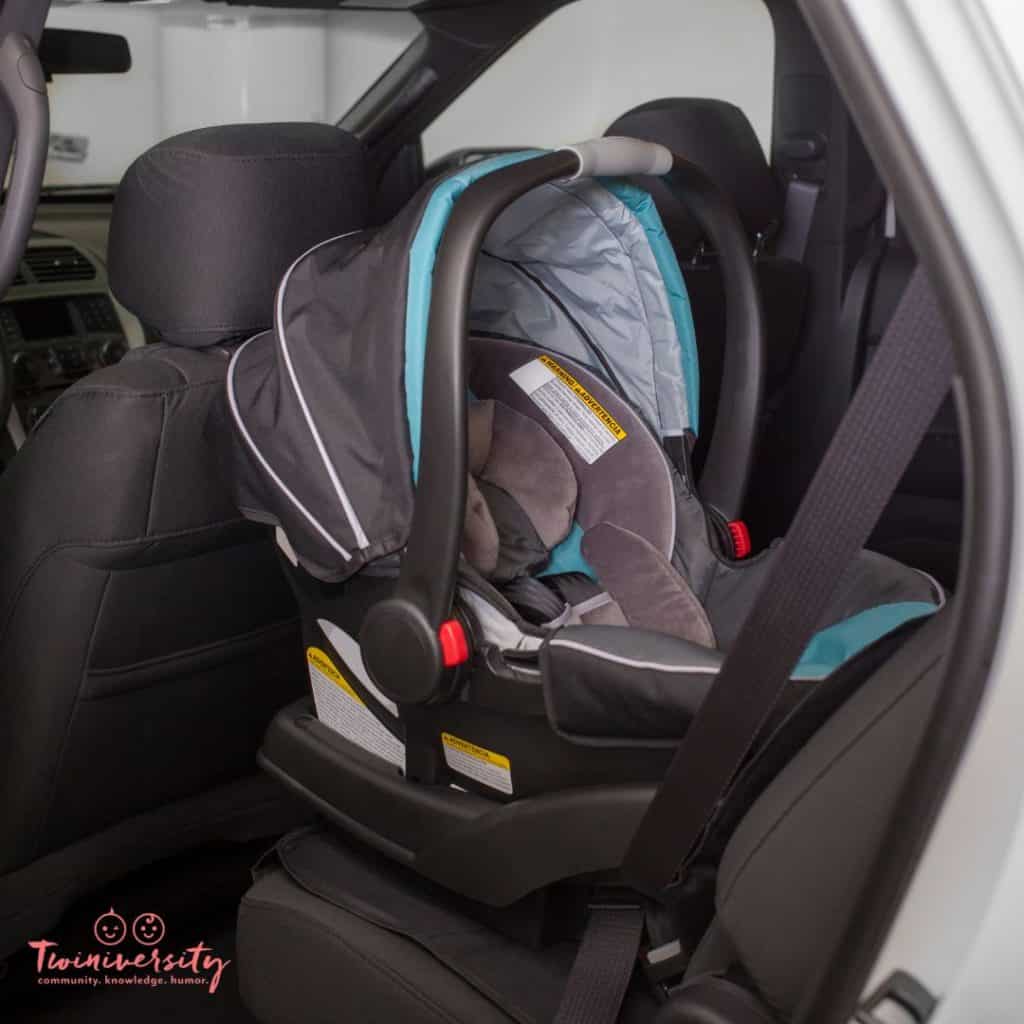 Portability of your twins' car seats
The weight of a car seat shouldn't necessarily be a deciding factor in your selection but it's something worth keeping in mind. Especially when you're choosing car seats for twins. Some car seats are significantly heavier than others. You will constantly be taking the car seats (with babies in them) in and out of the car. You want something that you can carry two of, as well as lift into the car.
Stroller compatibility
From one twin mom to another, you will want and need a stroller. But not every infant car seat is compatible with every stroller. If the car seat you decide on is part of a travel system, go with that. If you want a simple and affordable stroller, go with a lightweight stroller frame so you can simply strap and go!
The Baby Trend Double Snap-N-Go is the go-to stroller frame for twins. This stroller frame features "stadium seating" and accepts all brands of car seats. The convenience of this stroller is unmatchable.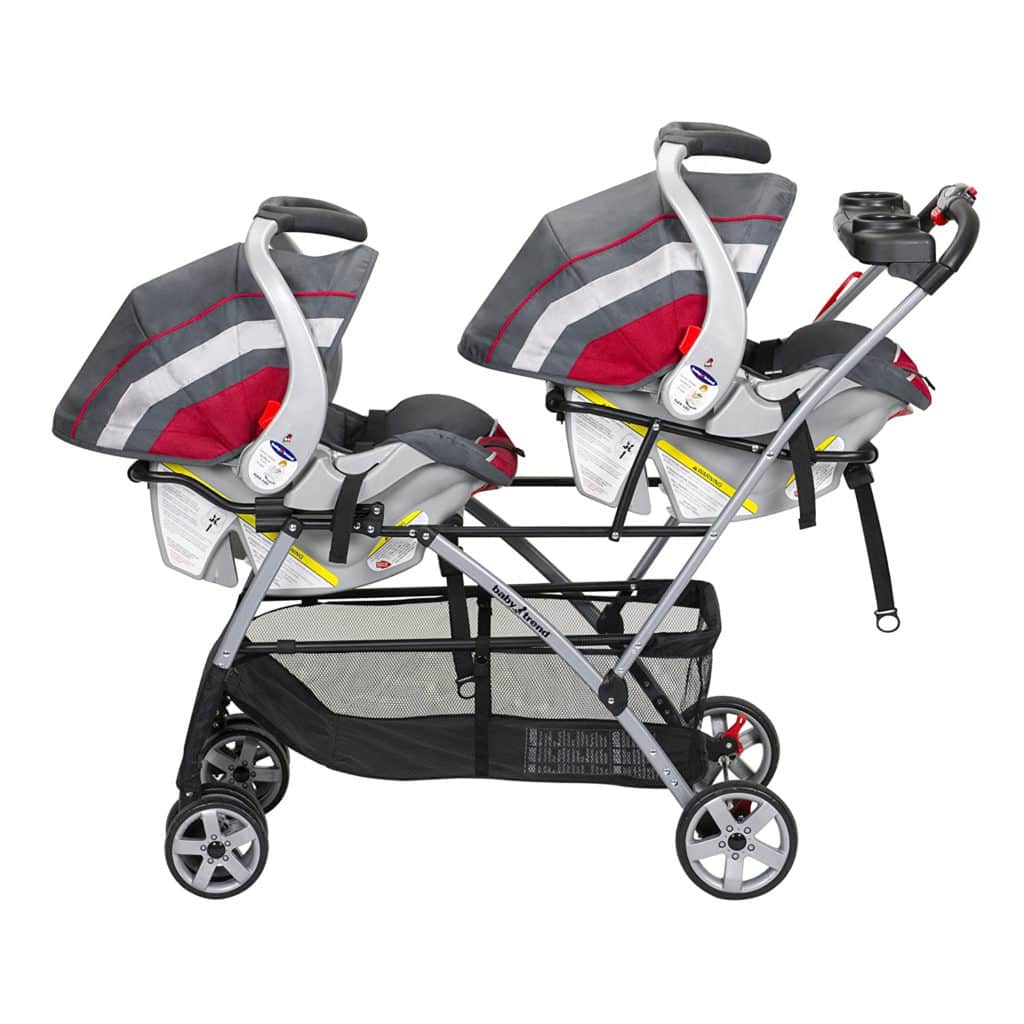 Don't base your decision on the brand of the car seat. Choose based on safety ratings, weight and height requirements, car compatibility, and price.
When choosing car seats for twins, start with a lightweight infant carrier seat that easily snaps into a base. Once the twins grow out of the carrier car seat, then invest in a convertible car seat that will keep them safe and comfortable as they continue to grow!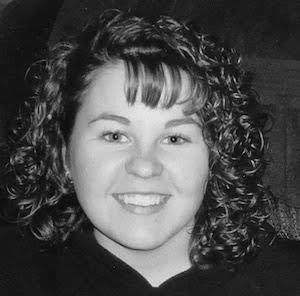 Latest Twiniversity Articles