Last updated on September 26th, 2023 at 06:37 pm
Today we are talking about pacifiers!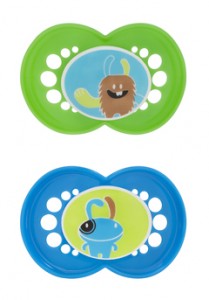 If you are expecting a few bundles of joy or are a new parent of multiples, you might be stuck with the great pacifier conundrum. Do you use 'em or not?
Many parents of multiples find that pacifiers are a must have in their children's lives. Perhaps the the need to "pacify" one child while tending to another, but there are many other positive effects that a pacifier can have on a child.
Here is why most parent's of multiples love

em

':
They soothe a fussy baby, or two, or three, or four.
They help your babies fall asleep. (The sucking motion is very soothing to newborns/infants.)

The

provide a distraction while you tend to your other kiddos.
Pacifiers might reduce the risk of SIDS.
Pacifiers are disposable. You can give the pacifiers to the "Pacifier

Fairy"

but thumb sucking is MUCH harder to stop.
If you haven't introduced pacifiers to your multiples yet, here are a few tips that can help get the maximum benefit out of our little friends (the pacifiers that is.)
If you are breastfeeding, wait till your routine is set. Parents worry if a pacifier will interfere with a

babies

latch, introducing a pacifier AFTER your babies

hav

mastered the art of breastfeeding will ensure no such problems will occur.
Choosing the proper pacifier will help a lot. With so many choices on the market, you should look for a silicone one-piece, dishwasher safe type. The latex variety can thin over

time causing

a potential choking hazard for your child.
Clean it, clean it, clean it! Using dish soap, a pacifier cleaner or fresh water can help lessen the chance your babies will be introduced to any

germies

! If you have a sterilizer, throw the pacifiers in with the bottles or invest in some micro steam bags. NEVER use your own mouth as a form of cleaning the pacifier.
Check them often. Replacing your children's pacifiers often will ensure that they are safe, clean and the appropriate size. Look for any signs of wear and tear and toss

em

out immediately if you find any.
We hope these few tips will bring a bit of peace to your life. All parents of multiples know that when babies cry "in stereo" our nerves get a little more than frazzled. Pacifiers can help with times like these.