Last updated on September 30th, 2021 at 10:14 am
I grew up vacationing in Palm Springs. It might just be my exaggerated childhood memories, but I'm pretty sure we went a lot. Like all the time. And we must have, because I have so many fantastic memories from that place: windmills, The Marriott Desert Springs Hotel, floating swans (or "swams" as my younger sister called them), buffet breakfasts, arriving to the pool early to save lounge chairs, swimming so much that my skin felt tight from chlorine and sunshine, burgers and Haagen Daz by the pool, dinner at the Mexican place that made tortillas in front of you, dinner at the Italian place that served ice cream that made our tongues turn black, laying on the golf course watching fireworks under the warm sky. These were the balmy, fun, carefree days of my childhood.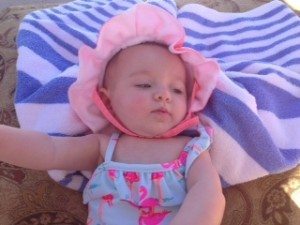 My childhood sometimes feels like another life, a blurry version of myself. Time has altered and transformed everything around it. I blinked my eyes and I became an adult. A wife. A mother.
Just last week I took a trip to Palm Springs with my own little family. In the days leading up to this trip, I remembered my childhood version of what it meant to go on vacation. I romanticized the details, and felt giddy with the idea of laying in the sun, swimming all day long, getting dressed up and going out to dinner, eating ice cream, and that lighthearted lingering feeling of summertime.
The reality of vacationing with my 11-month old twins couldn't be further from my dreamy childhood version. Taking care of babies is taking care of babies, no matter where you are. There is no lounging – there are short bursts of pool time (in accordance with nap schedules, feeding schedules, and worrying about overheating and dehydration). Meals are rushed and usually met with flying food/crying/choking. The warm sun on my back becomes laser hot beams of energy zapping forces. Swimming becomes a chaotic event of slathering two babies with sunscreen and wrestling on hats/suits/swim diapers.
Vacation, retreat, get-away. These words do not accurately describe our trip to Palm Springs with two babies. We did, however, admirably make it through a family vacation in 115 degree weather, survived a possible appendicitis as my sister rushed her son to the ER, gave the babies their first pancakes, soaked up some (very hot) sunshine, ate ice cream, and created lasting memories.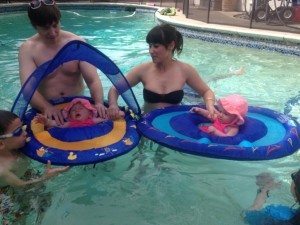 It was here that I ditched the rose colored glasses and formed my grown up version of what it means to vacation…with babies. Traveling with twins is a ton of work, but absolutely worth the effort. I'm sure that as the girls grow, our vacations will start to look more and more like the ones I remember as a child (for them and for me). For now, I will appreciate the part of it all that makes everything so challenging…little squishy, belly-laughing, sweet-smelling babies. Before I know it, time will sweep this stage away, and they will be grown up little girls.
For those of you planning a vacation with twin infants, here are a few tips we learned along the way that made our time more enjoyable:
Ask your destination if they have baby gear, such as highchairs, pack n plays, etc. Many hotels have these resources, and it makes packing and traveling much lighter.
Get on the road at bedtime! We did this, and the babies slept all the way to the desert. This was a much more pleasant experience than our last trip out, which was a 7-hour traffic-filled drive with two very unhappy babies.
Adjust your speed and plans to fit the needs of your babies: "You have to go at the speed of the slowest common denominator. If that's your toddler or your great-aunt, that's how fast you're going to go. You should head into the vacation knowing that. Be realistic. Say, 'This is what we're going to be able to accomplish.' And then give yourself ample time to do each activity and enjoy it. If you overshoot, you're only going to end up frustrated." —Wendy Perrin
Hope for the best, but prepare for the worst, such as trips to urgent care, the ER, fevers, bee stings, etc. Stuff happens. Even on vacation.
Eat in if you can. If you can get a hotel with a kitchen, it not only saves money on food, but eliminates the stress and work involved with getting out for every meal.
The witching hour: embrace it. Everyone runs out of steam towards the end of the day, especially after being out in the sun. Both adults and babies need a little down time to recuperate.
Try to be present. For me, vacation felt even busier than being at home. The days slipped by so quickly, and the trip was over before I knew it. Enjoy every moment…even the hard ones.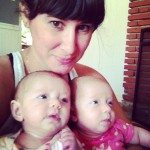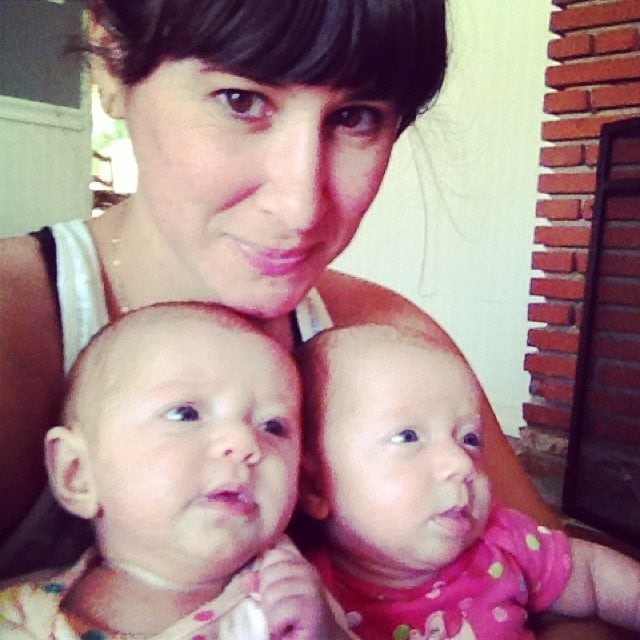 Rachel Brehm, mother to fraternal twin girls, blogs regularly on eating disorder awareness and insurance denials for eating disorder treatment. Brehm writes for an Insurance Law Blog as well as an Eating Disorder Law Blog (rated as one of Top 25 Eating Disorder Blogs of 2012) focusing her writing on insurance advocacy, insurance coverage, body image, eating disorder recovery, and weight stigma. As a new contributor to Twiniversity.com, Brehm plans to shift her writing on body image issues in the insurance world to include body image issues in the mommy world. Brehm's writing will address navigating pregnancy and postpartum with eating/body image issues as well as her experiences raising twin girls-and all the "twin moments" that go along with it. For more Twiniversity posts by Rachel, click here.
Related Articles