Soon after new parents announce the upcoming arrival of their twins, others will often start to pry, "Are you going to breastfeed." Seriously? I'm sure you've been there (or will be). Breastfeeding is one of the main topics discussed on Twiniversity and the parenting community. But what's NOT so common (and often not talked about) is moms knowing the state breastfeeding laws within the United States.
Is there really a need to have laws in place surrounding breastfeeding?
Umm, yes! Did you know that it wasn't until 1984 (pause there for a second! 1984!! "When Doves Cry was the #1 song!) that breastfeeding was still potentially considered a criminal act because it fell under "public indecency"? What the what??? Yup! EVERY state in the US, previous to 1984, could consider it a crime if your breast was exposed in public because you were feeding your kiddo.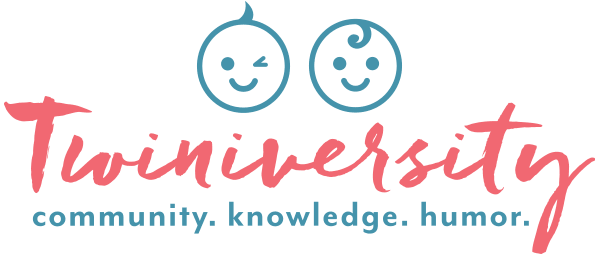 Twiniversity is the #1 source for parents of
multiples, and we are growing faster every day!
Find us all over the web:
Or contact us by email at community@twiniversity.com
Since 1984, states have been enacting breastfeeding laws but not quickly enough. Florida and North Carolina finally got their act together in 1993. It blows my MIND that this is true, but folks, it is. Fast forward, and MOST states have laws created around breastfeeding protection, and you really should know the ones specifically for your state. See below.
STATE
Allows a
mother to breastfeed
her child
in any
public or
private
location
Specifies that
indecent
exposure
does not
include
an act of
breastfeeding by a mother
Provides that
no person
may restrict
or limit the right
of a mother to
breastfeed
her child
Excuses
women
who are currently
breastfeeding a
child
from jury
service
Virginia
X
Alaska
X
Arizona
X
X
Arkansas
X
X
California
X
Colorado
X
X
Connecticut
X
X
X
Delaware
X
X
Florida
X
X
Georgia
X
Hawaii
X
X
Idaho
X
X
Illinois
X
X
X
Indiana
X
Iowa
X
X
Kansas
X
X
Kentucky
X
X
X
Louisiana
X
Maine
X
X
Maryland
X
Massachusetts
X
X
Michigan
X
X
X
Minnesota
X
X
Mississippi
X
X
X
X
Missouri
X
X
X
X
Montana
X
X
X
Nebraska
X
X
X
Nevada
X
X
New Hampshire
X
New Jersey
X
New Mexico
X
New York
X
X
X
North Carolina
X
X
North Dakota
X
X
Ohio
X
Oklahoma
X
X
X
Oregon
X
X
Pennsylvania
X
X
X
Puerto Rico
X
X
X
Rhode Island
X
X
South Carolina
X
X
South Dakota
X
X
X
Tennessee
X
X
X
Texas
X
Utah
X
X
X
X
Vermont
X
Virgina
X
X
X
Washington
X
X
West Virginia
X
X
Wisconsin
X
X
X
Wyoming
X
X
What made the US change and put breastfeeding laws in place?
Breastmilk has been recorded as revered as early as the ancient Egyptians. In fact, there are hieroglyphics in ancient temples exhibiting an Egyptian god, Isis, breastfeeding life back into her son Horus.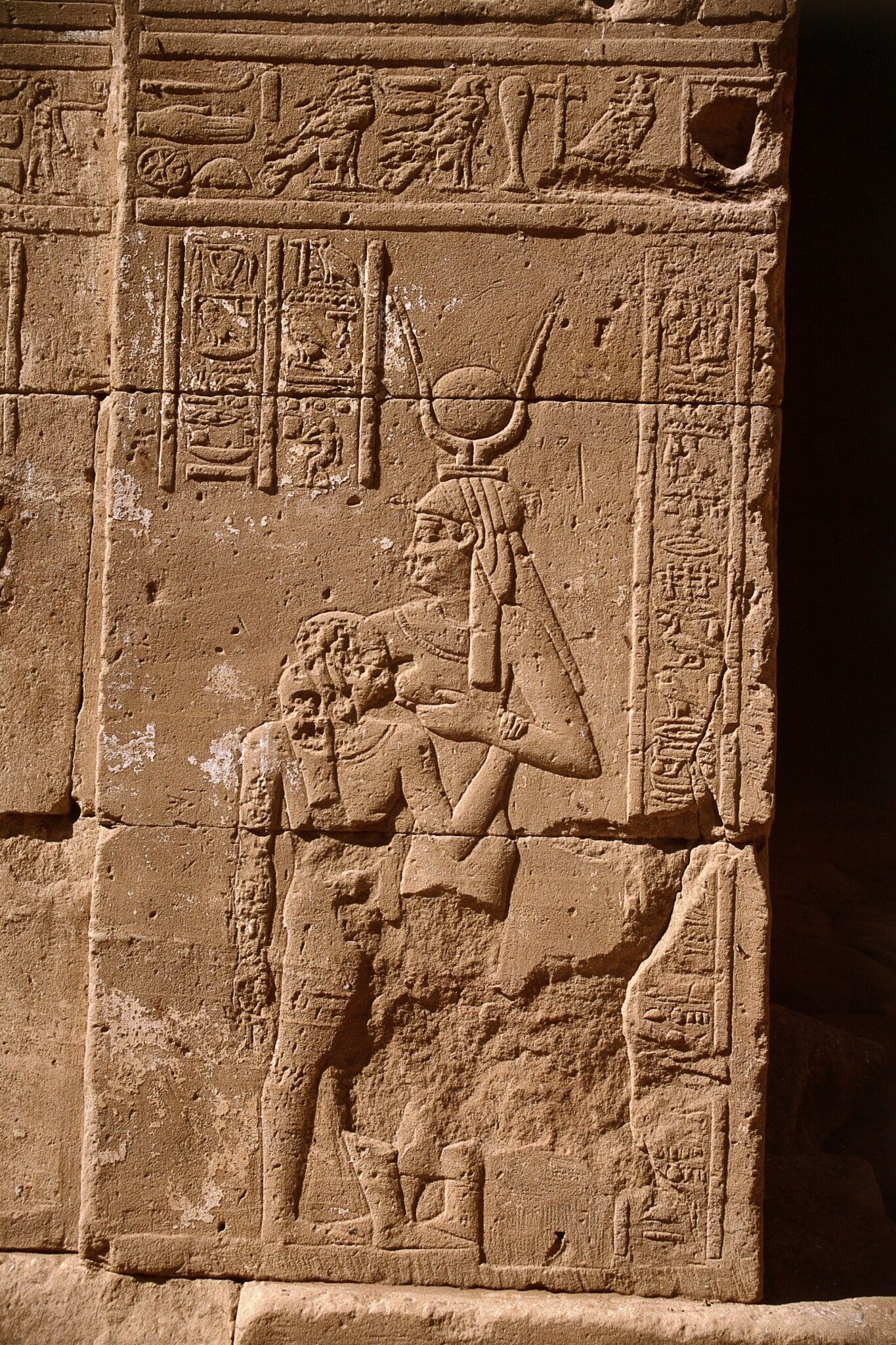 Even though breastfeeding was literally seen as a source of life (and it is!), science took forever to confirm what many cultures already knew —specifically, the impact of breastmilk on our tiny humans.
Besides offering immunity support and a slew of other medical protections, it really is the most well-rounded nutrition specifically designed for your twins. Not only are the benefits exponential for your babies but for you as well. But that's not what this article is about. Let's get back to your rights.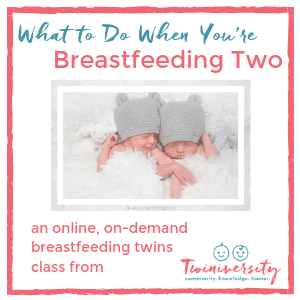 Worried about breastfeeding twins? What To Do When You're Breastfeeding Two is an on-demand online breastfeeding twins class made just for YOU! This course was created by Twiniversity in partnership with Judy Teibloom-Mishkin, IBCLC. Click here to learn more…
Are breastfeeding laws created on a city, state, or federal level?
All of the above.
Each state in the US has the privilege of supporting their breastfeeding moms independently as they see fit. Cities typically have to follow state regulations, so if your state covers you, you're golden in your city. You can find the breastfeeding twins laws here for your specific state since they really vary from minimal protections to some pretty impression laws. Washington State has the most liberal breastfeeding laws, while Idaho has the most conservative breastfeeding laws. For the states that were lagging behind, the feds got involved in 2010 to equalize a bit of the playing field when it came to regulations.
What are the federal laws that protect a woman's right to breastfeed?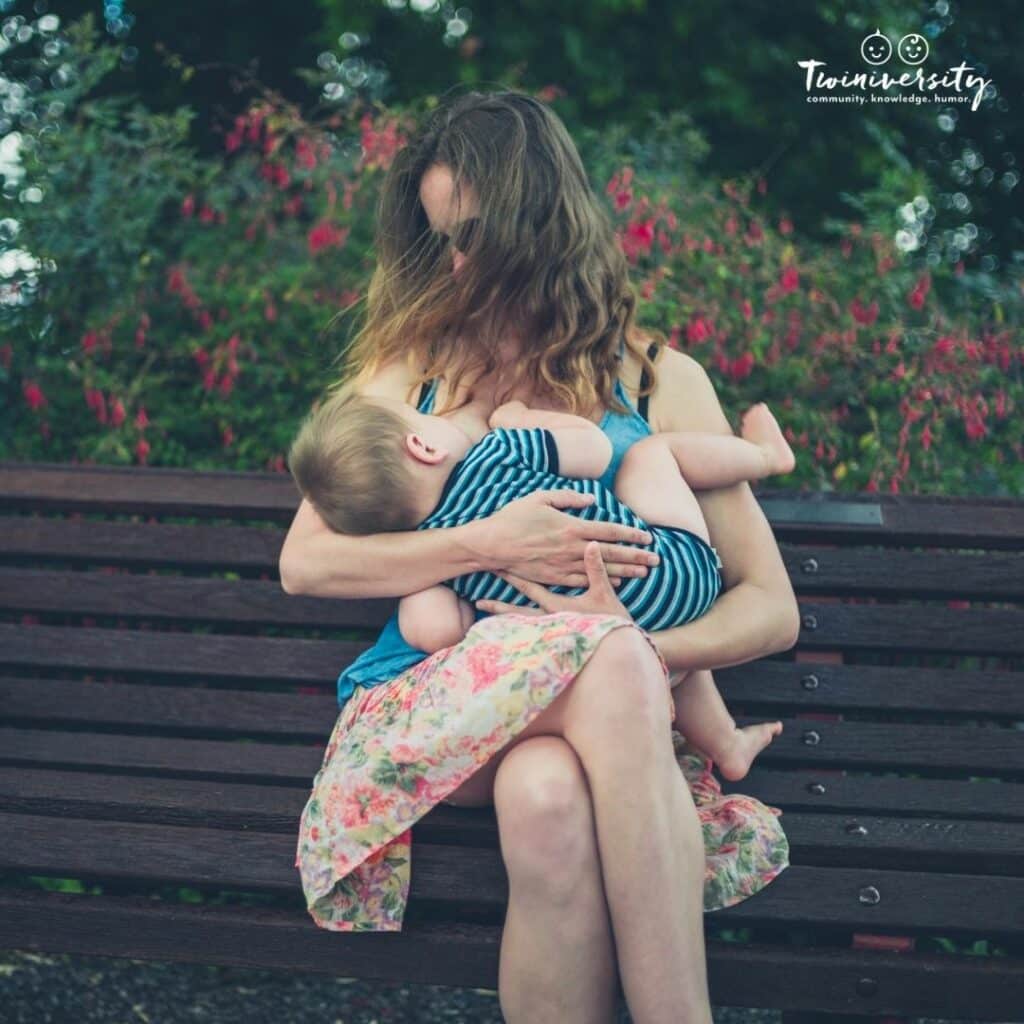 Breastfeeding legislation was first introduced in the early 1980s in the US, but it wasn't until 2010 that anything was actually implemented. At that time, there were only very simple protections put in place, but we'll take it. At least the government started paying attention.
Break Time for Nursing Mothers' Law
In 2010, the Break Time for Nursing Mothers Law was enacted. This federal law stated:
Women are granted the right to excuse themselves from jury duty because they are nursing.
Workplaces were informed that nursing moms needed a place to pump (bathrooms back then were acceptable)
breaks needed to be given to allow women to express their milk for up to one year post-delivery (no compensation was given for break time).
Nursing moms should feel protected to breastfeed without discrimination.
*This was only applicable for companies with 50 employees or more.
The Pregnant Workers Fairness Act
Then, on June 27th, 2023, the federal govt FINALLY put in place "The Pregnant Workers Fairness Act" (PWFA). This act helps protect pregnant and postpartum workers. Meaning, that if you are pregnant or just returned to work after having a baby, you can not be forced off a job because of known limitations. Employers must provide "reasonable accommodations" without facing discrimination or retaliation.
---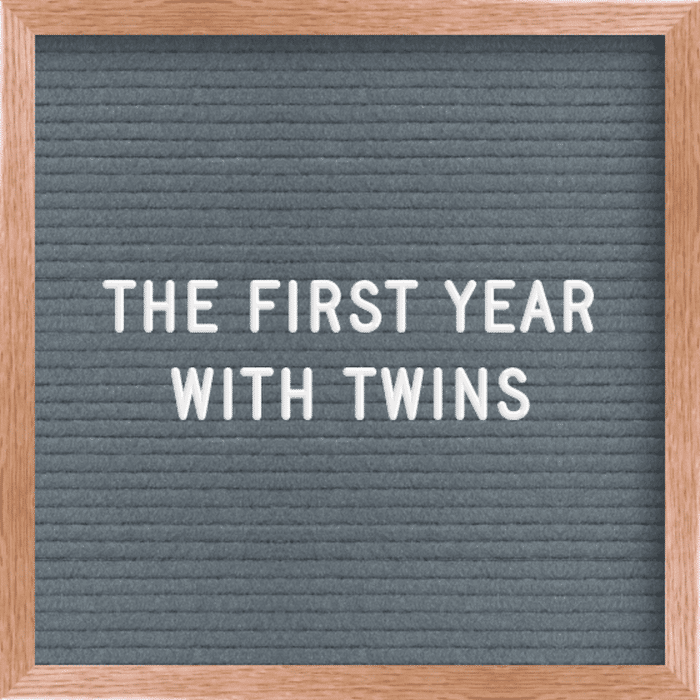 Stressing out with your infant twins? Let us help! Learn what to expect in the first year with twins, including tips, tricks, and advice from real twin parents who have been there. Click here to learn more… and while you're at it, check out our twin parent coaching services and Twiniversity shop!
---
Reasonable accommodations include:
Being able to drink water
Being able to sit when necessary
Offered closer parking
Receive appropriately sized uniforms
Receive additional break time to use the bathroom, eat, or rest
Are allowed to take leave to recover from childbirth
Be excluded from strenuous activities that might expose them to compounds that may be unsafe during pregnancy or nursing.
Keep in mind the PWFA does not replace federal, state, or local laws that are more protective of workers affected by a pregnancy, childbirth, or related medical conditions. But, also know that more than 20 states DO NOT have laws that provide accommodations for pregnant workers.
The PWFA isn't something that will provide paid leave. It simply ensures that anyone who is pregnant or has recently given birth has the right to collect a paycheck without jeopardizing their health. While this is in place for both pregnant and new moms, breastfeeding moms already had a little bit of protection federally with the PUMP Act.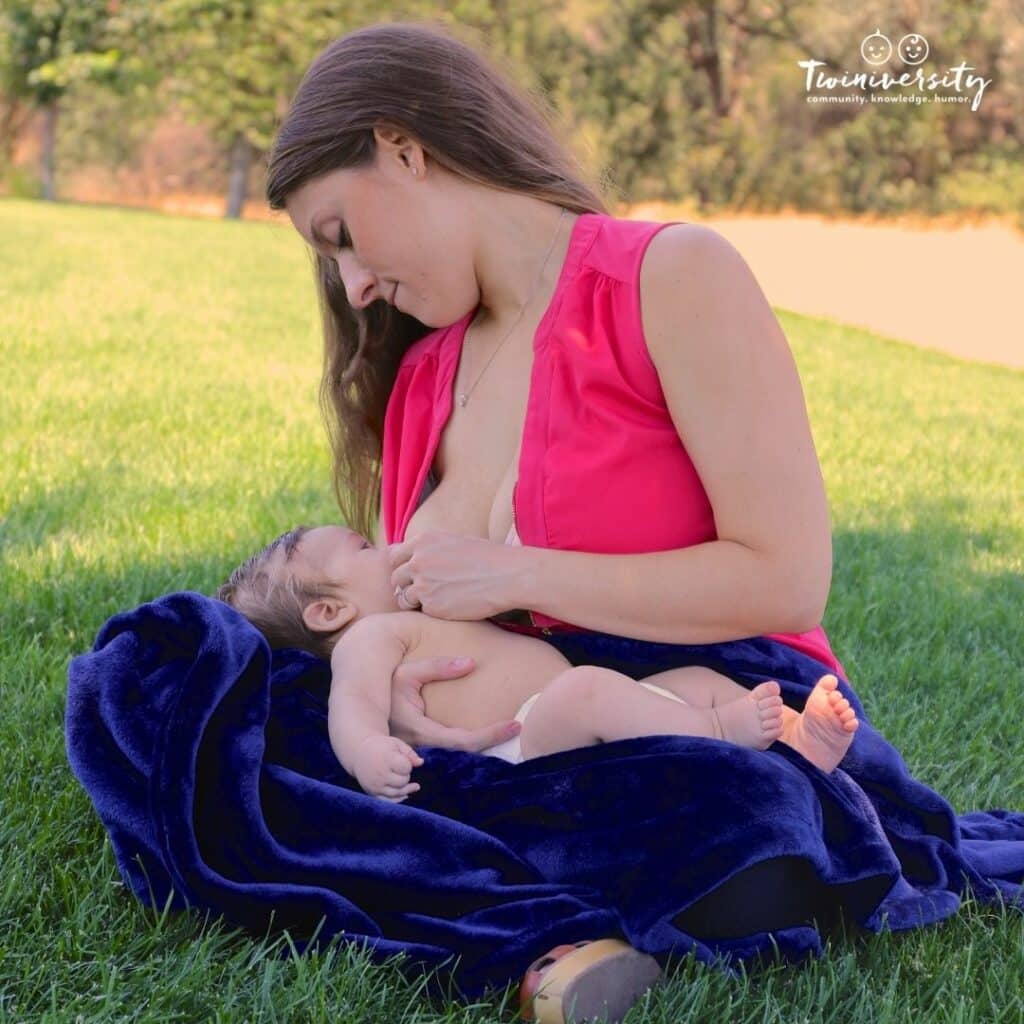 What is the PUMP for Nursing Mothers Act ("PUMP Act")?
Back in 2022, the federal government decided it was time to buck up and make sure that our moms can get the assistance they need when choosing to breastfeed their twins or singletons.
The PUMP Act states that employers are expected to give reasonable breaks to nursing moms. PLUS, give them a reasonable space, other than a bathroom, to pump or nurse in. The PUMP Act, like in the 2010 law, allows a mom to be blocked from the view of other workers and free from coworker intrusion while pumping or nursing.
The PUMP Act stated that moms receive:
Breaks to pump at work for up to one year after delivery. There is no limit on frequency or duration; however, your employer does not need to compensate the break time.
Nursing moms who work virtually are entitled to this right as well
A specific nursing location at the workplace that is NOT a bathroom (you know it was a woman who added this in), regardless if that bathroom is private or not.
The space does not need to be dedicated to nursing moms but must provide a private location "shielded from view and free from coworker intrusion."
The space needs to have a place to sit, a flat surface for the pump (other than the floor), and an accessible electrical outlet.
Companies are also told to take into consideration the number of nursing moms to ensure that each employee's needs can be met and if more than one nursing location is necessary for their particular office.
Are you supposed to be paid while you pump?
Under the Fair Labor Standards Act (FLSA), an employee can:
Take a break that is not paid and will not be discriminated against
Use scheduled break time that is paid to pump
Must be completely relieved from duty during her pumping break or must be paid for the break time
However, if you are expected to answer emails, check documents, or conduct any other type of work, you should be compensated for your time.
Does my employer have to offer me these federal protections?
If your employer has under 50 employees, they are not subject to abide by these laws if doing so would create an undue hardship by creating considerable difficulty or expense in relation to the size of that company or the nature of their business.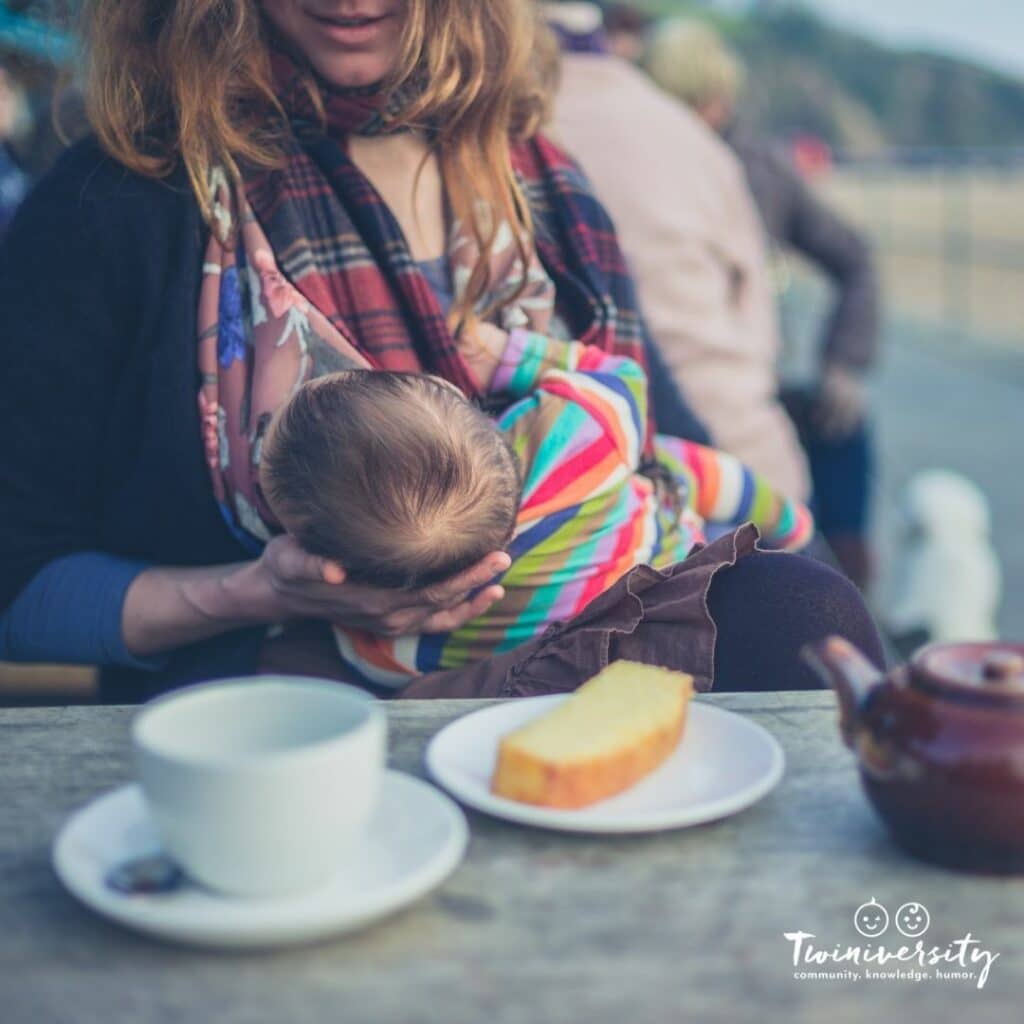 What if you feel your breastfeeding rights are being violated?
According to the Department of Labor, as of April 28, 2023, an employer who violates an employee's right to a reasonable break time and space to pump breast milk will be liable for appropriate legal or equitable remedies under the FLSA. Remedies may include employment, reinstatement, promotion, and the payment of wages lost and an additional equal amount as liquidated damages, compensatory damages, and make-whole relief, such as economic losses that resulted from violations and punitive damages where appropriate. These remedies are available regardless of whether the employee has also experienced retaliation.
If you feel that your personal breastfeeding rights were violated, you can contact the Department of Labor Wage and Hour Division.
Do breastfeeding mothers have any protections outside of the workplace?
Yup! There is the "Fairness for Breastfeeding Mothers Act," which states that certain public buildings must have a room for nursing moms to pump.
We also have the "Friendly Airports for Mothers (FAM) Act." The FAM provides breastfeeding moms with an accessible place to pump or nurse their babies while in the airport.
The "Bottles and Breastfeeding Equipment Screening Act (BABES Act)," requires TSA to follow special procedures regarding formula, infant feeding equipment, and breastmilk during airport security screenings. This also ensures ongoing training for all TSA agents so this law is consistently enforced correctly.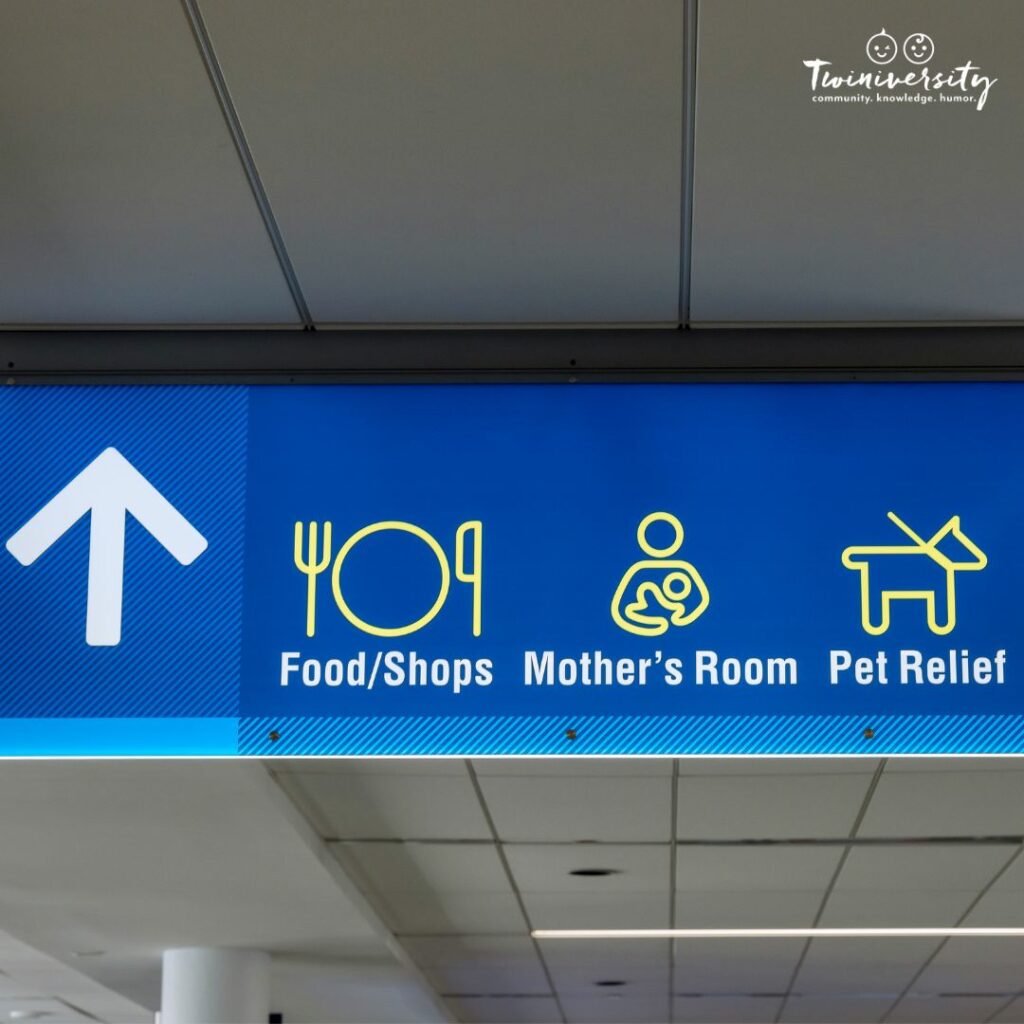 There is the "Safe Medications for Moms and Babies Act," which established a task force at the NIH (National Institute of Health) specifically to ensure the safety of medications for women during pregnancy and lactation.
And, of course, the "Patient Protection and Affordable Care Act (ACA)" ensures that health insurance companies provide breastfeeding support, counseling, and equipment for the duration of breastfeeding.
I know this was a lot to take in. I'm hoping that you share this with any nursing twin moms, or any singleton moms for that matter. It really makes us sad that breastfeeding in the United States is still taboo someplace. It's also a shame that laws HAD to be put in place to provide moms protection. We should always look out for each other. Nursing mamas should be held in such high regard, especially if you are a nursing twins mama!
If you are pregnant and considering breastfeeding your twins, I hope you consider taking our breastfeeding twins class. And if you need one-on-one lactation support, we have you covered as well with virtual and in-person breastfeeding twins support.