Few things have given me the chills like The Shining Twins costume. Call me old, call me crazy, but you can't deny the cultural influence of the movie The Shining. Especially the Grady twins and the chilling twins costume they wore in the movie. And you can't deny the impact they had on the perception of twins (especially identical twins). The image of them standing in the hotel corridor holding hands and chanting to Danny is undeniably iconic and creepy. Even today, most people still understand the references even if you've never seen The Shining.
And now that I have twins, it's even more freaky. Everyone's always like, "Oh you have twins, that must be fun." Yeah, until you are peacefully sleeping and you wake up to two kids standing next to your bed silently staring at you! It's very reminiscent of The Shining twins…"come play with us mommy, forever and ever and ever."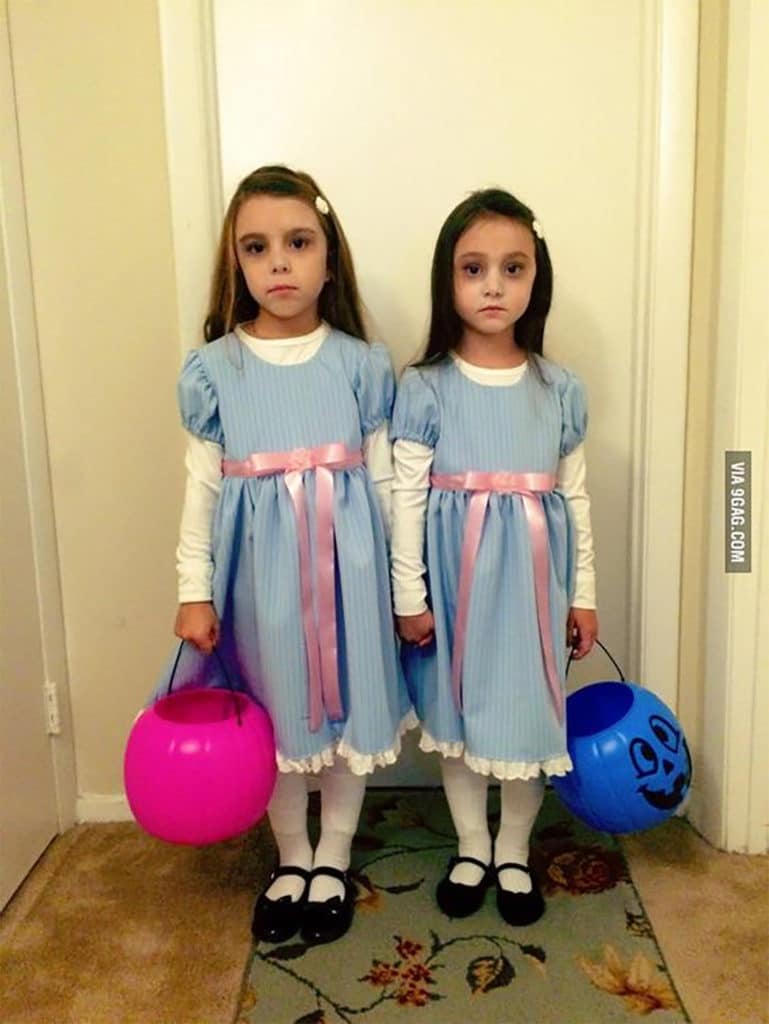 ****spoilers ahead****
What is The Shining about?
The Shining follows writer and former alcoholic Jack Torrance, who agrees to work as a caretaker at an isolated Colorado hotel. Jack brings his family with him but soon becomes possessed by evil supernatural forces that put all their lives at risk. Only five-year-old Danny learns about the house's awful past after developing psychic abilities. And yet it's the Grady twins (on screen for less than two minutes in total) who are imprinted in our minds as the quintessential creepy twins.
What makes The Shining twins so creepy?
The second scene of the Grady twins (their bloody bodies lying dead on the ground), helps secure the creepy feeling. But they are creepy before you even see this image!
At first glance, the girls appear to be typical little girls. Holding hands, wearing clean pressed dresses with a belted bow, knee-high socks, and black mary jane shoes. Complete with a cute little hair barrette sweeping their hair to the side and out of their face. But, as you look into their eyes, you notice the dark circles and then they speak. They invite Danny to play with them. Which under other circumstances would be nice. But their robotic tones and the fact that they speak in unison sends chills down your spine.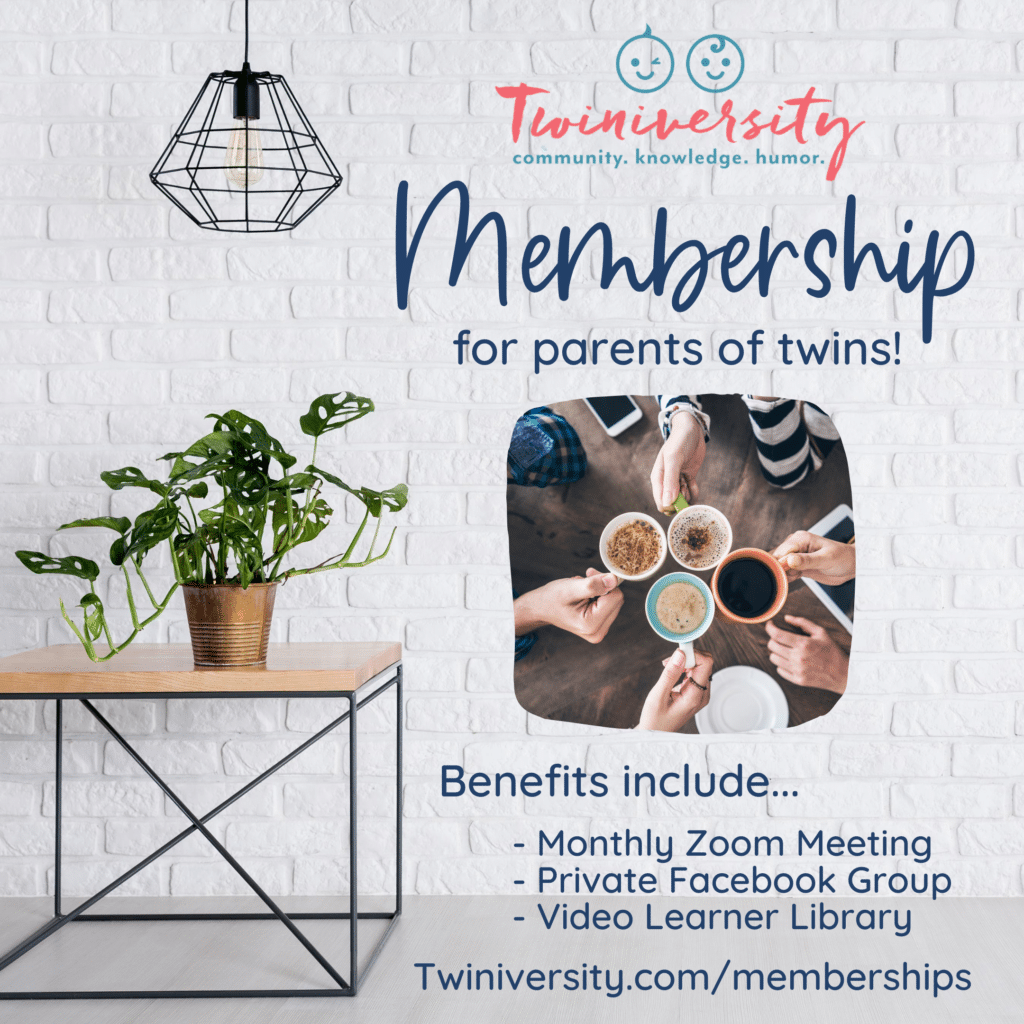 Need some twin parent friends? Get the support you need with a Twiniversity Membership. Benefits include a monthly twin parent club meeting on Zoom, access to a private Facebook group just for twin parents, and a video library of twin parenting lessons. Visit Twiniversity.com/membership to join today!
Twins have been making unsettling appearances in horror films and novels for decades. Just like their circus-like attention in everyday life, there's something about twins that gives them great horrific potential; extreme similarity, the fact they are virtually indistinguishable, and their deep connection. Seeing twins in horror movies is one of those universal rules that almost always signals something sinister. The best representation of this is the Grady twins in The Shining.
When someone mentions creepy twins, these are the first ones that come to mind every single time. The Grady twins were the first use of twins as nothing but an image of horror. This is why their 2-minute scene is so impactful.
Cultural Influence of The Shining Twins
In a recent appearance on The Tonight Show with Jimmy Fallon, fellow twin parent, Neil Patrick Harris admitted that the scariest movie he has ever watched was The Shining.
"The Shining is really psychologically terrifying," he told Jimmy Fallon during his interview.
Harris's twin daughter, Harper, currently has a love for horror films. "What do you say to a girl who wants to watch horror movies? Like, do you say "absolutely not"? Because then she wants to watch them more," Harris told Jimmy Fallon.
"And so she keeps asking me, "Papa, what is the scariest movie that you've ever seen?".
"And I know where this is going 'cause she's going to want to watch (it)".
She just kept asking and persisting, and so we watched "The Shining" last week."
"I don't know if it was a good call," admitted Harris, "and it is still really scary. Super freaky, bloody elevator. and the boy on the tricycle, the twin girls staring. Scary." So, (he) asked (Harper), what she thought. She said, "I'm mildly disappointed. That was the scariest movie you've ever seen?" Neil Patrick Harris replied, "It's not scary like 2022 scary." And she was like, "Yeah, it wasn't that scary."
"She has slept in our bed for like the last four nights," Harris said. "I think it was a little scarier than she thought."
According to www.PopHorror.com, the Grady twins rank #2 in the top 10 Creepy Twins in Horror Films. 42 years later and The Shining is still considered one of the most frightening films ever made. In fact, it was scientifically "proven" to be the perfect horror film by King's College London researchers in 2004.
The Shining Twins are immortalized and endlessly recreated year after year as Halloween costumes.
From Bruce Willis to Greek Royalty, Princess Maria-Olympia of Greece, celebrities love to recreate The Shining twins' costume. Enjoy our celebrity Grady Twins showcase: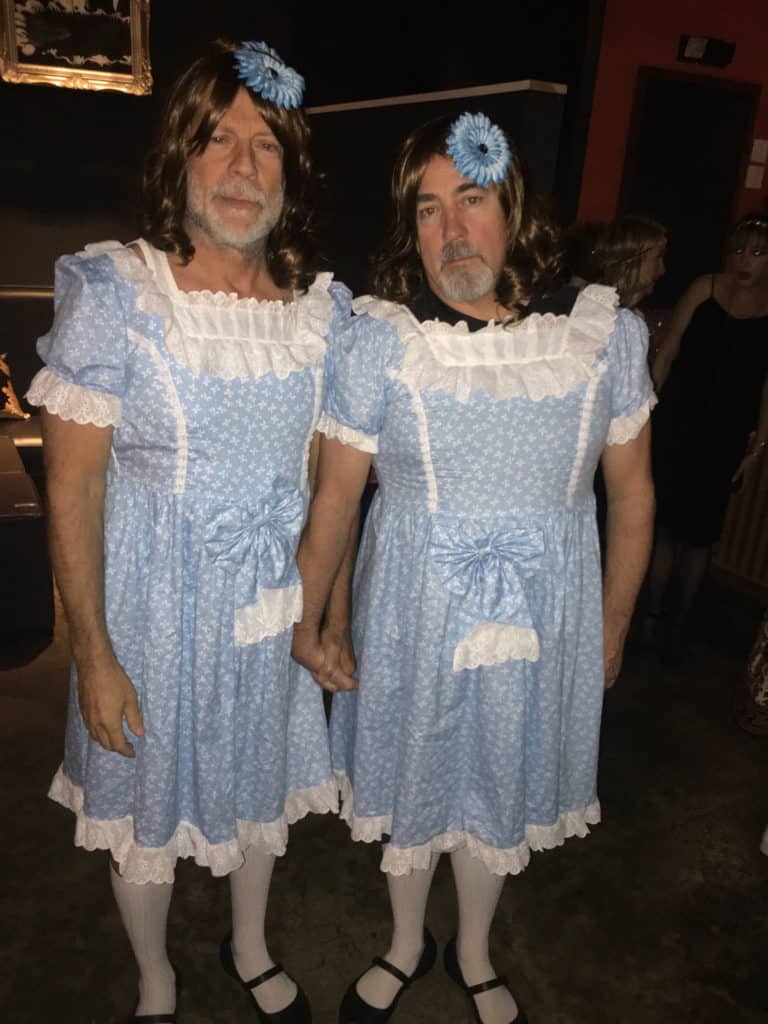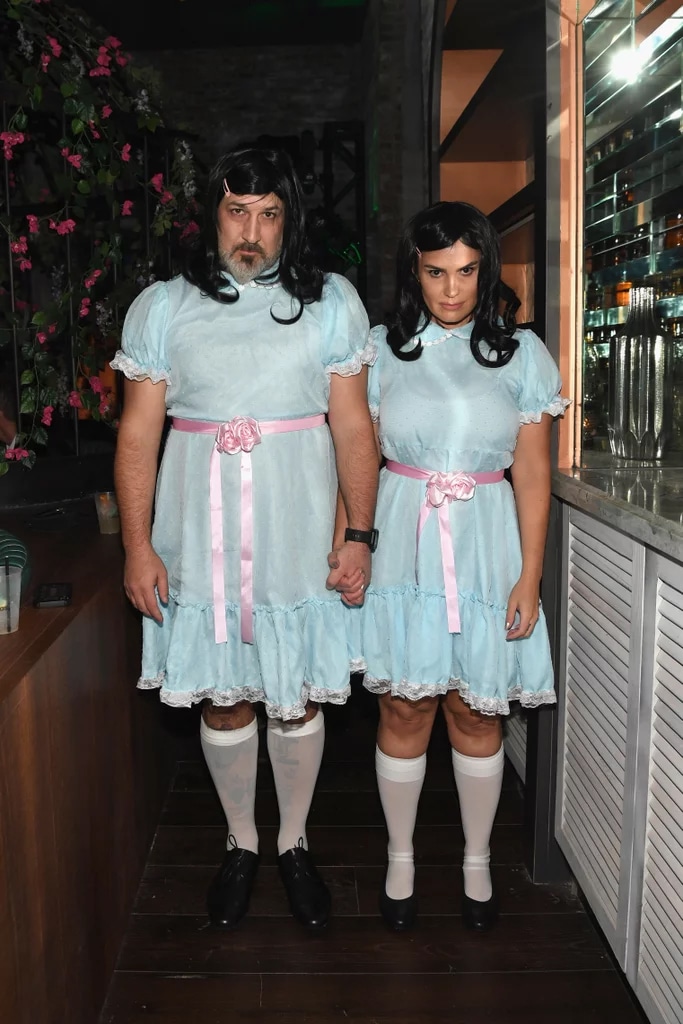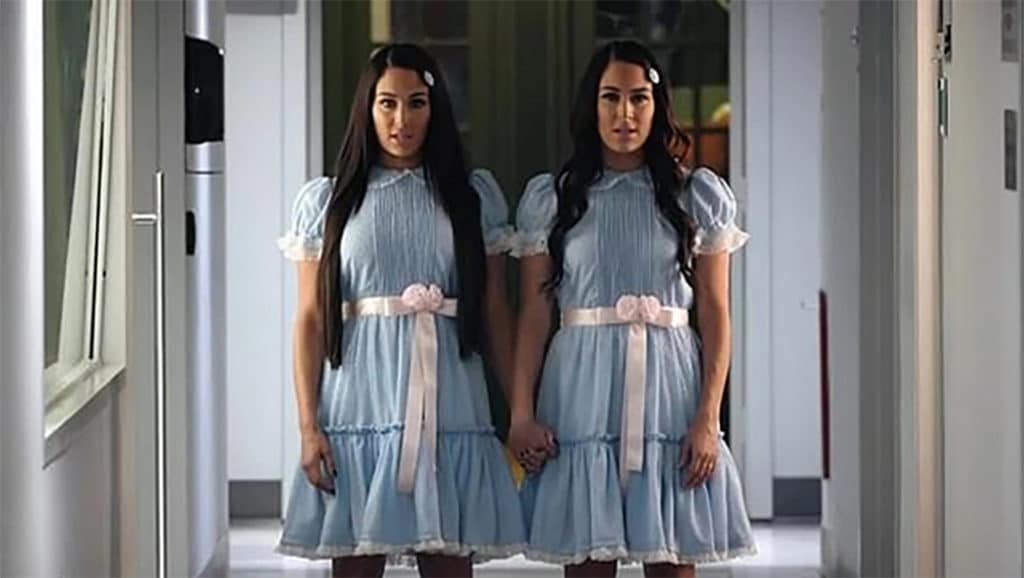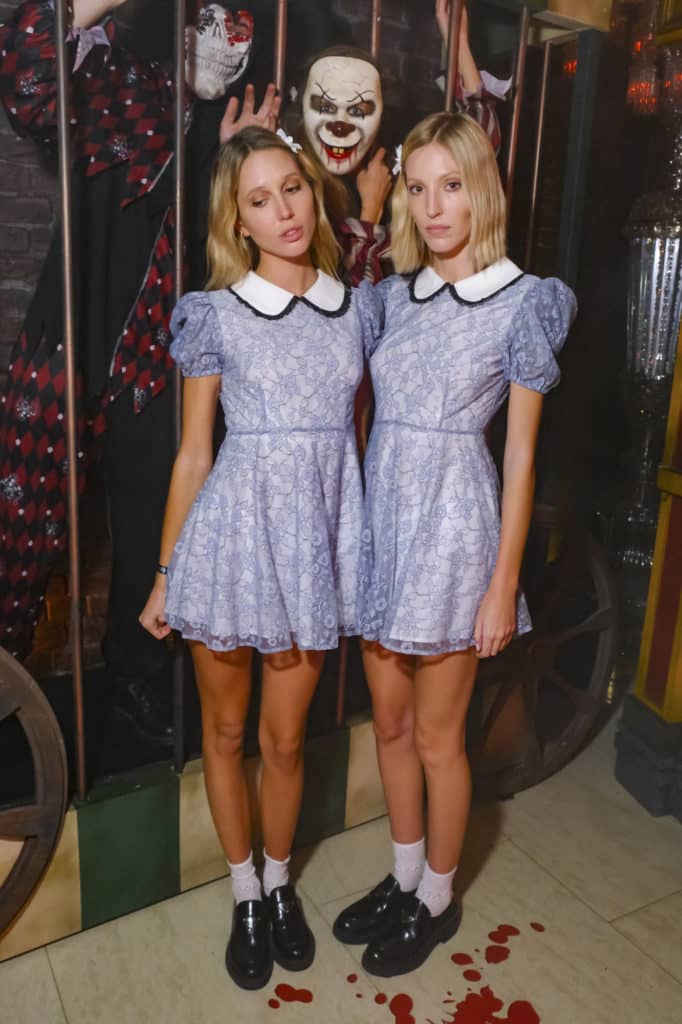 Although not wearing identical clothing, the Olsen twins did have a "Grady Twins" moment at the Met Gala in 2016. In the brief video clip created by Vogue, the Olsens appear to be channeling the twins from The Shining. It's a bit creepy, to say the least. After stoically staring at each other, the girls shift their gaze towards the camera.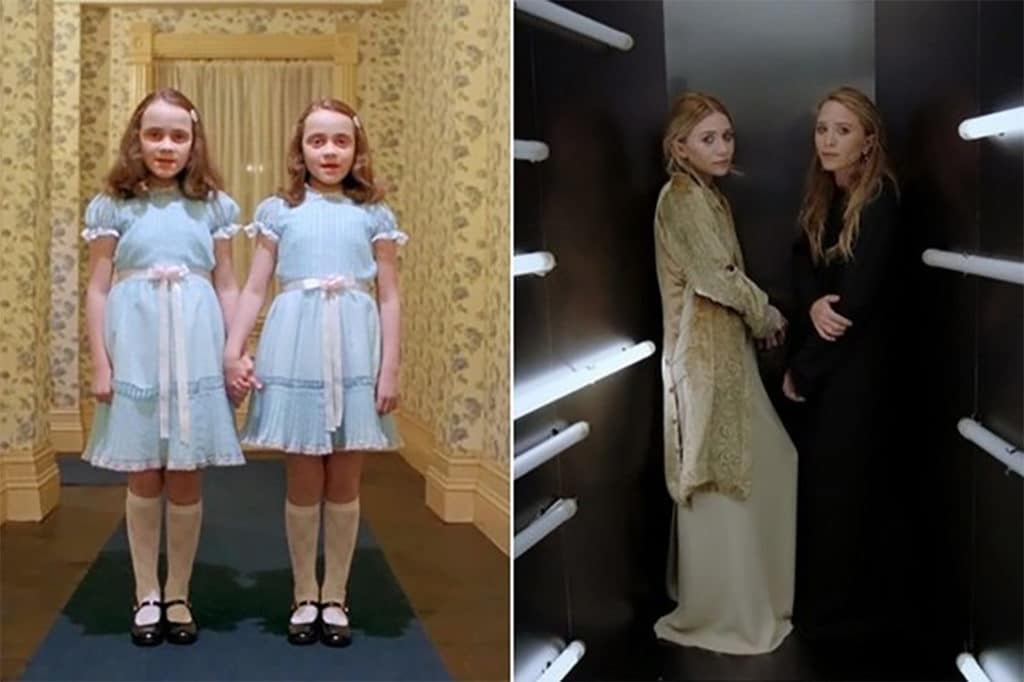 How to create your own Shining twins' creepy costume
A simple Google search for "Twin Costumes" yields The Shining twins as a top search result. In fact, a Google search for the Grady Twins returns over 12 million results! So if you are considering dressing up in The Shining twins costume, here's your complete list of accessories:
Find a "twin". No need to be related, just someone about the same height as you
Blue dress with collar and a ribbon belt (2 qty)
White knee-high socks
Black mary jane shoes
Small hair barrettes
Black makeup for black-sunken ghostly eyes
A sullen, deadly stare
You can stop here, or if you really want to creep people out, you can add fake blood splatters to the front of the dresses.
If homemade costumes are not your thing, purchase the entire costume here.
The whole reason the twins in The Shining are so scary, is because they just show up. As a mom of twins, I completely understand the horror in this. My twins do the same thing, except I'm usually asleep, drying my hair, or anywhere in my house with my back turned!