Last updated on September 28th, 2021 at 01:34 pm
Twin Baby Shower Themes and Games
We have some amazing twin baby shower ideas for you. Having a twin baby shower theme makes everything easier because you can apply it to everything from the invitations through the thank you cards and everything in between.
Don't be afraid to get creative and make the most of this exceptional celebration! Pinterest will keep you occupied for hours with hundreds of ideas. Check out our twin baby shower board on Pinterest!
Here are my favorite twin baby shower themes. Try one of these for your twin baby shower or see if they spark a new idea of your own.
Twin Baby Shower Theme Ideas
Thing 1 and Thing 2 (from The Cat in the Hat)
Two Peas in a Pod
Noah's Ark
"Wombmates"
Twice is Nice
Double Your Fun
*For more themes for twins check out our Twins Baby Showers: Great Ideas for Themes, Food, and Decor.
Twin Baby Shower Party Games
Once you've chosen a theme and picked out cute corresponding invites, it's time to come up with some entertainment that your guests will still be talking about when your twins are in college. twin baby shower
Remember to keep the games simple and easy enough for everyone to enjoy, and make sure you have lots of prizes on hand. Five dollars at the ninety-nine cent store will go a long way.
Focus on prizes that come in twos – earrings, gloves, socks, or even packs of double mint gum or double stuffed Oreos! Here are a few of my favorite shower games:
My Water Broke Twin Baby Shower Game
Freeze little toy babies in ice and then place a cube in everyone's drink. Make sure that you warn everyone so that no one drinks the baby by accident. That could really spoil a good party. twin baby shower
As the party progresses, the ice will melt and the babies will "pop" to the top. The guest whose ice melts first has to shout, "MY WATER BROKE!" and hand their baby to the party organizer.
Even though only the first guest to have her water break gets a prize, everyone will probably shout, "MY WATER BROKE!" when their baby floats to the top, creating a fun and raucous atmosphere.
How Many Kisses?
Fill a plastic baby bottle or any large container with Hershey's Kisses and have your guests guess how many are in the container! The person whose guess is closest to the real number wins a prize. twin baby shower
You can customize this by using blue and pink kisses if you're having girl/boy twins or two bottles of blue kisses if you're having identical boys.
T-W-I-N-S
Forget B-I-N-G-O when you can play T-W-I-N-S. Create bingo cards using twins related terms like, "double stroller," "double trouble," "double blessings," "Twice as Nice," "Baby A," "Baby B," "Two peas in a pod," "dynamic duo," "identical," "fraternal," etc.
Personalize this by adding your last name, your husband's last name, the names you're considering for your twins, and anything else you'd like to include.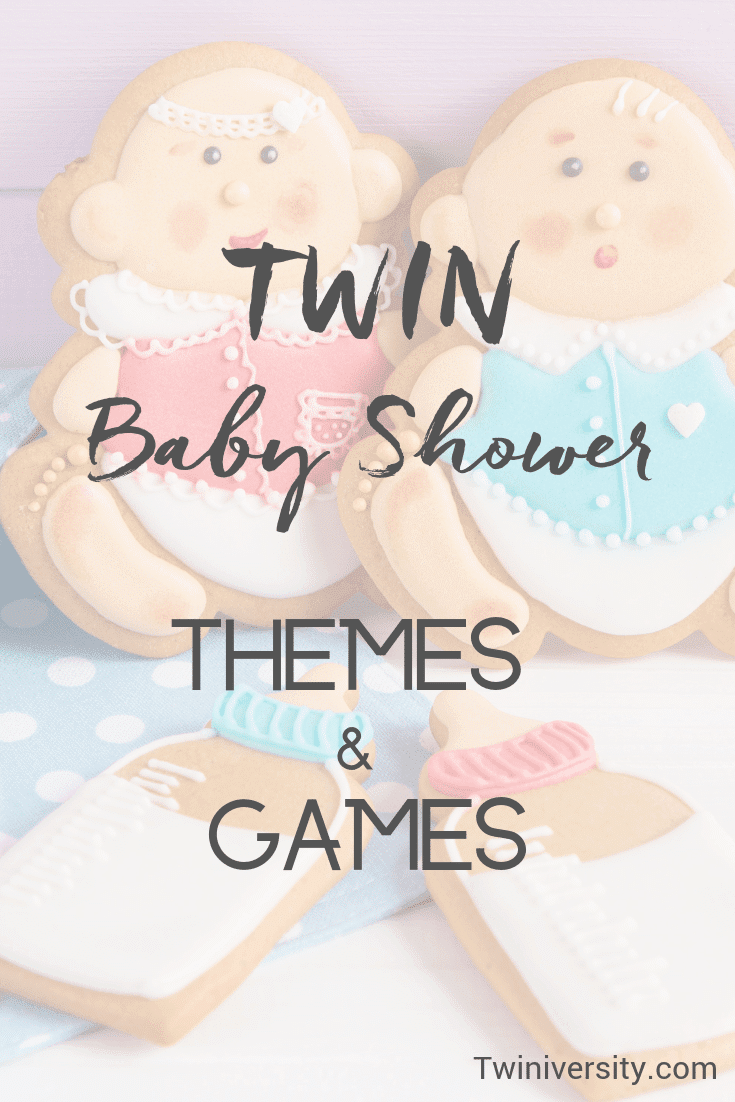 What's My Name?
Can't decide what to name your twinnies? Your shower is a great place to get some ideas. What better focus group could you find?
Give every guest some paper to write down their name suggestions and why they are suggesting them. When you get home, go over all the ideas. twin baby shower
You might just learn from your mother's card that your great great grandfather was named Alexander, which is a name you were already considering! This may just be the convincing you need to make that big decision for baby Alex!
Double Doodie!
Each guest gets a tiny little diaper crafted out of a triangular piece of white felt with a safety pin closing it up so that it looks like a tiny diaper. Two guests' diapers have a "bonus" in them – a Tootsie Roll out of its wrapper. Yes, it looks like a tiny poop.
The guests with poop in their diapers win a prize. Sure, this game is a little on the gross side, but if you have a wacky family like mine, the room will be filled with hoots and hollers! At my shower, those hollers got louder when the winning guests ate the Tootsie Rolls after collecting their prizes. twin baby shower
For more twin baby shower game ideas, click here.
Hope these ideas get you started planning the twin baby shower. Above all else, have fun!
Related Articles – Twin Baby Shower Themes and Games
Twins Baby Games for Your Twins Baby Shower
Twin Baby Shower Etiquette + Gifts Under $50
Unique Themes for a Twin Baby Shower
Pregnant with Twins? Start Here: Twin Pregnancy Guide
Twin Pregnancy Week By Week Timeline