We polled our Twiniversity fans to find out the best twins baby games they played at their twins baby showers. We found out which ones were hits and which ones were duds. We've compiled all the best twins baby games for you right here to make sure your shower is super fun and memorable! Happy gaming!
Twins Baby Games for Your Twins Baby Shower
We did a twin facts quiz (my host looked up facts about twins on the internet) and a game where you had to guess the baby phrase spelled out in emojis. We also did a Noah's Ark game where you had to list a baby animal for every letter of the alphabet. – Amanda L.
The simpler the better! We did blank bingo cards and people filled them out with gifts that they thought we would get. It gave them something to do while opening presents! First person to get five in a row won a prize. Our theme was nautical, so we also did a guess how many Swedish fish are in a jar. Prizes were a cute basket of lottery scratchers and some $15 gift cards to popular places. – Emily M.
We also did bingo. I found a free online bingo card generator that let me put all the gifts I registered for on a list. Then the generator provides however many cards I needed with a selection of items on each card. It let me choose how big I want the card to be too…4×4 or 5×5. We also did one that shower participants couple guess how many jelly beans were in the giant baby bottles. – Angela C.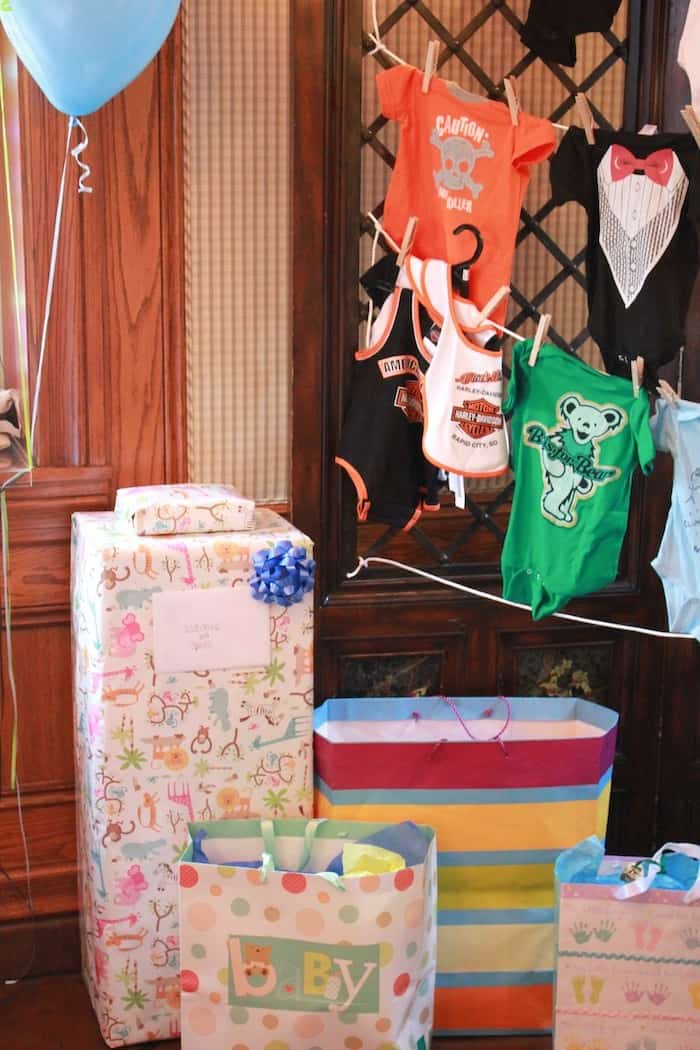 My host had each person buy a onesie that represented my relationship with that person, and then I had to go up and guess who got me each onesie. It was really fun and everyone there had a blast watching me figure it all out. I think they really enjoyed that they didn't have to do any work! And I got to keep all the onesies for the twins. Some people got me two coordinating onesies which was really cute. – Julie N.
My sister-in-law did one where you had to guess the gestation periods of different animals and it was really interesting!! – Kelley C.
I did guess the name of baby animals. Dog=puppy etc. It was for a friend's baby shower, we worked in a vet clinic so I wanted an animal related game. – Suzanne C.
Not exactly a game, but each guest colored and signed a page in what became a laminated bound ABCs book. We still read it almost every night. – Tricia K.
The game of who can bring the most diapers!! LoL – Soyla L.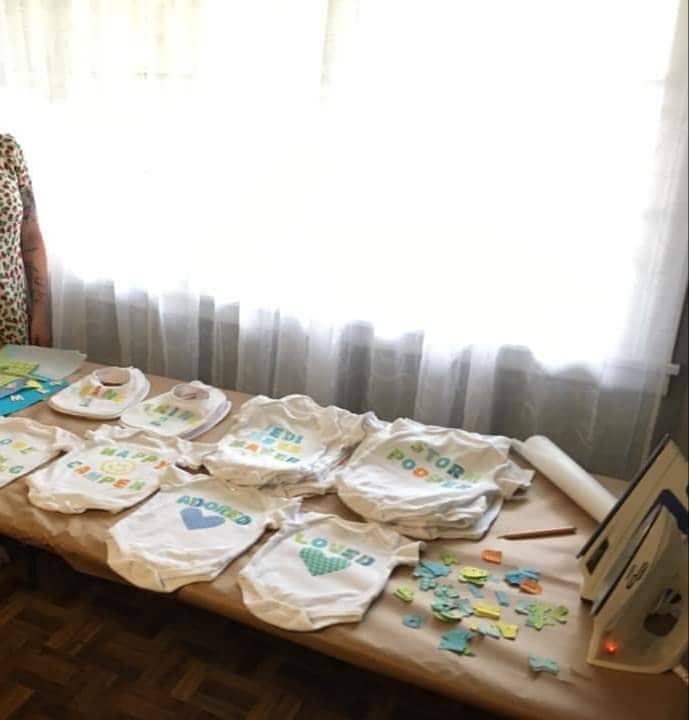 I'm not a fan of "forced family fun" so I wanted something interactive that people didn't HAVE to do. We ended up with a onesie decorating station, and it was a HUGE hit! (Tip: We used iron-on decals instead of paint, markers, etc. and that turned out so much better!! Also, white bibs are cheaper than onesies and work just as well! ) – Stevie P.
Everyone wears a blindfold and draw what the two babies will look like. Another really fun game is to have a table and on each end have a baby doll and you need to change the babies' diapers. Whoever does it fastest wins, but you are blindfolded. – Kaysi C.
My mom did this one: Use little plastic babies you can get at the dollar store. Freeze them with water in ice cube trays. Put an ice cube in each person's water glass. The first person's ice cube to melt stands up and says "my water broke" and gets a prize. I wasn't allowed to play though! Haha – Katie M.
"Famous duos" – On a sheet of paper, provide one name and you need to fill in the partner. Or we also did a version with thinking of duos for each letter. – Trisha M.
It was "two peas in a pod" theme, so we did pin the bow on the pea (like pin the tail on the donkey). – Danielle F.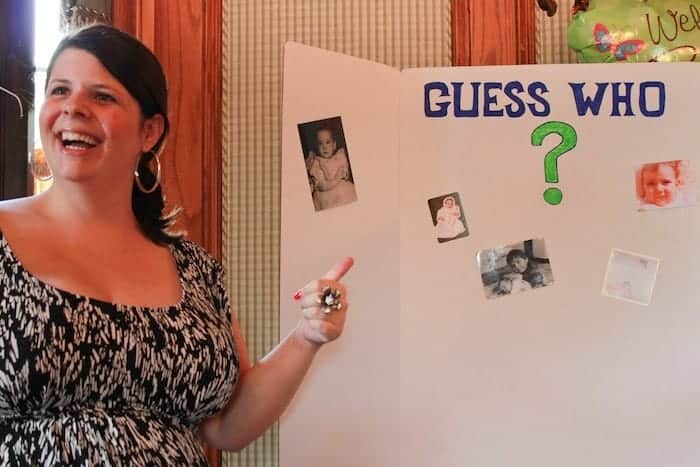 My host had everyone bring in a baby picture and put it up on a board, and then I had to guess who everyone was! It was kind of last minute and only a few people actually remembered to bring in their photos, so if you do this make sure that you remind people several times by email. But it was fun with the few photos we did have. – Julie N.
Relay race with couples; make a diaper out of toilet paper (the whole roll), the diapered person ran to chug the bottle (apple juice), and then they had to feed each other baby food (the feeder was blindfolded). We also played "1-2-3 Not It", like musical chairs but with a "poopied" baby doll that got tossed around. You had to catch it and say "1-2-3, not it" before tossing it again and when the music stops whoever has the doll is out. Then we did a mommy-daddy quiz where you had to answer questions about the mom and dad. – Dalyna G.
Using a long strip of paper, guess just how big my belly was around. That was fun. – Jessica G.
Our theme is Mario brothers (husbands family is Italian and we're having twin boys!) and we're going to have a Mario kart tournament to help keep the kids and guys entertained ? – Karen G.
We did a guessing game: "Mom, Dad or Both" – Who was born closer their due date, who weighed more at birth, who traveled abroad in high school, etc and had the tables play as a team since the shower included both sides of the family. We also had a "Twins or Not: TV & Movies" game and you had to guess if the characters were played by real-life twins or one person. Michelle Tanner on Full House – played by twins. Toddler Lily on Modern Family – not a twin. – Stephanie R.
My favorite was a basket full of baby stuff for twins and they had to guess how much it cost. – Kimberly S.
My friend did a twins game where she purchased two of certain items and 1 of others. Like two pacifiers but 1 brush. She had everything covered under a blanket and lifted it for about 30-45 seconds. She then covered it back up and everyone had to guess what items had two of them. – Kaitlyn W.
We played a Cards Against Humanity baby shower game and it ? was ? hilarious ? – Katie W.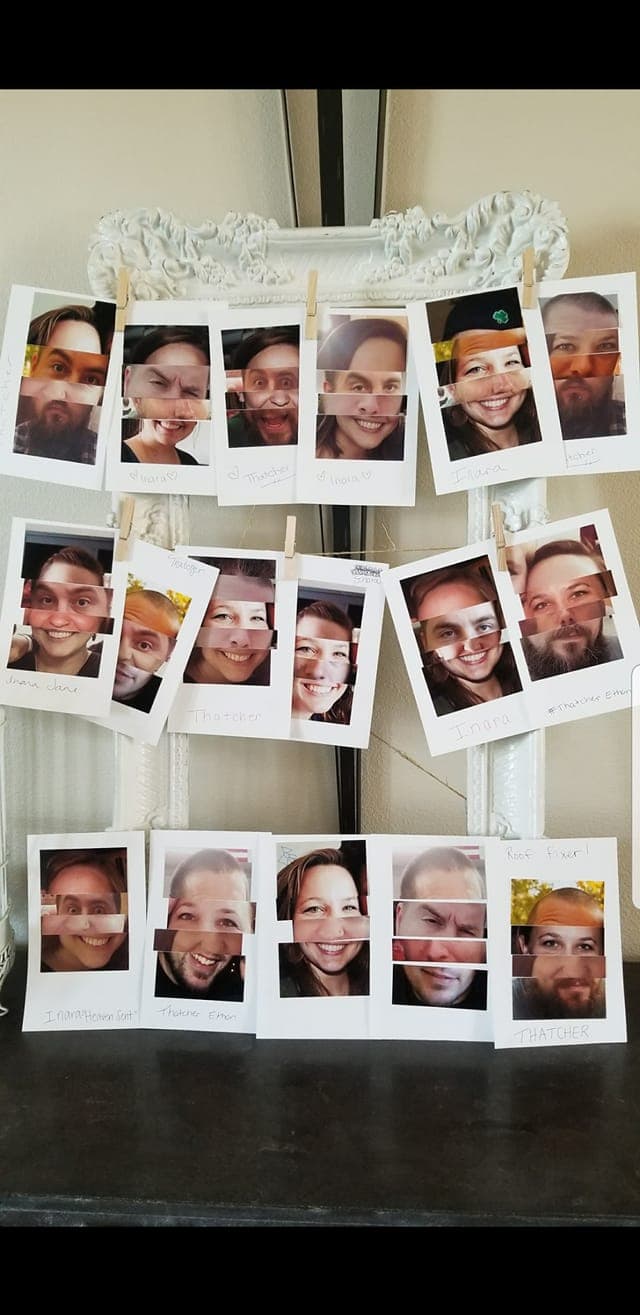 Our friends took pictures of us from Facebook, cut the different features (eyes, nose, mouth), put them in a bag and had people put together what they thought the babies would look like. It was hilarious!! – Rachel C.
We had a box of like 100 baby socks that we matched with a timer to see who could get the most. That was fun. 🙂 – Abigail M.
---
Related Articles
Pregnant with Twins? Start Here: Twin Pregnancy Guide
Twin Pregnancy Week By Week Timeline
Twin Baby Shower Etiquette + Gifts Under $50
Unique Themes for a Twin Baby Shower
The Best Twins Baby Shower Invites