Last updated on August 23rd, 2023 at 11:26 pm
Are you looking for the best twins baby shower invites? We have scoured the web and found some of the very best twins baby shower invites out there that will be sure to put a smile on every guest's face and make a memorable momento for the expecting twins parents-to-be!
twin baby shower invitations
Tiny Prints
Tiny Prints has a fantastic selection of modern, classic, and fun twins baby shower invites. They offer several different paper choices, trim options, and paper colors, and up to 3 free samples! Here are a few of our favorite twins baby shower invites from Tiny Prints! Be sure to check their website for the most up to date designs and offerings. twin baby shower invitations
Zazzle
Zazzle's selection of invitations for twins baby showers offer more traditional themes and designs, such as "Two Peas in a Pod". Zazzle designs are sourced from artists from all over the world, so ordering from Zazzle means you're supporting an independent business, which is a nice bonus. Be sure to check their site for new invitation designs. twin baby shower invitations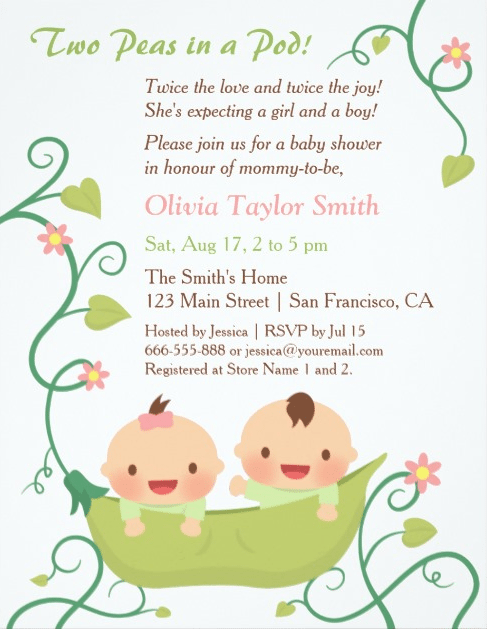 Minted
Minted offers twins baby shower invites that are created by independent artists (similar to Zazzle) but the designs you'll find on Minted have more of a modern, whimsical look, with new spins on traditional twins themes. Minted had the most designs for triplets of all the sites that offered twins invites. Minted claims to offer, "the most luxurious paper and printing techniques." twin baby shower invitations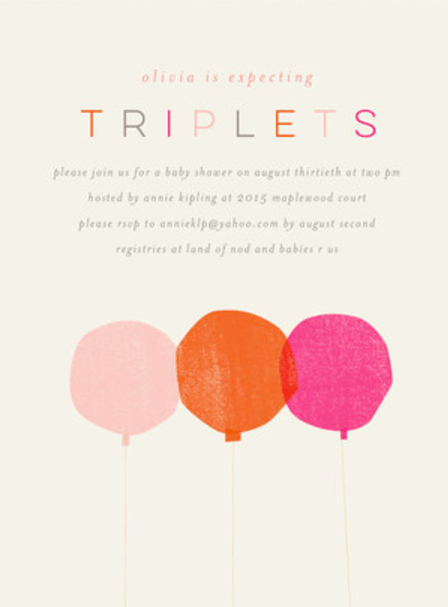 Etsy
God bless Etsy! Where else can you find new, creative, and customized pretty-much-EVERYTHING? There are TONS of gorgeous twins baby shower invites on Etsy and they are changing all the time. When you find a design you like, you hire that artist to customize the design for you. Most artists are also open to commissioning new works, so if you like their style and have a specific design in mind that you can't find anywhere, you can work with the artist to create exactly what you had envisioned. But here are some samples of what you can find on Etsy to get you started: twin baby shower invitations
And don't forget to check out all our great articles and resources for twins baby showers and expecting twins! Twiniversity offers expecting twins classes gift certificates too, which make the PERFECT baby shower gift for couples expecting twins or more!
Related Articles
---
Are You a New Twin Parent?
Check out Natalie Diaz's book:
"What To Do When You're Having Two
The Twin Survival Guide From Pregnancy Through the First Year"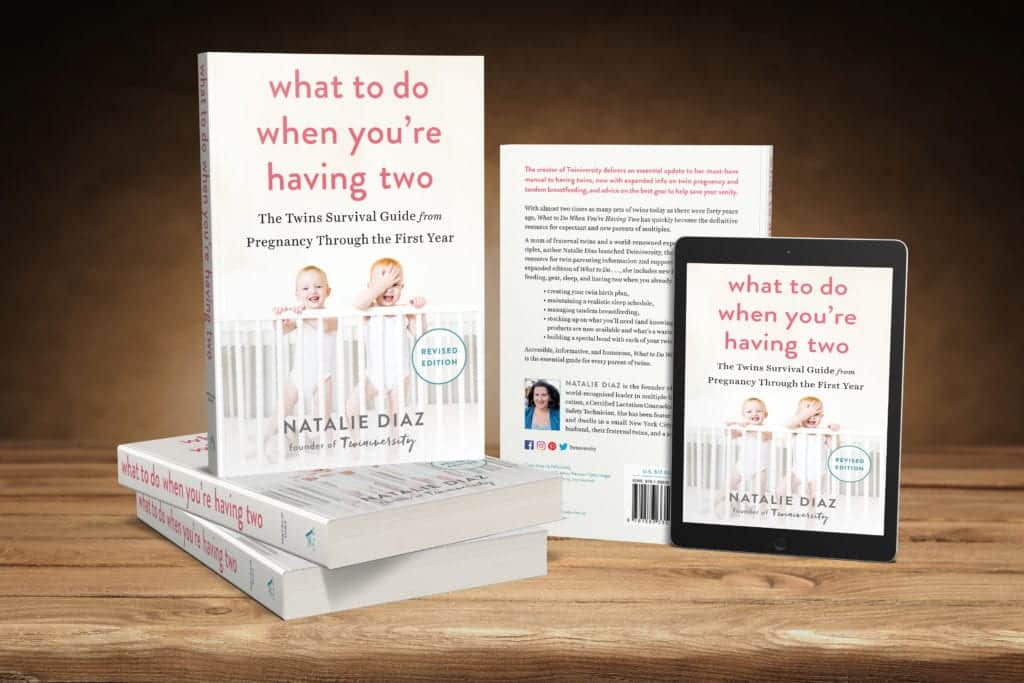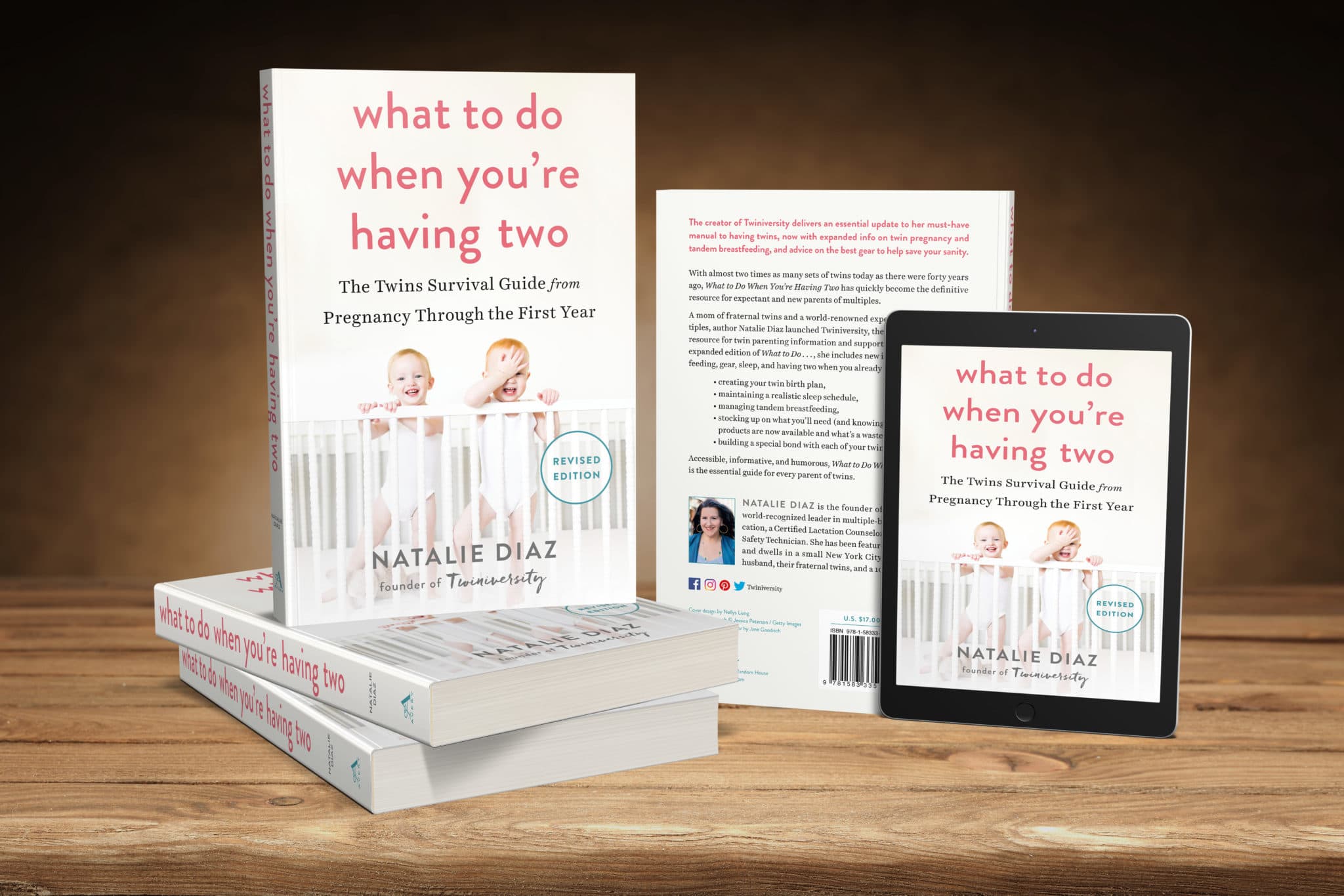 In What to Do When You're Having Two: The Twins Survival Guide from Pregnancy Through the First Year, national twins guru and founder of Twiniversity (and twin mom herself!) Natalie Diaz provides a no-holds-barred resource about life with twins, from pregnancy and birth all the way through your duo's first year of life.
---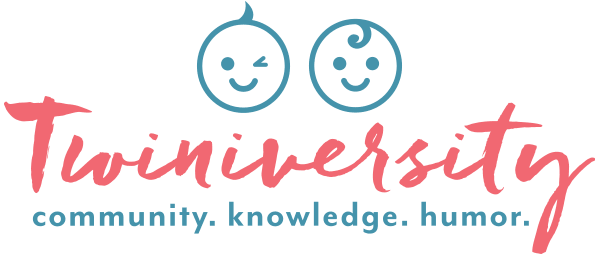 Twiniversity is the #1 source for parents of
multiples, and we are growing faster every day!
Find us all over the web:
Or contact us by email at community@twiniversity.com
twin baby shower invitations