Last updated on September 28th, 2021 at 01:20 pm
The process of buying a twin stroller can be very stressful! The cost, the features, the weight, the storage… There are so many factors to consider, it really can drive a person crazy. Don't worry — we've got you covered.
First, please understand that you don't need to buy your big-ticket double stroller right away. You can get away with using a stroller frame (aka Snap N Go) with your infant car seat carriers for quite a while. Many twin parents don't invest in a traditional double stroller until their twins are getting close to sitting up independently, around 5-6 months.
So don't worry if you don't have your dream stroller picked out and bought before your twins' delivery. You may not even use it that much for the first few months (unless you can snap 2 car seats into it — then that would be a good reason to buy it earlier.)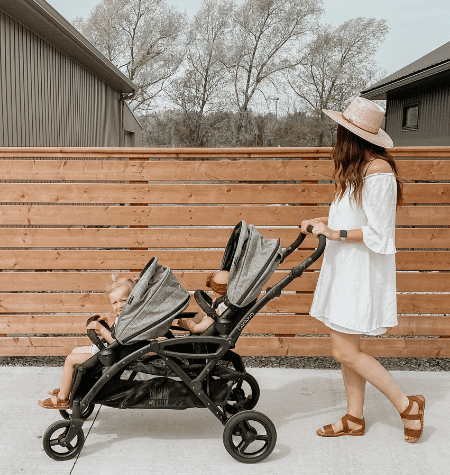 Shopping tips for buying a twin stroller
Make sure that if you buy a tandem stroller for your twins that you're picking one with enough legroom for the child in the back as they grow. Many strollers that can convert from a single stroller to a tandem stroller (we call these single-to-double strollers) don't have enough room in the back seat for a child over 2 years of age. These strollers are really made for people with one toddler (in the front seat) and one infant (in the back seat).
For twins, we highly recommend avoiding a single-to-double stroller The process of buying a twin stroller can be very stressful! The cost, the features, the weight, the storage… There are so many factors to consider, it really can drive a person crazy. Don't worry — we've got you covered. and buying a traditional tandem stroller instead. A tandem stroller is only for two children and can't be converted to just a single stroller. Tandem strollers typically have a lot more leg room between the front and back seat and will last you until your twins are at least four years old. This will save you money in the long run. Many parents of twins purchase single-to-double strollers and are disappointed that their twins can't fit in it by age 2. Save yourself the money and annoyance and just go with the tandem from the start.
Finally, don't skimp. If you're going to be using your twin stroller a lot, invest more in a quality stroller that will last you for 4-5 years. A lot of twin parents cut corners on quality features, end up regretting it later, and wind up eventually buying a better stroller. Save yourself time and frustration and get a good quality stroller. This will set you back at least $300 if you're buying new. But if you're crafty, you can find more expensive strollers in resale groups in good condition.
Just a reminder that if you buy an expensive stroller and keep it in good shape throughout the years, you will likely be able to sell it someday for a nice price and make a lot of your money back. Make sure to clean your stroller often and store it correctly, either indoors or, if you must store it outside, cover it with a good tarp to avoid weather damage.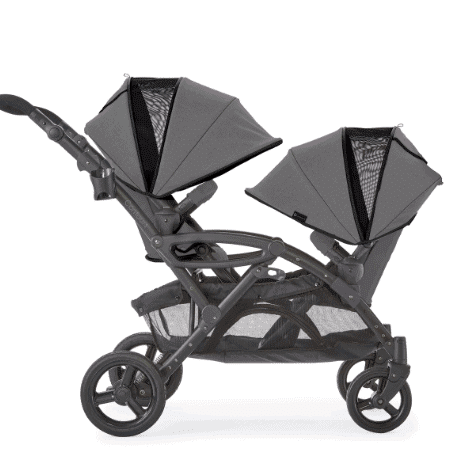 What should I look for in a double stroller for twins?
A handlebar that reaches all the way across
You're going to need that full handlebar to maneuver your twin stroller with one hand at times. Strollers with two handles are typically more difficult to steer. An adjustable handlebar will make life so much easier, especially if you are very tall or very short.
A solid frame for your twin stroller
Look for a twin stroller that has a sturdy, solid frame that was meant to safely hold two children for the length of its use. Many single strollers can convert into a double stroller by adding a second seat, but these strollers were made for two children of different ages and are not ideal for two children of the same age, height, and weight. These strollers typically have a lower weight limit for one of the seats because it's really been made for a baby + toddler. The stroller frame should be super sturdy!
A large basket
Your stroller that's meant for two kids should have room to fit STUFF for two kids! That's another problem with single strollers that convert to doubles — the basket is meant to hold stuff for just one child. You'll also want to make sure there is easy access to the basket from different spots around the stroller so it's easier to get items out. Cup holders are great too!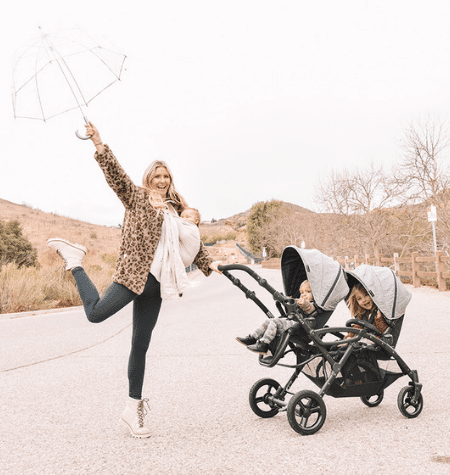 5-point harnesses
Yes, some strollers only come with 3-point harnesses (only across the lap) but you absolutely need a 5-point harness (which also holds them back at the shoulders) to make sure your babies don't fall forward out of the stroller when you have to make a sudden stop. Also, as your twins get older it will be more difficult to escape a 5-point harness than a 3-point harness. Let's keep them in the seats where they are safe.
Independent reclining seats
You definitely need to be able to have each seat at a different recline. What if one baby is wide awake and wants to look around, but the other is sound asleep and could use a bit of recline? You'll also want to find seats that recline as far back as possible to allow for good stroller naps!
High weight limits on seats
A 40 lb weight limit on each seat is good, but 50 lbs is rock star! Beware of strollers that have different weight limits for each seat. If your stroller has a 50 lb weight maximum on one seat but only 35 lbs on the other, that tells you right away that the stroller will not be good for twins. That stroller is made for one infant and one older child.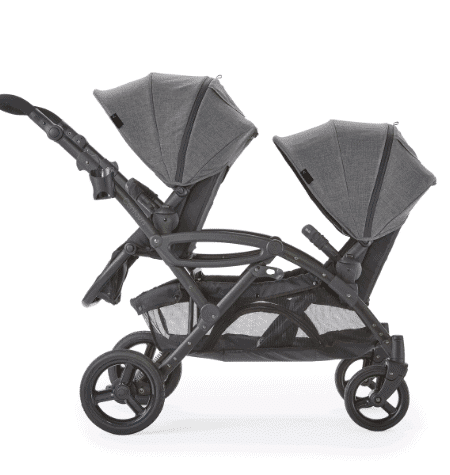 Peek-a-boo windows that are ventilated
These are on the back of each stroller seat so you can see what the kiddies are up to without having to peek into the front of the stroller. Ideally, these are mesh to allow for extra air flow, with a flap so you can keep it covered when it's too cold or windy. We prefer a flap that uses a magnet instead of Velcro, to avoid that loud RIPPPP sound when the babies are sleeping (yes, my twins have woken up from a sound sleep to the sound of ripping Velcro!)
Canopies that extend far down on the double stroller
When you're walking towards the sun this is going to make a HUGE difference! Your twins are going to freak if the sun is in their eyes and you'll be scrambling to find the baby sunglasses that you accidentally left in the house. Get a stroller with extra long canopies and you don't have to deal with this! The canopies should also work independently (not stuck in the same position together).
It's easy to fold and lift up
If you're having a hard time getting it to fold after a few tries, take it back. If it's too heavy for you to lift into your car's trunk, take it back. These things will only cause you more annoyance as time passes.
The twin stroller fits in your house
Measure all of your doorways and hallways to make sure that the stroller will fit inside your home, ideally without having to fold it up first. If you're set on a side-by-side and you have narrow doorways, make sure to look for one that is no wider than 28 inches. When you're coming home from a long walk with your infant twins and it suddenly starts to rain, you'll thank me!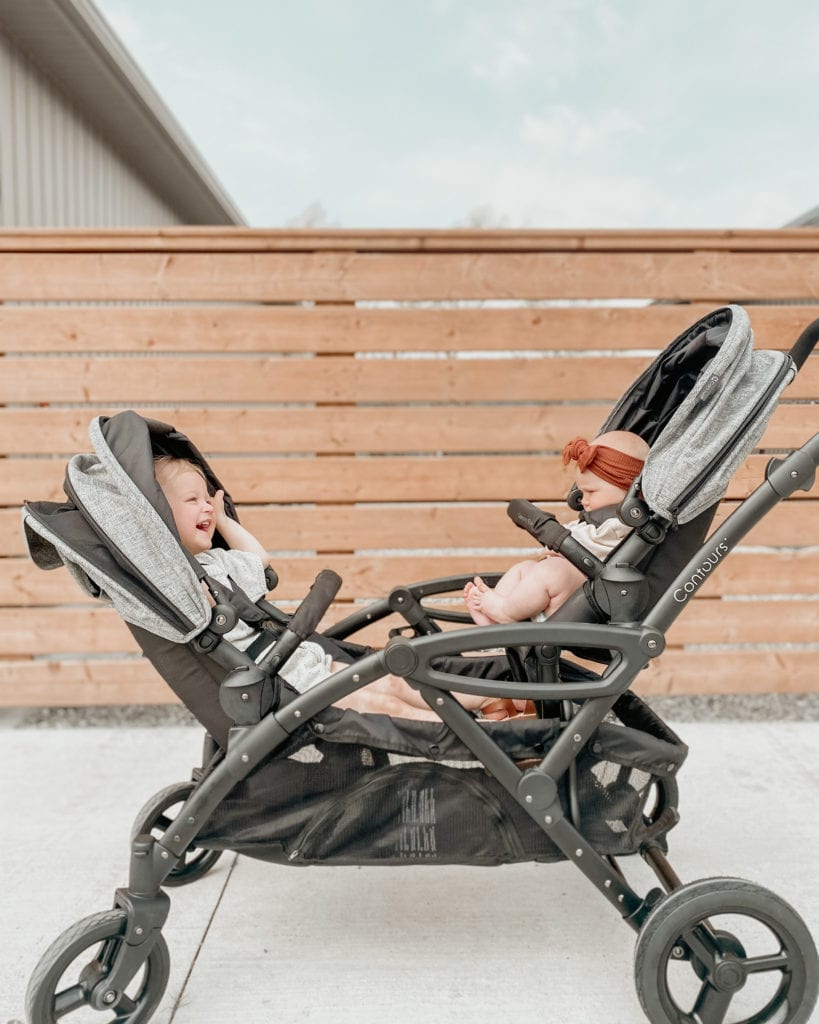 It fits in your trunk
You should not have to wrestle with your stroller to get it to fit in your trunk. Bonus points if you don't have to take one of the seats off to fold it. Be aware that some strollers will fit better once you remove the tires, which typically can be popped back on in a snap.
With our tips, we're sure you'll be able to find the twin stroller of your dreams within no time. Be sure to check out our Twin Stroller Resource to check out all the great strollers for twins on the market today.
Check out our latest posts here
This post is sponsored by Contours.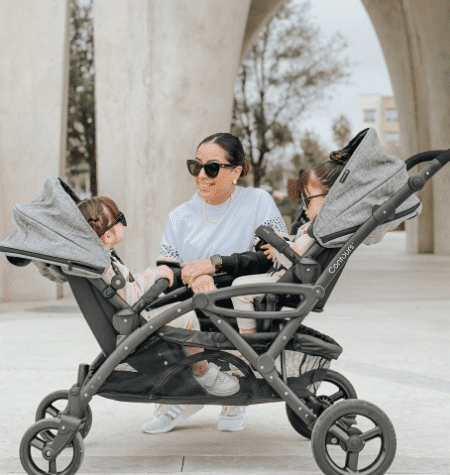 Our friends at Contours have done it again. They have upgraded our favorite tandem stroller with even more incredible features! The Contours® Options® Elite V2 double stroller has all the great features that twin parents love, including:
reversible seats
one-hand reclining seats
holds two infant car seats (car seats and adapters sold separately)
adjustable leg rests
zippered extensions on both canopies
extra-large storage basket
parent cup holder
Plus a few NEW great features, including:
height-adjustable handle (perfect for taller parents)
quilted seats
improved easy-lift seat design to make it even easier to reverse the seats while on the go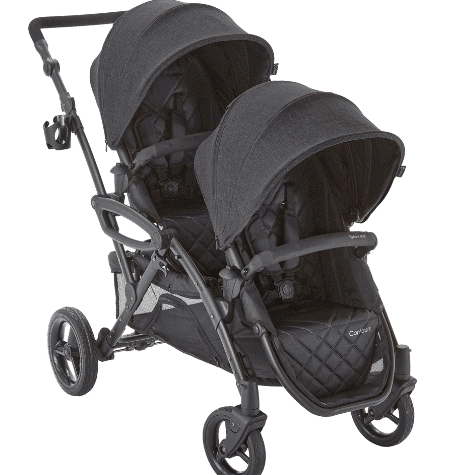 Enjoy the convenience of versatile seating configurations to keep everyone happy. Compatible with two infant car seats (car seats and adapters sold separately), this tandem stroller makes it easy to transport your twins, and when they get older, the stadium-style seating makes it easier for both to see the sights, with plenty of room between the seats for little legs. This double stroller truly has it all!
The Contours Options Elite v2 double stroller is Disney-size approved (any seating configuration) as long as the parent handle is in the uppermost position.