I don't like the term "body after birth". I don't have the body shape that I had before kids. I have this new body — my current body — and I am embracing it. The thing is it — is my body. It always has been and it will always be just mine. I am so thankful that I am not a celebrity for this reason. Hollywood expects women to give birth and bounce back within 6 weeks. If it takes them longer, they are weight-shamed, called lazy, "letting themselves go", and destroying their careers. Before I had my daughters, I too fell for the smoke and mirrors that Hollywood has created for women. I assumed a woman could look flawless mere weeks after giving birth and that I would too once I had my children. The day I found out I was pregnant with twins I had a panic attack. I had no idea what I was about to go through. Here are some of my confessions as to what happened to me during and after my pregnancy.
Confession One: Stretch marks.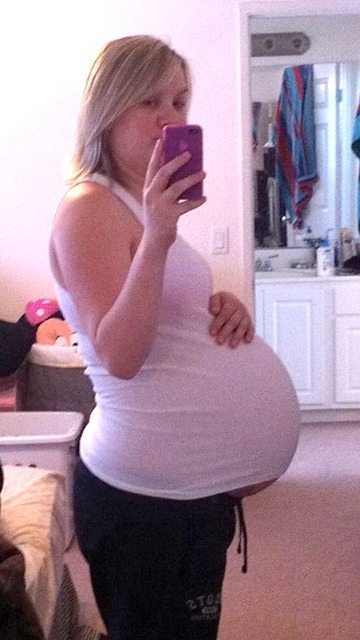 Some women get them, some do not. I did. I got more than I care to admit but if you catch my family at the pool your chances of seeing mine are super high because I rock a bikini. You will see that my tattoo on my side is not perfect anymore because some deep stretch marks disfigure the bottom part of it. If you get close enough to me you will see that my stomach looks like a small road map. The best part about them is after time they will fade. They started out a deep purple color while I was pregnant and despite my best efforts, they did not stop. Now they blend into the rest of my body. Stretch marks are mostly genetic and it also depends on the elasticity of your skin if you will get them or not. I have grown to love mine and I have a friend to thank for that.
My friend has struggled with infertility for years and every so often she will post, "I would give anything to have a child". A member of her family replied, "Even have all the stretch marks my kids have given me?? I wouldn't want that." The kindhearted person my friend is replied back with, "Yes, I would love every single stretch mark. It shows me what a beautiful thing a woman's body is. It's holding my child and when I think I can't make any more room for them, it stretches out even further. To you it may be a physical issue but for me it means motherhood".
So to my friend (you know who you are) THANK YOU for that. I have never said it to you but what you said helped me accept my own stretch marks.
Confession Two: Twin skin.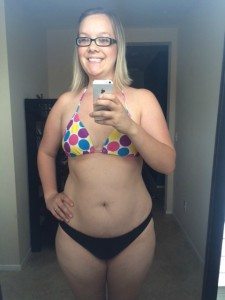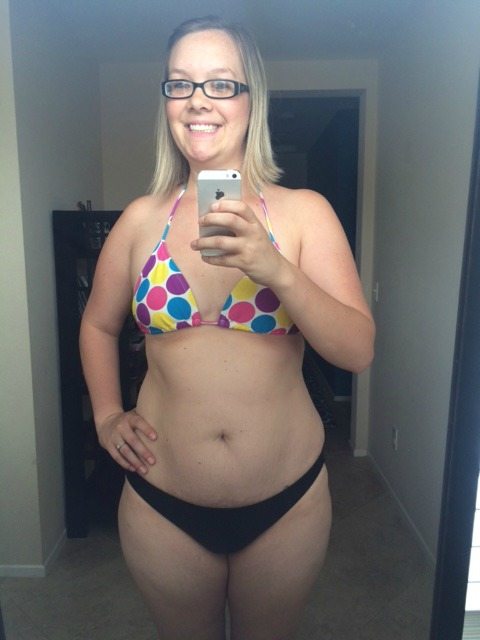 I had a C-section with my twins. I slowly started my exercise routine with pushing the stroller and walking as much as I could. Once I started losing weight, I noticed I had the "C-section shelf", which (in the easiest explanation) is how anything above my incision scar just "folds over". I now have some extra skin that hangs out by my incision. I didn't get serious about losing the weight until recently. I started out by eating a lot healthier and working out and with this round of weight loss I've noticed the extra skin keeps accumulating.
I also found out why low rise pants just don't work for me anymore and I had to learn how to dress myself differently. There are a few different options to try and fix twin skin, and I have tried just about all of them, but the only permanent solution is a tummy tuck. It is all up to you on what you decide to do but Spanx are an amazing alternative if you ask me!!
Confession Three: Exhaustion.
There is so much that falls under this confession. When I was pregnant, if I could sleep I was sleeping. I thought growing two tiny humans was exhausting. I had no idea that it wouldn't change. Once my daughters came home, I was introduced to a whole new level of exhaustion. A friend of mine had her baby close to when I had my girls and we would text each other during those middle of the night feedings and I slowly learned that I would soon be sending texts that would go unanswered.
I also learned then the difficulties of having two babies. It was twice the work. I am very fortunate to have had my husband to help with night time. Once I got into a routine I would let him sleep while I took care of the kids. My lack of sleep was worn on my face. I started getting bags under my eyes and noticed a few fine line wrinkles. When you aren't fully rested you can lose the elasticity in your skin and many women can develop depression and anxiety from lack of sleep without even knowing they have it. It will wear you down. But one magical day will come along and your twins will sleep through the ENTIRE night and you will feel like a new person. When those days start happening frequently, you will start to forget those sleepless nights. I promise those days do exist!!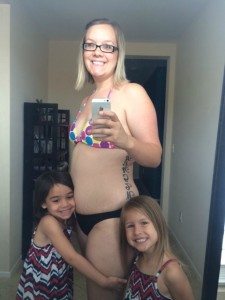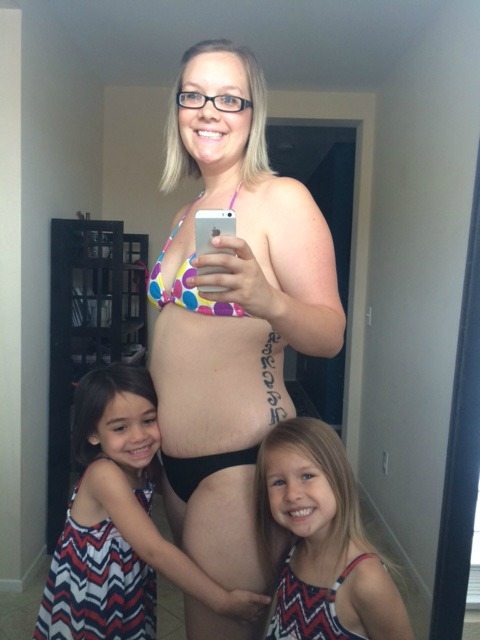 I know that everyone has a different body before, during, and after pregnancy. I have my moments where I am 100% confident with my body and some days where I cry. The body you have is your body. We have (or had) two babies growing inside of us – your body is going to change. It might change drastically or not much at all but it will not be the same body that you had before you had your twins. Your hair might be thinner or thicker or curlier or straighter. Your breasts won't even be the same. Your hips may or may not spread out. Your feet may be bigger or smaller. The size of your waist may change. So embrace your new body, like I have. Own it! It is what you have and it is perfect. It took me over 4 years to finally realize that I shouldn't be ashamed of how I look! I have two beautiful daughters that grew inside of me and they are worth every single stretch mark I have, every little bit of twin skin. And while I have been well rested for a few years, they are worth all the exhaustion I have endured.
Robyn is currently a stay at home mom to her 4 year old fraternal twin daughters, Kayden and Kaylee, and wife to her husband, Roy. She is currently pursuing her career in the medical field.
Related Articles
* * *
The rate of twin births has risen 79 percent over the last three decades, and continues to increase. A mom of fraternal twins and a national guru on having two, Natalie Diaz launched Twiniversity, a supportive website with advice from the twin-trenches.
What to Do When You're Having Two is the definitive how-to guide to parenting twins, covering how to make a Birth Plan checklist, sticking to one sleep schedule, managing double-duty breastfeeding, stocking up on all the necessary gear, building one-on-one relationships with each child, and more.
Accessible and informative, What to Do When You're Having Two is the must-have manual for all parents of twins.