Hey gang, listen up! We've got some super helpful tips for you on feeding your babies on the go, whether by breast or bottle.


Tips for Feeding Babies on the Go
Leaving the house with baby twins takes lots of preparation, practice, and trial and error. But feeding babies on the go doesn't have to be a major headache. Here's some helpful tips for feeding your babies while you're out of the house, whether by bottle or breast, to make your life easier and happier while you're on the town with your dynamic duo!
If you're breastfeeding…
Don't worry about others. When it's feeding time, just feed. Others will judge you regardless; all that matters is that your babies are fed and happy.
Feed the babies right before you leave. Chances are once you put them in their car seats and take a drive, they'll fall asleep until the next feeding.
A manual pump is very helpful for those moments when an outlet is too far away or the motor is too loud.
Plan to wear the right clothes for nursing and always have a nursing cover handy.
If tandem nursing is too difficult on the go, try just nursing one baby at a time. One baby nurses while the other stays in the stroller, then switch. Or if they are both super hungry you can nurse one baby while bottle-feeding the other simultaneously.
Keep bottles of pumped milk in a cooler bag and bring it with on outings. That way if you're not able to nurse on the go, you always have milk available.
Always be ready for anything, even if you think you will only be out for 20 minutes.
If you're bottle feeding…
Make sure to have enough for an extra feeding for both babies. So many things can happen — traffic jams, accidental spills, extra hungry babies, etc. Be prepared.
Portion out your powdered formula into individual servings in an easy-to-pour dispenser. Another option is to purchase single-serving powdered formula packets, which typically come pre-portioned for 4 oz. of water.
Load your bottles up with water before leaving the house so it's one less step.
If you don't want to bother with mixing formula when you're out, buy some single-serving ready-to-feed formula bottles.
Find a comfortable place to sit no matter how you're feeding. Nobody wants to get stuck in an uncomfortable spot for any length of time but especially not long enough for a feeding.
Keep a plastic zip-top gallon bag with you for easy cleanup of used bottles, formula packets, water bottles, etc. Throw it all in the bag and deal with it when you get home.
Bring a small notepad to keep track of feedings. That way you can be sure to stay on track with your schedule at home.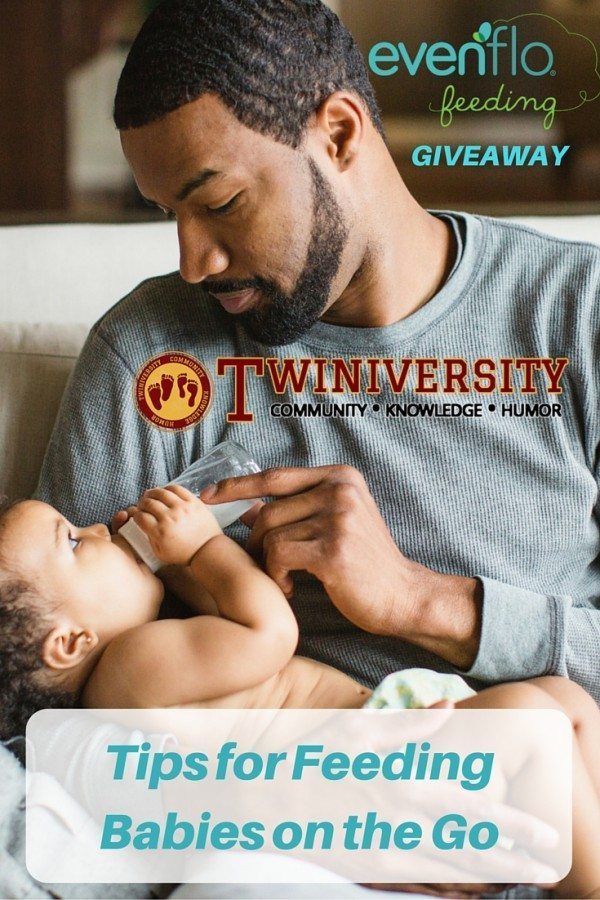 Photo credit: Amy Campbell Photography
Related Articles
---
THIS CONTEST HAS ENDED