Having twins is double duty for sure, especially when they're in the toddler stage. Two kids to help get dressed. Two bathroom breaks. Two meals. Most importantly, two little minds to keep occupied for endless hours every day. Every single activity my sons and I do during the day is done as a trio, with my time split as equally as possible between the two of them. There is a huge downfall to my method, and sadly they have found my weakness. The squeaky wheel always gets the grease.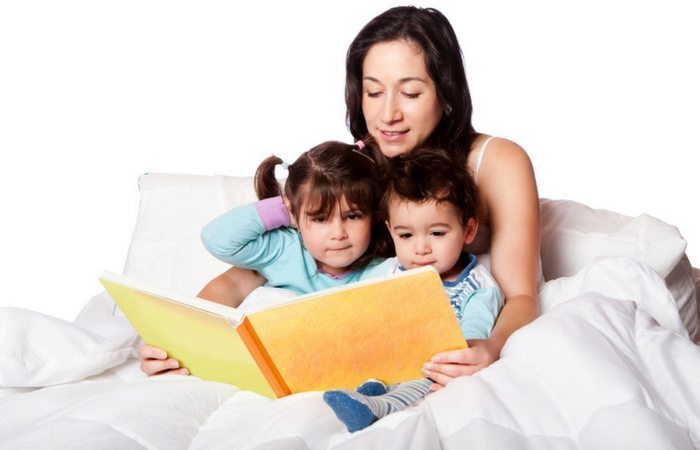 If some of you are in the same boat I'm in, you've probably realized something about your twins. There always seems to be one that's "squeakier" than the other. This means that guilt that maybe their brother or sister aren't getting the amount of attention they deserve is always knocking at the door.
Around our house we have found ways to try and establish one-on-one time with each of them. This has helped bring us closer to our children, allowed them to express their individuality, and reminded us how amazing each one of them is on their own merits, not just as a package
Here are five suggestions for trying to work some one-on-one time in while raising multiples.
1. Use Sleep Patterns
I have one son that is an incredible napper. The other will toss and turn for 90 minutes and then fall asleep right before it's time to wake up. Rather than keeping his well-rested brother in the room to cut his nap short, I'll bring my good sleeper downstairs for 30 minutes and have him help me get snacks ready. Not only does it give me some alone time with him (and he's fully rested, and in a great mood!), but it lets his brother get an hour nap instead of the 30 minute one he was in store for by sticking strictly to the schedule.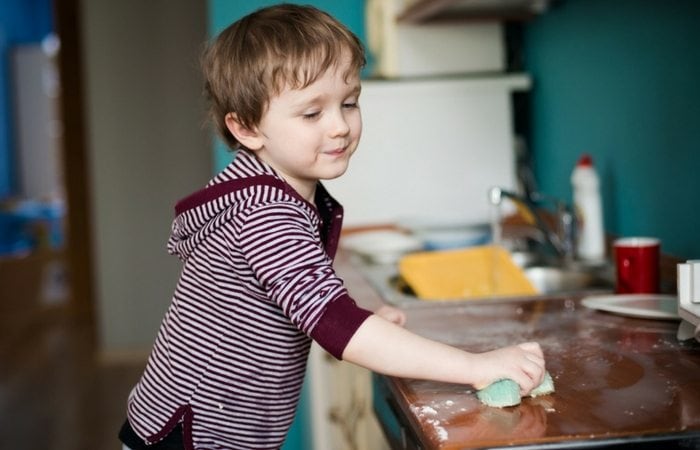 2. Put Them to Work
Yep, I said it. Kids are the first ones to volunteer to assist you in daily chores around the house. Delegate jobs to each of them that they can do with you. Maybe one is the prince of dusting, and the other is the official laundry helper. You can both work on the duty as a team and accomplish a task that needed to be done, as well. It also helps establish a sense of routine and promotes responsibilities as they get older.
3. Employ Help
Do your twins have older siblings? Use them to occupy one twin, while you spend time with the other. We are lucky enough to have family close by, and my in-laws love watching the boys. By dropping one off for the morning, or afternoon, not only do I get some much-needed alone time with one of my sons, but the grandparents get some with his brother, as well.
4. Splish Splash Solo
I'm in charge of bathtime with the boys, and their mother is the "lady of lotion and jammies". After one of them is done in the tub, I'll help them get their teeth brushed. Then it's off to their bedroom, where Shannon will meet them to help them lotion up and put pajamas on. Then she'll tackle his brother while I entertain the first.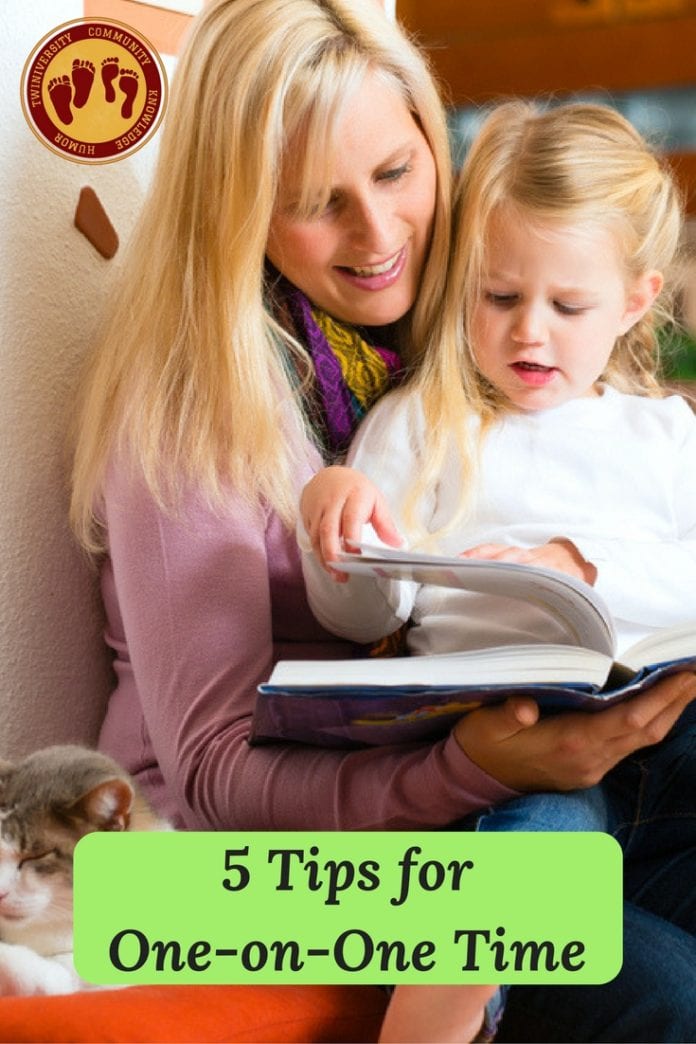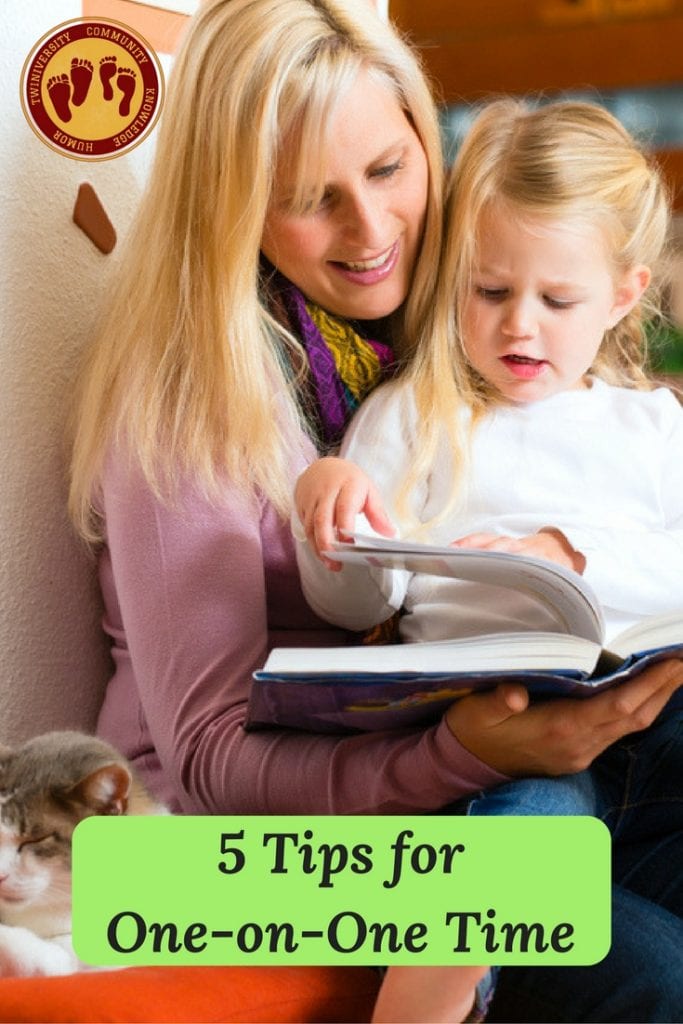 5. Split Responsibilities
Even on non-bath-nights we have learned to divide and conquer. My wife stands guard in the bathroom, making sure that any last-minute bathroom breaks are handled and that teeth are brushed. I get to over-see the pajama process, and the task of finding books to read at bedtime. Sometimes if I need to run to the store to grab something, and my wife is off work, I'll elect to take just one of them with me, while the other stays home with her. Even if the two of us take the boys shopping, it's not uncommon to find one son with her in the ladies' clothing department, while the other is hanging out with me looking at deals in housewares.
By spending time with them individually, I have been able to expose them to some activities or experiences that wouldn't have been possible if I had to bring both boys. Sometimes spending quality time with one of your children may mean not even leaving the room. The most important thing to remember about one on one time is that as long as you are connecting with your child, you've succeeded.
Kevin Zelenka is a freelance writer and the stay-at-home father of fraternal twin toddlers. He enjoys spending time with his wife and sons, attending meet-ups with other dads, and an occasional round of golf. He can be found in the kitchen making lunch and mindlessly singing cartoon theme songs, or on his blog where he shares stories about the struggles and triumphs of raising twins. For more articles by Kevin on Twiniversity, click here.
---
Related Articles
---
The rate of twin births has risen 79 percent over the last three decades, and continues to increase. A mom of fraternal twins and a national guru on having two, Natalie Diaz launched Twiniversity, a supportive website with advice from the twin-trenches.
What to Do When You're Having Two is the definitive how-to guide to parenting twins, covering how to make a Birth Plan checklist, sticking to one sleep schedule, managing double-duty breastfeeding, stocking up on all the necessary gear, building one-on-one relationships with each child, and more.
Accessible and informative, What to Do When You're Having Two is the must-have manual for all parents of twins.
---
Whether you're a twin parent in the big city surrounded by scores of resources, or a triplet parent out in the country with no one around for miles — our multiples parenting forums are for YOU! Sign up for FREE and connect with people who are just like you — parents of multiples looking for advice, parenting tips, or even just people to chat with who will understand what you're going through. Our forums are open to people all over the world and we offer scads of specialty rooms to find others who are going through the exact same thing as you. Check it out today!
---
Twiniversity is the #1 source for parents of multiples and we are growing faster every day!
Find us all over the web:
Or contact us by email at community@twiniversity.com