The last thing you want to deal with Christmas morning is cooking for a crowd. So don't! You can prepare all of these breakfast recipes the night before, stick them in the fridge, and pop them in the oven when you wake up the next morning. You'll enjoy unwrapping Christmas gifts all the more knowing there's yummy breakfast cooking in the other room while you get to sit back and enjoy your family (and that 3rd cup of coffee!) These breakfast recipes are also super easy and DELICIOUS, sure to please both old and young.

Hash Brown and Egg Casserole
Prep 15 min, Cook 1 hour 20 minutes
Ingredients
1 (2 pound) package frozen hash brown potatoes, thawed
1 pound pork sausage
1 small onion, diced
5 eggs
1/2 cup milk
1/2 teaspoon onion powder
1/8 teaspoon garlic powder
salt and ground black pepper to taste
12 ounces shredded Cheddar cheese
Directions
Preheat oven to 350 degrees F (175 degrees C). Grease a 2 quart baking dish. Place the hash brown potatoes in the bottom of the baking dish.
Heat a skillet over medium heat and cook and stir the sausage and onion until the sausage is crumbly, evenly browned, and no longer pink; drain. Meanwhile, whisk together the eggs, milk, onion powder, garlic powder, salt, and pepper, and pour over the potatoes. Layer with half the Cheddar cheese, the sausage mixture, and the remaining Cheddar cheese. Cover with aluminum foil.
Bake in the preheated oven for 1 hour. Remove cover; return casserole to the oven and bake until a knife inserted into the center comes out clean, about 10 minutes. Let stand for 5 minutes before serving.
User tips: You can make this with or without the onions. You can also add chopped red or green pepper for a nice zing. I like to purchase a bag of frozen hash browns that already have chopped onions and peppers in it.

French Toast Casserole
Prep 30 min, Bake 50-60 min
Ingredients
5 cups bread cubes
4 eggs
1 1/2 cups milk
1/4 cup white sugar, divided
1/4 teaspoon salt
1 teaspoon vanilla extract
1 tablespoon butter or margarine, softened
1 teaspoon ground cinnamon
Directions
Preheat oven to 350 degrees F (175 degrees C). Lightly butter an 8×8 or 9×13 inch baking pan.

Line bottom of pan with bread cubes. In a large bowl, beat together eggs, milk, 2 tablespoons sugar, salt and vanilla. pour egg mixture over bread. Dot with margarine; let stand for 10 minutes.

Combine remaining 2 tablespoons sugar with 1 teaspoon cinnamon and sprinkle over the top. Bake in preheated oven about 50-60 minutes, until top is golden.
User tips: I like to add chopped pecans on top! After baking, I drizzle real maple syrup all over the top, and I put out extra for guests. Make sure to choose the right bread; avoid dry breads that have a sour taste. I like to use challah or brioche bread for a sweet, buttery flavor and soft texture.

Cheesy Bacon Quiche
Prep 30 min, Total Bake Time 1 hour
Ingredients
all-purpose flour
1 homemade or store-bought single-crust pie dough
1 tbsp. unsalted butter
2 c. medium diced yellow onion
Coarse salt
ground pepper
6 large eggs
¾ c. heavy cream
¾ lb. bacon
1 c. shredded Gruyère cheese
Directions
Preheat oven to 375 degrees F. Lightly flour a rolling pin and work surface and roll out pie dough to a 12-inch round. Place in a 9-inch pie plate, fold overhang under, and crimp edge. Place a sheet of parchment paper over dough and fill with pie weights or dried beans. Bake until edge is dry and light golden, about 20 minutes. Remove parchment and weights.
Meanwhile, in a large skillet, melt butter over medium-high. Add onion, season with salt and pepper, and cook until light golden, 8 to 10 minutes. In a medium bowl, whisk together eggs and cream. Add onion, bacon, and cheese and season with 1/2 teaspoon salt and 1/4 teaspoon pepper. Whisk to combine, pour into crust, and bake until center of quiche is just set, 40 to 45 minutes. Serve warm or at room temperature.
User tips: I used about 1/4 cup more of the Gruyère cheese on top before serving; it melts a little and adds a little cheesy gooey goodness. You can about a tablespoon of the bacon drippings from the pan into the actual quiche mixture for a richer flavor.

Classic European Muesli
I have very fond memories of a trip to Germany, where I learned that everyone eats this for breakfast on the regular. Muesli is "an uncooked cold cereal combining grains, nuts, seeds and fruits". It's super easy to make and you can do lots of derivations on it based on your preference of toppings. This is also a great quick breakfast that you can make in a batch and have for several days.
Prep time 10 minutes, Cook time 8 hours in fridge overnight
Ingredients
1 package of European style muesli. If you can't find muesli in your town (check health food stores) you can substitute dry oatmeal. Avoid muesli mixes that include cereals such as bran flakes (too mushy). I like the Kellogg's Origins Muesli or Familia Swiss Muesli
Milk
Plain or vanilla yogurt
Whatever you want to add: raisins, nuts, dried fruit, bananas, diced apples, etc. (optional)
Directions
Fill a medium bowl with the whole box of muesli for 10 or more people. For a smaller crowd use half a box.
Add whatever additional ingredients you'd like, such as dried fruit or bananas. For a crowd, it might be best to offer these on the side as toppings instead of mixing them in.
Pour milk slowly over muesli until it's just covered over the top. Mix the milk in and smooth it over with the back of the spoon. It will look pretty loose.
Store in the fridge overnight (8 hours) and the muesli will absorb all the milk.
In the morning, stir up the mixture, which will have thickened overnight. Add the yogurt little by little until the muesli is nice and smooth but not too runny.
User tips: This is one my favorite breakfasts ever. It doesn't look super appealing, but it tastes AMAZING. Serve it cold with some honey on the side for those who want to add some extra sweetness, though the yogurt will make it pretty sweet. You can experiment with using different flavors of yogurt to change it up.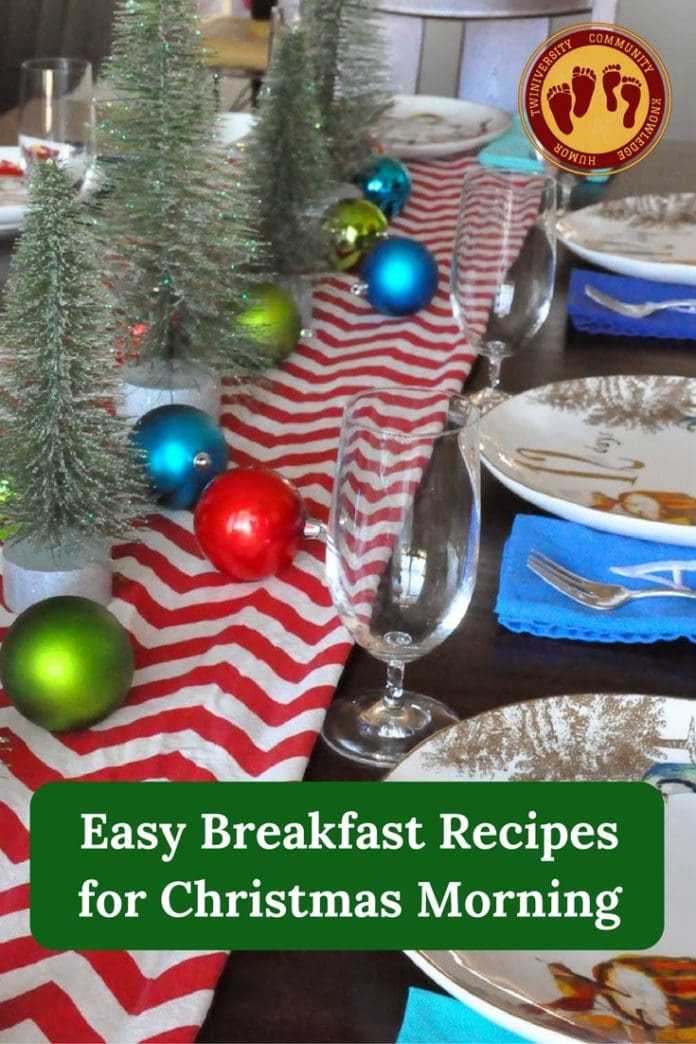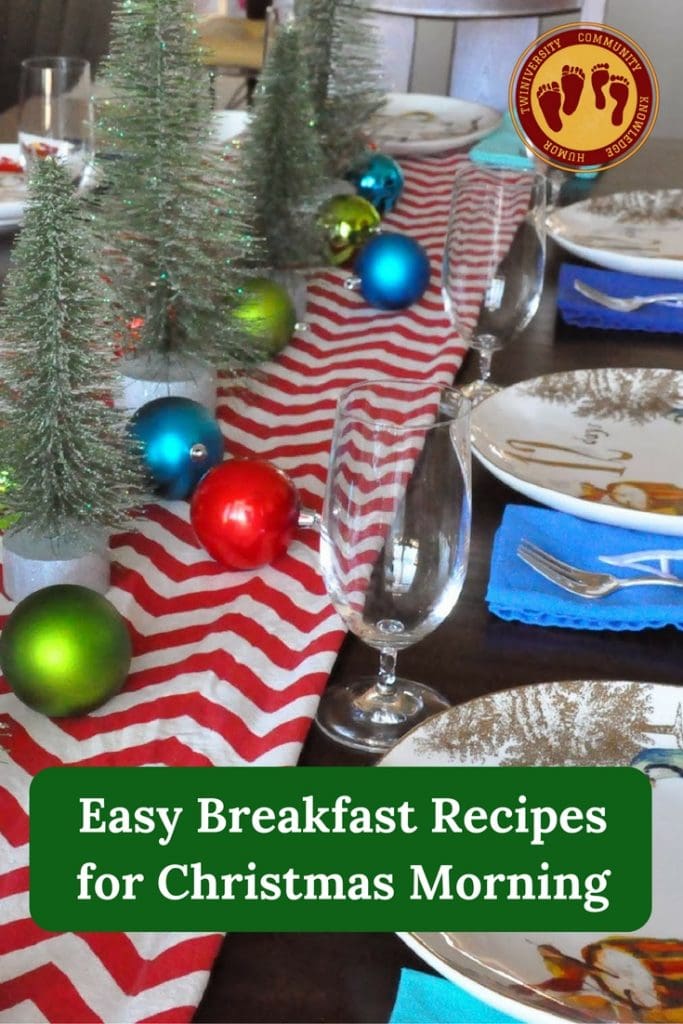 I hope you can enjoy a little less stress and a lot more fun family time by planning ahead and using these breakfast recipes to please a crowd with minimal prep time! As a side note, all of these recipes have been tested by the MoM Squad and we can vouch that they are all going to be a hit! Enjoy!
Julie Burt Nichols is Twiniversity's Dean of Parents, serving as Editor-in-Chief of Twiniversity.com, Account Manager, and Instructor for Chicago Twiniversity classes.
---
Related Articles
---
The rate of twin births has risen 79 percent over the last three decades, and continues to increase. A mom of fraternal twins and a national guru on having two, Natalie Diaz launched Twiniversity, a supportive website with advice from the twin-trenches.
What to Do When You're Having Two is the definitive how-to guide to parenting twins, covering how to make a Birth Plan checklist, sticking to one sleep schedule, managing double-duty breastfeeding, stocking up on all the necessary gear, building one-on-one relationships with each child, and more.
Accessible and informative, What to Do When You're Having Two is the must-have manual for all parents of twins.
---
Whether you're a twin parent in the big city surrounded by scores of resources, or a triplet parent out in the country with no one around for miles — our multiples parenting forums are for YOU! Sign up for FREE and connect with people who are just like you — parents of multiples looking for advice, parenting tips, or even just people to chat with who will understand what you're going through. Our forums are open to people all over the world and we offer scads of specialty rooms to find others who are going through the exact same thing as you. Check it out today!
---
Twiniversity is the #1 source for parents of multiples and we are growing faster every day!
Find us all over the web:
Or contact us by email at community@twiniversity.com