Is camping fun? That's a good question. It can be, but it's a lot of work preparing for a camping trip with twins. There's the seemingly endless list of things to bring. Then when the car is packed, the kids need to be entertained. When you finally arrive at your camping spot, you need to organize where the tent will be, where the fire will be, where the cooking will take place, and ensure an open area for playing. It's all a lot work but it is definitely worth it if you've planned some entertainment for the car ride, planned non-stop entertainment at the campsite and planned meals the kids will actually eat. After all, no one wants to hear the dreaded "I'm bored." I hope this article will give you some ideas that will make camping easier.
On the Drive
To keep the kids entertained in the car, you might try some of these ideas:
For younger children, consider buying a plastic box with compartments and fill it with a variety of healthy treats and sweets.

For older children, get a clothespin for each child and pin them to the car's air duct. Tell the kids if they misbehave, their clothespin comes down. At the first pit stop, the kids with clothespins still up get to choose a treat from the store.

Get your kids to play an easy car game, such as I Spy, 20 Questions, or the license plate game.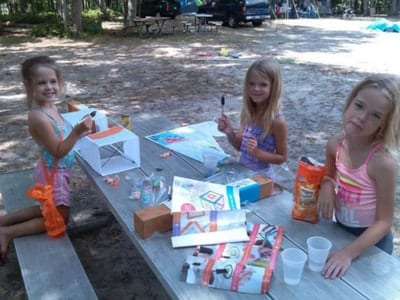 What to Pack to Keep the Kids Busy
Our kids get a lot of use out of these items when we camp, and I highly recommend you bring them for your kiddos!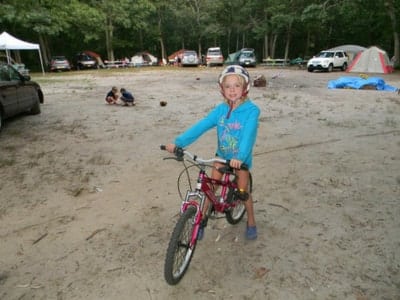 Play time!
Get your kids involved in group play at the campsite. This will keep everyone happy, wear them out, and make for some great stories to laugh about later. Some campground games might include:
Red Rover

Red Light Green Light

Mr. Fox

Simon Says

Hide and seek

Nature scavenger hunt

Nature Bingo

Search for animal tracks

Flashlight tag

Camping charades

Balloon ping pong

Glow in the dark tic tac toe / Checkers / Chess / Bowling / Ring Toss (use glow in the dark necklaces for this one)

Shadow puppet show

Find the constellation
Craft Time!
Try some of these adorable and fun crafts while you're at the campsite:
Storytelling Stones – Create a story with your kids. Find and paint stones to tell the story.
Pet Rocks – Find more stones and have each kid create their own pet rock with markers.
Toilet Paper Roll Binoculars – Paint toilet paper rolls, or glue patterned craft paper around them, and then use string to tie the tubes together and add a neck strap out of string.
Glowing Campfire – Turn clear plastic cups upside down, glue red, yellow, and orange small tissue squares all over the cup, put a battery-operated tea light inside the cup, and then glue the bottom of the cup with brown construction paper strips to look like logs. This is my favorite. You can take it into the tent as a little light.
Leaf Prints – Find some cool looking leaves and place them under a white piece of crafting paper. Use crayons to make rubbings of the leaves into a beautiful design.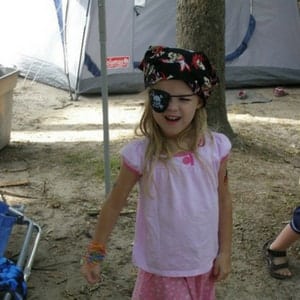 Have a theme
Creating a "theme" for your camping trip can make it even more fun. You can choose anything such as tie-dye, Pirates of the Caribean, Birthday, Thanksgiving or Disney. Plan a party one of the nights of your camping trip and dress up, play music and have food that goes along with your theme. You can tell the kids it's "Madri Gras chili" even if it just regular chili. It makes everything more fun!
Campground recipes
Sure, you're roughing it, but that doesn't mean you have to eat canned beans! Make cooking outdoors more fun with these campfire recipes your kids will love:
Pull Apart Pizza Bread – Use a large round loaf of bread and cut it diagonally and horizontally and then stuff it with your favorite pizza toppings including one-half cup of mozzarella cheese. Wrap it in foil and place it on the grill or coals for 15 minutes.
Mac and Cheese – Cook one cup elbow macaroni at home and then at the campsite, mix it with one cup cheddar cheese, one four cup parmesan cheese, one tablespoon butter, and one tablespoon milk. Add salt and pepper. Place the mac and cheese in a foil pie pan, cover with foil, and then place on coals or grill until bubbly.
Grilled Fries with Cheese and Scallions – Mix a bag of frozen fries with one tablespoon of butter, place fries in tinfoil boats and cook on the grill for about 20 minutes. Add four slices of cheddar cheese, real bacon bits, and sliced scallions and cook until bubbly.
Grilled Banana Boats – Slice bananas in half and sprinkle with chocolate chips and mini marshmallows. Wrap in foil and place on grill for 10-15 minutes or until melted. Add cereal on top for a nice crunch.
Brown bears – Wrap biscuit dough from a can along a long stick, bake over the campfire and then dip in cinnamon sugar
Lumberjack Breakfast Packets – Place two small sausages or Canadian bacon in a greased tin foil packet, top with hash browns, an egg or two, and tomatoes and green onion if you like. Salt and pepper to taste. Cook on hot grill for 10-15 minutes until the meat is thoroughly cooked.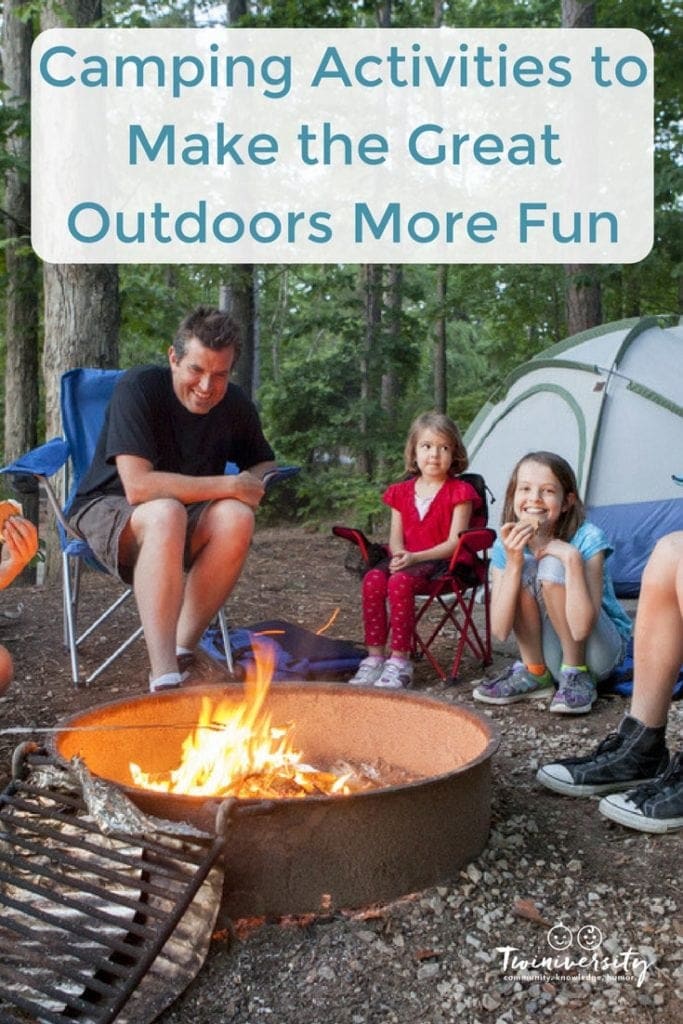 I hope some of these ideas can be included on your next camping trip and make your next adventure that much more fun and exciting.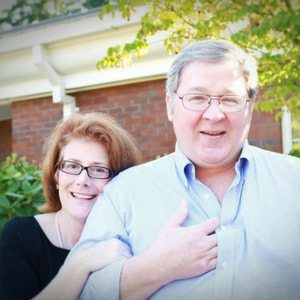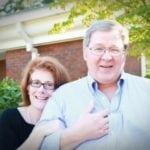 Anne Hansen is the mother of eight-year-old boy/girl twins. She began her career working for newspapers and ended her career working as an Instructional Designer for Microsoft. She is a SAHM who loves to immerse her children in the arts, science, and technology. When the children are in school, she dreams of becoming a writer. Anne lives in Fall City, Washington in the foothills of the Cascade Mountains.
---
Related Articles
7 Tips to Enjoy Hiking and Biking With Twins
11 Must Have Supplies For A Road Trip With Twins