"Mama! Our playground is on fire!"
These are definitely words that you do not want to hear your child yell. Thankfully, we were looking at the TV screen and were not actually at the playground at the time. But, she was right – our playground was on fire.
In November 2018, The Woolsey and Hill Fires struck Southern California, while the Camp Fire raged across the north of the state. On the evening of November 8, while my girls slept, I watched the wall-to-wall coverage of the fires, knowing the Woolsey Fire was close, but not really thinking that it would impact us. As the coverage wore on, I began to realize that we might need to evacuate, so I packed a few things. It wasn't until I brought the suitcases to the car, and saw the eerie orange glow in the sky (and smelled the smoke) that I really thought we'd have to leave.
At nearly midnight, I woke my 3-year-old twins, got them dressed, and hustled them and our 13-year-old mini schnauzer into the car. I tried to be age-appropriately honest with them about the situation, and they handled it pretty well, but I knew they were scared and confused. As I drove down the highway, I started calling hotels, hoping to find somewhere that would take us in the middle of the night, with a dog. I finally located a hotel about an hour away.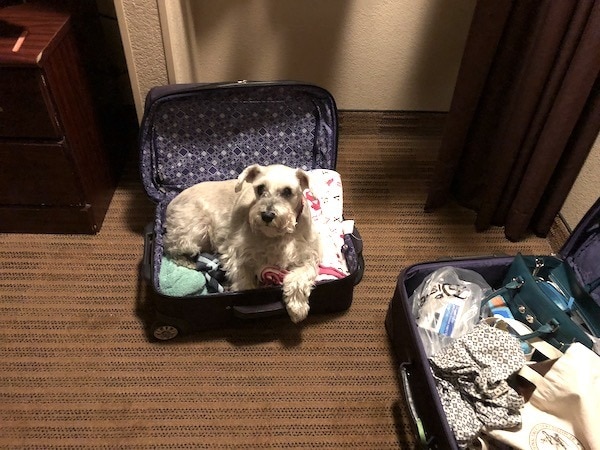 Evacuating with 3-Year-Old Twins and a Geriatric Dog
As our evacuation experience unfolded, I realized how unprepared I really was for an emergency like this, and wished that I had known about the 6Ps – a list provided by various emergency service agencies to help people remember what to bring if they need to evacuate. So, in case the situation ever arises for you, here are those 6Ps, along with 3 of my own:
People and Pets

: A lot of people believe that shelters will not accept pets. However, many do, so it is worth checking. In the Woolsey Fire, a local college accepted large animals, such as horses and cattle, but other evacuees had to camp out on the beach with their animals. We were lucky to find a hotel that would take our dog. Don't forget crates, leashes, food, and meds!

Papers

: Bring any important documents with you, such as passports, birth certificates, etc. It would also be good to have a list of phone numbers, in case you cannot access your contacts on your phone.

Prescriptions: Be sure to bring several days' worth of any prescription medications and vitamins, as well as backup contacts or glasses.
Pictures

: Lots of our more recent stuff is digital and stored in the cloud these days. But what about those old photo albums? Thanks to a text from a friend, I remembered at the last minute to throw all my childhood albums into the back of the car. If you have any other irreplaceable items (that are easy to grab), take them too. For two days, I didn't know if my house had survived the fire, and I was glad to have at least those albums, and some of my late mother's jewelry.

Personal Computers

: Take your laptop, and any external drives. I messed this one up. I charged and packed my laptop, but then I put it down to wake the girls and get them ready to go. I ended up leaving it in their bedroom and was without it for 8 days. I did, however, remember my girls' purses, so, you know, priorities!

Plastic

: Make sure to bring your credit cards, ATM cards, and whatever cash you have on hand. You don't know how long you will be gone, or how easy it will be to get money while evacuated.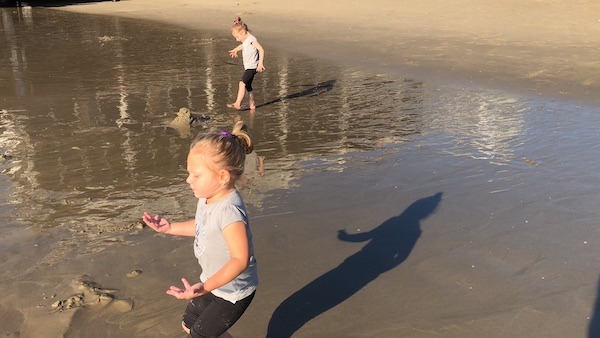 Now here are my additions to the list:
Plenty of supplies

: I packed for a 2-3 day evacuation. We ended up evacuated for 8 days. Even washing some things at the hotel, it was not enough, and we had to go shopping for more clothes. It's better to overestimate what you need and end up with extra than to find yourself lacking basic necessities. This is especially vital if you end up in an evacuation shelter, which might not have laundry facilities. Toiletries are important too – otherwise, you might end up using your kids' bubble gum-flavored toothpaste for a week!

Play: Spending more than a week in a hotel room with 3-year-old twins, especially when you're not on a vacation with planned activities, can be trying at best. Thankfully, right as we were leaving, I thought to grab a few puzzles and board games to bring with us, as well as the girls' current favorite stuffed toys (they then insisted that I bring my childhood teddy bear, and the dog's bear as well). These toys, combined with an old iPad loaded with cartoons, helped us pass the long hours in the hotel.
Patience

: I'm not going to lie – being evacuated is tough. There's so much uncertainty, and it's hard not being able to go home. When you then have to deal with the questions and confusion of small children (and animals), it can get really frustrating. Breathe deep and find those inner reserves. You will make it through.
During those days when I did not know if we would have a home to return to, I reflected that, in truth, I had the most important things with me – my girls and our dog. But now I know how to prepare better, should this ever happen again. And I will always remember this lesson: Leave the kid purses, take the cannoli – I mean, the computer!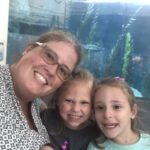 Kristen Marée Cleary is a writer and English professor who lives in California. She is a single mom to 3-year-old fraternal twin girls and her first-born, a miniature schnauzer. When she finds herself without two children and a dog on her lap, she enjoys Doctor Who marathons, coaching figure skating, and travel. She is an optioned screenwriter and, whenever the madness of raising twins as a single mom actually leaves her time to write about raising twins as a single mom, she blogs at www.spinstermom.com. You can also find her on Twitter and Instagram.
Related Articles
10 Things Your Children Should Memorize In Case of An Emergency
16 Items You Need In an Emergency Preparedness Kit But You May Not Have
Surviving Hurricane Sandy with Infant Twins