Learn 8 tips for running errands with twins that will help you get them done faster, with less tears and more success before naptime rolls around.
Hey gang, listen up! We've got a great article for you with 8 tips for running errands with twins, plus a great giveaway from Larktale. One lucky family will take home TWO (2) Larktale Chit Chat single strollers! (Value $398)
THIS CONTEST HAS ENDED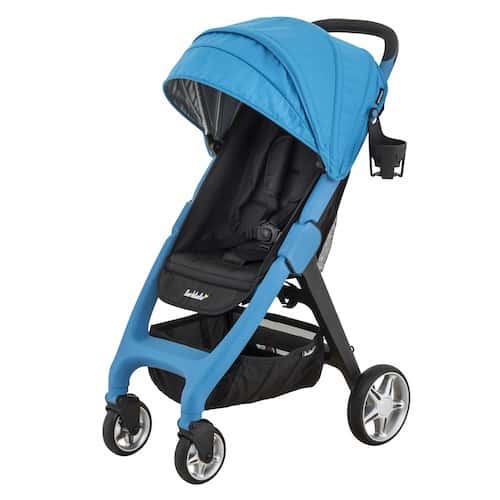 The Larktale Chit Chat stroller is a great choice for getting out with just one baby for 1-on-1 bonding time. Or you could wear one baby and stroll one baby so the three of you can get out together without a bulky double stroller. It makes for easier and quicker trips with your twins when you just need to grab something at the store.
You really should have a single stroller in the house with twins because, eventually, you will need to run just one baby to the doctor's office or on an errand. Having to take just one baby out in a double stroller is both awkward and annoying, so plan ahead and include a single stroller on your baby registry.
In addition, it's helpful to have two single strollers when you're traveling with twins and two adults. Some airlines (such as American) and theme parks (such as Disney) have limitations on stroller sizes, so traveling with two single strollers eliminates that issue completely.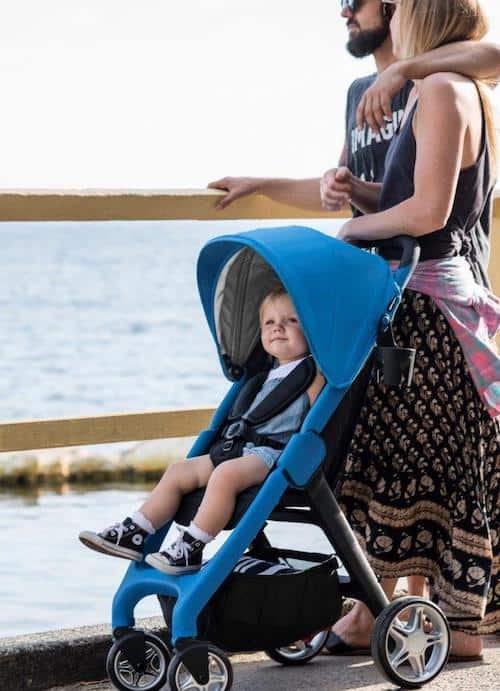 Larktale Chit Chat Features
Use from 6 months to 55 lbs.
Very lightweight – weighs less than 15 lbs
Easy + quick fold
Large storage pockets
UPF Rated Sun Canopy
Made from recyclable materials
Cup Holder included
---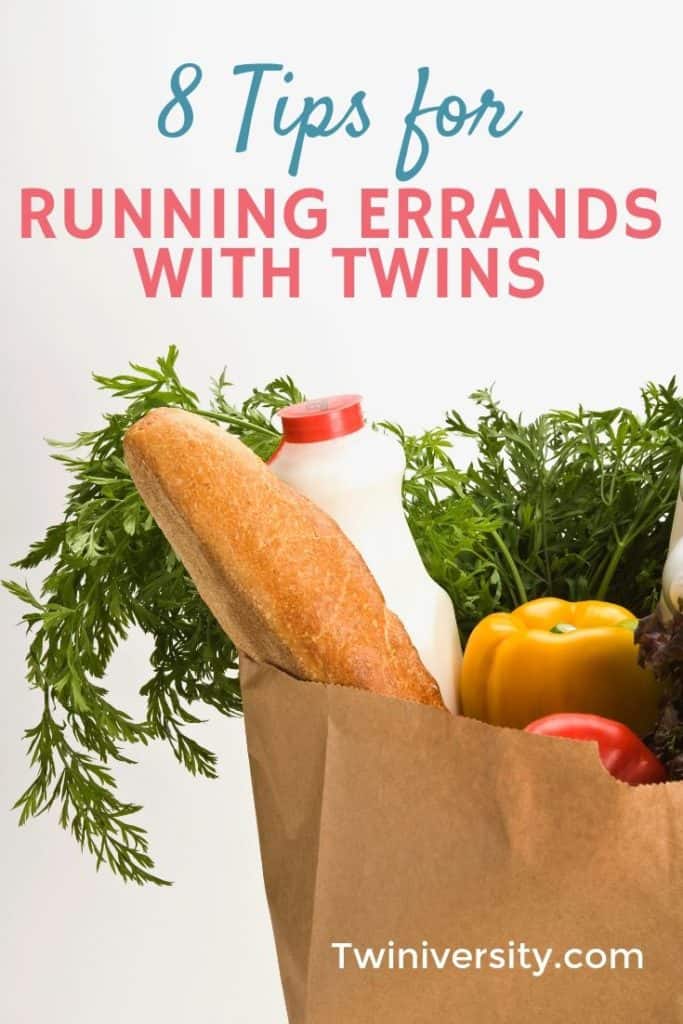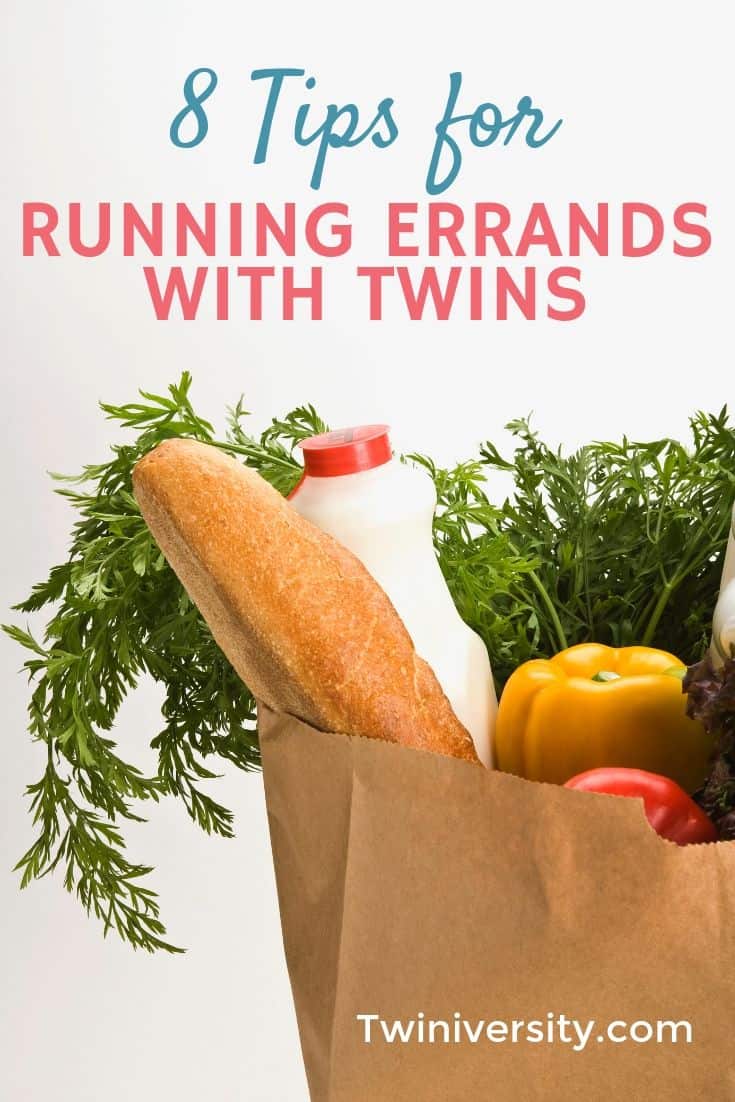 8 Tips for Running Errands with Twins
Shop where they have double seat carts
Go to a store that has double seat carts to keep your kids well contained. Aldi and Costco offer two seats on each regular shopping cart. Other stores such as Food Lion, Target, and Kroger offer carts with additional seating that sometimes look like fun cars or trucks.
Bring only the essentials
Avoid bringing a ton of stuff for quick trips. Snacks, diapers, wipes, and loveys are your essentials. Pack a smaller bag that isn't going to weigh you down for this quick trip. Prefill sippy cups and keep them in the fridge so you can grab and go when you're ready to walk out the door. Leave a set of spare diapers/wipes/changing pad and another bag with spare clothes in the car so you're not carrying too much.
It's all in the timing
Plan to leave the house immediately after diaper changes and bottles, that way they are satisfied and a little sleepy! Have everything packed and ready in the car before you get them up for their feeding, then plop them in the car seats and off you go.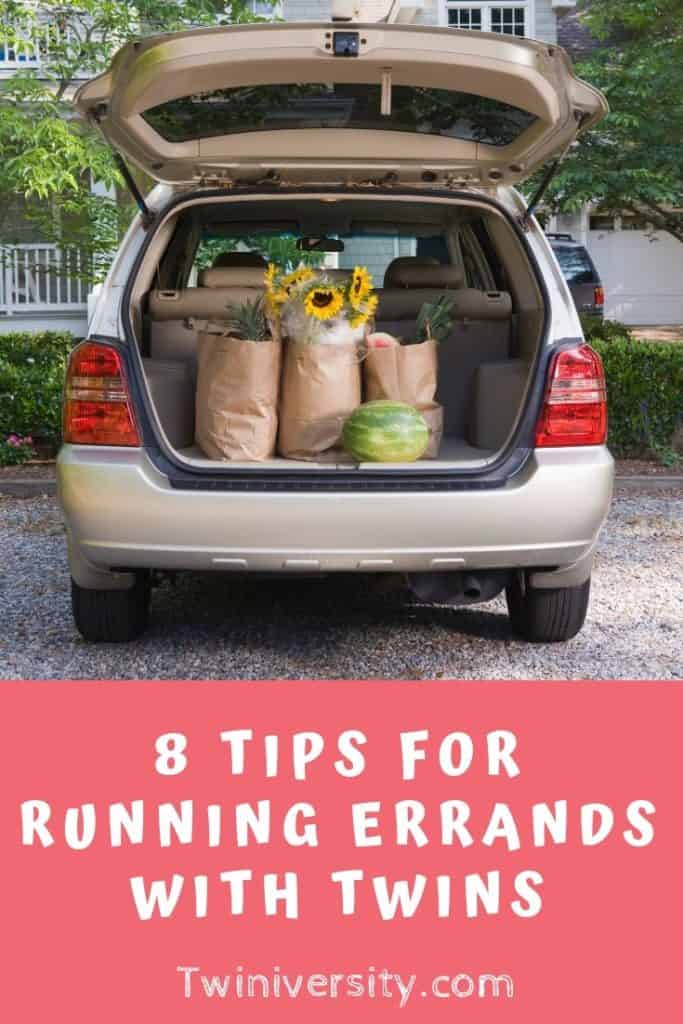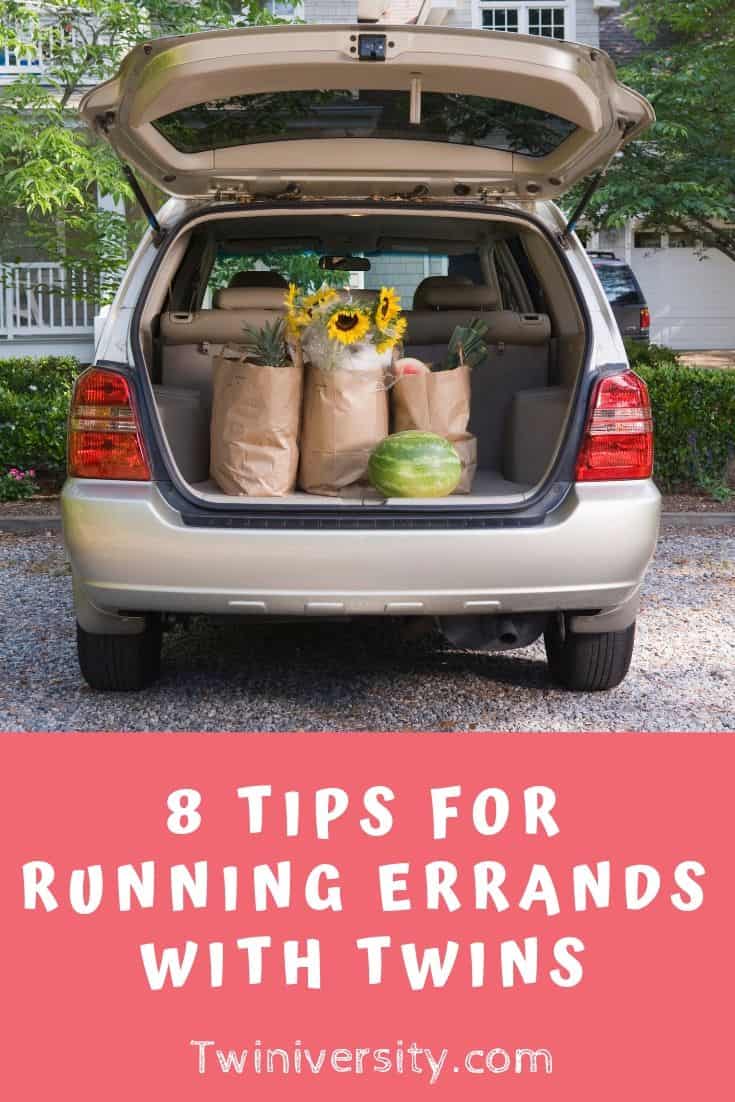 Wear one and stroll one
Leave the bulky double stroller at home. Strap one baby into a carrier and push the other baby in a single stroller. Look at you, mom on the go! This will make you feel as free as a bird and make navigating your quick errand a lot easier.
Take advantage of the night before
Prep everything that you'll need to leave the house the night before. Have the diaper bag stocked and set by the door. This will also encourage you to get out of the house, just knowing that you're all ready to go.
Pajamas are the new black
Don't be afraid to leave the house with your kids still in their pajamas. Because, really, who cares?? If you're just running to the store or the doctor's office, you don't need to spend extra time dressing them in day clothes. Pajamas are fine. When you're home alone with twins, every minute counts so don't waste time changing clothes if you don't have to.
Think outside the shopping cart
Don't depend on your grocery store to provide you with what you need to tote your twins around the store. You may get there and realize all the double carts are taken and now your plans are ruined. Instead, have a backup plan. The Buggy Bench is a great tool — it adds a second seat to a shopping cart for babies who are sitting up. If it's a trip for just a few items, use your stroller basket for your items so you don't have to push a cart.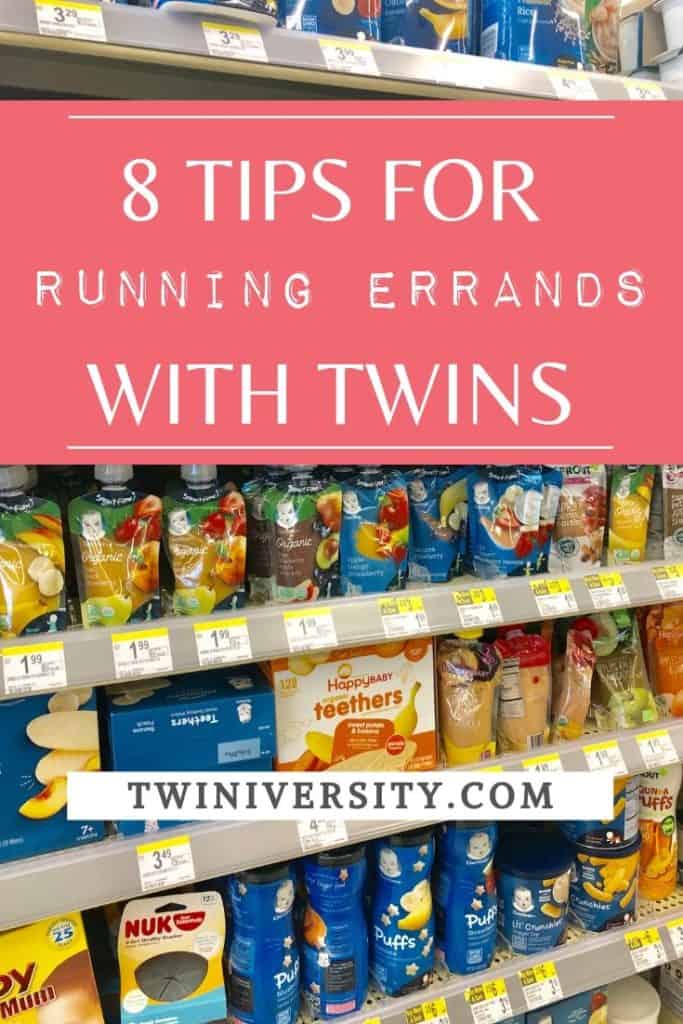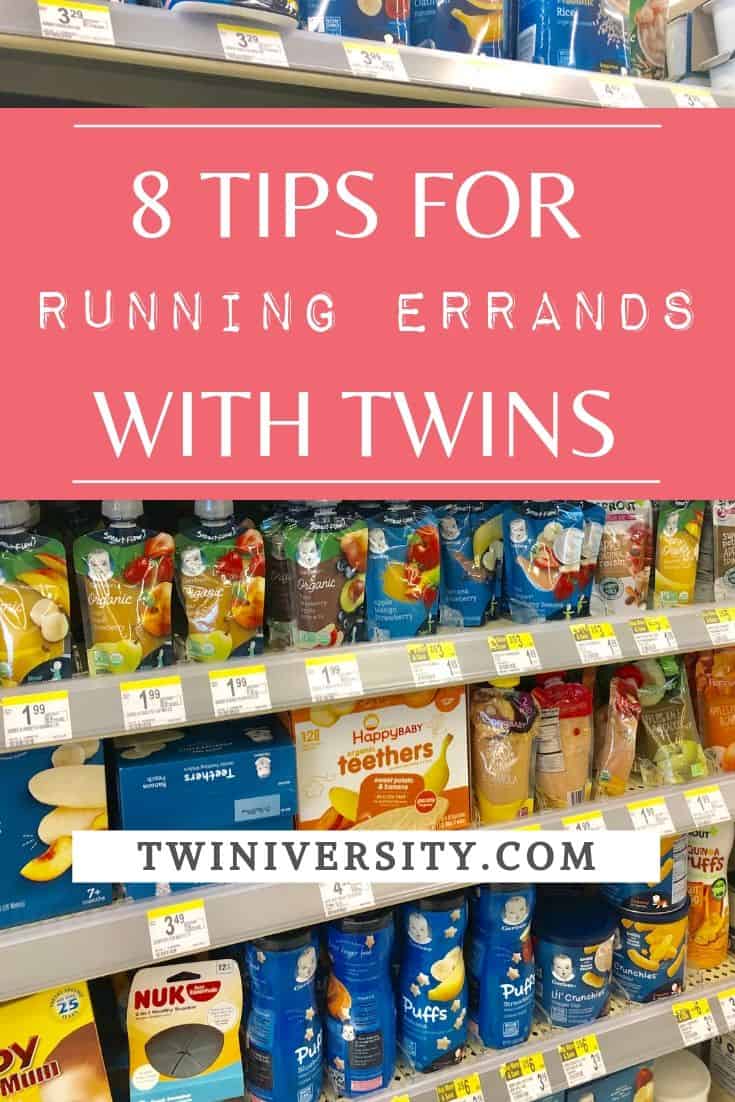 Be realistic on what you can get done
If you're out alone with your twins and they are on a tight schedule, don't try to do too much at once. Limit yourself to one big store/two smaller stores and get back home. That one big store will take longer than you think and if you head to a second store you will be rushing to finish in time. Plan to visit that other store tomorrow, or utilize a delivery service and treat yourself!
Another tip — many stores now offer drive-up service. You order on your phone app and they bring it out to your car. Brilliant! Many Targets and Walmarts offer this service so check it out at your local stores.
Getting out of the house for a quick trip with twins is not easy but with proper planning and a bit of luck, you can get out of the house and back and feel like you've just run a marathon! We wish you the best of luck.
Related Articles – 8 Tips for Running Errands with Twins
Getting Out the Door with Twins
Help! I'm Afraid to Leave My House with Newborn Twins!
Getting Out of the House with Twins