*This is a sponsored post with phil&teds*
It's Tuesday… or is it Wednesday? Ever since my twin boys were born, days of the week have had little meaning. Instead of worrying about what day of the week it is, I wake up worrying about tandem feeding, coordinating naps, and getting out of the house for some much needed fresh air. When they were teeny babes I used to worry about taking a shower or putting on matching clothes, but those things seem somewhat comical now that I know what being a twin mom is really about. Hint: It is NOT about daily showering. Every day is a different journey (rollercoaster?) and navigating the twists and turns requires a special kind of patience, know-how, and the right equipment.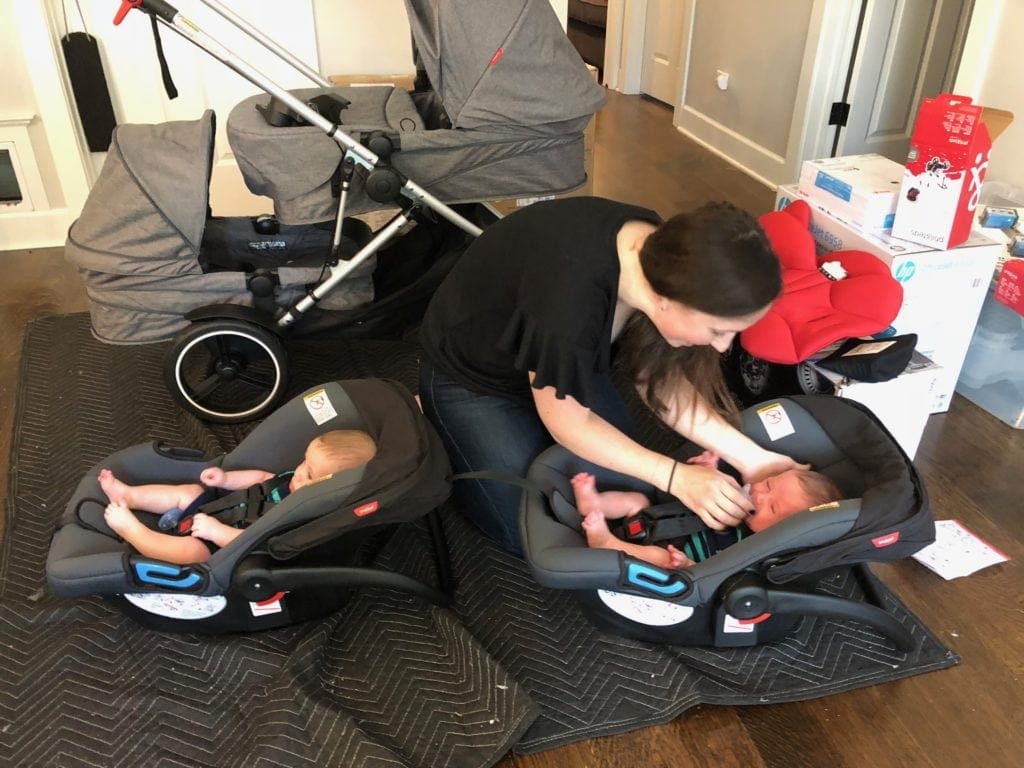 One of the best pieces of advice I received while pregnant with my identical twins, Jacob and Zachary, was to try to get out of the house at least once each day. You must do this, they told me. It will keep you sane, they told me. The truth is, I did not heed this advice soon enough. It felt too difficult and every time I thought we could get out of the house, a feeding would take too long or I'd realize that I hadn't packed the diaper bag. I felt defeated, tired, and stuck. Every twin mom has been there, even if their Instagram story suggests otherwise. Repeat this to yourself: YOU ARE NOT ALONE (you've got two babies with you, remember?) As the time went on, I realized that with a little planning every day can be THE DAY that you get outside – even if it's just a quick walk around the block while the babies nap – and reclaim some of that sanity. Now I schedule my day with an outing in mind. A little planning and the right gear make it happen. If I don't have the right gear, I'm sunk.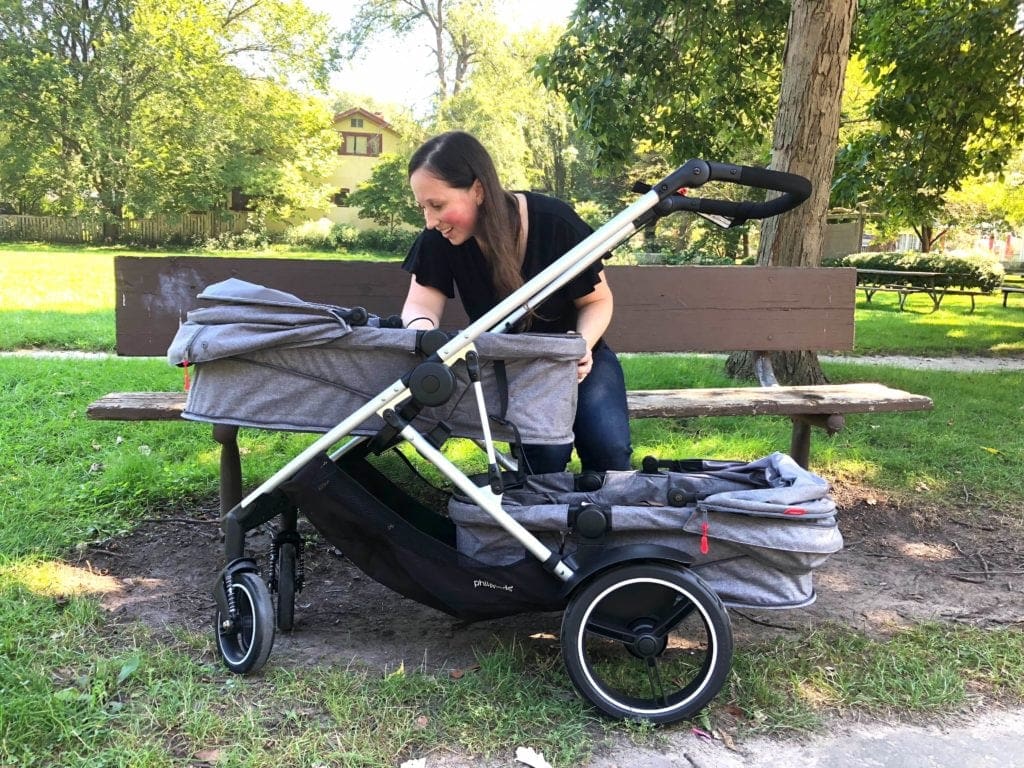 All moms care about strollers, but only twin moms can appreciate the number of different scenarios and demands that depend on this crucial item. My stroller and I are either going to hang together or…I'm toast, and it can try to get picked up at a Moms of Multiples garage sale. With that said, finding a great stroller that is truly designed for twins was one of the best things I did before the babies arrived. The Voyager stroller by phil&teds is a twin mom's dream because it converts from a single to a double – or, in the case of a twin family, from a double to a single – in a quick second (just make sure to purchase the Voyager Double Kit!) The seats easily fold down into bassinets for newborn babies, fold up to normal seats for older babies, or you can pop the seats (one or both!) out altogether and create a travel system with two phil&teds Alpha car seats. Added twin bonus: you can fold the entire stroller WITH the second seat attached. The versatility is perfect for a twin family on the go. Also, if I'm being completely honest, having twins has me running to Starbucks for my daily (full disclosure: twice daily) caffeine fix and the one thing that can really hamper that experience? A clunky, oversized stroller that won't fit through the door, let alone through the line as you try to order that much-needed macchiato.
My day does not work without a schedule. Live by the schedule, die by the schedule, as they say. Everything with twins takes longer, so planning ahead can really make all the difference. Getting out of the house is a complete no-go if you don't have at least a basic plan in place for the day. My babies thrive on routine – feedings, naps, and playtime all happen at about the same times each day. But with twins, no two days are truly the same. And remember that sanity we talked about earlier? You're going to want to keep as much of that as possible.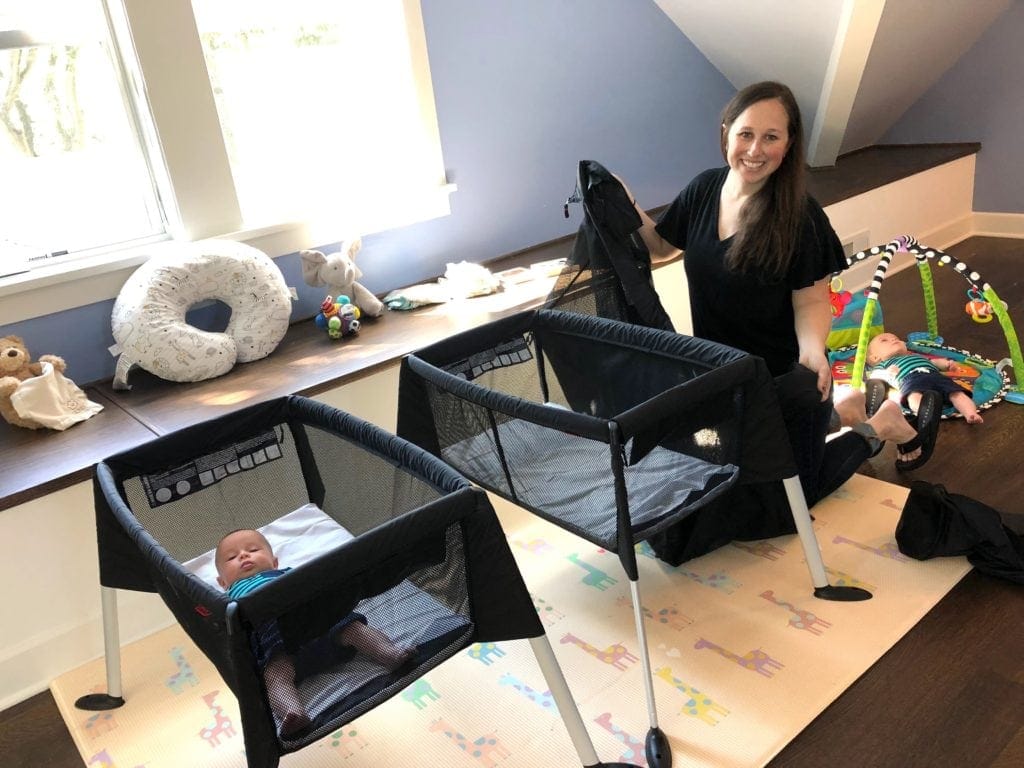 So, what happens to the schedule when real life has other plans? Say you want to go visit family. Is the schedule doomed? How will you survive? Is it time to just throw in the towel? Visiting my parents' house is always a fun time filled with much needed adult conversation and the chance to spill milk on someone else's furniture for a change. It also means I need to find somewhere for the babies to sleep and play while we're there and I am not about to transport two portable cribs each weighing more than both of my babies combined. Enter: the phil&teds Traveller travel crib.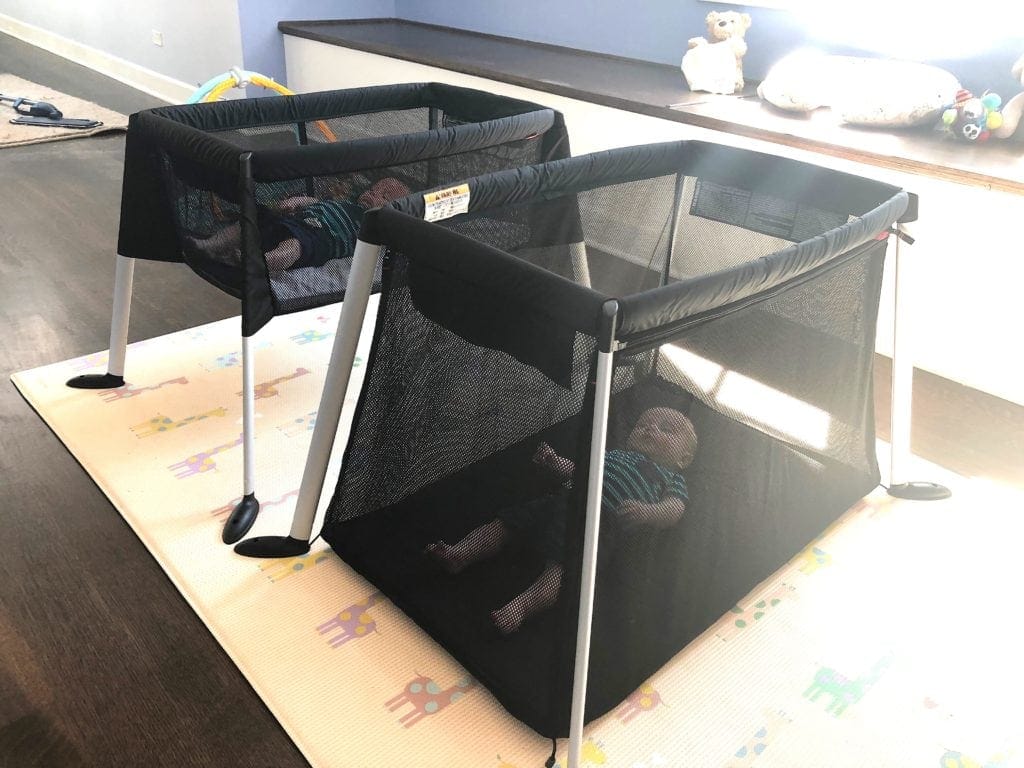 The Traveller is a game changer, as it provides a safe space for your baby to sleep and play and it weighs only six (!) pounds. All of us new twin moms are looking to shed a few pounds, so why not start here? The mesh sides zip down to give you access to your little ones, and it can easily transform into a bassinet for newborns to sleep on the go with the Traveller bassinet accessory. Plus, if your destination is many miles away, the phil&teds Travel Bag can easily hold both of the travel cribs or even your stroller (but not all three at the same time–that would be crazy!) Thanks to the travel cribs, the visit is saved, even if Grandma's couch isn't.
In my babies' five months of life, no two days have been exactly the same. Any day can devolve into chaos before you can say "What do you mean there's TWO?!" so keeping calm, staying on a schedule, and having the right gear are all essential for success. Just knowing that I have a few key items at the ready for when I feel the day slipping away can put my mind at ease and help me get back on track. phil&teds definitely has the twin mom in mind, which makes our days so much easier.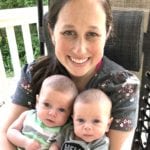 Arielle Pickus is a stay at home mom to five-month-old identical twin boys. In her spare time (what is that?) she loves to run, read, and relax with her husband, Ted, and their two cats.
Related Articles
Getting Out of the House with Twins | Facebook Live Chat
Getting Out the Door With Twins
A Day in The Life Of A Twin Mom