Last updated on September 28th, 2021 at 01:58 pm
Are you considering a double stroller frame for your infant twins? We took the two most popular double stroller frames on the market — Baby Trend Snap-N-Go Double and Joovy Twin Roo+ — and did a side-by-side comparison in the video below to help you decide which is better — the Baby Trend stroller or Joovy — for your twinnies.
Baby Trend Stroller Double Snap-N-Go vs. Joovy Twin Roo+
It seems we have an epic battle with these double car seat holders. We're going to do a side-by-side comparison of the Joovy Twin Roo+ and the Baby Trend Snap-N-Go Double. Are you ready? Let's get this party started!
Battle of the basics
Let's begin with the most obvious feature of these strollers when they are placed side by side. The Joovy Twin Roo+ has the babies facing out while the Baby Trend stroller has the babies facing me.
Many people think that the Joovy is a better choice because it's shorter. It is important to note that this stroller is actually a bit wider than the Baby Trend stroller, though.

Storage battle
Let's talk about basket size. They both have substantially sized baskets, but if this was a real competition I would have to say that the winner is going to go to the Joovy Twin Roo+. The Joovy basket is just a bit larger, making storing your twins' gear more convenient.
It's time for the drink battle. Who could hold more bottles for your infant twins or coffee cups for Mama? The Joovy Twin Roo+ with four cup holders could hold plenty of beverages.
On the other hand, we absolutely must look at parent storage here. Where am I going to put my keys? Where should my cell phone go? The Baby Trend stroller has you covered in that department.

Safety battle
So let's compare the brakes of these two double strollers. Both the Baby Trend Double Snap-N-Go and the Joovy Twin Roo + have an easy foot brake conveniently located next to the wheel to prevent the dreaded runaway stroller if you need to answer a call or make a purchase.
So which stroller holds more baby? Joovy Twin Roo+ holds a combined weight of 70 pounds, that's both babies. While the Baby Trend Double Snap-N-Go holds a combined weight of 45. Winner: Joovy Twin Roo+. But also consider that your babies will probably be outgrowing their car seats, either in weight or height, before they hit the maximum weight for either of these strollers.
The battle of the fold
It's time for an epic fold-off. When it comes to the ease and time of folding these double strollers, it is a pretty even tie. They are both easy to fold with a quick fold of the base, a pull of the handle, and then a clasp to secure the frames.
Now, let's look at these two puppies side by side. You can easily tell that the Baby Trend is actually much more compact when folded correctly and secured with the clasp. Which one do you want to put in your trunk? Baby Trend takes the compact fold title here.
Another thing to mention is while I could make the Baby Trend stroller stand up on its own, the Joovy stroller is just going to fall to the floor. This may or may not matter to you but when thinking about storage it is something to keep in mind, especially if you have limited space in an apartment or smaller home. Standing a double stroller up against a wall in a hall is often the only way to keep your stroller handy and out of the way.
When it comes to folding, twin parents are also concerned with the unfolding of their stroller. No one wants to wrestle around with a stroller frame while trying to get their twins out the door. When you open these two strollers you will find them both surprisingly easy to snap back into place. Simply un-clasp the frame, grab the handle, and snap them upright. Easy-peasy! Another tie here!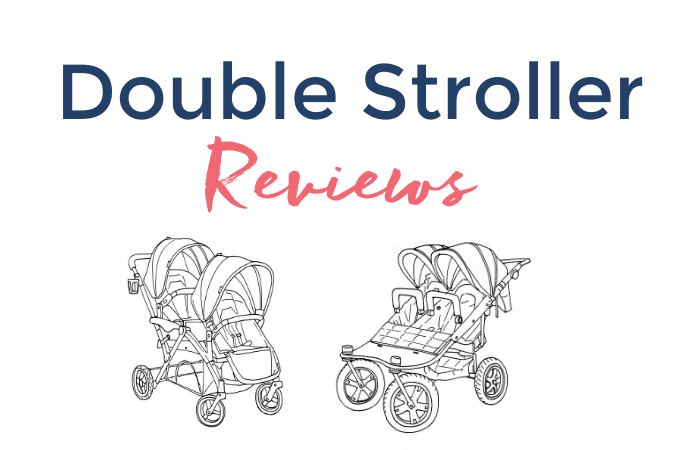 Are you looking for the best double stroller for twins? Not sure if you should go for a tandem stroller or a side-by-side stroller? And what about a Snap N' Go? We've got all the details for you in our double stroller resource. Click here to learn more… and while you're at it, check out our expecting twins classes and the Twiniversity shop!
Last but not least
Next, our head-to-head battle is going to compare the hand rests. While the Baby Trend stroller has kind of a plushy foam, the Joovy Twin Roo has more like a microfiber plush foam. But if I have to say which one is more comfortable the winner goes to the Baby Trend Double Snap-N-Go.
Time to talk about our pockets. I mean, yes, we absolutely care about storage and safety. But, if it's the safest stroller on Earth with the largest storage basket to carry everything you own and you can't actually afford it…what difference does it really make? Unfortunately, it often comes down to dollars and cents when you're raising twins, doesn't it?
The Baby Trend stroller retails for $99. The Joovy Twin Roo+ retails for $139. For the Joovy stroller, you also have to buy the car seat adapters specifically for your car seats which is going to cost you an additional $25 each, bringing your grand total to $189. Baby Trend is clearly the winner when it comes down to the price comparison of the two twin strollers.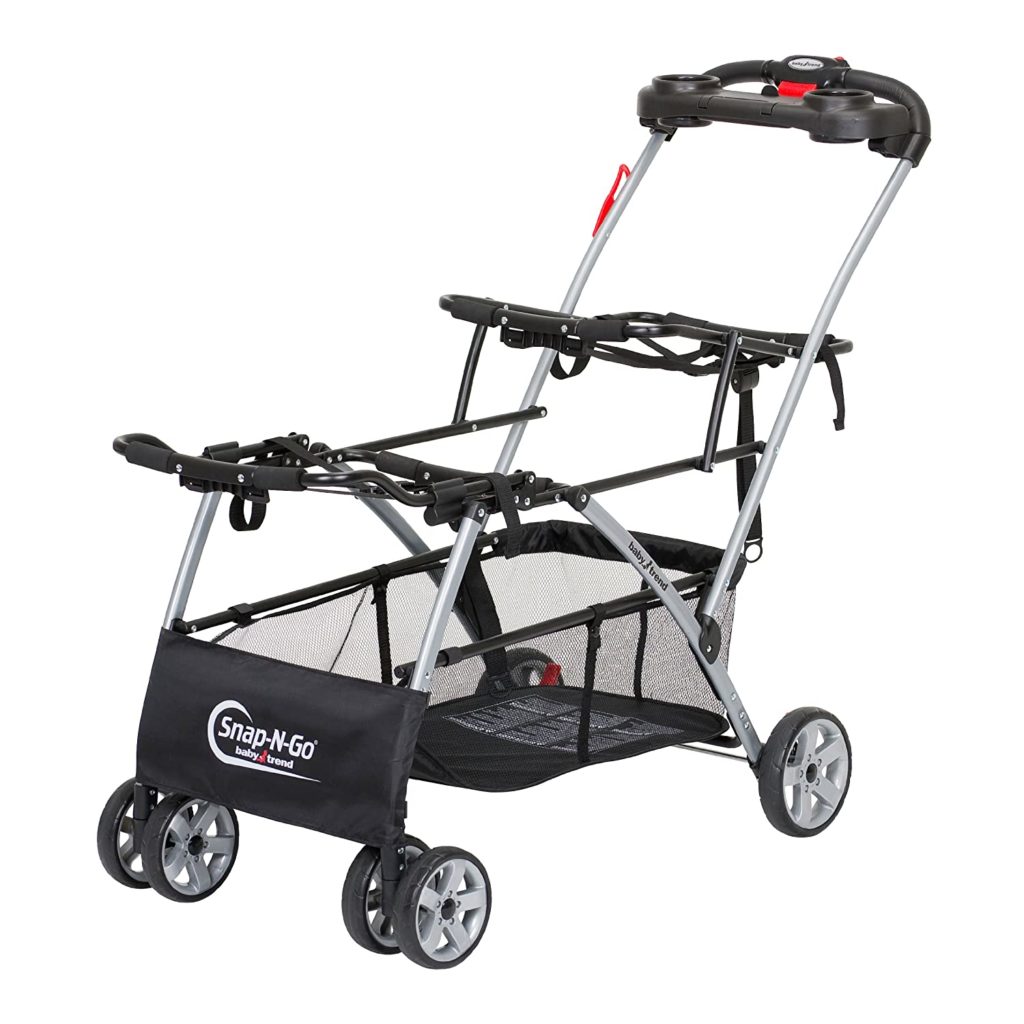 Should you get the Baby Trend stroller or the Joovy?
So which infant car seat twin stroller frame is best for you and your twins? Well even though I may feel like there's a clear winner here, truthfully you guys have to be the judge. Every family and living arrangement is just a bit different and that will make a big difference when you are shopping for a twin stroller frame.
Make sure that you measure your elevator. You're also going to want to make sure you measure your doorways and hallways. Make sure you go to the store and lift these puppies up to figure out which one is best for you. Because while I could say which one I think is best for me and my twinnies, I don't live in your house so I'm not going to tell you which one is best for you. I gave you the facts. Time for you to decide.
For more information visit our friends at Joovy or visit our friends at Baby Trend.
A gentle reminder – please make sure that you A) register any infant car seat carrier in your name even if you bought it second-hand. B) Make sure that the car seats that you are using are specifically created for those adapters or for that car seat carrier and C) FYI, the car seats we used in this video are not perfect for both of those car seat carriers. This is why it's important that you always check your manual.
Return to Double Stroller Reviews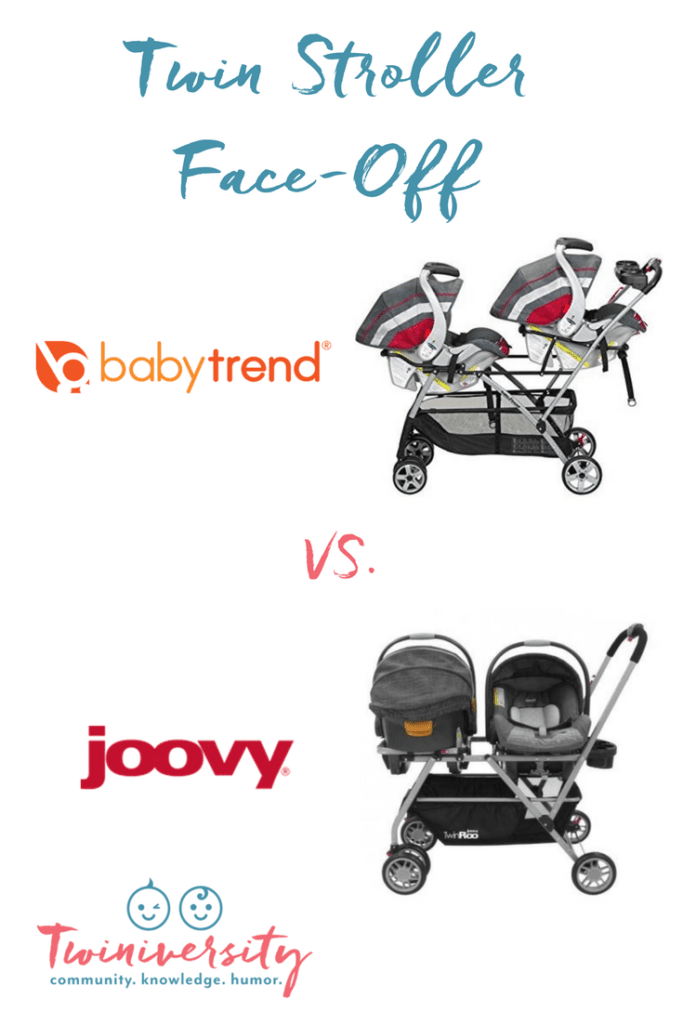 Tips for Air Travel with Double Strollers
Strollers and all baby carriers will need to be screened by X-ray and or manually. If you have a stroller and car seat, only one can be checked at the gate. If you are not planning to use the car seat on the plane, you will want to check it at the ticket counter. On some airlines, strollers over 20 lbs must be checked at the ticket counter and strollers under 20 lbs can be used in the airport and then checked at the gate. Check ahead with your carrier to find out their rules for stroller weight. If you must check your double stroller at the ticket counter, plan to use baby carriers throughout the airport.
Be aware that some airlines have a weight limit to gate-check a stroller. According to the American Airlines website (as of April 2017), their policy states, "Each ticketed customer is allowed 1 stroller. Only small, collapsible, and light strollers (up to 20 lbs/9kgs) can be checked at the gate. Any stroller that weighs over 20 lbs/9 kgs, is too large, or is non-collapsible must be checked at the ticket counter."
This policy does not take into account that the average double stroller weighs between 26 and 37 pounds. As any parent of twins knows, our double stroller is one of the most important pieces of equipment we have.
When you are traveling with multiple small children — especially if you are traveling alone — it is extremely difficult to manage an airport without a stroller that can be gate-checked. And the fact of the matter is that there are very few double strollers on the market that meet the 20 lb. weight limit.
Latest Posts