Looking for Double Umbrella Strollers? START HERE and let the DOUBLE STROLLER EXPERTS help you make the choice on which one is perfect for your duo.
What are the best double umbrella strollers of 2020? Perhaps it's for your twinnies, or maybe you have the one-plus-one type family. Either way, you need something, durable, practical and most of all affordable. The Twiniversity StrollerSquad has uncovered the best double umbrella strollers of 2020 and we are excited to share our finds. Let's dive in, shall we?
What is the best double umbrella stroller for twins?
Ok, let's begin at the beginning. What are double umbrella strollers? A double umbrella stroller is typically a side by side double stroller that will accommodate two kids, either twins or two children under 4 years old. Most double umbrella stroller seats usually hold the same amount of weight (you should always check) and are typically narrower than a side by side double stroller. A double umbrella stroller also typically has a very compact fold making it easier for travel.
As far as which is the best? That's hard to say because each family will choose one based on price, features, width, travel ability and other factors that aren't universal. What's best for a trip to Disney may not be best for a trip to the zoo. So (and I hate when people say this) there isn't a "best"; the best one is the one that's right for you.
Disney Parks to Prohibit Certain Twin Strollers
What are the benefits of a side by side double umbrella stroller?
If you are planning a trip and have two littles to travel with, you might want to opt for double umbrella strollers because of their typically compact nature. Most families with two little ones usually have a double umbrella in their stroller arsenal because they store easily and are the perfect choice when you are going someplace new and you are worried your typical side by side double stroller or twin tandem stroller won't fit.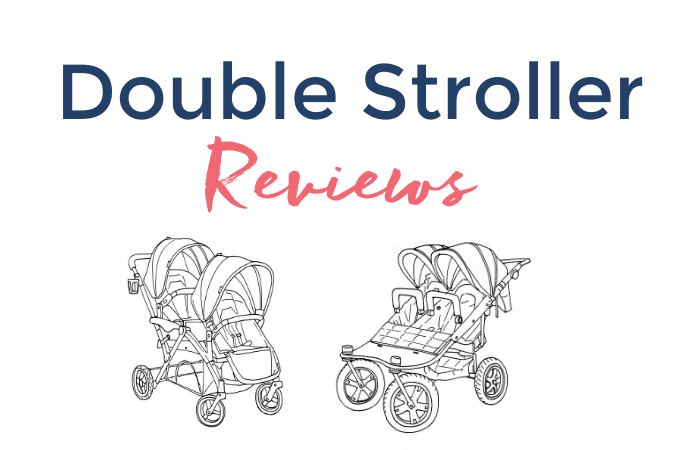 Are you looking for the best double stroller for twins? Not sure if you should go for a tandem stroller or a side-by-side stroller? And what about a Snap N' Go? We've got all the details for you in our double stroller resource. Click here to learn more… and while you're at it, check out our expecting twins classes and the Twiniversity shop!
What are the negatives of side by side double umbrella strollers?
Most double umbrella strollers have significantly fewer features than a typical side by side double stroller. Some sacrifice padding on the seats, footrests, larger canopies, suspension systems, storage baskets, and other features to make the price lower and the ease of use more universal.
Can I put my newborn in double umbrella strollers?
When Twiniversity students in our Expecting Twins Class ask, "Can I put my newborn in a double stroller?" my short answer is "No." Many do not have a full recline or a 5-point harness system, however more and more double umbrella strollers are coming to the market that have convertible seats that can either accommodate a car seat with an adaptor or turn into a pseudo-bassinet which is specifically made for a newborn.
Are double umbrella strollers lightweight?
In short…maybe? Some weigh easily under 20 pounds, but lately, we've been seeing companies up their double umbrella stroller game by adding more and more features which then adds more and more poundage (just like the chips I'm eating now). You have to read the fine print on all specifications of your double umbrella stroller: weight, width, depth, and length when opened, and then measure all over again to see what it's like when it's closed. Listen, it's your money, I want you to make a wise decision from the start. Think about who's using it, too. If this is a stroller for grandma's house, can she lift it? Can she open it? Don't just think about you, you need to think of EVERYONE who will be using it.
Ready to jump in and talk about some great double umbrella stroller options? Let's do it.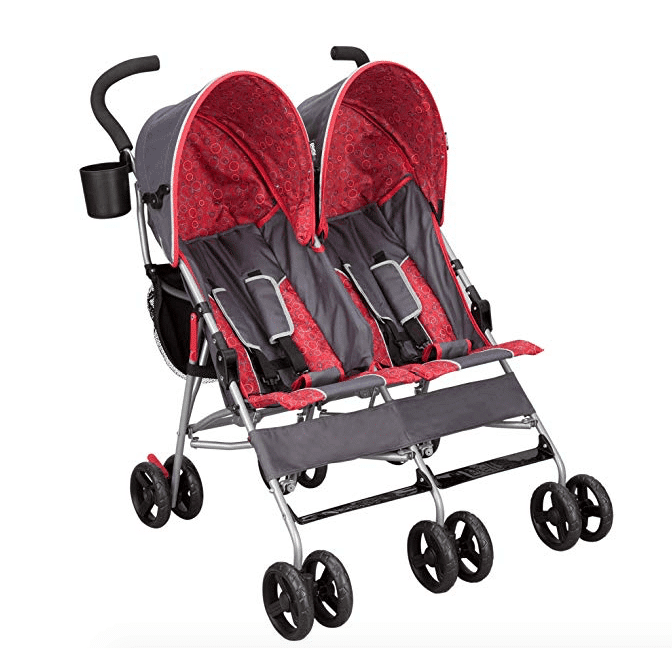 One of the cheapest double umbrella strollers we've found is the Delta Children LX Side by Side Tandem Umbrella Stroller found here.
Delta Double Umbrella Stroller: Some of the features of this Delta Double Umbrella Stroller are that it holds children up to 35 pounds per seat. It has a large European style canopy. Has two storage bags AND a parent cup holder with two attachment points. It has a super compact folds for easy storage but it doesn't sacrifice on the features like a five-point harness system per seat and soft shoulder pads. Dimensions are 37.3 x 29.6 x 31.2 inches which means it's a good double umbrella stroller for Disney.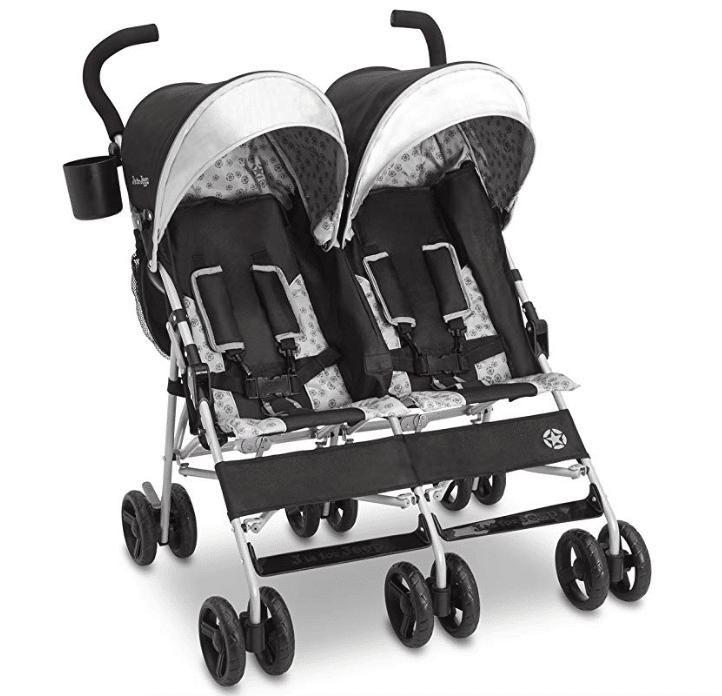 The Jeep Double Umbrella Stroller is another solid, and inexpensive choice. Buy here. With a five-point safety harness and soft shoulder pads per seat, your kids will be safe and comfy. Not many bells and whistles here so expect a no-frills type stroller, but it does have a multi position recline. Like the double umbrella stroller above, each seat also holds 35lbs. The dimensions are 23.4 x 29.9 W x 37 inches which means it will also meet the Disney double stroller requirements.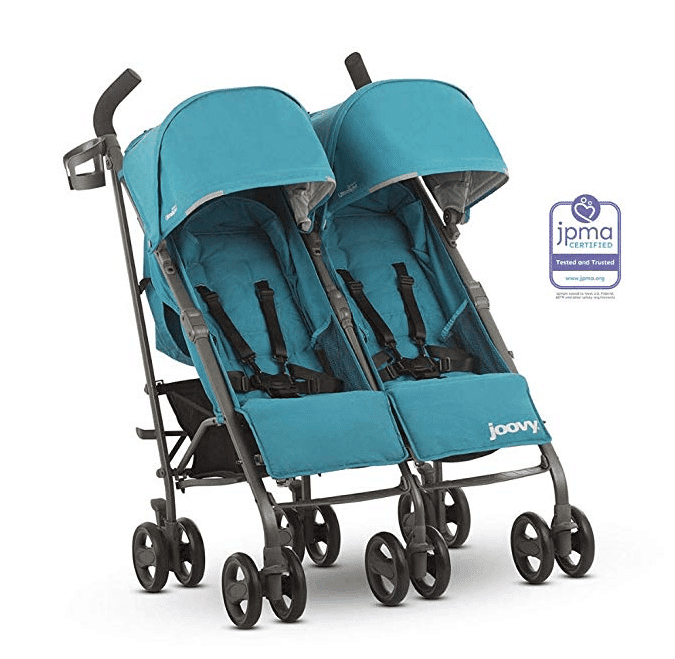 Joovy has been great at paying attention to large families for a long time so it's not a surprise that they make one of the best double umbrella strollers on the market. The Joovy Twin Groove Ultralight Umbrella Stroller (shown above) is a great choice for twins or for an older and younger child. Each seat can hold up to…… wait for it…. 50lbs! Yup. 50lbs! Each seat has an independent recline and has a bassinet mode to accommodate newborns, too. The double umbrella stroller fabric is water-resistant and contains UPF 50 for sun protection. The 6-wheel suspension and adjustable footrest make the ride more comfortable for parent and kiddos. Plenty of pockets to hold the kids' goodies and small "windows" to get a peek at your kids through the canopy make it a solid choice for any family. Dimensions are 32.25 x 30 x 42.75 inches as an FYI. You can pick one up today on Amazon.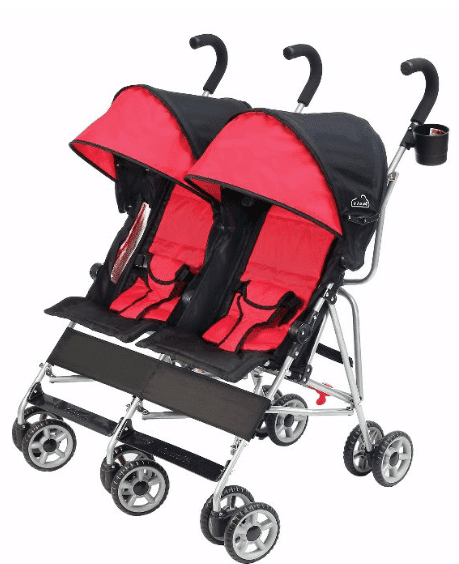 Hey you, Target Mom (or Dad), I can't get out of that store spending less than what feels like a million dollars, but WE know that YOU know you can't beat the deals there so we found this one. This Double Umbrella Stroller at Target is made by one of our favorite companies: Kolcraft. Their Double Umbrella Stroller is a fantastic bang for the buck at around $70 bucks. You can buy it here at Target. Some of the cool features of this Kolcraft Double Umbrella Stroller are the cool-climate seat backs (each roll up to expose mesh for increased air circulation) and a padded headrest. It's super lightweight and maneuverable at 21lbs! WOOHOO! It has a super fast and compact umbrella fold and awesome expandable canopies with visor extensions and rear hood for full coverage. The seats recline independently and have a 3-point safety harness per seat (that means only at the waist, not over the shoulders). The overall dimensions are 38.75 x 31.75 x 28.5 so, sadly, this doesn't meet the Disney Double Stroller requirements. OH, the stroller holds 70lbs in total so split it up as you will.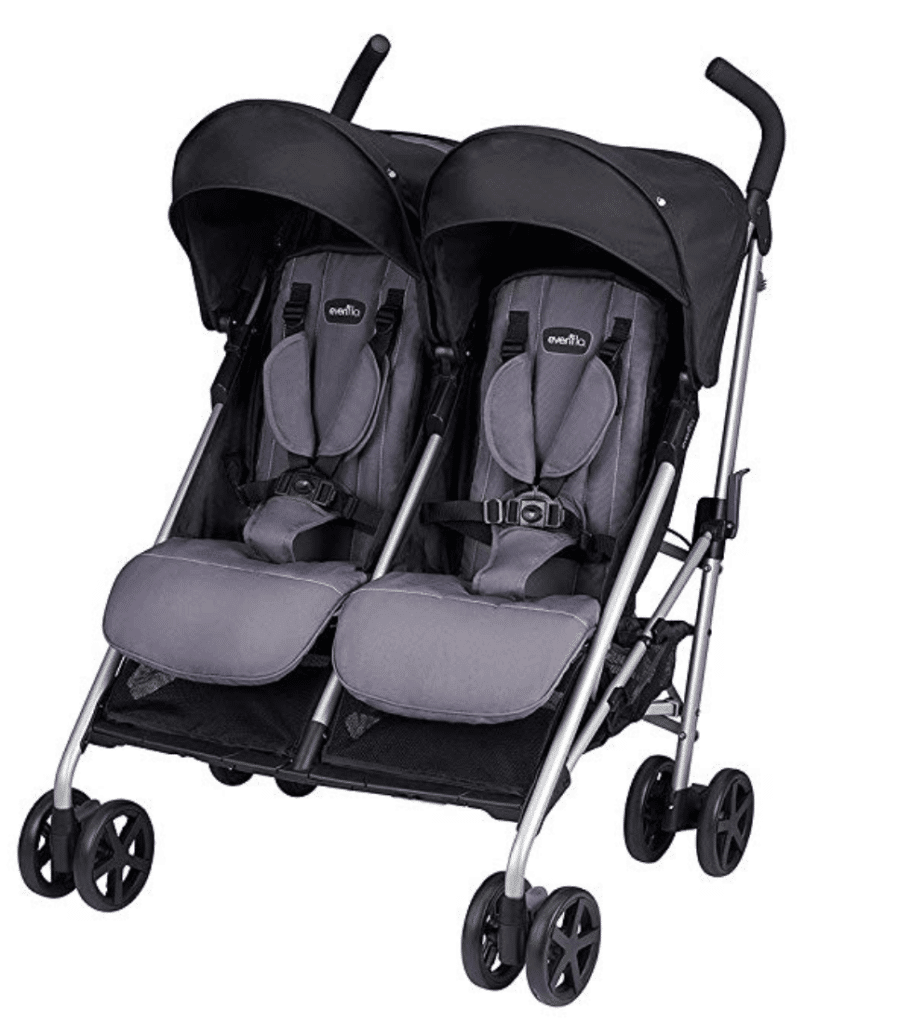 The Evenflo Minno Twin Double Umbrella Stroller (buy it here on Amazon) is a solid choice too. Weighing just under 26lbs with a 27-inch width, it will fit through any standard doorway and each seat holds up to 45lbs. Not too shabby. This Evenflo stroller has an interesting one-hand fold which makes it easy on twin moms especially. When open, it's 15.75 W x 16.75 D x 41.5 H. They didn't sacrifice much here with a multi-position backrest and two-position footrest. It comes with a drink holder too. Big canopies, a generous basket, and comfort angled handlebars. It's a solid choice.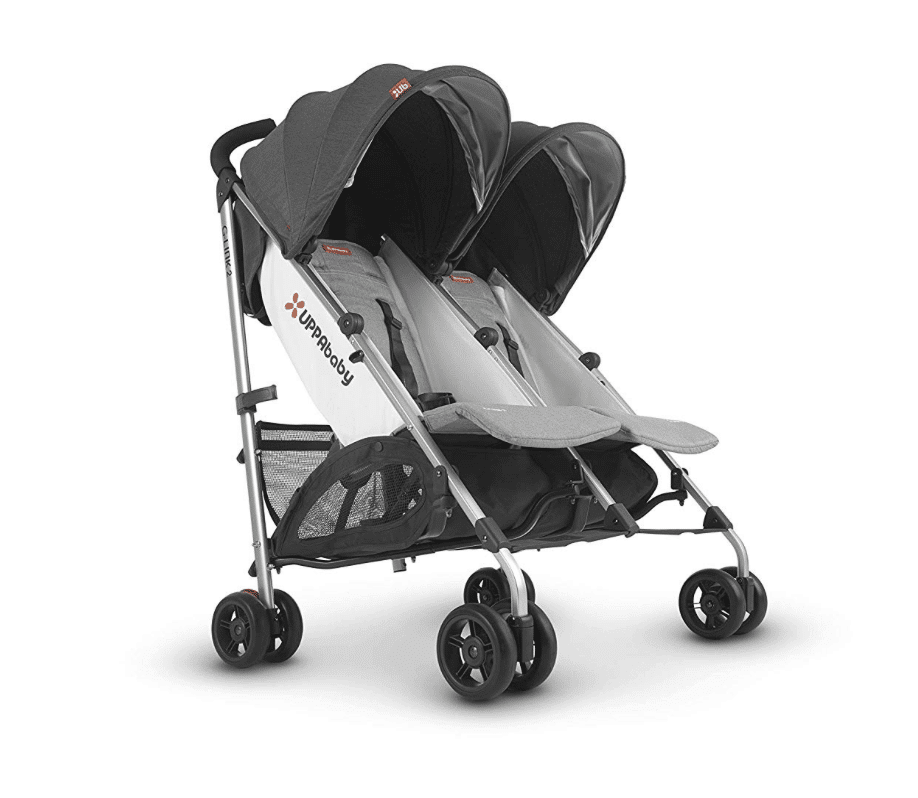 The UPPAbaby G-Link 2 Stroller is another SOLID, but pricey, choice. This is one at the top of the price scale at over $300, BUT before you say "HECK NO!" realize that you are getting more too. Yes, it has double independently reclining seats (one-handed adjustment!) and independent adjustable sunshades (with UPF 50), this one just FEELS different. Personally, I can tell you that it feels solid. While many of the ones above check the same boxes, Uppababy created theirs out of a more solid frame BUT it's not much heavier (22.3lbs). You can use it from 3 months and each seat can hold 55lbs. It has a generous basket AND — one of my favorite features — a comfortable carry handle for easy transport. If you can get one used, or have a rich aunt who just won the lotto, this may be a choice. The reason I balk at the price is because this will typically be your SECOND stroller. This isn't great for running around daily, it's not as plush as a typical side by side so keep that in mind. If this does sound like the one for you, you can grab it here on Amazon.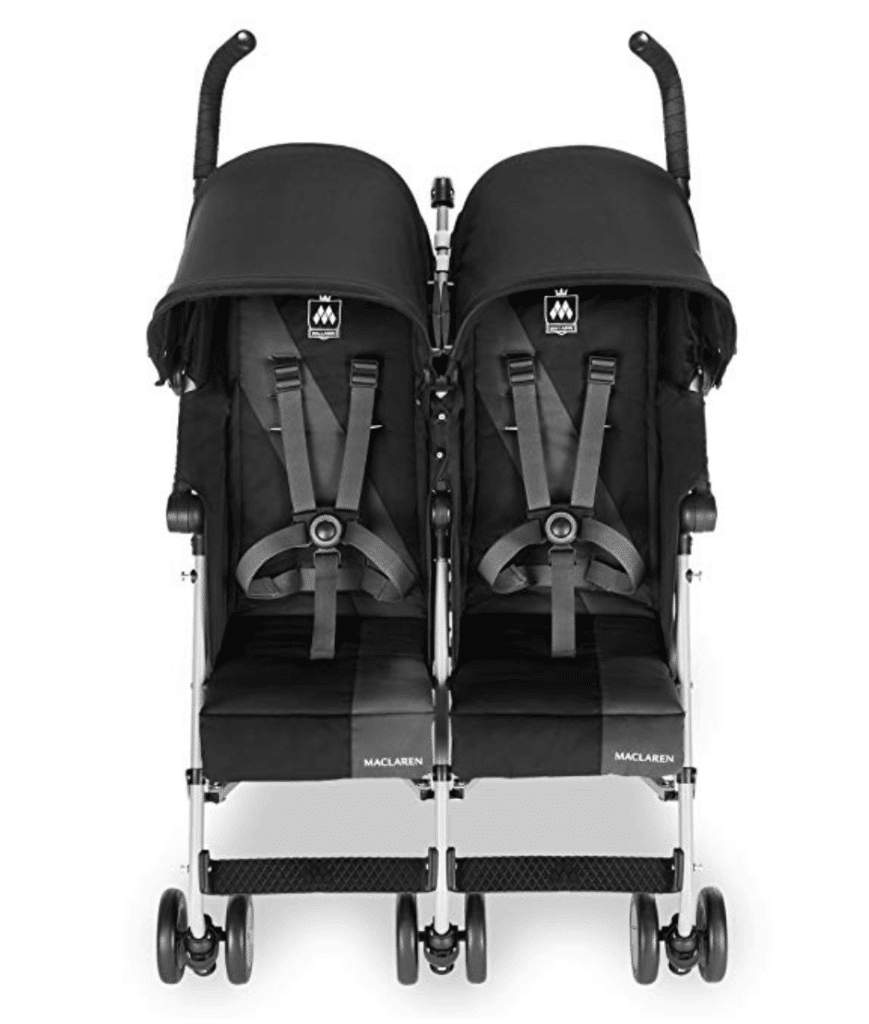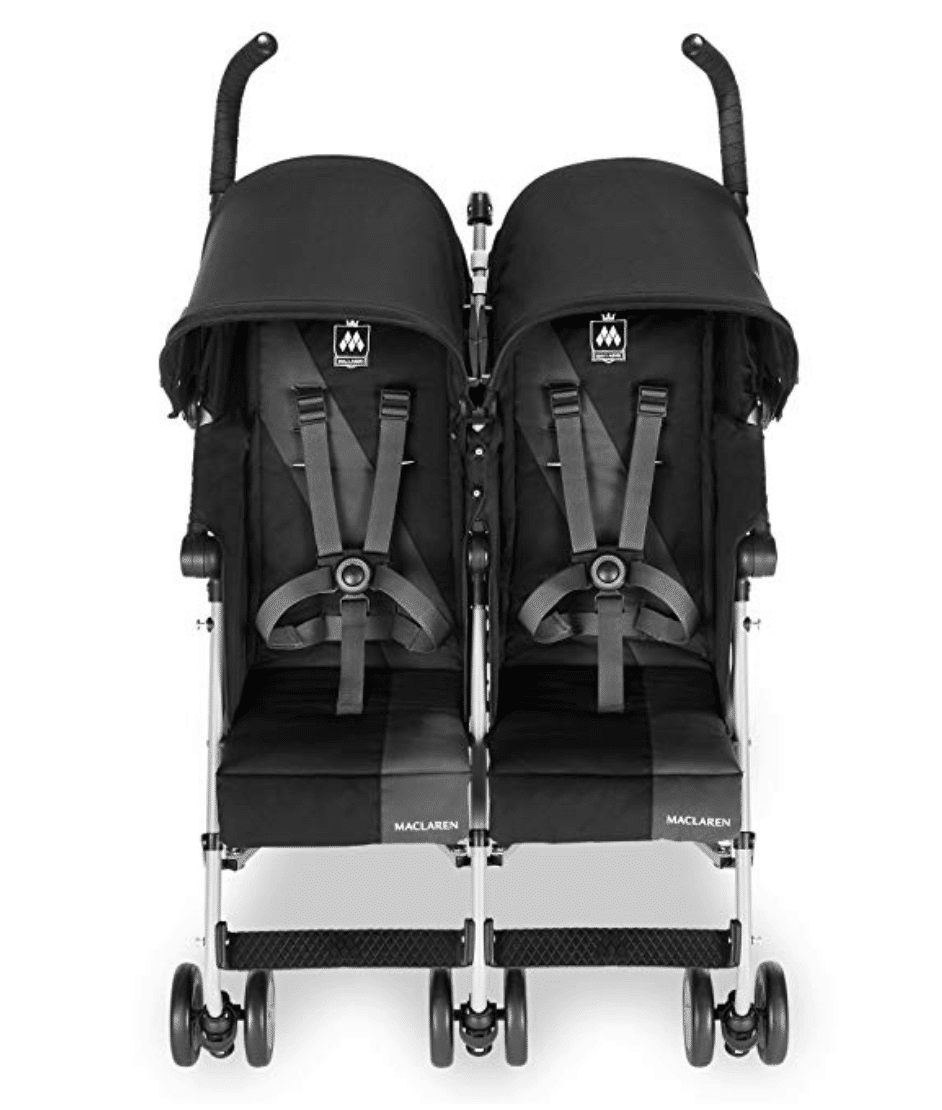 Let's add another Double Umbrella Stroller to the "expensive but cool" (over $300) category with this Maclaren Twin Triumph Stroller. Maclaren is the OG of the stroller world and was one of the VERY first to launch in the Double Umbrella Stroller category. Historically they had a few bumps in the road, but along the way they've had plenty of chances to modify and improve on this already pretty fantastic stroller. The Twin Triumph is perfect for kids 6 months and up and holds 55lbs per seat. Like the G-Link it has multiple seat positions and substantial UPF 50+ sun visors. It fits through standard doorways (30.71 inches wide) and has (wait for it….) REMOVABLE machine washable seats! YAZZZZ! Overall dimensions: 30.71 x 28.74 x 41.34 in but weighs 30lbs (YIKES) so it's heavier because of the suspension system it has. So beware. HOWEVER, in its defense, I will say, that this CAN be used as an everyday stroller, how do I know? BECAUSE I DID! This was one of the strollers in my stroller arsenal 800 years ago when my twins were born (yes, we all look good for our age). I can personally vouch for it's utility and durability but DAMN GINA, it was heavy. I got it used from another twin mom and while I'm not sure I would buy one new, if someone has one and is looking to get rid of it, I'd snatch it up. You can grab a new one here on Amazon.
I'm going to pause here and say, beware of what folks are calling Double Umbrella Strollers since some of them I PERSONALLY wouldn't consider double umbrella strollers. WHY I wouldn't call them double umbrella strollers is because of their fold. Typically an umbrella has an accordion fold, not just a simple, flat fold. See below.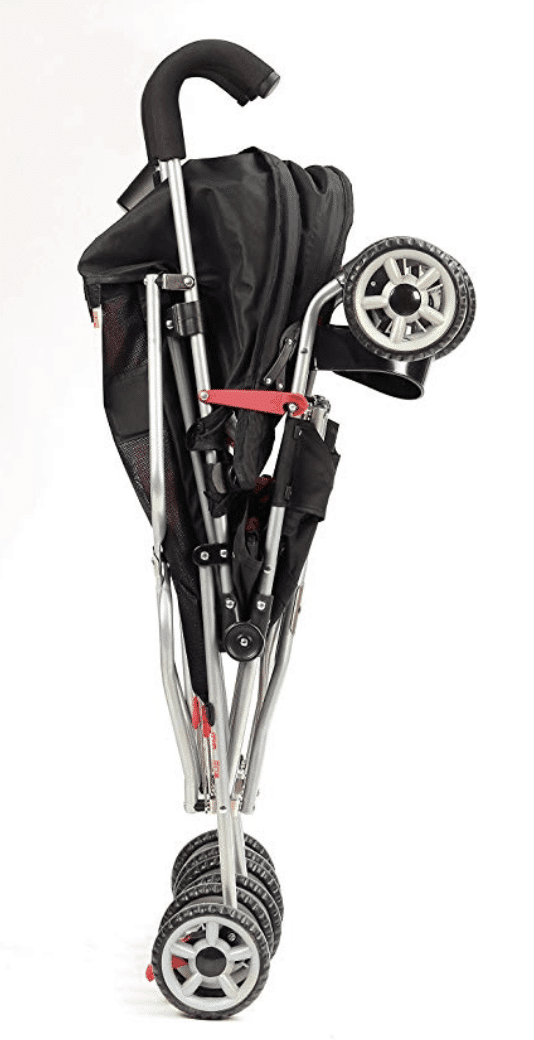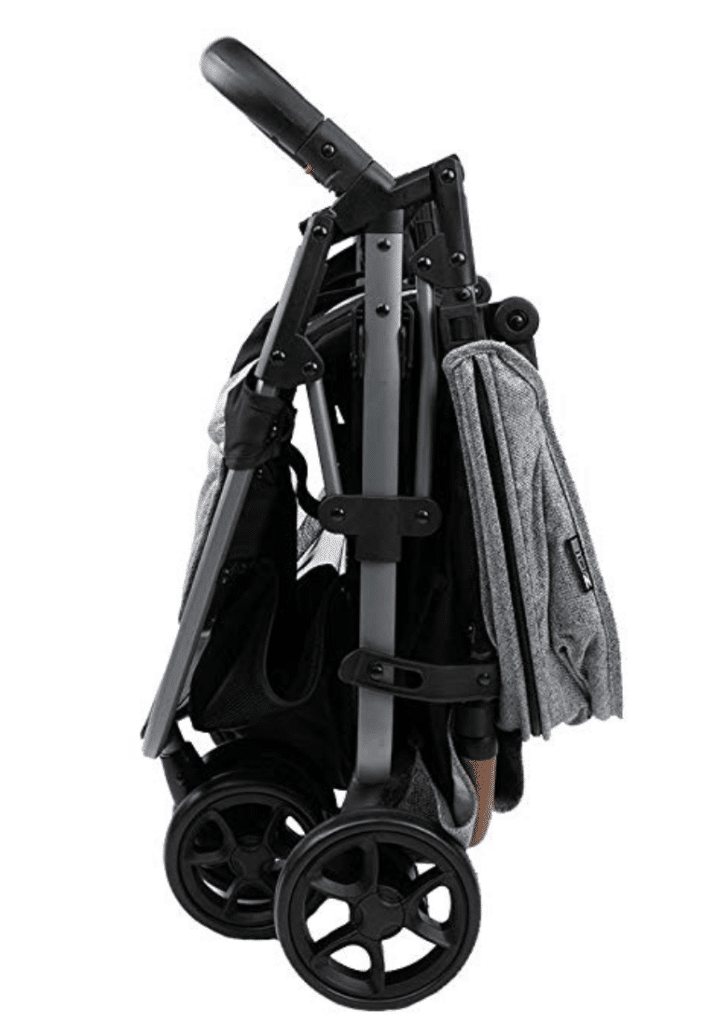 If you'll notice that the Kolcraft shown folds INTO itself making it SUPER compact and so small that you'll have no problem tossing it over your shoulder (yup, some come with a shoulder strap) while the Zoe stroller's flat fold folds in half ONTO itself. See the difference? So think about which fold you like better and go from there. And if you like the flat fold double umbrella stroller, then you'll have an easier time picking one out, but don't search for the best Double Umbrella Strollers, search for Compact Double Strollers when shopping online.
These are some of our Twiniversity StrollerSquad top picks. If you'd like to add some of your own, or have your stroller considered for this page, email us at Community@Twiniversity.com