Looking for the best floor lamp for your nursery? We have a great guide below to help you design your twins' room with the best floor lamp based on brightness, decor theme, touch control, and so much more. Check out the post below to help you decide which one to go for.
Your twins nursery is where you'll be spending A LOT of time with your tiny duo. They'll play, sleep, eat, and snuggle in there for the first few years. While many of you may be deciding on a theme, no matter what you'll choose, you'll need to think about lighting too. Often lighting is one of the last things expecting parents think about, but it honestly should be much higher on the list.
Lighting will set the mood on a cold winter evening or a bright summer day. It will also allow you to see those sweet faces when they open their eyes from a nap. The lighting you choose is going to set the stage for relaxation or playtime. So yeah, you need to think about what the best floor lamp is for the nursery just as much as you think about which crib your twinnies will be sleeping in.
What to look for in a floor lamp?
There are so many choices for finding the best floor lamp for your baby's nursery room. From foot pedals, touch lamps, arc shape, tree shape, holy moly, the list is way too long. Hakuna Matata, we got ya! Here are some things to consider when trying to choose a good floor lamp:
Adjustable Brightness
Adjustable brightness is one of the biggest concerns when it comes to choosing a floor lamp for nurseries. If you're looking for something bright enough to wake up your baby, choose a lamp with adjustable brightness. There are a number of different ways to adjust the brightness of a lamp, including turning a dial, sliding a slider switch, or simply tapping a button. Some lamps even come with multiple settings, allowing you to choose how bright you'd like the room to be.
If you're planning to use the lamp during night feedings, make sure the lamp includes a dimmer option. This way, you won't have to worry about waking your child every time you turn off the lights.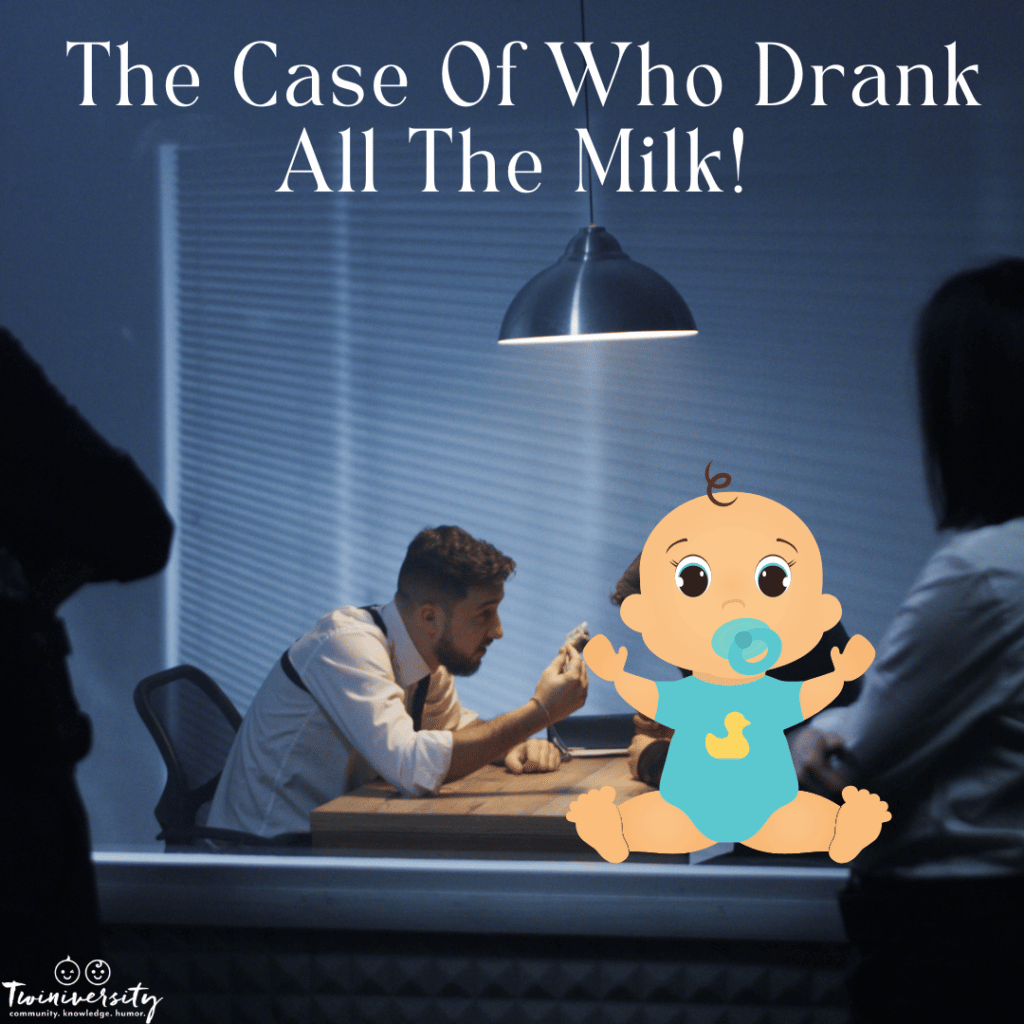 Nursery Theme
Consider the overall look and feel of the lamp once you've chosen the perfect shade. Choose a lamp that matches your nursery's aesthetic, whether it's modern, classic, or anything else.
A lot of nurseries today feature neutral colors and soft lighting. If you do too, it might make sense to stick with white or cream shades. But if you love bold patterns and bright colors, there are plenty of options to choose from. We've rounded up four great nursery floor lamps to help inspire your next home project.
Overhead lights but can't always add much to an overall aesthetic of your room. They are also great for keeping rooms bright during daytime hours, but when your twinnies are are young, they're often sleeping in their cribs, where they're exposed to overhead lights.
Why are floor lamps great for a nursery?
Floor lamps are great for small spaces where space is limited. You can find floor lamps anywhere from $10 to $300. There are some really beautiful nursery room lamps no matter if you are looking for a traditional wrought iron lamp, a simple, contemporary lamp, or even one shaped like a giraffe, you'll find one to match any baby nursery decor.
Are You a New Twin Parent?
Check out Natalie Diaz's book:
"What To Do When You're Having Two
The Twin Survival Guide From Pregnancy Through the First Year"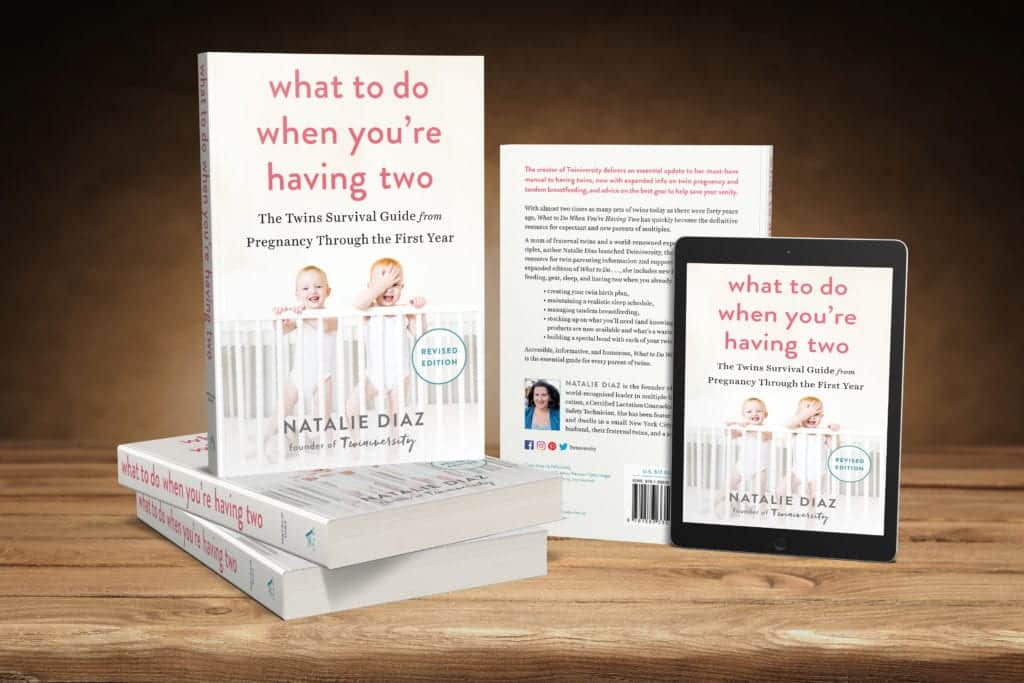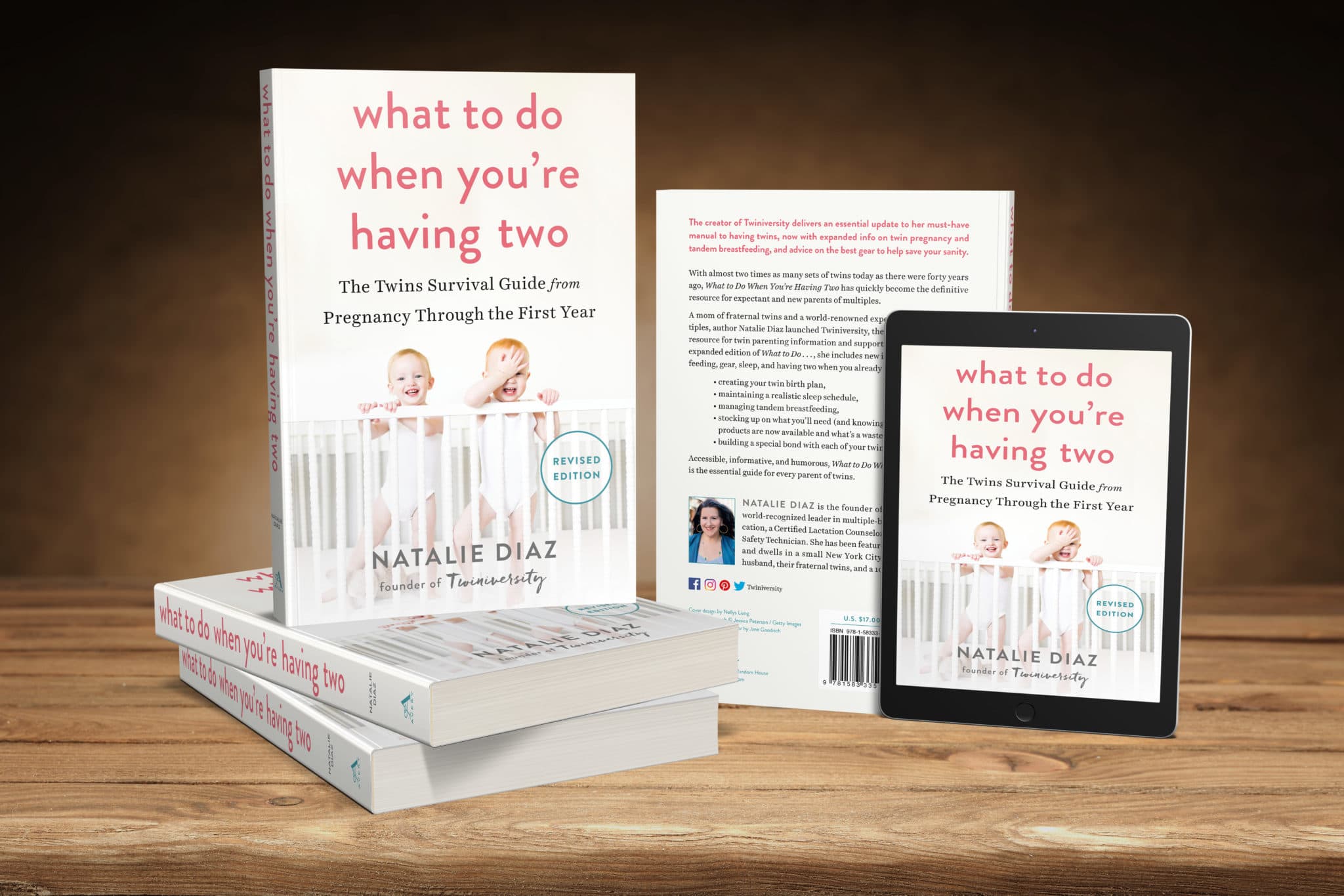 In What to Do When You're Having Two: The Twins Survival Guide from Pregnancy Through the First Year, national twins guru and founder of Twiniversity (and twin mom herself!) Natalie Diaz provides a no-holds-barred resource about life with twins, from pregnancy and birth all the way through your duo's first year of life.
Accessible and informative, What to Do When You're Having Two
is the must-have manual for all parents of twins.
Now, you may need more than one lamp for your nursery. You can pick a task lamp, bedside lamp, table lamp, and of course a floor lamp.
Do I need a dimmer switch?
When choosing the best floor lamp for a nursery, consider if a lamp has a dimmer switch. Dimming the light helps babies fall asleep faster. Dimming the lights also creates a soothing environment that encourages relaxation and promotes good sleeping habits. For parents, dimmers are great because they allow us to check on our children without waking them.
Here, we'll discuss the best floor lamp picks for your nursery. We'll cover some very affordable kids floor lamps and some fairly pricey modern floor lamps, but it's fun to see the great choices you have.
Best Floor Lamps for Your Nursery
Basic Floor Lamp
This 71 inch tall lamp has a black finish and a fairly long power cord. It can use both incandescent bulbs as well as an LED light bulb. It's a simple and stylish floor lamp with a very, VERY simple design. It's a basic rod lamp and has the price tag to match. Since it's only bit over $20, this makes this one of the best floor lamps for your nursery. For full details, click here.
Tripod Lamp
With a tripod lamp base and INCLUDED shade, light bulb and remote control! This stylish lamp has linen shade will create adequate lighting since it's remote control can adjust the brightness settings. If you want it bright for task lighting or low and relaxing, you get both with this pick. Thankfully, it's a beautiful lamp that would work for any themed nursery including everyone's favorite, the space themed twin nursery. For more info, click here.
Floor Lamp With Shelves
This Simple Designs shelf lamp gets added to many a baby registry, which makes it one of the better floor lamps for a nursery. It's perfect to have next to your nursery chair to providing a soothing glow during feedings. The shelves provide a spot to put a bottle down while changing positions while taking up minimal room. Overall, it creates just enough ambient light to get jobs done without overpowering the room like ceiling lights can. For more info, click here.
Funky Floor Lamp
This funky wooden lamp is to make you smile each time you come into the room (even if the babies are screaming!). It has a sturdy base and provides the perfect lighting for any nursery. Thankfully, it also fits many decor styles no matter what your nursery theme with its stylish design. It has a white fabric shade and a fully adjustable "body." This is a sweet lamp, but it comes with a fairly high price tag. For more info, click here.
Arc Lamp with Dimmer
This modern style floor lamp has a heavy base and am arc lamp shade. It's the perfect size for larger nurseries that have a little more floor space to use. With it's steel accents it provides a powerful, mood-setting glow. Perfect for night time feeds or to have on while it's cloudy outside. It's great as a main source of life or as extra lighting in your room. This arch lamp also has a foot switch that acts not only as a your main on/off but also as a dimmer creating warm light or bright light. With dozens of brightness levels it will also help with eye fatigue during those bedtime stories. For more info, click here.
2 IN 1 Floor Lamp
I think we found you the most versatile floor lamp out there! It's sleek design was created for those looking an adjustable height floor lamp. It can actually be used as a floor lamp OR a table lamp! It will easily fit any nursery decor style. Ready for all it can do. Ok first it's touch lamp, second it two ports to power devices, third it has a shelf for your phone! It uses a standard-sized e26 bulb and will provide plenty of extra light in your twinnies room. The only thing it's missing is a sound machine! lol. For more info, click here.
Contemporary Style Lamp
If you've watched any of Nat's videos, you already have seen this floor lamp! She actually owns TWO of them because she fell in love it with so much. This contemporary lamp would be perfect to add to a garden or nature themed nursery. It has a very modern floor lamp with a gold finish. Plus, it has a foot switch making it easy to turn on and off when your hands are full. It's linen shade provides the perfect amount of soft light while using a standard light bulb. The lamp base is really stunning. Go check out one of Nat's videos to see for yourself.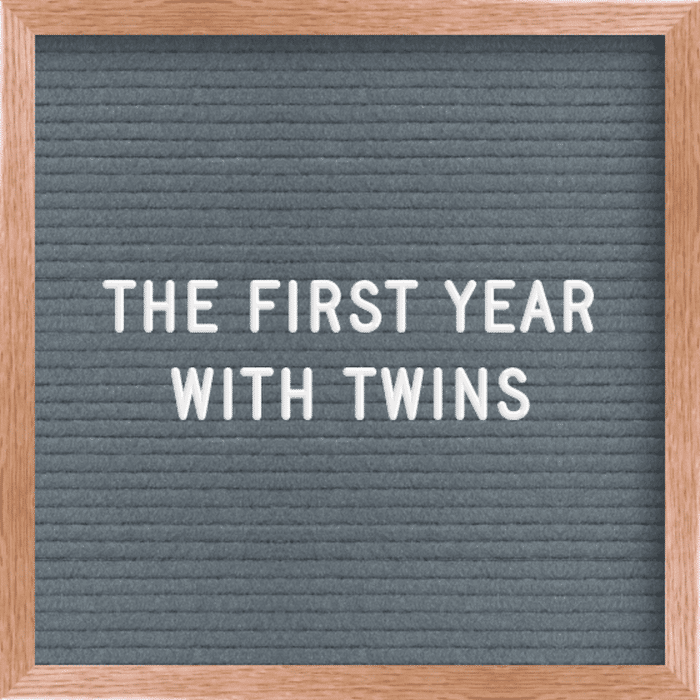 Stressing out with your infant twins? Let us help! Learn what to expect in the first year with twins, including tips, tricks, and advice from real twin parents who have been there. Click here to learn more… and while you're at it, check out our twin parent coaching services and Twiniversity shop!
Some other things you may want to think about before making your final decision is your ceiling height. If you have 15 foot ceilings, you may find that anything installed above may have insufficient illumination. Floor lamps may be the way to go or at least a great option so you'll have plenty of adjustable light.
We hope that you've found something you like with our Floor Lamp picks. Not matter if you're picking a floor lamp for a baby girl room or making sure you'll have enough light for nap times, there is a lot to think about.
Latest Twiniversity Articles