Throwing a birthday party is a lot of fun but also a lot of work, especially when most themes are geared toward a single gender. Because of this, you may be considering two parties for those of you with boy/girl twins. And while two parties might be more personal and double the fun, it is also double the time, money, and energy! The prospect of throwing two parties may make you want to not throw any parties at all. Luckily, you found this article that will inspire you to throw the perfect single party because there are many great options out there for twin gender-neutral birthday parties.
Birthdays ages 1-2
Birthdays for kids ages 1-2 are a whole lot of fun because of the cute and cuddly age of the birthday kids. However, birthdays at this age also come with challenges (err… nap time). At this age, your kids will not have an opinion on the theme you choose (enjoy it, for this is short-lived)! Make it easy on yourself and pick from popular themes or ones you've seen to fit your twinnies.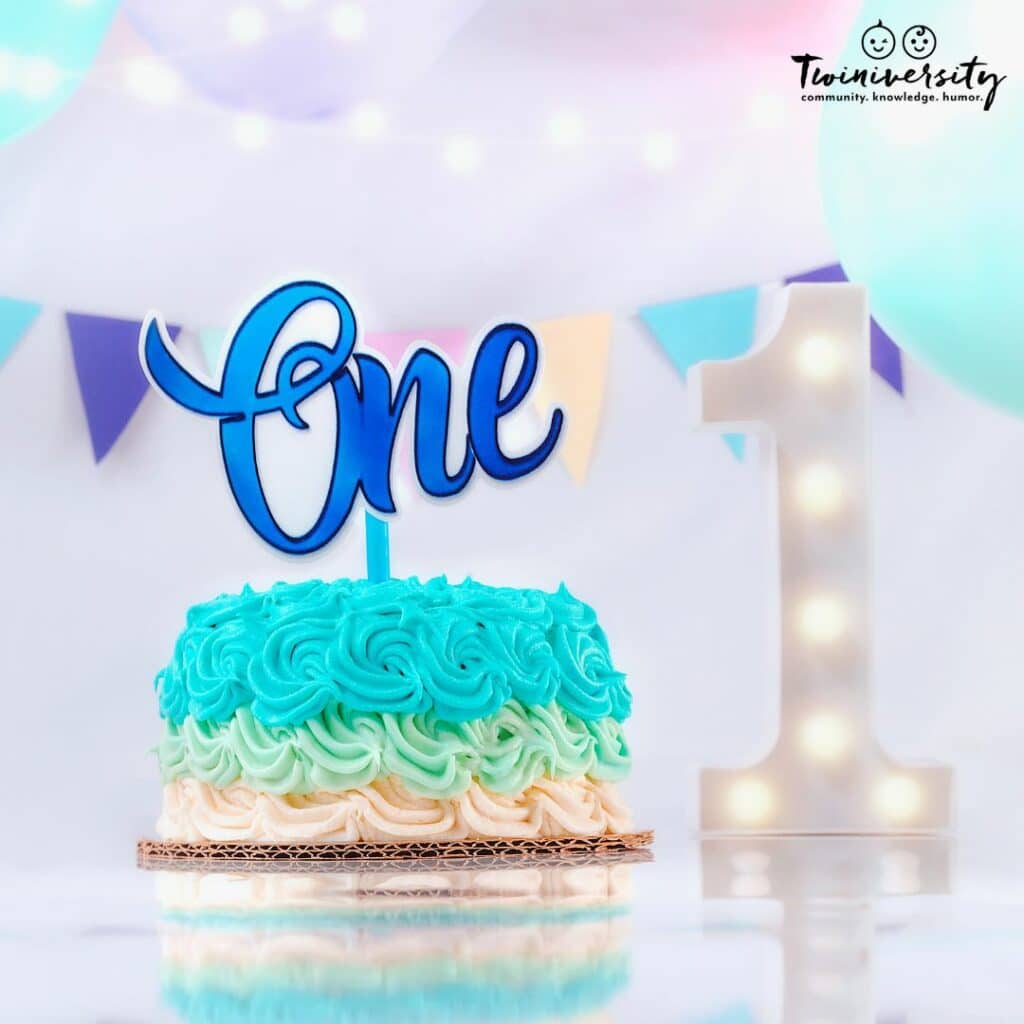 The easiest of themes at this age are probably some of our classic gender-neutral stories. Consider Curious George or Winnie the Pooh. A quick google search of "Winnie the Pooh Party Supplies" will reveal party packs that include disposable tableware and decorations. Almost everything you need to throw together a great bash for your little ones is included in one of these packs.
Another great option is themes associated with their age. The "One-derland" party is a popular theme right now. Decorations are pretty easy to find or easy to DIY. For example, you can get a balloon banner that says "wonderland" and then find a "one" or "1" balloon to replace the "won" at the beginning of your banner. Another theme for one is "One-derful." Themes for two include: "Two-ddles" and "Two-riffic." Three party themes could include "Three-nager" or "Three to Get Ready," which could be a racing theme.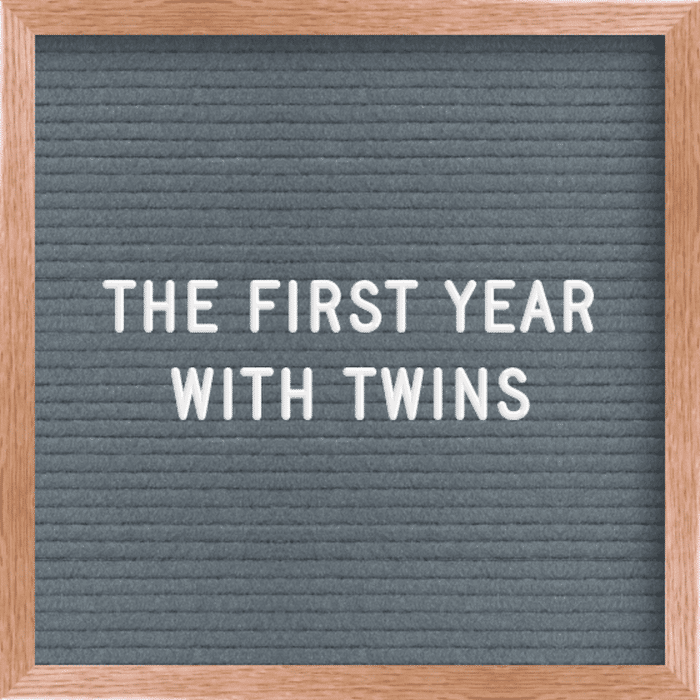 Stressing out with your infant twins? Let us help! Learn what to expect in the first year with twins, including tips, tricks, and advice from real twin parents who have been there. Click here to learn more… and while you're at it, check out our twin parent coaching services and Twiniversity shop!
Finally, parties at this age can easily be inspired by classic toys or items used for play. Rubber duckies come in almost every color and theme these days and are a great inspiration for a party theme. Another classic toy great for a party theme is alphabet blocks. You may have some of these lying around that can be used as party decorations. Bubbles or balloons also make super fun and easy themes. Balloons or bubbles make easy entertainment for a party. Plus, this can be your inspiration for the birthday cake. Another great thing about using toys as inspiration, they are a no-brainer for favor bags!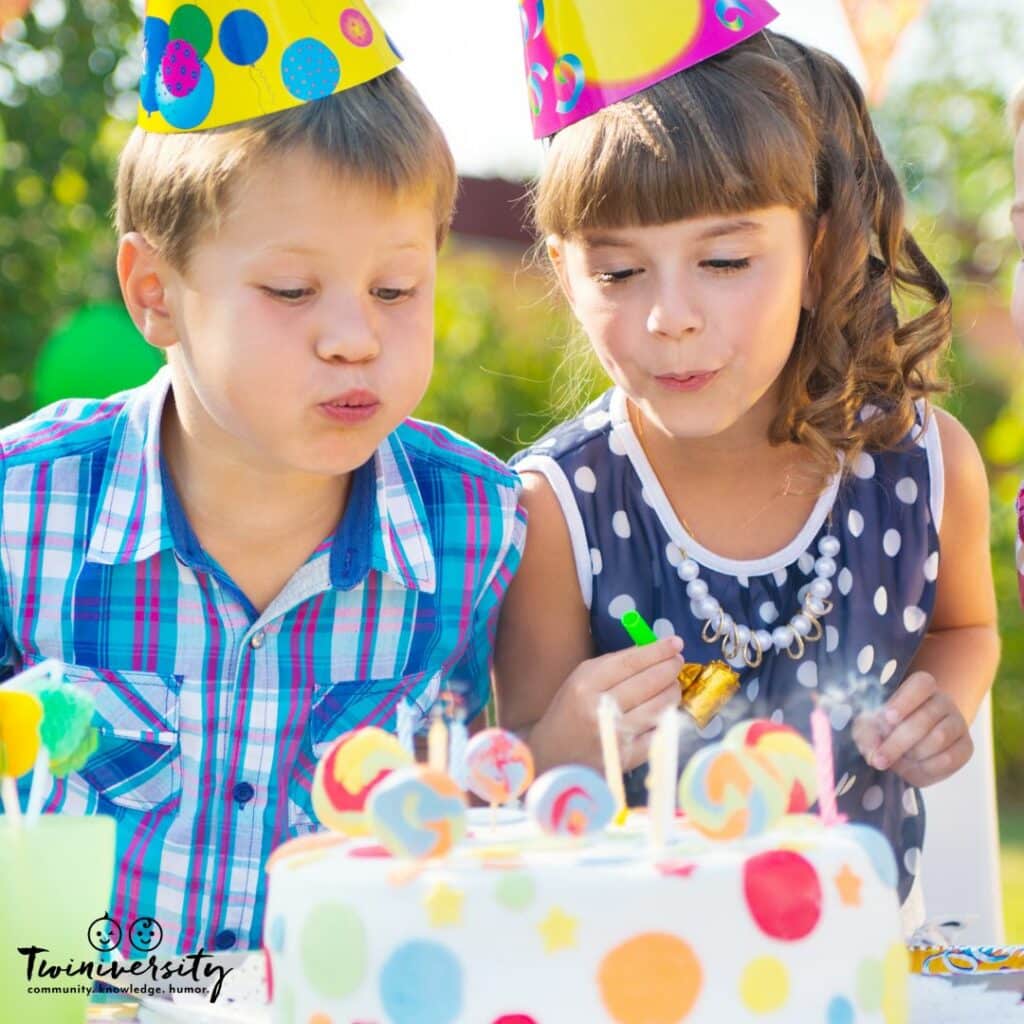 Birthdays ages 3-4
3 and 4-year-olds are just starting to understand what a birthday party is all about. However, they may not have too many ideas regarding birthday party themes. This is the age where kids are really fascinated and excited by events that we might find mundane. They are also generally super excited to flex their imagination muscles! At this age, everything can be magical. So, these are the years to really get creative with party planning.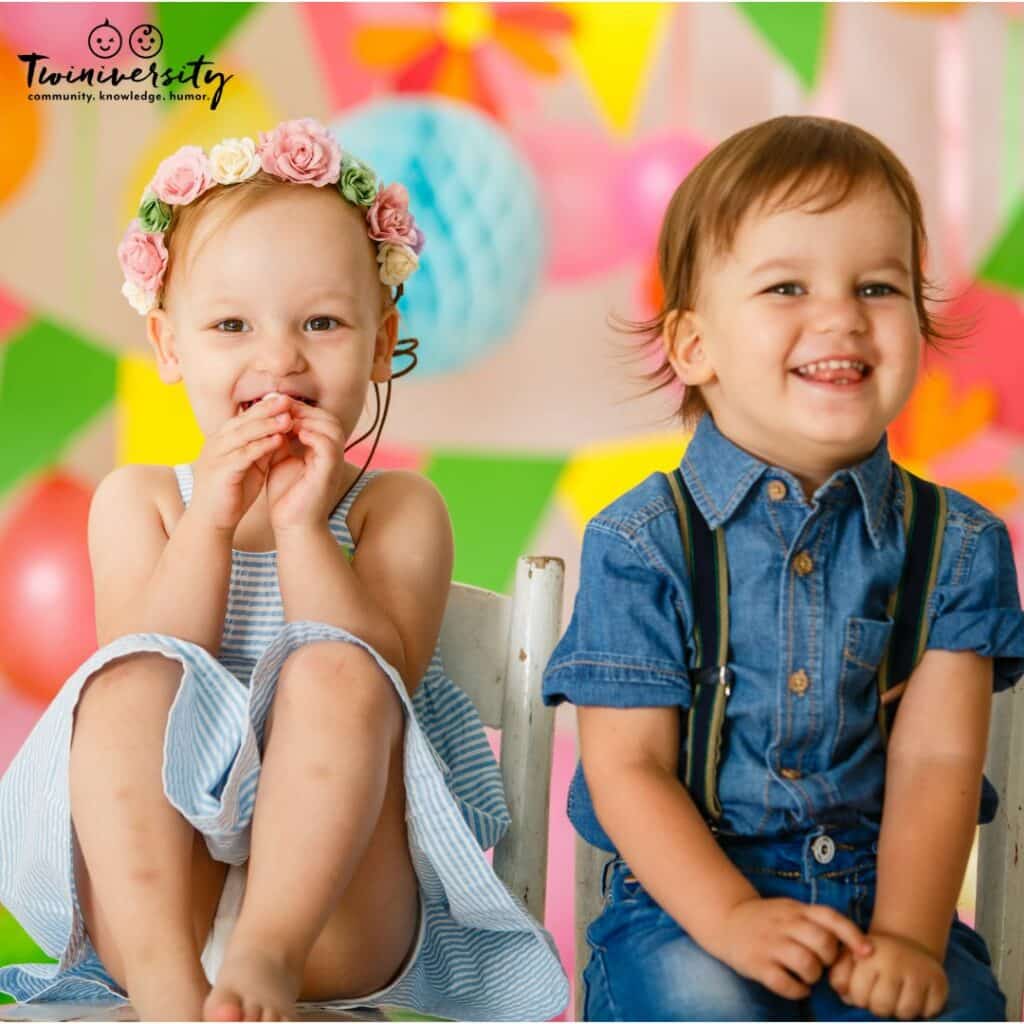 Some mystifying topics that make for fun parties at this age are weather and holidays. A sunshine party, a rainbow party, or even a rain party are fun themes. Plus they are not too difficult to pull off. A sunshine party just needs a bunch of yellow decorations and a few well-placed suns. A rain party could be fun in summer and pulled off easily with the use of a garden hose. Don't discount a holiday-themed party. A great benefit of this is that you can use decorations you already have and use your favorite holiday traditions for activities. Consider including a "Cheers! Happy Birthday!" with sparkling juice into a New Year-themed party or sparklers into a 4th of July-themed party. Other great holidays for parties might be Halloween, Valentine's Day, and April Fool's Day.
Other great party ideas for this age group encourage the use of their imagination! For these parties, think supernatural. What about a superhero party or a magic-themed party? You can easily get a pack of superhero capes with masks for your guests to wear and save the day in! Or get a kid's magic kit and wow your guests with some tricks. Party packs for these types of parties do exist, but they are fewer and farther between. If you can't find a party pack, pick a couple of bold colors and use those as part of your theme.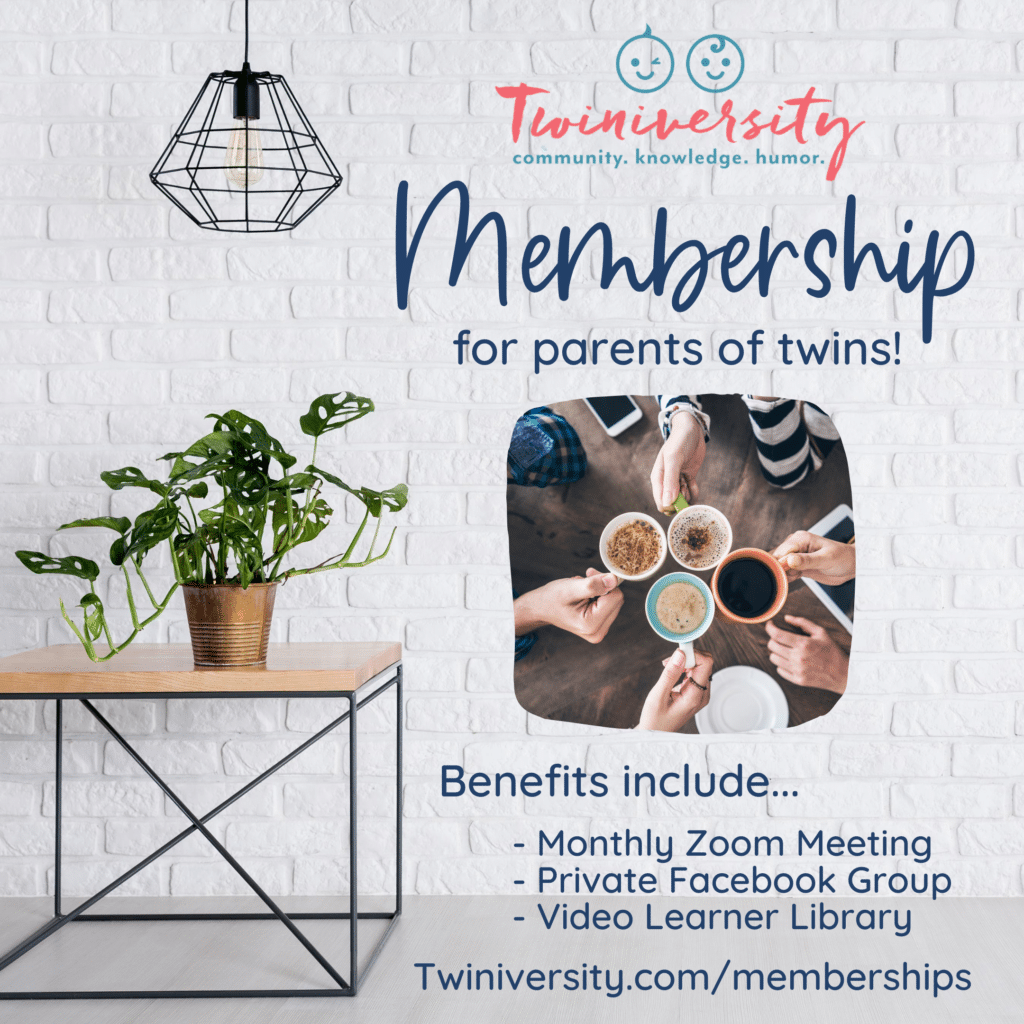 Need some twin parent friends? Get the support you need with a Twiniversity Membership. Benefits include a monthly twin parent club meeting on Zoom, access to a private Facebook group just for twin parents, and a video library of twin parenting lessons. Visit Twiniversity.com/membership to join today!
Birthdays ages 5-6
For kids ages 5-6, party planning might get a bit more complicated as your little ones are becoming bigger and developing their own personalities. They may get excited about the party planning process and may want to have a say in the theme. Having a couple of themes in mind before you start the conversation with your kids is a good idea. You can use your ideas to help guide your twins to a joint theme that they will both enjoy.
By this age, your kids probably have a favorite show, so that is probably your easiest option for a party theme. For example, your kids may want a Paw Patrol party; you can easily have a gender-neutral Paw Patrol party. A quick internet search will again find you party packs with everything you need to throw this party flawlessly. Blippi and Bluey are other examples of some easy themes. Movies likewise can provide your theme inspiration. Some great options are Boss Baby, Minions, and Toy Story.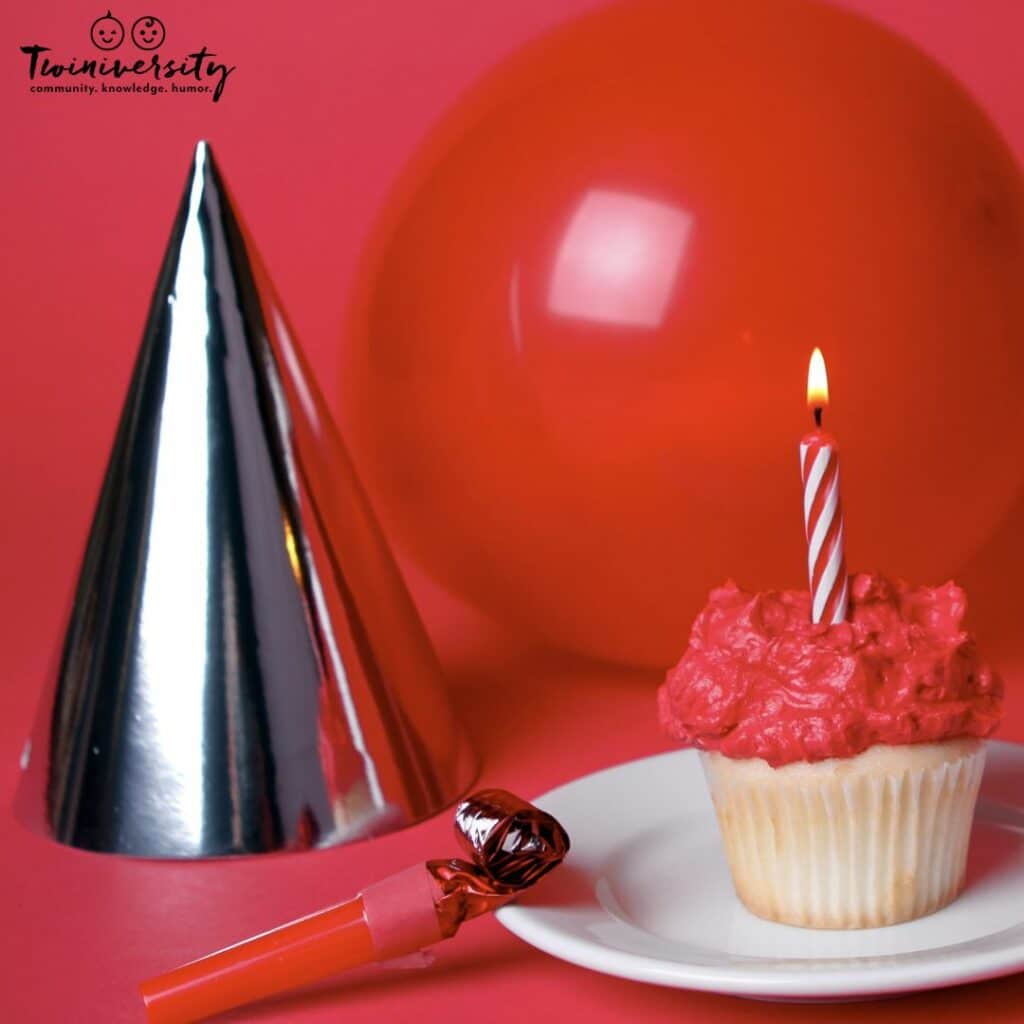 Favorite color parties are a great idea at this age. Have kids that love orange and purple? Throw a Crayon party. Do your kids love green and pink? A watermelon party. You may want to have a carnival-themed party for kiddos that love red and yellow. And if your kids still love the pale pink and blue trend, how about a cotton candy party?
Birthdays ages 7-8
At ages 7 and 8, your kids will definitely have ideas about party planning. Remember, at this age, friends are the most important thing about birthday fun. As long as their friends are invited, your twins might not even care about the theme.
Parties can easily center around regular activities such as games and eating. A great theme to suggest to your 7 or 8 old twins are food theme parties. Think beyond a pizza party. A taco party or popcorn party would be easy themes to pull off. Decorations for these themes are easy to find. And you literally don't have to put any thought into the food (it's the theme)!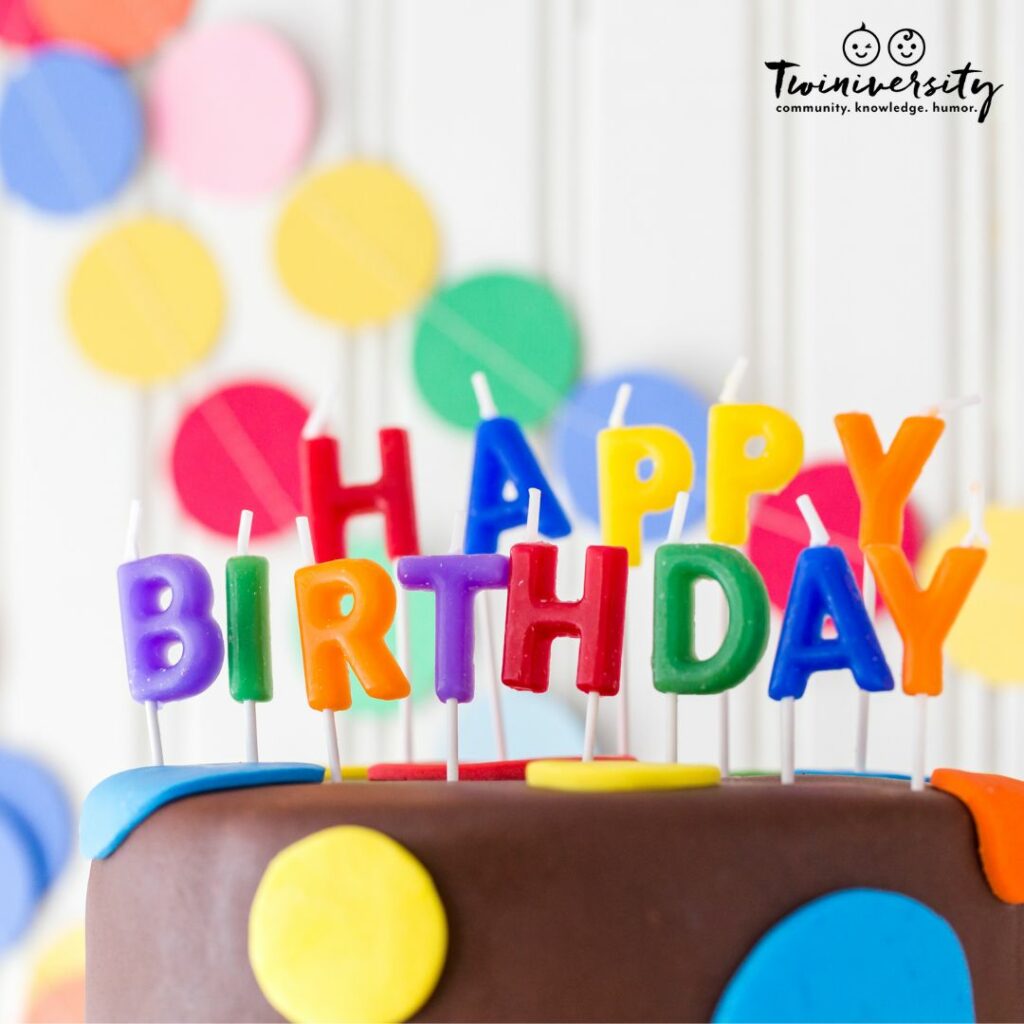 Other party themes for this age center around activities and games. This is a great age to have a party at a bowling alley, trampoline park, or mini golf course. Decorations for these parties can be few to none since the venue provides an atmosphere on its own.
A venue may not even be necessary; activity parties can also be done at home. Think video game tournaments, lego parties, or painting parties. Decorations can be minimal, and feel free to use what you already have! As long as friends are present, that is what makes it fun!
Ages 9 and up
At ages 9 and up, your kids will likely have well-established personalities, interests, and opinions. After age 9, it may really become more difficult to sell your kids on your party ideas. They may have very strong opinions about having a party that represents their individual interests. And that is fair because they are their own individual people. However, you still may not want to throw two separate parties.
From this age and up, you may want to consider two parties in one. The same day, and place, but one half of the room is decorated in one theme and the other half in an other. The other option may be to go simple and just have "birthday" as a theme. A way you can make the party more special is to give each kid a separate cake. Finally, your kids might be willing to forgo a party in exchange for something special, like a small trip.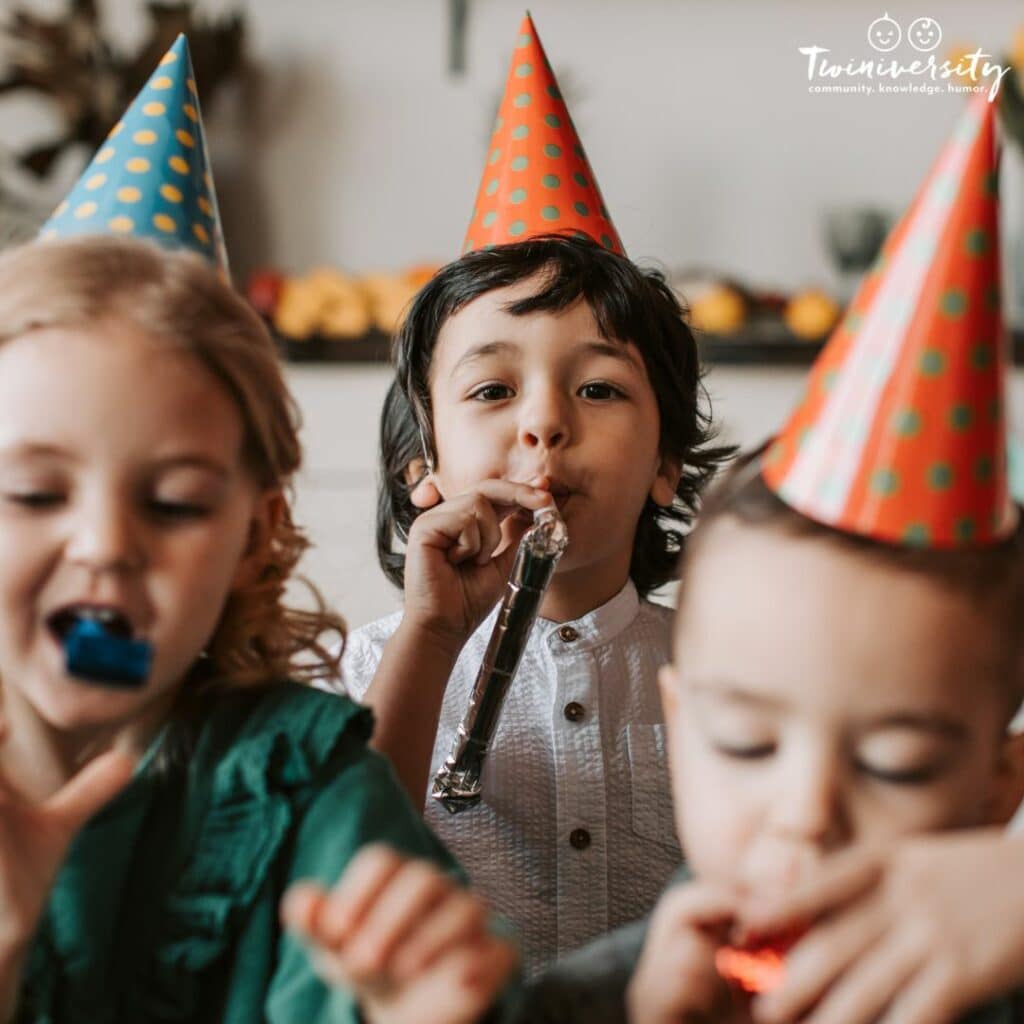 Throwing a twin birthday party can be stressful. Even with boy/girls twins, there are many options for throwing fun, personal and easy parties. Remember, fun is the most important part, and as long as everyone is having a good time, your party will be a great success!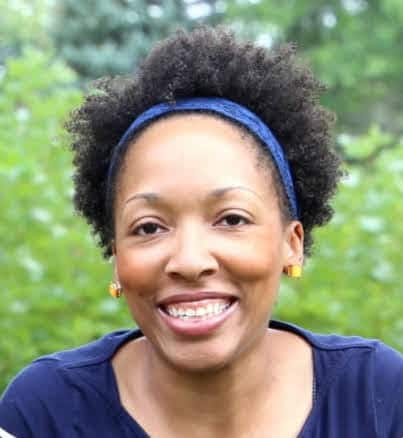 Maya Mason lives in the Twin Cities, MN and works in juvenile corrections. Maya is the mom of boy/girl twins named Theo and Teia who were born at 24 weeks. For personal and professional reasons, Maya is very passionate about dimensional wellness. She trains and writes on several topics related to wellness and also trains on topics around body image, diversity and connecting with youth. Maya loves to spend time with her family, play volleyball and travel. She also is an avid writer, writes for several organizations and is in the process of writing a teen fiction series. You can follow Maya as an author at https://fb.me/MayaJMason