When I thought my oldest child (and only singleton) was going to be my ONLY child, I enrolled us in Gymboree, music classes, and mommy and me dance classes. I thought she need socialization and gross motor development. When the twins came along, I couldn't afford membership fees for all those activities, plus I am just one person with two hands, two infants, and a toddler…how??? Seriously, HOW?
As much fun as Gymboree was, I want you to know that you do not need a Little Gym Membership or expensive balance boards and climbing apparatus to assist your kids with gross motor skills. Actually, you already have a lot of gross motor skill-inducing items in your house!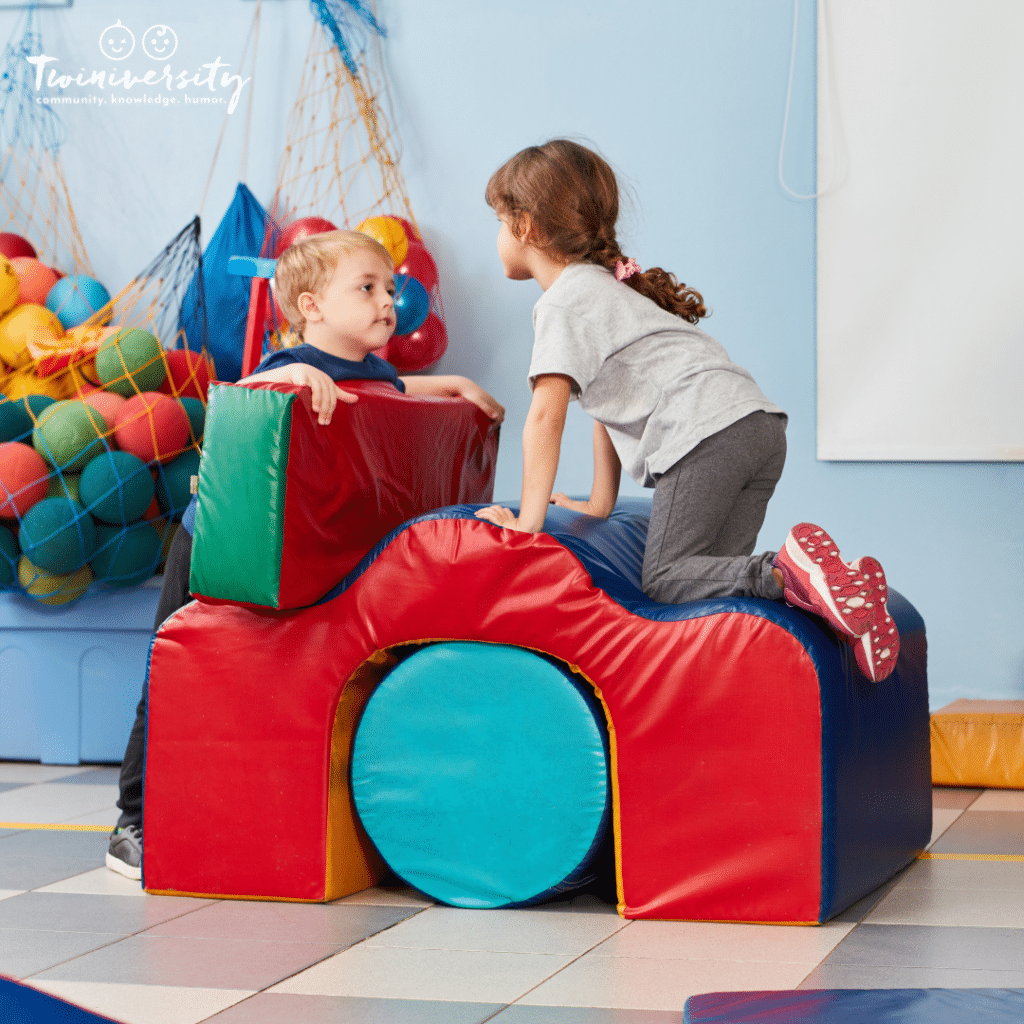 What are Gross Motor Skills?
According to the NAPA, "Gross motor skills are the abilities required to control the muscles of the body for large movements such as crawling, walking, jumping, running, and more. They also include higher-level skills such as climbing, skipping, and throwing and catching a ball."
Importance of Gross Motor Activities
Gross motor activities are important for children of all ages and help accomplish the following: 1) development of balance and coordination skills 2) provide opportunities to build muscle strength and endurance through physical activity and exercise 3) support brain health which increases focus and alertness.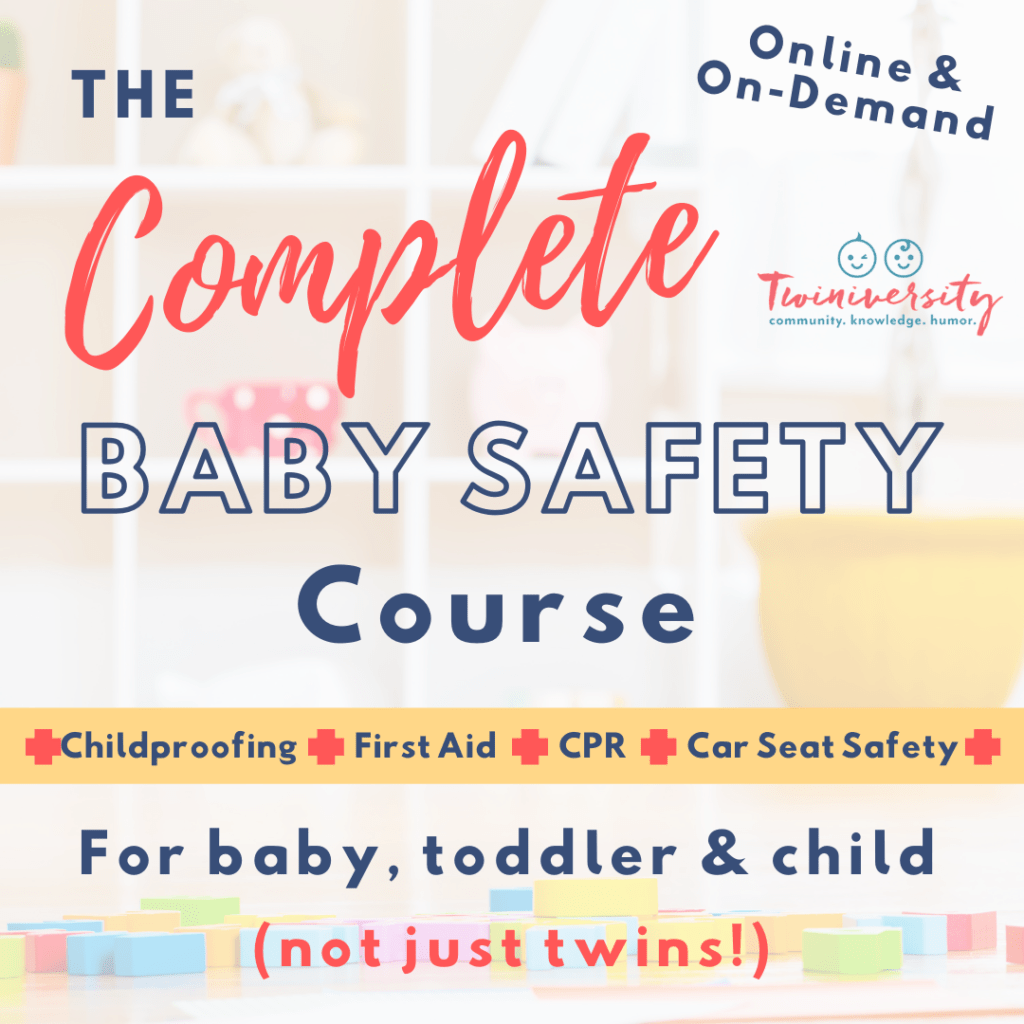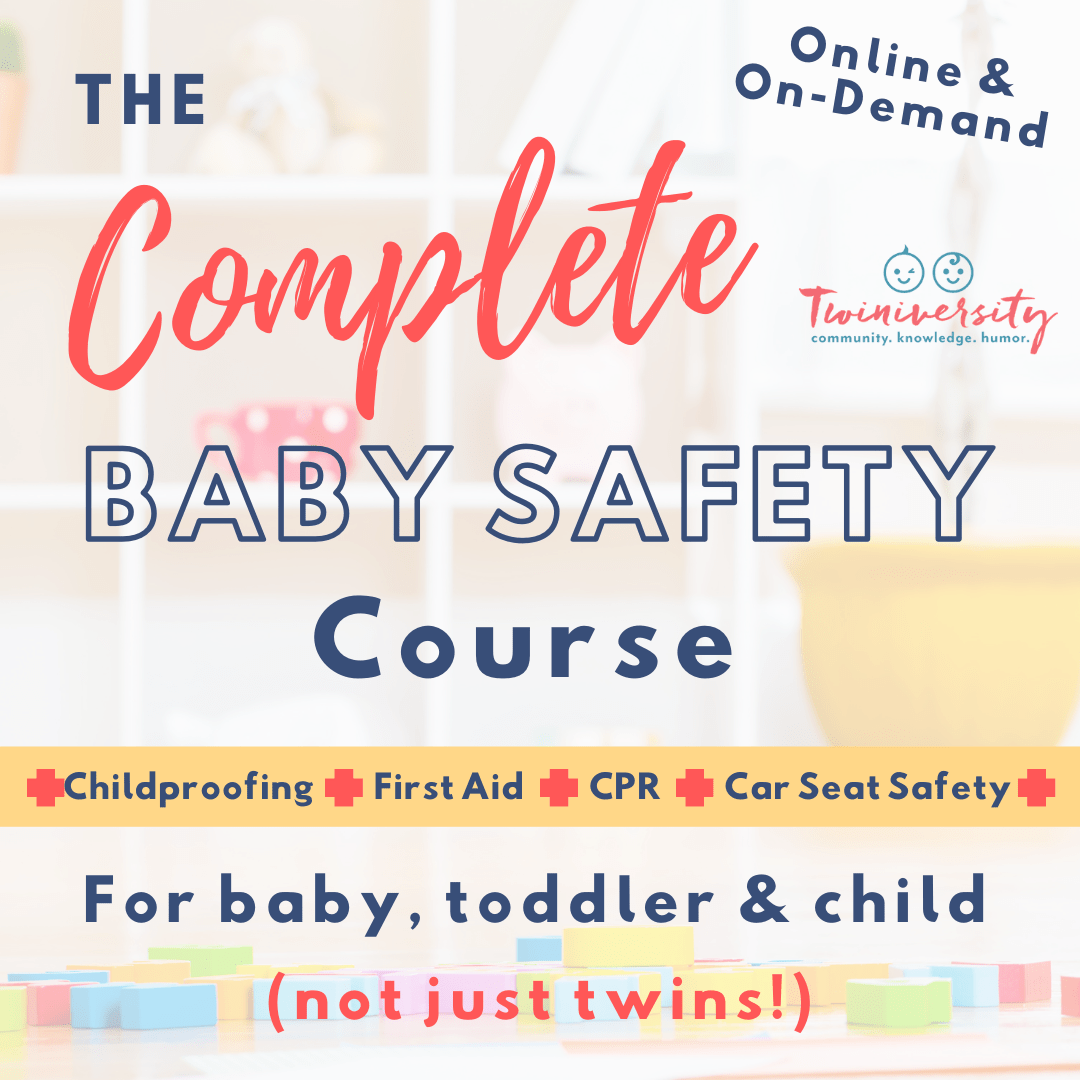 Need some baby safety training? Take the Twiniversity Complete Baby Safety course, offered on-demand. Includes video modules on infant, toddler, and child CPR, first aid, and common medical ailments, plus car seat installation and safety and childproofing your home. Click here to learn more!
Gross Motor Activities to do at Home
The following are some fun (and easy!) gross motor activities your children can do using items found around the house.
Laundry Baskets/Large Cardboard Boxes
Fill the basket or box up with books or other toys and practice pushing or pulling for a strengthening activity.
Tie a rope or dog leash to the laundry basket and pull a load for a strengthening activity.
Work on climbing in and out of the basket or box for a coordination activity.
Play "basket" ball by throwing small balls or rolled-up socks into the basket or box to work on hand-eye coordination skills.
Toilet Paper Rolls
Use full rolls of toilet paper and build a tall tower for a coordination activity.
Use empty cardboard rolls as bowling pins to work on hand-eye coordination.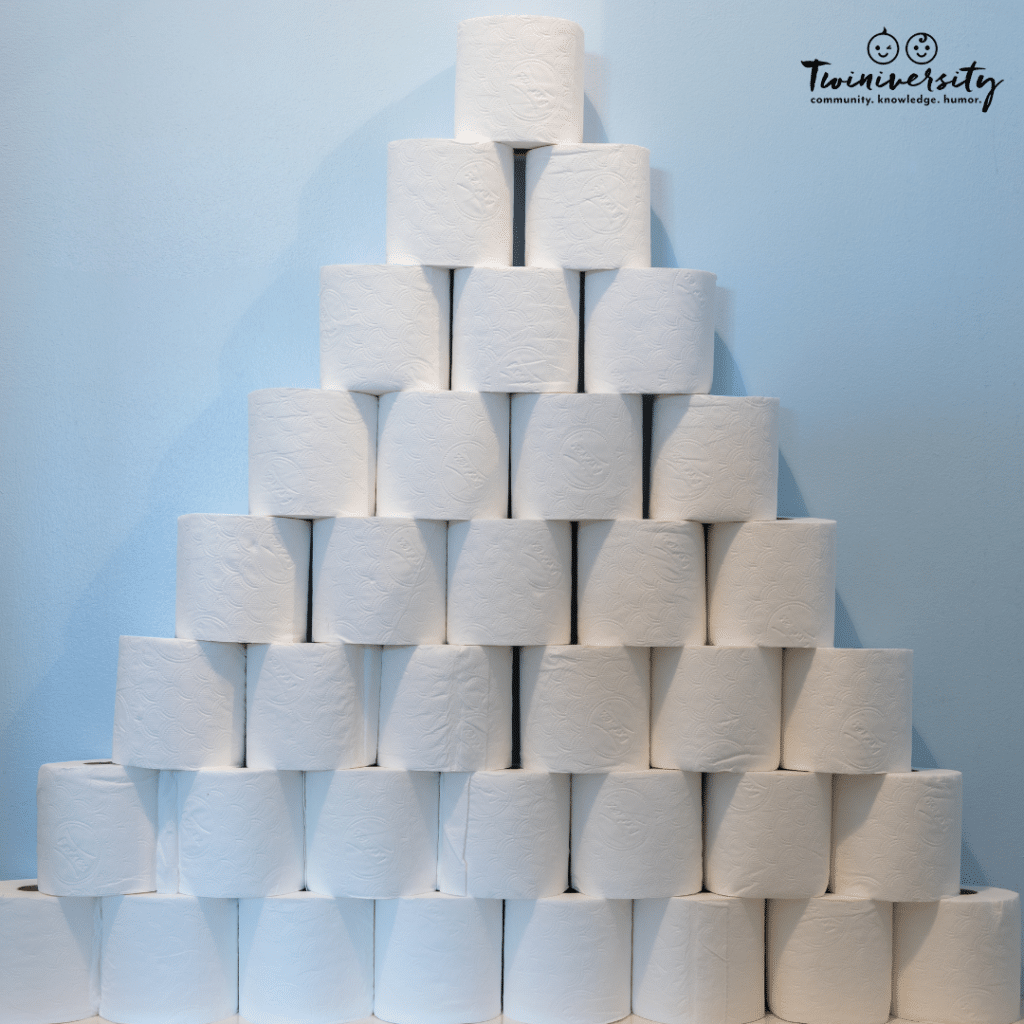 Pillows
Use couch pillows to build a "road" to work on balance on uneven surfaces.
Use smaller pillows as "stepping stones" for a balance activity
Use softer pillows for a pillow fight to work on balance and coordination skills
Pillowcases
Use old pillowcases to have a sack race for a coordination activity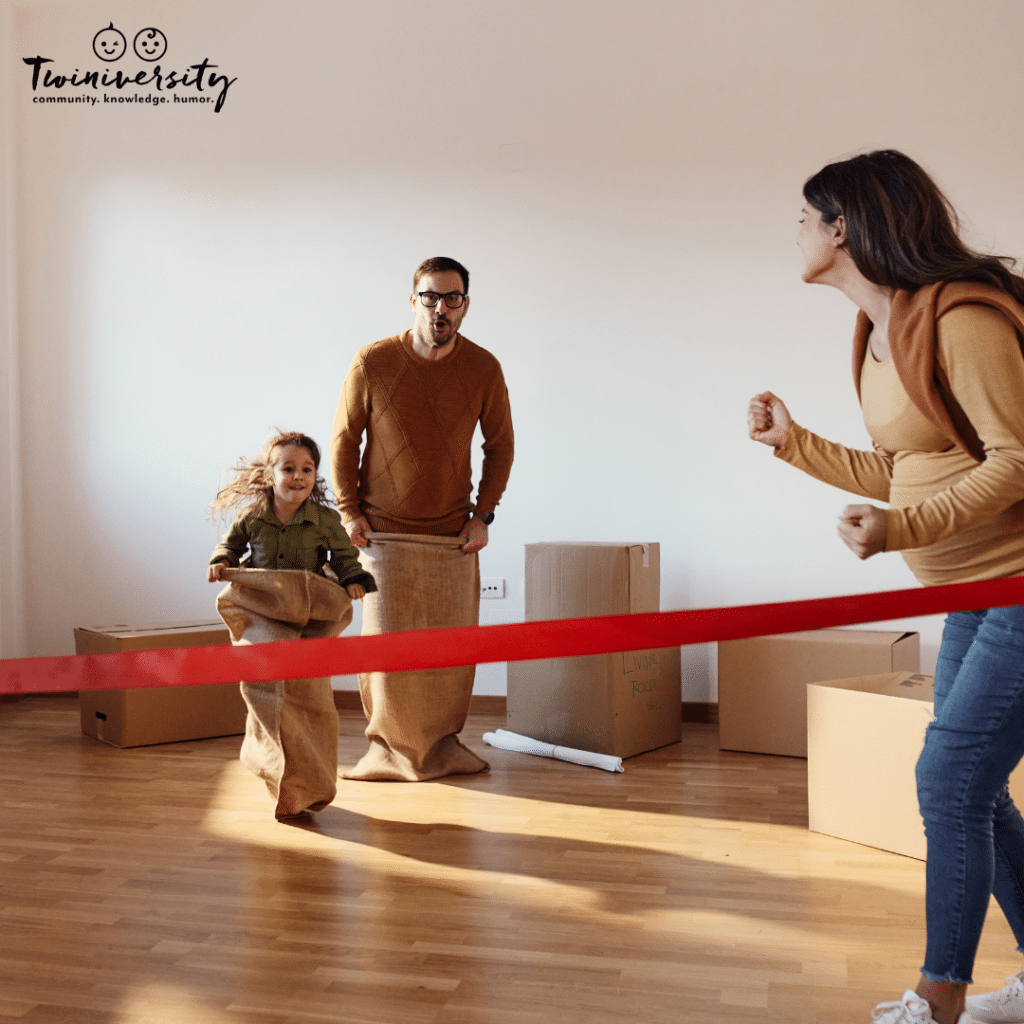 Balloons
Use balloons to practice throwing and catching for hand-eye coordination skills.
Tap a balloon to keep it in the air to work on hand-eye coordination skills.
Have your child place a balloon between their legs and walk like a penguin or jump like a bunny for a coordination activity
Painters Tape
Make a target on the wall to throw or kick a ball toward for a coordination activity.
Make a hopscotch grid on the floor to practice jumping and hopping skills.
Put a straight line along the floor and "walk the line" (like a balance beam) for a balance activity.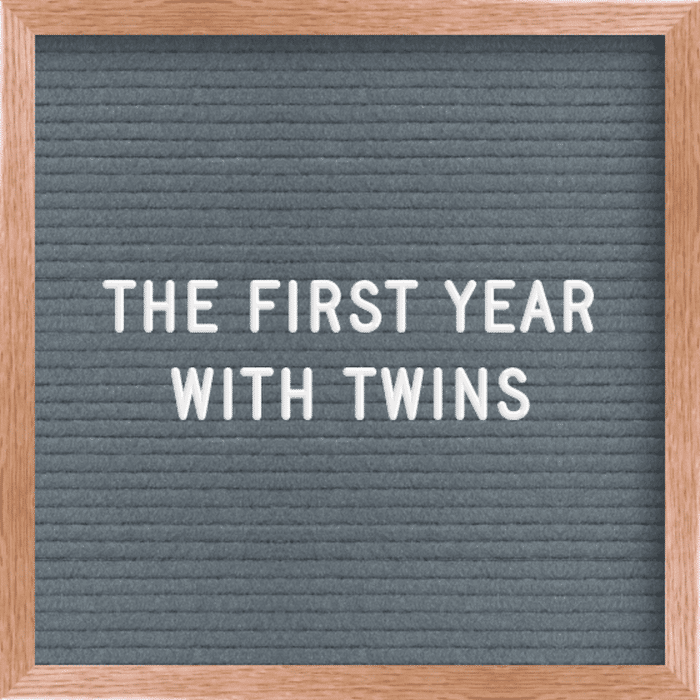 Stressing out with your infant twins? Let us help! Learn what to expect in the first year with twins, including tips, tricks, and advice from real twin parents who have been there. Click here to learn more… and while you're at it, check out our twin parent coaching services and Twiniversity shop!
Bubbles
Blow bubbles and work on reaching up high on tip toes and down low in a squat for a strengthening and balance activity.
Kick or jump on bubbles to pop them for a coordination activity.
Sheets/Tablecloths
Use a sheet or tablecloth as a parachute to bounce a balloon or stuffed animal in the air for a coordination activity.
Bubble Wrap
Jump on bubble wrap to hear those loud pops for a coordination activity.
Hula Hoops
Place hula hoops on the ground and practice jumping in and out of them or from hoop to hoop to work on jumping skills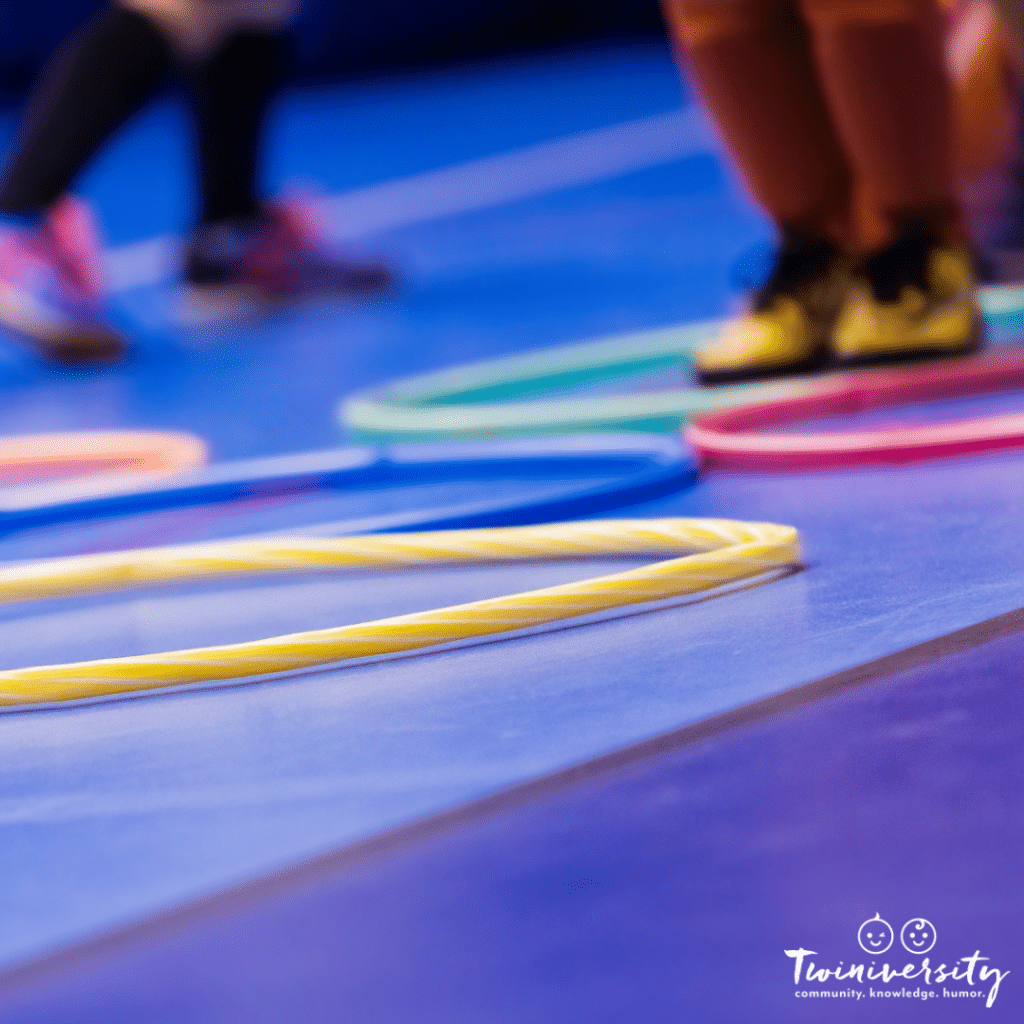 Socks
Use rolled up socks as an alternative to a ball to practice catching and throwing for a hand-eye coordination activity.
Fill up old socks with beans or rice to make homemade bean bags .
Broom
Play broom hockey to work on coordination skills.
These are just a few activity suggestions, but once you start looking around your house you will find many other objects that you can turn into fun gross motor development activities for your children. Listed below are some additional gross motor activities that don't even require any "items"!
No Item Required Gross Motor Activities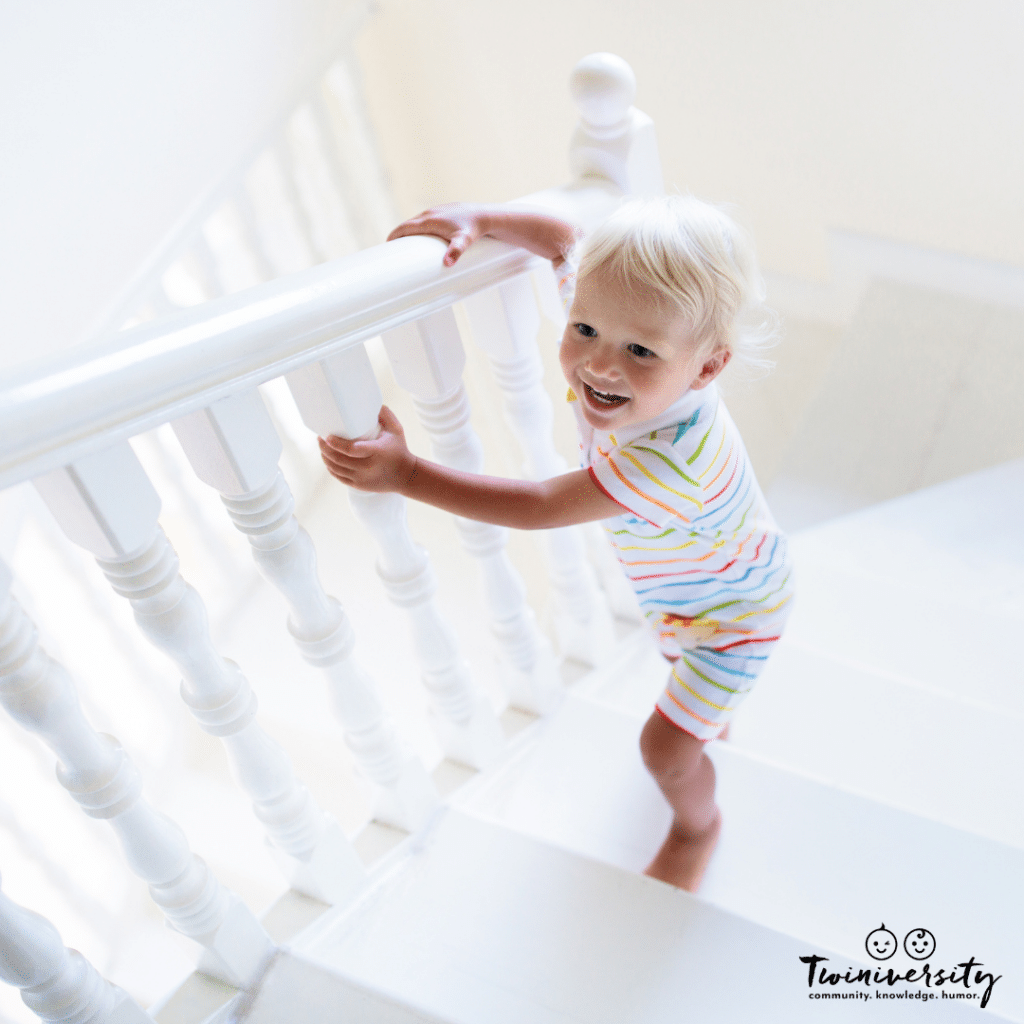 Practice the stairs for strengthening and coordination. Have your child walk up and down leading only with the left leg, then only with the right leg, then alternating legs
Make an obstacle course to work on balance and coordination. This is one of our family favorites! Incorporate the stairs, crawling through doorways, jumping over lines in the floor, etc. The options are endless!
Get outside! Just being outside lends itself to gross motor development. Here are some examples. Practice walking and running up and down hills. Practice jumping over cracks in the sidewalk. Practice jumping down from the curb. Practice walking along the edge of the curb like a balance beam.
Teach your children animal walks – bunny hops, bear walks, crab walks, frog jumps, and flamingo stands. These are all fantastic ways to work on balance and coordination skills.
Be creative and think outside the box. You don't need fancy toys or structured classes to develop gross motor skills in your children!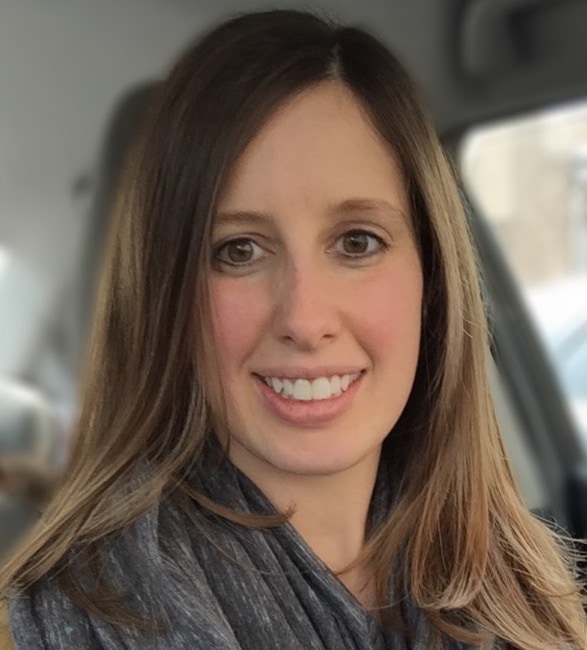 Stacey Haught is a mom to 7 year old Madison, 6 year old twin boys – Mason and Mitchell, and 18 month old twin girls – Sadie and Sophia. She is a pediatric physical therapist but has put her career on hold to stay at home with her rambunctious 5 kids. She resides with her husband and kids just outside of Pittsburgh, PA. Her family enjoys everything outdoors regardless of the season – finding new sledding hills, exploring area parks, and hiking and camping at their family cabin.