Last updated on May 4th, 2022 at 12:26 pm
As a new twin parent, it doesn't take long to realize that nothing will ever be the same again. You might find yourself regretting all that idle time you had before. If only you could get housework done or grocery shop a few years in advance, right? Between the feedings, diapers, and tears (yours and theirs), it can be extremely difficult to find time for anything else. Here are our best tips to help you find the time and energy to get housework done with infant twins.
1. Decide what's important (hint: it's not the housework)
Infant twins will make you realize that much of the housework you once considered essential might have to sit on the back burner for a while. It can be tough to let things go, but your job right now is caring for those babies and that is ok. Feeling overwhelmed by housework on top of caring for your twins? Then it's time to stop and reassess your priorities.
When you're in the thick of raising infant twins, your time and energy should be dedicated to just that (plus some vital self-care). It can be difficult to let go and accept that your home will not be the same for a while. However, it is essential for your sanity and your twins' well-being.
The key to this is prioritizing your must-be-done tasks. Get a basic idea of your daily, weekly, and monthly tasks, carve out the time to do them, and leave the rest. Break down your housework tasks in a way that works best for you, there is no one size fits all answer.
One way to get ahead of big chores is to do a little bit every day. Take 15 minutes to wipe down the counters, sweep the floor, and do one load of laundry. Not only will it save you time doing the big household chores, but you will feel less overwhelmed in your home.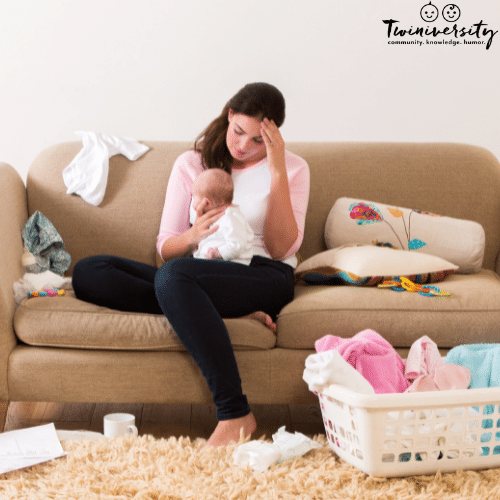 2. Create more time for housework by preparing in advance
There are a number of ways you can alter your daily routine just a bit in order to free up valuable minutes throughout the day. Whether you use this extra time for housework or to catch up on sleep is up to you, we're certainly not here to judge!
Make bottles ahead of time
Did you know that you can safely mix up both formula and breastmilk bottles up to 24 hours in advance? Every morning, prepare your entire batch of formula or pumped milk bottles for that day and store them in the fridge. Depending on your babies' preferences you might be able to go from fridge to baby's mouth, but if they prefer it warm just pop it in a bowl of warm water for 10 minutes before feeding time.
Breastfeeding? Be sure to get your hands on a twin nursing pillow that will allow you to go hands-free while babies have their lunch. While you're stuck on the couch you can use this time to make your to-do list, pay bills, or online grocery shop. We love the My Brest Friend Twin Nursing Pillow.
RELATED: Need more tips and tricks for feeding your infant twins? Check out our list of Twin Feeding Hacks for more ideas to maximize your time and energy.
Get ready before you start a task
Help yourself out and get ahead of the game by preparing as much as you can before doing anything twin-related. Bath time tonight? Grab your towels, lotion, and any other supplies and place them in a basket nearby your sink/tub before you get the babies up from naps. Set the stage for your bedtime routine before the bath. When they finish their dinner feeding, you're prepped and ready for a smooth evening.
Trying to get in a few chores while the babies nap? Before you start dinner or fold that load of laundry, check out your diaper changing station and be sure it's well-stocked. Get your bottles ready to go or make sure your pumping supplies are nearby. Now, even if you're interrupted by the dreaded short nap, you're not scrambling to get everything ready before they start to scream.
Make meals in bulk and freeze them
There will be days when you can't muster the energy to whip up a healthy meal for your family. Or maybe it's been days since you got to the dishes and there's not a clean one in sight. Save yourself the stress and time by doubling up on meals whenever you cook something and freeze leftovers in portions. On those days when no one is napping, you now have options for dinner instead of ordering takeout. Use that extra time to wash those dishes or plan your next grocery trip. Check out some of our favorite freezer meal recipes.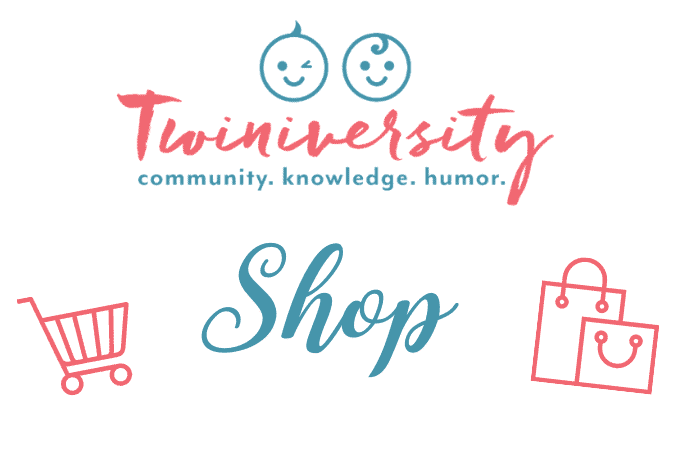 Check out all our Twiniversity merch in our SHOP! We've got twin mom and dad t-shirts, twin planning printables, lactation support, twin baby shower planners & games, a digital twin pregnancy journal, and so much more! Start shopping now
3. Ask for help with housework
Some days you will feel like a super-parent and others you will feel like you're drowning. You might be lucky enough to dodge post-partum depression and anxiety. Maybe you have a partner who is ready and willing to help. You might have dream-babies who always sleep well. But there will likely come a time when you realize you actually can't do it all. This is not the time to beat yourself up but instead to assess your resources and USE THEM.
How exactly do you do this? Take the neighbor across the street up on her offer to come over and hold your babies while you clean the kitchen. Hire a cleaning service to come once a month and do the heavy lifting. Call a laundry service to finally tackle the two weeks' worth of spit-up covered clothes. More often than not help is out there, you just need to ask for it.
A great resource for help will be your local Twin Parent group. These people have all been where you are and many will be more than willing to come care for your twins while you organize or tidy up.
4. Babywear your twins while doing housework
While it might not seem like an easy feat for a twin mom at first, babywearing twins is absolutely possible. Babywearing twins is ideal for babies who have a hard time settling when you have things to do. You can wash dishes, clean floors, and fold laundry all while keeping your twinnies close and calm.
Using a wrap like the Boba or Baby K'Tan you can tandem wear your twins until they're about 10 lbs. each. Follow the specific instructions of the wrap you purchase when it comes to weights and how to wear your kiddos.
When they outgrow stretchy wraps, try a woven wrap with a front/back or hip carry. Check out the TwinGo Carrier, which is great for the first few months and goes on quickly. You can grab one at their website here.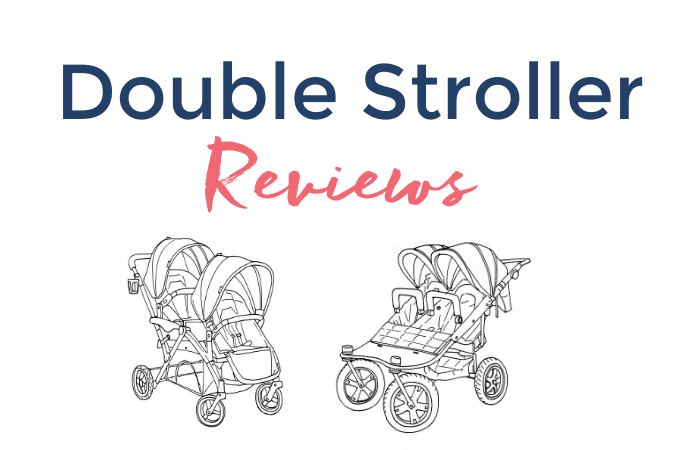 Are you looking for the best double stroller for twins? Not sure if you should go for a tandem stroller or a side-by-side stroller? And what about a Snap N' Go? We've got all the details for you in our double stroller resource. Click here to learn more… and while you're at it, check out our expecting twins classes and the Twiniversity shop!
5. Contain your twins while doing housework
Even before they're mobile you'll need options to safely contain your twinnies whenever you aren't holding or feeding them. Whether you have pets, older kiddos, or simply want the security of knowing they're safe, you have a number of options to keep them contained and secure.
Create a baby-safe play space
A twin pack-and-play is a great option for non-mobile babies to keep them safe and off the floor. When they are older and need more room to move, consider using baby gates or a play yard to section off a portion of your home just for them.
The North States Toddleroo Playyard is a twin-mom go-to for just this reason. Made of lightweight and easy-to-move plastic, you can either create an entirely enclosed play-pen or use it as a barrier to block off access from the rest of your home. This allows your twins to have the freedom to move and explore without worrying about anyone getting into trouble.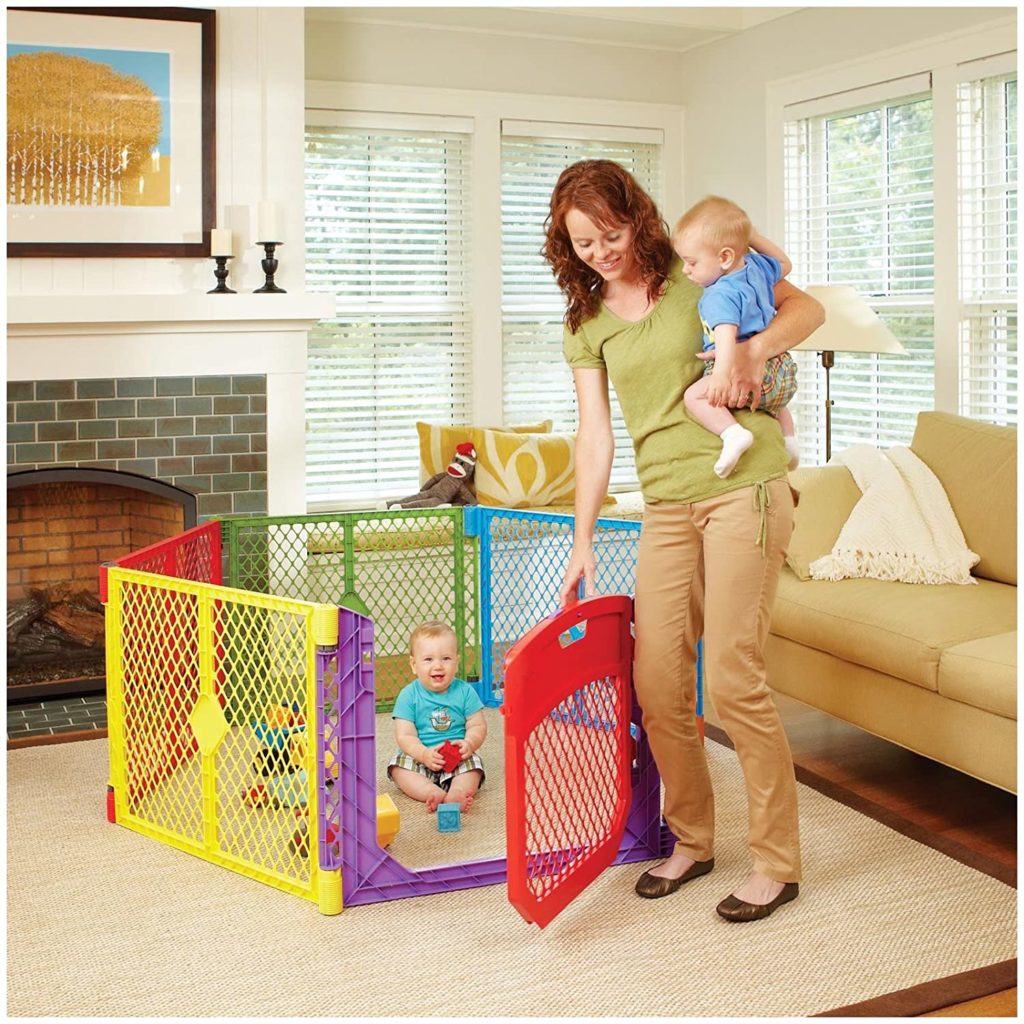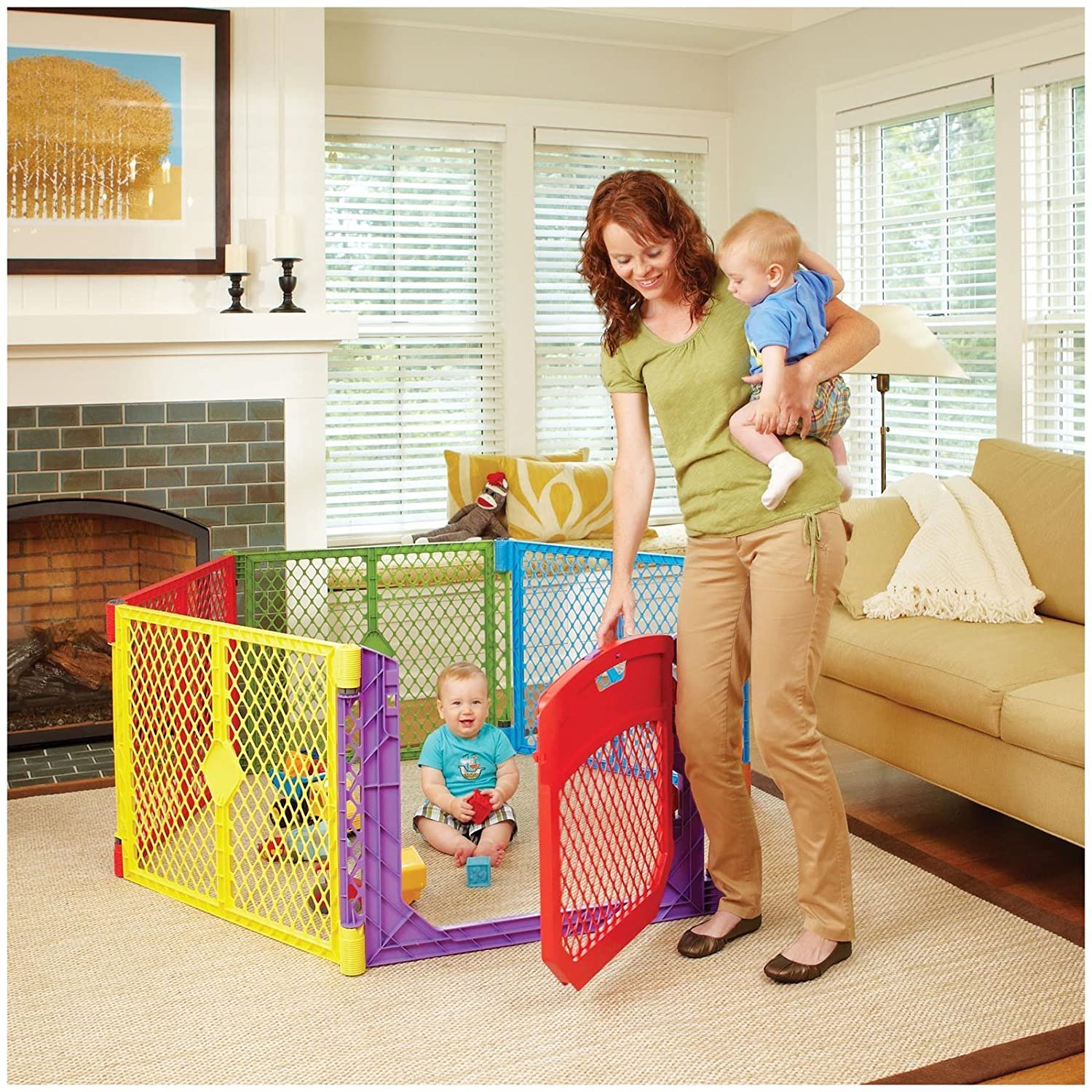 Rely on your baby gear
Bouncy chairs, swings, rockers, exersaucers, baby seats, the list goes on and on. There are many baby gear options to help you keep your infants happy and close while you check things off your to-do list. Swings and rockers will help babies sleep while bouncy seats and exersaucers will entertain and both will give you hands-free time for housework. Your needs will change as your twins grow (and that happens fast) so figure out which ones you really need so as to not break the bank.
Keep in mind that container baby syndrome is a real thing so try not to rely on them every time you can't hold your twinnies. Since research shows that overuse hinders muscle tone development, be sure they get plenty of time on the floor. That said, once or twice a day for a half-hour or so is fine for some fun and a break for momma's back.
TWINIVERSITY TIP: Don't have the space for baby containers? Try out the laundry basket hack! Take a rectangular laundry basket and line the bottom and sides with blankets. Place a baby at each end and put toys in their laps and throughout the basket and you have a space-saving and easily transportable playpen. This is the most budget-friendly option as what family doesn't have a laundry basket?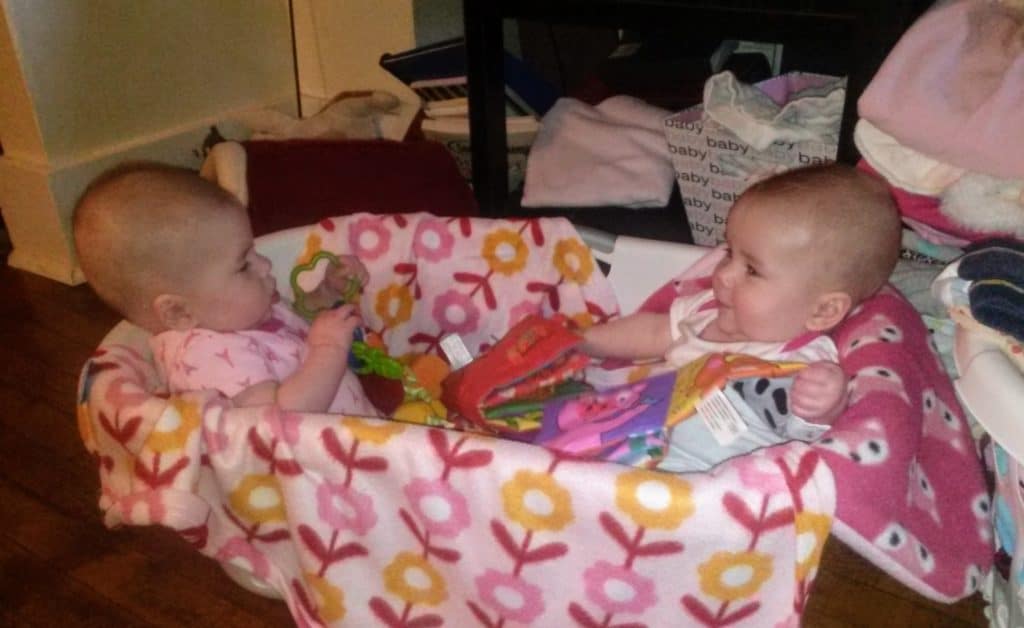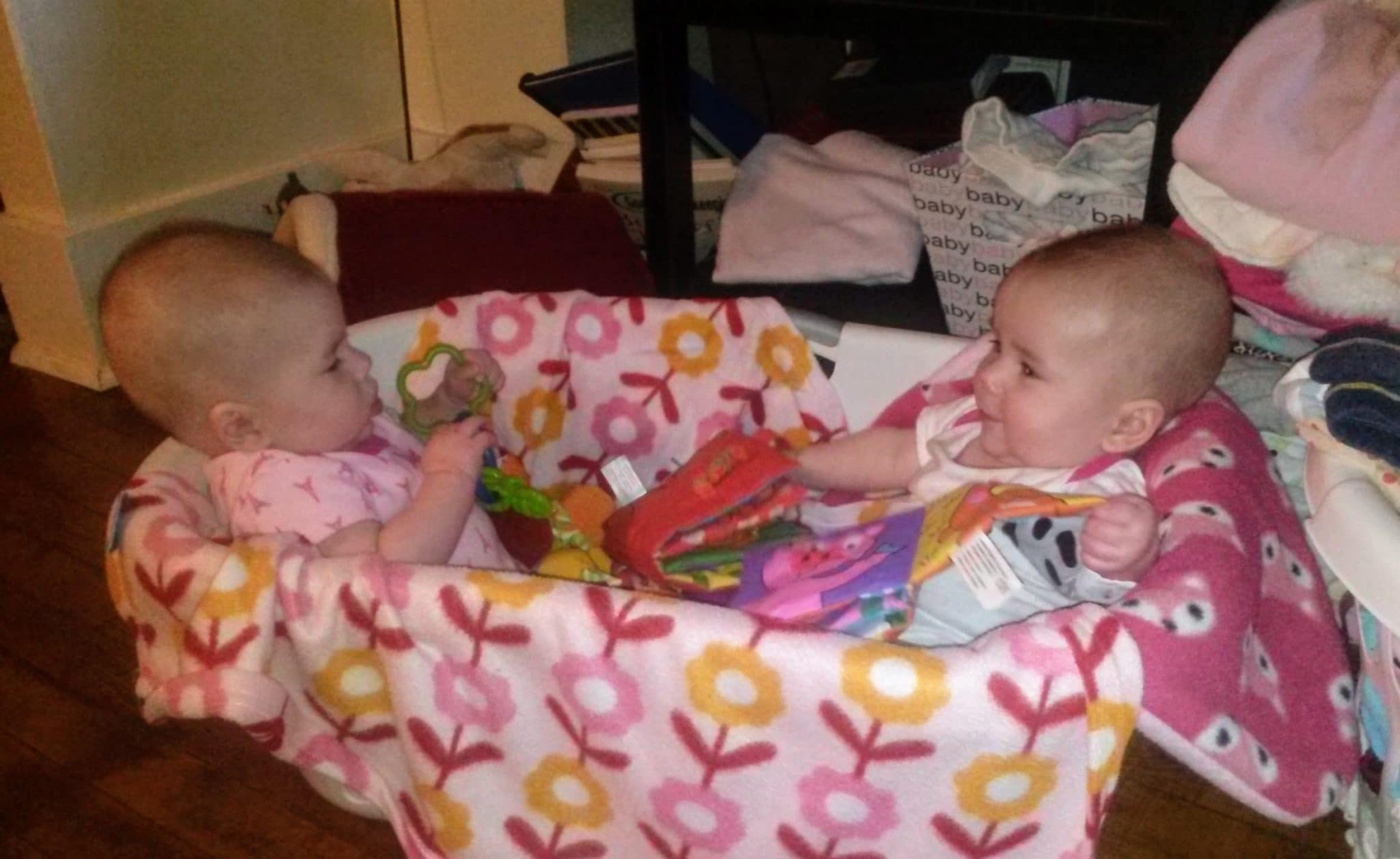 Don't stress over housework with infant twins
Life with infant twins is both exciting and exhausting. Add housework into the mix and it can quickly become overwhelming. Decide what's important and rely on your resources to get you through. Although it doesn't really get easier, eventually you and your twinnies will settle into a routine. The housework will always be there but time with your infant twins is short so be sure to focus on what really matters and try to let everything else go.
Latest Posts on Twiniversity