Last updated on September 26th, 2023 at 01:12 pm
Learn the reasons why it's so important to leave the house every day to go for a walk, especially in times of uncertainty and isolation.
This article is sponsored by our friends at Boppy, creators of the Boppy ComfyChic Carrier and Boppy 4 & More Multi-Use Covers.
Boppy® ComfyChic® Baby Carrier
Designed for you with ultimate comfort in mind. The Boppy® ComfyChic® Baby Carrier features:
elegantly designed details such as vegan-leather trims, luxury accents and yoga-inspired fabric
thoughtfully designed adjustable underarm straps to provide comfort and make sharing among caregivers easy
adaptable seat width, achieved through wrapping techniques, allow for 4 ergonomic carrying positions: newborn front face-in, front face-in, front face-out and side-hip carrying
breathable, performance mesh panels provide privacy while allowing for airflow
for use with babies weighing 8-35 lbs.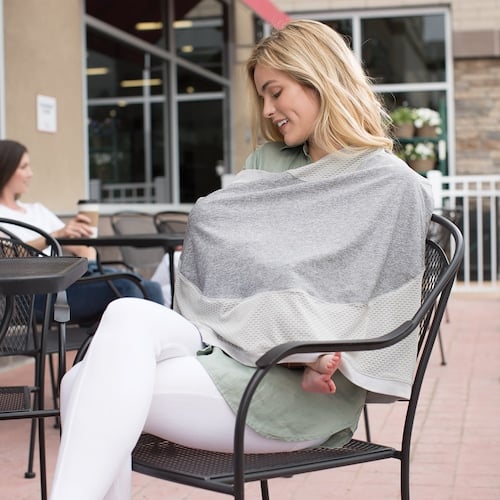 Boppy® 4 & More Multi-Use Cover
Boppy has got you covered in more ways than one with the versatile cover that solves your on-the-go needs! The soft Boppy® 4 & More Multi-Use Cover features:
breathable mesh on one side, providing airflow to keep cool
full coverage knit on the other side, providing privacy
airflow side over the car seat keeps your baby covered and cool
privacy side is great to help eliminate distractions while nursing on the go
Includes Peek Panel™ mesh to view your baby while snug in the car seat or while nursing
Also great as a shopping cart cover, baby carrier cover, restaurant high chair cover, and stylish infinity scarf
Why You Need to Leave the House Every Day
If you're feeling cabin fever but you're having a hard time finding the motivation to get up and go, here are some really good reasons why you should leave the house every day (even if you've got nowhere to go!)
It gives you a sense of purpose
Working some outside time into your day will give you a sense of purpose. Load the kiddos into the stroller or strap 'em in a carrier and just GO! Just leave the house. You will instantly feel a sense of accomplishment just from making it out of your front door. It's so important for your mental health to get OUT and get moving.
No one says, "I went for a walk and it sucked."
For real! Even if the weather isn't great, once you're out there you WILL think to yourself, "This was a good idea. I'm glad I didn't stay cooped up." Even if your walk only lasts 10 minutes it will give you a much-needed lift.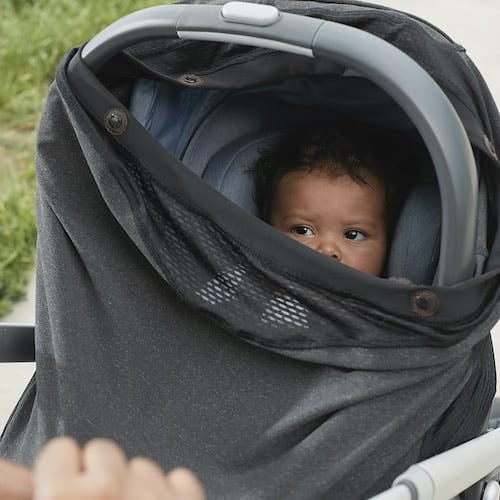 Get your Vitamin D
The sun's rays provide us with Vitamin D, which is essential to a healthy body. We need Vitamin D and if you just leave the house this is an easy way to soak it up!
Vitamin D is necessary for building and maintaining healthy bones. That's because calcium, the primary component of bone, can only be absorbed by your body when vitamin D is present. Your body makes vitamin D when direct sunlight converts a chemical in your skin into an active form of the vitamin (calciferol).

Mayo Clinic
---
It's good to look around and see signs of "life"
So you're stuck in your house pretty much all the time and you hardly see other people. It feels like you're trapped on a deserted island and you're about to start talking to your best friend "Wilson" the volleyball. STOP! Leave the house and start finding signs of life — they are out there! A dog barking, a mail carrier on their route, a potted plant on someone's porch. These are all signs that LIFE GOES ON and we are not in this alone. A few reminders that other things are going on outside of your house will help keep you mentally in check.
It's good to move your body.
A body in motion stays in motion. If you don't go out every day you might go full blob! A good old fashioned walk is perfect right now. But if you're in the mood to spice things up, do some lunges as you walk, or go old school and pop in some Tae Bo air punches. Or sing along in full voice to your favorite musical! Sure you may look a little silly (if there's anyone around to see you), but you'll be having fun and getting a boost of adrenaline to boot!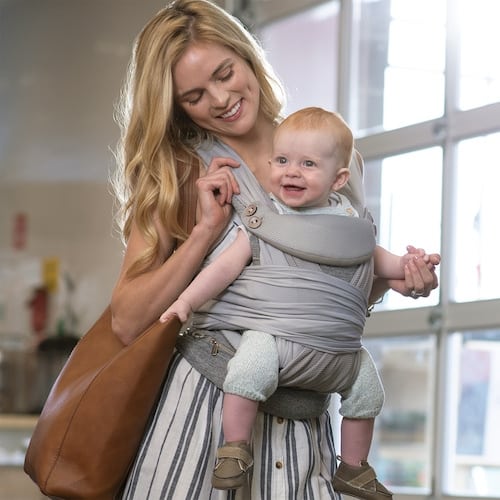 Spring is in the air
Get outside and watch Mother Nature ignore the "stay inside" rule. The birds are still singing, the flowers are still blooming, and life is still happening all around you. Take a DEEP breath and let the fresh air fill your lungs and feel the wind in your hair. Isn't that a lovely feeling? It's also been proven to help calm your anxiety.
Kids need a sense of normalcy
If you've got kids at home with you, leave the house and take them on a daily walk to help them feel a sense of relief and routine. Children thrive on routines and they also LOVE recess! Make this a part of your routine at least once a day. As long as you're practicing physical distancing during this time, it's totally fine to visit your friend's front yards and have a chat with them from their front stoop.
Collect rocks and other goodies for crafts
Use your walk to find treasures to bring home for play and craft time. Paint a pet rock. Collect leaves and twigs for a nature craft project. If you're really having trouble getting them to focus on the walk, print out a nature scavenger hunt to bring along.
P.S. I Love Chalk
You can write messages on the sidewalk in chalk which will be great for the whole neighborhood! You can help keep your neighbors' spirits up with a sweet message telling them you care. Or draw a hopscotch board to encourage others to have fun.
---
Related Articles