Last updated on August 3rd, 2023 at 11:59 pm
If you are looking for kid friendly food, simply imagine the name of your fussiest child inserted into the title of this recipe. With one child it can be a challenge to prepare a meal that everyone likes, multiply that a few times and the task becomes nearly impossible. If you look through my recipe file you will see labels like "Meatballs Graham Will Eat" or "So-and-so's Favorite Chicken". I'm not about to waste my time making a nice home cooked meal that no one wants. This one is a winner all around because it is a one bowl prep, no chunks of veggies, make it ahead of time if you want, everybody loves it meal. Serve them with or without sauce, with or without pasta, on a hoagie roll…whatever your heart desires. This recipe for meatballs is guaranteed to make everyone happy.
And because I understand the distress that the possibility of a speck of real or imagined onion or errant vegetable can cause at mealtime, dear parent, to spare you 20 minutes of agony watching your little ones attempting to dissect their dinner with their fingers, this recipe substitutes the powdered form for any potentially detectable pieces.
Sometimes just to clarify I simply announce at the beginning of the meal "there are no pieces of onion, you can just go ahead and eat". Go ahead, build up your children's trust, eventually you will (may) be able to sneak an onion in at your house.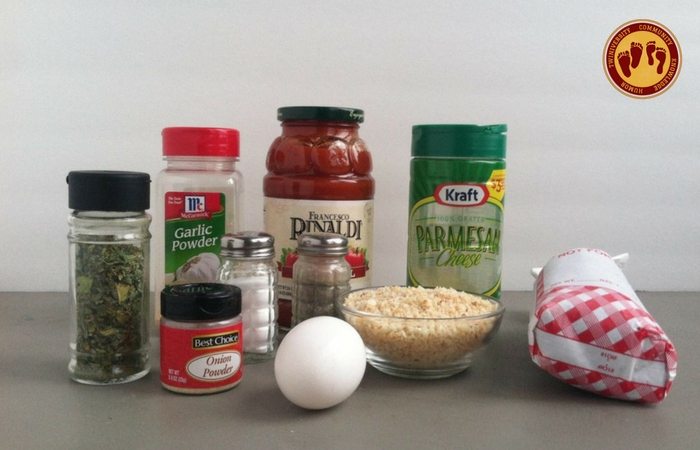 Ingredients
for 4 servings (twelve 2 ounce meatballs)
• 1 pound Ground Beef
• 1 Egg
• ½ teaspoon Garlic Powder
• ½ teaspoon Onion Powder
• 1 teaspoon Italian Herbs
• ½ teaspoon Pepper
• ½ teaspoon Salt
• ¼ cup Breadcrumbs
• ¼ cup Parmesan
• 3 tablespoons Water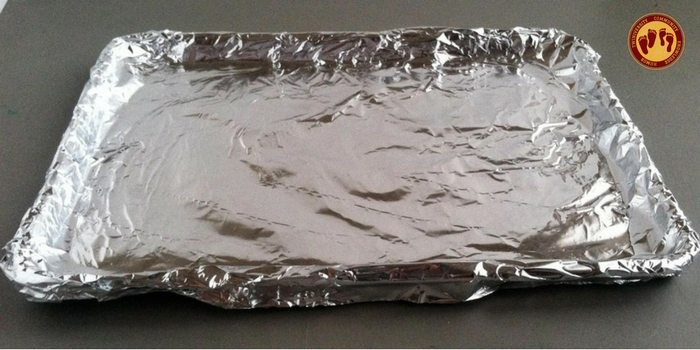 Instructions
1. Preheat oven to 400 degrees, put on some tunes.
2. Line a baking sheet or pan of your choice with raised sides with foil or parchment. Seriously – line your pan, it in no way affects the cooking but it will save you 20 minutes of clean up! Just throw that foil away when you are done.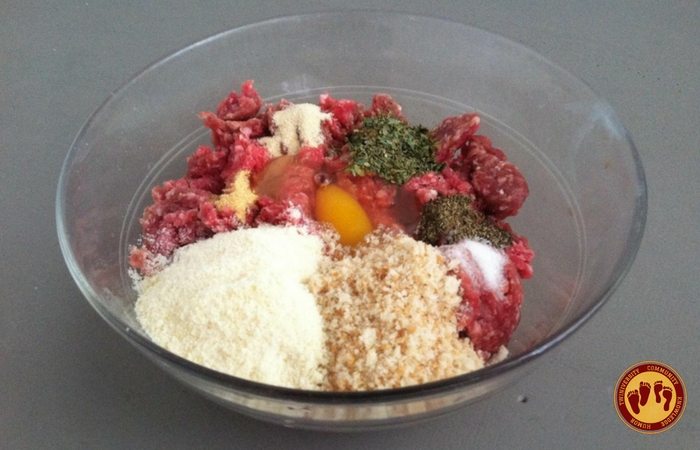 3. Place the ground beef, egg, garlic powder, onion powder, Italian herbs, pepper, salt, breadcrumbs, Parmesan, and water in the bowl. No need to mix as you go, just get it all in there.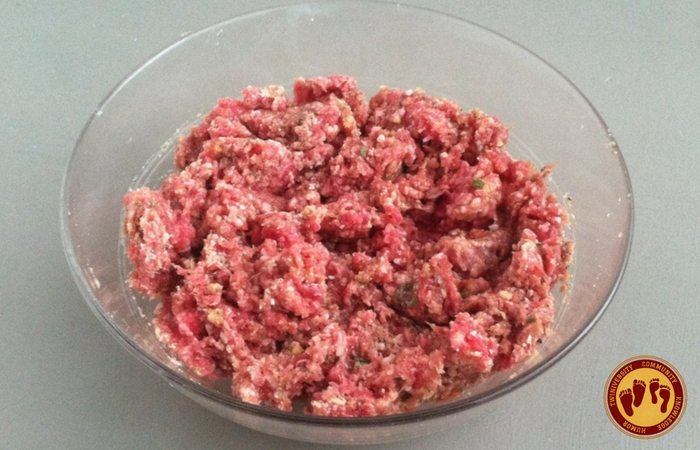 4. Mix together thoroughly (take off your rings and dig in here with your hands, you have to touch it to roll the meatballs anyway)
5. Form the mixture into nice balls by rolling in your palm (a ¼ cup measuring scoop loosely filled works well here and will give you 12 nice uniform sized meatballs, plus you already should have this out since you measured the cheese and breadcrumbs)
6. Place on the foil lined pan with a little space between the meatballs so they will cook nicely
7. Bake at 400 degrees until cooked through (18 minutes in my oven)
TIPS
Make a large batch, I generally do about 5 pounds of ground beef at a time because
The family size packs of ground beef are usually a much better deal
The worst part about making meatballs is mixing it all up
A large batch will keep well after cooking if you place a meal's worth in a freezer bag and pour your favorite spaghetti sauce right in to keep it moist
Multiple meals out of one prep is a winner
Pulling out a homemade meal on a busy day makes you look pretty handy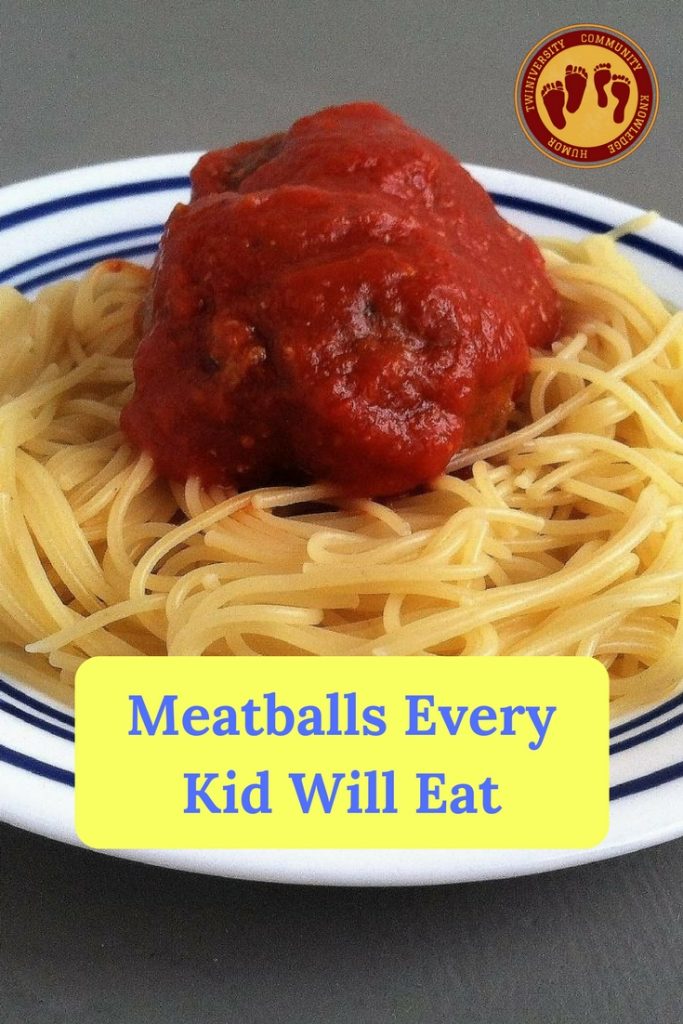 It is totally ok to make dinner at 10 am
I do meal prep for both lunch and dinner when my little ones are either napping or at least content to sit in their chairs in the kitchen while I sing goofy songs. For this recipe you can either go ahead and bake the meatballs, or prep them as far as putting them on the pan to pop in the oven later in the day.
Don't wait until late afternoon to start cooking, I haven't met a child yet that doesn't demand attention when it is time to make dinner. It's a universal truth that children start to melt down at 4:30 in the afternoon.
Twiniversity Meatballs Every Kid Will Eat Recipe PRINT READY
So go ahead, put those kiddos somewhere safe and mix up a batch of homemade deliciousness.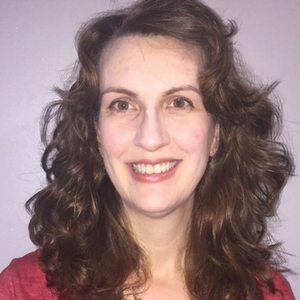 Annalisa Cunningham is a family nurse practitioner who decided to take some time indefinitely to be home with her family when her "just one more" turned out to be twins. She lives in Minnesota with her husband, 6 children, including a set of identical 4 month old boys who survived TTTS and TAPS thanks to some excellent medical care, and an Eskipoo. Most days she gets a shower and sometimes even a chance to drink her coffee while it is still hot.
---
Related Articles
---
Are You a New Twin Parent?
Check out Natalie Diaz's book:
"What To Do When You're Having Two
The Twin Survival Guide From Pregnancy Through the First Year"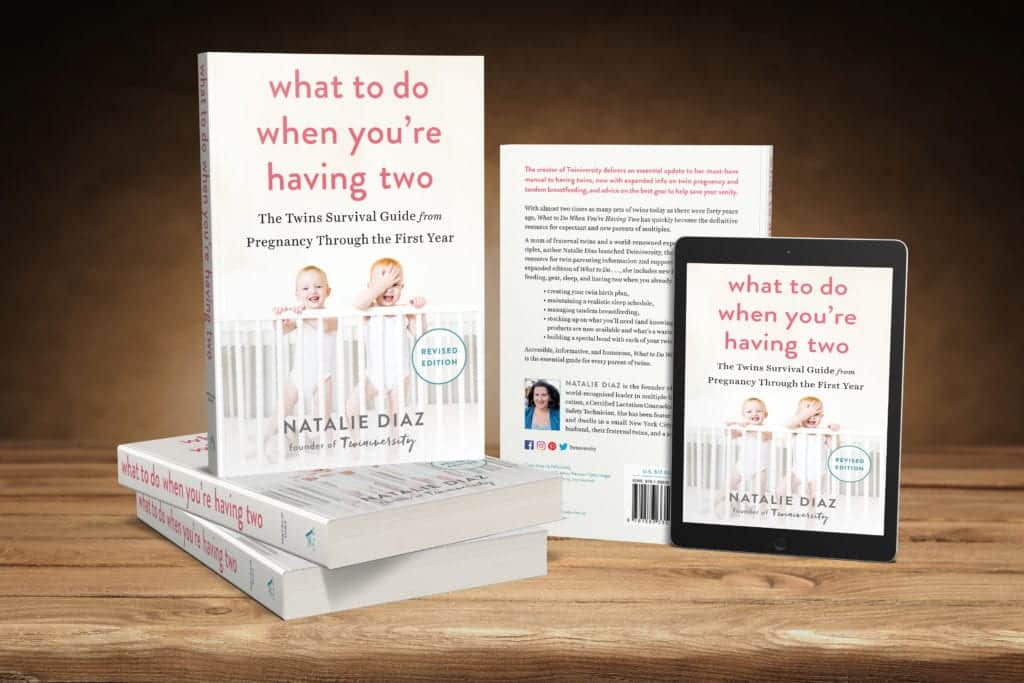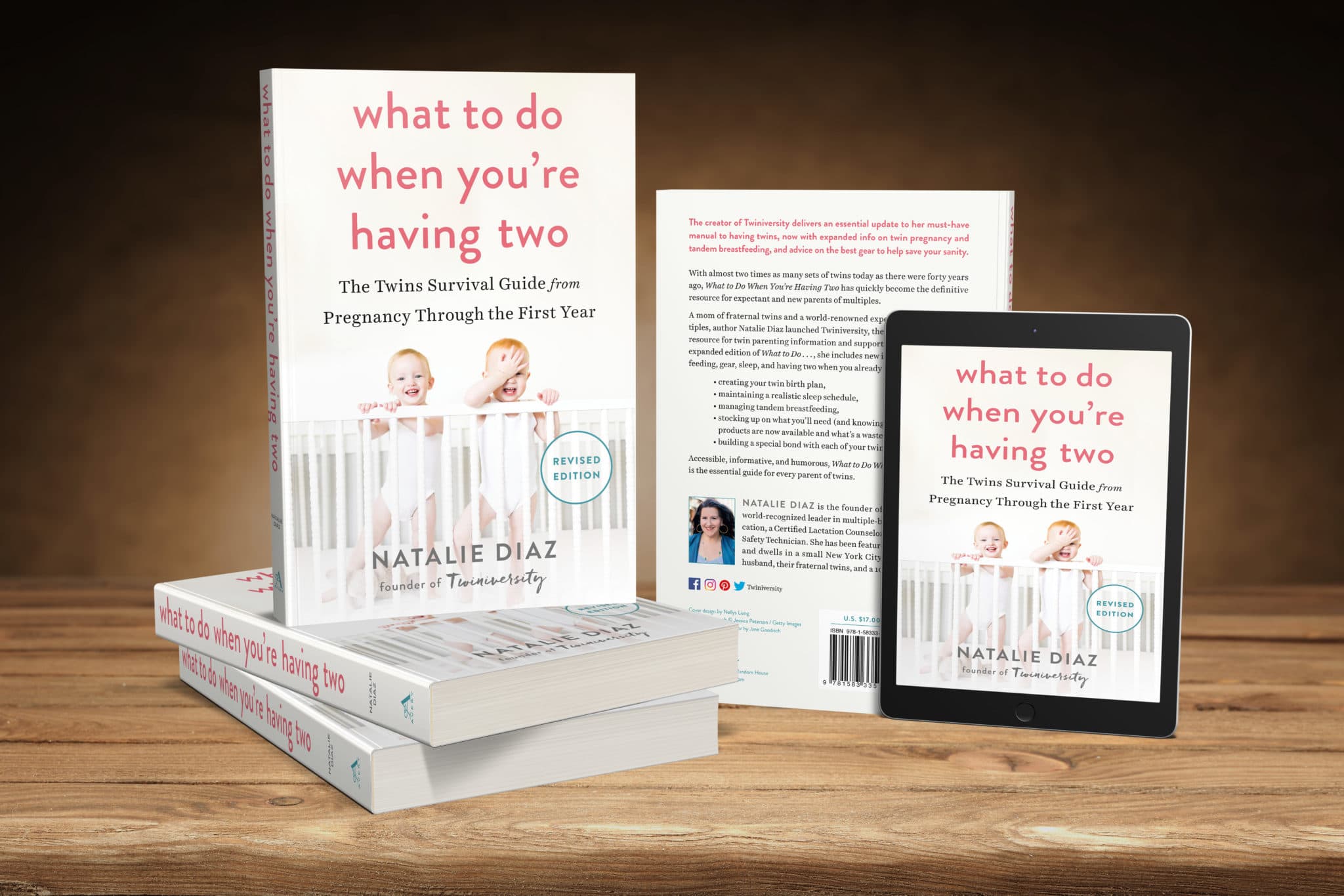 In What to Do When You're Having Two: The Twins Survival Guide from Pregnancy Through the First Year, national twins guru and founder of Twiniversity (and twin mom herself!) Natalie Diaz provides a no-holds-barred resource about life with twins, from pregnancy and birth all the way through your duo's first year of life.
---
Have you taken your expecting twins class yet? We offer a great class on demand so you can take it on your own schedule! There are so many video modules covering everything from your twins' baby registry to your first week at home with twins! Sign up today to get started before your twins arrive.
---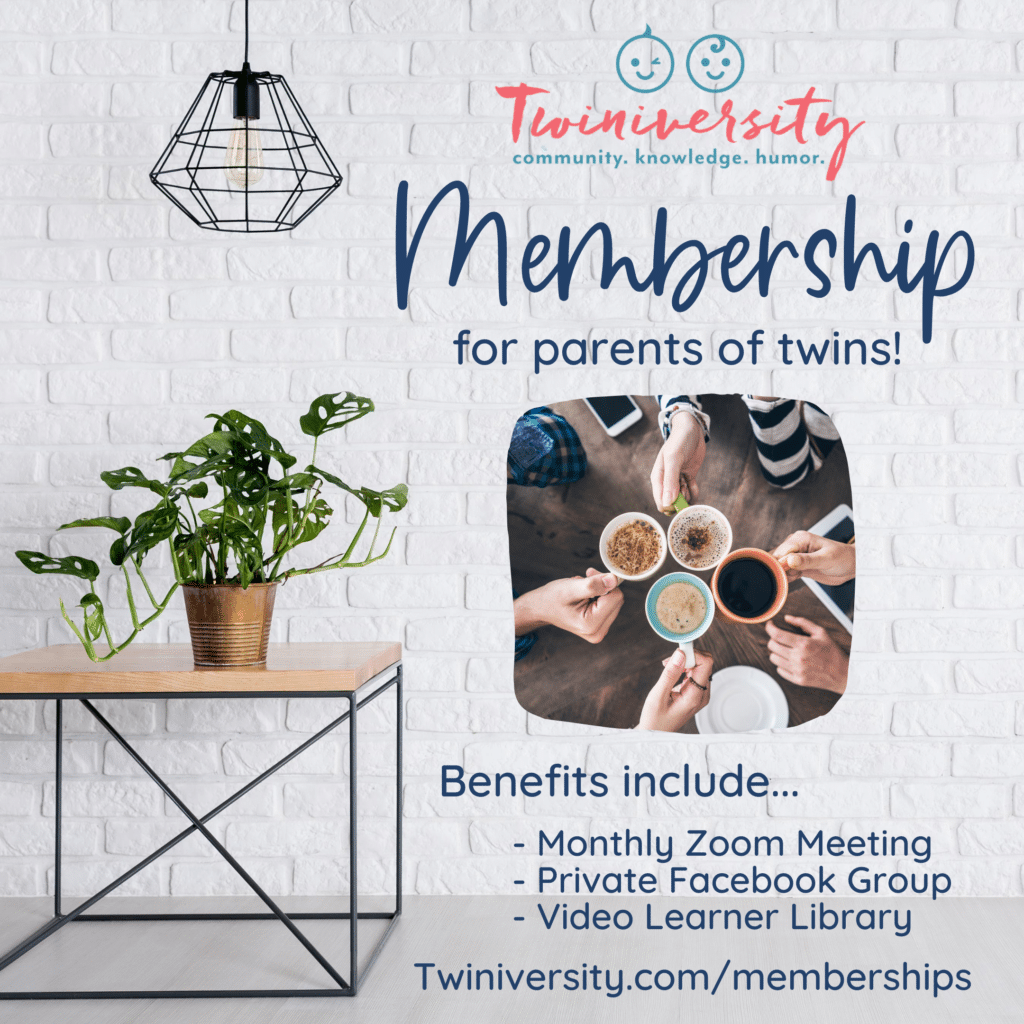 Need some twin parent friends? Get the support you need with a Twiniversity Membership. Benefits include a monthly twin parent club meeting on Zoom, access to a private Facebook group just for twin parents, and a video library of twin parenting lessons. Visit Twiniversity.com/membership to join today!
---
Check out our ultimate list of the most important articles for expecting twins
and managing your newborns!
---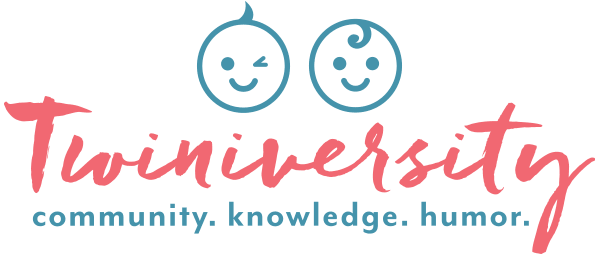 Twiniversity is the #1 source for parents of
multiples, and we are growing faster every day!
Find us all over the web:
Or contact us by email at community@twiniversity.com