Last updated on September 28th, 2021 at 01:21 pm
This week on the Twiniversity Podcast Nat chats with Katie Booms Assarian, mom of 23-month-old twins, about her experience with postpartum anxiety (PPA). Katie's twins were born at 30 weeks and spent 52 days in the NICU. Katie managed her postpartum anxiety with the help of an excellent partner, counseling, medication, very long walks with the double stroller, and narrating her babies' daily life in song or funny accents.
Get immediate help for Postpartum Anxiety at Postpartum Support International
Postpartum Depression and Anxiety: What You Need to Know
I Have Mom Anxiety and I'm Not Ashamed About It
What You Should Know About Postpartum Anxiety
Postpartum Anxiety: One Mom's Story
Pregnancy Anxiety After Infertility
Twiniversity Memberships: Includes Zoom Twin Club
Twiniversity Twin Parent Mentor Program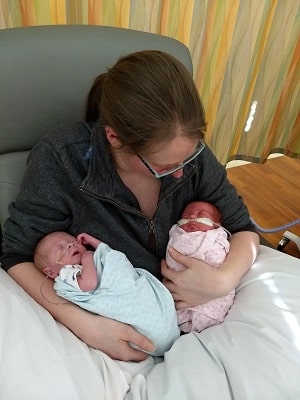 Got Alexa? Just say "Alexa, play the Twiniversity Podcast" to listen to the most recent episode of our podcast.
Subscribe for FREE to our other podcast, the Twins Tale Podcast, giving you an inside look at feeding schedules, sleep struggles, and all the highs and lows of raising twins from birth to college age.
Take a class! Twiniversity offers online expecting twins classes, a breastfeeding twins class, and a baby safety class including CPR, first aid, car seat safety, and childproofing. Click here to check out our online classes.
Click below to stream the podcast directly on this post, or click here to subscribe and download to your phone on iTunes. Please consider leaving us a review on Apple Podcasts to help other twin parents find us!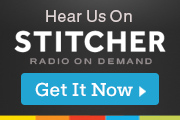 Postpartum Anxiety is a Bitch | Twin Mom Katie Booms Assarian
---
Need more support? Start your Twiniversity Membership today here.
Katie Booms Assarian is a poet, mama to girl/boy twin toddlers, and a full-time admin in the Midwest city government. She posts small, hopeful poems at www.commonpoem.com. She is currently revising a full-length collection of poetry chronicling her NICU experiences, tentatively titled "But Where Are the Babies?" She'd be glad to share that project or chat with any other NICU parents. Contact her through that website!
Pinterest is Not Real Life! A Twiniversity Truth
Information Overload: Why This Pregnant Mom is Avoiding the Internet
Thoughts on Parenting Twins in the Social Media Age
Birth Trauma and the Invisible Scars we Carry From it
Not Dealing with My Traumatic Twins Birth
Top 3 pieces of advice for other parents of twins
This is one big, long one! Talk long, hard, and early with your parenting partner(s) about your expectations of each other. Are you splitting work 50/50? 60/40? 90/10? (Bad idea.) Which parent or helper will do which tasks? Maybe researching twin baby gear, buying and organizing all that stuff, planning daily routines, running doctor appointments, doing actual childcare, cooking, cleaning, and household maintenance…How are you going to signal when you're going batty?
Check-in with your partner again when the darlings arrive, every few weeks as the kids' "sleep" schedule changes, and whenever one of you gets that panicked look in the eye.
If you can wrangle any and all outside help, that's great, but you are really going to lean on your main partner(s). You don't want to find yourself both fake-sleeping while the kids cry, again, hoping the other parent gives in first. And, knowing that mamas are pretty likely to experience a postpartum mood disorder and/or physical healing, you'll want to get this sorted while it's still calm. Otherwise, 18 years is a long time for resentment to build.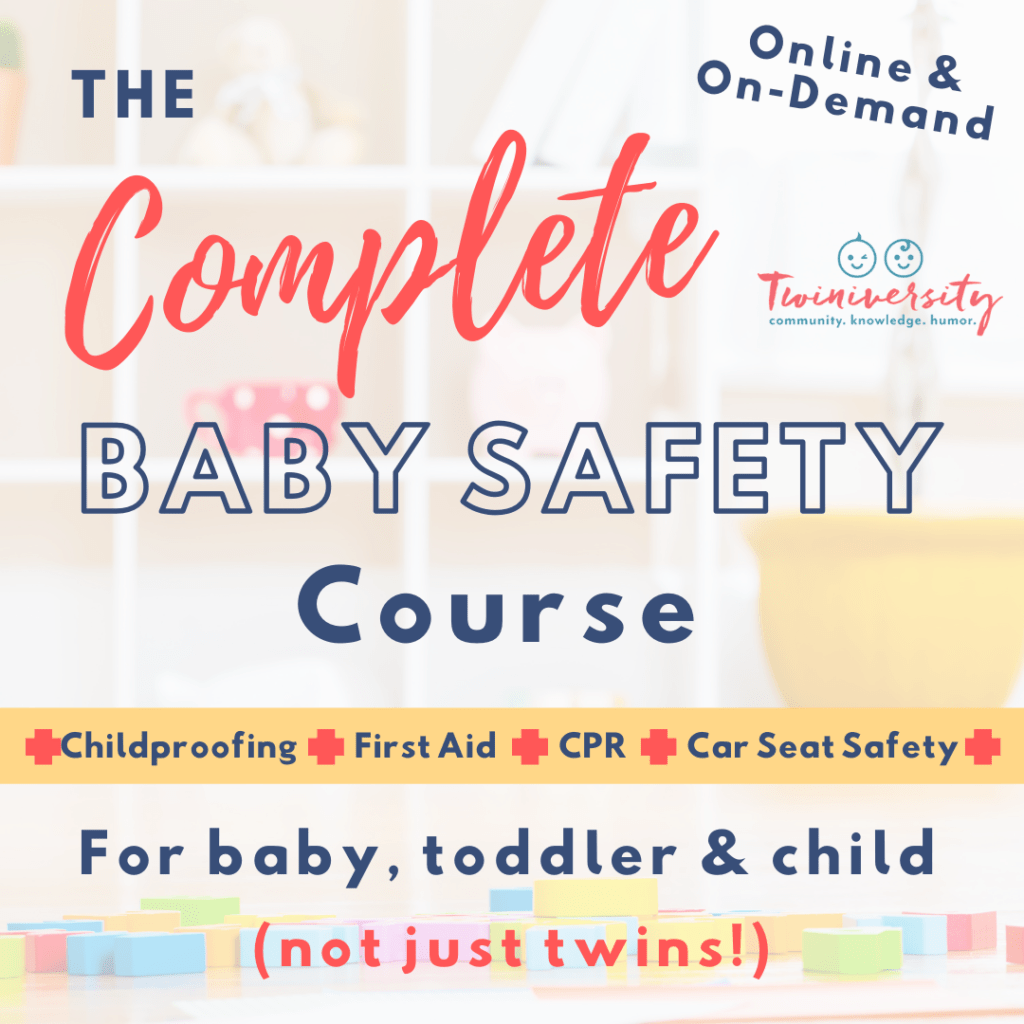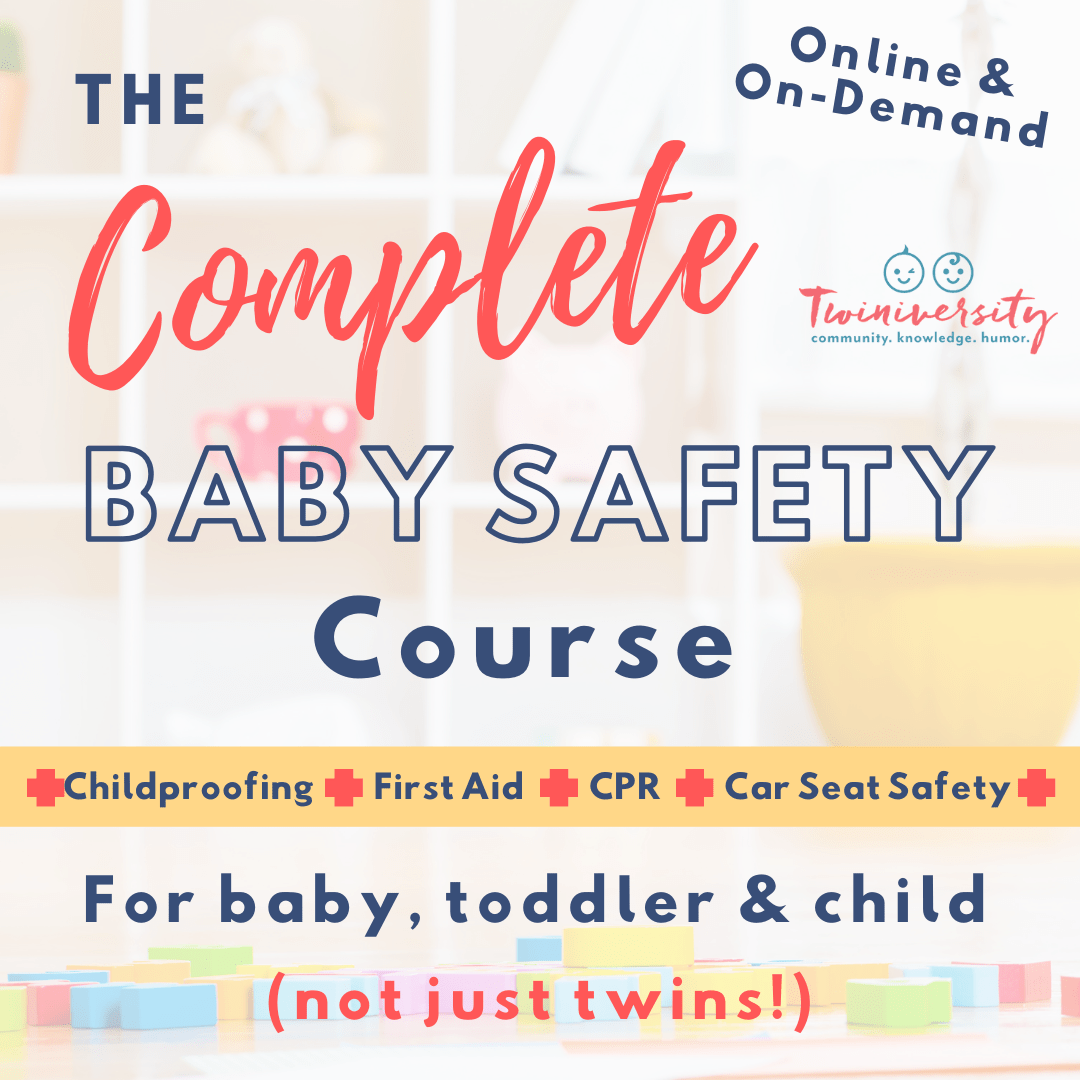 Need some baby safety training? Take the Twiniversity Complete Baby Safety course, offered on-demand. Includes video modules on infant, toddler, and child CPR, first aid, and common medical ailments, plus car seat installation and safety and childproofing your home. Click here to learn more!
Top 3 things you'd like our listeners to take away after listening to your story
Postpartum anxiety (PPA) can be very scary and isolating. You may not trust yourself with your babies. Or you may not trust anyone else with your babies. I doubt you'll want to confess to anyone that you're, say, repeatedly picturing what it would look like if your babies fell down the stairs, for fear of what it might mean about you and your new-mom status.
You will almost definitely have to advocate for yourself– and keep asking. Your doctors will probably give you vague depression screeners. Your partner might notice you are struggling if they can see above their own brain fog. About a hundred nurses, family members, and strangers outside the grocery store will ask you how you're doing. But PPA (like a few others) isn't as well-known as postpartum depression. Apparently, I still looked like I was holding it all together, super-twin-mom style. I had to show my partner a 10″x14″ word doodle to communicate the extent of my multivariate freaked-out-edness. The more stoic you are, the later that PPA symptoms appear after your birth (it can happen up to 1 year later), and the longer you hesitate to seek out support, the easier it will be for you to slip under the "postpartum" radar.
Every little bit of outside help…helps. You found this podcast, so hopefully, now you know it's not just you. Go tell your most trusted person so they can have your back. Brave a postpartum support group where other parents totally get it. Get to root beliefs and coping strategies with your therapist (or one the hospital can recommend–they have lists). Discuss your symptoms and possible treatments with your doctor, doula, and/or midwife. Shout out: I also borrowed strength from the comics by Karen Kleiman and Molly McIntyre for the Postpartum Stress Center, which I first found on Buzzfeed here. Their book "Good Moms Have Scary Thoughts" and the hashtag #speakthesecret are powerful. It gets dark. I was in that dark too. I hope this podcast, along with all the Twiniversity resources, will give you that sense of community too.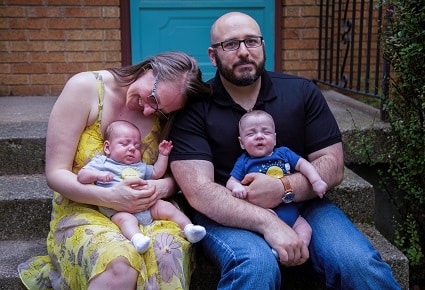 Keep in Touch
A poem by Katie Booms Assarian
Keep in touch
is a hard promise
right now.
It is usually easier
not to talk about this
with our friends and our own parents,
with coworkers and strangers.
Easier,
to only hear our own doubts,
only sit
with our own questions.
A premature infant,
like our two,
needs to be touched—
but only
gently, occasionally.
They stay in their isolettes,
incubators six feet apart,
covered by quilts
to keep out even light
and the beep
and the beep
and the beep
of the monitors.
We are supposed to
touch our own babies
as if asking permission,
by laying our hands
on them slow, still,
without caressing.
The nurses say preemies
feel a parent's stroking
as pain.
For the first few days,
we do ask for permission
to touch them at all:
to turn off their air control
and reach through the portals
for even the sweet baby
scent of them.
I—
am like this now, too,
when I have been in bed
all afternoon, all evening, pumping
many hours before my husband
comes home or is ready for bed,
and he cracks the door,
brings in the light, and sounds,
and the reality of the whole empty house.
He wants to rub my temples
as a comfort, ask me about my day,
but he wakes me.
He forgets to murmur.
Uses his regular voice,
instead of the hush
I am part of now.
He is still in touch
with the outside world
that I am not.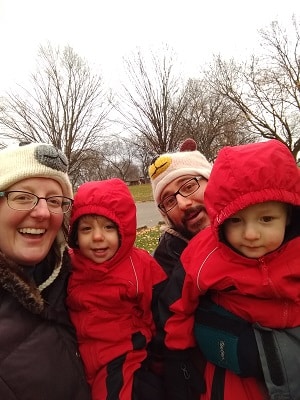 MEMBERSHIP
Sign up today for a Twiniversity Membership! Choose from 2 levels starting at $6.99/month to connect with other parents of twins in a monthly Zoom twin club, build your twin parenting community in our private Facebook group, and expand your twin parent knowledge with our video learner library. Click here for details.
FIRST YEAR WITH TWINS
Are your twins in their first year? Check out our free First Year with Twins resource to learn tips, advice, and ideas for getting through your first year with twins!
BABY SAFETY COURSE
Offered on-demand, the Complete Baby Safety Course includes 30 instructional videos on infant, toddler, and child CPR, a variety of first aid techniques you may need with kids, a full explanation about different kinds of car seats and how to install them, and a room-by-room description of how to best childproof your home. Click here for details.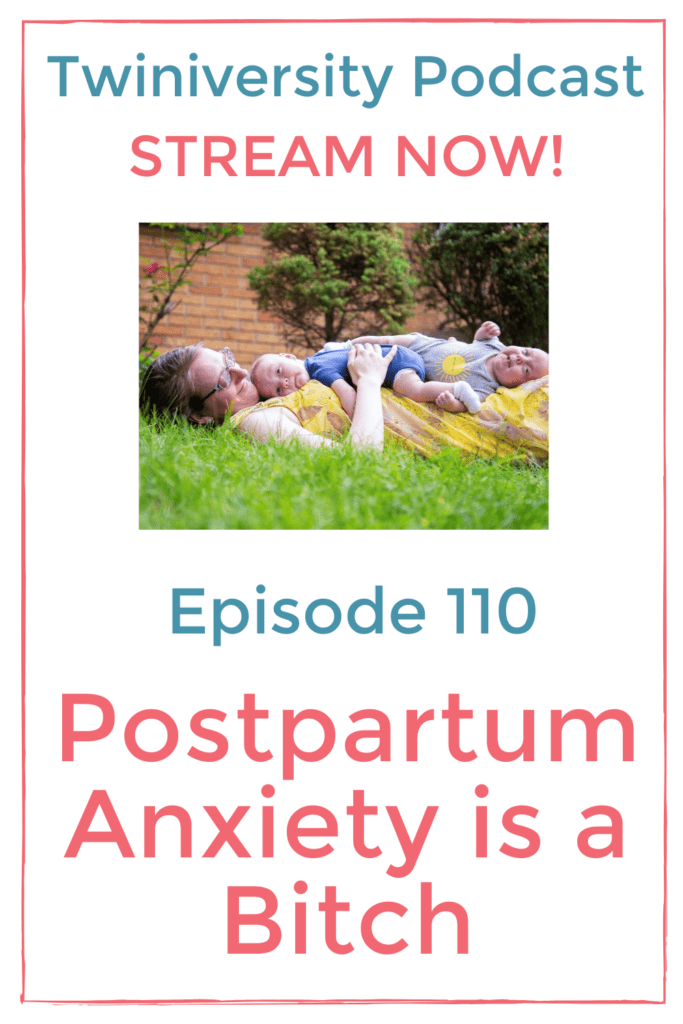 ---
Expecting twins or know someone who is? Don't miss out on our LIVE Online Expecting Twins Class
Contact Us
EMAIL community@Twiniversity.com
VISIT Twiniversity.com for tons of free twin tips!
FOLLOW us on Facebook, Instagram, Pinterest, YouTube, and Twitter.
SUBSCRIBE to our email newsletter!
Sign up for our mentorship program (whether you NEED a mentor or want to BE a mentor!)