Last updated on December 21st, 2021 at 02:22 pm
Pregnant and looking for some physical relief? We've got you, girl. Read below to learn the benefits of daily pregnancy stretches and our top videos to learn some safe stretches most pregnant women can start doing today to prevent just a little bit of pain during pregnancy.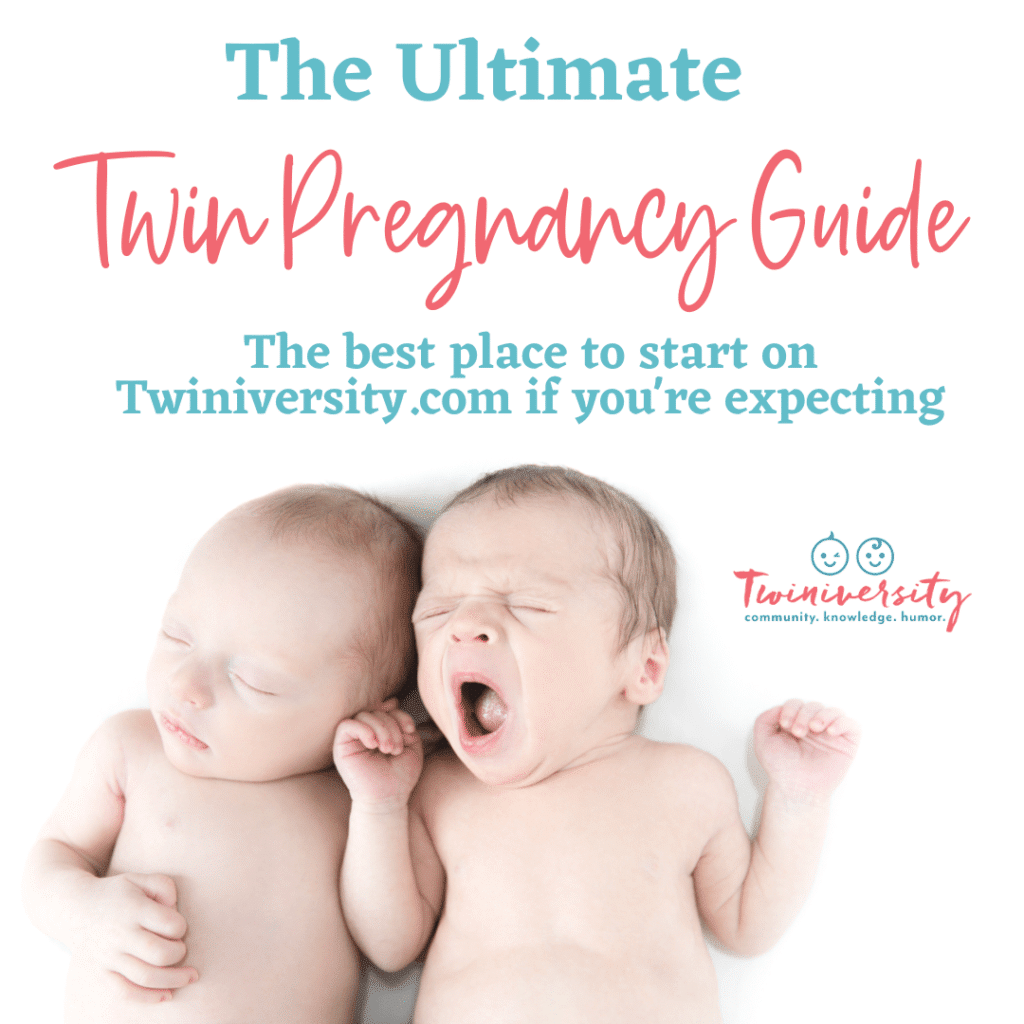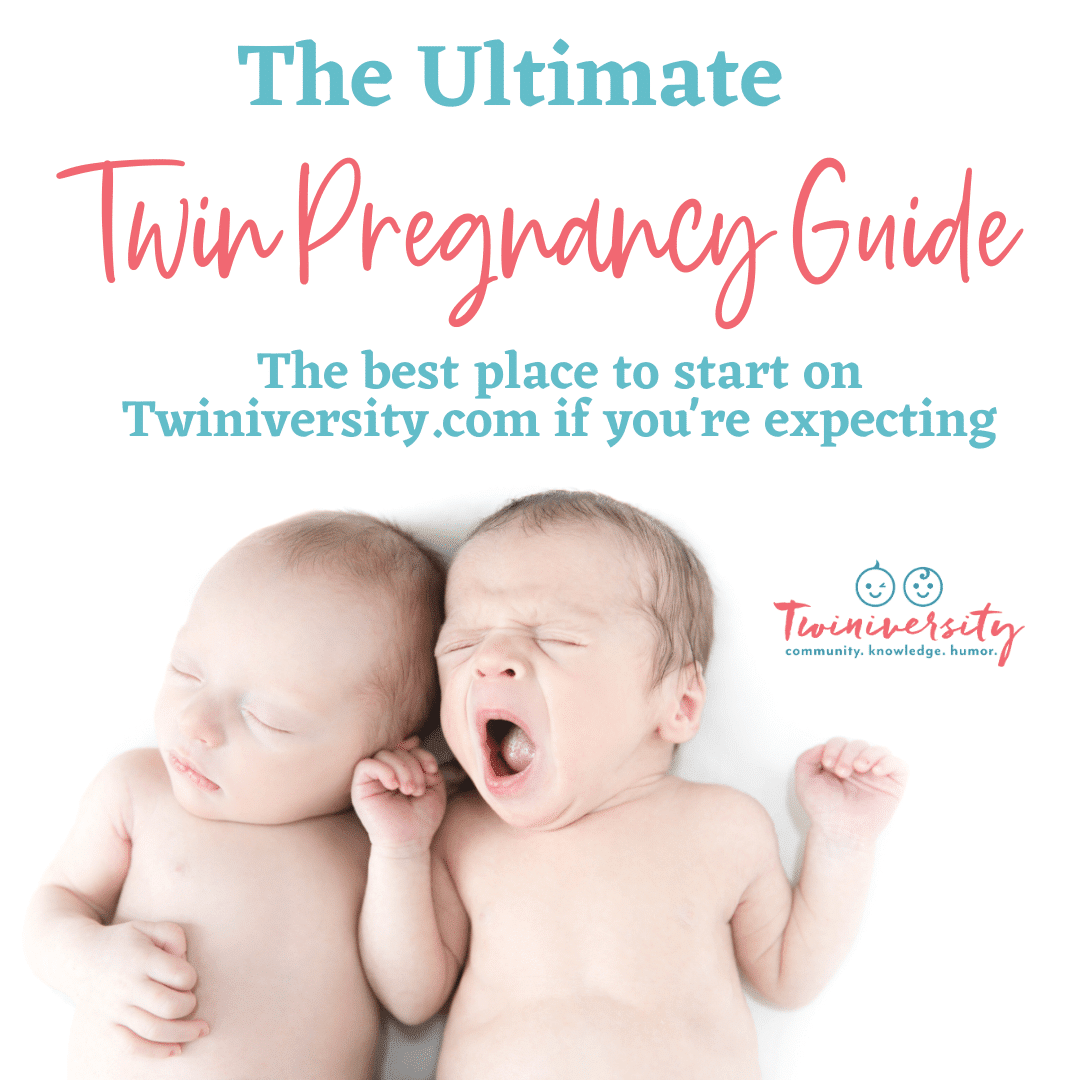 Pregnant with twins and not sure where to start? Visit the Ultimate Twin Pregnancy Guide to find all the top articles and resources to get you ready for twins. While you're at it, check out our expecting twin classes and Twiniversity shop!
The benefits of pregnancy stretches
Keeping a daily pregnancy stretch routine offers so many amazing benefits! Stretching during pregnancy may help relieve:
insomnia
restless leg syndrome
sciatica
If it's early in your pregnancy and you don't already have aches and pains, start a daily pregnancy stretch routine to keep your body limber and your muscles loose.
If you're already feeling those pregnancy aches and pains, get started with some pregnancy-safe stretches today to help ease body soreness and stiffness. Just 5 minutes a day can really make a difference in the long run when it comes to pain during pregnancy!
But be careful not to overdo it. If the stretch starts to hurt, ease off. During pregnancy, you produce a hormone called relaxin, which loosens ligaments in the pelvis to make delivery easier. However, relaxin affects all your ligaments! This will make you more flexible from head to toe, which can lead to injuries if you overstretch.
For pregnant women, stretching is also a great way to clear your head, focus on only you for a few minutes a day, and prepare your mind and body for delivery day.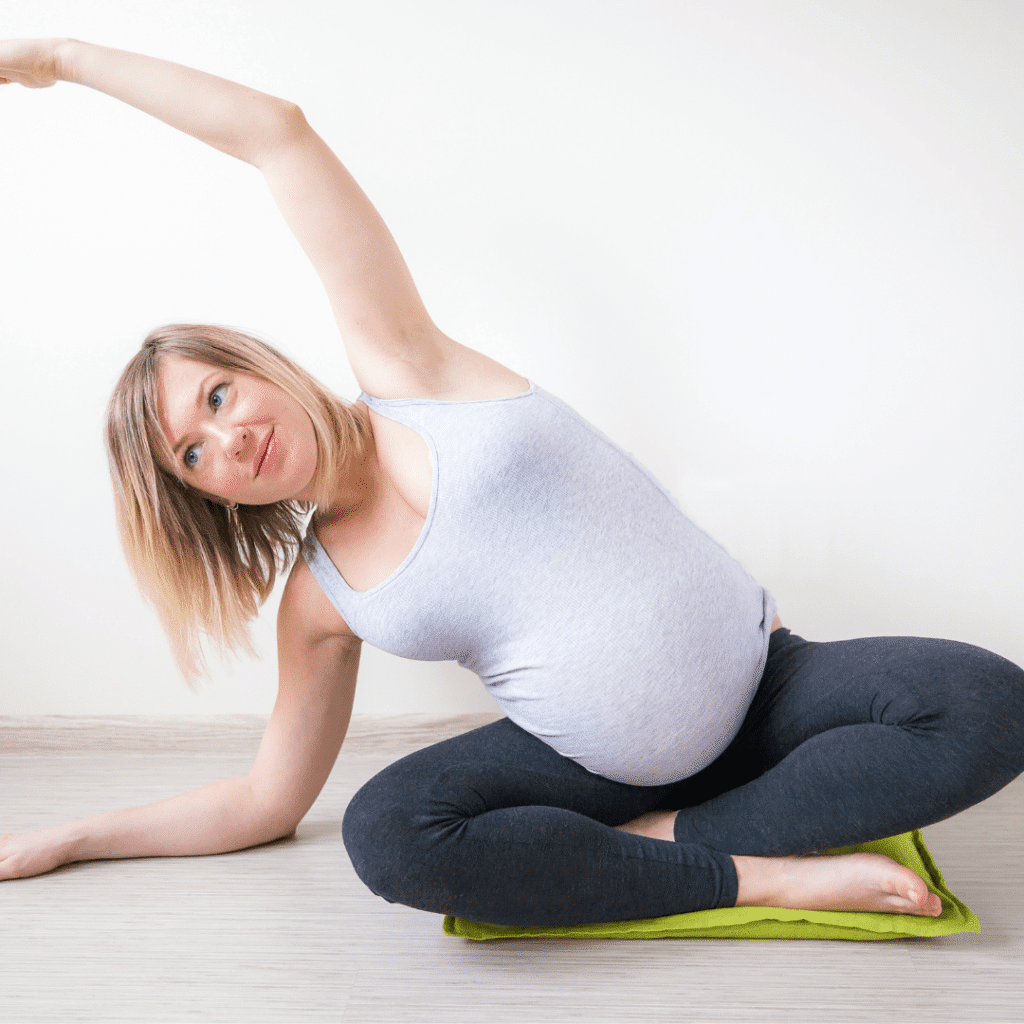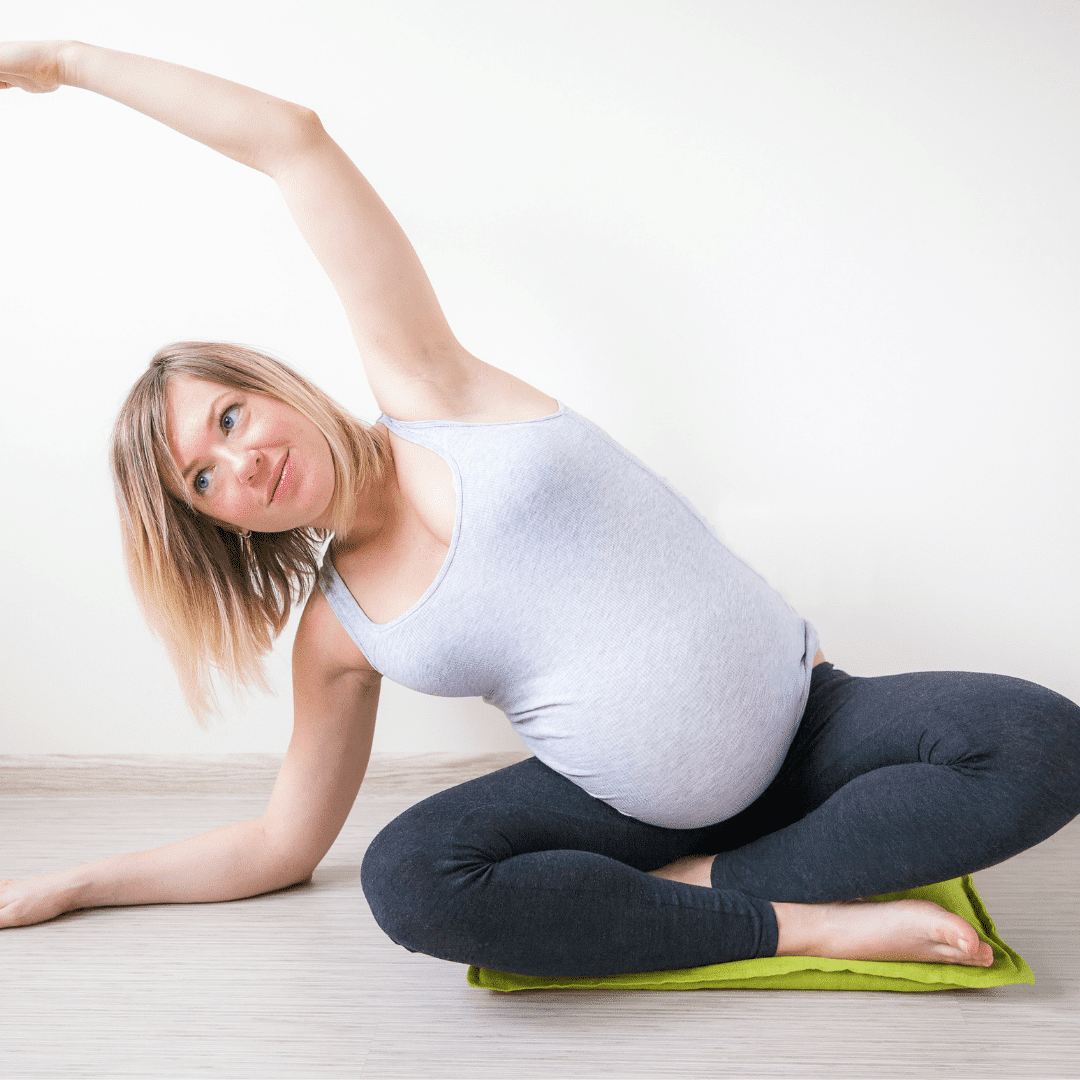 A note from a physical therapist (and twin mom!) about pregnancy stretches
Stretching throughout your pregnancy is essential to help you stay comfortable and mobile, particularly towards the end! Especially for twin moms, who undergo more significant body changes to make room for our "bonus baby", stretching early on will allow your body to make those changes more fluidly and help keep you out of pain. Think about it: your muscles, organs, and pelvis are literally shifting to make more space for not just one baby but two! You can help ease the transition by keeping your body loose and limber. This is critically important for women who sit for long periods of time throughout the day (think working at a computer or driving a long commute) and are more prone to getting tight or stiff. I love to give my pregnant patients stretches for their legs, back, and neck (which will also help you get ready for breastfeeding if you choose to do so.) Chest stretches are also wonderful to help improve your posture when your breasts get larger towards the end of pregnancy.

Tiffany Zarcone, PT, DPT, and twin mom!
---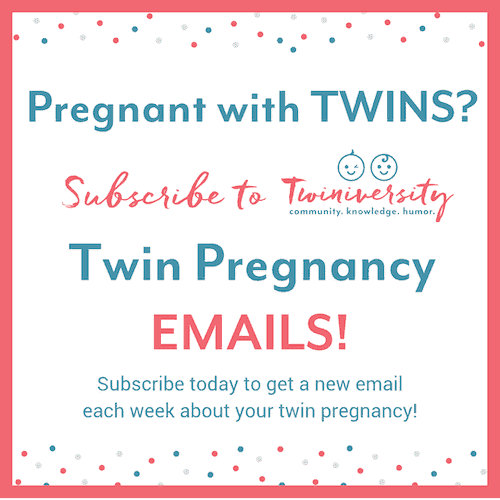 Want to get weekly emails about your twin pregnancy? Sign up for the Twiniversity email list! Subscribe today to get emails about giveaways, events, weekly article roundups, and more! We'll be sending you a weekly twin pregnancy email to keep you on track with your pregnancy to-do list! Click here to learn more… and while you're at it, check out our expecting twins classes and personal twin parent coaching services.
Preparing for pregnancy stretching
Use a yoga mat. If you're stretching on hardwood or tile floors, a yoga mat is a must for comfort. But even if you're stretching on carpet or a rug, a yoga mat will keep your feet from slipping from your starting position and taking a nasty spill. Remember that your center of gravity is a bit off nowadays.
Have a full water bottle handy. If you feel lightheaded during your stretches, take a break and have some water, then try again when you're ready. Also, make sure to hydrate after stretching.
Plan to hold your stretches for 20 to 30 seconds, or whatever feels comfortable, and move slowly to avoid injury. Avoid bouncing while stretching, as it can result in a pulled muscle. To avoid any potential problems, try not to go deeper into stretches than you could before pregnancy. If you're a beginner, "gently and slowly" is the name of the game.
Be sure to get your doctor's approval before practicing prenatal stretches or prenatal yoga. Certain pregnancy complications might make exercise dangerous.
What time of day should I stretch?
Stretching first thing in the morning can relieve any tension or pain from a night of sleep. It also helps increase your blood flow and prepares your body for the day ahead. Stretching before bed relaxes your muscles and helps prevent you from waking up with more pain.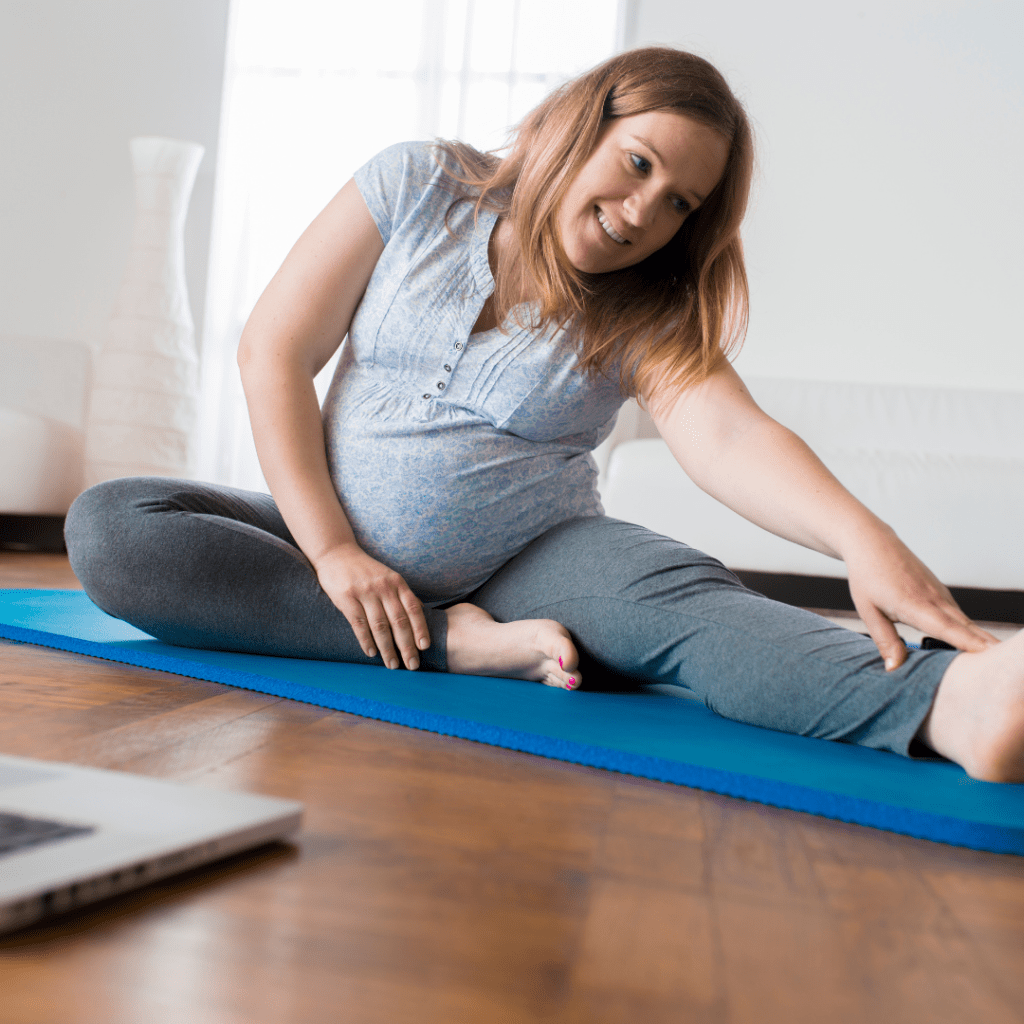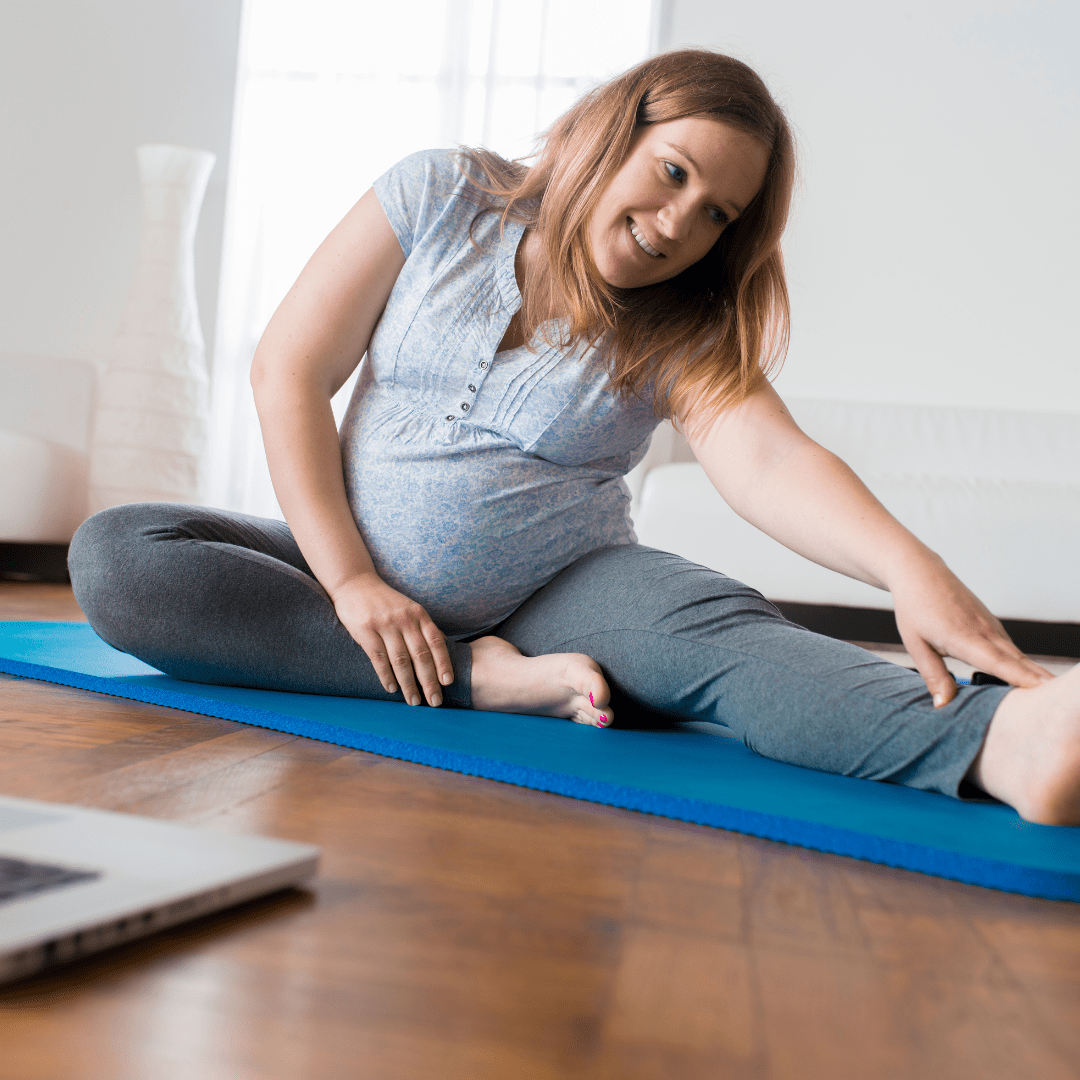 Can stretching while pregnant hurt the baby?
Yes, certain stretches and positions that cut off blood flow to the uterus can be dangerous for your babies. Avoid lying flat on your back for long periods of time after the first trimester. This can result in the cutting off of blood flow to the uterus, and cause lightheadedness and low blood pressure. In addition, avoid stretches during pregnancy that involve deep backbends or other contortions. Talk to your doctor for more specifics on what stretches and body positions they want you to avoid during pregnancy.
All content on this Website, including medical opinion and any other health-related information, is for informational purposes only and should not be considered to be a specific diagnosis or treatment plan for any individual situation. Use of this site and the information contained herein does not create a doctor-patient relationship. Always seek the direct advice of your own doctor in connection with any questions or issues you may have regarding your own health or the health of others.
Who should NOT exercise during pregnancy?
If you have an underlying health condition such as asthma or heart disease, your doctor may advise against exercise, including strenuous pregnancy stretches. So, be sure to check with your obstetrician before you begin any routine.
Here are just a few reasons your provider might tell you to avoid pregnancy stretches and other exercises:
You have experienced bleeding or spotting
You have a low lying placenta
You're at a high risk for miscarriage or pre-term labor
Certain underlying health conditions that make you rpregnancy high risk
Top Pregnancy Stretches Videos on YouTube
Get started on your new prenatal stretches with this list of YouTube pregnancy stretch videos:
The Best Cradle offers fully adjustable Orthotic Support for Abdominal and Back Straining. Also eases pain from Hip Separation and Pubic Symphysis. The Best Cradle was originally designed for moms having multiples because their tummies grow so much more and they found MoMs would often outgrow their first Prenatal Cradle. By freeing the arms and promoting proper circulation to the lower extremities, the undergarment also allows many mothers to remain active through the third trimester.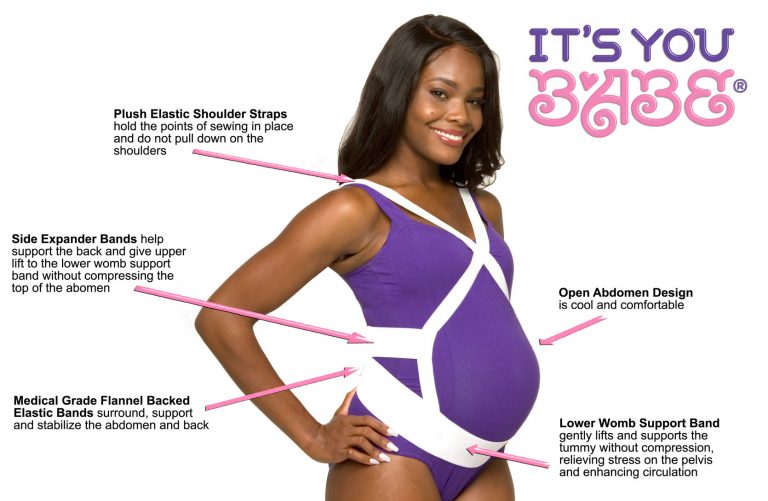 With hook and eye expanders the Best Cradle is perfect for twins & triplets
Gently improves posture while easing back discomfort
Soft, flexible and comfortable elastics lay flat for no bulk under clothing
Open abdomen is cool and comfortable
Hook & eye closures offer soft, flexible, secure fit
Adjustable non-shoulder bearing straps allow for a perfect fit
The Best Cradle offers fully adjustable Orthotic Support for Abdominal and Back Straining. Also eases pain from Hip Separation and Pubic Symphysis.
Discreetly provides gentle relief from an increasing weight-bearing load by surrounding the abdomen with an ergonomic lift to improve posture and continue an active lifestyle.
Promotes circulation and reduces swelling of lower extremities – safe to sleep in for both mother and baby.
Latex-free with flannel backing, adjustable with bra slides, and hook & eye adjustments provide 24-hour comfort.
Doctors, midwives, and physical therapists recommend the Best Cradle for mild to high-risk issues and discomforts for single and multiple pregnancies leading up to childbirth.
Click here to buy now on Amazon
Latest Posts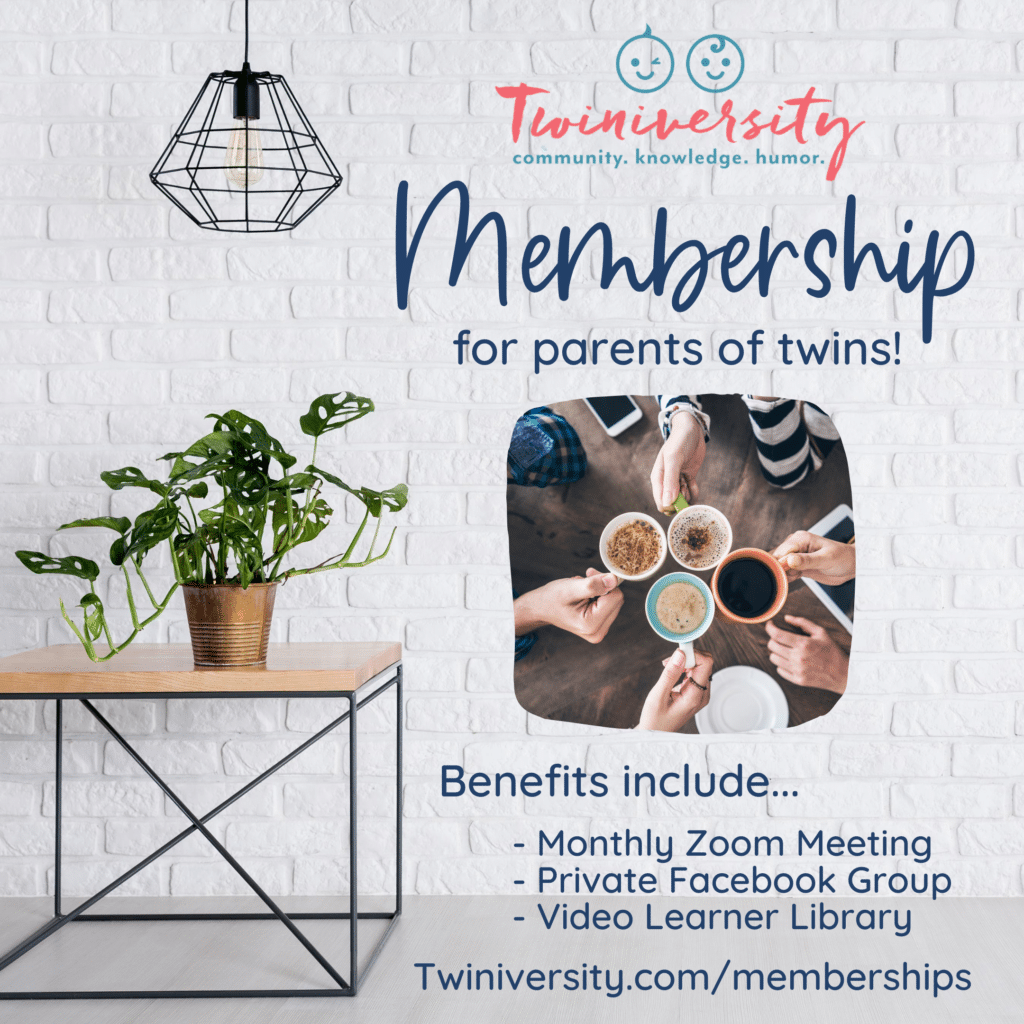 Need some twin parent friends? Get the support you need with a Twiniversity Membership. Benefits include a monthly twin parent club meeting on Zoom, access to a private Facebook group just for twin parents, and a video library of twin parenting lessons. Visit Twiniversity.com/membership to join today!