"Let's go on a cruise," I said to my husband as I surfed the internet after my twins had gone to sleep. This was a dream we had been talking about for years, but now that the girls were 5 years old, we felt more confident taking this type of trip.
We landed on the most magical cruise I could think of – The Disney Cruise! But, what is even better than the Disney Cruise? The Very Merrytime Christmas Disney Cruise, of course.
After we made that decision, we had to figure out which cruise met our family's needs. Because this was going to be the first time any of us had cruised, we started looking at 5-night cruises. Then, we looked for specific islands we wanted to visit. Last, but not least, we looked at pricing. To our surprise, there was a Disney Cruise leaving out of San Juan, Puerto Rico for 5-nights. The itinerary included St. Kitts, Tortola in the British Virgin Islands, and Disney Castaway Cay in the Bahamas. Those are not your typical stops, so we found this to be exciting as well. As luck would have it, there was a Florida resident discount available for this cruise. Go us! Everything seemed to be falling into place.
We booked the cruise … and then Hurricane Irma swept through the area. After that, Hurricane Maria swept through the area. Now Puerto Rico was in major trouble and Tortola was pretty much destroyed. Would our Disney Cruise dreams be crushed? Not if Disney could help it!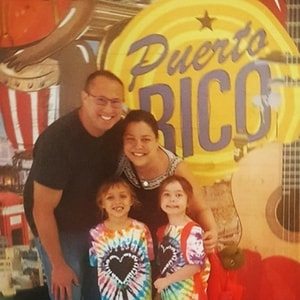 Over the next few months, we watched the news and searched for updates on the website. As time got closer, we were told that the ship would not be stopping at Tortola because of the devastation, but that the cruise would be leaving from Puerto Rico. The airline assured us that it was sending about 80% of the scheduled flights to Puerto Rico and that things were improving at the airport. The Disney travel agent also mentioned that by moving forward with our plan, we were helping to support tourism in an area that really needed our support. Thinking about it that way made me feel more secure in our decision to move forward with our plan.
Next step, packing. It was at that point that I realized why most Floridians thought we were crazy to choose a cruise that required us to fly there instead of just driving to the port. Here are some tips for flight travel:
– Check the TSA website – you will need to know and follow the rules for liquids you can bring, documents you will need, and the like.
– Minimize how many bags you bring – our five year old twins shared a suitcase, my husband and I shared a suitcase, we had two rolling carry-ons, and all four of us carried a backpack. Not only will this help you with your air travel, but it will mean less bags for you to deal with on the ship.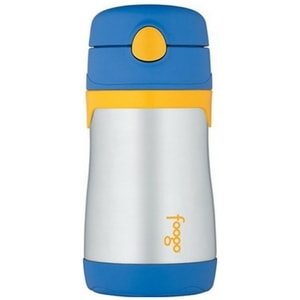 – Be organized – it is helpful to know exactly where you packed everything, so if you need to find something it is not difficult. A carry-on should include: an extra set of clothes, a bathing suit each, toiletries, medicines, snacks. We also packed an empty thermos bottle for each person and filled them with bottled water after we went through TSA at the airport. That way, each person had water to drink during our time in the terminal and during the flight because you never know how long it will take to get beverage service, and using thermos bottles kept the water colder longer.
– Bring activities – coloring books, crayons in baggies, travel size magna doodles are our go to items for keeping the twins busy on an airplane. In addition, each child had a tablet with movies we downloaded at home on our WiFi using Netflix. If your children normally use headphones that have restricted volume for kids, then you may need to bring different headphones, so that they can hear the videos over the noise of the jet engines. Your local dollar store or Five Below are great places to pick up a few pairs.
Once we arrived at the ship, we could grab lunch and explore before our cabins were available. Because we were organized, we had a change of clothes in our backpacks, toiletries to freshen up, and bathing suits for the twins to swim. We could refill our thermos bottles at the 24-hour drink station as well.
We chose an inside cabin because we did not want a window that would let in sunlight and wake the twins up early. We also were nervous about having a balcony because we had never been on a cruise before. My parents made the journey with us and had a veranda room with a balcony so we could check it out. We loved it! It was totally safe, and if we do this again, we would opt for that kind of cabin, if it was in our budget.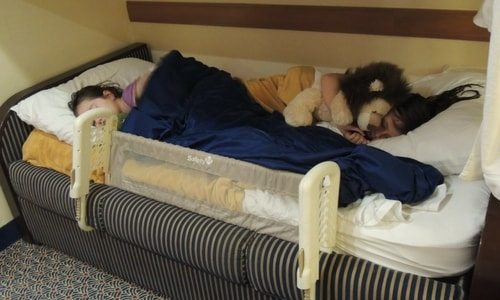 Within our cabin, there was a queen-size bed for me and my husband and bunk beds for the twins. I am a worrier, so I asked to only have the couch turned into a twin bed, so my twins could sleep in it together. My worry stems from the fact that my twins still need bedrails or they roll out of bed. Luckily, at five years old, they could comfortably fit in it together, with their heads at opposite ends. You can also request a bed rail, which will be set up for you at turndown service time.
Here are some additional tips:
Apparel – It is a Disney Cruise, so we brought various Disney t-shirts with us to wear each day. We also brought two princess dresses for the twins, so that they could dress up at dinner time. Our family had a set of matching t-shirts, which we should have worn when we got on the ship because they take a group photo as you board – note to self for next time!
On Board Boutique – There is a salon where children can go and have their hair done so they look like princesses. At five years old, my twins are still nervous about salons and having someone do their hair other than me, so I brought their own "hair donuts" and pins to make what we call "princess hair", aka a bun. This was also a way to save money because the salon is very expensive.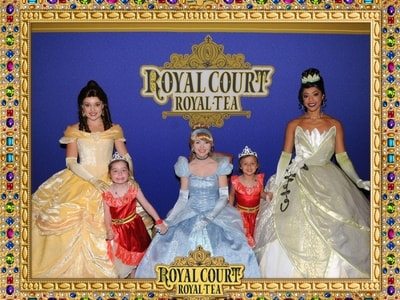 Princess Tea Party – Because we saved money on not going to the salon, we took that money and put it towards attending the Princess Tea Party. This was a pricey event, but I would highly recommend it! The tea party included a "show-like" atmosphere filled with singing and dancing while the princesses went to each table to meet and greet the children. In addition, each child was given a crown, a Cinderella doll, a jewelry box, a charm bracelet and charm necklace, and an autograph book and pen for the princesses to sign. Of course, there was tea (juice for the children) and treats such as cupcakes and mini sandwiches. The day after the tea party, we had a delivery at our cabin that included a photograph of the twins with the princesses from the tea party. The photograph was in a beautiful, framed book. Such a wonderful keepsake.
Carry your camera everywhere – Seriously! There are characters all over the ship for meet and greets, but also just walking the halls. They will stop and take a photo, and I wanted to use something better than my cell phone camera.
Use the App – There is a Disney Cruise App that you should download before you get on the ship so that you can follow the schedule every day. Use the app to easily find the meet and greet lines so your children do not miss these fun opportunities.
Buy the Photo Package ahead of time – We love photos! So if you love photos like us, and plan to participate in as many meet and greets as possible, you can prepay for the package that includes every photo taken by a Disney photographer. On the last night, you will go to the photo spot on the ship and pick up a USB drive with all of your photos. This takes away a little of the stress of taking photos because you know someone else has a real camera and will be capturing these special moments in high quality, so that you can fully enjoy them.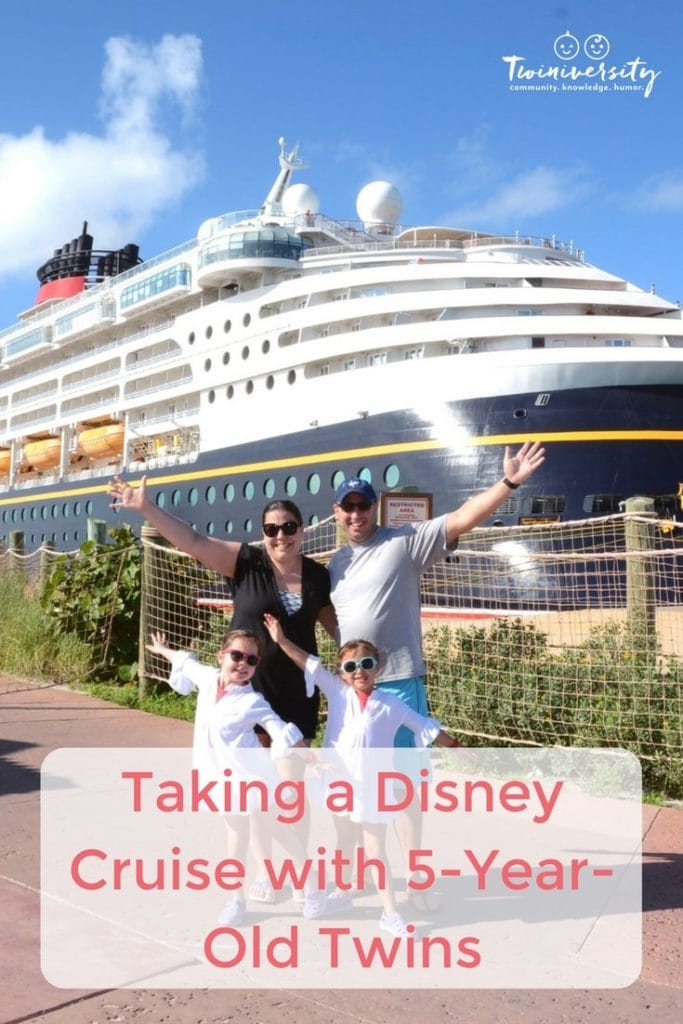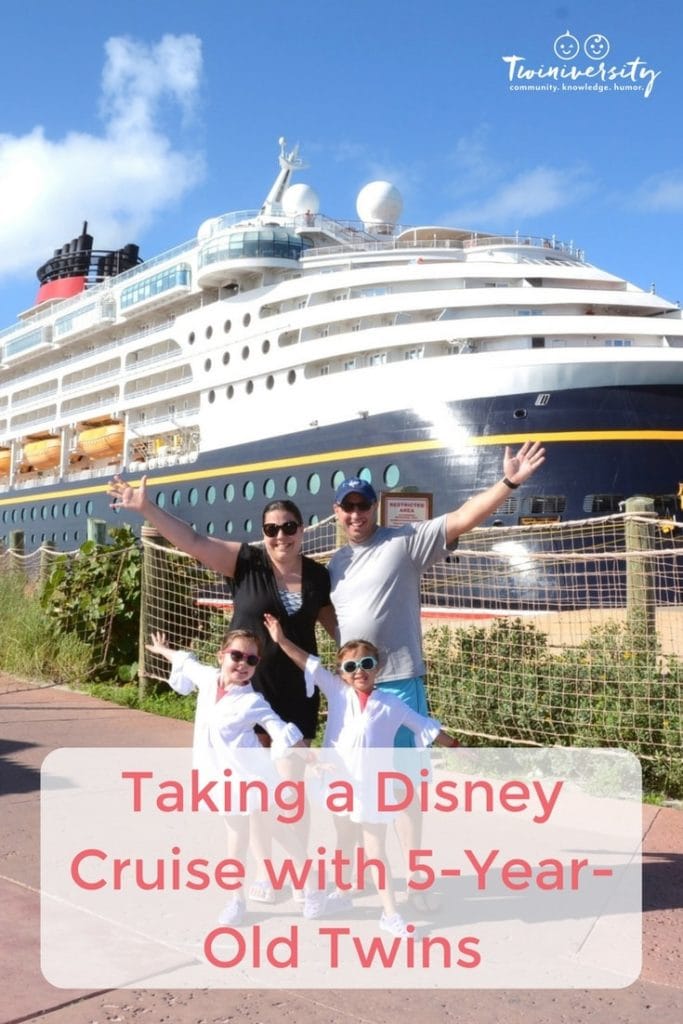 Navigating a new schedule with your multiples who may get tired – We chose the first dinner seating at 5:45pm, which meant that we would see the late show at 8:30pm. When I say show, I mean like a Broadway production show. They are amazing! Because this meant we would be having a late night every night, we did bath time prior to dinner each night so that our twins could just come back to the cabin, put on pajamas, and crash, which is what they did.
There are so many things I could say about this Disney Cruise experience. This was the most amazing vacation experience we have had with our twins thus far! Five was a great age to do it. They were mature enough to understand the safety aspects of being on a boat and the importance of listening to instructions. And they were young enough to still be in awe of the magic of Disney. We, as parents, were confident enough that we could manage them in a new, different environment that we ourselves had never experienced. The moral of the story is, if you want to do something like this with your family, then just do it! There will be bumps in the road, and children will still have their moments, but life is about the journey and this journey was truly amazing.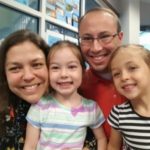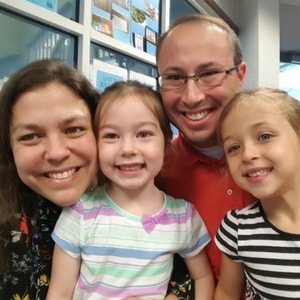 Amanda Foster is mom to 5 year old fraternal twin girls. After practicing law in New Jersey for many years, she and her husband moved to South Florida in 2010, so that she could transition from full-time attorney and adjunct law professor to full-time law professor at a law school in sunny Fort Lauderdale. Now she spends her time juggling her law students, twins, husband of 12 years, and Goldendoodle puppy while stealing moments away at the beach to recharge. She calls it sun therapy!
---
Related Articles
11 Must Have Supplies For A Road Trip With Twins