Looking for twin pregnancy belly bands? We've curated the list of the top 7 belly bands for twin pregnancy. Read on below to find out which ones you should get.
How do you relieve twin pregnancy back, hip, pelvis, and neck pain? As a twin mom, I'd say, "Don't get pregnant with twins." Of course, if you're here reading this post, you're likely already pregnant with twins. In that case, you may already be dealing with some back or hip pain. So don't worry, there's another option for relief: twin pregnancy belly bands.
What is a pregnancy belly band?
Occasionally called a pregnancy belt, or maternity support belt, a belly band is a compression band designed to provide belly support and relieve back pain.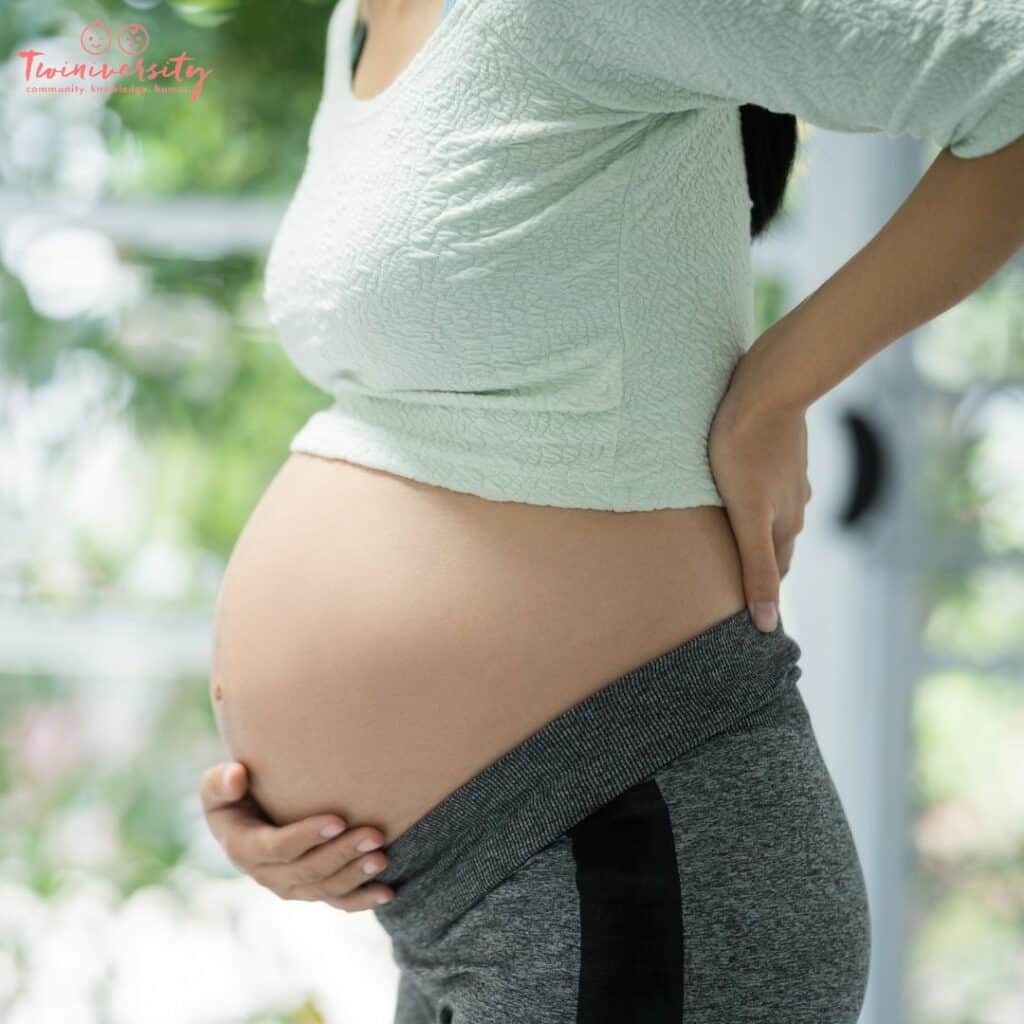 Why would you need a twin pregnancy belly band?
Lower back pain and pelvic pain are part of the pregnancy process, especially if you are carrying multiples. Moreover, as your babies grow, your body's center of gravity shifts to accommodate your growing belly.
Twin pregnancy belly bands help support your abdominal muscles, lower back, hips, and pelvic floor, helping alleviate aches and pains that come with it. Belly bands also improve circulation, by lifting the extra weight off of the blood vessels that flow to your lower extremities. This is especially helpful in the second and third trimesters, with reducing swelling and fatigue in your legs and feet.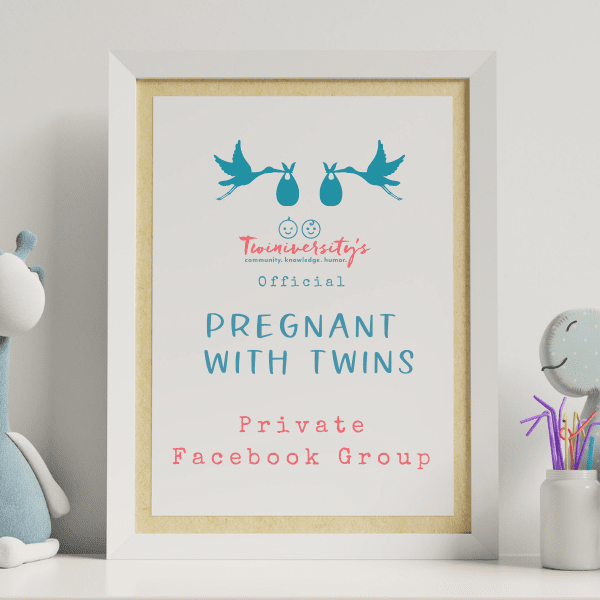 Did you know we have a FREE Facebook group just for expecting twin parents? Hurry and join today to find support from expecting twin mamas who get it!
A pregnancy support band will also help with your posture. For example, by supporting your lower back and torso, belly bands encourage correct posture. Maintaining good posture will also help your babies settle into an optimal position for birth, potentially helping to create a better birthing experience.
Can I go without a support band during my twin pregnancy?
There is no pregnancy rule saying that you must buy all the stuff. I opted out of buying a belly band during my twin pregnancy and luckily I worked behind a counter that was the perfect height to rest my twin bump on. So unless you have to-go support shelves or you are a mermaid (buoyancy takes the pressure off your baby bump and lower back too), I'd spring for the belly band.
Twin pregnancy belly bands help you get through the day
Rest is a great solution to your pregnancy aches and pains, however, few of us pregnant moms can press pause on our daily lives. Additionally, between running a household, older children to take care of, and work duties there is hardly any time for rest. Thankfully, wearing a pregnancy support band during daily movements will help to stabilize your core and reinforce your abdominal muscles and pelvic floor.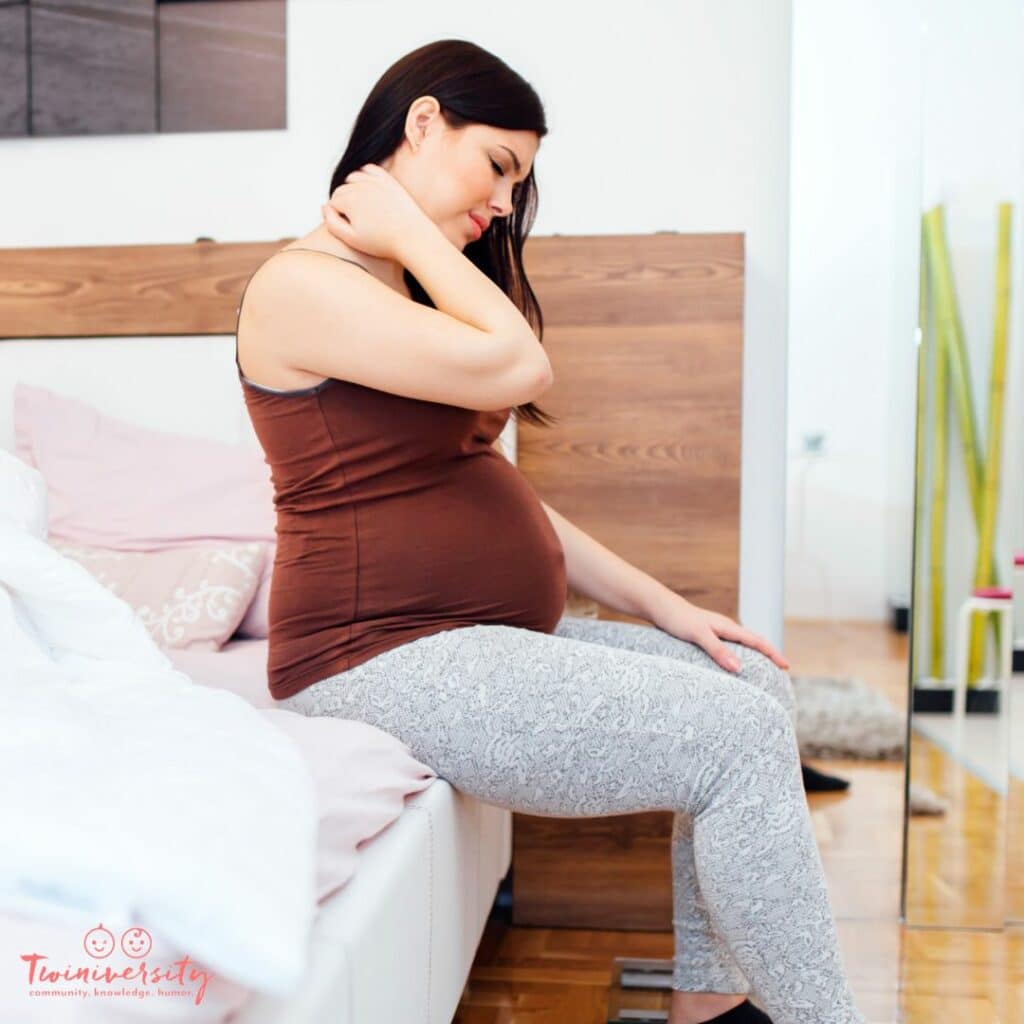 Maybe your OBGYN has suggested a twin pregnancy belly band to help ease some of your pregnancy aches and pains. Of course, you're probably wondering: which one is best for you? Therefore, you can follow these tips for choosing a twin pregnancy belly band:
What to look for in a Twin Pregnancy Belly Band
When choosing a pregnancy belly band, you want to consider the material it is made of, the quality, sizing, and of course the type of support of the belly band.
Material
A belly band is designed to ease pressure on your pelvis and back. Because of this, you want a thicker fabric for this. Thin fabric belly bands might work at first, but ultimately, they will lose their compress and shape quickly.
Quality of
Obviously, pregnancy belly bands are made to be put on and taken off frequently. Therefore, you want something with reinforced hooks and strong Velcro. Think strong and durable.
Sizing
Adjustable is the word you are looking for. It's important to realize that adjustable implies that the pregnancy belt fits a wide range of sizes and will continue to fit with your growing belly. Of course, if you feel pain in your stomach, excess pressure on your pelvic floor, or it's restricting your breathing, the support brace is too tight.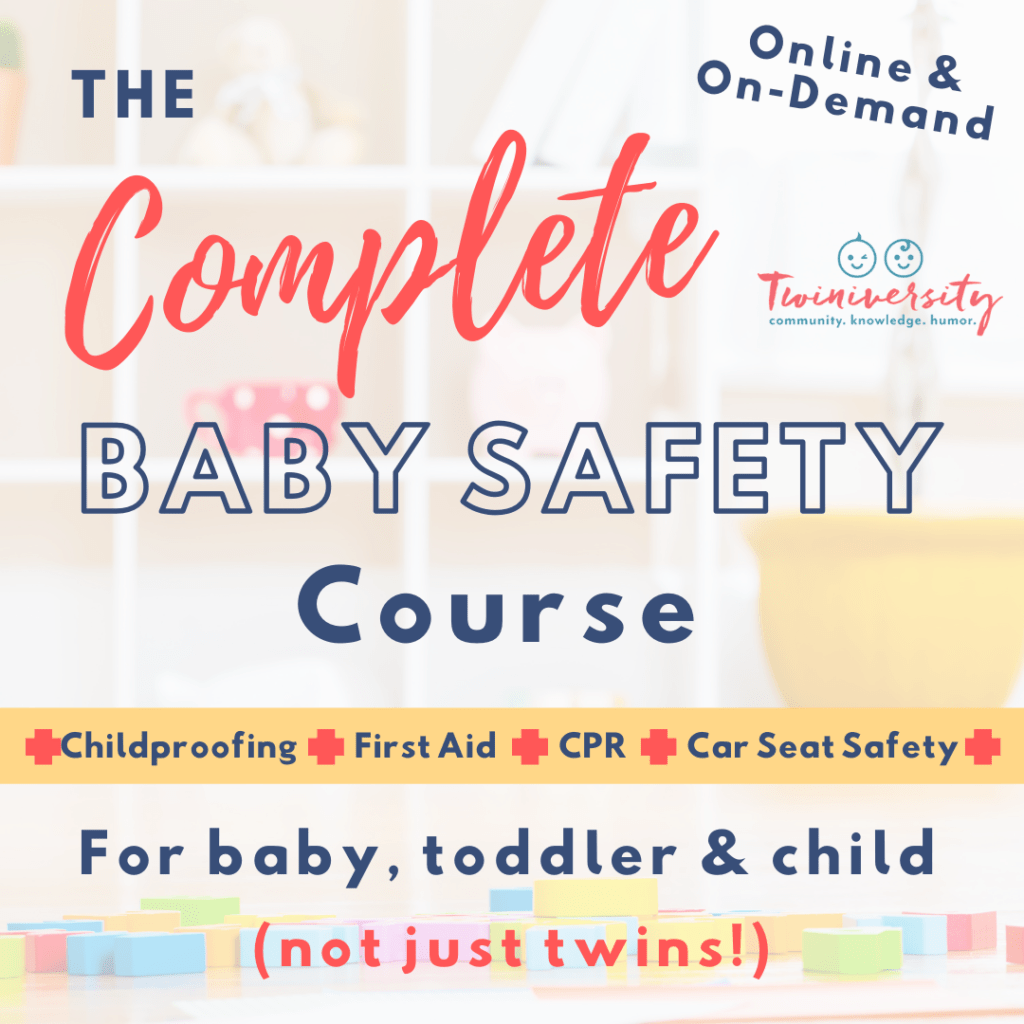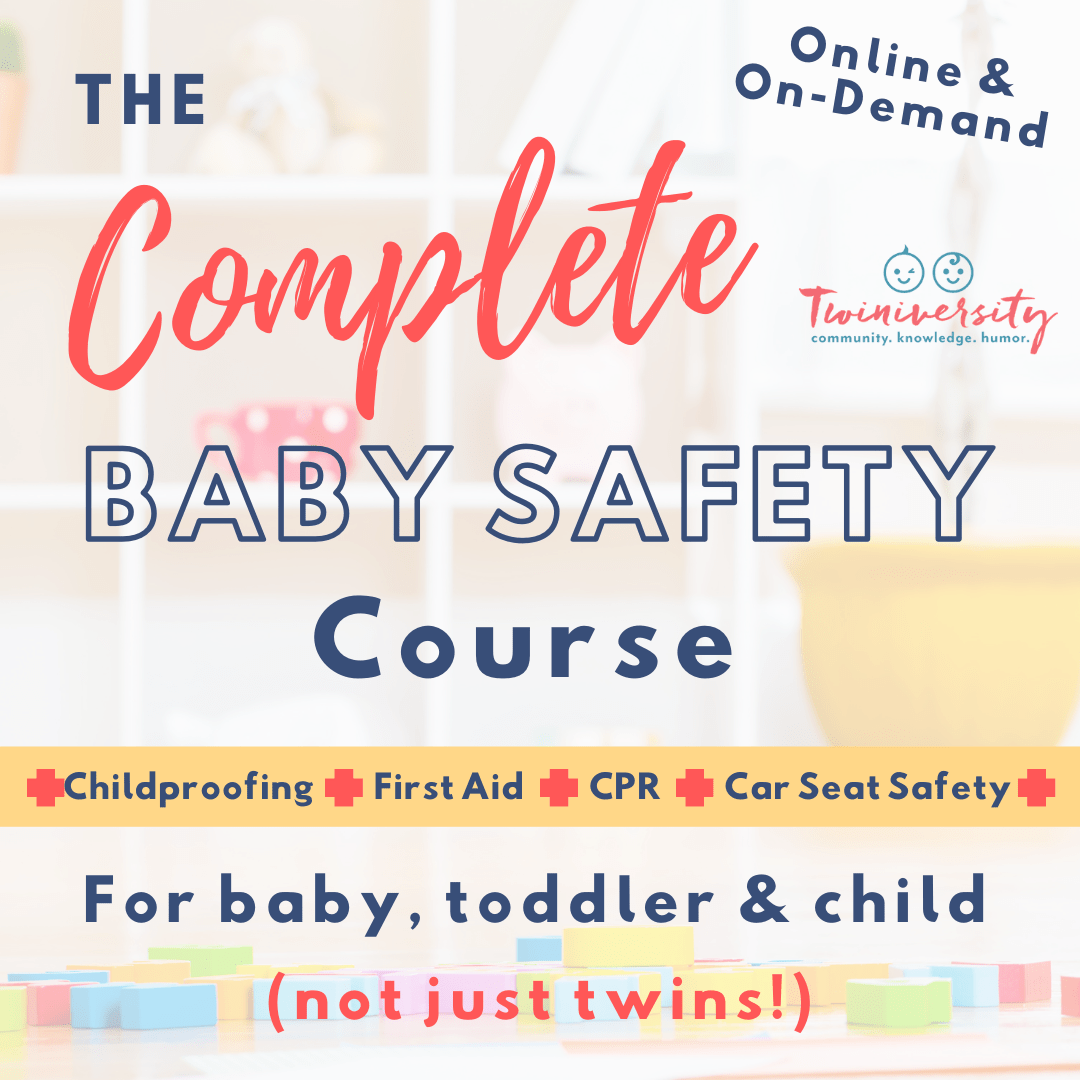 Need some baby safety training? Take the Twiniversity Complete Baby Safety course, offered on-demand. Includes video modules on infant, toddler, and child CPR, first aid, and common medical ailments, plus car seat installation and safety and childproofing your home. Click here to learn more!
Support
When you're trying to decide on which belly band will work best for you, think about where your pain is. For example, if your pain is mainly in your lower abdomen, a belly band that goes over your lower belly might be best. Additionally, if your pain is concentrated in your back, then a belly band with suspenders might work best.
Our list of the 7 best Twin Pregnancy Belly Bands:
Neotech Care Maternity Belt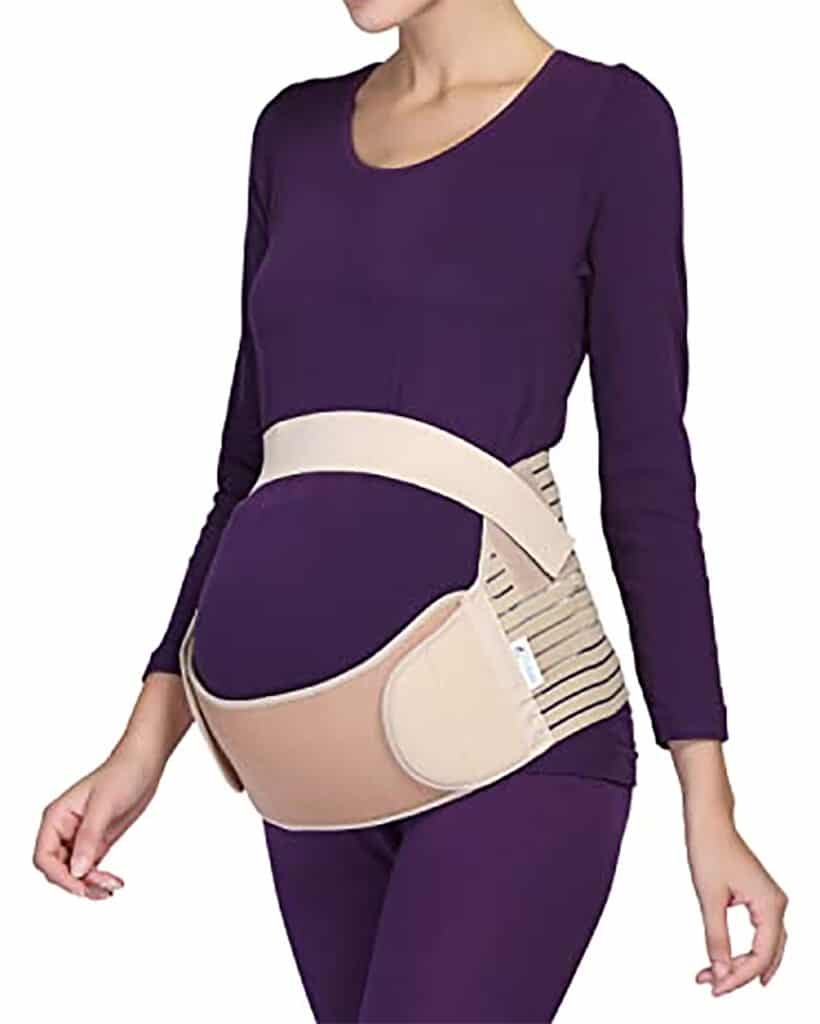 The NeoTech Care maternity belt is highly breathable, and comfortable and also provides the elasticity needed to hug your body's shape perfectly and give proper support for your lower back. Thankfully, this maternity belt wraps around your belly and waist, lessening the burden of pregnancy weight.
Pros:
Fully adjustable
Reinforced hooks and loops
Breathable fabric
Designed for walking or standing
Cons:
Must unhook when sitting
Runs small
Two strap system can be a pain
To purchase, click here
GABRIALLA MS-99 Twin Pregnancy Support Band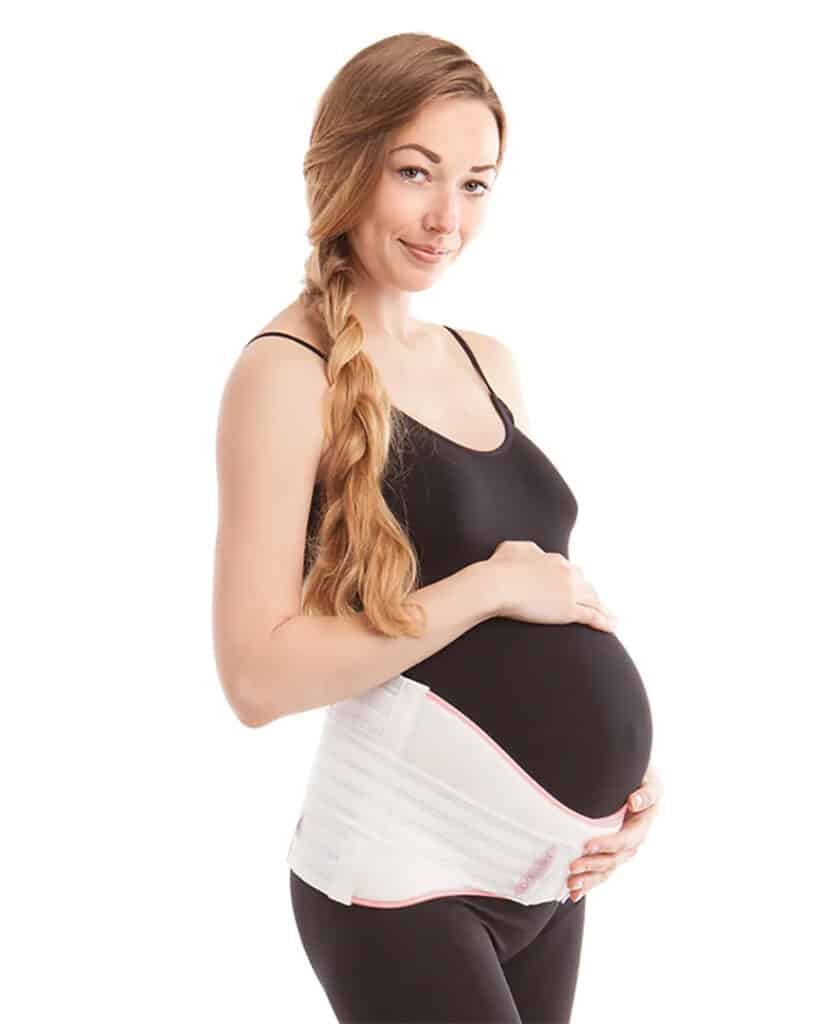 The GABRIALLA MS-99 Twins Maternity Support Belt is created for women pregnant with twins or multiples. To point out, this maternity belt helps provide expecting twin moms with the support they need to stay comfortable, healthy, and active throughout their entire pregnancy. This belly band gently cradles your growing bump, easing pressure on your back and pelvis, and gives extra support during usual daily activities, walking, running, and exercising.
Pros:
No tummy straps
Postpartum use for up to 1 month
Adjustable to Fit Your Body
Plus size compatible
Made in the USA
Cons:
Hot; Fabric is not breathable
Uncomfortable when sitting
Does not accommodate a short torso
Hand wash only
To purchase, click here
Belly Bandit Upsie Belly Band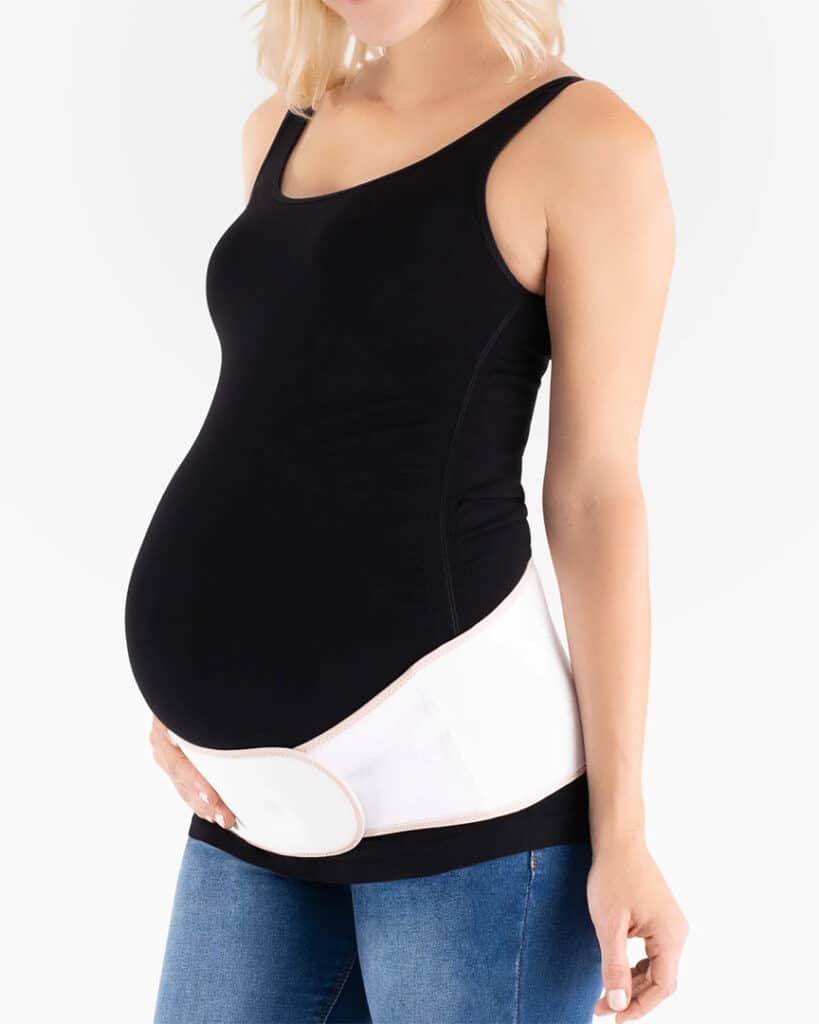 The Belly Bandit Upsie Belly Band is designed to provide extra support during pregnancy by gently lifting and redistributing the weight of your growing belly. This extra lift helps bring much-needed relief to aching back muscles, while the secure fit around your hips can reduce pelvic pain by limiting the mobility of your pelvic joints. It also includes a hot/cold gel pack to help soothe the strained muscles in your back.
Pros:
Rear Sleeve for hot/cold pack (included)
Adjustable
Luxurious soft
Made from soft viscose from bamboo
May be covered by insurance
Cons:
Hand wash only
Uncomfortable when sitting
Runs small
Expensive
To purchase, click here
Kindred Bravely Soothing Maternity Belly & Back Support Band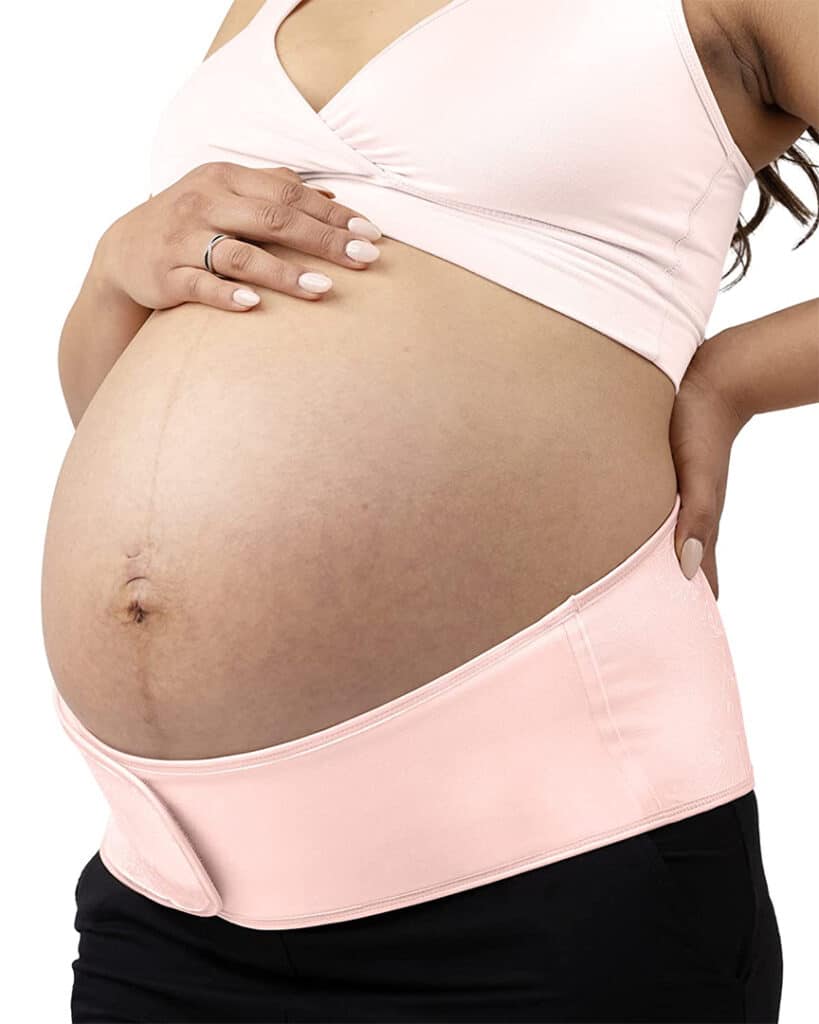 The Kindred Bravely Soothing Maternity Belly and Back Support Band redistributes weight to help relieve muscle strains. It's particularly good at soothing your lower back pain with cool or warm therapy from the built-in gel pack pocket. The Kindred Bravely Soothing belly band also features no-dig velcro and ultra soft fabric for extra comfort.
Pros:
Easy, Velcro closure
Back pocket for cool/warm gel pack (included)
Great for postpartum use too
Cons:
Hand wash only
Newly released
To purchase, click here
Frii Pregnancy Support Band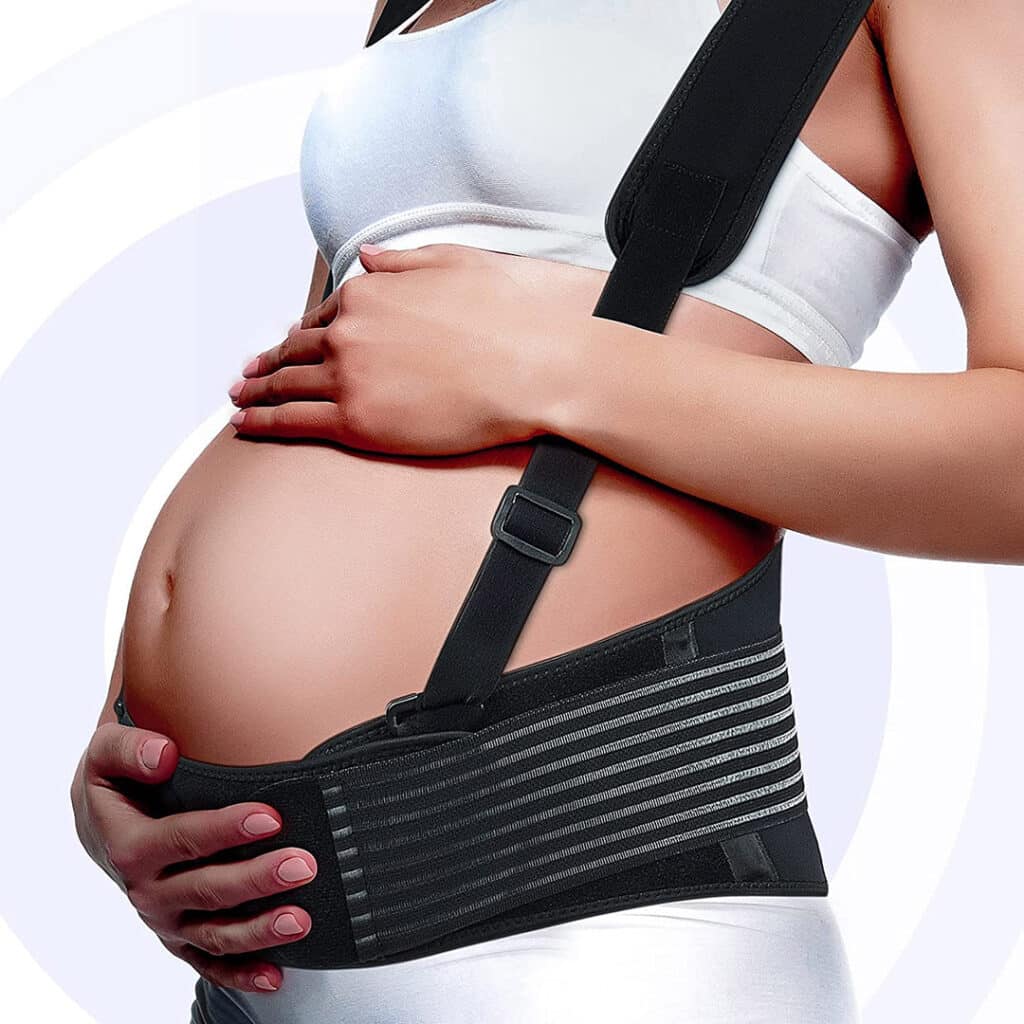 The Frii pregnancy belly support band gives you 360 full support to help you alleviate pregnancy pains. For instance, this support belt holds the abdomen from the bottom, with shoulder straps to share the weight of your growing bump.
Pros:
Back Brace design
Built-in support strips in the waist area
Made of a breathable mesh material
Adjustable Shoulder Strap
Cons:
Hand-wash only
Runs small
Velcro wears quickly
Not made for long torsos
To purchase, click here
It's You Babe Best Cradle Belly Band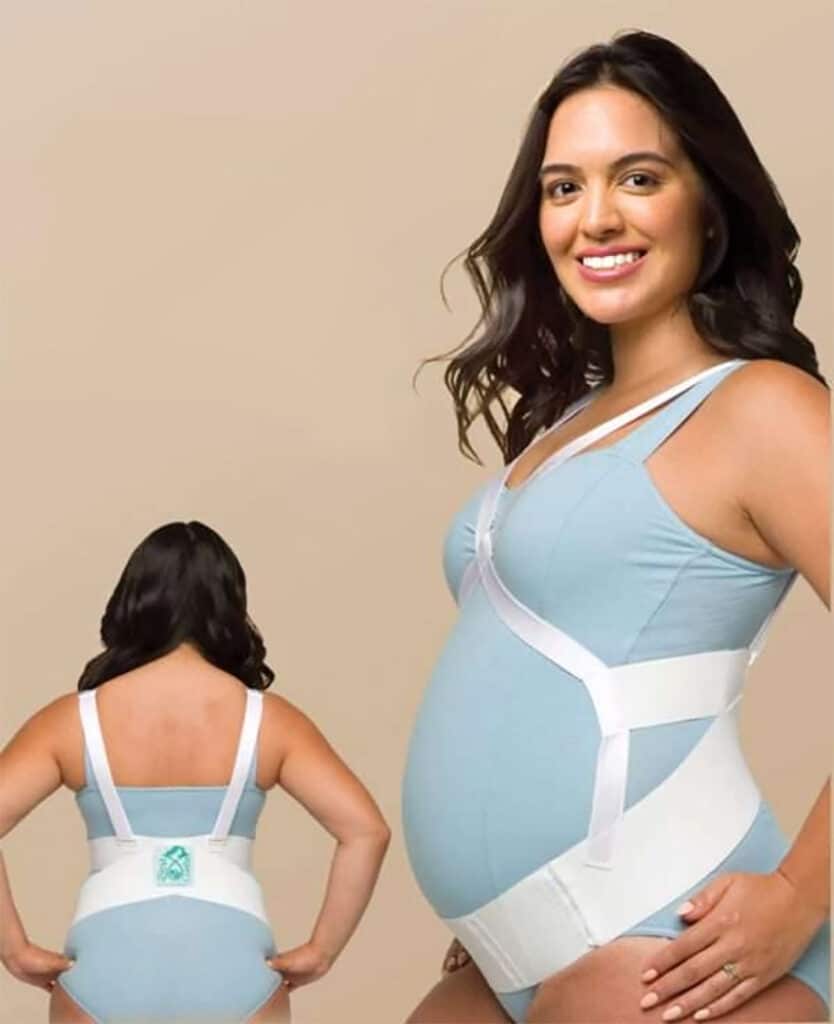 The It's You Babe Best Cradle baby belly band was designed by a medical professional for moms who want to be comfortable and supported during day-to-day activities. Most importantly, the belly band lifts and holds up the womb and pelvic region relieving pain in a natural way. The Best Cradle has adjustable shoulder straps & womb support allowing it to grow during all trimesters of pregnancy.
Pros:
Made in the USA
Best for twin pregnancies
Soft
True to size
Cons:
Not for short torsos
Thin belt and straps
Shoulder straps show through neckline/collar
To purchase, click here
Motif medical Pregnancy Back Brace Band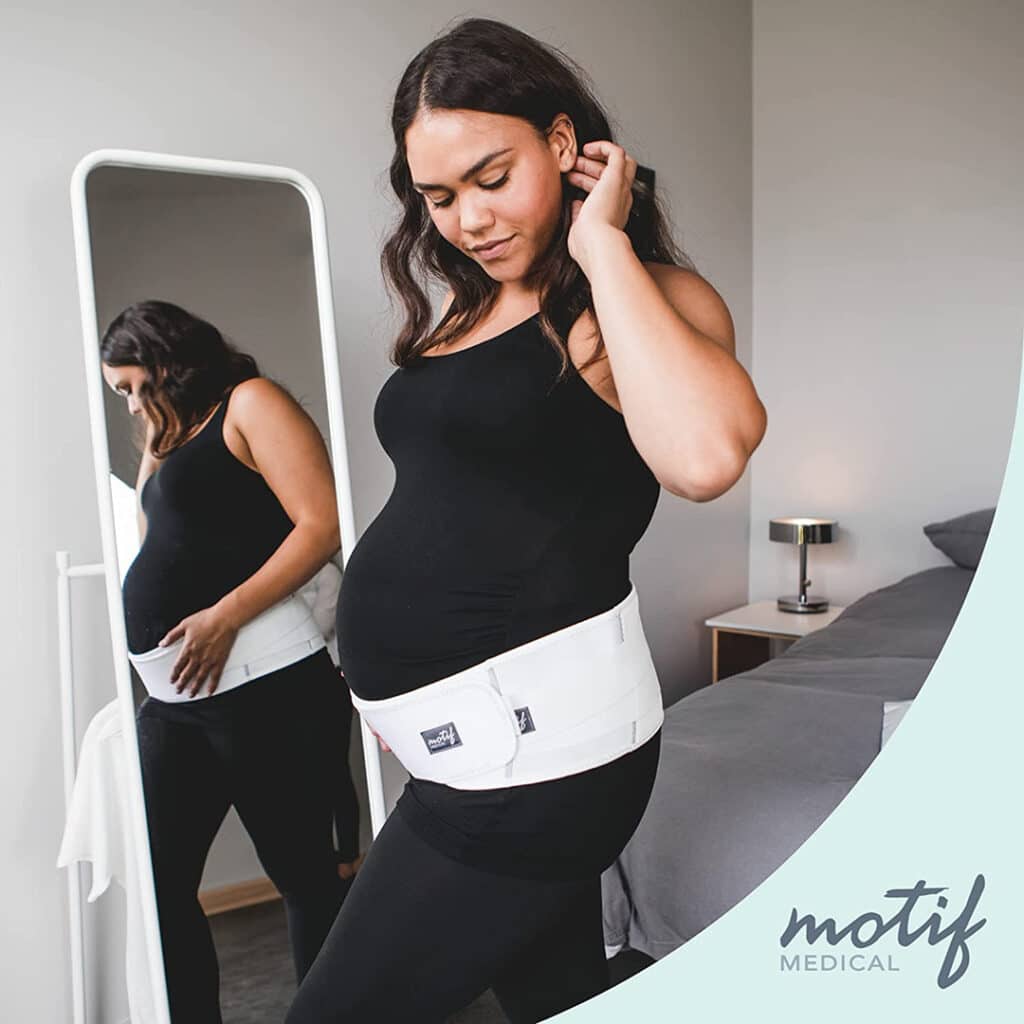 The Motif is built for a discreet fit and made with breathable fabric. This pregnancy support band redistributes the weight of a growing baby, providing incredible relief and comfort during everyday activities. This pregnancy back brace is recommended for use from three to nine months during pregnancy.
Pros:
Machine Washable
Made of soft, breathable fabric
May be covered by insurance
Easy to put on and take off
Adjustable tension straps
Cons:
Not very comfortable to wear while sitting
Not suitable for postpartum use
To purchase, click here
Final thoughts on twin pregnancy belly bands
Twin pregnancy belly bands can help minimize the aches that come with pregnancy, especially a multiples pregnancy. For example, think of a pregnancy belly band as suspenders for your baby bump. By lifting and redistributing the weight of the baby, twin pregnancy belly bands have shown to reduce pain more effectively than other options. In addition to exercises, gentle massage, and stretching, maternity compression is a safe, all-natural way to relieve pain during pregnancy. So next time your back is aching or you find yourself using the checkout counter to rest your growing bump, consider getting yourself a pregnancy belly band.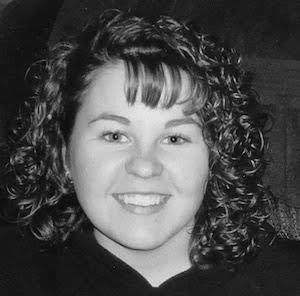 Latest Twiniversity Articles