Curious to know how your own pregnant with twins belly stacks up? Plus, let Twiniversity give you the top tips to help you get comfortable today.
Many women wonder about their own pregnant with twins belly. Is it big enough for two? Is it too big for two? There seems to be no real right or wrong answer. Every woman is different and every pregnancy is different.
Are you looking for twin parenting content on the go? We have TWO podcasts that are completely FREE to download. Check them out here!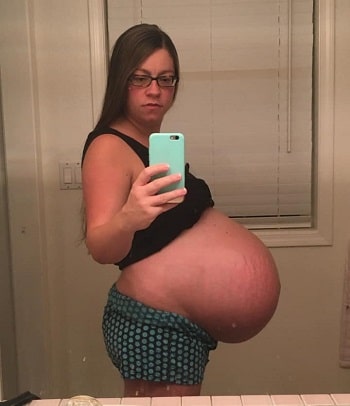 What are my chances of being pregnant with twins?
If you just found out you are pregnant and you're not sure if you have just one little babe or two in there, you might be wondering what your odds are. It has been estimated that twins account for about 1 in 250 births.
It's important to keep in mind that this is merely an estimate and things like genetics, age, and fertility can increase or decrease these chances.
Are you planning to breastfeed your twins? You have to check out our breastfeeding twins class here!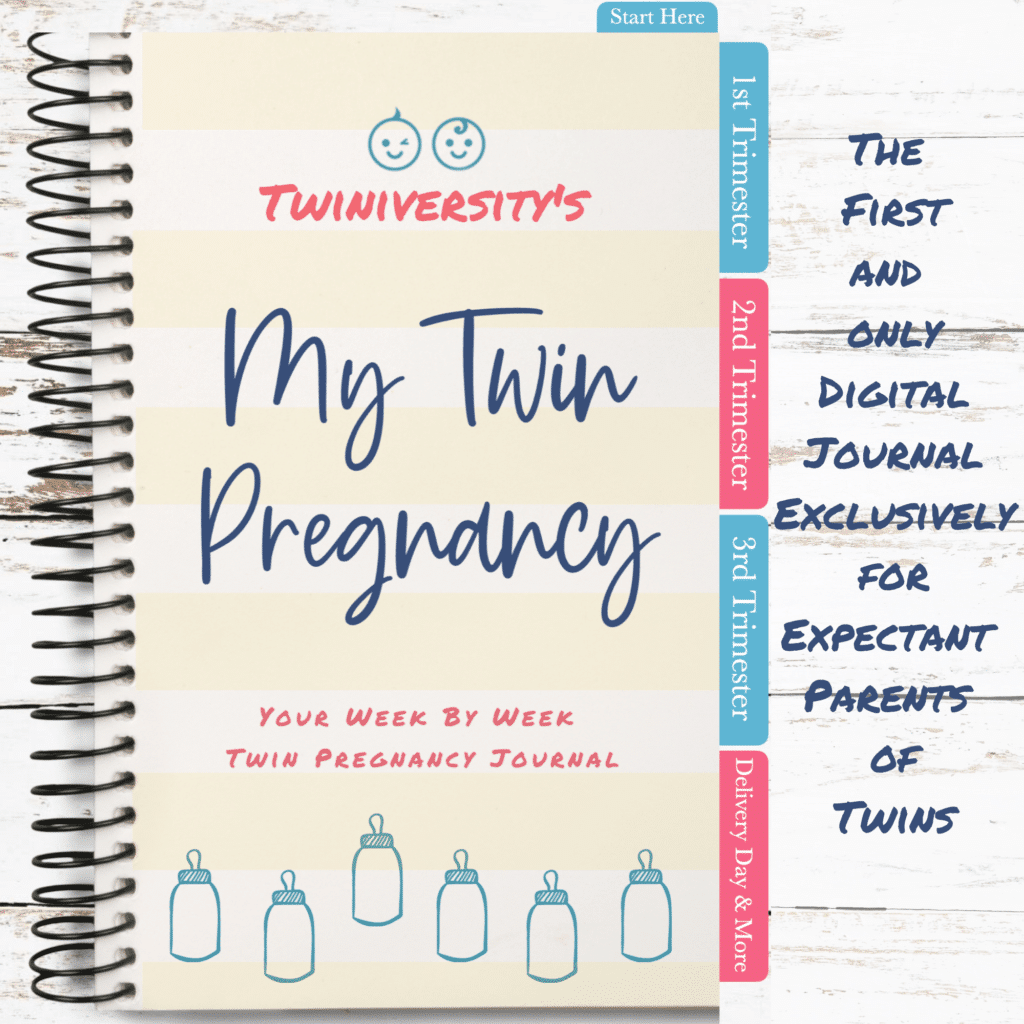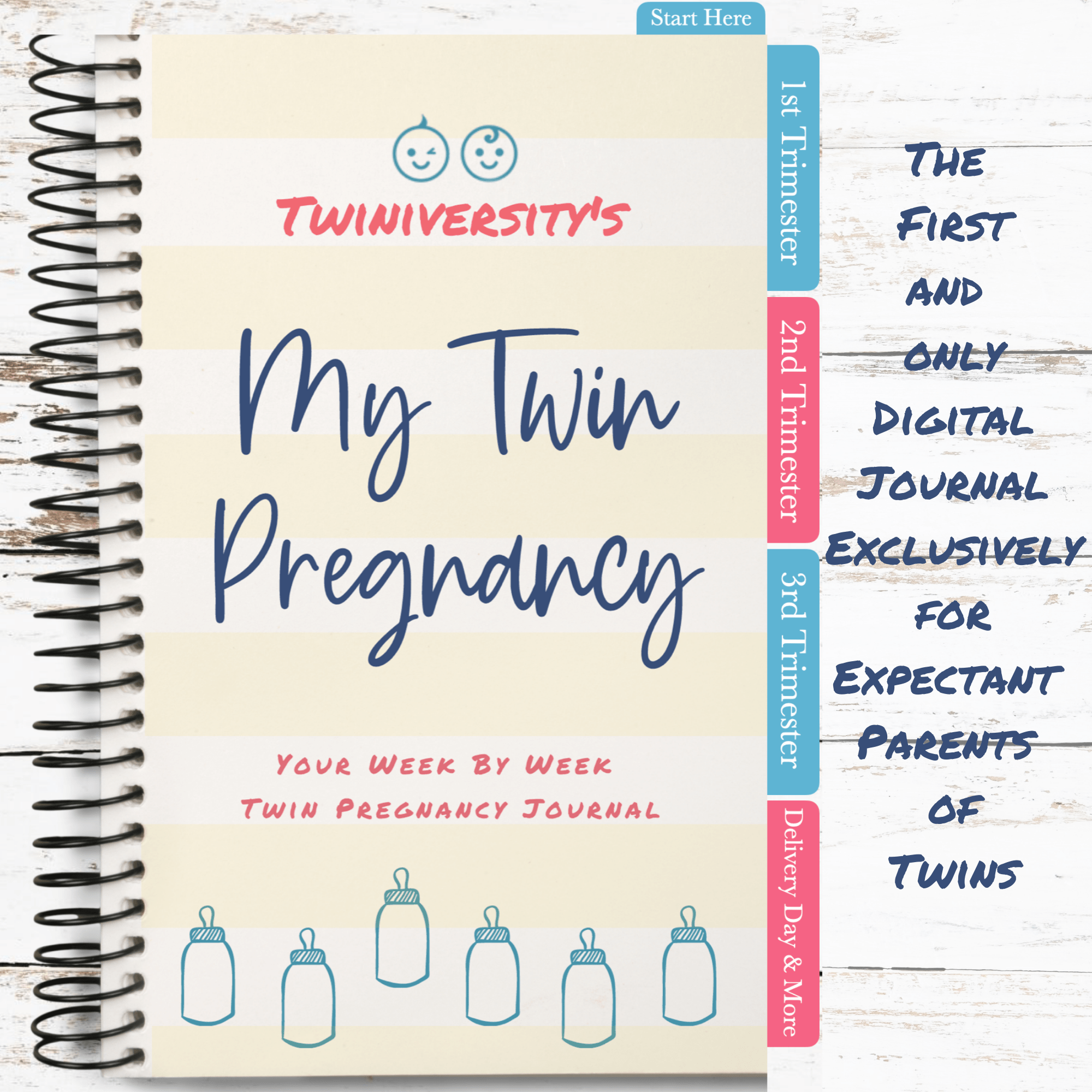 Our new digital twin pregnancy journal is up for sale on the Twiniversity Etsy store! This is the first and only digital journal exclusively for twin pregnancy. It's the perfect way to record your precious twin pregnancy memories to cherish for years to come. Click here to learn more… and while you're at it, check out our expecting twins classes and Twiniversity Shop!
How soon do you get a baby bump with twins?
The only thing we can say for certain here is that eventually, you will feel huge. When an expecting twin mom should expect her pregnant with twins belly to start showing to the world will vary. Most twin moms report a twin bump towards the end of the first trimester, but remember that just because you notice your tiny bump, doesn't mean it's enough to draw the attention of others just yet. Don't be discouraged, you'll have a big ol' baby bump before you know it!
Be the first to hear about GIVEAWAYS and new posts by subscribing to our email list today!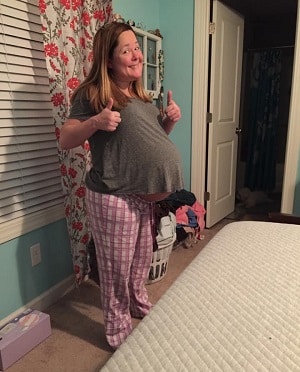 What are the symptoms of twins in first trimester?
In the first trimester, in addition to a small pregnant with twins belly protruding outward, you may notice other twin pregnancy symptoms. Keeping in mind that each pregnancy is different, here are a few of the more common first-trimester twin pregnancy symptoms.
Do you feel like no one gets it? Are you having a hard time connecting with singleton parents? Check out our FREE twin parents mentorship program!
Nausea, vomiting
Swollen, tender breasts
Feeling bloated
Increased sense of smell
Increased urination
Extreme exhaustion
Heartburn
Do you need some one-on-one support during your breastfeeding journey? Sign up for a consultation with our very own founder and certified lactation consultant, Natalie Diaz today!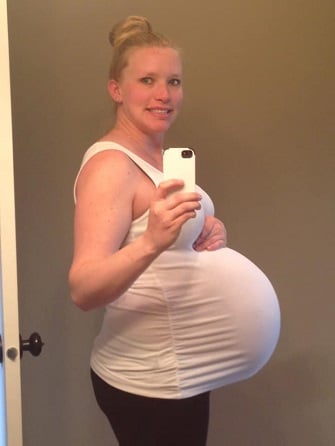 Can I sleep on my stomach while pregnant with twins?
While you certainly CAN sleep on your stomach while pregnant with twins, before you know it, it will be too uncomfortable. Usually, women who are pregnant with twins find themselves unable to sleep on their stomach long before they reach the halfway mark in their pregnancy. You should sleep however you are comfortable for as long as you can. If that happens to be on your stomach early in your pregnancy, by all means, have at it!
As your belly grows, sleeping on your side will likely become your new normal sleeping position. That works well for many pregnant women and is actually the preferred sleep position among the medical community due to blood flow.
Feeling overwhelmed about bringing your twins home from the hospital? Book a 60 minute video call with certified postpartum doula and twin mom Lauren Oak now!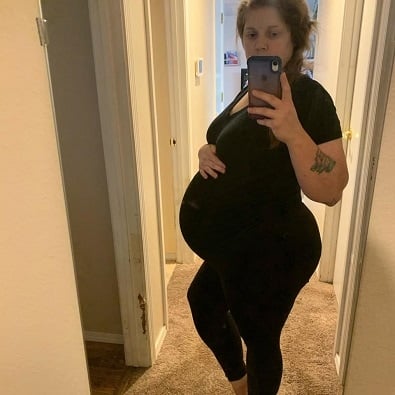 Is baby bump bigger with twins?
In short, yes. Your pregnant with twins belly will probably be a bit bigger with twins than a singleton. The size of your twin bump is also affected by a lot of other factors, so don't worry if you aren't as big as you were expecting.
Basically, as long as your doctor isn't worried about your size, you shouldn't worry either. Your obstetrician is trained to look at not only your current weight, but your gains, measurements, and any bloodwork or other conditions as well to get a full picture. So don't get too hung up on the size of your bump if your doctor doesn't seem concerned. Again, remember that every woman and every pregnancy is different.
Not sure which pregnancy products you need for your twin pregnancy? Check out our list of must-haves here!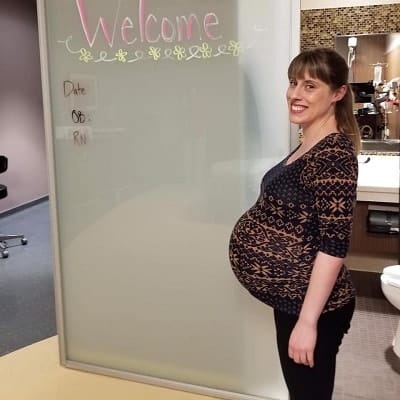 How can I stay comfortable with my pregnant with twins belly?
Comfort may seem elusive during the latter months of your twin pregnancy. You're pregnant with twins belly is growing more each day and you may have some back, foot, and limb pain that prevents you from sitting, standing, or even sleeping comfortably.
Not sure which twins gear you really need? Check out our list here!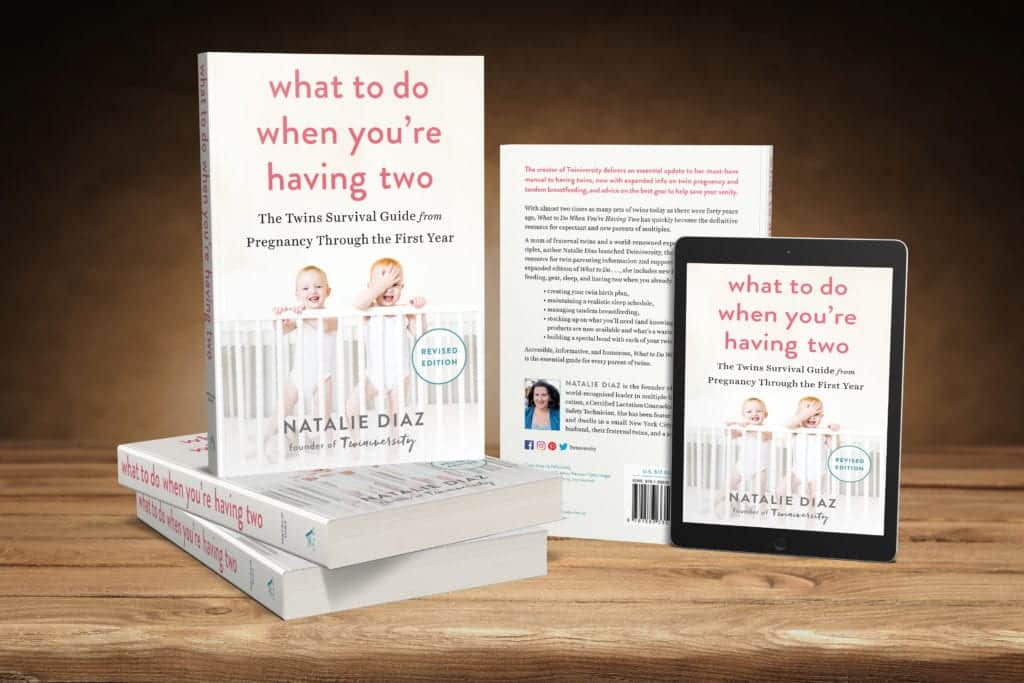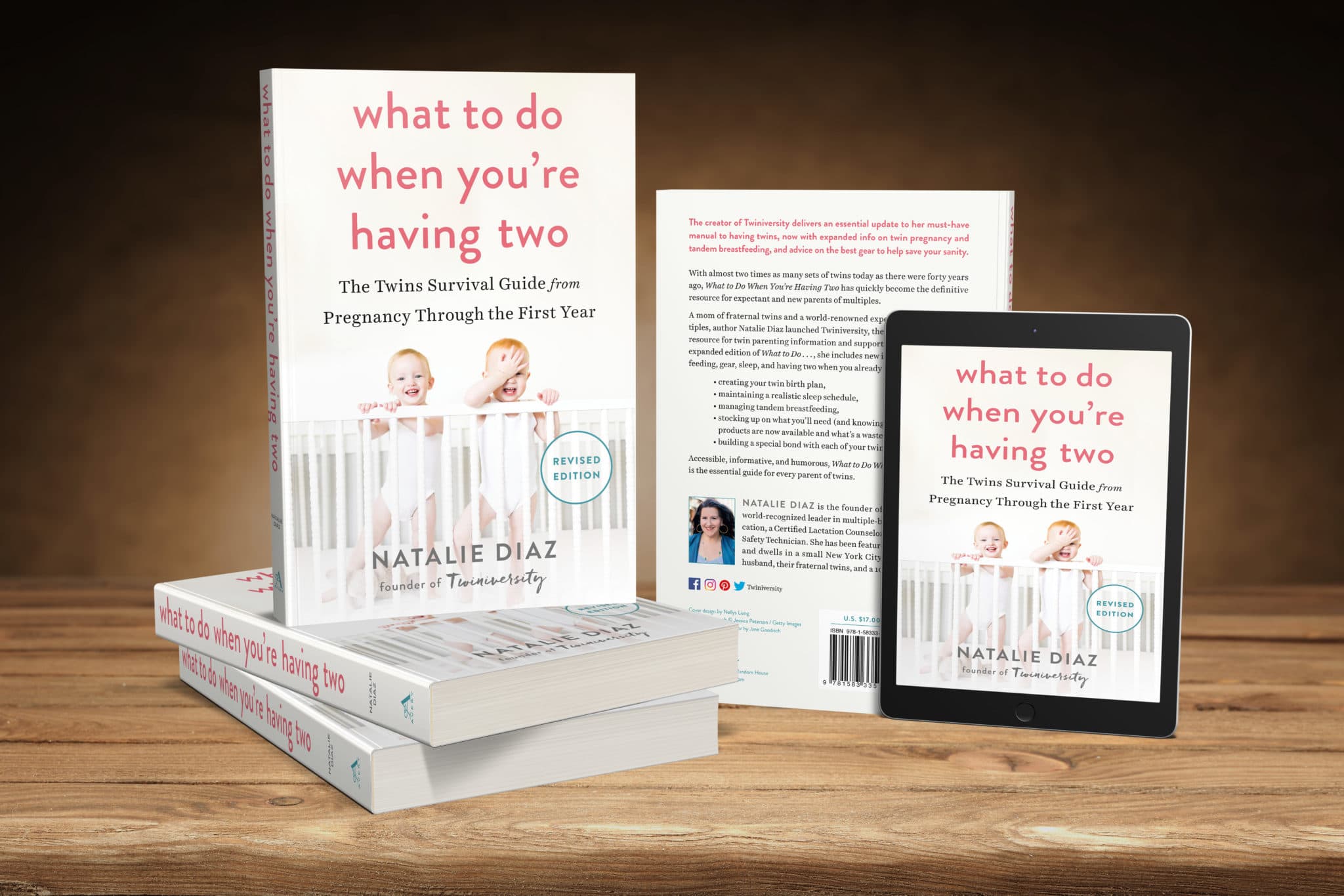 In What to Do When You're Having Two: The Twins Survival Guide from Pregnancy Through the First Year, national twins guru and founder of Twiniversity (and twin mom herself!) Natalie Diaz provides a no-holds-barred resource about life with twins, from pregnancy and birth all the way through your duo's first year of life. BUY NOW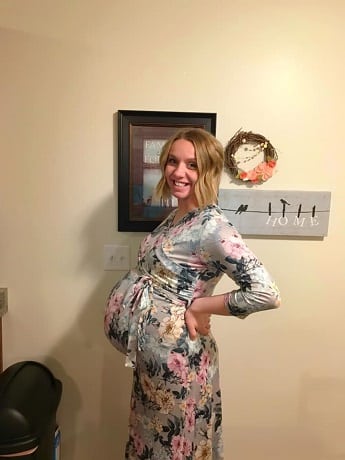 Tips to help you get a little relief
Pillows, pillows, and more pillows. Use multiple pillows and bring them with you when you're out. A small pillow for your desk at work or the car ride can help!
Prenatal massage. Your doctor will be more than happy to refer you to someone they trust. Try it and thank us later!
Water. Drink it, sure. But lay in it, too. A nice pool or lukewarm bath can do wonders for some of your new aches and pains.
Get yourself a maternity support belt. This one from It's You Babe is our favorite. Buy it here.
Get a pregnancy pillow for sleep. Trust us on this one! Take a look here at some of our favorites to help you decide which one to buy.
Lie on your side. It will help you to breathe much easier.
Take care of your feet. Get a pedicure, wear comfortable shoes, and put your feet up when they're sore.
Ditch the tight pants and put on some flowy dresses or leggings. There is no need to wear uncomfortable clothes that restrict your pregnant with twins belly.
Use relief packs for when your "bits" are sore. We like these ones.
Need more Twiniversity? Sign up for our membership and get some amazing benefits including exclusive content and a monthly Zoom call with us and other twin parents just like you!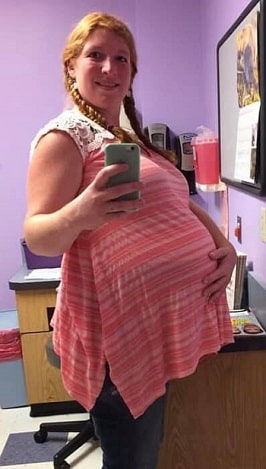 Sometimes, twin pregnancy is just uncomfortable. We have to do whatever we can to find a bit of relief, and remember that it won't be like this for long. Before you know it, these two sweet little babes will be in your arms, instead of your belly. That is usually about the time you will be missing your pregnant with twins belly, believe it or not. So enjoy this stage as much as you, while you can.
Not sure which twins stroller is right for you? Check out our complete guide to double strollers here!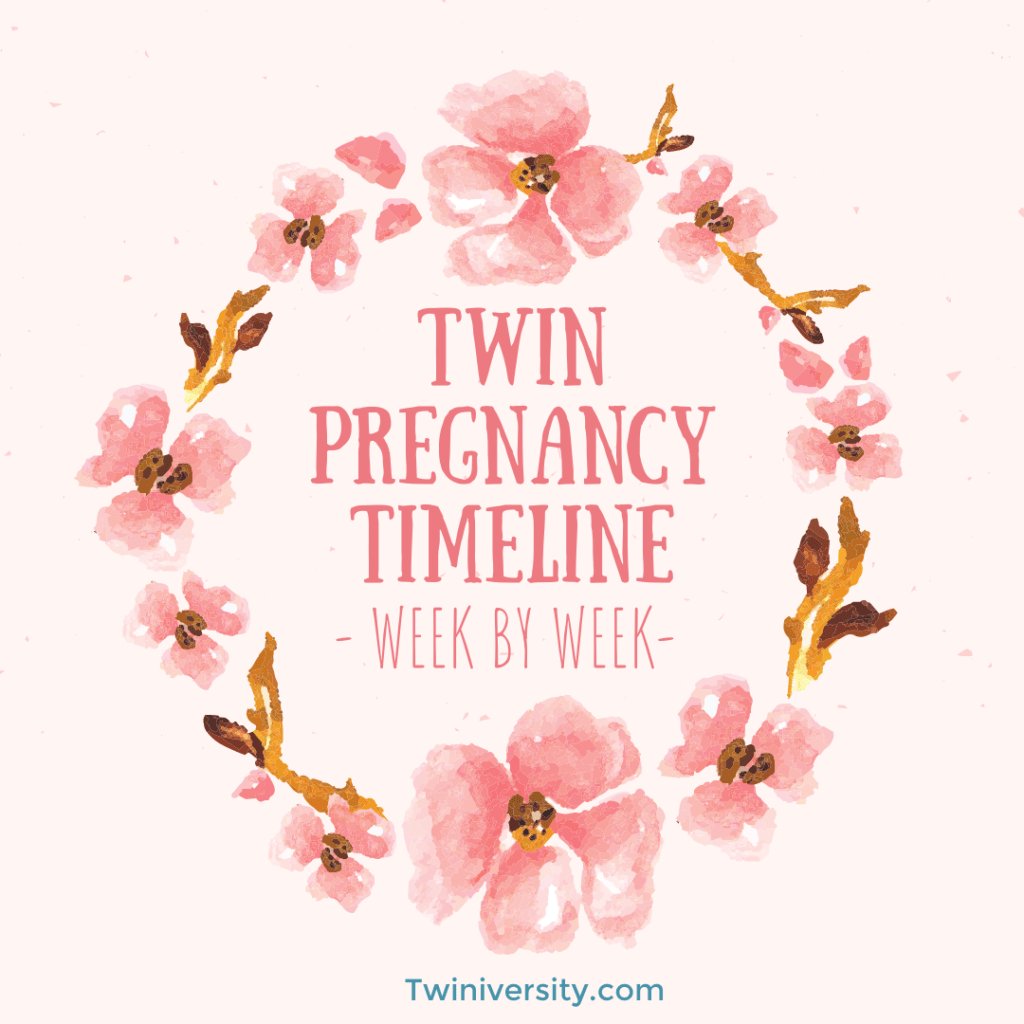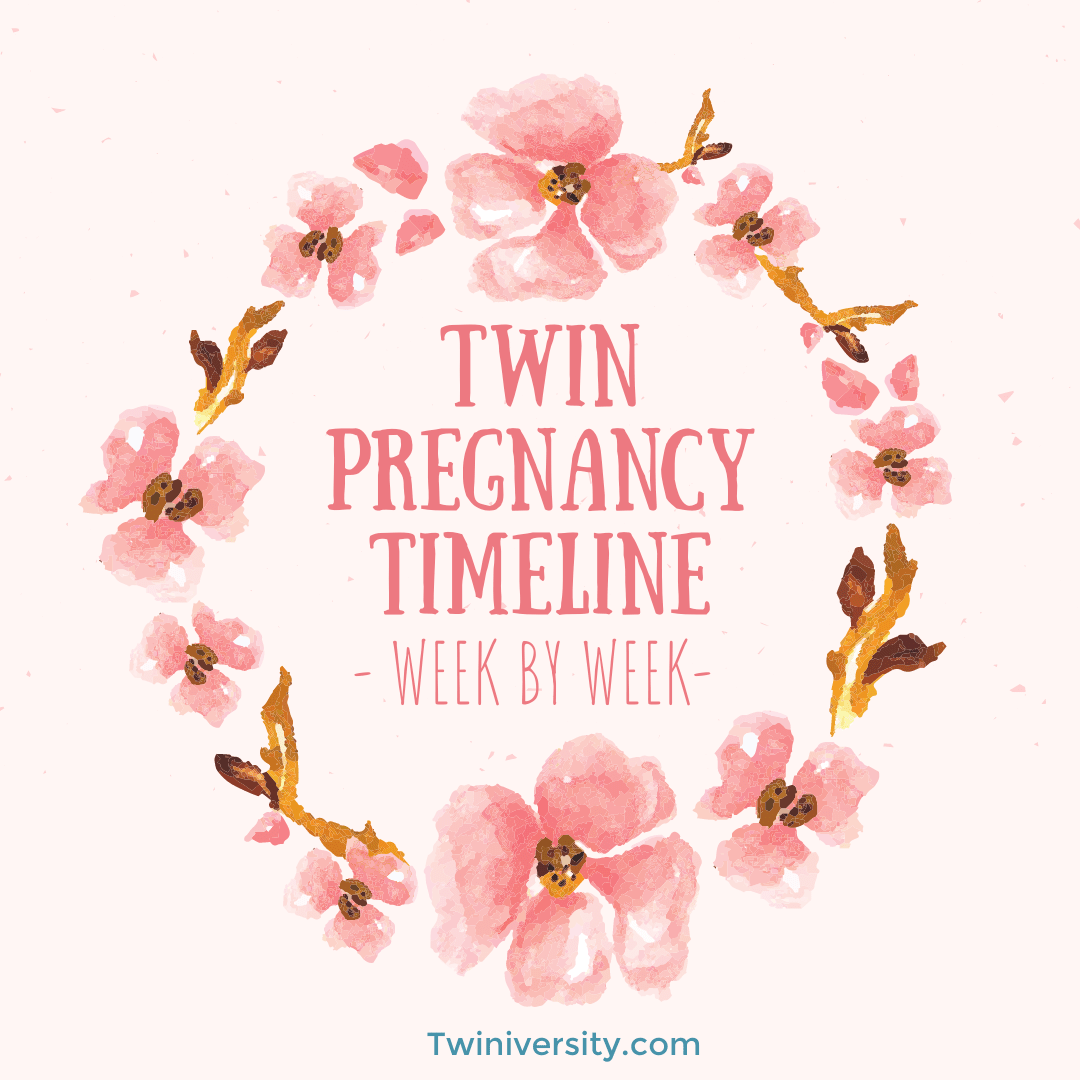 If you just heard that second heartbeat for the first time, or you know it's been two for a while, you need to read our twin pregnancy week by week timeline to help you learn what happens week by week with twins. Click here to learn more… and while you're at it, check out our expecting twins classes and twin parent coaching services.