Aloha! Picture this…you're in Hawaii and you're trying to figure out what to do. What are the three items at the top of your list? Our Hawaii "must-do's": Poké, Surfing, and a Luau!
Let's check these items off one by one. Ready?
Disney's Aulani Luau Review
Poké: The choice was easy, we heard about this great place at the northern tip of Oahu where they serve homemade poké in a convenience store! We heard about it from more than one person and the place was called Kahuku Superette. Did we rent a car just to go? HECK YEAH!
We are foodies in every sense of the word and driving an hour for the "World's Best Poké" was an easy choice to make. It would have been like going to NYC and not going to La Mela for the best eggplant parm in the world! Sadly, the poké didn't hold up and we've had better in NYC.
We also went to Giovanni's Shrimp Truck while up north too and good news…that was worth the trip! Regardless of snacking, the drive was well worth the trip. For the hours that we had the car my jaw was almost on the floor the whole time. The mountains, the ocean, the waterfalls, the flora: it was mesmerizing.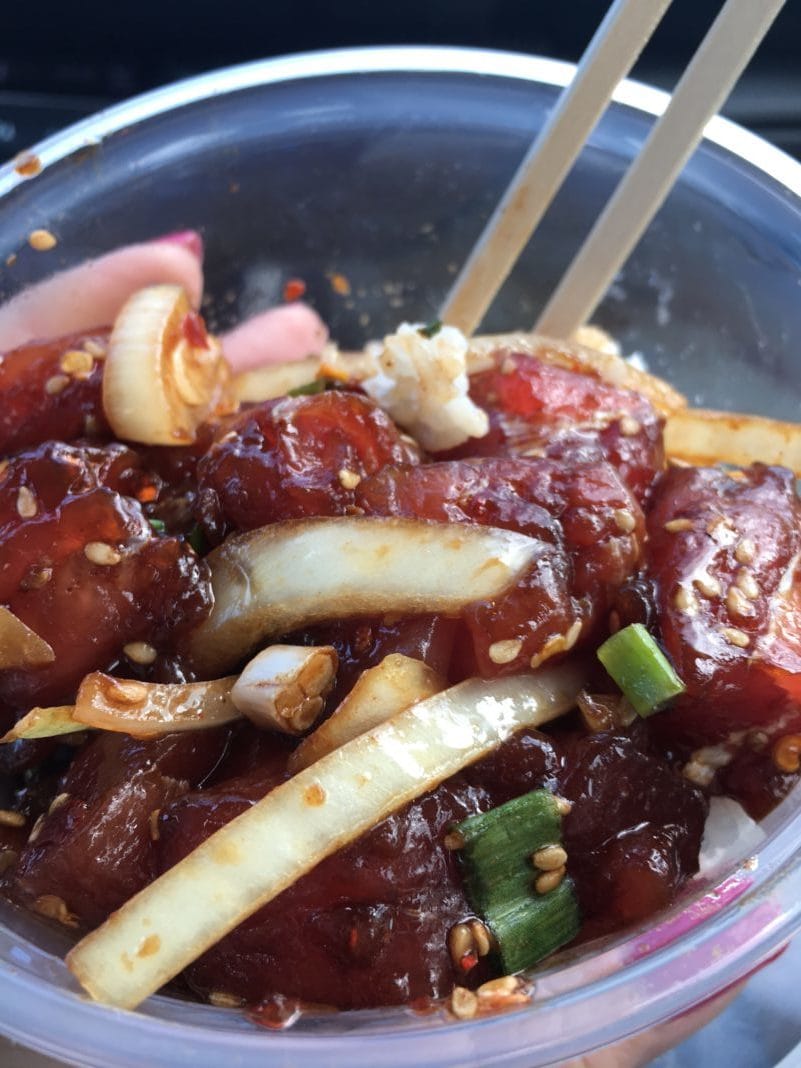 Surfing: We couldn't possibly be ANY luckier! My husband's cousin Melissa and her husband Kevin moved to Oahu a few years ago and have become moderately obsessed with the sport. They surf any chance they get. It's not only a challenging and fun sport, but the conditions change daily so you'll never have the same ride twice.
While I'm a self-proclaimed "indoor cat", I'm more of a "lay on the beach and bring me a cocktail" type surfer, but my husband jumped in (literally) with two feet. I watched him (from the sand) struggle for a long while, but I still get breathless when I think about him FINALLY catching a wave and riding it onto the shore. I mean…I love that man, but witnessing his trial, many errors, and ultimate success made my heart grow a few sizes larger with love!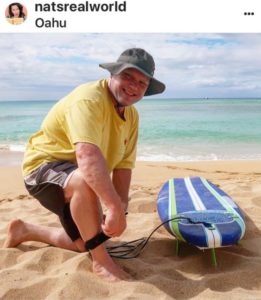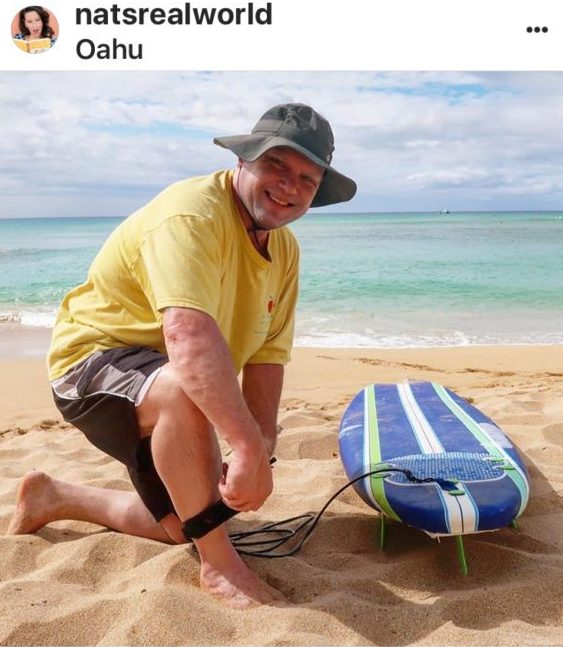 Luau: How can you go to Hawaii and NOT go to a luau? But, the question is WHICH ONE? We did a significant amount of research since the costs vary as great as the activities and quality of food at each.
We made our final decision (after literally three days of research) and decided that Disney's Aulani Luau was the way to go. We choose a weekday show and arrived at 5 pm for all of their pre-luau activities. We were lucky enough to go as VIPs (which we STRONGLY recommend) too. Here are some tips and tricks that we learned during our night.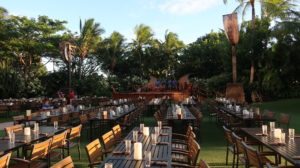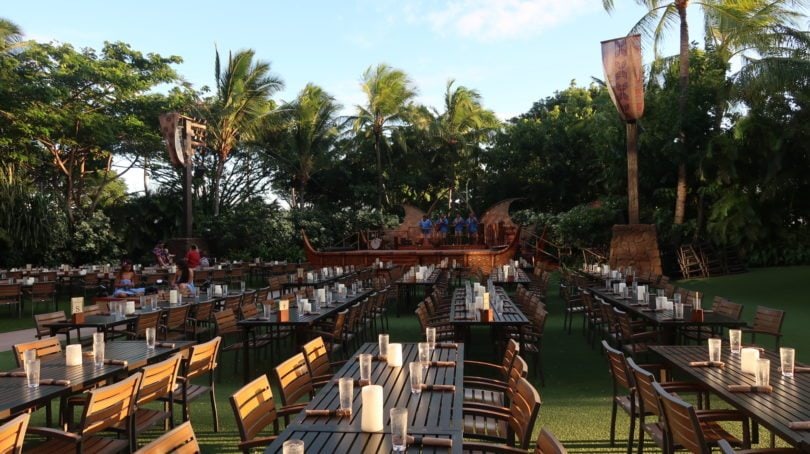 #1. If you DON'T opt to purchase Aulani Luau VIP tickets you have to get there early. It's first-come-first-served seating for general admission and the line builds up VERY early in the day. I was surprised that when we arrived at 5 pm, the line had about 80 people on it already.
Also, note there are TWO entrances: One from the main hotel and another for non-hotel guests closer to the parking lot. Regardless of VIP admission or not, get there early anyway because the grounds and lobby of the resort are magnificent. We grabbed a drink at a pool bar before the show and watched the sunset over the water.
Disney's Aulani is in Ko'olina (located on the southwestern side of the island) where the beach is very unique. A cove has been dug out from the ocean creating an intimate beach setting without the rough waves, allowing you to really enjoy the walk along the water. The lazy river and pool at the Aulani resort also really blew our minds.
We took plenty of time to explore the property because while our love for Hawaii is new, our love for Disney goes WAY back to well…..forever. My first trip to Disney was in 1979 when we drove from NYC to Orlando in my dad's company car which he borrowed. Disney has always held a very special place in my heart so I had to see Disney's home on Oahu.
---
To be VERY honest, our Aulani luau day was our SECOND visit to the Aulani resort during our trip to Hawaii. We were staying at a nearby hotel but we walked over to the resort quickly when we realized how close it was. I was in Hawaii on a press trip so Sony was very generous to put us up. Had we chosen where to say ourselves, it would have totally have been Aulani.
Ok, so back to the story, when we first visited there (two days before the luau) Disney's Vacation Club had an open house! This made me giddy! I literally didn't even ask if I could make this video, I just got so excited, threw the camera to my husband and ran with it. I'm so familiar with Disney (I've been at least a dozen times) that I could tell you about their services like the back of my hand. I apologize in advance for the sound and light. We had NO idea we were going to be filming this.)
#2. Consider the VIP: It's well worth it. Here's our reasoning. While the tickets are about $40 more for adults ($30 more for kids from 3-9 years) it's WELL worth it. If you plan on having a Blue Hawaii or two (or four in my case) the all-inclusive drink package will pay for itself in about a moment. The other benefits are early entry, priority seating (we were LITERALLY the envy of so many because our seats were extraordinary) and an enhanced lei.
That photo with my hand and my Blue Hawaiian was taken from our Aulani Luau VIP seat so you can see just how close we were to where the action was happening! Since we were able to get in earlier, we got to take advantage of all the activities before the luau even began. They had a tattoo station, a station where I made that flower bracelet I'm wearing, an area with men making poi, and wonderful musicians playing. The extra time we had IN the Aulani luau makes the upgrade well worth it.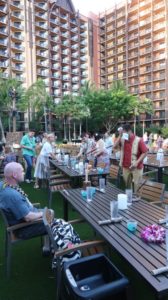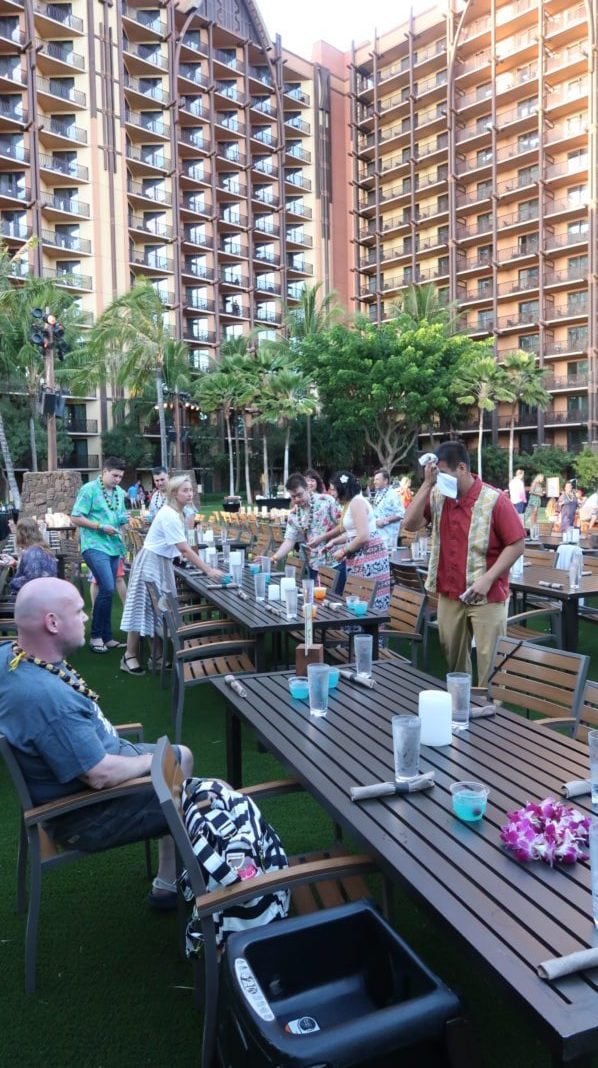 #3. It's three hours long. I just want you to know up front that, while I wish it were six hours (because…Blue Hawaiians), parents with toddlers didn't make it through the whole night. The show is VERY entertaining and kept my attention the whole time, but I'd warn parents with kids under five…sit in the back for a quick escape if you have to make one.
There is plenty of room to roam (supervised) around the Aulani Luau, so if you have a family with kids of all ages you can walk your toddler around while still having an eye on your seated kids and family as they enjoy the show.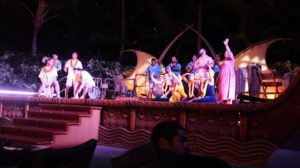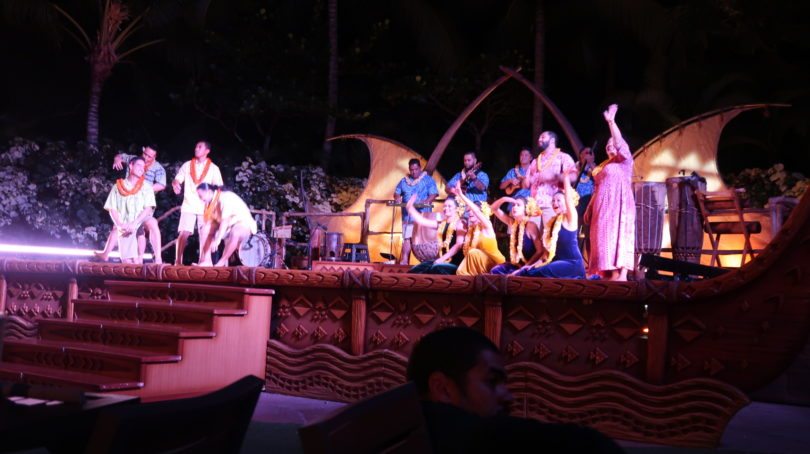 #4. Go hungry! Being that this is Disney, you can count on a delicious selection of both Hawaiian native foods and classic American fare. There is a buffet specifically for smaller bodies (literally lowered) so your kids can get a bird's eye view of the selection. You can go classic with chicken nuggets or be a bit more adventurous with their fresh roasted suckling pig.
I was NOT disappointed at all. The variety was plenty and even your pickiest eater will find something that they will enjoy. PLUS, the Aulani Luau lower buffet might make him/her feel empowered to try something new.
#5. Prepare to be happy. The show was a bit of an emotional rollercoaster (in a good way) because I was really feeling it. They told the story of Hawaii's discovery (which is a fascinating tale) and they told stories of families who have lived there for generations. The music and stories made me really emotional.
As I sat there in a stunning courtyard of the Aulani resort, enjoying the beautiful Hawaiian breeze scented with ocean air, I just got weepy. Happy weepy. I can remember even as a little girl dreaming of visiting Hawaii and there I was. Sitting across from the love of my life, my husband of almost 19 years (Crap! Is it that long?) I fell in love all over again. Maybe it was the ukelele, maybe it was my full belly, maybe it was the Blue Hawaiians, but maybe, it was Aulani.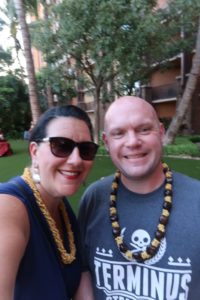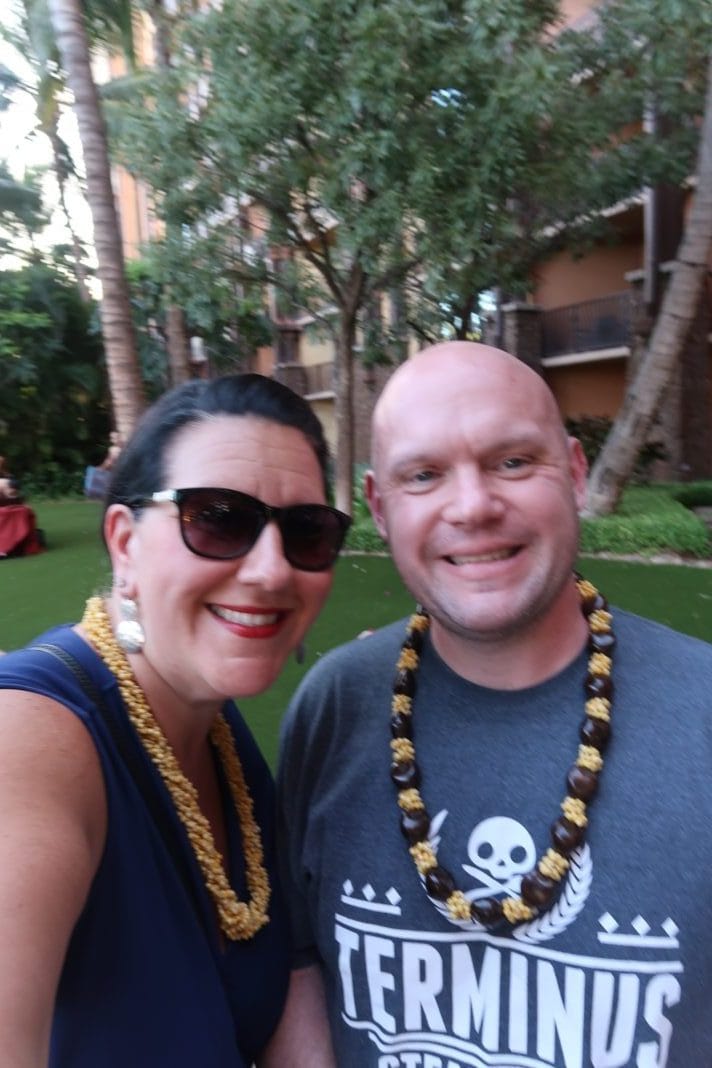 When I look back on my life from what I hope will be a very, very old age, I know that one of my most amazing memories will be of my time on Oahu and this amazing luau will be part of that memory (I'm literally getting choked up writing this because it's true.)
So if you're finding this from a Google search, and you're wondering what to do and where to go, don't think about it, go book your Aulani luau.
Disclosure: Nat was heading to the Aulani Luau and reached out to her friends at Disney who generously offered her and her husband complimentary tickets. Please note, that she genuinely decided to go to the Aulani Luau after a ton of research; the free tickets were just the cherry in the Blue Hawaiian. : )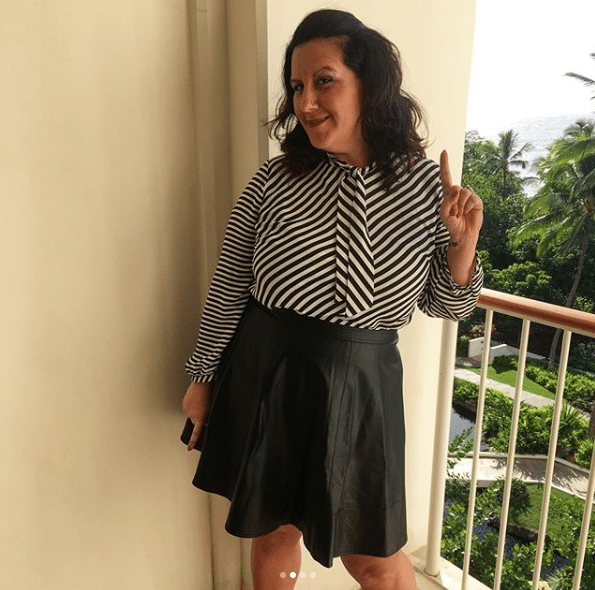 Natalie Diaz is the Pied Piper of twin families around the globe. Founding Twiniversity — the world's leading support network for multiple birth families — in 2009, she's become the global influencer for this small niche community. Reaching over a million families a week through Twiniversity's Facebook, Twitter, Pinterest, Instagram and YouTube channels, moms and dads of twins flock to Twiniversity to find resources, ask questions, explore new products, and find community and support from other twin parents. Natalie is a true connector, bringing parents from all walks of life together, breaking past cultural differences, to share in the highs and lows of parenting twins. Natalie's book, "What To Do When You're Having Two" is a global bestseller in Twins & Multiples Parenting.
Related Articles
10 Tips For Visiting Volcano Bay at Universal's Orlando Resort
Why Beaches Resort in Turks and Caicos is Best for Families with Multiples