In episode 76 of the Twiniversity Podcast, "Disney World on a Budget", Nat chats with Twiniversity's "Wizard" Julie Burt Nichols about her plans to take her twin boys to Disney World next year (at age 8) with the help of her parents. Nat shares her best tips for going to Disney on a budget, where to spend, and where to save. If you're planning a trip to Disney World on a budget, you'll want to listen to this!
If you really want to take your twins to Disney World but you're having a hard time with sticker shock, start saving now with these great tips AND plan ahead for how you'll save money during the trip to cut down on expenses at Disney World. Nat has been to Disney World on a budget many, many times with (and without) her twins — 19 times to be exact! Julie and Nat also discuss tips to make your life easier and your stay more enjoyable at Disney World with your twins.
Today's podcast is sponsored by phil&teds.
Click below to stream the podcast directly on this post, or click here to subscribe and download to your phone on iTunes. Please consider leaving us a review on Apple Podcasts to help other twin parents find us!
Disney World on a Budget
---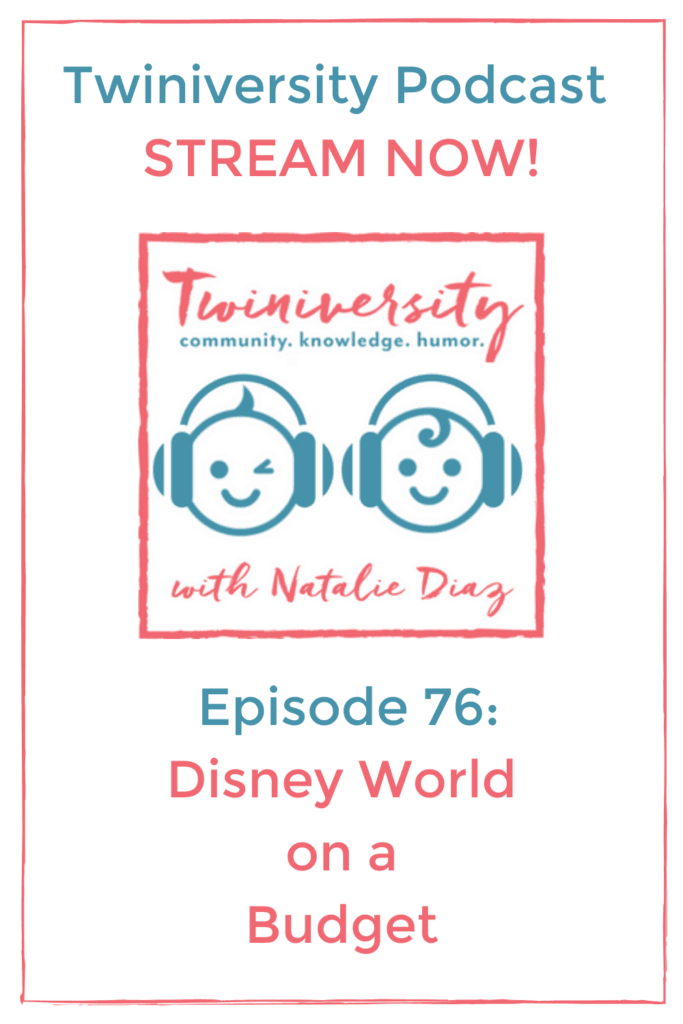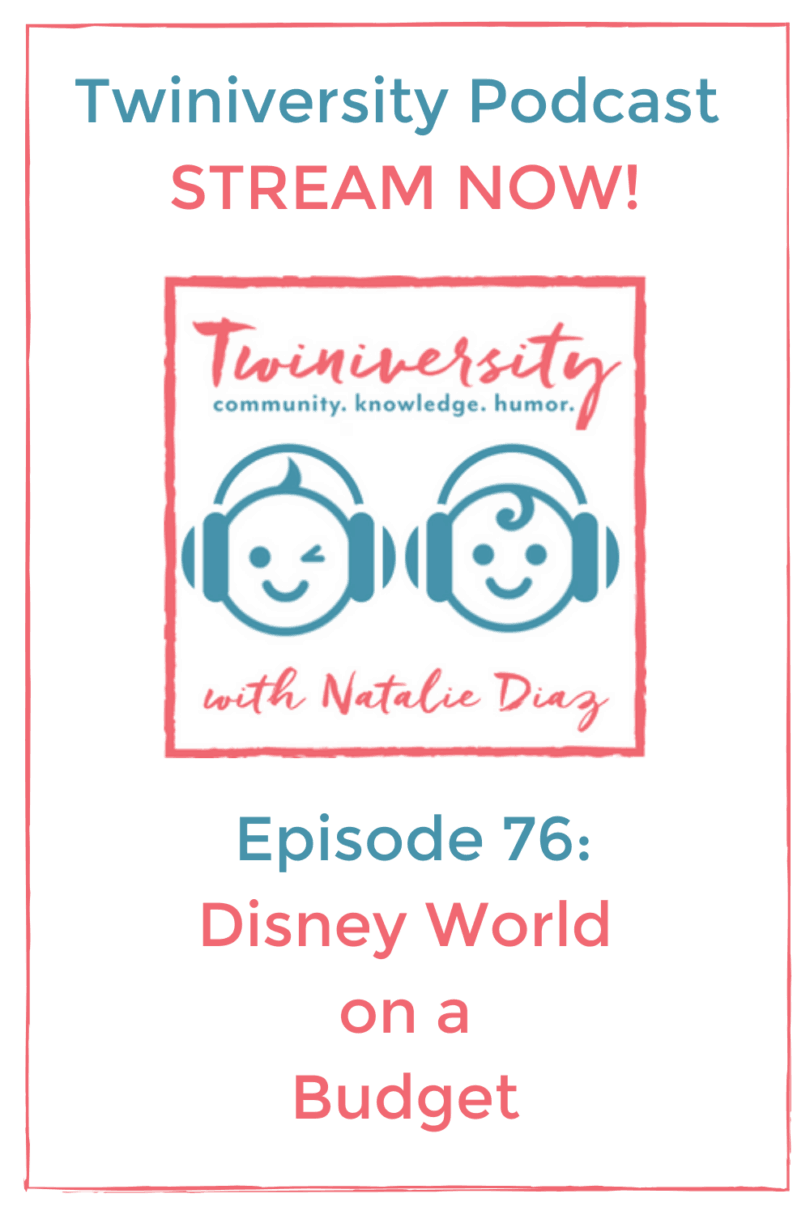 How much should you budget for Disney World?
At a minimum for a family of four, you'll want to budget $3,000-5,000 for Disney World. That includes 3-4 days of park tickets, hotel for 5-6 nights and food for 4 people. That budget does not include airfare.
What is the cheapest way to do Disney World?
The cheapest way to stay on the Walt Disney World Resort property is to camp at Fort Wilderness. However, camping for multiple nights in a row can become very exhausting, especially with young children. Do you want to run out of physical steam while you're at the parks because you didn't get a good night's sleep in a real bed? If your family is really good at camping and you don't mind how it may affect your stamina, then by all means camp. The next lowest cost properties on the resort are the All-Star Resorts.
What is the cheapest time to go to Disney World?
The cheapest time to go to Disney World are the weeks immediately following major holidays in the fall and winter, such as Halloween, Thanksgiving, and New Year's.
Is it cheaper to stay at a Disney resort?
The room rates for Disney resorts are definitely more expensive than at off-resort properties. However, when you stay at a Disney property you get free transportation to and from the airport, extra Magic Hours that will extend your stay at the parks by a few hours, and you don't have to add in the cost of a rental car or taking taxis to/from your hotel to the parks. It is more worth your while to book the lowest cost Disney resort because in the end it really evens out with the transportation costs, plus you get early access to booking your Fast Passes and restaurant reservations as a Disney resort guest.
Julie Burt Nichols is Twiniversity's "Wizard Behind the Curtain", serving as Editor-in-Chief of Twiniversity.com, Account Manager, and Instructor for Chicago Twiniversity expecting twins classes. Julie is a full-time working mother to twin boys, born on Halloween. She loves serving as a resource and support for new parents, soon-to-be parents, and we-want-desperately-to-be parents. Julie is proud to be a child passenger safety technician and the Twiniversity Resident Songstress/Jingle Writer.
Related Articles
I Took My 3-Year-Old Twins to Disney World Alone and You Can Too
Top 10 Quiet Spots at Disney World's Magic Kingdom
Disney World with Twins: 5 Tips for the Happiest Place on Earth
Disney Parks to Prohibit Certain Twin Strollers
Contact Us
EMAIL community@Twiniversity.com
VISIT Twiniversity.com for tons of free twin tips!
FOLLOW us on Facebook, Instagram, Pinterest, YouTube, and Twitter.