Keeping 1-year-olds entertained can seem daunting. We at Twiniversity decided to compile a list of 11 favorite toys for 1-year-olds to keep them happy all day long!
1. Fisher-Price Brilliant Basics Baby's First Blocks – This basic set of blocks and bucket is great for shape sorting, filling up and dumping out, as all toddlers love to do over and over again. This toy is also great for teaching coordination, colors, shapes, and patience. The blocks are extremely easy for babies to grab and along with the bucket, it will provide countless hours of fun.

2. Jerry's Gravity Ball Slide – You will not regret getting this ball slide for your 1-year olds. It's the perfect size for them to sit on the floor and drop the balls into the top and watch them travel down to the bottom. The balls rattle when you shake them or when they roll as an added feature. Your 1-year-olds will enjoy hours of continuously dropping the balls into the tower and laughing as it travels down to the bottom and rolls out.

3. Fisher-Price Franky Beats Bat & Boogle Toy – Franky Beats wobbles, plays several joyful songs and lights up brightly to keep your 1-year-olds busy for hours. You'll be happy to know that there is a volume control! No more stress over music that is too loud! Your twinnies will love Franky Beats and will probably want him to go everywhere with them.

4. Mudder Kids Ball Pit – Your 1-year-olds are going to love this ball pit, and so will you! They will love playing in this ball pit, dunking balls through the basketball hoop and burn lots of energy while doing it. The collapsible sides make it easy for toddlers to get in and out of by themselves. Don't worry about storing it away, as it folds up nicely and can be put into a zippered storage bag. And don't forget to order some balls, as they are not included with the ball pit.

5. Rockin' Rider Charger 2-in-1 Pony Ride-On – If you want a rocking horse, but don't want to spend a crazy amount on it, this is perfect. This ride-on pony is the perfect size for your 1-year-olds. They will be able to play with it, ride it, rock on it! If you squeeze the ears, the mouth moves and the horse sings in a sweet little voice and talks about being your friend. This excellent, safe and well-designed toy has a rocking base that is designed to stop itself from 'over rocking' so it won't tip.

6. Step2 Spill & Splash Seaway Water Table – This water table will be a total hit with your twinnies. Just add water to have hours of fun outside during the warmer weather. It will stimulate their brains and won't break the bank. There is also an awesome umbrella so that they will be protected from the sun. Recommend age is 18 months – 8 years, so they will be able to enjoy this toy for years.

7. Skip Hop Explore and More Musical Owl – When first learning to walk, 1-year-olds may need something to help keep them moving and be fun to push around. This Musical Owl has the cutest little wobble that the owl does when it's pushed and you'll be so grateful that the rainfall sound is much quieter than the traditional push popper.

8. Mega Bloks – Mega Blocks are a classic fun building toy for 1-year-olds. This bag comes with 80 pieces, plenty for your 1-year-olds to share. The colors are really bright, and the blocks are large and easy for little hands to build with. They stack easily and pull apart just as easy. Their creativity will grow and you will feel confident that they are learning and building something new every day.

9. Fisher-Price Bright Beats Dance & Move BeatBo – Beatbo is a super fun, adorable toy with the bonus of being educational! He has an upbeat voice and has quite a few different catchy songs. He also teaches basic colors and counting. But the best part is the recording button that lets you make all kinds of weird noises that BeatBo then incorporates into a song. Pretty sweet, and more entertaining for you than you may want to admit.

10. Radio Flyer Scoot 2 Scooter Ride On – This is the perfect beginner's scooter for your 1-year-olds. It is easy to steer and scoot around in either the sitting or standing position. It easily converts from a sitting scooter to a standing scooter. They can load up their toys and move them from one place to another while using the scooter in the sitting position. They will love it so much you will want o make sure you have a second one so that they fight over it!

11. Baby Einstein Discovering Music Activity Table – Your 1-year-olds will love pushing all the buttons to hear the music and see the lights. The piano introduces colors and numbers in English, Spanish and French and you can set it to which language you prefer. You can also take its legs off and place it on the floor if your little ones aren't steady on their feet yet.

Your 1-year-olds will grow so quickly, right before your eyes. Why not make it the best, most enjoyable time for everyone with these awesome toys!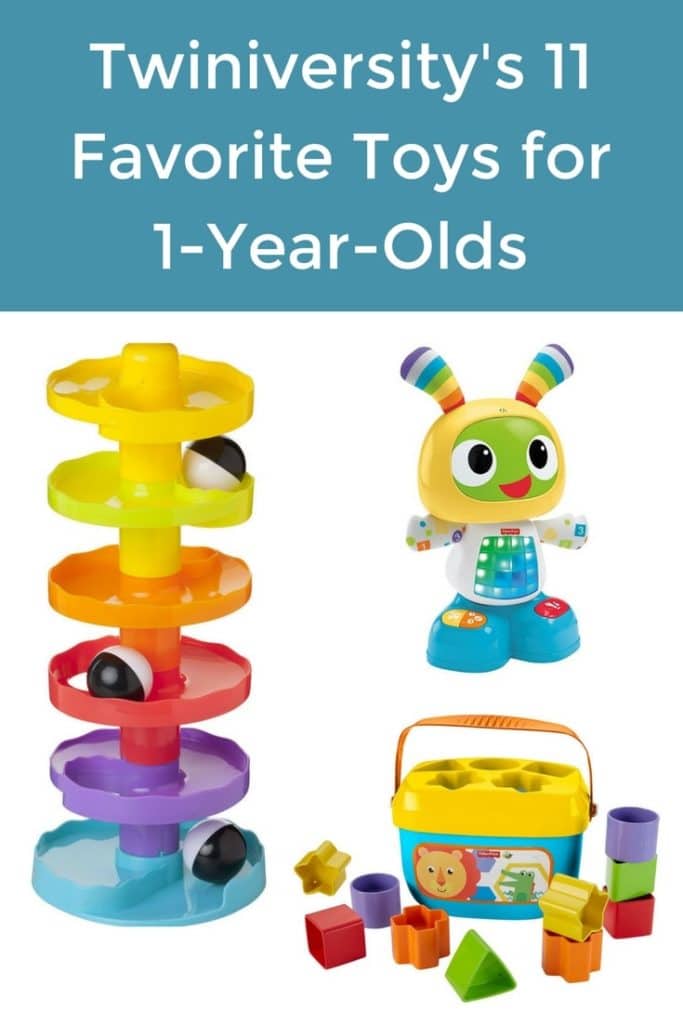 ---
Related Articles
13 Items to Organize Your Twins Toys
Awesome Non-Toy Gifts for Kids