Nat got a full tour of the Contours Double Stroller selection at the JPMA Baby Show 2019. Check out all the great strollers and carriers that will be great to use with your twins!
Nat had the opportunity to tour the Contours booth at the JPMA Baby Show in Orlando. She discusses the products we've loved for years as well as the new products Contours has to offer, especially the Contours double stroller selections.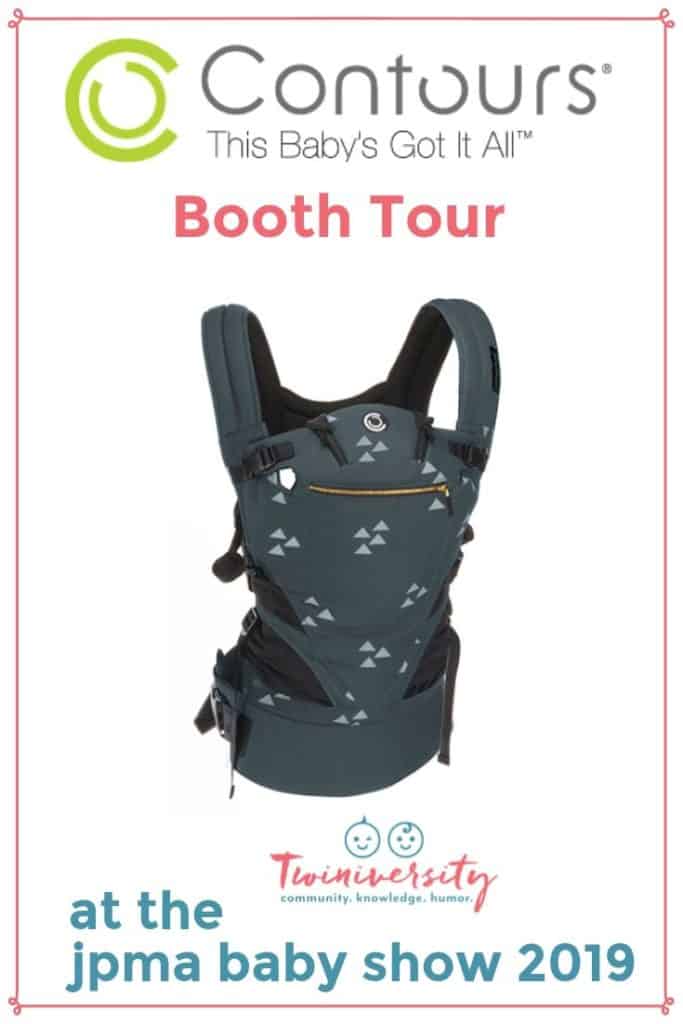 Contours Love Carrier
The Contours Love carrier makes babywearing simple and comfortable for parents and babies. With 3 different modes (and no infant insert required), front buckles for super easy use, and a comfy design, the Love baby makes keeping your baby close and comfortable easy.
Contours has introduced three new colors to the Love carrier: Starburst Grey, Pink Bouquet and Cityscape Grey, and it retails for $99.99.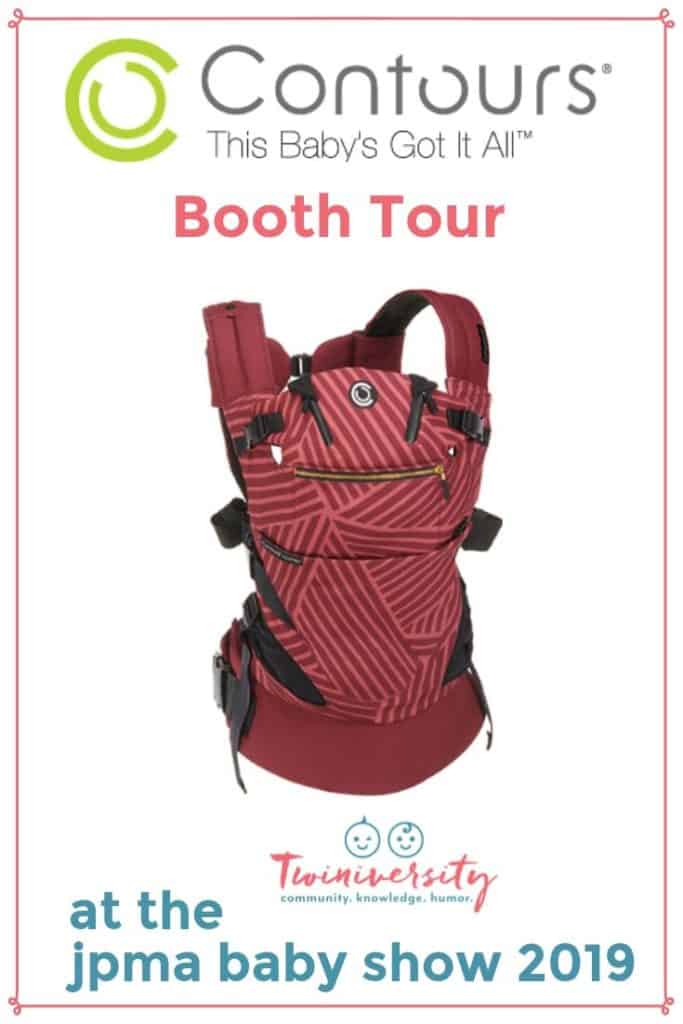 Contours Journey Carrier
The Contours Journey carrier allows you to do 5 carrying positions: Newborn, Facing In, Facing Out, Hip, and Back. The Journey carrier fits newborns starting at 8 lb, and adjusts to fit children up to 45 lb.
No infant insert is required for your newborn, which means less fabric and more comfort for you and your little one. One of the big things with this design, is there is no fabric between parent and baby, so for breastfeeding moms, or really any parent that wants to snuggle up closer to their baby, this is a nice touch.
The Contours Journey has three different pockets. The main storage pocket is located right in front for easy access. There is one in the waistband that looks somewhat hidden, perfect for holding your keys, credit cards, and cash. The third pocket is located just below the first pocket and holds the sunshade accessory.
The sunshade is UPF 25, and is infinitely adjustable, so if you have a really tall baby you can pull it up and adjust it. You can remove the sunshade completely or just move it down.
The Journey is light-weight, coming in at just under two pounds and easy to fold. It does have foam padding in the waist and shoulders, but it is a very thin, compressed foam, making it easy to roll up.
The Journey design has a buckle in the back because in order to do a hip carry or back carry you need this feature. The Journey has tabs on the back shoulder straps, adjacent to the buckle, so that after buckling you can pull the tabs to bring the buckle down to the middle of your back, helping to carry the weight correctly.
The Journey will accommodate an adult 27" waist up to a 55" waist without needing an extension. A standard feature for Contours carriers are the rolling straps for tightening. Once you have tightened the waist, you can roll the excess strap and fasten it, so it's not just hanging down, possible causing a safety hazard.
The Contours Journey is available in three different colors, Starburst Bordeaux, Graphite and Twilight Bloom and retails for $119.00.
Contours Journey GO
The Contours Journey Go is the Athleisure version of the Journey. It has all the same features, but it is made of 3D mesh so it's very lightweight. There is no padding in the main area, so if you or baby are hot, it breaths a little more.
The Contours Journey Go has adjustable head support and the inside fabric is moisture-wicking to help keep you and baby more comfortable. It also has some reflective trim details for safety while out and about. The Journey Go is not yet available (as of April 2019) but is coming soon.
The Contours Cocoon
The Contours Cocoon is a wrap-style carrier. It buckles at your waist, and then the long wrap style straps go over the shoulders and criss-cross against your back, wrap and cross around your waist in the front and then wrap around to the back and tie (the size of your baby may alter the way you wrap the straps in the front).
There are lots of details that make this Nat's favorite carrier, starting with the honeycomb pattern on the material, to the convenient front and waist pockets. The Cocoon fits newborns and adjusts to fit children up to 33 lbs. It allows for 4 different ways to carry: newborn, seated, hip carry and back carry.
There is something about the closeness of the carrier that really makes it feel like a cocoon. The Contours Cocoon is not yet available (as of April 2019).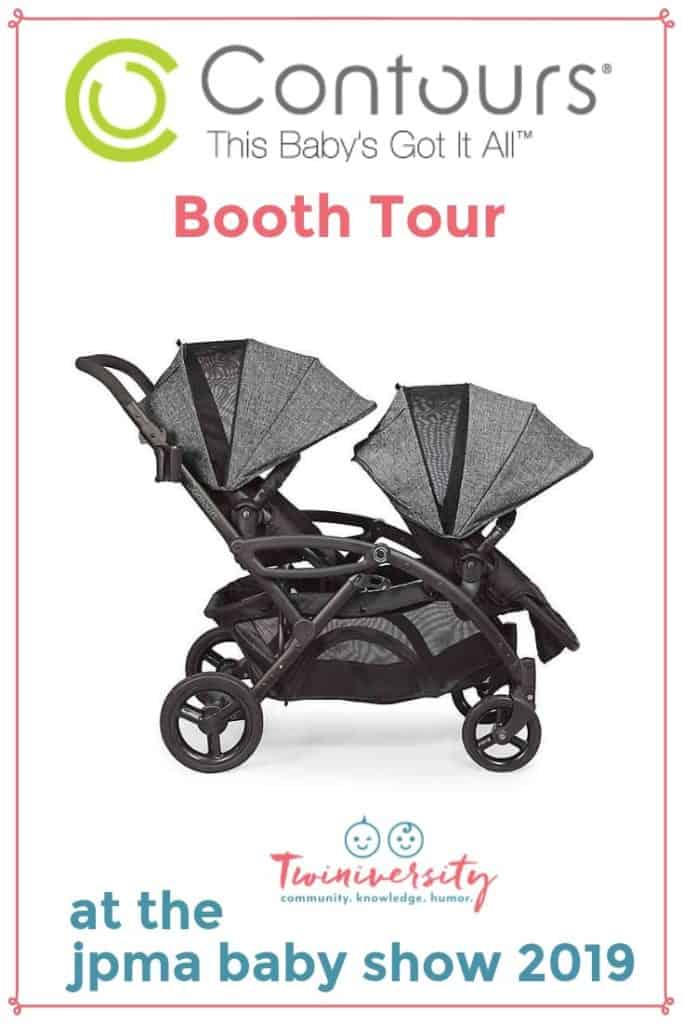 Contours Options Elite tandem stroller
The Contours Options double stroller has reversible seats with lift-assist mounts, allowing for 7 seating options, weighing in at 34lbs.
Features on the Contours Elite Double Stroller include dynamic front and rear wheel suspension for the best ride over any surface, expandable canopies with mesh panel and peek-a-boo window, and stadium-style seating with recline.
Additional features on the Contour Options Elite double stroller include in-seat pockets, adjustable footrests, and padded 5-point safety harnesses and large storage basket with side access zippers.
The Contours Options Elite accommodates up to two infant car seats for twins. It's very affordable, retailing for $399. All in all, the Contours Options tandem stroller is going to give you a great bang for your buck.
And if you're specifically looking for a double stroller with car seat adapters for two infant carriers, the Contours double stroller should be at the top of your list.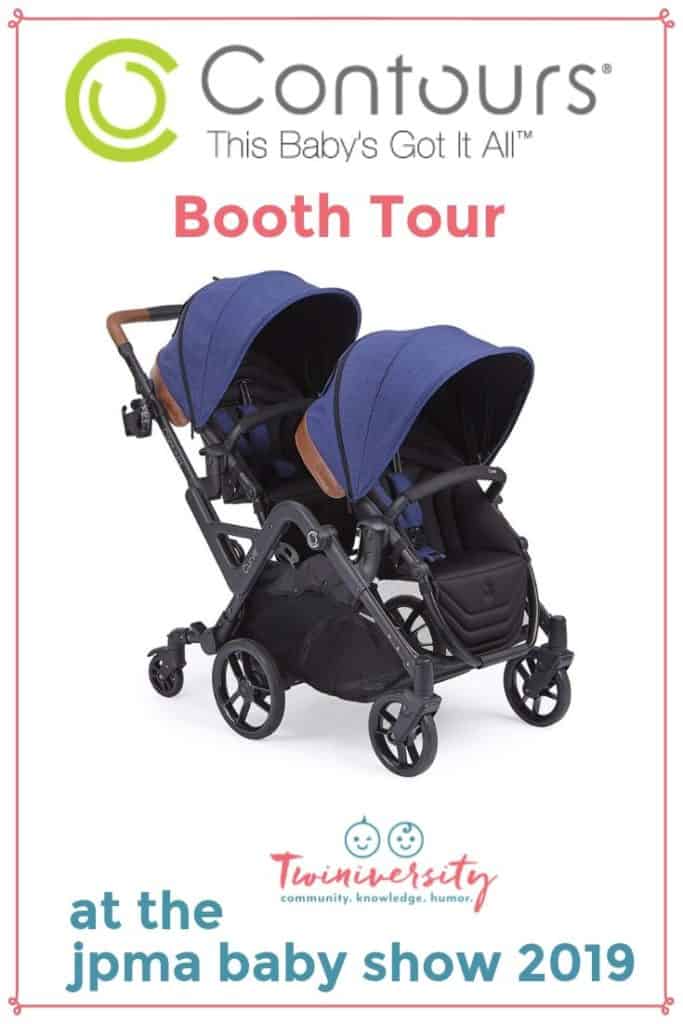 Contours Curve Double Stroller
The Contours Curve is a game-changer due to its additional set of wheels. Traditional strollers have only two sets of wheels. The Curve adds a third set, making it a unique 6-wheel design. This allows for 360° steering and easy turning as if you were pushing a single stroller. This is a more luxe Contours double stroller if you're looking for an upgrade from the Contours Options tandem stroller.
This stroller glides, pushes and turns effortlessly with one hand. Check out our "Tour of New York City with Contours Curve" video for more information on the Contours Curve double stroller. This stroller retails at $699.99.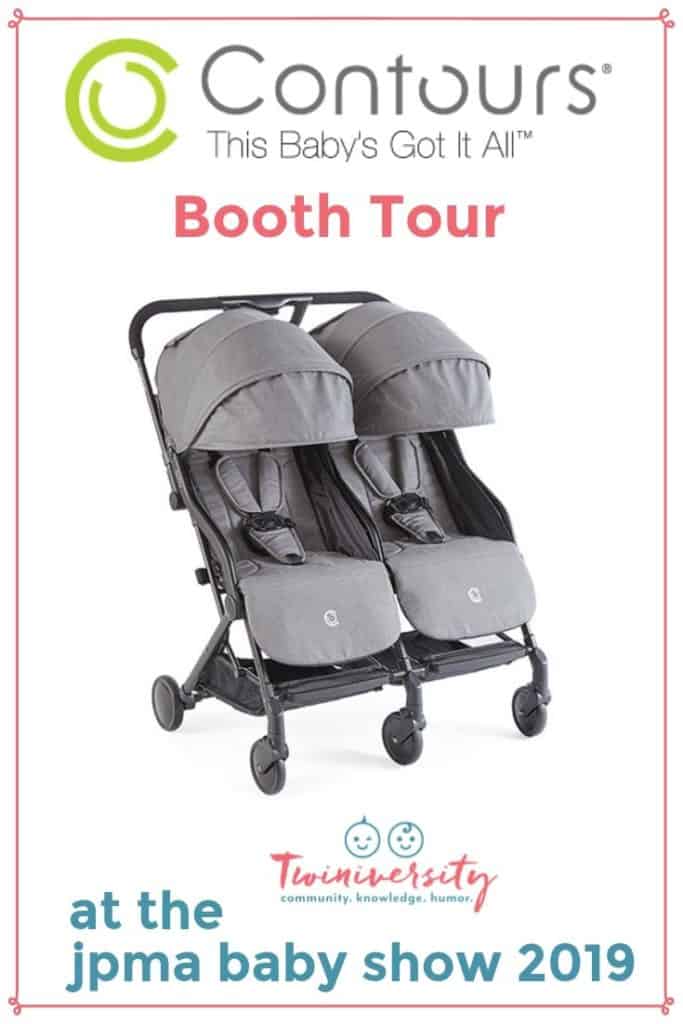 Contours Bitsy Double stroller
The Bitsy is a single stroller that Contours has had for a while, so now we are introducing the Bitsy Double. It is a lightweight, everyday stroller at only 24 pounds. This stroller features a one-step standing fold with convenient carry handle. This Contours double stroller is super hand for parents of twins.
The Bitsy Double is a Contours double stroller that stands freely in a fold position with wheels on the ground, but also stands on its side, which is very important when traveling. The Bitsy Double has individual reclining seats with adjustable footrest, 5-point harness with removable pads, and UPF 50 rated canopy with extension feature.
The Bitsy Double Stroller offers car seat compatibility (one seat only) with no adapter required. It's DISNEY Size Approved! The Bitsy Double stroller comes in two colors: Midnight and Graphite Gray and retails at $349.99.
As the only side-by-side stroller that Contours makes, we are very fond of this Contours double stroller for quick trips in the car and for travel.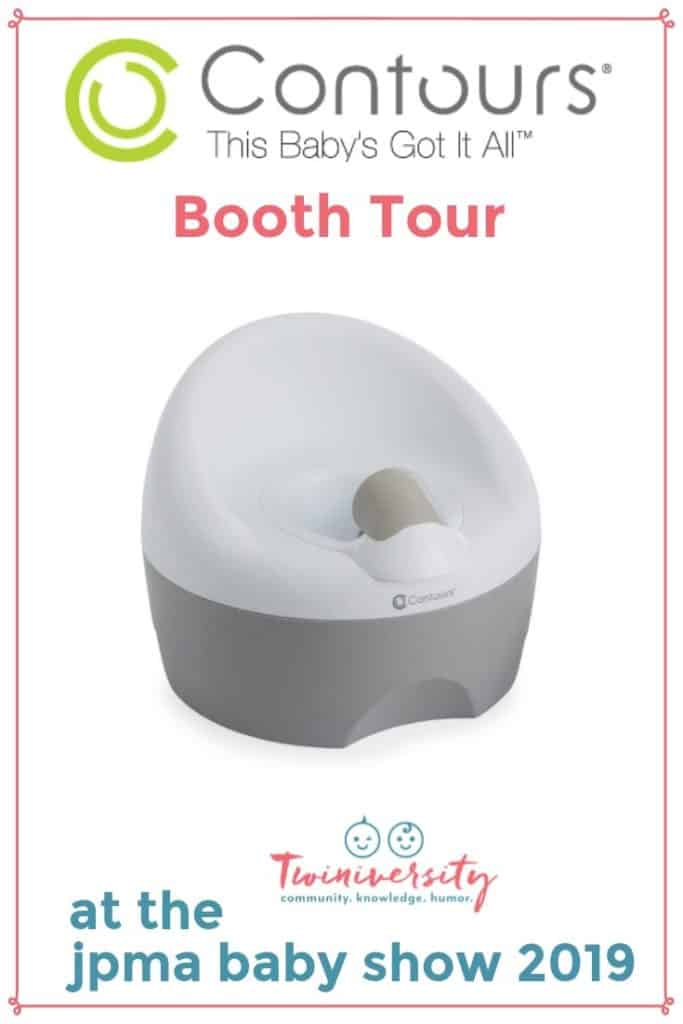 Contours Bravo 3-in-1 Potty
The Contours Bravo 3-in-1 Potty is designed to cover all stages of potty training and grow with your child. For the beginner, it has a removable waste cup for easy cleanup, slip-resistant grip to keep your child steady when seated and a soft splash guard so your little dude doesn't release all over the place, but can easily fold away for little girls.
Once your child is ready to start using the standard toilet, the Bravo potty seat removes from the base to be placed on the standard toilet seat. The Bravo 3-in-1 potty seat uniquely adjusts to fit most round and elongated toilet seats.
The base of the potty trainer becomes a step stool once the seat is removed. The step stool comes with a slip-resistant top to keep your child steady when using, but also has a slip-resistant bottom that keeps the stool in place while your child is using it.
The step-stool will hold up to 200 lbs, so this is something you will continue to use for many years. The Bravo 3-in-1 Potty comes in two colors: Aqua and Gray, and retails for $39.99.
For more information on these products visit ContoursBaby.com.
Related Articles
Contours Double Stroller on the Streets of NYC
Contours Options Elite Double Stroller Review