My six-year-old twins and I had a fun packed weekend visiting Indianapolis. Indianapolis is a great 2-to-3 day getaway for families. Hotel rates are really reasonable right in the heart of downtown, which is just minutes away from some of the Midwest's best children's attractions.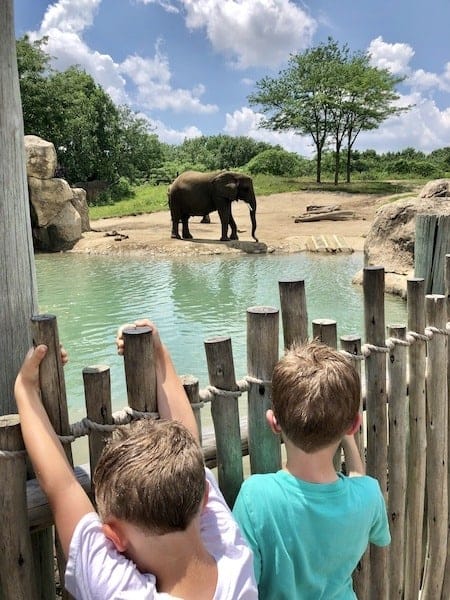 Indianapolis Zoo
We started out our trip with a visit to the Indianapolis Zoo. This medium-size zoo is the perfect size for a family with young children.
The layout is very easy to navigate so you don't feel like you have to walk miles and miles to see everything. The zoo has a really nice flow which leads you from one exhibit to the next to make sure that you see everything there is to see.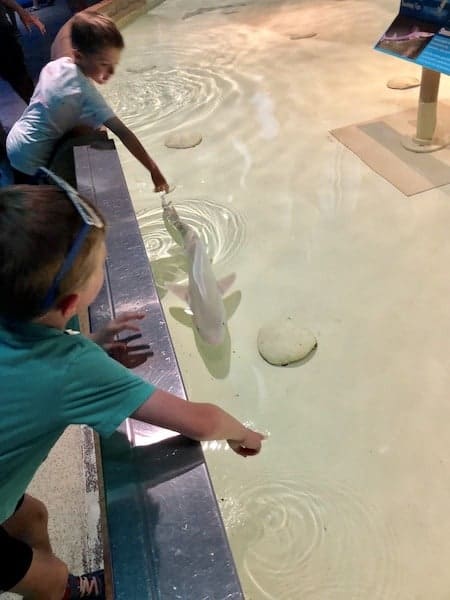 There's a really great mix of indoor (read: air conditioned!) and outdoor exhibits, which was perfect for us since it was a heat index of 99° the day we were there.
Favorite exhibits include petting baby sharks, feeding giraffes, watching a dolphin show (which was free with admission, you just have to reserve your show time upon arrival), and witnessing the majesty of several full-size elephants.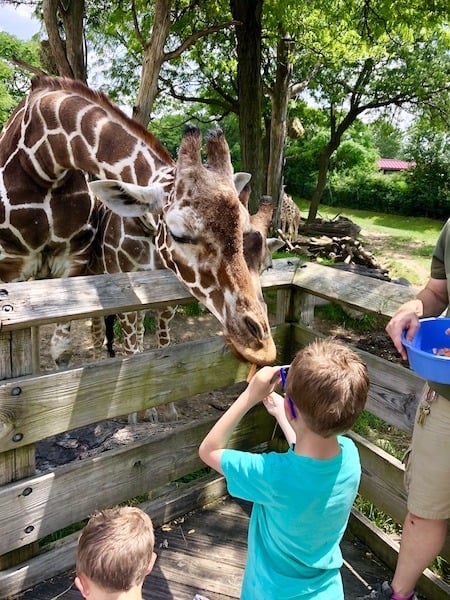 The Indianapolis Zoo places a strong emphasis on conservation, which was really drilled home during the dolphin show video presentation. I got a little choked up thinking about how we all need to work together to help save our planet for our children's futures.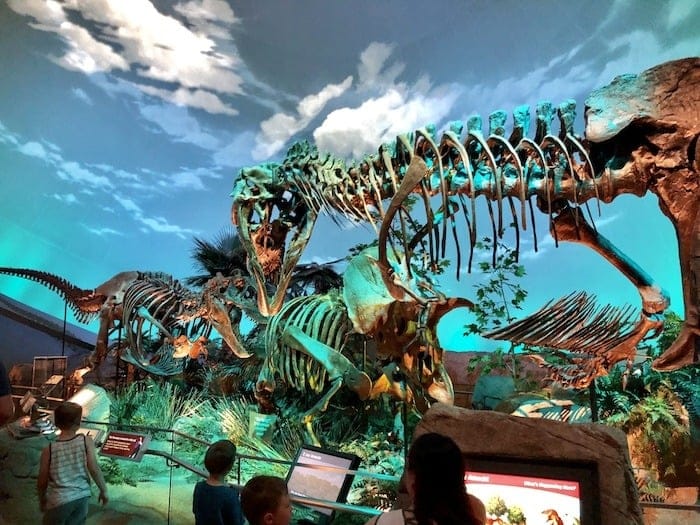 The Children's Museum of Indianapolis
The Children's Museum of Indianapolis was the top highlight of our visit. This museum has something for kids of all ages.
Your teeny tiny tots will love the hands-on sensory exhibits, your kindergartners will love the dinosaur dig, your older kids will get a lot out of the Power of Children exhibit (featuring the stories of Anne Frank, Ryan White, and Ruby Bridges), and kids of all ages will love the outdoor sports arena. Plus, there's an indoor carousel!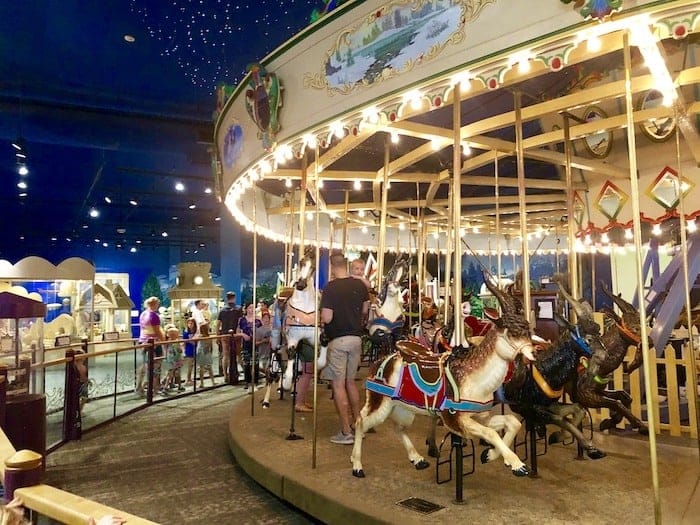 With five floors of exhibits, this museum will definitely fill up an entire day. Try to avoid holiday weekends because it gets really crowded and it can become difficult to move around. You can plan on buying lunch in the food court, which offered plenty of reasonably priced and healthy options for kids and adults alike.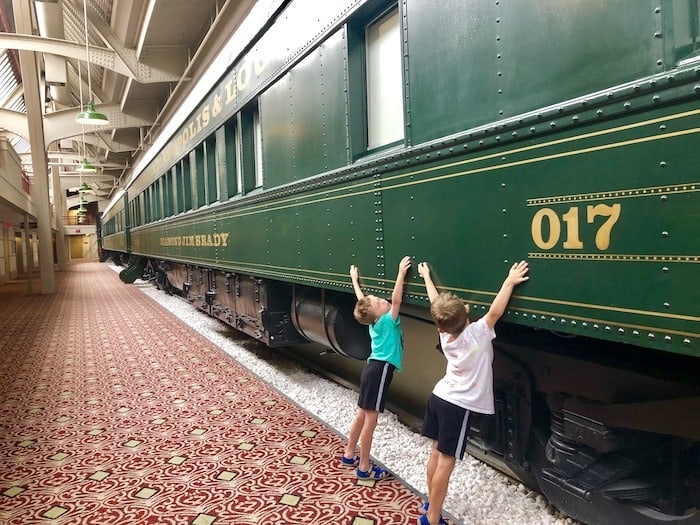 Crowne Plaza Indianapolis Downtown Union Station Hotel
If you have train enthusiasts in your family, the Crowne Plaza is the place for you. This hotel was built onto an actual working train station. Trains still run through it to this day.
We were lucky enough to stay in a real Pullman train car. They have converted at least a dozen train cars into guest rooms. It was so cool to climb aboard the train car and pretend like we were in the olden days, chugging along through the countryside.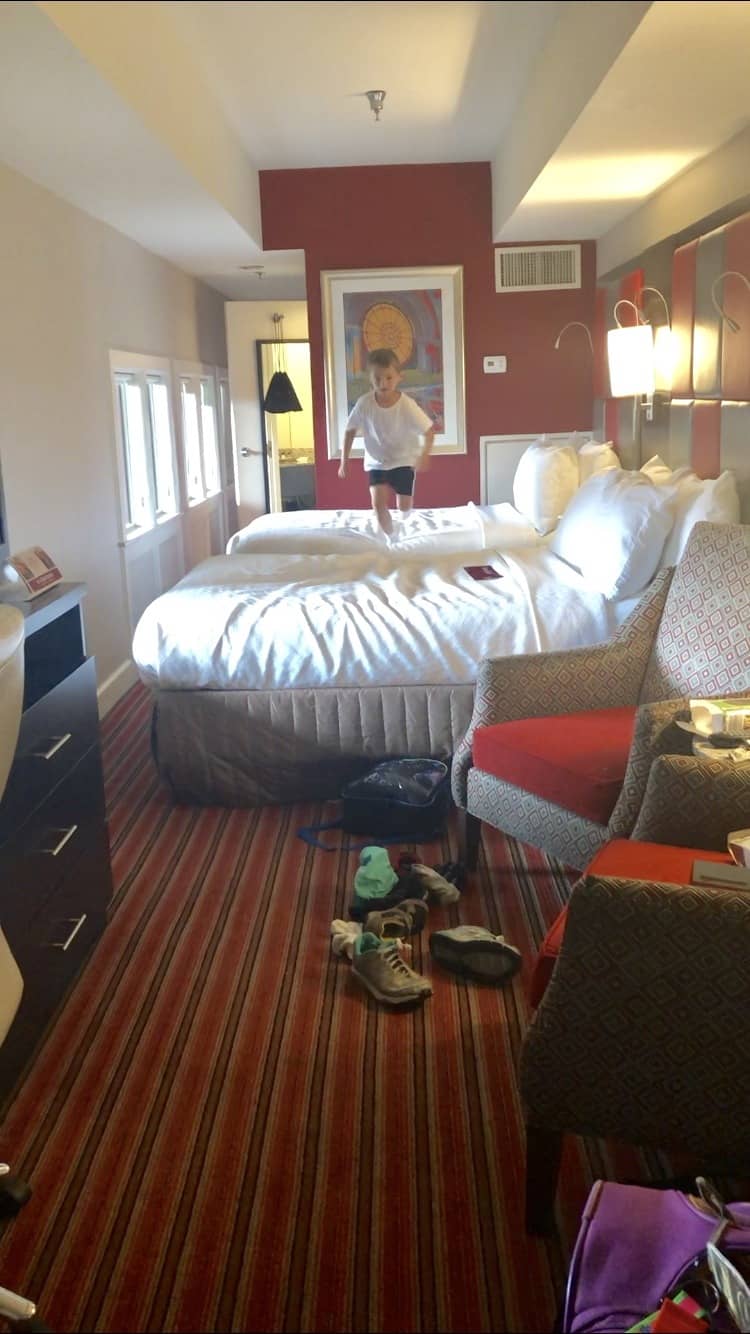 Note that the rooms are not large; I would say a maximum of two adults and two kids for this size space. Our room had two double beds, a modest bathroom with a bathtub, a mini-fridge, a Keurig, a small desk, and a large flatscreen TV on top of a dresser.
Another thing to note is that the windows of the train car face a hallway which is lit throughout the night, which can be quite confusing when you wake up at two in the morning and it seems like it's daylight. The room had plenty of blackout shades, however, light was still peeking around the corners, so just know that this may be confusing to your kids.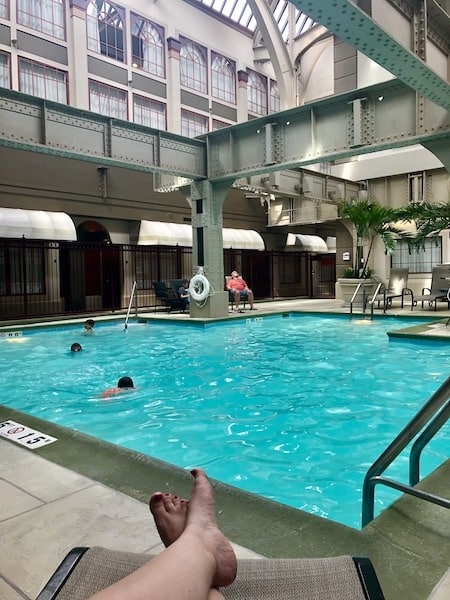 The hotel has a small indoor pool in the middle of the atrium, which is surrounded by guest rooms. If you have little ones that will need to nap during the day I would request a room away from this area. Note that it is a saltwater pool, which not all kids are fans of… so be prepared.
The hotel staff was very friendly upon check-in and every time we reached the front desk they offered the boys a little pack of fruit snacks, which just made their day. There are two restaurants in the lobby. 123 West serves a great breakfast buffet which is free for kids six and under. That was a huge bonus for me, as I was the lone adult and I only had to pay $17 for the three of us.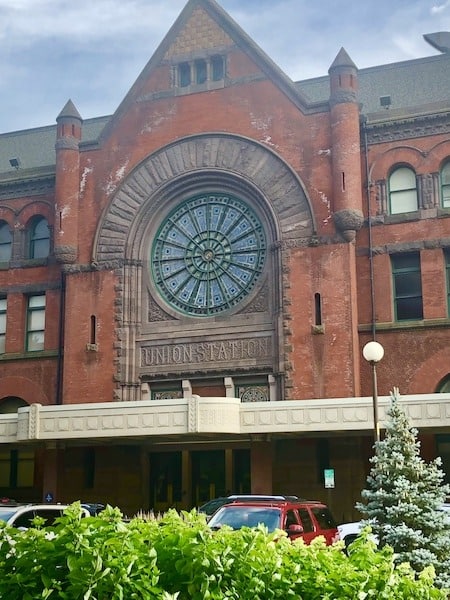 Parking at the hotel costs $40 a day and you have in and out privileges. There are other parking garages nearby but if you're traveling with kids I would just do the parking at the hotel because it's so much easier to have the valet bring you your car.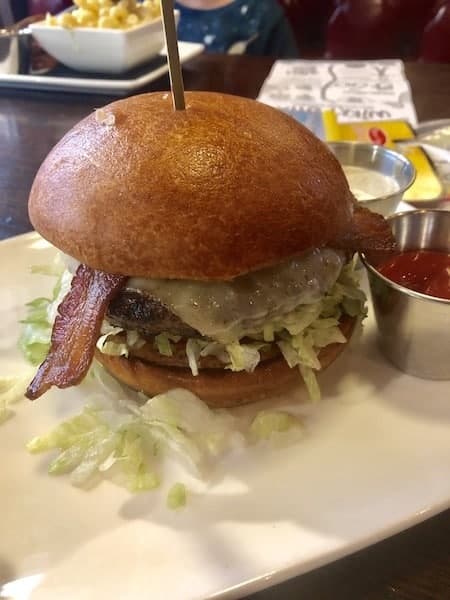 Burger Study
We dined on Saturday night at a really great burger restaurant called Burger Study, which was just a five-minute walk from the hotel. The food and the staff were all fantastic. They were so wonderfully catering to me and my kids and it was a great experience. They have a great selection of different kinds of burgers, as well as other sandwiches, a full appetizer menu (the Tuna Poke was delish!) as well as a full bar. They also have Wikki Stix for the kids to play with.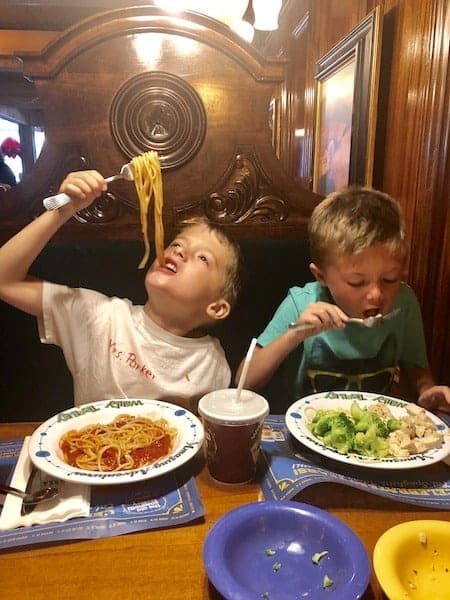 The Old Spaghetti Factory
We had dinner at the Old Spaghetti Factory on Friday night and it was another great experience. This is a perfect place for families. There is something for everyone to eat and it's a real crowd pleaser. The staff was very friendly and accommodating to my kids as well. And it was only about a seven-minute walk from the hotel. If you have a large group make sure to make a reservation because this place is very popular.
Final Thoughts
My kids and I really enjoyed all the attractions and restaurants during our stay, as well as our hotel. The downtown area is pretty cute, newly renovated, and well maintained.
I was surprised, however, by how much poverty I witnessed while driving into downtown, including around the areas of the zoo and children's museum. I was saddened to see many run-down neighborhoods right there in the middle of it all.
I got the feeling that even with these popular tourist attractions are right there, it didn't seem to be helping the local population. At no point did I feel like I was in any danger, but I did feel concerned for the people of Indianapolis. The last time I visited Indy was right before the housing bubble burst in 2008, and I have a feeling that has a lot to do with it.
Granted, we were only there for two days and we didn't get to see everything. But I felt like this was something I needed to mention because it made an impact on me.
The Children's Museum is a true leader in connecting with the Indianapolis community and I wanted to share some assistance programs that they offer:
Mid-North Promise Program: Provides academic support for children and adults in the 6 neighborhoods surrounding the museum including one-on-one assistance from a Family Learning Navigator.
Neighborhood Club Memberships: FREE memberships for all residents who live within one of their 6 surrounding neighborhoods.
Foster Family Membership: FREE memberships for all Indiana foster families
Access Pass: $2 admission to qualifying individuals who participate in government assistance programs.
They also have camps, discounted nights, and an after-school program for neighborhood members. You can learn all about it here: https://www.childrensmuseum.org/about/community-programs.
For a quick getaway in the Midwest, Indianapolis is a great choice for families with young children. Have fun!
This trip was sponsored by Visit Indy.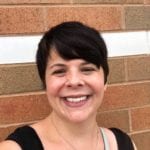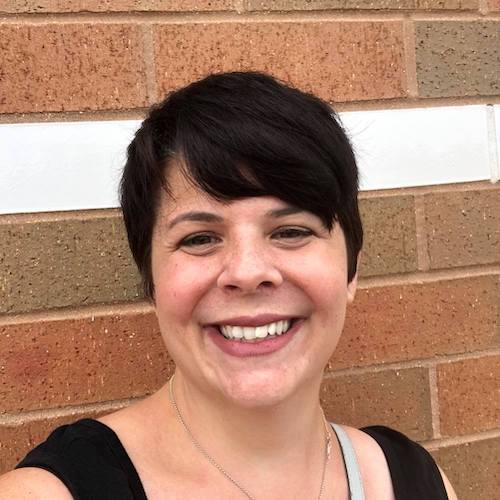 Julie Burt Nichols is mom to twin 6-year-old boys, Desmond & Alec, who were born on Halloween. Julie loves her job as the "Wizard Behind the Curtain" at Twiniversity — the #1 global resource and support network for parents of twins — where she serves as Editor-in-Chief of Twiniversity.com and Instructor for the Chicago Twiniversity expecting twins classes. She loves serving as a resource and support for parents of twins in the Chicago area. Julie is proud to be a certified child passenger safety technician.
Related Articles
A Quick Family Getaway to Lake Geneva Wisconsin
Is Woodloch Resort a good place to visit with your family?
How We Celebrated Our Twins' Birthday at Camelback Resorts