If you're pregnant during the COVID-19 coronavirus pandemic, here's what you need to know about your birth plan and hospital stay.
The world may seem like it pressed pause, but your pregnancy is still going on like it's any other day. Last night, I was (remotely) teaching our Twiniversity expecting twins class filled with expectant moms and dads and at the end of class the subject of COVID-19 came up. I hadn't been avoiding the topic, but our goal at Twiniversity is to get you prepared, and while this virus raging through the world is a big factor, there are many things in addition that we have to get you prepared for during your pregnancy and postpartum period.
How Covid-19 affects pregnancy has been on our minds from the DAY it was announced on this planet, not even in this country. Twiniversity has kept up to date with the American College Of Obstetrics and Gynecology (ACOG) on their guidelines for pregnancy and breastfeeding moms since it was first published and we check daily to fill you in on anything you need to know as we learn it.
Last night, during our pregnant with twins class, a student told us a story about how she's considering changing her delivery hospital to get out of New York City and into the countryside, not only because the city has more confirmed cases but because that's where her mom lives. GENIUS idea for her because not only has she delivered her older child in that countryside hospital, but because hospitals are changing their guidelines for visitors and lengths of stays because of COVID-19. Hospitals are preparing for the worst cases of elderly and compromised people and this virus, but women will still be having babies and life will still go on.
Because of that discussion, it's prompted me to create this post about how to handle your birth plan doing the Covid-19 era. We will go step by step about creating and editing your birth plan to reflect the current worldwide situation. So let's dig in.
What "birth plan" means?
A birth plan is a document that is created during pregnancy to convey your wishes and desires for your delivery day and postpartum stay. Most birth plans include wishes regarding breastfeeding and post-delivery baby care. The majority of expecting moms and dads don't have a birth plan. Some don't even know what a birth plan is. At Twiniversity, we encourage folks to have one, or at least research one so they know their options. Many opt to skip birth plans because they fear making wishes that may never come to fruition. That should never mean you don't inform yourself and express your desires to your doctors, but plan on the unexpected happening.
What should I write in my birth plan?
Your birth plan should include items like:
Who would you like to be there on delivery day.
(if necessary) Who would you NOT like to be there on delivery day.
What is your best-case scenario in regards to delivery? Plans for a vaginal delivery and plans for a C-Section delivery.
Your wishes for lighting/music/scents/special wishes while in active labor
Pain management techniques and requests
First experience with baby (cord cutting, skin to skin etc)
Breastfeeding goals
Postpartum requests (visitors, lactation support, room sharing)
Circumcision and vaccination wishes
Post delivery meal
Incidentals
Is a birth plan necessary?
No, a birth plan isn't necessary, but it's something you should strongly consider reading up about. It's better to be informed and potentially feel more in control of your own delivery, than perhaps have regrets leaving all the decisions up to your doctor and team.
Will COVID-19 interfere with my delivery?
As we said above, right now there are only women who were in their 3rd trimester infected with Covid-19 and after delivery they did not end up passing it to their babies. The big effects that this will have on your delivery are the new regulations your hospital may have in place.
One of the VERY first things that we do during a Twiniversity class is ask people to book and attend their hospital tour. Sadly, at this time, we are going to stop recommending it, but instead ask your hospital if they are going to offer free virtual tours either live or taped. Either is fine. What you need to "look" for is:
Where do you enter the hospital if your water breaks?
Where do you enter the hospital if you are scheduled for a C-Section?
On what floor will you find labor and delivery?
What are the visiting policies for labor and delivery?
Is there a waiting room and can family wait there or should they stay home?
Where is the operating room (OR) in relation to labor and delivery? Since operating rooms are scarce, will you still deliver in an OR (as is common with a twin delivery) with a vaginal delivery at this time?
What staff can I expect in my labor room?
Will my partner be allowed to stay with me through it all? If not, how and when will we be separated?
Am I allowed a birth doula if I have already agreed to have one? Will I be forced to choose between my partner and my birth doula?
What is the policy if the babies go to the NICU? Will my partner be able to go with them, or will they have to stay with me?
Will my partner be able to hold the babies right after delivery or are there new precautions because of Covid-19?
Where is the recovery room after I deliver the babies? How many other people will be with me in the recovery room? Will my partner be allowed to stay with me?
If I spend an extended time in the recovery room, and my babies do NOT need to go to the NICU, where will they be while I'm in recovery?
What is the visitation policy of the hospital TODAY? Do you anticipate any changes?
Will my visitors' temperatures be taken or are there any other precautions in place?
What is the minimum age of a guest? Can my older children come visit me?
Are there any new precautions to take upon discharge? Will new parents have a separate exit from the main hospital where COVID-19 patients might be entering?
Other questions you may want to ask:
If I test positive for Covid-19, will I be able to be with my babies?
If my partner tests positive, will they be able to see me and the babies wearing protective clothing?
Does the hospital have a policy on breastfeeding if I or my partner test positive?
Will my babies be tested before discharge from the hospital?
Yes, that's a lot to deal with, but honestly, there are just slight modifications to the questions that you need to ask. I suspect that guests will be limited and require particular testing before being allowed to enter. With that in mind, you need to have an alternative plan for your family "visits". For the time being, you may have to skip meeting grandma and grandpa right now, for their own safety, but you can comfortably do this via video chat or live video streamed from your room.
We are fortunate to have the technology we do at this time, and it's NOW that we have to take advantage of it.
Should I leave my city/hospital and go to a more remote location for delivery?
Before you make a dramatic change like that you have to think long and hard about it. Where will you go? What are the policies there? Where will you live if you are discharged but the babies stay in the hospital? It's not recommended you drive for 6 weeks after a C-section delivery, so how will you get to and from the hospital if the babies are there? Will you stay with family? Will they be fine with you leaving the house each day? There is a lot to consider, and this will be a VERY personal decision, but it needs to be a family decision. Weigh your pros and cons out CAREFULLY. Make an actual list on PAPER! Don't just talk it out. Put pen to paper and weigh out your options. Before you make any decisions, sleep on them and see how they feel in the morning.
Can you change hospitals/doctors with your twin pregnancy?
Of course. There are many reasons why you might have to change, like moving, if you need a specialist, if your doctor gets sick. But if you are thinking about moving out of a large urban environment to a more rural place with outside space that is private, think about it carefully. You need to think about finances, family, work, commitments, pets and every other aspect of your day. Does this mean you don't do it? No. I just want you to make sure you are making the right decision.
Want some good news? (Yeah, we do too!)
"A study of nine pregnant women who were infected with COVID-19 and had symptoms showed that none of their babies were affected by the virus. The virus was not present in amniotic fluid, the babies' throats, or in breast milk. The risk of passing the infection to the fetus appears to be very low, and there is no evidence of any fetal malformations or effects due to maternal infection with COVID-19."

Harvard Health Publishing

"Currently, there is no evidence of the virus in breast milk. Given that the virus is spread through respiratory droplets, mothers should wash their hands and consider wearing a face mask to minimize infants' exposure to the virus."

Harvard Health Publishing

So? Do you have a birth plan I can use?
Of course! Print this out today and start thinking about the answers. Click here for a free printable Twiniversity Birth Plan Worksheet.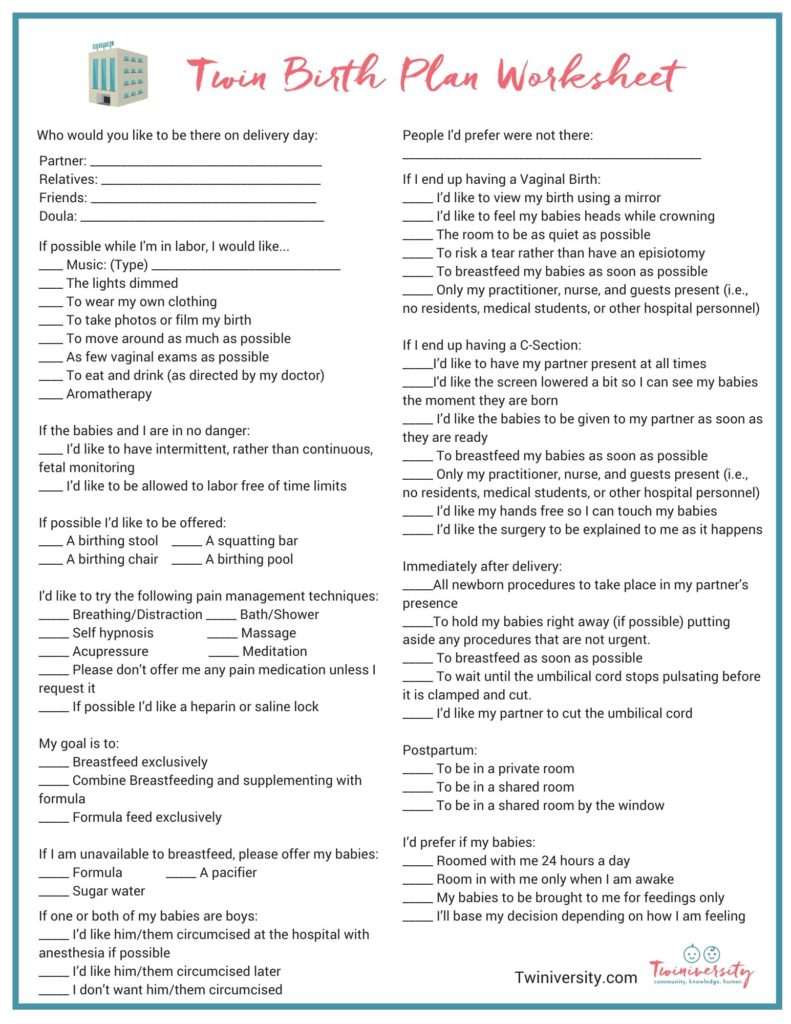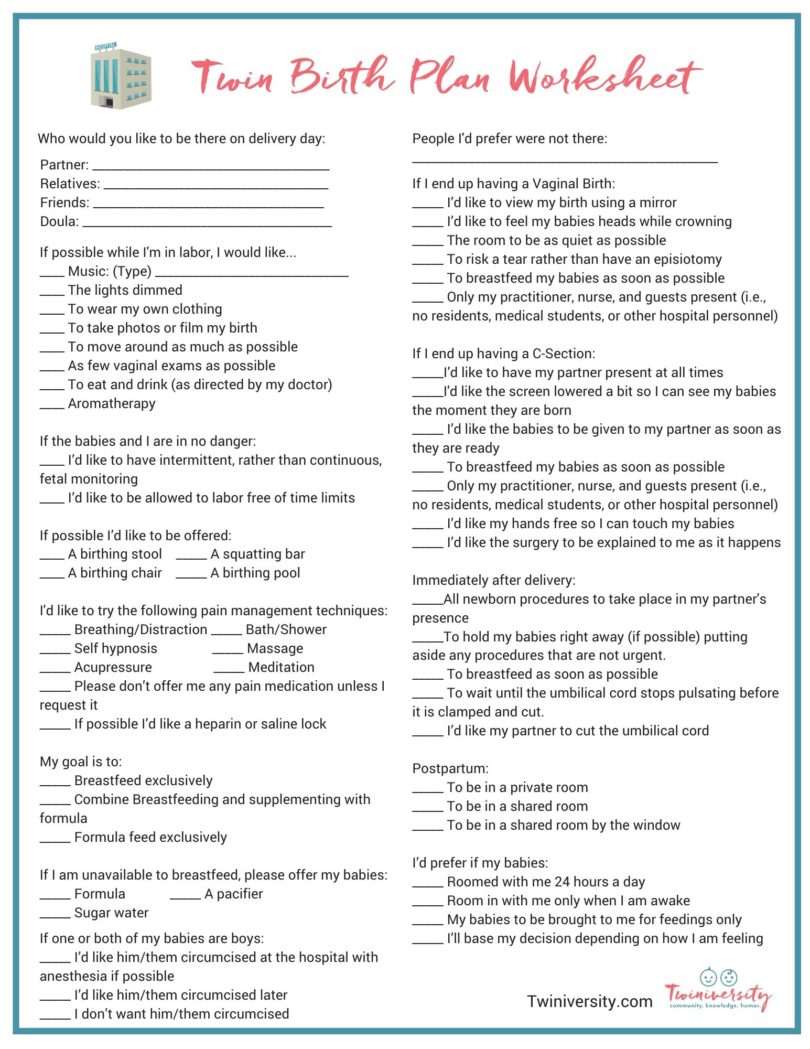 Does this all mean that you skip having a birth plan?
Absolutely NOT! We are in a very unusual, unchartered time in history. You'll be able to say, "My twins were born during the great quarantine of 2020." Is this the best news? No. BUT KEEP THE BIG PICTURE IN MIND. You are becoming a parent. Your babies will need you more now than ever. You may have not thought about breastfeeding much before, but you may have to now because it's just a smarter thing to do for several reasons. #1 – your breastmilk is the perfect cocktail for each baby and has antibodies that can never be replicated by man. And #2 – the emotional bonding that can occur is healing both your body and your mind. Twiniversity has an online breastfeeding twins course that you can start taking now (scholarships are available if you are experiencing a hardship) and you can start preparing now. You can even take our online Expecting Twins Class today. Both of these classes are on-demand so you take them on your own schedule.
Don't deny yourself a "typical" pregnancy and birth experience. You'll still have to shop for a stroller, you can still plan a nursery, you can still start looking up sweet twin girl names and twin boy names. Don't miss out on the joy this whole experience is going to bring to you and your family. You might have to celebrate your show in different ways, but you can do it. Rest assured that Twiniversity will be with you (and thousands of other expecting moms) every step of the way.
So today, your homework is…Celebrate. You got this, mama and papa. You really do. I know we've never met, but I believe in you. If you doubt me, join me for my Facebook live feeds where I connect almost daily with twin moms and dads from around the world. We can totally get through this together.
More Twin Pregnancy Resources
Twin Pregnancy Week By Week Timeline
Pregnant with Twins? Start Here: The Ultimate Twin Pregnancy Guide