Last updated on September 28th, 2021 at 01:21 pm
Are you looking for the best double jogging stroller? Take a look at this guide to getting the best stroller for your twins!
If you are an active family in search of a new stroller, a jogging stroller was probably already on your must-have list. Most jogging strollers provide everything you need in both a regular stroller and a jogging stroller whether you are running errands or running around the block for your daily steps.
What is the best double jogging stroller?
BOB Gear Revolution Flex 3.0 Duallie
Many consider BOB to be the best brand of jogging strollers. Although they are on the spendy side, if you are going to put in the miles, they are more than worth it.
The BOB Gear Revolution Flex allows for the smoothest ride thanks to their innovative suspension system (similar to a mountain bike) and durable air-filled tires that turn any terrain into what feels like pavement. It has adjustable handlebars, a no-rethread harness for easy height adjustments, 10 different storage pockets, and an extra-large cargo basket underneath for storing multiple diaper bags and more. Fits birth to 50 lbs per seat (100 lbs total), 0 to 8 weeks when used with a car seat adapter (sold separately) and infant car seat. Check this stroller out here.
Baby Trend Expedition Double Jogger
You can't beat the price of this double jogging stroller. Baby Trend did a great job designing an affordable jogging stroller that accommodates children from age 6 months all the way to 50 pounds. It features 16-inch rear and 12-inch front all-terrain rubber bike tires, so you can enjoy a smooth ride pretty much anywhere. The locking front wheels swivel easily for quick maneuvering and the foot-activated brake system in the rear makes quick stopping easy. It also features a large storage basket and comes with two cup holders. Get this double jogging stroller here.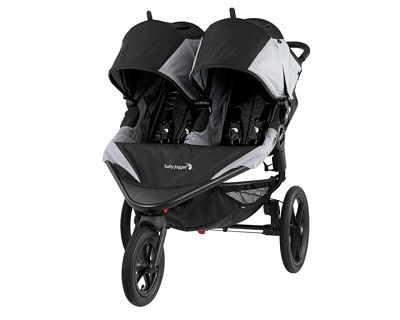 Baby Jogger Summit X3 Double Stroller
Hit the ground running (literally) with this impressively durable double jogging stroller. It features a patented quick-fold technology that lets you pack it away for easy storage when you're done using it, making it a great pick for city parents. The Summit X3 has 16-inch rear and 12-inch front air-filled tires and an all-wheel suspension system that absorbs bumps in the road so your kids (and shoulders) don't have to. It has a hand-operated rear brake for safety and a large adjustable sun canopy to protect your precious cargo. Get this double jogging stroller here.
Bumbleride Indie Twin
We love this awesome double jogging stroller. With a quick, compact fold, a flip-flop-friendly foot brake, and plenty of built-in storage, you'll love it too! The air-filled tires and all-wheel suspension combined with the 360-degree swivel tires make this one smooth ride for your twinnies. Learn more about this stroller here.
Baby Trend Navigator Lite Double Jogger
The Baby Trend Navigator Lite accommodates two Baby Trend infant car seats, making this travel system especially convenient for parents of twins. It comes with all the other important bells and whistles including locking front swivel wheels, pneumatic bike tires, a parent tray with two cup holders, a large storage compartment, and MP3 speakers so you can jam out on your jog. Buy this stroller on Amazon here.
Thule Urban Glide 2 Double Stroller
This double stroller folds one-handed with ease and is compact for storage almost anywhere. It's great for hills with its twist hand-brake and has a multi-position canopy with ventilation. It features a one-handed recline and a peek-a-boo window with magnetic closure. Buy this stroller here.
Which double stroller is best for toddler and baby?
Baby Trend Navigator Double Jogger Stroller
Baby Trend brand is well-known for its practicality, simplicity, and is one the most affordable jogging strollers on the market. The Baby Trend Navigator is a double stroller for active parents of two young kids. It can accommodate two Baby Trend infant car seats at once, and the best part is no additional adapters are required. The infant seat attaches directly to the child tray. This is why it is a fantastic double jogging stroller for an infant and toddler.
Another great feature, specifically for the parents, is the MP3 speaker's plug-in in the parent tray, which is fantastic for running and exercising, but also for playing your child's music. It is compatible with most MP3 players.
Is a double stroller really necessary?
If you are a regular runner with two young children, then a double jogging stroller really is a necessity. Jogging strollers are built quite differently than regular strollers. Jogging strollers usually have inflatable tires to handle rougher terrain and a brake on the handlebar to slow down quickly. They also have better suspension for absorbing bumps, making for a smoother ride. The three wheels provide better maneuverability and the fixed or lockable front wheel makes for easy steering while you run. Jogging strollers have features to allow you to run with better control and stability.
Is running with a jogging stroller a good workout?
Running with a stroller is difficult, to say the least. However, there are plenty of benefits of the extra work that comes with running with a stroller. Researchers have found that running slower while pushing a stroller burns the same amount of calories as if they were running faster without the stroller. You're working harder even though you are running slower. A study by researchers at Seattle Pacific University showed that running while pushing the stroller with two hands increases the number of calories burned by about 5 percent, pushing with one hand increases it by about 6 percent, and the push-and-chase method increases it by about 8 percent. Plus, when you're used to pushing all the extra weight of a stroller and trying to keep kids happy for the long haul, running without a stroller feels like a breeze.
What stroller has the highest weight limit?
BOB Gear Revolution Flex 3.0
The BOB Revolution Flex comes with an incredible weight capacity of 165 pounds. With such a high maximum weight, this stroller can accommodate your kids from babyhood all the way to 6 or 7 years old. Obviously, the biggest advantage of the Bob Revolution Flex is the weight capacity, but it comes with lots of other features.
Superior Comfort – Suspension system with air-filled tires that slide over even the bumpiest of terrain.
Adjustable Handlebar – Adjusting to anyone's height is a cinch
No-Rethread Harness – Adjust the safety harness as your child grows older, with just one hand
Plenty of Storage Space – 6 storage pockets with an extra-large cargo basket and a cell phone pocket attached to the handlebar for easy access
Superior Reclining Options – Seat reclines almost completely flat with a single push of a button
From the comfortable seat with one-hand adjustments and recline to the suspension and state-of-the-art air-filled wheels, you can feel confident in your child's ride.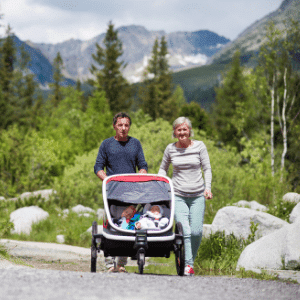 What should I look for in a jogging stroller?
Not all jogging strollers are created equal. When shopping for a jogging stroller here are some things to keep in mind:
Think about the weight; Consider the weight of the stroller and the weight of the child(ren) in the stroller. You'll also want to know the maximum weight the stroller supports so that you can estimate how long you can use it before your child outgrows it.
Look for a 5-Point Harness; A 5-point harness is safer than a 3-point harness because it prevents the child from sliding or falling out if the stroller tips. The straps should be height-adjustable for a proper fit.
Adjustable Handlebar; Having an adjustable handlebar is important so you can adjust for your height but also so you are not kicking the rear axle while running.
Brakes; Good brakes are essential in a jogging stroller. It is best to find one that has a handlebar brake, as a hand-operated brake offers better control as you jog to prevent a runaway situation if you pick up too much speed or head down a steep incline.
Consider Weather Accessories; If you are an all-weather runner, you'll want to think about what your stroller needs to keep you kids comfortable during less than ideal weather. Most strollers have a canopy that should shield your child from sun and a light drizzle, but maybe this isn't enough. Some strollers even offer a pull-down layer on the canopy that shields almost the entire front of the stroller and your child from sun, insects, and wind. You can also buy a plastic rain cover if it's not included.
If possible, try out the jogging stroller before you buy. If buying online, be sure to check out the side view pictures, as this will help with logistics.
What is the difference between a stroller and a jogger?
A "regular stroller" is often categorized by the number of wheels. It often has four sets of wheels, while jogging strollers most often only have three. In both types of strollers, usually, the seats will recline, there will be a canopy to protect from the sun, and there will be a bottom basket underneath to hold toys, snacks, or other items. The biggest difference is the wheels. Jogging strollers have three, air-filled rubber tires for a smooth ride. The front wheel will have the option to lock into place which is recommended when you are running. Otherwise, it can be unlocked when walking for easier maneuvering around turns and bends.
Should I get a jogger or stroller?
This is completely dependent upon your lifestyle. If you are a runner, jogger, or long walker, a jogging stroller will make all of this easier for you and more comfortable for your child. Jogging strollers have large tires and adjustable shocks that minimize bouncing and ensure that your little one is comfortable.
Just need something to help make running errands easier or leisurely walks around the neighborhood? A regular stroller will suit you if you want a sturdy, reliable vehicle that has plenty of room for your shopping and baby essentials. They usually will handle well on generally encountered terrains such as gravel paths, uneven sidewalks, and flat shopping mall floors as well.
However, you can get both in one stroller. Some jogger strollers come with a locking front wheel for running, but also allow you to unlock it for everyday stroller use.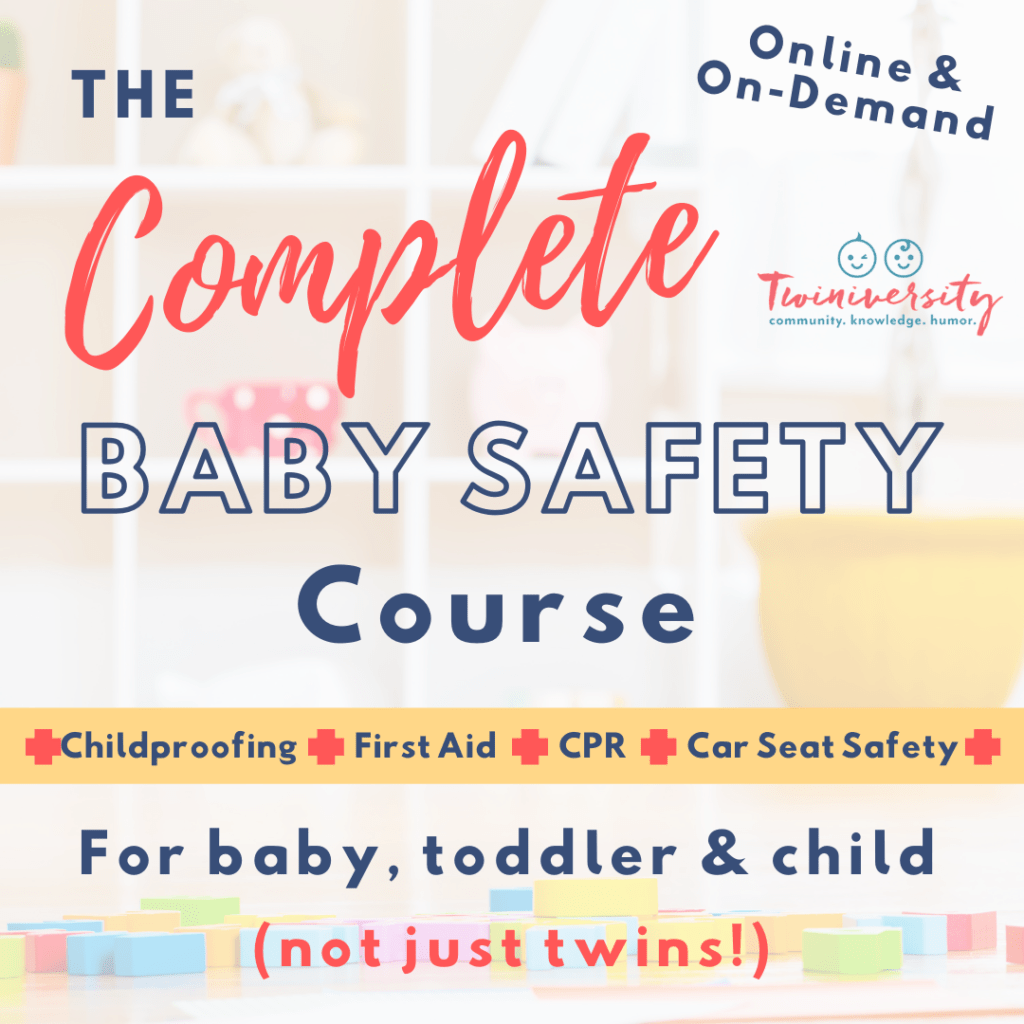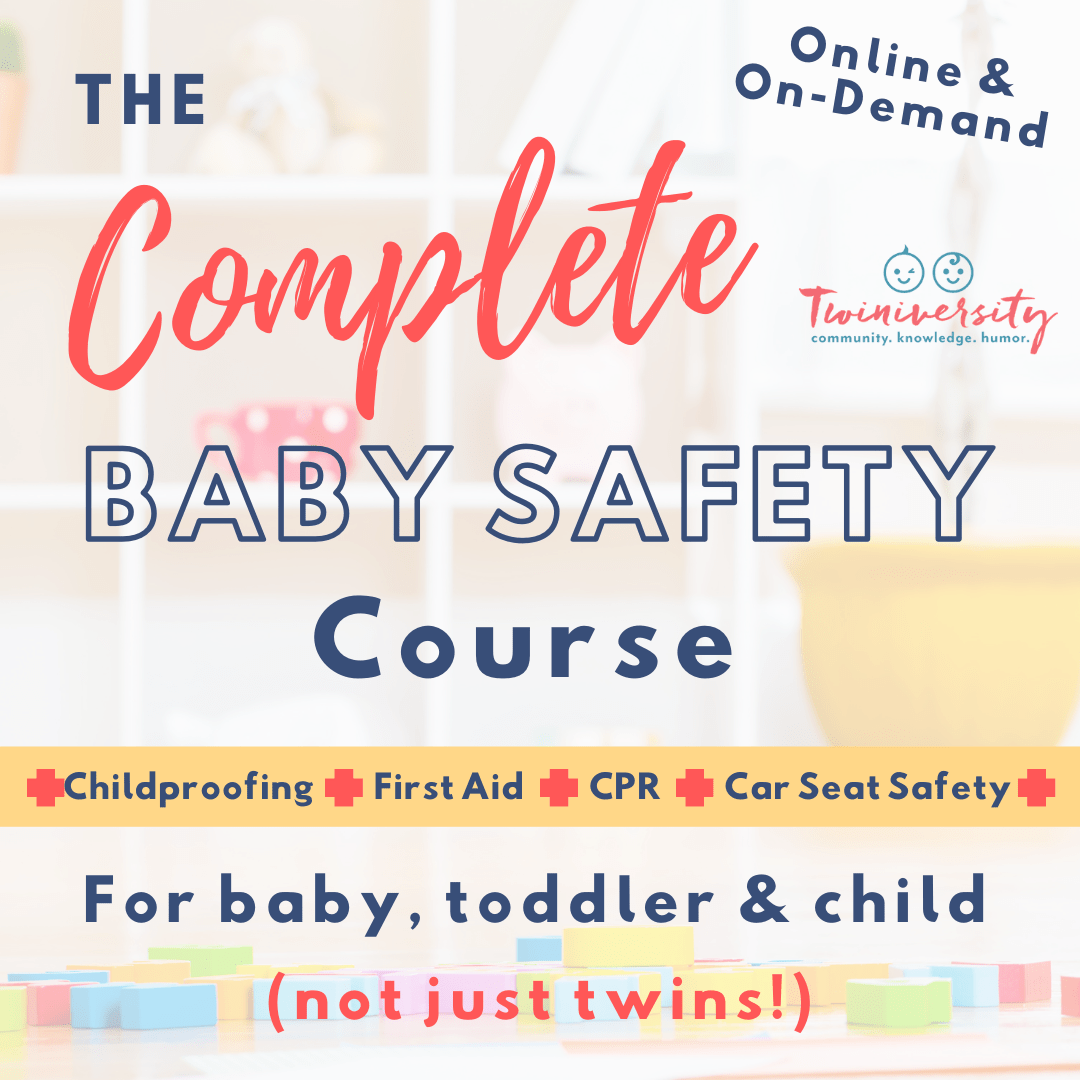 Need some baby safety training? Take the Twiniversity Complete Baby Safety course, offered on-demand. Includes video modules on infant, toddler, and child CPR, first aid, and common medical ailments, plus car seat installation and safety and childproofing your home. Click here to learn more!
At what age can you run with a baby in a jogging stroller?
Experts recommend waiting until your child is at least 6 months old before you run with him or her in a stroller. Your little one needs to have good neck control before you take him out for a jog.
If you enjoy running, jogging, or even just taking off-road trips with your child, a jogging stroller is probably your best choice. A jogger gives you the flexibility to stroll, jog, or run pretty much anywhere you want to. You can also use your jogger for trips to the mall. Most jogging strollers cost more, but if you are going to be using them for what they are intended for, they are worth every dollar!
Recent Posts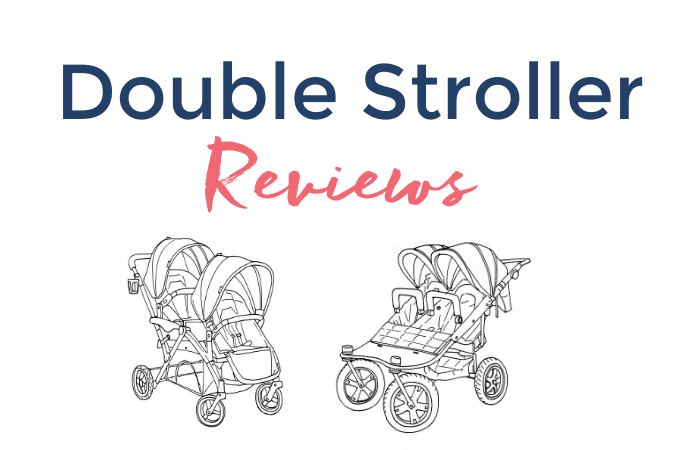 Are you looking for the best double stroller for twins? Not sure if you should go for a tandem stroller or a side-by-side stroller? And what about a Snap N' Go? We've got all the details for you in our double stroller resource. Click here to learn more… and while you're at it, check out our expecting twins classes and the Twiniversity shop!