Last updated on September 25th, 2023 at 09:26 pm
If you are in the market for a double stroller for travel or everyday use, you might be wondering where to begin. Get the low-down on double strollers before you hit the stores.
If you're expecting twins or getting ready to welcome baby number two, you may be in the market for a double stroller. Finding the best double stroller for your family will depend on your situation. If you're having twins and need a double stroller that will fit two infants, you might need one that's convertible to fit two car seats or can accommodate two newborn bassinet attachments. Have an infant and a toddler? You'll need to pay close attention to the height and weight limits of each seat. Plan going places and seeing the world? Then a lightweight and collapsable double stroller for travel is what you are looking for.
What is the best side by side stroller?
Double strollers come in a few different configurations. A side-by-side stroller is one of the most commonly used double strollers you can buy. Many parents prefer a side-by-side stroller over a tandem stroller because it allows both kids to have a front-row seat, it's easier to maneuver, and as your kids get older they can easily get in and out on their own. But where do you begin when shopping for a side-by-side stroller? Here are the Twiniversity top picks for the best side-by-side stroller to get you started!
Bumbleride Indie Twin
The Bumbleride Indie Twin stroller has always been a Twiniversity favorite. Do you know why? Please, I'll stop the suspense. Let me tell you. It's because it has real air tires. Not air-light tires. Not air-free tires. I mean, these are legitimate air tires.
When you have twins, especially fraternal twins, there's a good chance that your twins are going to have a size discordance. It's also known as having one baby larger than the other. If you have a stroller that has true air tires you basically just take it to the bike shop, have them adjust the pressure and you can push straight 100% of the time. If not, often, you'll veer to the side of the heavier baby.
This stroller is full of features. For example, the five-point harness system. This is not your typical five-point harness system because it has a quick release and it ensures that your baby is never going to get their skin caught in this little clasp. It has a cover for below and a cover for above making sure that these little guys don't irritate your baby's skin.
The canopies have built-in 45 SPF. They are extraordinarily long. There's an additional pop-out that gives you just a little bit more sun protection, which is perfect especially if you are going to be using this stroller with newborns. If you want to take a look at your babies, open up this little peek-a-boo magnetic flap, so it's not going to blow in the wind, and this little mesh insert is going to allow you to see your babies totally uninterrupted.
A huge factor for twins is that the Bumbleride Indie Twin can accommodate two infant seats or two infant bassinets. That is a huge plus for parents of twins who are looking to get the most bang for their buck out of a double stroller.
Learn more about the Bumbleride Indie Twin here.
Mountain Buggy Duet
The Mountain Buggy Duet (buy on Amazon) is a fantastic side-by-side stroller. It also takes two infant car seats but the added bonus is that Mountain Buggy offers two kinds of twin bassinets to use in the Duet: the CarryCot Plus for Twins and the Cocoon for Twins. Both of these bassinets allow your twins to be close enough to touch each other!
The Duet is an extra narrow stroller (25″ wide) and fits through even the narrowest of doorways. It's the same width as a single stroller! I also love the hand brake to slow the stroller down when you're going downhill. It has a very smooth ride with air tires and great shocks. Each seat has an individual full flat recline. I also love the one-handed compact fold.
Learn more about the Mountain Buggy Duet here.
Peg Perego Book for Two
The Peg Perego Book for Two is not very well known in the US but it's a big favorite across the globe. The Book for Two can take two infant car seats, making it a great choice for twins; however, it's worth noting that you can only use the Peg Perego Primo Viaggio infant car seats with the adapters. A single car seat is also available for parents with children of different ages.
The Book for Two is extra narrow, at 29 inches wide. It comes equipped with an extra-large basket that has three pocket dividers that are able to store smaller items, as well as netted storage pockets on the back of each seat. It has Soft Ride wheels with ball bearings and suspensions for a smooth ride on many different terrains. The large hoods of the Book for Two have 'peek-a-boo' windows that magnetically open and close, as well as a mesh ventilation system to keep air flowing. The front bumper can open to easily get children in and out of the stroller.
Learn more about the Peg Perego Book for Two here.
Zoe Twin+ Stroller
The Zoe Twin+ LUXE is a great double stroller for travel and for everyday use. This is the ultimate lightweight, compact everyday double stroller for on-the-go parents. It's built on the Zoe Classic's smart design, lightweight frame, and convenience but sports an upgraded sleek version of comfort and style. This stroller does NOT take two infant car seats, but that shouldn't make you shy away. This is a fantastic stroller once your twins are starting to sit upright. It's so lightweight for throwing in the trunk or taking on a trip.
The Zoe Twin+ Luxe weighs only 19 lbs., so it's light enough to be gate-checked on every airline (even American) and it passes all the Disney Parks requirements. It's super easy to get in and out of the car too! Single doorways? Not a problem. It's narrow enough to fit through, easy peasy.
Each seat on the Zoe Twin+ Luxe has been tested to hold up to 45 lbs, which means it will last longer for your twins than a LOT of lightweight double strollers on the market.
Learn more about the Zoe Twin+ stroller here.
Baby Jogger City Mini GT2 Double
The City Mini GT2 Double stroller is the updated version of the Baby Jogger City Mini GT Double Stroller. Functional and design improvements include a peek-a-boo window with magnetic closure and adjustable leg rest for added comfort. The new version also features a redesigned frame shape and upgraded all-wheel suspension for a sleek look and easier control.
The GT2's Forever Air rubber tires and all-wheel suspension make this stroller perfect for city strolling and off-road excursions. Additional features include a one-step fold, an adjustable handlebar, a hand-operated parking brake, and a large under-seat storage basket.
Each of GT2's seats can recline individually to a near-flat position and can accommodate kids up to 50 pounds. This weight limit, coupled with a maximum head height of around 26 inches, makes this stroller a good fit for twins and siblings up to 5 years.
Customize your ride with accessories like the Pram Bassinet, Glider Board, Parent Console, or Child Tray (sold separately). Weight limit: 50 pounds per seat, 114 pounds total, Age limit: 0 months and up.
Although this stroller is my go-to for theme parks and day-long outings, it is not a great double stroller for travel.
Learn more about the Baby Jogger City strollers here.
Contours Element
The Contours Element side by side stroller can convert into over 35+ configurations including a double car seat carrier (when used with car seat adapters), a double pram (additional accessories needed), or into a traditional side-by-side stroller with the ability to face forward, backward, or even both! It can even be a single stroller with a side basket.
When you make your initial base purchase, you'll find that the only configuration you can buy is the Contours Element Convertible Stroller with ONE seat, the parent organizer, and the tote. To make this stroller fit our twin universe, you'll need to purchase one additional seat that would take the place of the tote. However, you can go all out and purchase two car seat adapters, two pram/bassinets, one additional bassinet holder (one comes with the base model for the tote), and the rain shields.
Out of all of the one-plus-one strollers out there, this is a TOP pick for twin families. Typically I find there isn't enough space for each twinnie, however being that these seats are side by side, your legroom is limitless!
Learn more about the Contours Element here.
Bugaboo Donkey5 Twin
The Bugaboo Donkey5 keeps your twins together from day one with its new and improved design. Convert the stroller from single to twin mode in just three clicks. The reversible seats let twins face each other, face you or face the exciting path ahead. It's smaller than you think and ready to go with just a one-hand push. The new and improved Donkey5 brings your child 1.2 inches closer to you for an easier reach. There is also a new advanced breezy bassinet with a better ventilation system, keeping babies cozy whether you're inside or outside. Other new features include integrated attachment points for the Bugaboo wheeled board and cupholder and an improved folding and unfolding mechanism.
The Bugaboo Donkey was the first single-to-double stroller to add a seat by expanding sideways. Yes, you can literally pull the frame OUT (sideways) to expand it or push it back in to collapse it. It easily transforms from a single to a double stroller in three quick clicks and works with a car seat converter, too. One of the best parts of this stroller is the seating versatility for little ones: each seat can face forward or backward and reclines in either position. The foam tires never bust, so you won't have to worry about getting a flat when you're out and about. Plus the narrow frame makes it easy to navigate tight spaces.
This is the "Bentley" of strollers. You may have a bit of sticker shock when you find out the base price of this stroller is $1,299, and with the twin accessories, it will go up to $1,700+. Worth it? Some celebrities seem to think so. This is the stroller of choice for Chris Hemsworth and Zooey Deschanel.
Buy this stroller here.
Britax B-Lively Double
The Britax B-Lively Double Stroller is a great option for twins. It's on the lighter side for a double stroller (29 lbs) and it's a smooth ride. This is a great everyday stroller for walks in the neighborhood or for throwing in the trunk and taking to a theme park. The storage basket is ample and the 5-point harness will keep your kiddos in place. We also like the adjustable handlebar, which is great for shorter or taller folks. This is also a great stroller for the grandparents to keep at their house.
The only major downside is that the Britax B-Lively Double can only take one infant car seat, and it will have to be a Britax brand. You can still use this stroller from birth, you will just need to lay the seat down flat.
Please also note that the Britax B-Lively Double is 31.5 inches wide, which is a half-inch wider than the Disney Parks will allow. You may want to check with a Disney travel agent or call the Disney Parks yourself to check if that extra half-inch will be allowed at Disney.
Learn more about the Britax B-Lively Double here.
Mountain Buggy Nano Duo
The Mountain Buggy Nano Duo (buy on Amazon) is another great double stroller for travel. It weighs 20 lbs, meeting the American Airlines maximum weight for a gate check. This makes it one of the lightest high-quality side-by-side strollers on the market.
The Nano Duo has an ultra-compact fold which is great for small living spaces and small trunks. The Mountain Buggy Nano Duo can accept two infant car seats when paired with the Nano Duo Twin Car Seat Adapter. If an adapter isn't your style, you can lay the seats flat and use a Mountain Buggy Cocoon for twins. This is like a soft-sided double bassinet.
Learn more about the Nano Duo here.
Joovy ScooterX2
The Joovy ScooterX2 is an economy side-by-side stroller with the most storage space on the market. The canopy is bigger than any other stroller on the market, too. Each seat is independently adjustable and has its own in-seat mesh pocket and adjustable 5-point harness. The Joovy features an almost flat recline and includes 2 cup holders and zippered pockets for phones, wallets, snacks, etc.
The Joovy ScooterX2 double stroller has a new stylish graphite grey frame and bigger wheels. The larger 7-inch front wheels and 9.5-inch rear wheels make it easier to maneuver than before. The width of the stroller is 30 inches, so there's no need to fold it to get inside a door. The lightweight and narrow design allow the stroller to fit through any door.
The Joovy ScooterX2 is a great economy double stroller. Buy one here on Amazon.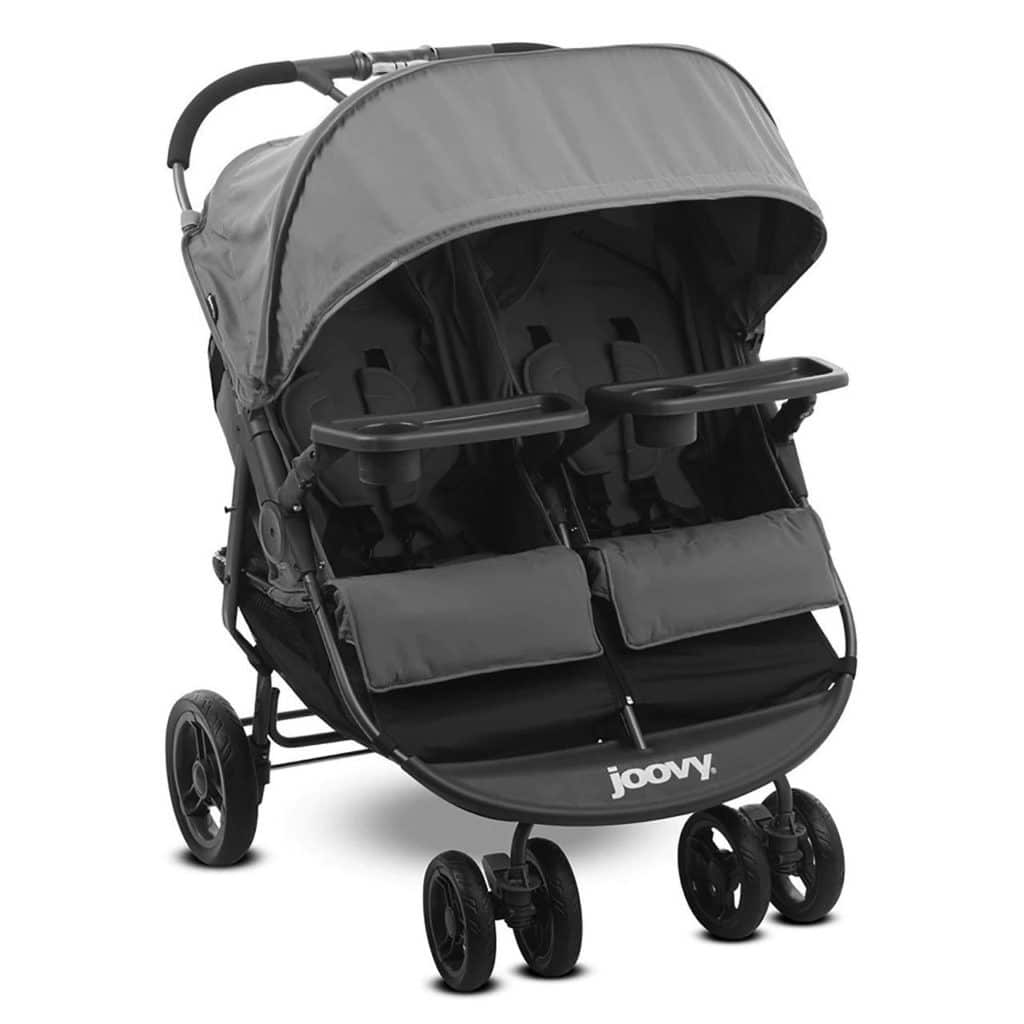 Do side by side double strollers fit through doors?
The downside of side-by-side strollers is that you need to consciously look for a stroller that will fit through doorways. Some side-by-side double strollers are designed so wide that you have trouble going through most doorways when out and about.
Standard exterior doorways are designed to be 32-36 inches wide. This means that when picking out a side-by-side double stroller, make sure it is less than 32 inches wide.
Many double jogging strollers will not fit through a standard doorway, so check the dimensions before buying.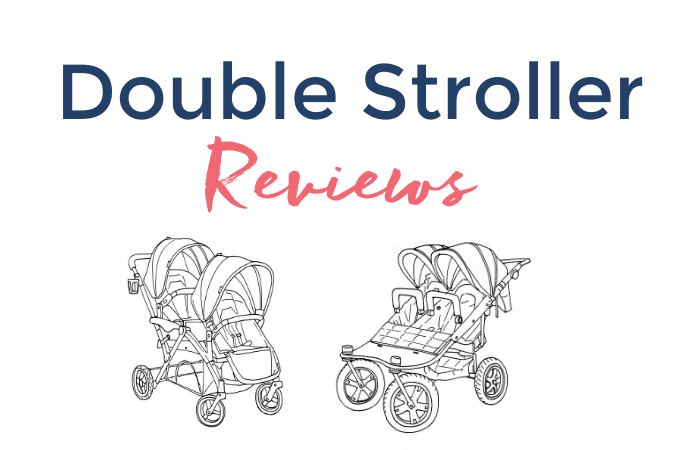 Are you looking for the best double stroller for twins? Not sure if you should go for a tandem stroller or a side-by-side stroller? And what about a Snap N' Go? We've got all the details for you in our double stroller resource. Click here to learn more… and while you're at it, check out our expecting twins classes and the Twiniversity shop!
What's the best double stroller for infant and toddler?
There are so many great choices for side-by-side strollers that can accommodate one infant and one toddler. All of the strollers mentioned above (with the exception of the Zoe Twin+) can take one infant car seat, leaving the other seat for your toddler.
Do I need a double stroller for a 2-year-old and newborn?
If you are expecting twins or your second child you might be considering a double stroller. This is not a requirement once you have two children. However, parents of twins or children born close in age do tend to prefer having a double stroller, especially for travel.
As a parent of a singleton and twins (I never mastered the twin carriers), a double stroller was necessary. But if your older child has almost outgrown the stroller, you may be able to put your new baby in a front carrier or sling and put your toddler in a single stroller. When your baby is older you can then use the single stroller for your baby and put your toddler on a stroller board on the back.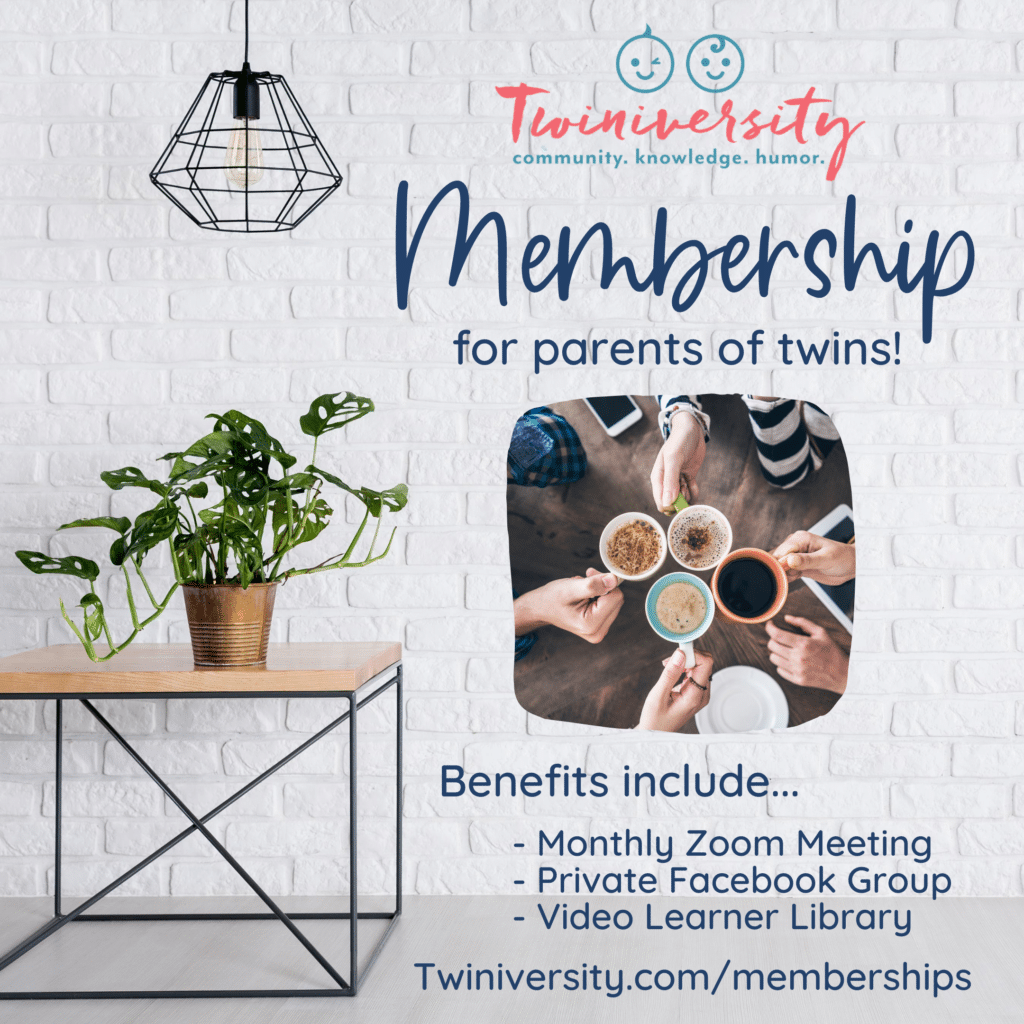 Need some twin parent friends? Get the support you need with a Twiniversity Membership. Benefits include a monthly twin parent club meeting on Zoom, access to a private Facebook group just for twin parents, and a video library of twin parenting lessons. Visit Twiniversity.com/membership to join today!
Are double strollers worth it?
A double stroller will help you keep your children safe and sheltered while helping with convenience in your daily life. Whether you have newborn twins or a toddler and a newborn, a double stroller can accommodate any combination of children. It is nearly impossible and impractical to try and push two single strollers at once, especially if you're also juggling a diaper bag. A double stroller allows you to secure both of your children, quickly store all your stuff, and usually provides a cup holder for that much-needed cup of coffee.
For parents of multiples, a double stroller would definitely be useful. If you have children close together in age, a double would be a great tool on outings. A side-by-side stroller can also be a convenient, safe way to carry an infant car seat while still being able to take your older child out on adventures. If traveling with two young children, a double stroller for travel is a must!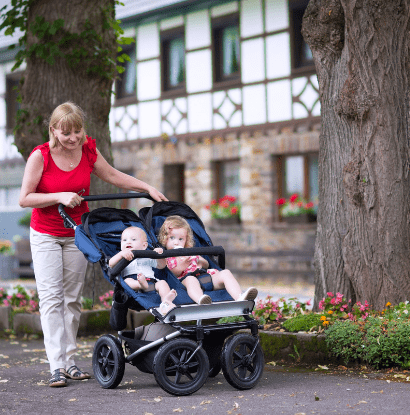 Should I buy a double stroller for first baby?
When you're shopping for your first stroller, you're not necessarily thinking about your second. Often in no time at all, your second is on the way, but your first still needs the stroller, too. Depending on the time between your two children, the thought of purchasing a double stroller so soon after purchasing a single stroller can be frustrating and costly. Solution? Purchase a convertible stroller from the start. A convertible stroller allows you to attach a second stroller seat or infant car seat, transforming your single stroller into a double stroller.
When your older child insists they are too grown-up for a stroller, you can detach the second seat to convert it back to a single stroller. And when it turns out they are not quite grown-up enough for long walks, you can add a glider board so they can ride along. A major plus to convertible strollers: most offer multiple seat configurations so that your kids can face you, face the world or face each other!
What is the lightest double?
The Zoe Twin+ double stroller is the lightest side-by-side stroller, weighing in at just 19lbs. This is the perfect double stroller for travel! This stroller is easy to fold and open. Each seat reclines separately and almost flat and has the capacity of 45 lbs along with an independent 4-panel extendable sun canopy. The Zoe Twin+ also comes with lots of extras. It features a snack cup, child cup holder, parent cup holder, and elastic storage basket, perfect for holding all THE STUFF. Twin parent bonus: this is one of the only double strollers that meets American Airlines' strict 20 lb. limit policy. Having the option of checking your stroller plane-side is always a traveling win!
Before purchasing a double or side by side stroller, consider what your lifestyle currently looks like. Try to look ahead to what your lifestyle might look like in the near future, too. Maybe a double stroller isn't for you, or maybe a convertible stroller is best from the start. No matter the decision, remember to consider how you'll be using the stroller. If you plan on actually getting a workout, pick one that's durable and easy to push. If mass transit and travel are a regular occurrence, a double stroller that is lightweight and easily collapsable is the best option.
Latest Twiniversity Articles