You know Easter is near when you start seeing malted candy eggs EVERYWHERE. And although I adore the novelty of Easter candy — bunny shaped chocolate, jelly beans and Cadbury cream eggs — I still have 3 lbs of Valentine's candy in my pantry. My kids definitely don't need any more candy! So, let's talk Easter baskets without candy.
How To Create Fantastic Easter Baskets Without Candy
Themed baskets
Themed baskets are my favorite! It gives me the opportunity to give my kids some of the stuff they want while sneaking in some stuff they need. The possibilities are endless. Pick a theme or central idea and build on it. You can do simple. Think favorites: favorite color, TV character, sports team, or activity. Or be more specific, such as Legos, Disney Princesses, Shopkins, or Hot Wheels.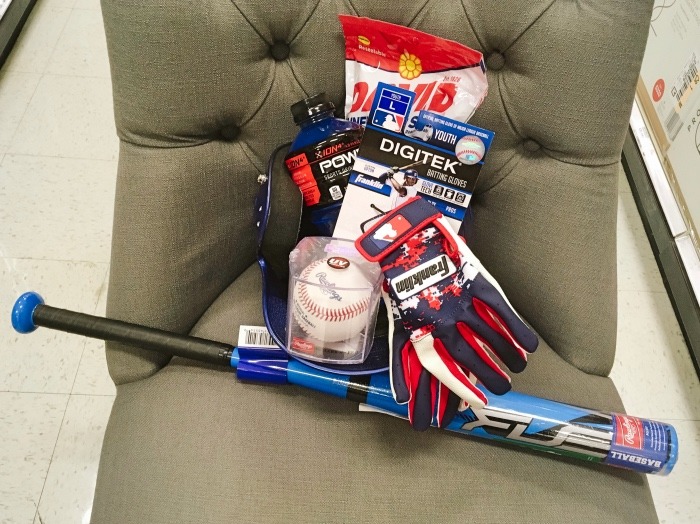 Sport basket
Spring sports are in full swing just before Easter, so a baseball, softball, tennis, golf or soccer themed Easter basket is a great way to keep the candy out and but leave the fun in. Plus you can be really creative, like using a baseball helmet as the basket and filling it with a batting glove, baseballs, sunflower seeds, and a sport water bottle.
Arts and Crafts basket
An arts and crafts themed Easter basket is so easy to create and can be tailored to different age groups. For toddlers, fill it with finger paints/watercolors with paper, Play-doh, coloring books with crayons, sticker books, sidewalk chalk, and kinetic sand. For 5-12-year-olds a DIY slime kit is a must, silly putty, Beados/Aquabeads, water guns, Nerf guns and brain teaser puzzles such as Hanayama.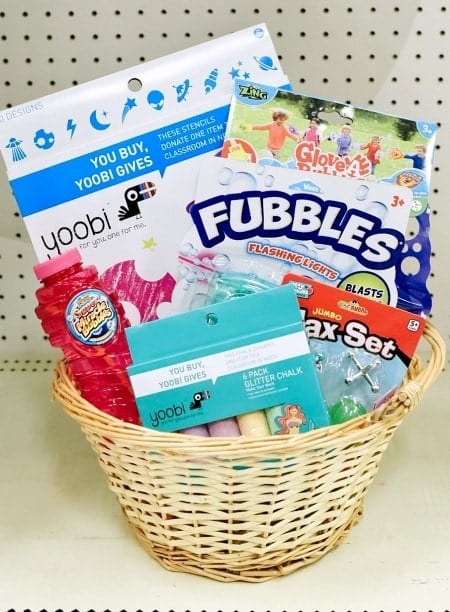 Outdoor Activity basket
With warmer weather on the horizon and summer closer than ever, an Easter basket filled with outdoor activities such as bubbles, water guns, water balloons, chalk, chalk art stencils, jump rope, foam airplane glider, and a Velcro toss and catch game.
A gardening basket is also great to entice outdoor play. You can use a wooden crate or a planter for the basket and fill it with gardening tools, gloves, sunglasses, garden seeds, and a bug catcher. Both of these ideas will keep the kids outside and having fun for days to come.
Swim basket
A "swimming" basket is always a great idea. Most kids need new swimsuits, goggles and swim towels every year. Throw in some diving toys, sunscreen, sunglasses, swim shoes, or flip flops and make the basket from a fun summer hat and you have a fun and useful Easter basket.
Spring showers basket
A spring showers basket is also full of fun, yet essential items. Use an open umbrella (upside down) as the basket and fill it with rain boots, a raincoat, and rainy day activities like crossword puzzles, comic books, movies, and magazines.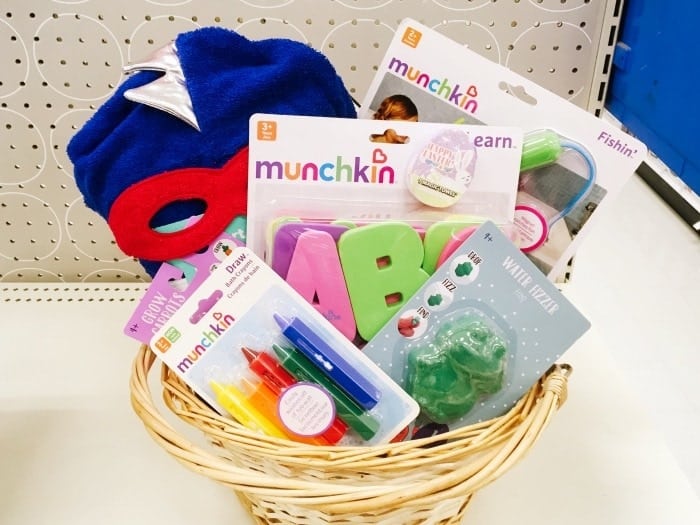 Bath basket
A bath-time basket is a common basket theme in my house. Bath toys need to be replaced often so they don't get moldy, plus this is a real crowd pleaser for younger kids. Fill the basket with a new hooded towel, foam toys, water crayons, water fizzer with a surprise toy inside, bubble bath and bath bombs. Your kids will have fun while getting clean; sounds like a mom win to me!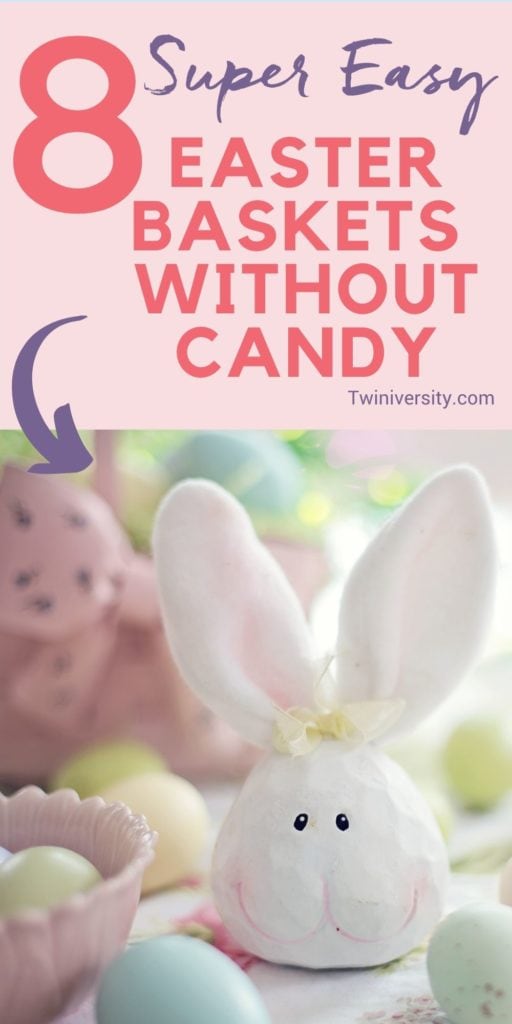 Piggy Bank basket
A fun family tradition we have is filling plastic eggs with spare change. It doesn't matter how old a child is, money is exciting. When my kids were three years old, their Easter basket had a piggy bank in it. Add the plastic eggs, and you have a piggy bank basket. Now each year I add a few plastic eggs filled with spare change, and a dollar coin or two, to their Easter basket. Every year they take their change and add it to that piggy bank they received when they were younger. I love this — I feel like I'm making the task of saving money fun and they look forward to it every year!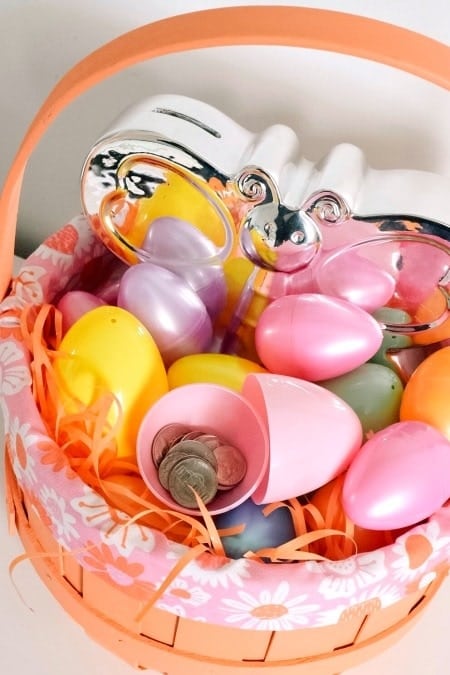 Fun "non-basket" baskets
My kids have October birthdays so Easter baskets tend to be big deal around our house. I don't do it every year but some years they have received big gifts as their Easter basket, such as a splash table or a sand table. Or a bicycle complete with bike helmet filled with sunglasses, sunscreen, bike bell, and handlebar streamers. These can be costly, but also fun to do every once in a while.
Easter basket fillers
Not into themes? No worries! Here are a random assortment of non-candy items to fill your Easter baskets:
water balloons

Blind Bag toys-miniature collectible toys

kite

sidewalk chalk

nerf guns

water bottle

book

slinky

glow sticks

Legos

Hot Wheels

fun band-aids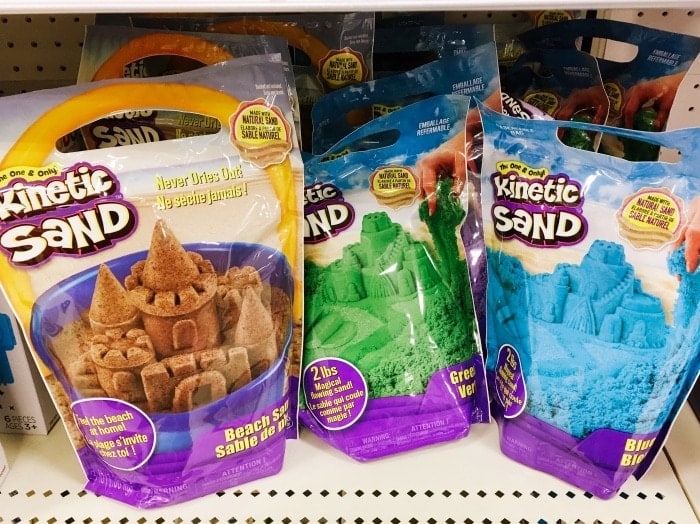 slime

Whoopy cushion

yo-yo

kinetic sand

modeling clay

coloring book and crayons

Spot it! Card game

umbrella

sunglasses

stickers

Lip balm

puzzle

tea set

Velcro toss and catch game

Rubik's Cube

frisbee

Chia Pet

pinwheel

deck of cards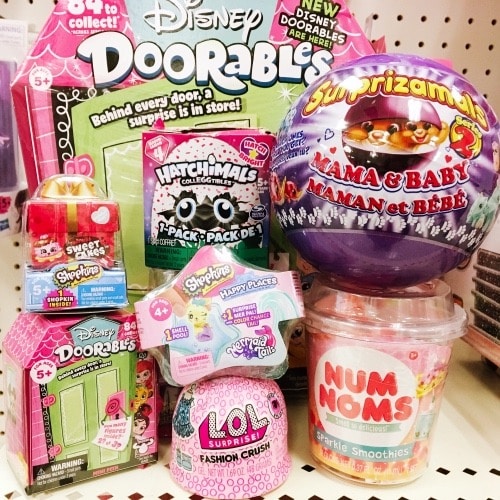 Dollar Store Baskets
Easter baskets filled with candy are easy and affordable compared to their non-candy counterpart. But it doesn't have to be this way. You can fill an entire non-candy Easter basket with fun stuff from your local dollar store. You will find LOTS of Easter-themed items; carrot handled jump rope, wind-up hopping bunny toy, egg-shaped chalk, Easter bunny sponge shooter, Easter mason jars with lid and straw, Easter paddle ball set, and plastic bunny/chick tic-tac-toe game (and much more). Don't skip the toy aisle, there are plenty of non-Easter items to grab as well; glowing bouncing balls, bubble stick with a wand, foam airplane glider, mini monster trucks, mini bat and ball, and wood airplane/helicopter/race car kits. So many options, so little space in the basket!
Whatever your tradition, creating a candy-free Easter basket is easier than you think. These creative baskets are sure to be as much fun to empty as they were to create and fill.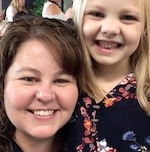 Amanda Hadley is a mom to a sassy six-year-old, and 2-year-old wondrous monster twins. She is a mom first and a photographer and journalist second. She lives in Salt Lake City, Utah with her husband of 9 years. She spends her days repeating cliches she was sure she would never say, such as "because I said so" and "stop licking that". She is an accomplished cartoon theme song repeater and has no idea what is happening in current events and dreams of traveling to exotic places, alone. She enjoys hot cups of coffee, silence and Atlanta Braves baseball.
Related Articles
Easter Basket Essentials Your Little Ones Will Love
Easter Basket Ideas for Little Kids
The Easter Egg Hunt Survival Guide