Last updated on December 3rd, 2023 at 12:21 am
Twins are a double blessing, but double anything can surely hit your wallet hard! Well, thanks to Baby Trend, they just made the whole double thing a whole lot more affordable! Check out their Sit N' Stand 2.0 Double Stroller paired with two Baby Trend EZ-Lift 35 Plus Car Seats below. This is definitely a must see stroller and car seat combo for twins, plus enter to win your own!
Finding a stroller that's compatible with car seats can be a challenge. Not spending an arm and a leg on the combo can be even more difficult! Baby Trend is here to save the day with the Baby Trend Sit N' Stand 2.0 Double stroller paired with two compatible EX-Lift 35 Plus Car Seats. Keep reading to learn all about this must-see stroller combo for twins.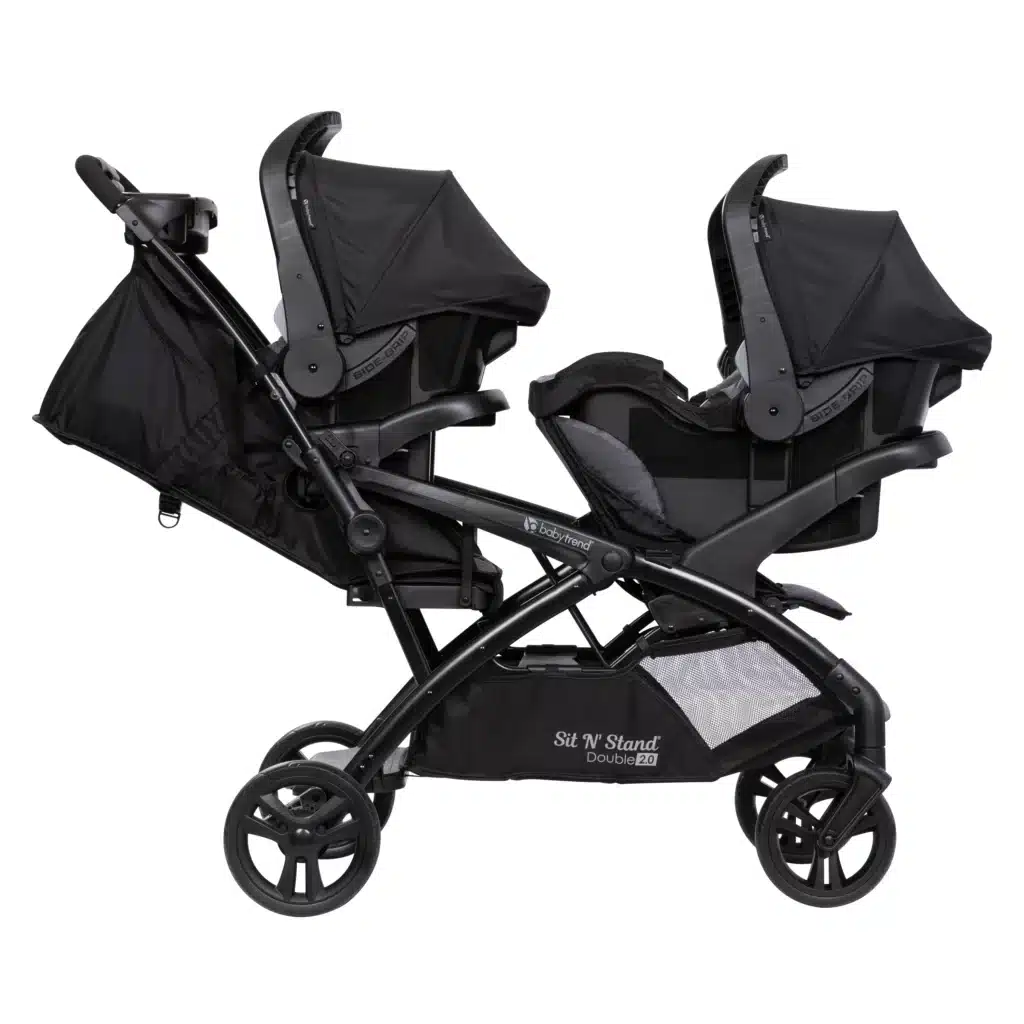 Baby Trend = Compatibility
In the early stages, outings with the twins (like doctor appointments or grocery shopping) are a lot easier if you can leave your babies in their car seats and pop the car seats into a stroller rather than carrying two infant seats. But it can be a challenge finding car seats that are compatible with the stroller you pick. This is where our friends at Baby Trend deliver! The Baby Trend Sit N' Stand 2.0 Double stroller is compatible with four of their car seat models — Secure-Lift 35, EZ-Lift 35 PRO, EZ-Lift 35 Plus, and the EZ-Lift 35.
We chose the EZ-Lift 35 Plus car seats to pair with the Sit N' Stand 2.0 Double stroller. This pair is one of the best car seat stroller combos.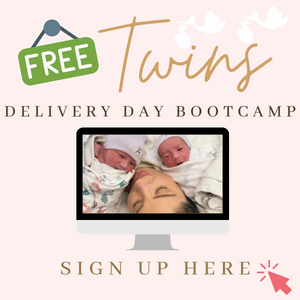 The EZ-Lift 35 Plus Car Seats
These car seats are shockingly light! They're one of the lightest car seats on the market at only 7.5 pounds (without the base), making them easy to carry and mobility.
Details
The EZ-Lift 35 Plus is designed for babies between 4 lbs to 35 pounds. Completely suitable for preemies (cue sigh of relief), with a maximum height of 32 inches.
The head and body padding is very thick and plush. However, the outside material is made from polyester and could be softer for babies' skin.
The EZ-Lift 35 Plus comes with a multi-position car base and is also extremely light and easy to install. The base features a bubble level indicator, flip foot recline, and Latch connectors.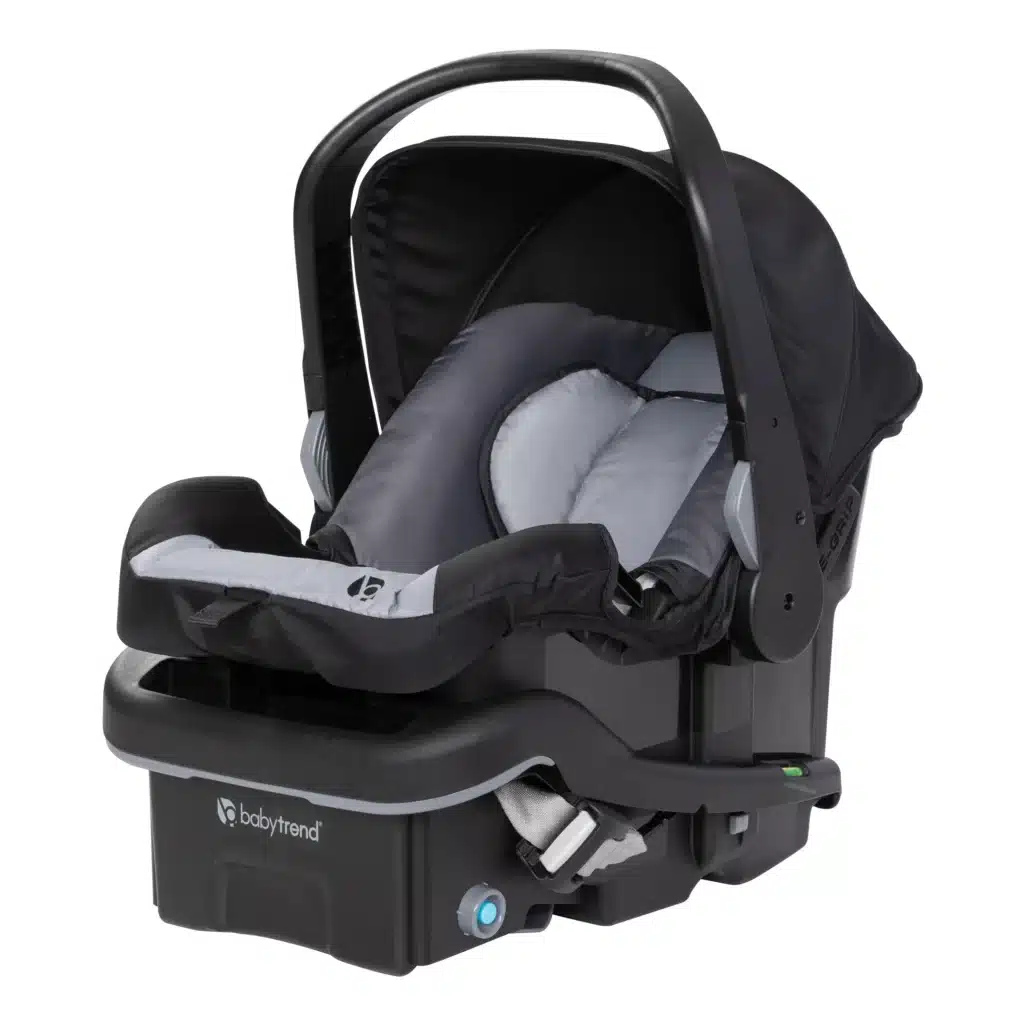 What We Love
The best part of the EZ-Lift 35 Plus is how easy it is to click in and out of the Sit N' Stand 2.0 Double stroller. No attachment is needed to secure the infant seat to the stroller, and it takes nearly zero effort to lift and click in. Plus, the car seats feel very secure when locked into this stroller.
I love the direction in which they click in. Unlike many double strollers, the car seats face the parent, so you're able to see both babies at the same time while pushing the stroller. And removing the car seats is a piece of cake, too. Simply remove them the same way you'd remove a car seat from the base with the button on the back.
As an added bonus, the EZ-Lift 35 Plus car seats include a side handle for an ergonomic grip. This grip is recommended by chiropractors for reducing back strain. Talk about helping a twin mom out. Carrying two babies is hard enough on our backs, thanks, Baby Trend! And if that wasn't enough, the handle of the car seat acts as an anti-rebound bar to limit rotation in the event of a collision when in the forward position.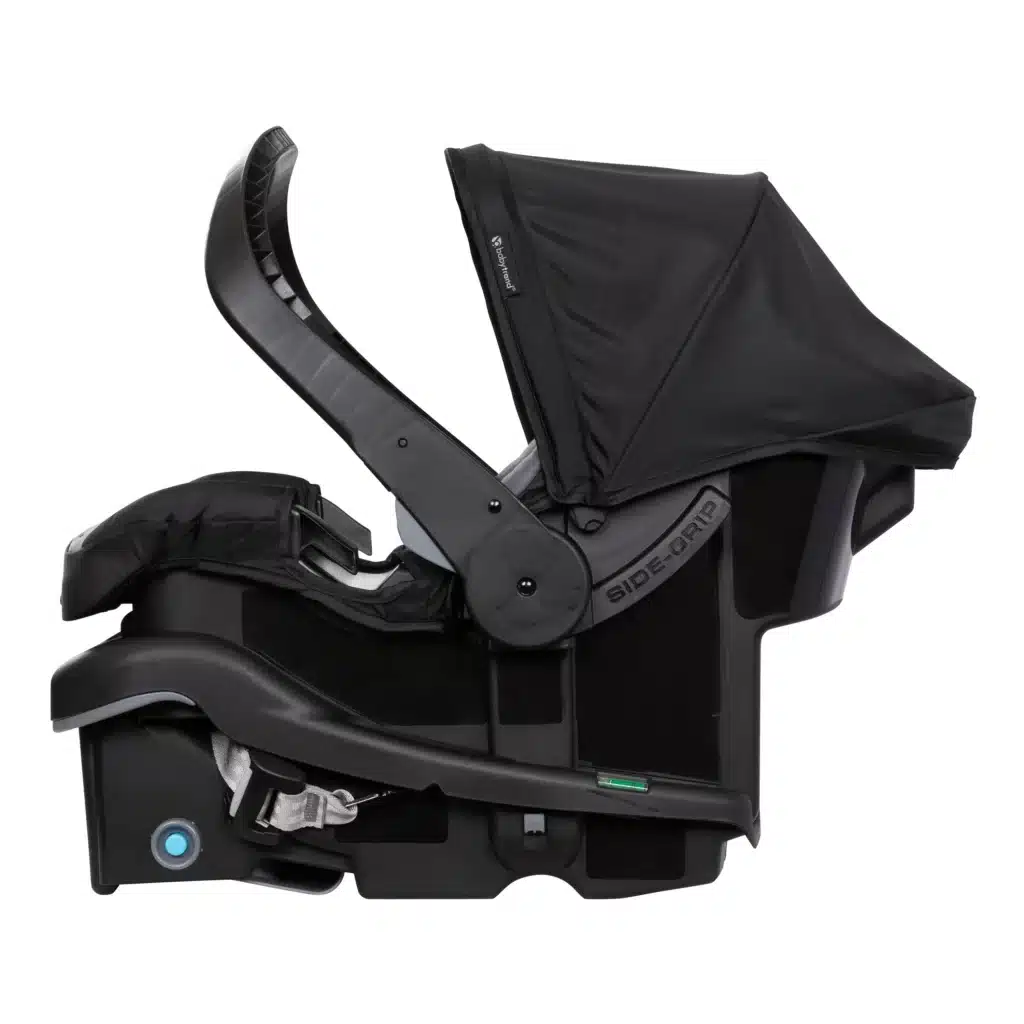 Click here to view the EZ-Lift 35 PLUS Infant Car Seat specs
Sit N' Stand 2.0 Double Stroller
You'll want a stroller that will grow with your family, and when your infants grow to toddlers, you can continue using the Sit N Stand 2.0 Double. There are multiple riding choices for newborns, infants, and toddlers.
When your babies are out of the infant car seat, they will utilize the forward-facing seats. When they become busy, the rear seat can be converted to a bench for standing mode​ for toddlers.
Keep in mind there are weight and age recommendations for each variation:
Front Seat: 40 lbs
Rear Seat: 2.5+ years ~ 50 lbs. or 40"
Stand on Platform: 2.5+ years ~ 50 lbs. or 40"
Jump Seat: 2.5+ years ~ 50 lbs. or 40").
Features
The Sit N' Stand 2.0 Double stroller has a lot to offer with an attractive sales price. Let's talk about all the features.
Size
First up, let's talk size. When picking a double stroller, you have two options: side-by-side or tandem (aka one-behind-the-other). Depending on which option you choose, you may be limited on where you can take your stroller. Side-by-side may not fit through the doorway, and tandem can be hard to maneuver through narrow aisles.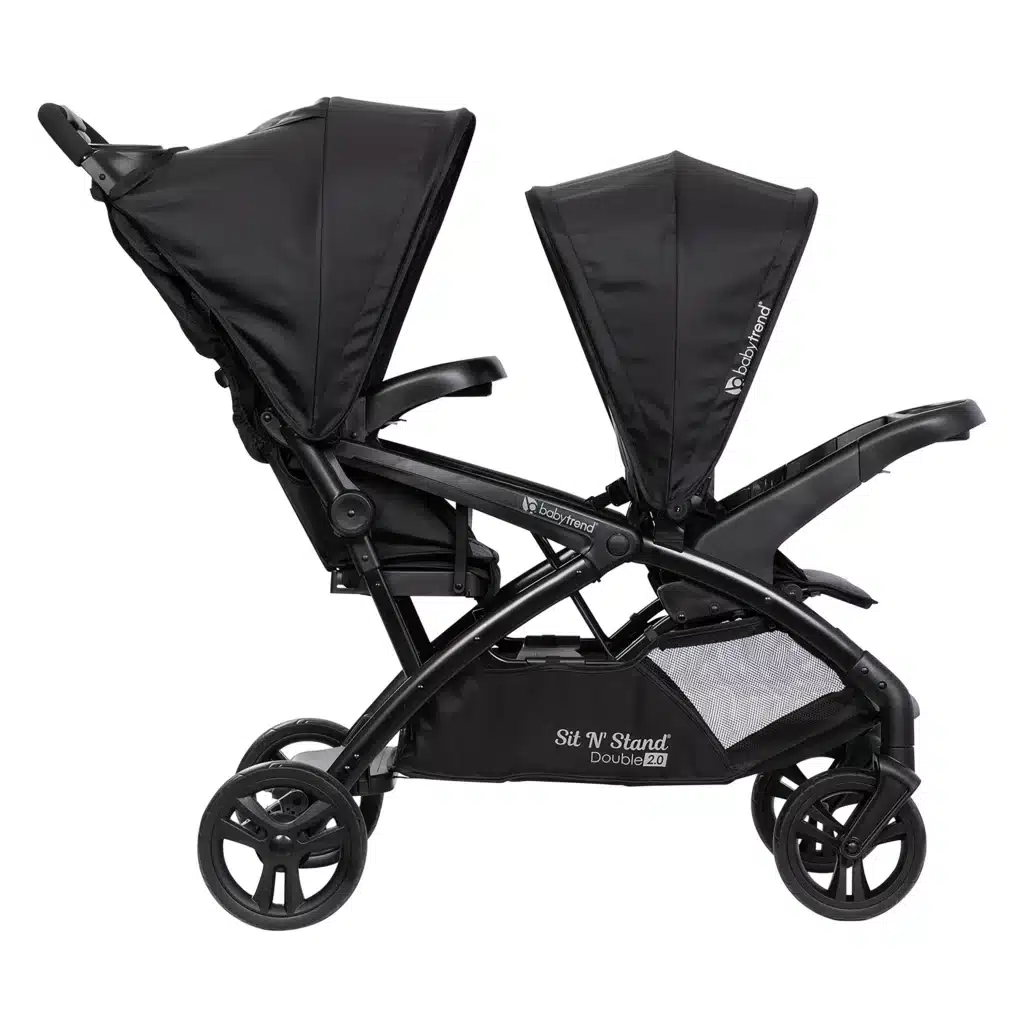 I went with the tandem choice. With a tandem set-up, the Sit N Stand 2.0 Double will get you everywhere you need to go at only 22.63″ wide. Fighting doorways is a thing of the past!
Storage
Storage is always a big concern with strollers. Babies require a lot of stuff. Twins require double the amount, so ample storage is a must!
Each seat has a snack track with a removable cup holder. Parents have their own tray, too! Complete with two cup holders (it's like they know twin moms need 2 cups of coffee) and a phone holder- ideal for catching up on Twiniversity YouTube videos on your walk.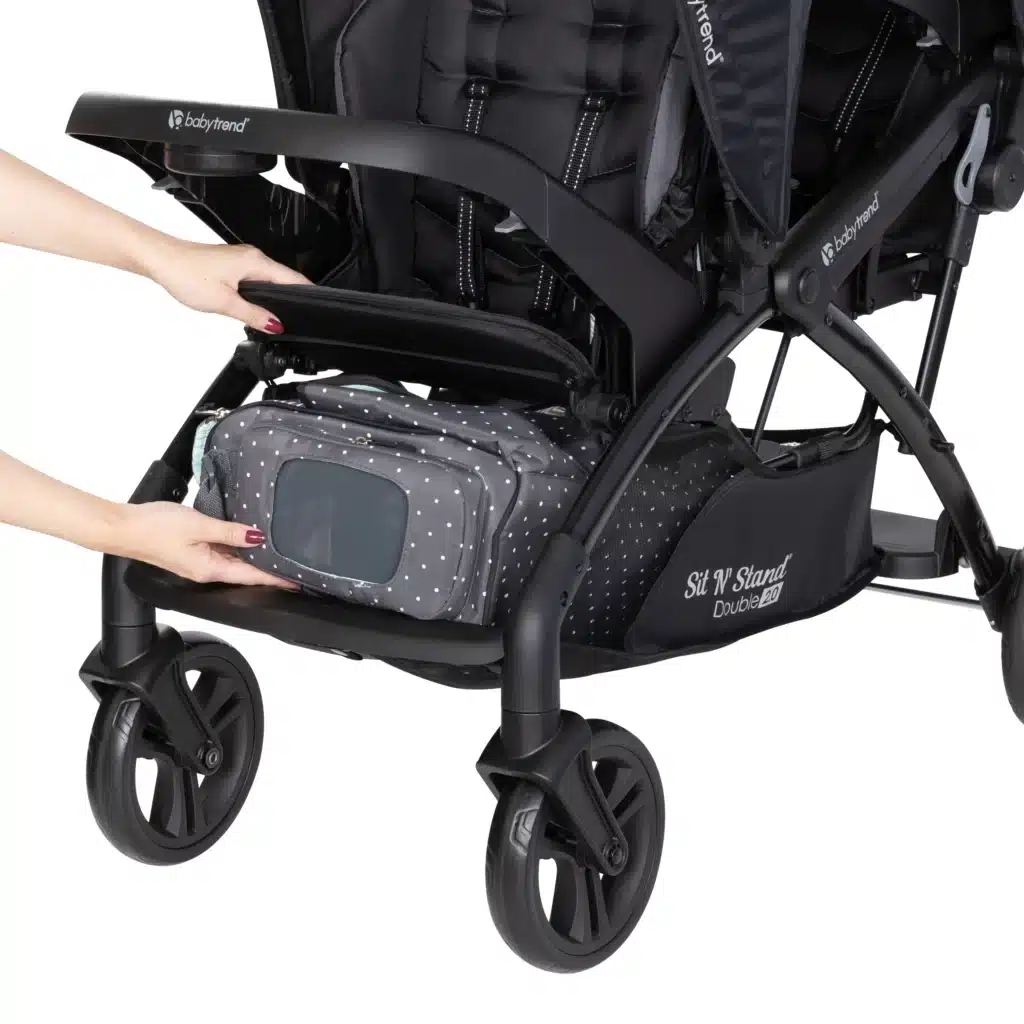 Beneath the stroller, you'll find a large basket with mesh sides that has plenty of space for your diaper bag backpack and more. It's accessible from both the front and the back of the stroller. There isn't a mesh cover in front of the basket, so be sure not to overfill, or you might lose some items.
Seating
Safety first, both seats have a 5-point child restraint safety harness with push-button release and easily recline for babies' comfort using straps located behind each seat.
Each seat has a canopy for those sunny days, and they are removable. However, the rear seat's canopy is larger and has a mesh peekaboo window. Each seat also has a footrest for safety and comfort.
Steering
The large single-front wheels make the stroller easy to maneuver (an improvement from previous models). While the wheels are a decent size, they are plastic, which may make certain terrains difficult.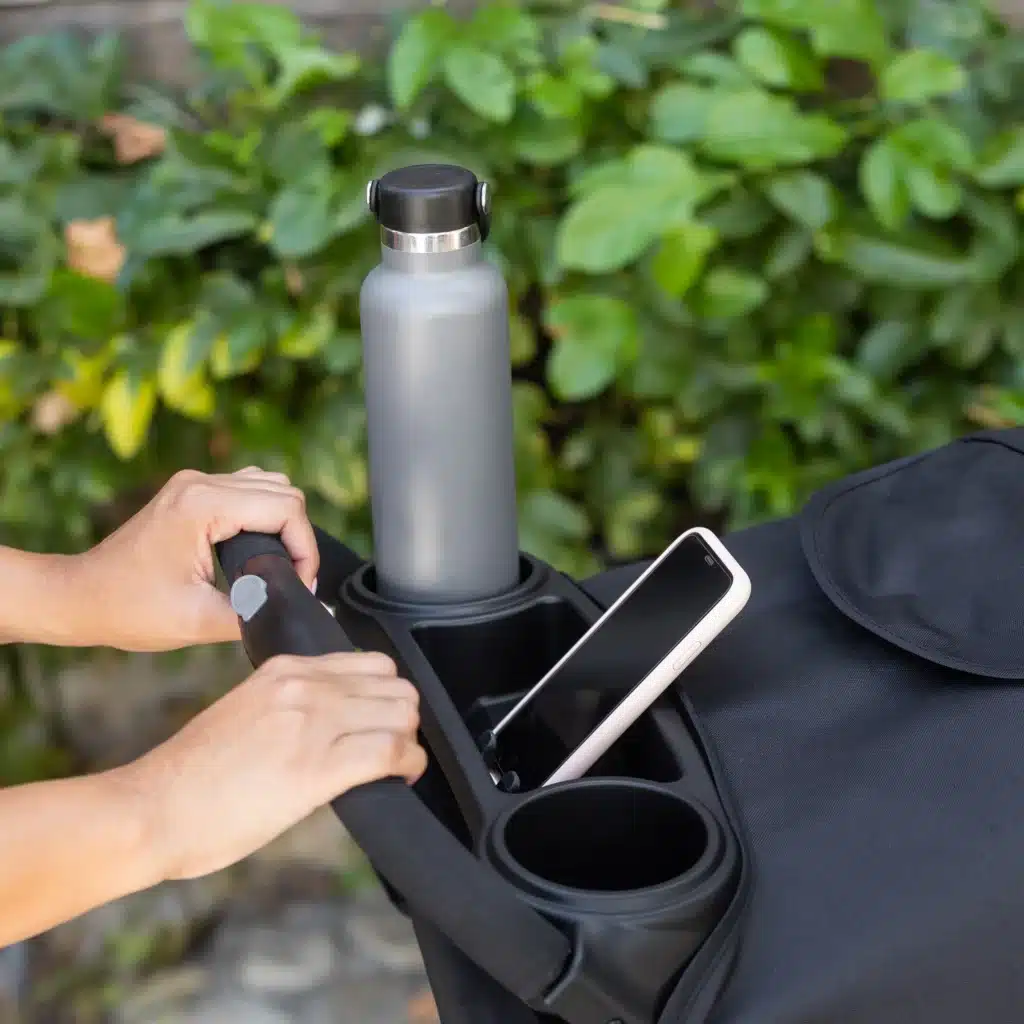 Weight
The stroller itself weighs 29 pounds and still takes up quite a bit of space when folded (22.63″ x 34.00″ x 16.00″). However, folding is relatively easy, hassle-free, and can be done alone with one hand.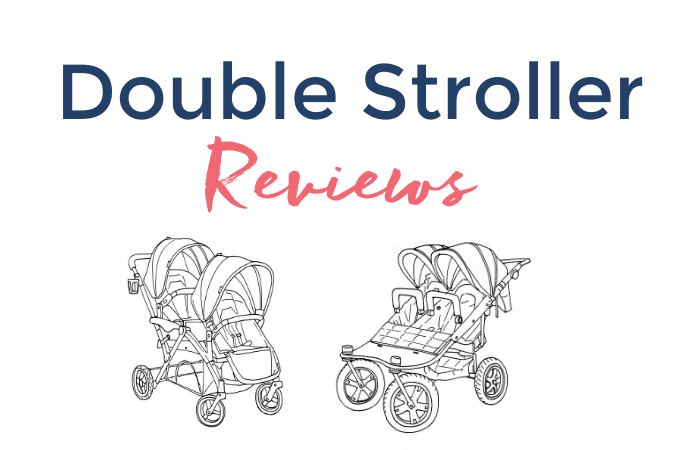 Are you looking for the best double stroller for twins? Not sure if you should go for a tandem stroller or a side-by-side stroller? And what about a Snap N' Go? We've got all the details for you in our double stroller resource. Click here to learn more… and while you're at it, check out our expecting twins classes and the Twiniversity shop!
All in all, the Baby Trend Sit N Stand 2.0 Double stroller paired with two EZ-Lift 35 PLUS Infant Car Seats is a great everyday stroller. Plus, you really can't beat the price point. This must see stroller combo for twins will cost you less than $400 total. It is the most affordable stroller/car seat combo currently available! Which, in my book, makes it the best stroller car seat combo you can buy!
Click here to view the Sit N Stand 2.0 Double Specs
What We Would Improve
The material that the stroller seats and car seats are made of is a plastic/polyester material that can be expected at this price point. They will probably be very easy to wipe clean, but I wish it were softer for my babies' skin.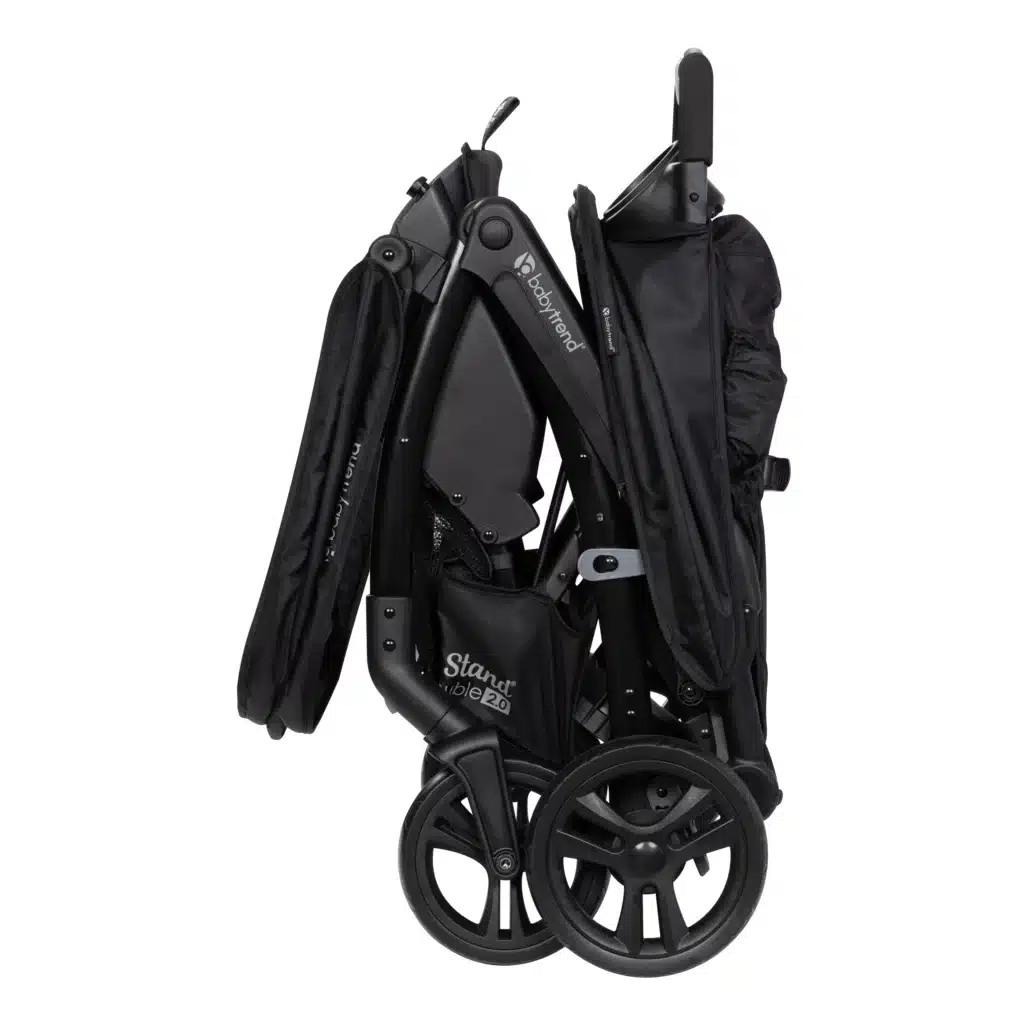 When you are talking about a double stroller, it will, of course, be nearly impossible to have a compact, not bulky, fold. So just remember that when folded down, the Baby Trend Sit N Stand 2.0 Double stroller will be difficult to fit in small cars.
To purchase this must see stroller combo for twins, click here.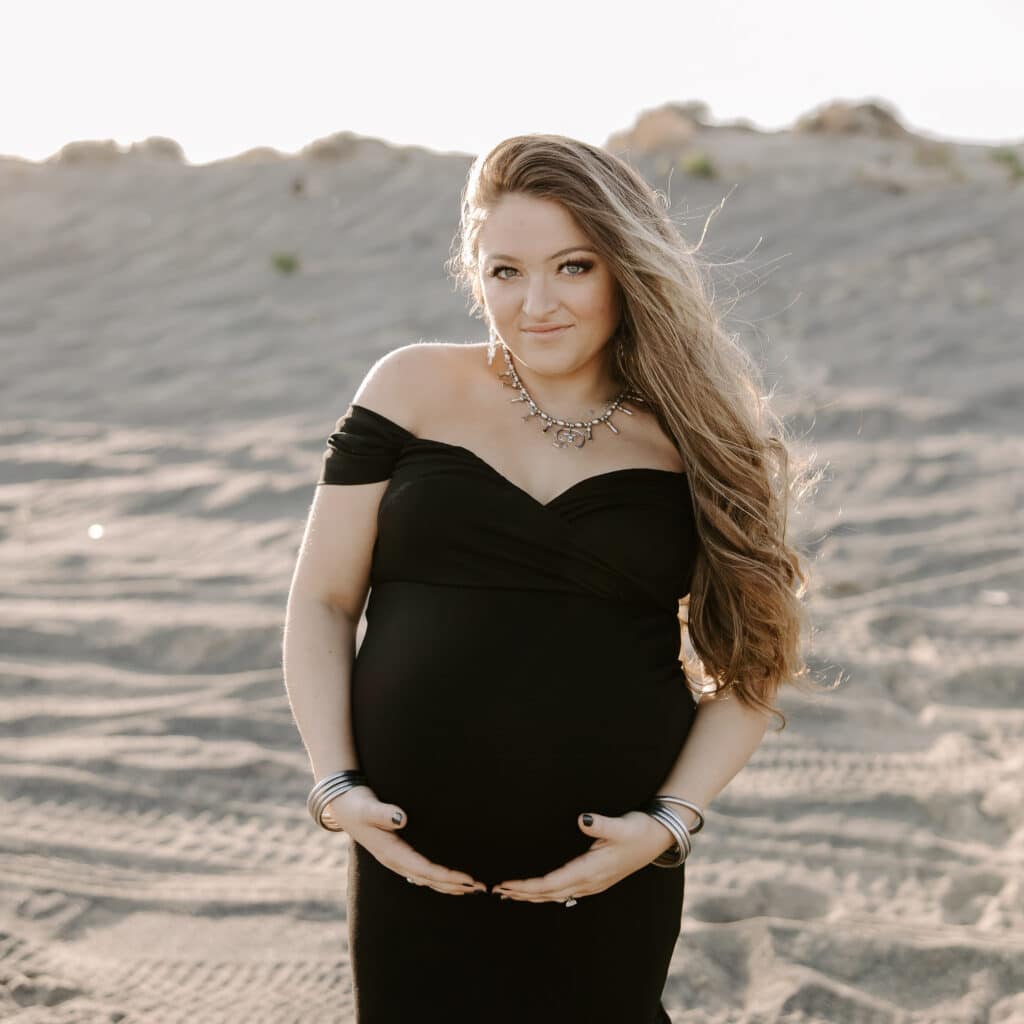 Kylee Burleigh lives in Washington State and effortlessly juggles multiple roles while embracing the chaos of a vibrant family life. With a Bachelor's degree in communications, she's a wizard at weaving compelling stories. When she's not busy wrangling words, Kylee is a dedicated wife with fraternal twin girls expected August 2023, adding a delightful twist to her already bustling life. She tackles a full-time communications job, provides stellar marketing services to clients and is a contributing writer to Twiniversity. In her rare moments of respite, Kylee embraces holistic living and immerses herself in thrilling outdoor escapades like hiking, hunting and tearing through the wilderness in her trusty side-by-side.
Latest Twiniversity Articles