Last updated on August 23rd, 2023 at 10:42 pm
Looking for a newborn twins stroller and not sure which one is best for you? We'll introduce you to some that we think should be on your registry now.
One of the biggest investments you can make in your twins baby gear is going to be the newborn twins stroller. Double strollers are one of the baby gear items we consider to be pretty much mandatory. We often rank them right up there with car seats and cribs. You have no idea how important a double stroller is until you need to leave the house with your twinnies.
How do you know what kind of stroller you really need? There are so many options, factors, price points, and brands to consider. We have done the research and spoken with twin parents to get you the inside scoop on newborn twins strollers. So, allow us to help you decide which one you need for easier travel with your twinnies.
If you're looking for twin parenting content on the go, check out one of our TWO podcasts! They're both available for FREE download today!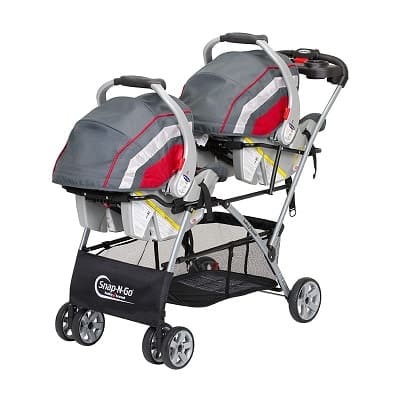 What is the best stroller for newborn twins?
At Twiniveristy, we certainly have our favorites. If you're looking for a lightweight, affordable option, you can't go wrong with the Baby Trend Snap N' Go Double. This one checks all the newborn twins stroller boxes for us. It can be used with 2 car seats, which makes it perfect for your newborn twins from day one. Buy one here.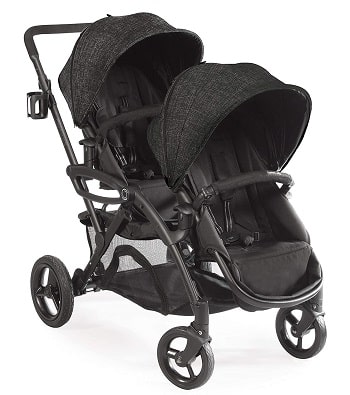 Other newborn twins stroller options
If you're looking for something with a bit more heft to it, you might want to look at the Contours Options Elite or the Contours Curve, but be aware that the Curve is a bit more expensive than the Elite. Either way, this is a great tandem double stroller option. Buy the Contours Options Elite here or the Contours Curve here.
You might also want to look into the Bumbleride Indie Twin side-by-side stroller. Its lightweight frame holds two car seats or bassinets. Buy the Bumbleride Indie stroller here.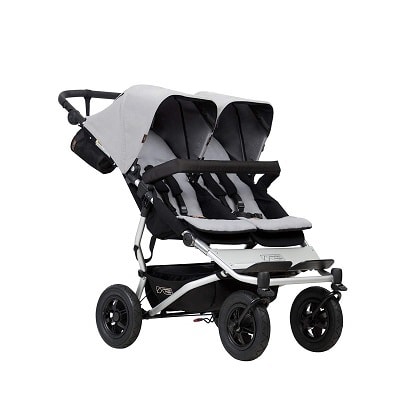 The Mountain Buggy Duet stroller is great because it is the same width as most single strollers and fits through any standard doorway! It has a hand brake and holds 2 independent car seats or bassinets which makes it a fantastic newborn twins stroller. Buy one here.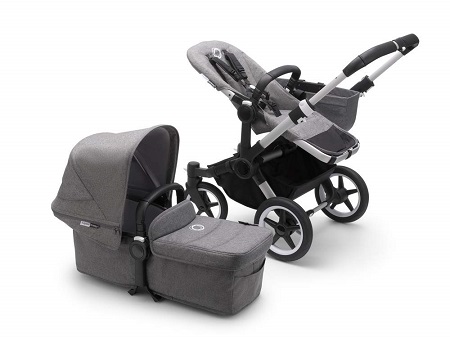 The Bugaboo Donkey3 Mono Convertible to Double Stroller is another great option, though it might be a bit more expensive than some other double strollers on the market. This is converted easily to a double with the purchase of a Duo extension set. It can also hold either 2 car seats or 2 bassinets. Buy one here.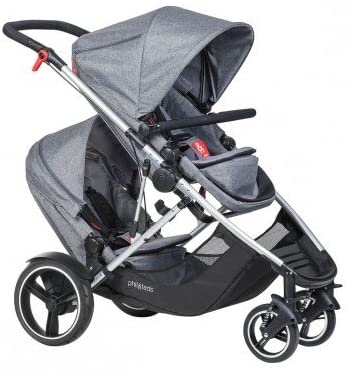 Of course, no newborn twins stroller list would be complete without the Phil and Teds Voyager. This is a 1+1 stroller, meaning it is incredibly lightweight and has smooth handling, but can accommodate a second seat with a doubles kit. There are many different configurations you can use with this stroller. Buy one here.
All of these newborn twins strollers take 2 car seats and each one has its definite merits. You just need to look at your individual situation, including the types of terrain you will be walking and your budget. Take a look at our 2020 Twinnie Award winners for more strollers and other twin gear winners here!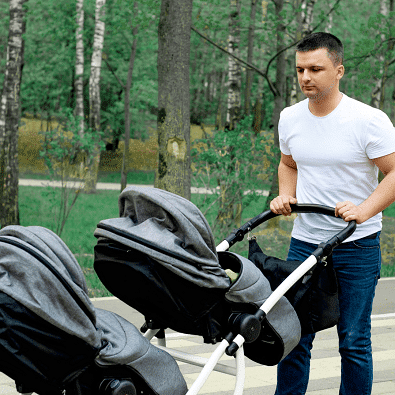 Can newborns ride in strollers?
Many new twin parents wonder if they can go for nice neighborhood walks or to take their older kids to the park without having to wear both of their twins. The good news is that your newborns can absolutely ride in the right double stroller.
A double stroller is a great investment and you can start using many of the models the day your twins are born. You just need to make sure that the newborn twins stroller has seats that recline fully for use before 6 months of age. Before that age, your babies won't be able to sit upright or hold their heads up. If the seats in the stroller do not fully recline, it should have a base or adapter to attach infant car seats or even bassinets.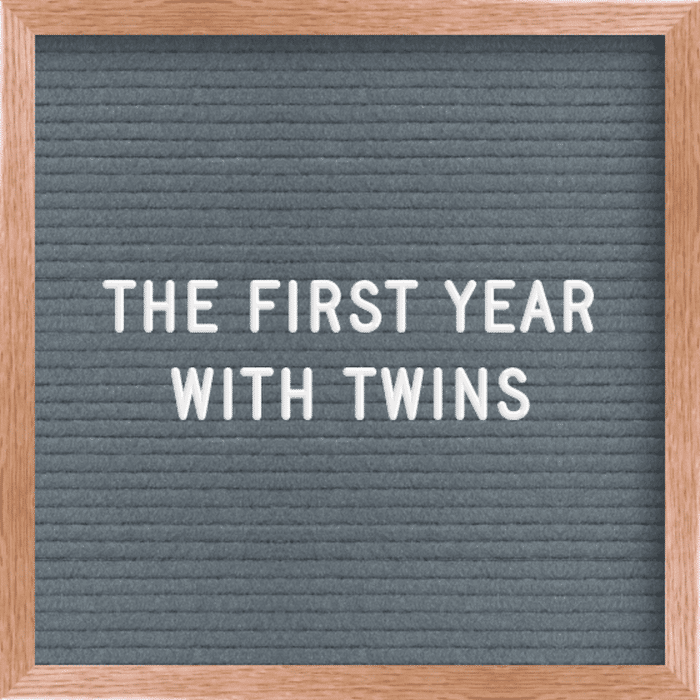 Stressing out with your infant twins? Let us help! Learn what to expect in the first year with twins, including tips, tricks, and advice from real twin parents who have been there. Click here to learn more… and while you're at it, check out our twin parent coaching services and Twiniversity shop!
What is the best double stroller for infant and toddler?
With so many options on the market when it comes to strollers for an older kid and a newborn, be sure to focus on your needs, not just what's flashy and fancy. We asked our fans what they thought and have a couple of great suggestions for you.
Do you need some guidance when picking out your baby twins gear? Check out our posts on twin gear here!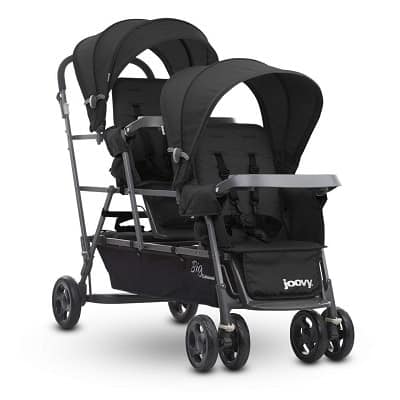 If you have twins and an older child, check out the Joovy Big Caboose stroller. This one was our 2020 Twinnie Award winner for newborn twins stroller plus 1. The 2 front seats can accommodate newborns and up with the included car seat adapters or 6 months and up with the seats as they come. The rear bench can accommodate a toddler up to 3 years old, too. This makes it a great option for twins + 1. Check this one out here!
If that one doesn't check out for you, try the Valco Baby Tri Mode Duo X All Terrain Double Stroller. This one can easily be converted into a triple stroller with a Joey seat in addition to a newborn twins stroller. You can purchase the toddler seat and quickly install it to accommodate twins + 1. Buy this one here.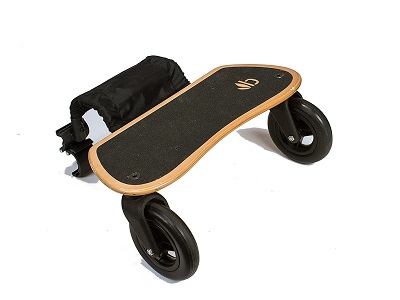 In case you already have your eye on a Bumbleride Indie Twin stroller, did you know you can buy a stroller board for your toddler? This board will easily attach to your Bumble ride and allow your toddler to hitch a ride when they get tired on your walks. Buy this awesome accessory here!
Check out our 2019 Twinnie Award winners and 2020 Twinnie Award winners for even more options.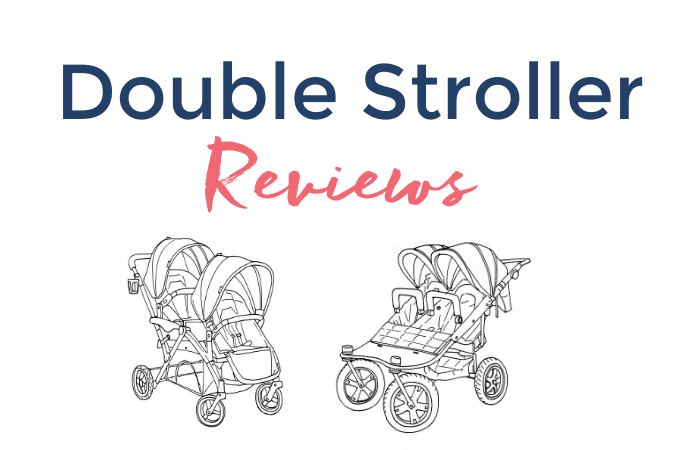 Are you looking for the best double stroller for twins? Not sure if you should go for a tandem stroller or a side-by-side stroller? And what about a Snap N' Go? We've got all the details for you in our double stroller resource. Click here to learn more… and while you're at it, check out our expecting twins classes and the Twiniversity shop!
Are double strollers worth it?
YES! This cannot be stressed enough. Double strollers are worth every penny. Now, the amount of money you choose to spend on a stroller will be up to you. Some newborn twins strollers are more expensive than others, but you can find a good double stroller at a reasonable price to meet most of your needs.
The more inexpensive options may not have as many of the frills that come with some of your luxury brands. But, keep in mind that a stroller doesn't have to be the most expensive baby gear item you purchase. Often, you can get away with a basic model if you are just looking to get out of the house and take a nice, leisurely walk with your babies.
If you're struggling to breastfeed your twins, you need to book a consultation with Twiniversity founder and certified lactation consultant, Natalie Diaz today!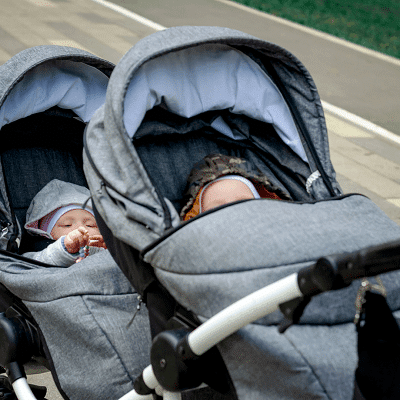 What to consider when picking a newborn twins stroller
When choosing which newborn twins stroller is right for your family you need to consider how you will be using it. The kind of tires and suspension you will need depend on this. Will you be running? Walking around the park, or sticking to the sidewalks?
You should also consider the cost. Some are much more expensive than others and the cost of all of the extras may not be realistic for your budget. The cost of the stroller and any needed accessories should be taken into account.
Don't forget to look at included accessories and features. Some strollers have a nice peek-a-boo window to check on your little ones. This may be something you want to have. Some newborn twins stroller models have an adjustable handlebar or a hand brake. Decide what features are important to you to help you narrow down your choices.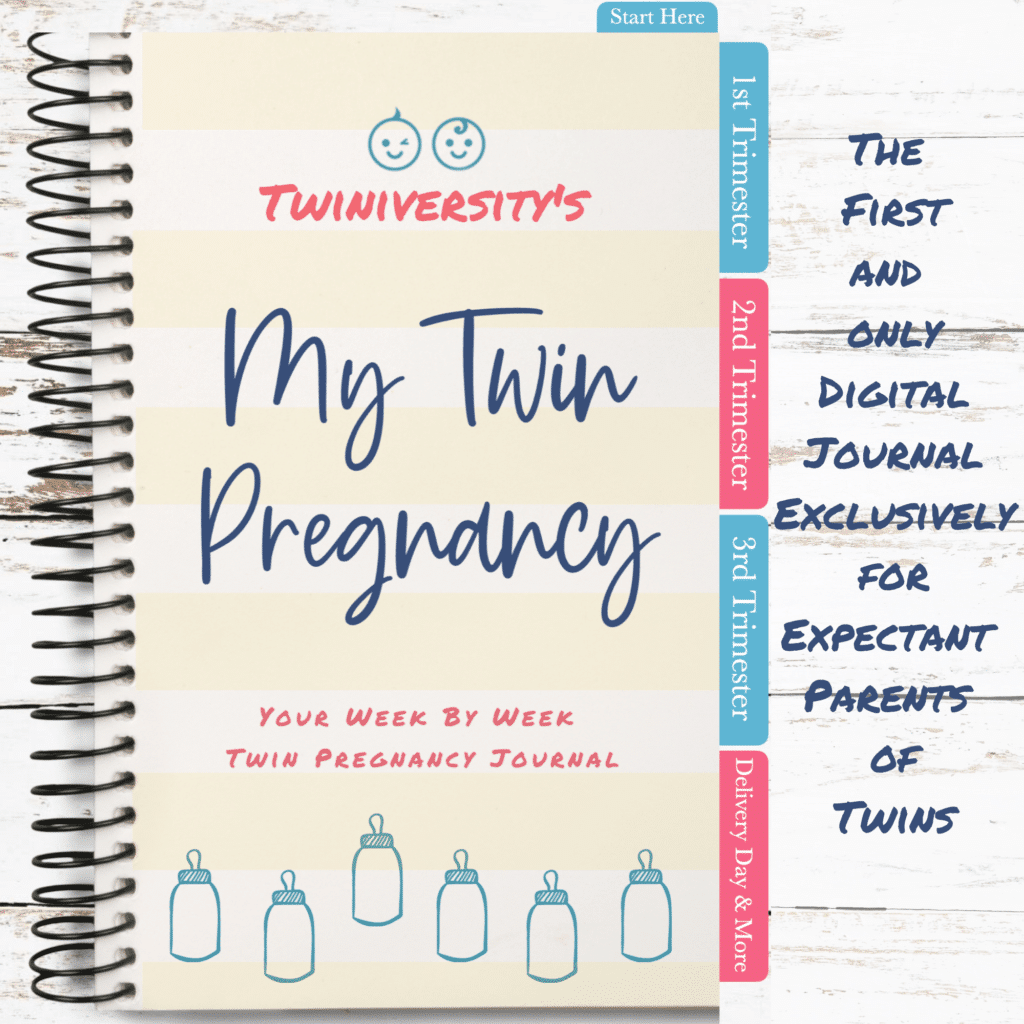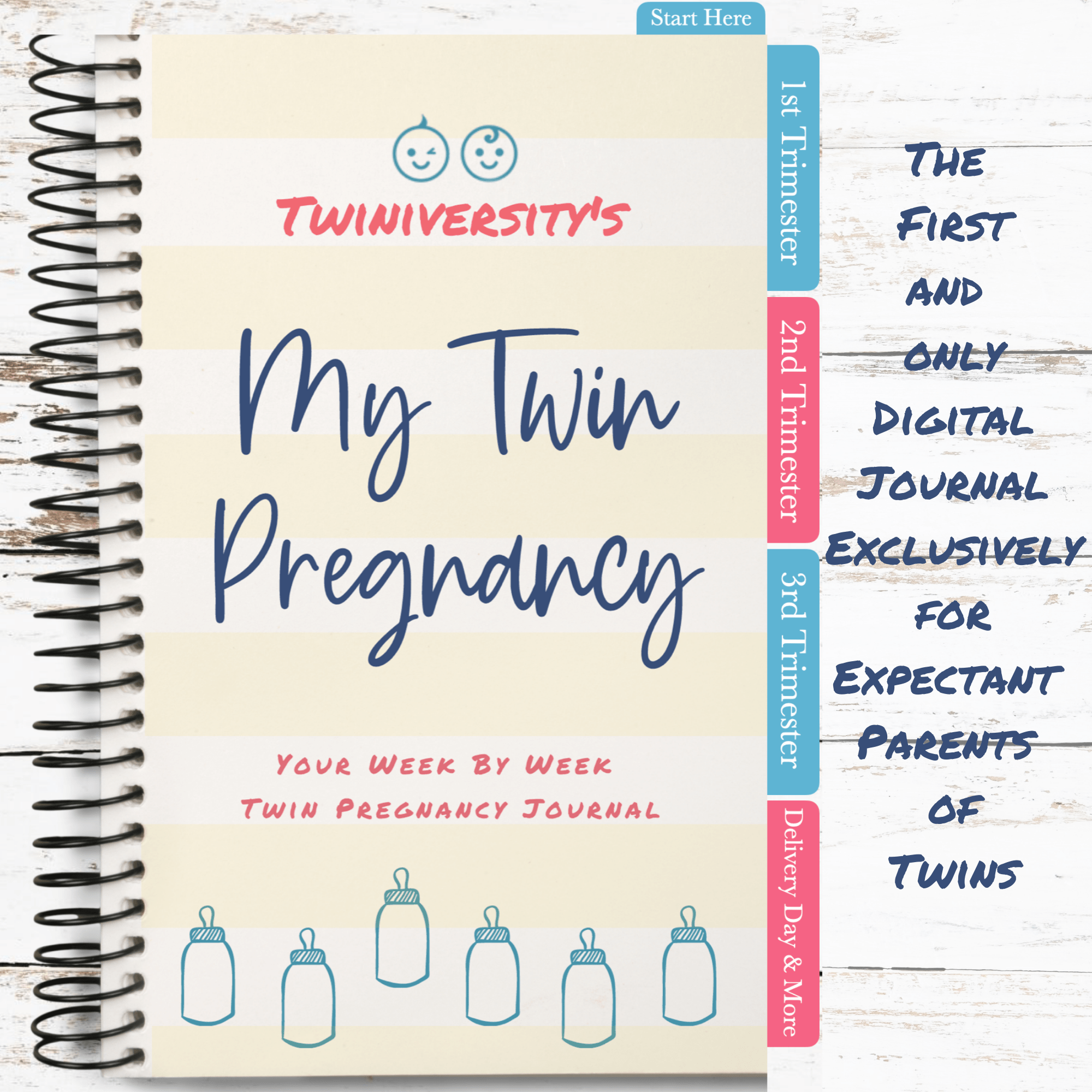 Our new digital twin pregnancy journal is up for sale on the Twiniversity Etsy store! This is the first and only digital journal exclusively for twin pregnancy. It's the perfect way to record your precious twin pregnancy memories to cherish for years to come. Click here to learn more… and while you're at it, check out our expecting twins classes and Twiniversity Shop!
These costly double strollers will be used until your twins are 3 or 4 years old so choose wisely. Consider the ways you will be using your newborn twins stroller before you make such a costly purchase and shop around for a good sale price if you can.