Here are some tips on making sleeping arrangements when traveling with twins that will make your journey more enjoyable for you and your little ones!
Traveling with little ones can be challenging, but it's no reason to exclude them from the travel experience. With a few necessary tweaks, traveling can be much more manageable for everyone involved-especially the kids. And you don't have to rough it either!
Here are some tips on making sleeping arrangements when traveling with twins that will make your journey more enjoyable for you and your little ones!
No More Pack 'N Plays
When my twinnies were babies, we never left home without a pack 'n play if we would be gone for longer than a 24-hour period. The pack 'n play was vital to our infant sleeping arrangements. We were often bounced between family members' houses when traveling to see them and the pack 'n play was our only hope at getting some peace and quiet for fear that they would wake up their cousins or grandparents in the middle of the night. Or maybe it was just me who was worried they would wake up someone else-I can be a bit of a control freak. Whatever the case, I'm happy to say that twin moms with toddlers who are traveling for fun instead of business don't have to pack them anymore!
There are so many beds available for rental or purchase these days that we no longer feel the need to lug around a pack 'n play. A hotel can provide a crib or we just have our twins sleep in their own beds.
Sleeping Habits At Home
The time your twins spend sleeping at home will be different from the time they spend sleeping on vacation, so plan accordingly! A consistent bedtime routine at home will help maintain the necessary hours of sleep on the road.
Most sleep experts recommend starting your routine about an hour before bedtime for the best results. This may vary wildly depending on your child and how many months of age the child involved is. A good place to begin is a bedtime story followed by quiet time to settle them in for the nighttime sleep.
TIP: Try to schedule nap times and bedtimes for both of them during the trip, just as you do at home. Remain as consistent as you can. The goal is to avoid fragmented sleep when you can, which can lead to common sleep issues. Healthy sleep habits are very important here.
Keep in mind that toddlers typically need 11-14 hours of sleep per 24-hour period. This includes night and naptime sleep.
Tips For Toddler Sleep On Vacation
We traveled with twins a lot when they were babies, and had many successful vacations, especially when it came to infant sleeping arrangements. It's easier now that they're older, but there are still some challenges to be met. Here is what works for our family:
Plan Ahead
I can't stress this enough! If you have plans to travel, start planning early.
First, make sure your toddler is on a sleep schedule at home. You should be able to easily predict when they'll go down for naps and bedtime. Make sure you stick to it as closely as possible while away from home!
Secondly, plan out your itinerary so that you have some downtime built-in for naps and bedtime. With two toddlers, it's easy to get caught up in the excitement of travel and skip nap time or bedtime, but remember that they're just little kids! Without the needed hours of sleep, sleep time can make the dream vacation can turn bad, quickly.
Keep Everything The Same As At Home
When traveling with toddler twins, try to keep as much of their normal routine in place as possible. This includes the same bedtime, nap time, and wake-up time.
If you can't keep your twins on their normal schedule, don't sweat it-just try to do your best. Take each night as an opportunity to use the previous night as a learning experience.
Borrow
When thinking about sleeping arrangements for toddler twins while traveling, you might want to consider borrowing baby equipment from friends or family.
A twin play yard can help create a safe space for your toddlers to sleep in at night. They're easy enough to set up and work well in hotel rooms and most other places you'll stay at.
If you need a crib, be sure to borrow one that is lightweight and portable. You can also find light-weight crib sheets online or at stores like Target and Walmart. Some hotels will even provide extras upon request.
Want to be the first to know about giveaways, deals, and more just for twin parents? Sign up for the Twiniversity email list! Subscribe today to get emails about giveaways, events, weekly article roundups, and more! Pregnant with twins? We'll be sending you a weekly twin pregnancy email to keep you on track with your pregnancy to-do list! Click here to learn more… and while you're at it, check out our Complete Baby Safety Course and Twin Parent Memberships.
Share
Most often, the best sleeping arrangements for toddler twins are in the same bed when traveling, especially to unfamiliar places. It may be easier on everyone involved and you won't have to worry about them wandering around the room looking for each other at night.
Book a Big Room
If you're traveling with toddler twins, consider a suite or adjoining rooms. This way, they can still sleep in the same room, but you'll have a little more peace of mind knowing that they won't be able to get into as much trouble.
Where should my baby or toddler twins sleep in our travels?
Planning sleeping arrangements while traveling with toddlers is going to be a bit different than if you were just traveling with one.
If your toddler twins are very young or have never slept away from home, it might be a good idea to plan on them sleeping together in the same bed on your trip. This will also help save space and give you more sleeping options. Once they are sleeping in separate beds, you'll have a few new sleeping arrangement options for your next travel trip.
When traveling with toddler twins, it is important to consider space limits and whether or not your sleeping arrangements will be comfortable.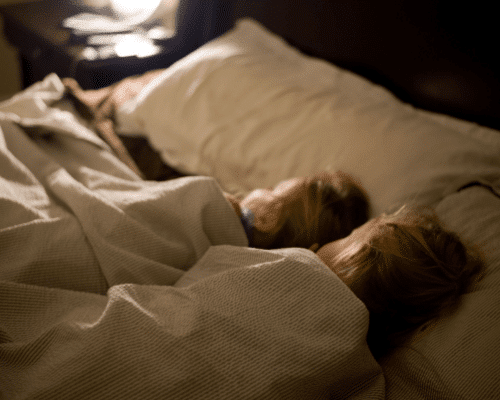 A MoM recently asked:
My twins are 2.5 years old, but still sleep in a crib. We are planning a vacation this summer and are not sure how we will manage their sleeping arrangements. They have outgrown the Pack-n-Play, as they can push it over. What do most parents do in this case? Do we need to purchase rails for the side of the bed so they don't roll out or have one parent sleep with a twin?
Here's what our Twiniversity fans had to say:
– We either use the Shrunks blow up bed rails or, if we can drive to a local store, I get a couple of pool noodles and stick them under the fitted sheet to keep them in place. ∼AJT
– In hotels, we get a room with a sofa bed and pull the mattress off it and just put it on the floor. They are fairly thin, so it's not a big drop to the floor. It just took some adjusting to sleeping together on the same bed. ∼AKS
– We are taking one crib with us on our next vacation. We brought pack and plays with us on our last overnight trip and those were a joke. The boys were crib diving back and forth until 3:30 in the morning. So the next night on that trip we had to rent a crib from a delivery service. They are all over apparently. It was $65 per day for the crib. It was worth it for the one good nights sleep but next trip we will bring our own, and that will also be worth the trouble! ∼TS
– I travel some with my girls and once they out grew their Pack n Plays at 1 year old I moved them to a full size bed. They sleep together and are now almost 2.5 years old. We use bed rails up by their head and they have never fallen out of bed. At hotels I just roll up the comforter and put it on the edges. You know your kids best and what works for your family. For traveling try to keep the same sleep routine and take a blanket or stuffed animal from home so it's familiar. ∼HSM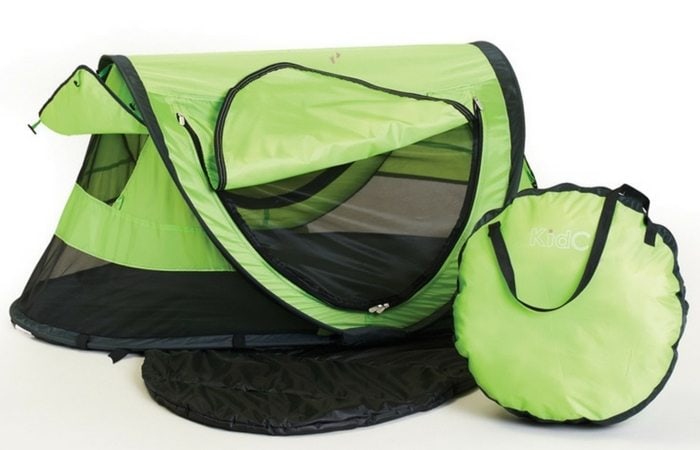 – The Kidco Peapod Plus Kids Travel bed is the best ever. And the kids get excited to use them! ∼SA
– For long trips (a week or so) we rent full sized cribs from baby gear rental places. There's been at least one everywhere we've vacationed. They're common at popular destinations. For short trips we use an inflatable bed with rail. ∼MD
– We plan on just using sleeping bags on the floor. We've been practicing at home during nap time so they'll be familiar with it when the time comes. ∼LH
– We did inflatable mattress/sleeping bag combos. Aside from waking up to the sound of the plastic rubbing every time they rolled over, it worked great. We started that around 2.5 or 3 years old. ∼BS
– We have a small inflatable mattress that travels with us. It's the size of a toddler mattress, but the sides are higher than the middle so they cannot roll out! ∼JR
– We have bed rails at home, but use pool noodles under the fitted sheet at my parents house as a quick fix. Not as high, but does give a ledge as a stopping point! ∼AP
– We did the bed rails too. Depending on the set up in the hotel, you can push the bed against one wall and just use the rail on one side. ∼MW
– They just sleep with us on vacations. One of the reasons they love staying at hotels. ∼DNW
– We would put one twin with each parent in a bed on trips at that age. ∼DF
– If you're staying at a hotel, they usually have cribs you can use free of charge! ∼AT
– We kept our pack n plays probably too long for travel, but they weren't pushing them over either. That said, when we discontinued the use of pack n plays we bought these. They've been great and pack up smaller than 2 pack n plays which saves a ton of space in the car. ∼AP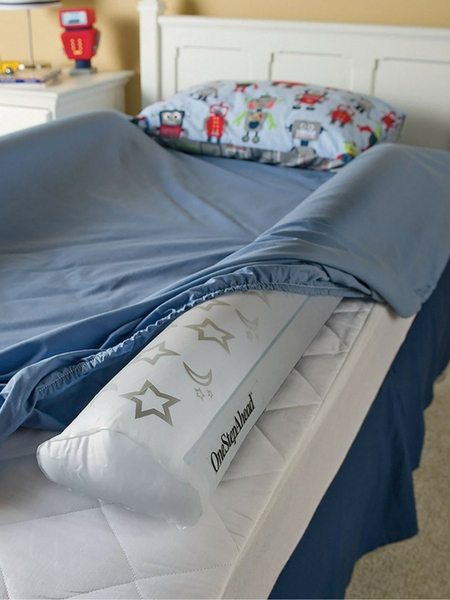 – I've used the inflatable bed rails. They work well. ∼KMC
– Also, depending on the size of the hotel room, you can lay the mattress from the hotel on the floor. ∼JAH
– Either we all sleep in a king size bed or one parent and one twin in a queen size. ∼DK
– We bought bed rails with us, they did great! And they went back sleeping in their cribs when we got back. ∼JHG
– We divide and conquer. One twin per parent. ∼KS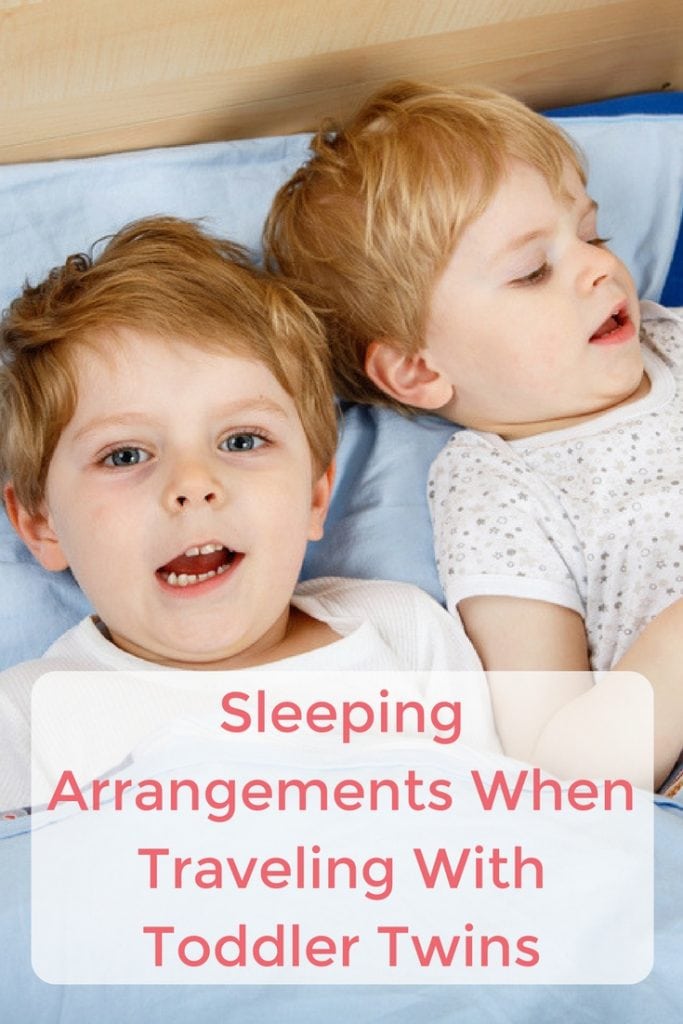 – I was in same situation and found little tents with sleeping bags, they even came with flashlights. They worked awesome and had no issues going right back to crib when we got home. ∼KA
– I would suggest the rails they are easy and portable. ∼MLR
– I'd have 1 adult per twin in separate beds. ∼MS
Traveling with little ones can be challenging, but it's no reason to exclude them from the travel experience. With a few necessary tweaks, traveling can be much more manageable for everyone involved-especially the kids. And you don't have to rough it either! Here are some tips on making sleeping arrangements when traveling with twins that will make your journey more enjoyable for you and your little ones!
Sleeping arrangements while traveling with twin toddlers doesn't have to be difficult or expensive. There are many ways of getting around this issue so that both parents and children get a good night's sleep during their trip.
This page contains affiliate links. This allows us to keep our content free to our readers.
Recent Posts
---
---
---