The Twins First Trimester Checklist
The first trimester may far and away be one of the most exciting of the three. Once you see that positive sign on a test in the bathroom, a whirlwind of emotions start swirling (and more or less don't stop for nine months…or eighteen years). It's a strange feeling—going from having no newborn in your life, to seeing a plus sign that represents the cells inside you swirling around to create a little one… to hearing that second heartbeat and realizing, "It's twins!"
Let's back up a tiny bit. So where do you begin beyond the drugstore test confirmation? Well, the doctor's office is a good place to start. Once you've missed a period and used a pregnancy test to confirm at home, you'll want to call your doctor to officially confirm your pregnancy. Many doctors will have you come in for a full visit, during which a urine sample will again confirm your little one's start; others might just have you pop into the lab for a quick confirmation. Either way, once the medical professionals get their okay, they will go ahead and schedule you for your first sonogram, or ultrasound, often referred to as the dating scan.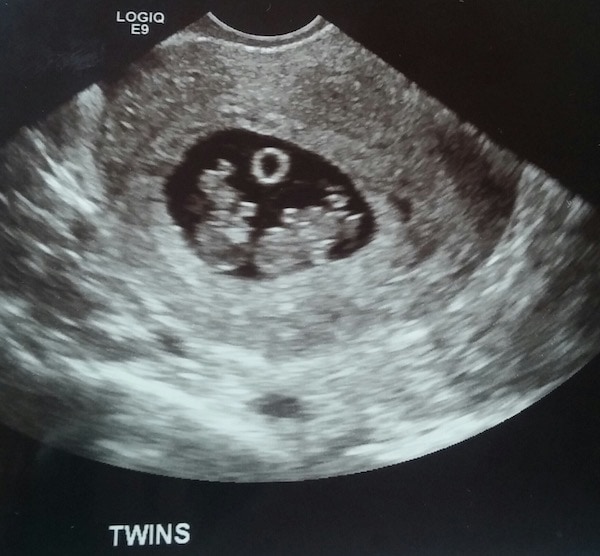 The first sonogram can take place anywhere in the first 6-12 weeks of your pregnancy, depending on your doctors' preferences and your individual situation. Your doctor uses this scan to listen to your babies' heartrates—yes! They're already there—and determine your estimated due date. It's possible, but not always a definite, that twins can be confirmed at this early stage. You'll want to arrive at this first appointment armed with a family history from both you and your partner and any questions you have for your provider regarding your pregnancy.
But what can you do while you're getting through your twins first trimester? A good step is to equip your body for growing two humans.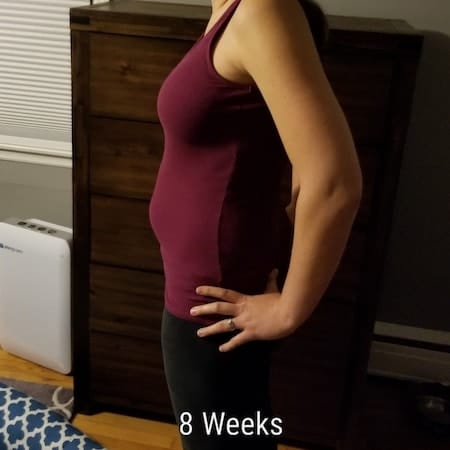 The Twins First Trimester Checklist
Pick up some prenatal vitamins
It's likely that if you were already trying to conceive you were already taking these vitamins, but if not, be sure to pick some up. There are many different brands and types of prenatal vitamins on the market these days (maybe you prefer a chewable gummy to an oral pill), so you might want to do some research or ask your provider for their opinion. Prenatal vitamins specifically contain more folic acid (to prevent neural tube defects) and iron (to promote growth and development) than standard multivitamins. With twins, your doctor will likely want you to take extra folic acid and iron, so be sure to ask about that at your visit.
What NOT to eat
Most healthcare providers will suggest that you cut back on caffeine while pregnant, as its thought (though research is still out) to lead to developmental problems because the effects of caffeine are much stronger and far longer lasting on itty bitty growing babies than they are on us. But don't worry—you don't have to give it all up cold turkey; the American College of Obstetricians and Gynecologists (ACOG) advises pregnant women to limit their caffeine intake to less than 200 milligrams per day, which is about one 11-ounce cup of coffee.
Other food items to look out for while pregnant include raw fish (see ya, sushi!), cold deli meats, unpasteurized cheeses, and some herbal teas. To be armed with a complete list on the go, many mamas download apps like Ovia, which provides food safety checklists.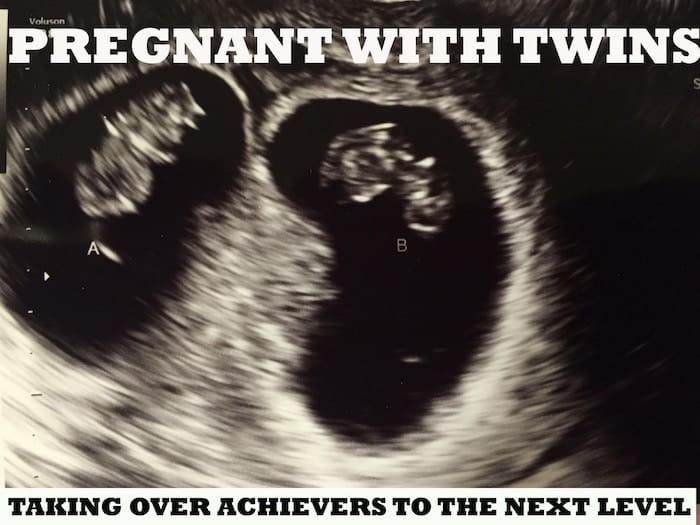 Get an app for that
Speaking of apps, there are hundreds of pregnancy-related ones out there that expecting parents can download that offer food safety lists, as well as track your babies' growth, doctors' appointments, symptoms and tons of other pregnancy-specific data. If you're a big planner, you'll definitely want to download one of these to keep you on top of all of the day-to-day changes your body and your baby will be experiencing! Twiniversity Tip: At this time, we are not aware of any twin-specific pregnancy apps, but several popular pregnancy apps allow you to add on a second baby.
The Twins First Trimester Checklist
Check your hobbies
It may seem like common sense, but it needs to always be noted: alcohol, nicotine, and any other drugs are a big no-no when there's a bun or two in the oven. Talk to your doctor about any specific questions you have, but it is safest for you and your babies to say goodbye to social drinking and smoking for the next nine months. You'd be surprised how many restaurants concoct delicious "mocktails" for their menu, or you can do some google searching and stir up some of your own, like these.
And just as you're being careful about what you put into your body, you'll want to be aware of things you shouldn't do with your body; once again your provider can advise you on any contact sports or other physical activities that may not be safe for your nine-month journey to motherhood.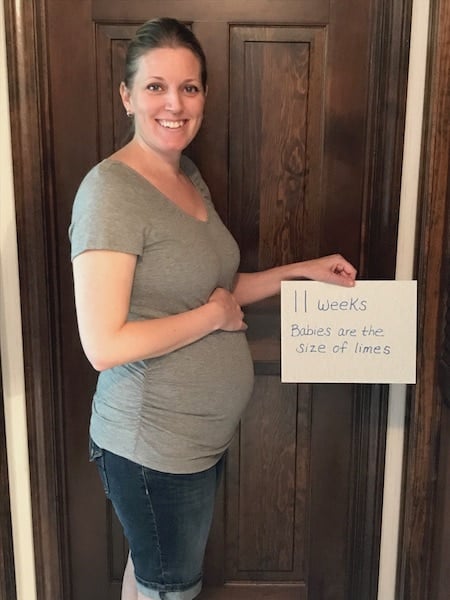 Maintain your overall health
It seems daunting to have to stop consuming some favorite foods and beverages for your pregnancy, but it's what's best for your babies! While chocolate or cheeseburger indulgences are always okay, try to up the good stuff that your body and baby are getting too. This includes hefty helpings of fruits, vegetables, healthy fats, protein, and most importantly plenty of water (1 gallon a day for twins!) When dealing with nausea, eat small meals more frequently throughout the day to make sure you're getting enough calories. This healthy lifestyle also includes doing your best to stay moving—even when the first trimester leaves you feeling too tired. Healthcare professionals recommend getting about 30 minutes of movement in each day.
Get acquainted with what's to come
Bringing two babies into the world comes with changes outside of your growing body. You'll want to start researching your insurance options, looking into your benefit plans and setting out a budget for your growing family. At the end of your first trimester, make an appointment with your Human Resources rep to officially let them know that you are pregnant and get all of your maternity/paternity leave and benefits questions answered.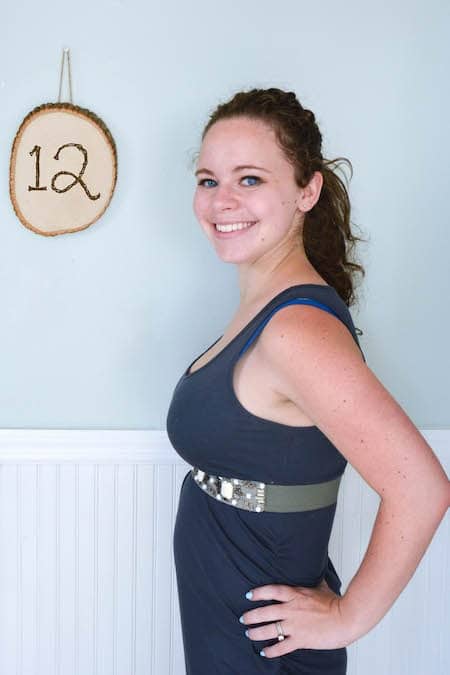 Have fun
While it may seem overwhelming to keep on top of all of the preparing for your new additions, it can also be a lot of fun. When you're scrolling through the many pregnancy apps, take a minute to think about how cool it is that your little poppy seeds will one day be two little people. When you're sitting down with your significant other to budget for your twins, don't be afraid to start tossing out names or talking about which features from each other you hope to be passed on to your little ones. And when you're researching prenatal vitamins and other must-haves for the early days of pregnancy, know it's never too late to also start looking at onesies and baby blankets to get yourself excited, imagining life with your new dynamic duo.
Each trimester comes with its own daunting "to-do" list, but each is also accompanied by fun tasks, like building a baby registry, planning a shower, and thinking about those first baby smiles, giggles, and snuggles. Enjoy!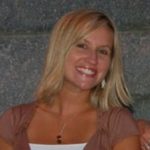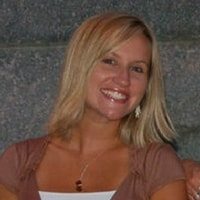 Katelyn Heindel is a communications manager-turned stay-at-home mom two 18-month-old twins. She lives in Richmond, Va with her husband, two monkeys (err, toddlers) and the world's weirdest cat.
Related Articles
Unique Themes for a Twin Baby Shower
Planning the Perfect Twin Pregnancy Announcement
Will My Morning Sickness and Exhaustion Go Away?