This amazing Zoe Triple Stroller — the Zoe Trio+ — is specifically made for the growing family with 3 under 5 years of age. Whether you started off with your twins first and then a singleton, or a singleton and twins, this Zoe triple stroller will make life so much easier.
In fact, we love the entire Zoe Stroller line, because they have strollers for every family size. Yes, they even have a quad stroller. It's called the Zoe Tribe+, in case you have four little ones (whether they're two sets of twins or two toddlers and your twin babies).
For now, let's take a closer look at the Zoe Trio+ and see what makes it the best triple stroller for twins plus one (or triplets if you're lucky)!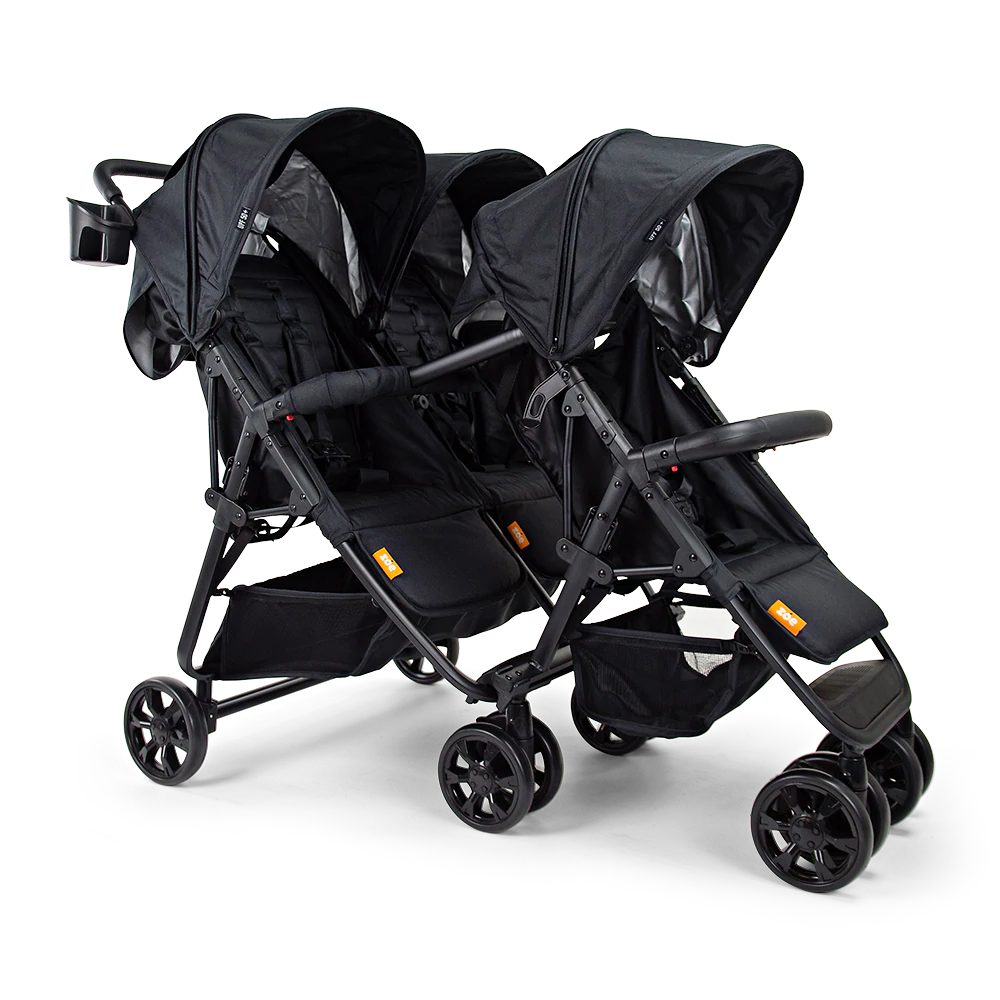 Zoe Trio+ models
The Zoe Triple Stroller comes in two different models: the Classic and the Luxe. Both are well made, but the difference lies mostly in the fabric and the color choices. According to the Zoe Baby website, the Classic has "Lightweight durable aluminum frame with UPF50+ lining and adjustable footrest." The Luxe, on the other hand, is an upgraded version of the Classic, sporting fabric with wicking technology, smoother ball bearing wheels, and comfortable leatherette handles.
The Classic comes in classic black, classic London navy, and classic Noah Grey.
The Luxe comes in luxe grey, luxe black, luxe navy blue, luxe pink, luxe green, and luxe light blue.
Zoe Triple Stroller foot space
When you're trying to fit 3 little ones into one stroller, one of the most important features will be the amount of space each child has. Specifically foot space. One of the things that we find so magical about the Zoe Trio+ (and one of our biggest pet peeves when it comes to triple strollers) is the foot space. Now look, there's not that much space if the foot rest is up. However, if the foot rest is down and your kids are going to be using the actual foot rest, there is a lot of room there. This means your kids could easily have their feet laying steadily on the foot rest while fully reclined. Great for naps in triplicate!
Zoe Trio+ product details
Fabric
The luxe version of the Zoe Trio+ stroller comes in six different colors and it's not your typical run-of-the-mill fabric. It's actually a very soft weave that won't scratch your little ones' skin, plus the Luxe has that wicking fabric. Perfect for messy kids. The whole stroller is covered in this fabric, including the canopies and the strap covers. This makes it sleek and stylish, as well as easy to clean.
The Zoe Trio+ also has leatherette fabric on the belly bar and on its very plush handle as well, which makes it really easy if you're going to be pushing the stroller on long walks.
Harness
We also love the 5-point harness on the Zoe Triple Stroller, which keeps your kids nice and secured. It's made of the same luxury fabric as the rest of stroller. On many strollers, the straps can dangle and annoy your little ones. The structure of the harness keeps them safe from kids until they're able to fully access the straps without worry.
Peek-a-boo window
Now if your kids are napping and you want to see exactly who's awake and who's asleep, you have a way without disturbing anyone. The magnetic peek-a-boo windows give you access into every single stroller seat independently. Definitely a feature you don't realize you need until you have it!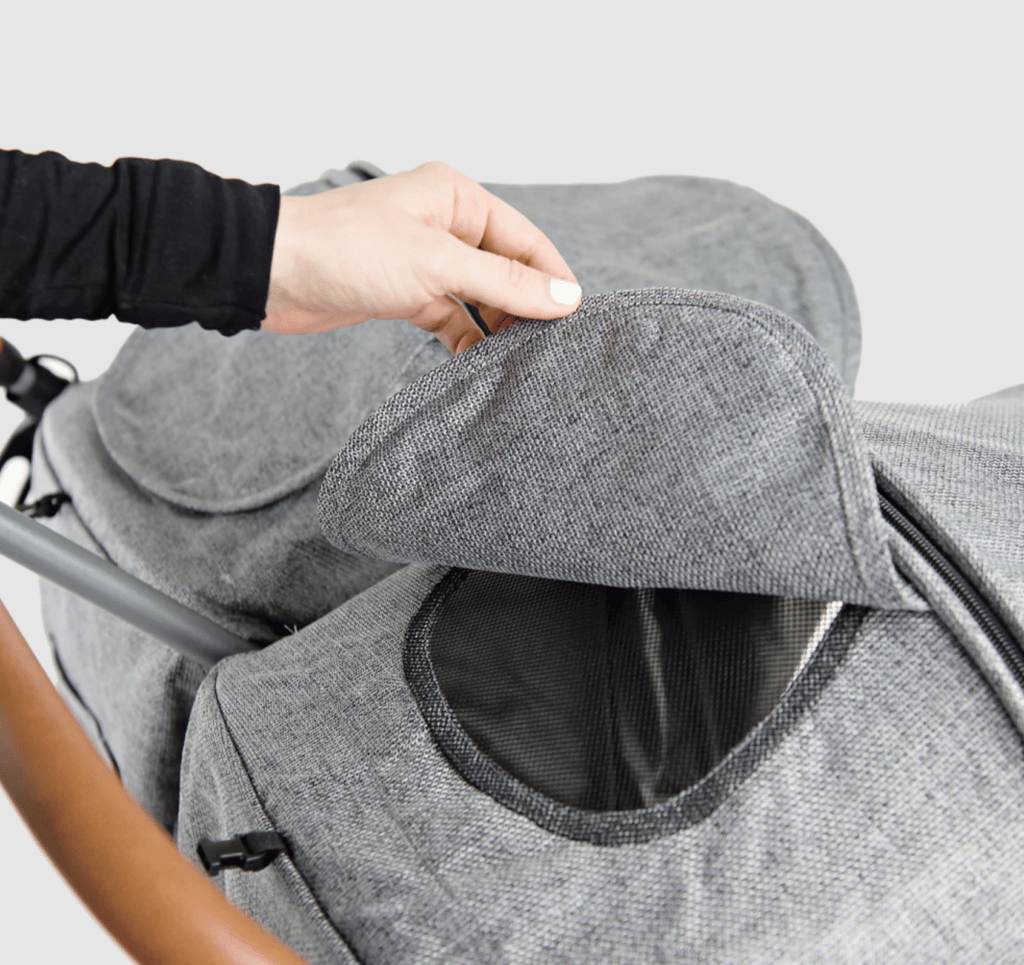 Convertible to twin stroller
One of the best things about the Zoe Triple Stroller is that it's really the Zoe Twin+ and you add on a single seat in front. The single seat attaches to the double stroller at the belly bar and the bottom ledge by the footrest, making it into a stylish triple stroller that can grow or downsize based on your needs.
Age recommendations
Due to the lack of fully reclining seats, it's recommended that only children 3 months and over use this stroller. This is probably one of the only real downsides, besides the cost. But honestly, you might be too tired to even consider leaving the house with three little ones until they're much older!
How well does the Zoe Trio+ move?
This awesome triple stroller pushes and pivots very well because all the wheels have ball bearings. That means it actually turns smoothly, especially if you're a parent pushing 3 at once. The front wheels also have a locking mechanism so you can actually lock them if you want to only push straight.
Storage on the Zoe Triple Stroller
Do you know what we feature we really love in a well-built stroller? Storage! And the Zoe Triple Stroller has an abundance of storage. With built-in storage baskets under each seat, you have enough space to bring all the snacks, drinks, and toys your kids could need when you're out and about.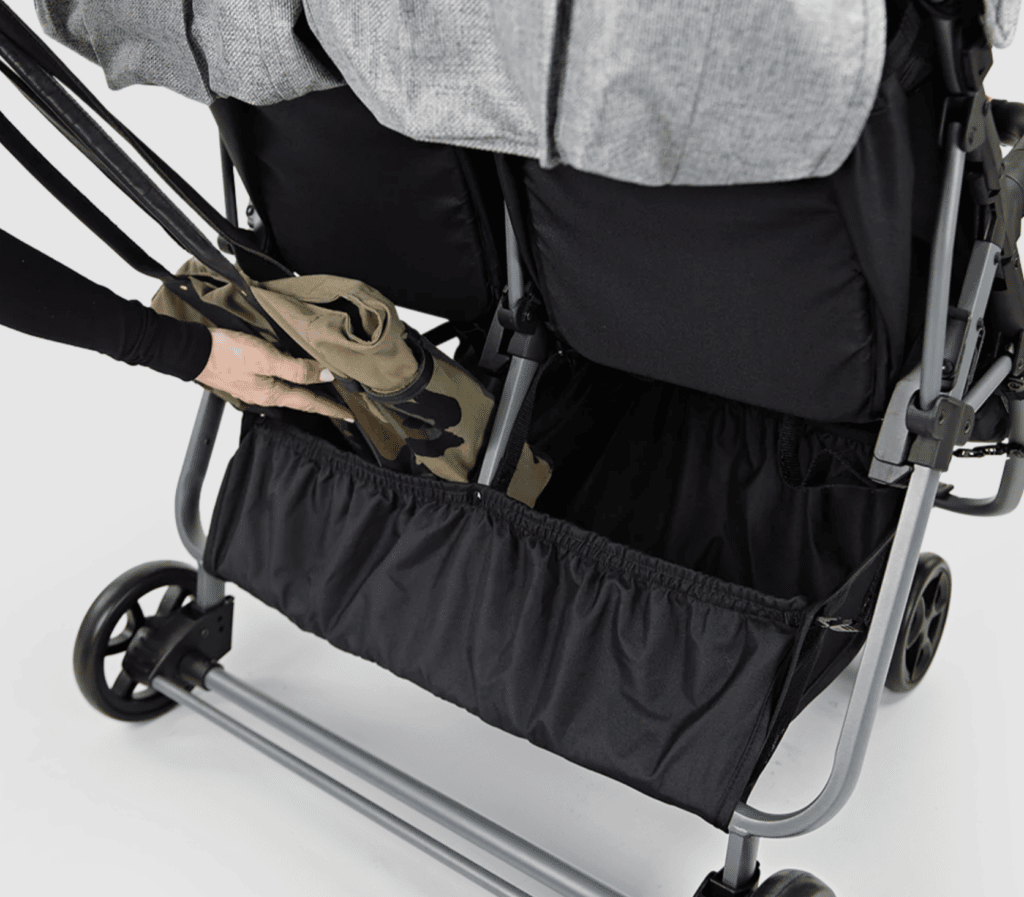 Zoe Triple Stroller specs
The Zoe Trio+ stroller stands 40.25 inches high, which definitely gives you plenty of space, especially if you have kids on the taller side. It is 29 inches wide from side to side, making this triple stroller Disney Parks friendly. The genius behind the design actually lies in the fact that Zoe thought to make it 51 inches deep, just 1 inch short of the Disney Parks limit.
The rear seats recline 165 degrees, and the front seat reclines to 125 degrees. Unfortunately, they don't go fully flat, so you can't use this with an infant until they are 3 months old at minimum. Each seat can hold 45 pounds, so you're going to be using this stroller for a very long time. Plus, it's ability to convert into a twin stroller is a dream. This makes it perfect if you have twins and an older singleton who eventually outgrows this stroller before their siblings.
The Zoe Trio+ also has an aluminum frame. This can be a little deceiving, but in a good way! You think it's going to weigh a lot more than it does, but in reality, it only weighs 30 pounds, even with the third seat.
The best part? This triple stroller can still fit through a standard doorway.
Folding the Trio+ Triple Stroller
This stroller is super easy to fold and unfold, thanks to its unique design. It folds down to just 14 inches wide, making it easier to store in tight spaces (perfect for trunks). When folded up, the stroller takes up less space than a typical single child stroller. It's also perfect for traveling in airplanes (if you're brave enough), since it fits easily under airplane overhead compartments.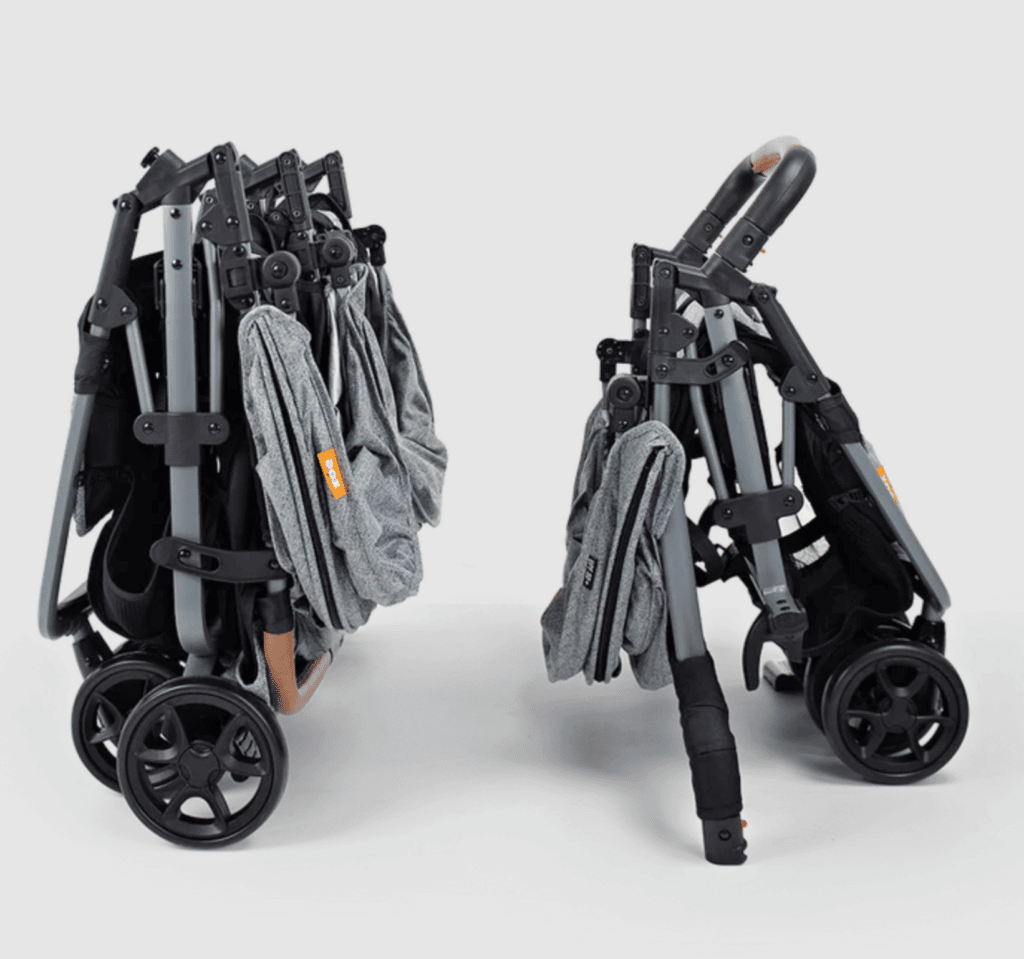 Zoe Trio+ accessories
Included accessories for the Zoe Triple Stroller
There are a limited amount of triplet strollers on the market, especially ones that have this many accessories. But the Zoe Triple Stroller has a ton of includes accessories, including a parent cup to hold your iced coffee (3 creams, stevia, and cold foam, please!). The parent tray doesn't come with the Trio+ stroller, but it's definitely worth the added charge.
There are also 2 child cup holders, a snack cup for those Goldfish crackers or grapes your littles are eating, plus incredibly spacious storage baskets underneath the stroller.
Plus, the canopies are standard (which isn't always the case with some strollers). These canopy sun shades are fantastic and the zipper gives you an extended range, and then there's actually an extended canopy further than that. They cover past the belly bar and they're so easy to convert and move.
Add-on accessories for the Zoe Trio+ XL3
There are a variety of add-on accessories for the Zoe Triple Stroller that are sold separately. One of our favorites are the snack trays.
These snack trays are just $35 each, and would be a great accessory if you do plan to do Disney with your three little ones. These snack trays come with a cup holder and a place to put their snacks. No fighting over food, because they can each have their own compartment.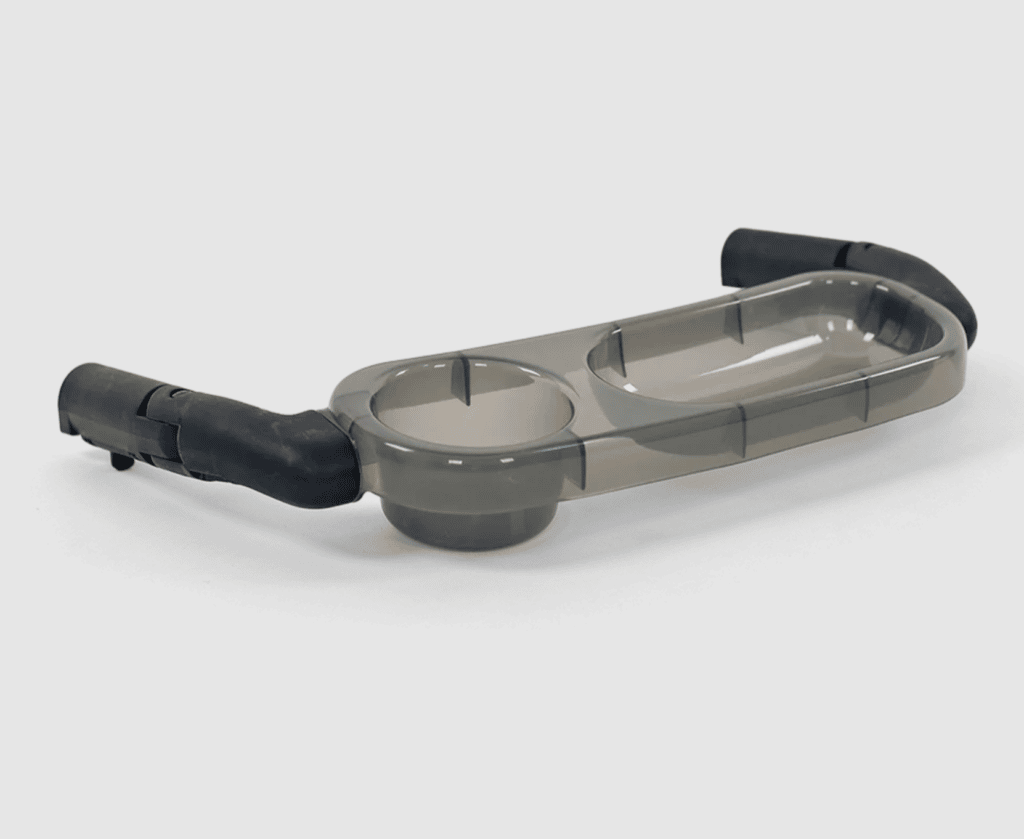 The best part about the snack trays is that they open easily for each kid to get in and out of the stroller. Plus, they're durable and are easy to clean.
Other accessories include a travel bag, rain covers, cup holders, and even a parent organizer. All add-ons are sold separately and can be purchased at zoebaby.com.
Why we recommend the Zoe Triple Stroller for families with 3 under 5
While most parents choose one stroller for their family, some are choosing two or even three strollers. We've seen families buy a single stroller for each child, but others opt for a convertible stroller. For those who want to travel light, there's no better option than the Zoe Trio+ Convertible Stroller.
This stroller features a lightweight design and convenient storage compartments, making it perfect for traveling. You'll love the ability to convert it into a double stroller, and it folds quickly and easily for compact storage.
With the Zoe Triple Stroller's adjustable handlebar height, you can adjust the stroller to fit your needs. Its swivel front wheels make steering easier, while the large rear wheel allows for smooth transitions.
And we mentioned this triple stroller is Disney approved, right? What more could you ask for?