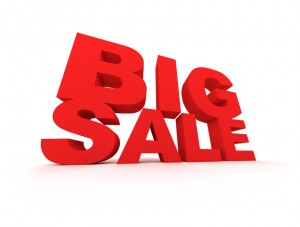 There are certain challenges when rising multiples, you will need two or more of the same item at the same time; cribs, high chairs, bikes, and so on. How do you manage on a tight budget? Maybe you can get hand-me-downs from family members or purchase second hand. But maybe you like to match or co-ordinate your twinkies, at least on certain occasions. Why not shop at your local twin club re-sale event? What a better place to get items for twins than from a family with twins!
Are you a twin club leader in charge of your re-sale event? Here are some tips from others who have had successful events.
"We have 218 members, 112 sellers and had $50k of sales for our recent Fall sale. We have a Fall and Spring sale and it's our biggest fundraiser… We get a line starting at 8am for our 9am opening. We moved to a much bigger space, so we are looking to increase our sales further….We're finding we need to think of ways to market our sale every year to get the word out. Fortunately, we have good word of mouth, but as kids get older, you constantly need to find new buyers. We use My Sale Manager. We've used it for the last 3 sales now and it's been great. The bar coding makes the lines move faster and there's less data entry error since you don't have to read someone's handwriting. A lot of sellers noticed this year that their lower priced stuff went faster than their higher priced stuff. The economy is very tough out there!" – Judy M.
"My multiples club has a semi-annual sale every year and it's the best in the area. We sell between 75 women over $35,000 in sales from all of our gently used clothes and baby gear… We have VERY strict rules about nothing stained and such. Everyone tags their own items and puts their own prices. Normally, most of us do $1 for a sleeper or one piece outfit, $2 for two pieces and so on, unless it is in mint or never used condition.…. We also just got a system called My Sale Manager that allows us to print tags out on special colored paper so you can see if the tags were ripped off or not. We rip them off items before being paid so we know what sold and what didn't. Everyone gets their own consignor number and tag their own things. Really runs pretty smoothly actually. Personally, I sell over 56% of the items I bring in. We give the shoppers their own bags to shop and they are not allowed to bring their own (we now use the huge Ikea bags). There is no charge for admission." – Pam
"We follow guidelines of selling only the best gently used items. We charge $1 admission; we price our own items and use an awesome space at a local park district." Terri P.
"Our club charges a $2 entrance fee for the public, no fee for club members, and club members get to shop early. I think a good way to describe the sale is that it's a resale shop that is set-up on Friday, shopped on Saturday, and broken down by Saturday night…. [not] a flea market type thing, where each seller sets up their own table and sells their stuff… and it works really well this way so that you can see all items in the age you're looking for at a time. Most people charge around $1.00-$2.00 for one piece items, like sleepers, jumpers, dresses (excluding fancy dresses), and more like $4 for multi-piece items. Shoes are generally between $1-$4. Toys, strollers, and other "large equipment" are typically half the original price or less. For large equipment we "double tag" them, both tags showing the item description, selling member's number, and price. One tag is placed on a fluorescent colored index card. If you want to buy an item, you pull the fluorescent card with the tag, that way you don't have to carry the item around with you. The workers in that area then pull the item to the pick-up area. When you pay, the cashier puts a hole-punch in the card so that the pick-up area workers can confirm you paid. I tagged over 500 items for the sale. I sold more than half of my items. The items I didn't sell I took home and will put in the next sale. I can also choose to donate anything that doesn't sell. I buy the majority of my babies' stuff at these sales, and I love that other clubs in the area invite our members to shop their sales early!" – Laura B.
It is definitely worth it to join your local twin club to buy or sell at their next event!