One of the hardest parts of being a twin parent is finding affordable, quality daycare that fits our needs – and has two openings at once! But let's say for a minute that money and space weren't issues – what are the things that us twin parents should consider when choosing child care and where do we even begin? As a former child care provider turned twin mama, I'm here to give you the inside scoop (as well as 5 insider tips) on how to make sure you get great, quality care for your little loves.
The first step is to call ALL the programs you can find:
I know might seem like overkill, but call every center in your area and ask a few basic questions, including what type of program it is, the availability of two spots, tuition cost, and if there is a sibling discount

Ask about the fee for holding spots in case one opens up before the second one, or if you're seeking care for an older child before your twins are born

Get your name on the waiting list for every program that fits in your budget and location needs — even ones you aren't sure about. Just add your name to the list.
You won't visit all of the facilities you call but it's best to have as many options as you can until you find your perfect match, especially if you are looking at a deadline such as returning to work or losing your current care provider.
Next, narrow down what you want in a program:
Do you want a small or large group?

Are you more interested in the Kindergarten prep aspect?

Is religious affiliation important to you?

Do you follow a particular educational philosophy? Montessori, Waldorf and Reggio inspired nursery and pre-schools are cropping up everywhere.

Always keep your budget in mind. It's awful to find a center you love only to find out it's going to cost more to send your twins than you make in a month.
Tip #1: Remember that cheap does not always mean bad, just as expensive does not always mean good.
Get online and check out your state's child care licensing website:
Check out your local child services website (DCFS, OCFS, DCS, CFS, etc.) or child care council for more information. Most licensed providers will be listed online or you will be able to contact someone to obtain the list.

Look for a copy of the rules and regulations providers must follow. It's a lot of jargon but the basics are easy to understand. Arming yourself with this knowledge gives you a leg up in the interviewing process.

You should also be able to find out if a facility has citations for non-compliance of regulations online or through your local child services. Citations don't have to be deal breakers (accidents happen, things get forgotten, etc.) but make sure that they have been corrected on subsequent visits. Avoid a center that has multiple violations of the same regulation.
Once you have figured out how you're going to afford childcare for two, you have chosen the type of program you want, and researched their standings with the state, make a short list of places to visit and call to set up a tour and interview. Bring your twins with so you can see how they interact with the space, the teachers, and the other kids.
Schedule a tour and an interview both the Director and the Teacher:
The best times to visit a facility is mid-morning (between 9:30 and 11) or mid-afternoon (between 3 and 5). Any other time is usually very busy with drop-offs and meals – you don't want to get caught in that mayhem! Visiting during rest time (usually 1-3pm) seems like a good idea because it's quiet and calm but it will not give you a real picture of the program, teachers and children.

Make the most of your visit and do not worry about taking up too much of their time. A quality program will work their butts off to get you in, especially since you're filling two spots!

Make sure you request a tour

and

formal interview with the director, although you will be asking questions the whole time.
Tip #2

:

Great facilities will happily show off their skilled teachers and the fun the children have.

Ask to visit the exact classroom your child will be in and sit in on circle time or an activity.
Observe the Classroom and Interview the Teacher:
While in the room be sure to speak directly to the teachers, as they will be the ones interacting with your child daily.

Ask them how long they have worked there. Think twice if there are multiple teachers who have worked less than six months at the facility. A high turnover rate can be a sign of bad workplace practices and it is not good for children, who thrive on stability.

Ask about their training hours. While not required in every state, teachers should attend continuing education classes in some capacity to ensure up-to-date knowledge on best practice and child development.

What is the teacher-to-child ratio? It increases as the children age and it varies by state, but for children 2-5 years a good ratio is no more than 1 to 10. For under 2 years, the ratio should be lower, around to 1 to 4.

How do they communicate with parents? Do they send home daily sheets outlining what happened that day? Is information posted online?

Ask about the daily routine. Is there adequate free playtime as well as instruction?
Take a look around the room and note the following:
Is it spacious enough so children can play without being on top of each other?

Is there enough light?

Is the environment structured and fun or disorganized and chaotic? Which would you prefer?

Does the teacher take the time to listen to and respond to each child?

How do the teachers interact with the children, including your twins? Note their tone of voice and the words they use: does it mesh with your parenting style?
Tip #3: The kids' behavior will often be your best litmus test for a quality program.
Look at the cubbies or storage areas:
Are they clean and organized?

Is everything labeled with the kids' names?

Are personal items easily accessible to the children? This is not a good thing, as this is how toys, blankies, and binkies get lost!
Look at the play areas:
Are the toys in good condition?

Are there lots of books? Are they in good shape, or tattered and torn?

Are the toys age appropriate and varied?

Depending on the type of program you're looking into, does the play area seem adequate? For example, Montessori programs often look empty but that is part of the philosophy.

Are there enough toys for the group size but not so many that the room seems messy?

Look for a good balance of easily accessible high-use items, such as books, blocks, cars, and dolls, as well as imaginary play items, such as dress-up clothes, a play kitchen, and a doll house.

Are there physical activities like climbers, rocking horses, and push toys? What about manipulative or "table toys" like puzzles, tangrams, beads, links, rings, etc.? What about art supplies or evidence of creative play?
Other questions to ask:
Who is CPR and First Aid certified?

Is anyone authorized to administer medications?

How are accidents and incidents handled and reported? You should at the very least receive an incident report if your child is hurt, if not a phone call.

Ask about meals. When and what do they serve? Is there a Menu Plan? How do they accommodate for allergies? Will you be able to send your own food if needed?

What about rules for staff cell phone use? A great facility will have a rule that staff members are not allowed to use their personal cell phones while children are awake, but they are allowed on breaks and during naps.
Take a tour of the rest of the facility. Listen to the sounds of the building while you walk around:
Do you hear teachers yelling or harsh words coming from other rooms?

Do you hear children really crying (you know what to listen for, mom) for long periods of time?

Are some rooms unnaturally quiet or loud? What are they doing?

How do the staff members communicate with each other and the office? Phones? Walkie-talkies? Yelling?
Tip #4:

Loud

and

noisy

are two different things.

A great center is

loud

but filled with laughter, music, and play, rather than crying and tantrums all day.
Examine everything you see:
Are the floors, walls, and tables relatively clean?

Are the windows high enough, made with safety glass or barricaded?

Are shelves secure or tethered to the walls?

Are all outlets covered?

Are all cleaning products locked up or at least out of childrens' reach?

Are stairways and exits clearly marked and accessible in case of a fire?

Is the fire evacuation plan clearly posted and relatively easy to navigate for 2 adults and 15 children?

Are the entrances always monitored? If not, do the entrances require a personal keycode for each family? It is crucial that strangers cannot enter the center when no one is looking.

Are there video cameras mounted in every room? Many centers offer parents online and mobile access to view their child's room at any time and this is a great perk!

If you can see them, are food prep areas clean?
Bathrooms/Changing areas:
Are they well-lit and child friendly?

Do they smell ok?

Are the toilets clean and relatively free of mess?

Do you see gloves, paper towels, a garbage can with a lid, and spray bottles of cleaning solutions (one for soap and one for bleach) that are out of reach of children?
Outdoor Play Areas:
Are they age appropriate?

Are they in proper working order and safe?

Do the younger children have access to the older childrens' area? Are the play times separate so safety isn't an issue?

Is it fenced-in completely?

Is there space to run as well as equipment to play on?

Are the teachers participating or observing carefully or are they talking to each other and distracted?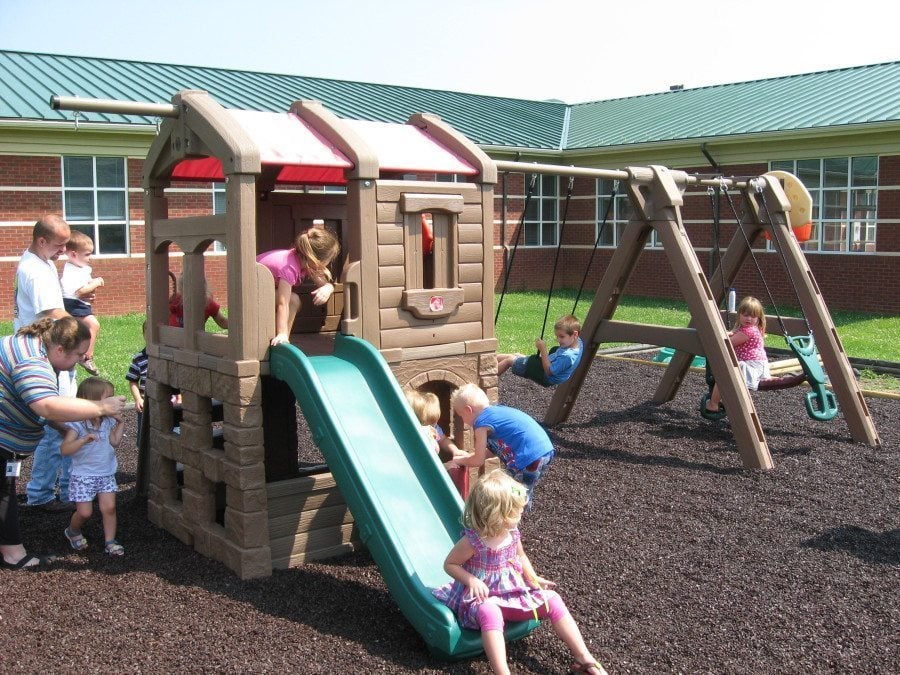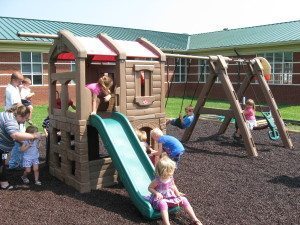 And finally, how do you and your twins feel about the center?
Listen to your kids but also understand that it can be a lot for them to take in at first

Go with your gut. It's usually right.
Tip #5: We want you to be honest!

If you have any concerns that might sway your decision, don't hesitate to voice them. Sometimes that makes all the difference and can effect positive change, turning a mediocre situation into a great one.
Finding excellent, affordable child care for two children is one of the hardest things twin parents face, but it can be done. Start your search early, take your time, and know your stuff, and you, and your twins, will have a great experience. Good luck in your search and if you ever have any questions please contact me directly.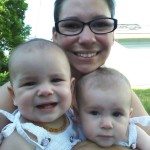 Maigen is a former child care provider turned Blog-At-Home Mom of 10 month old identical twins, Juliette and Vivienne. She lives in upstate NY with her husband, the twinsters and two cats, Boots and Willow. She enjoys reading, wine, being outside and spending time with her family and friends. She can be reached by email, on Instagram or via her blog.
* * *
Related Articles